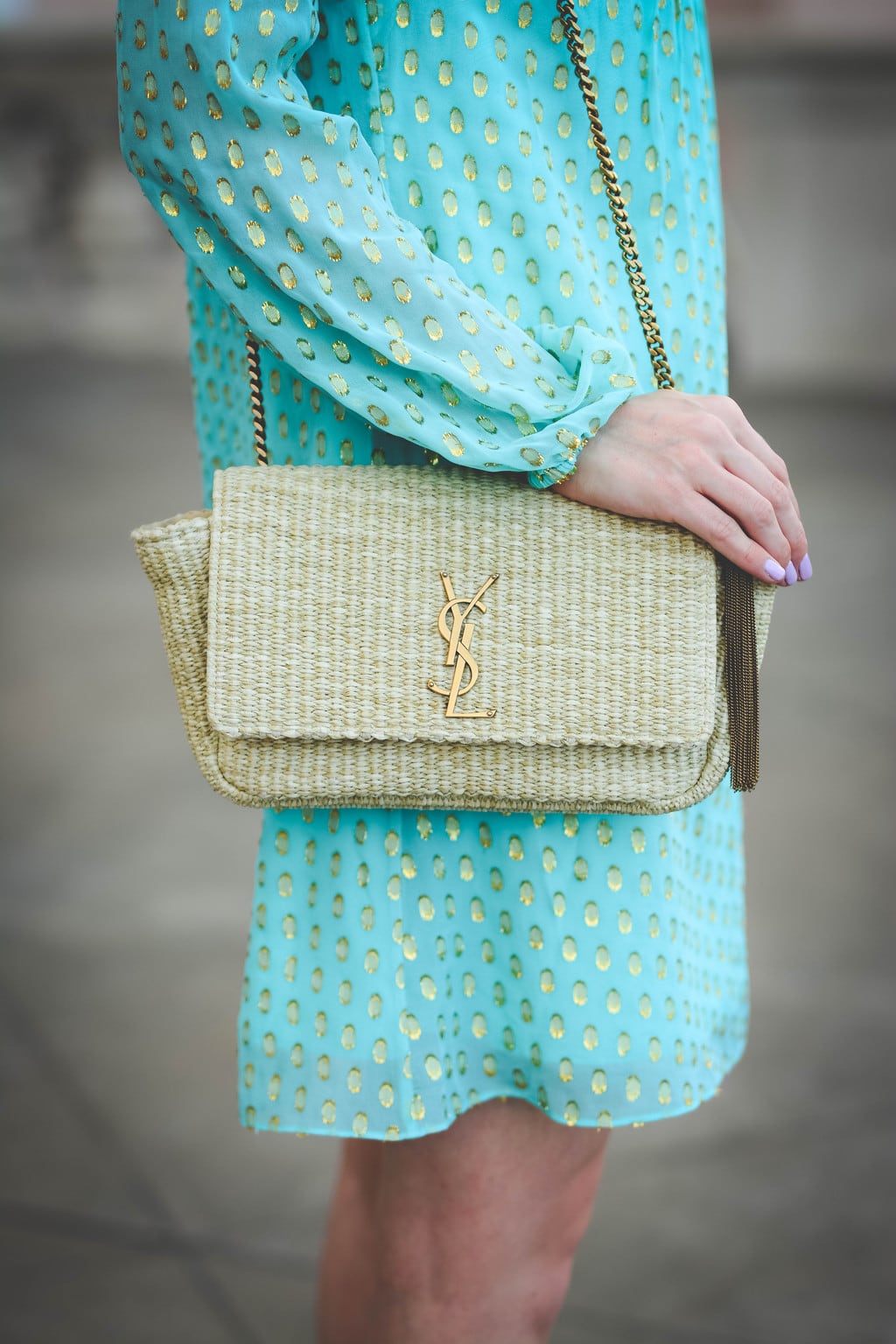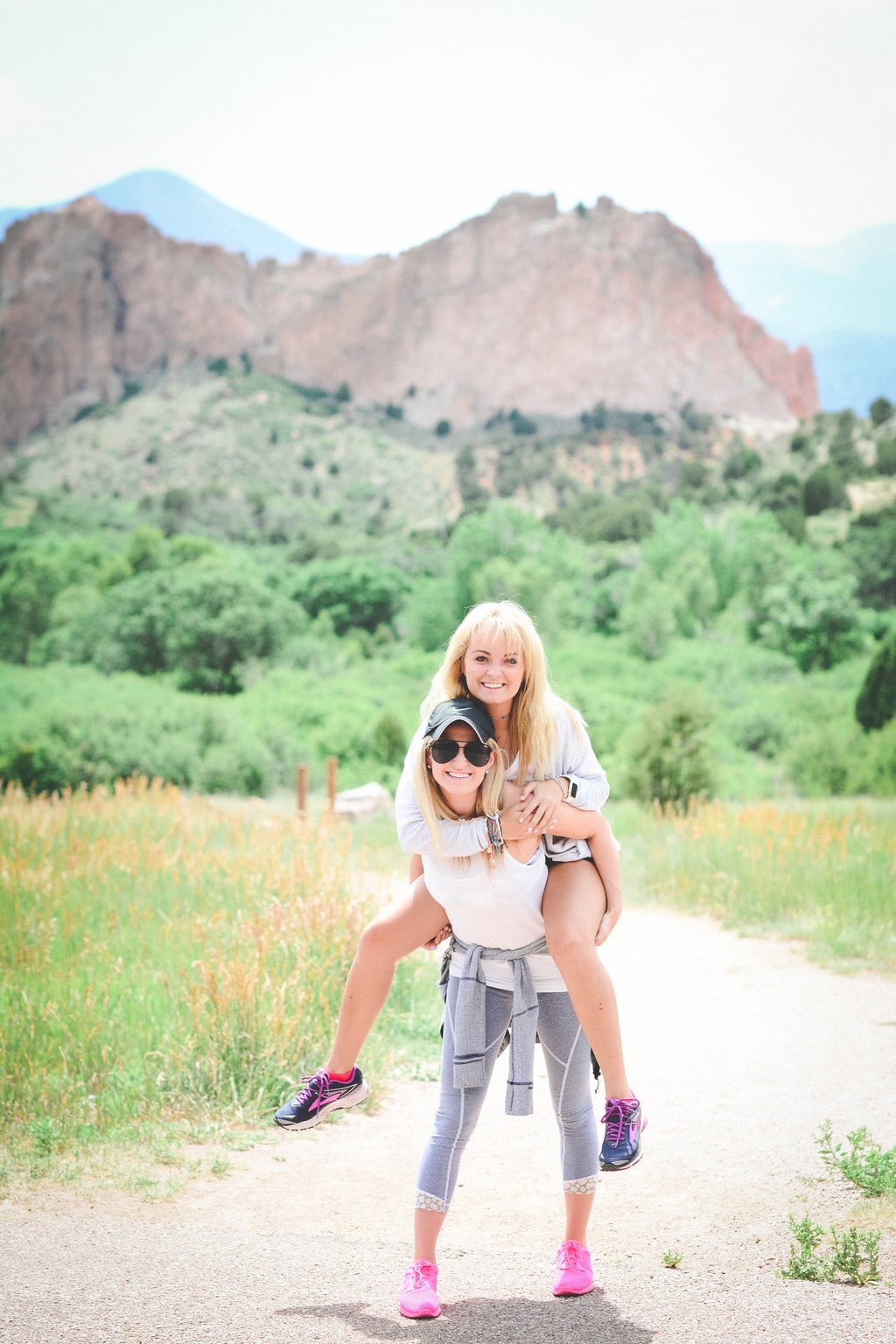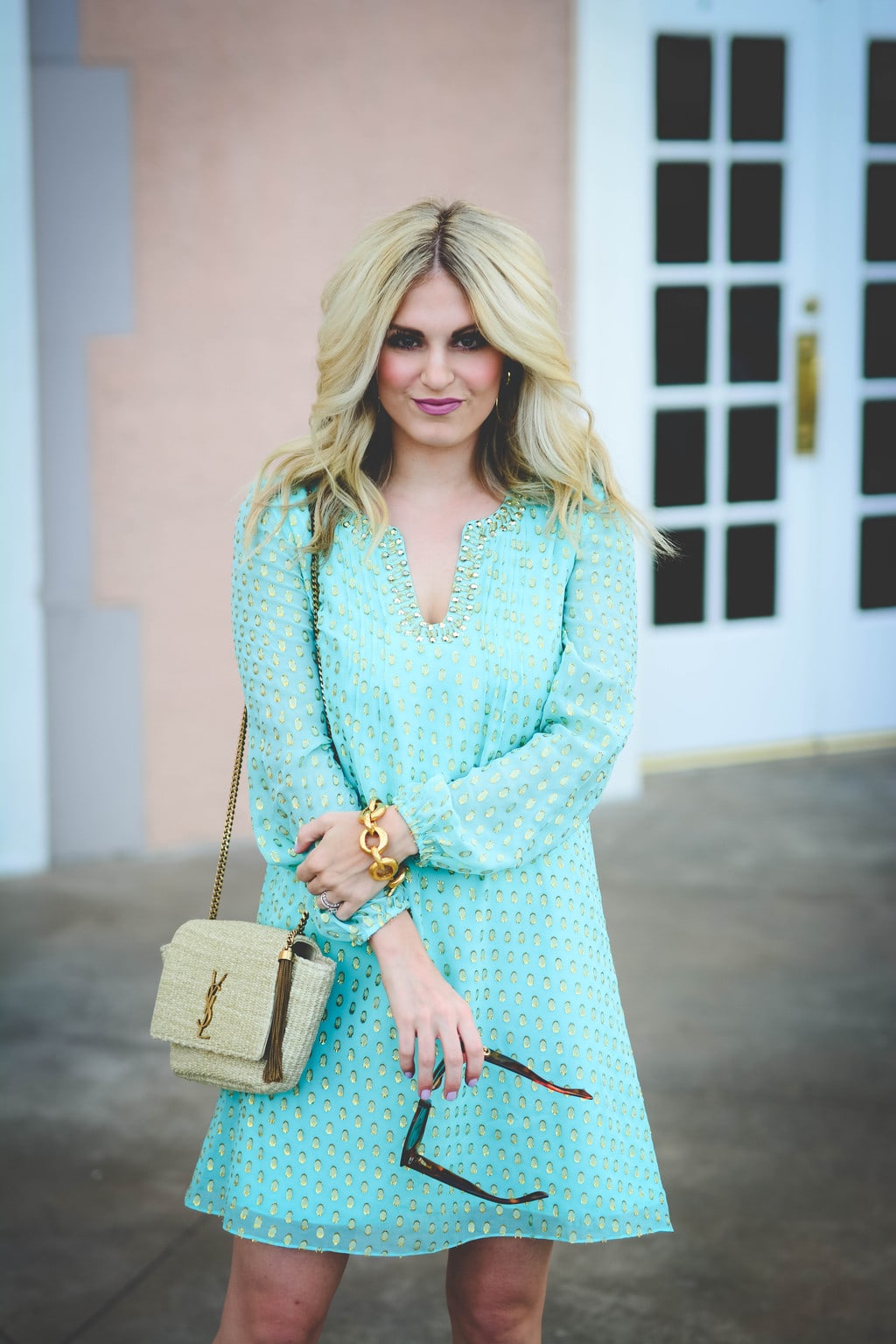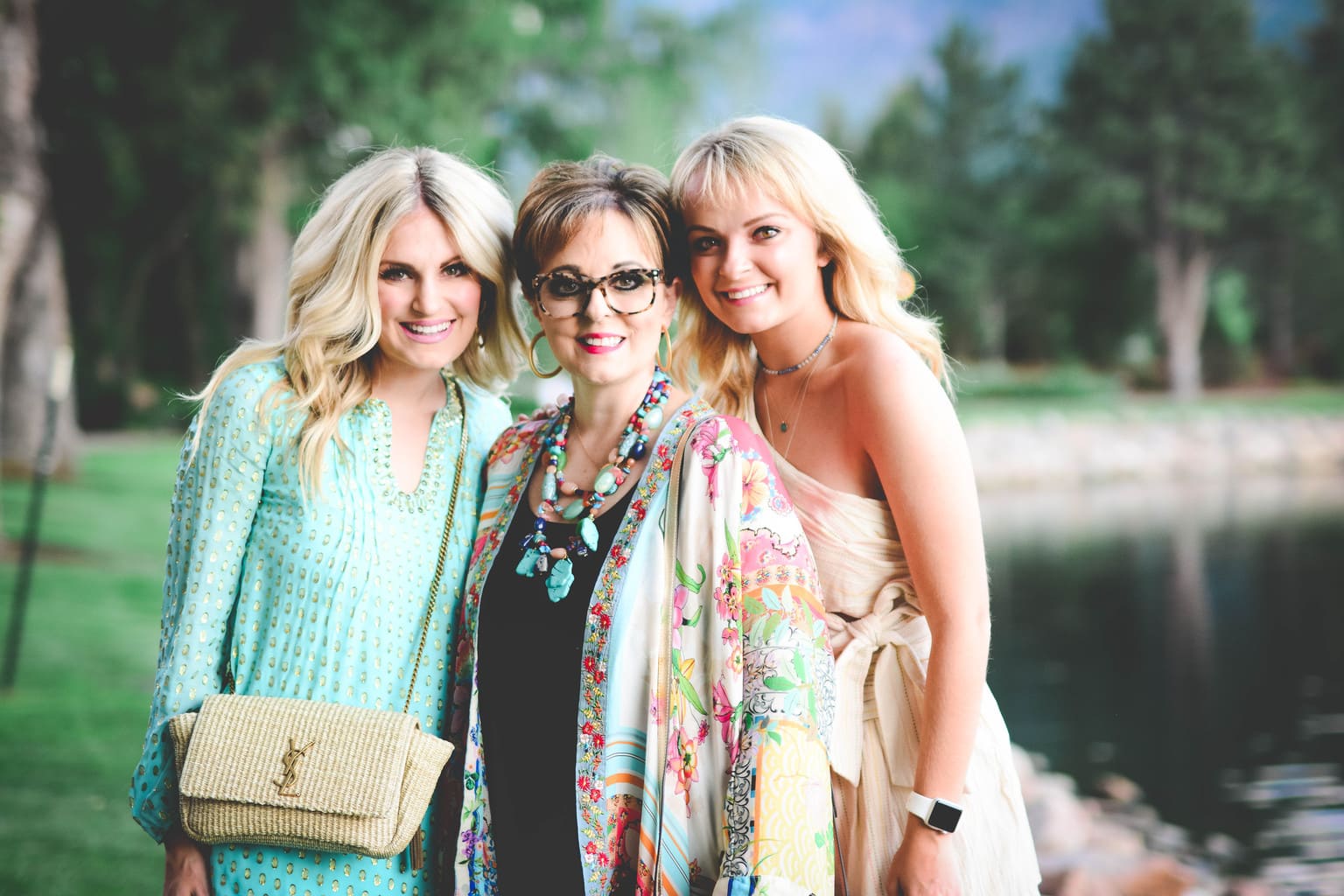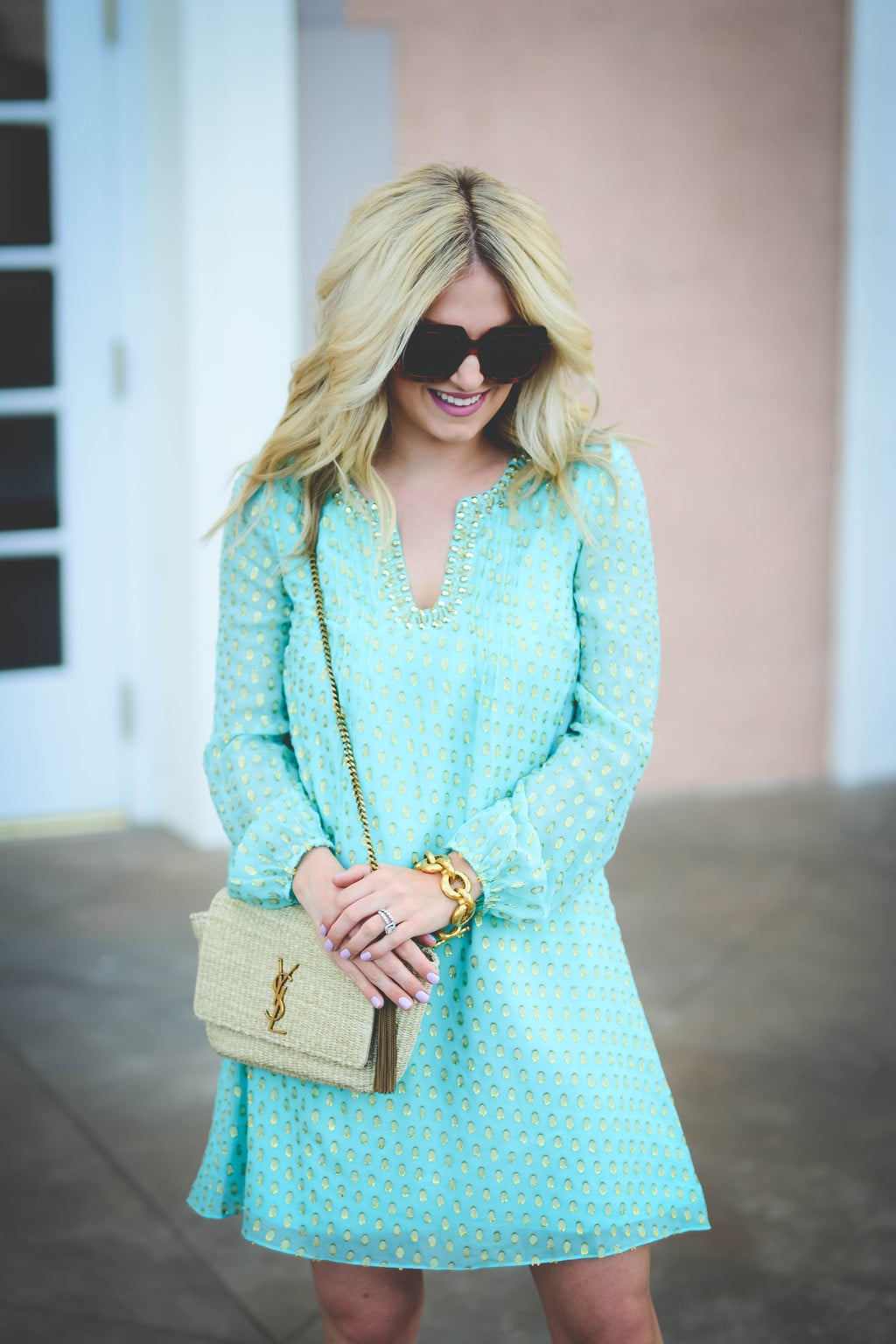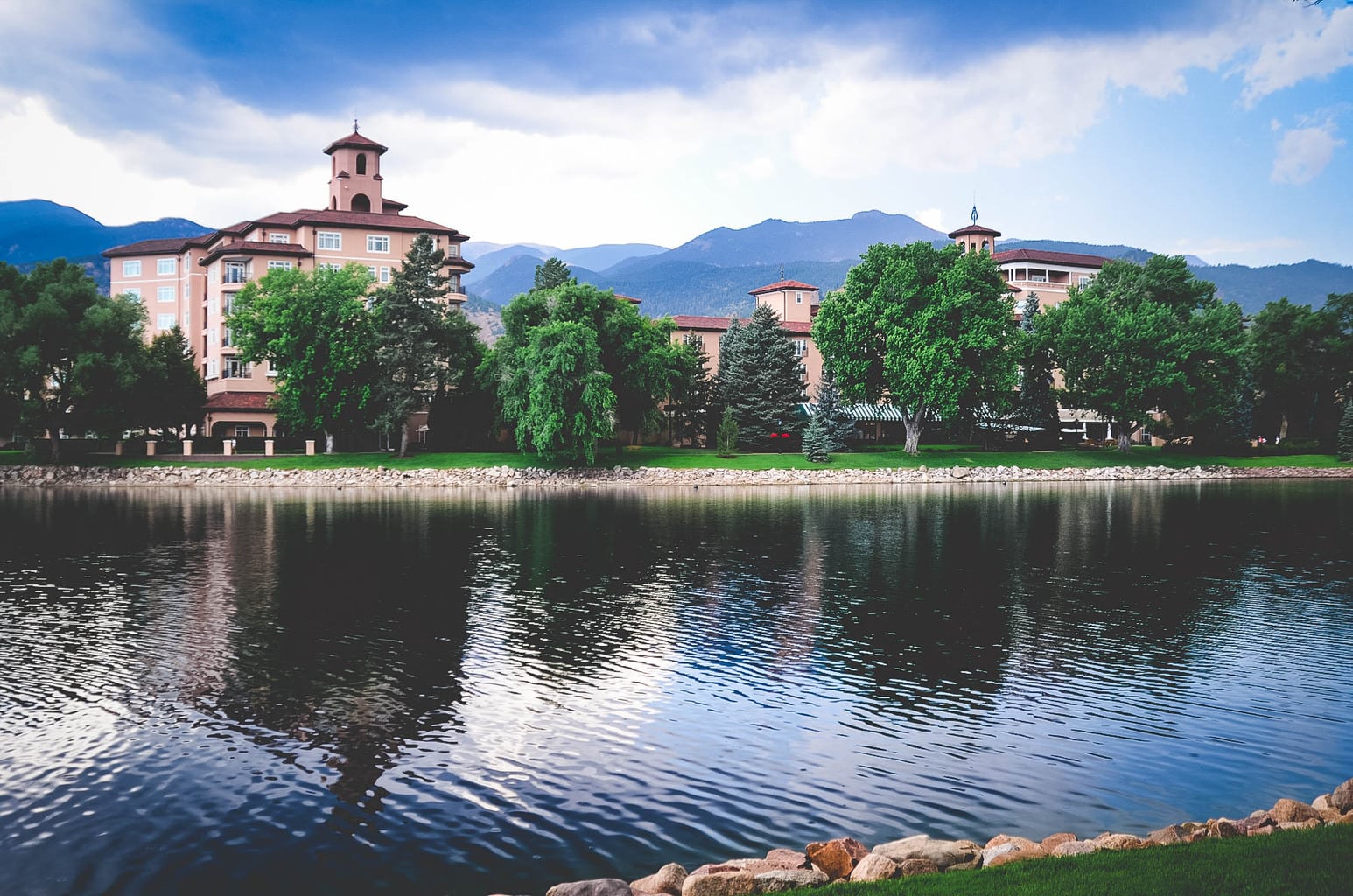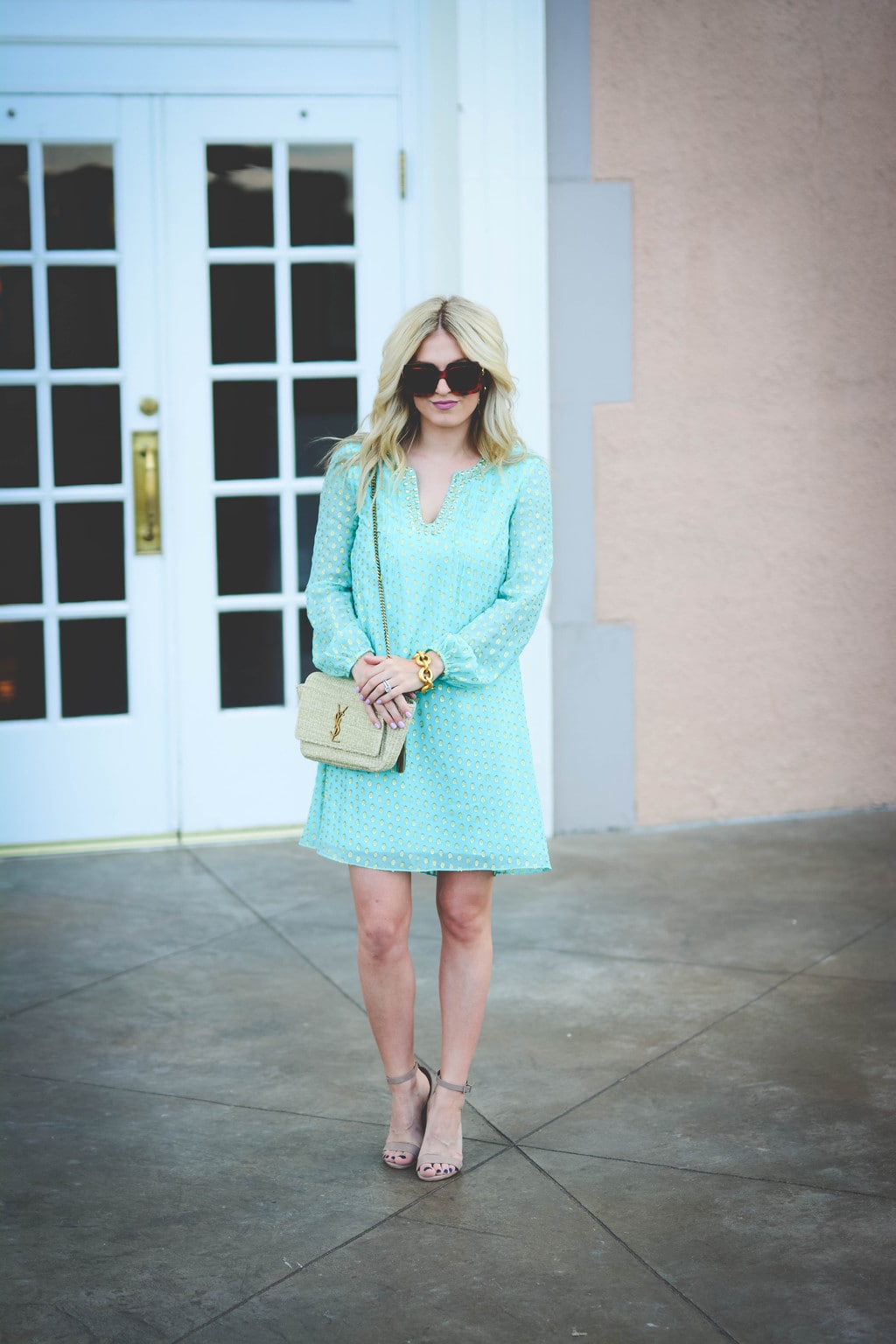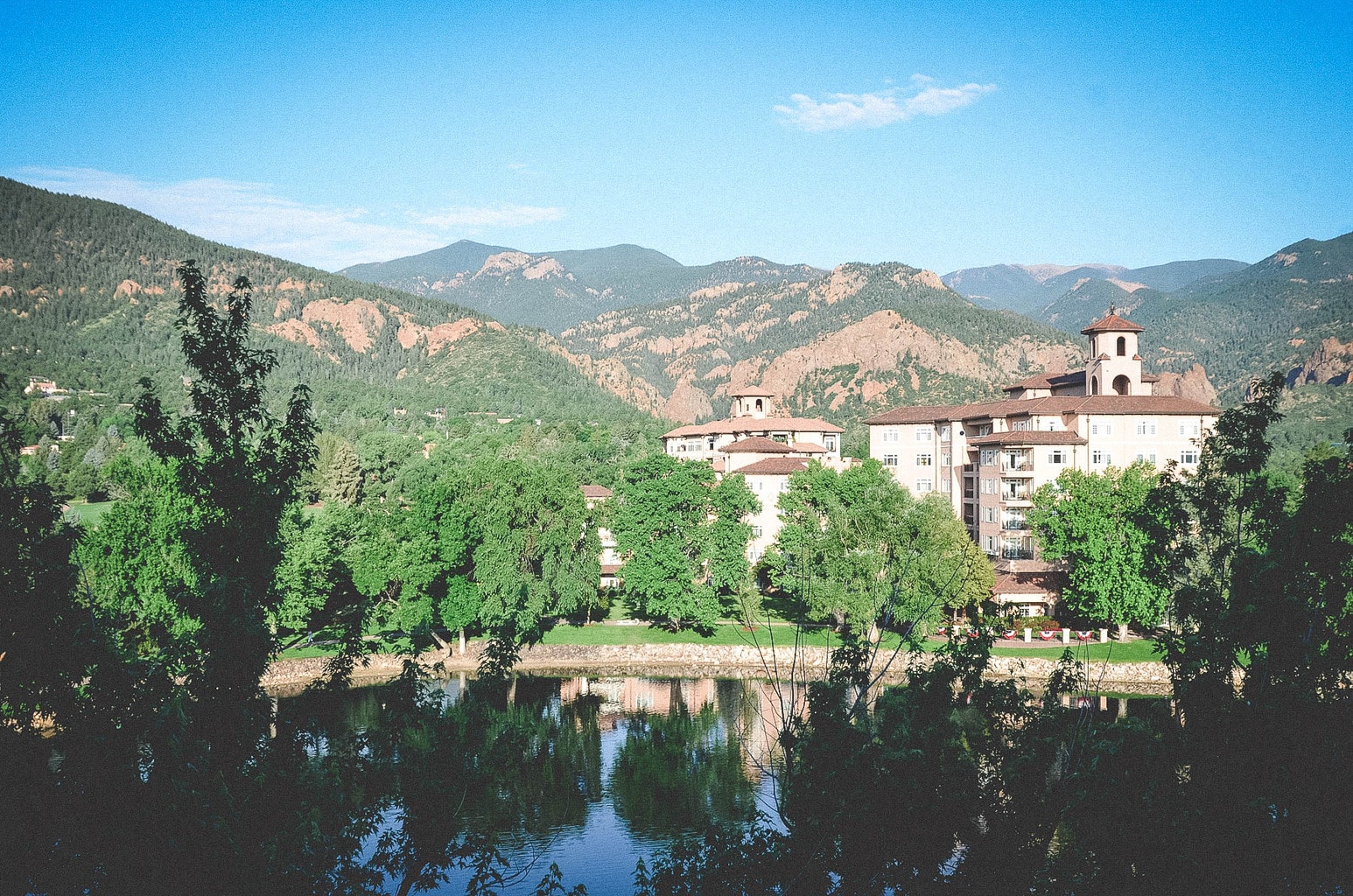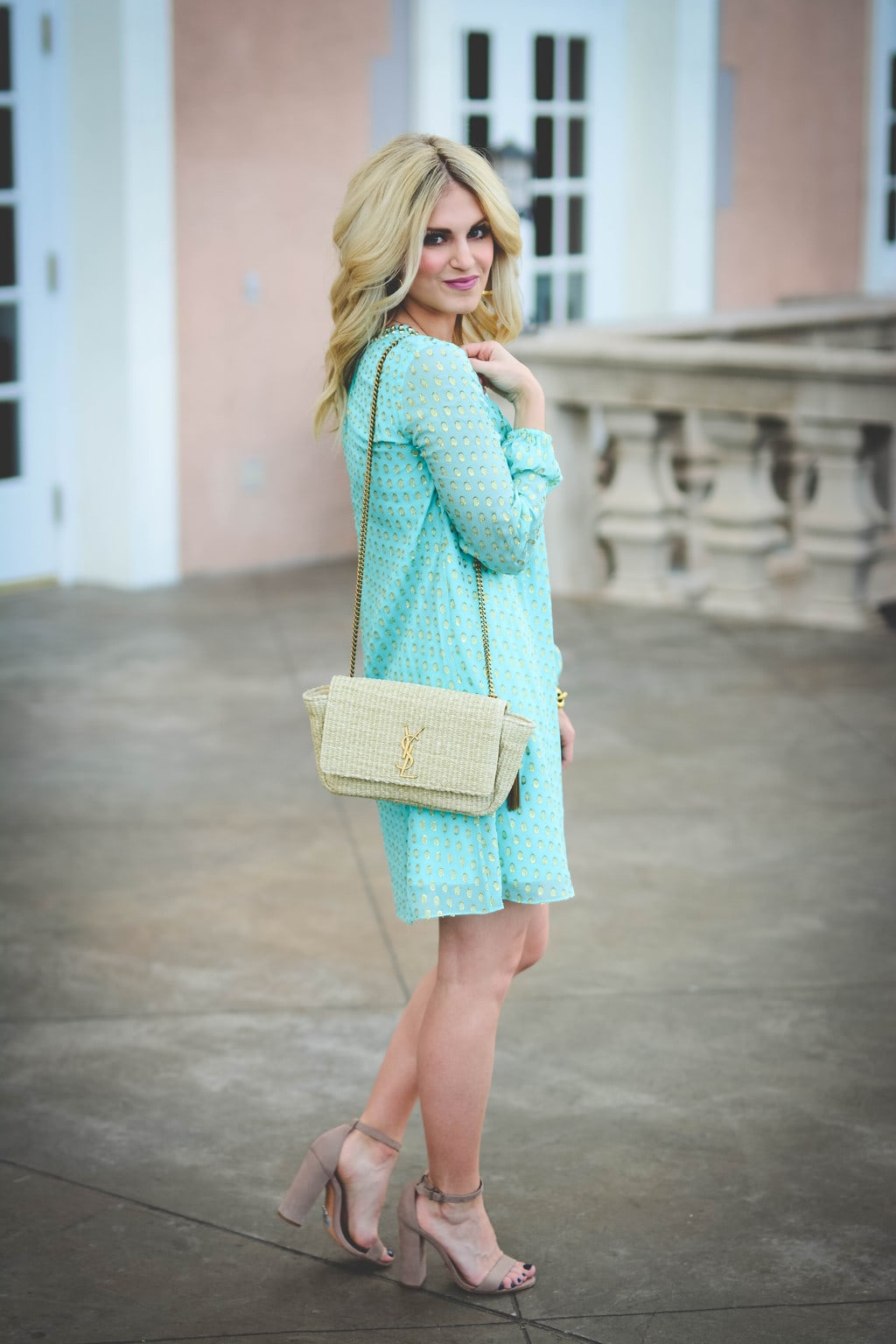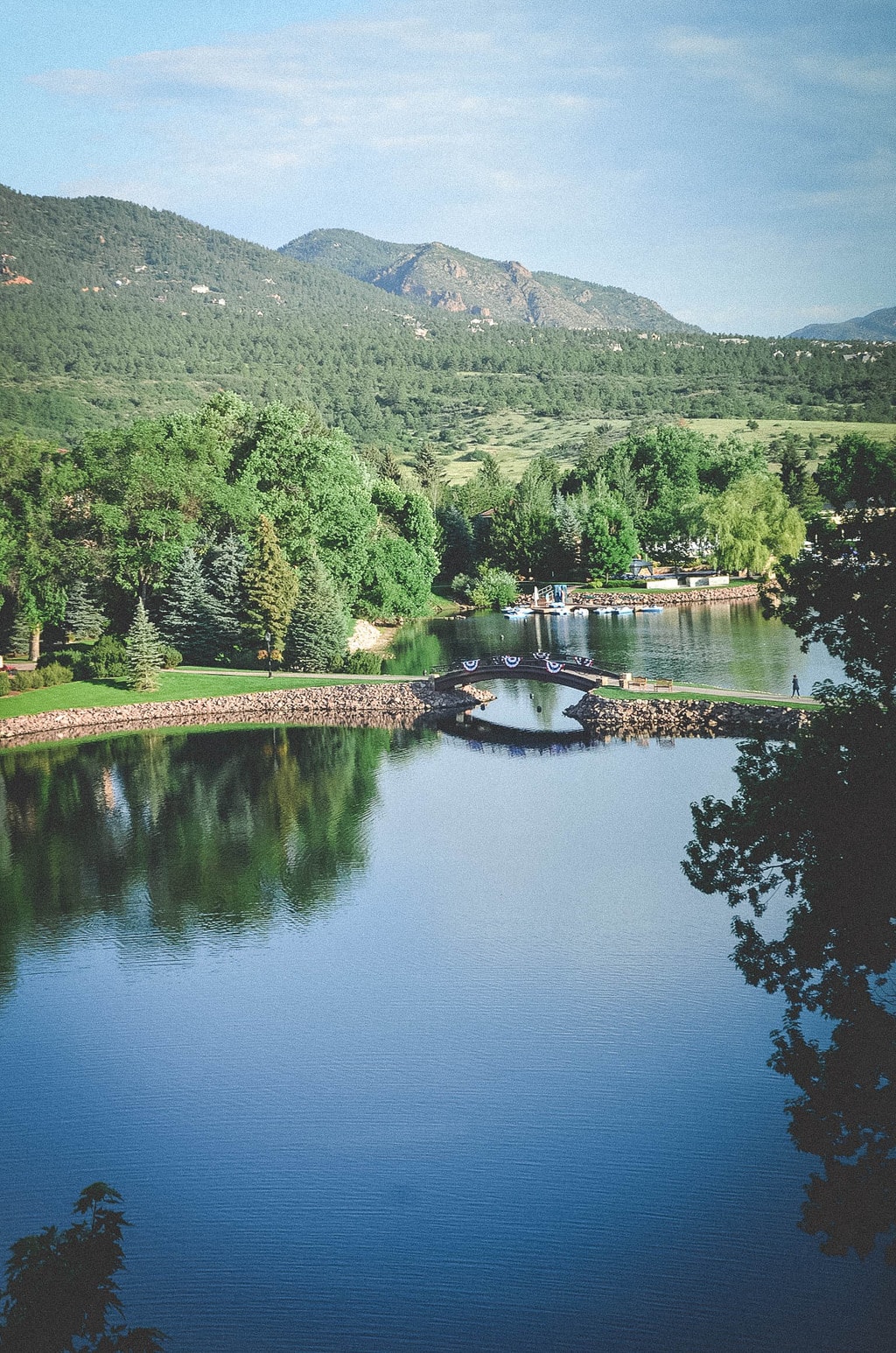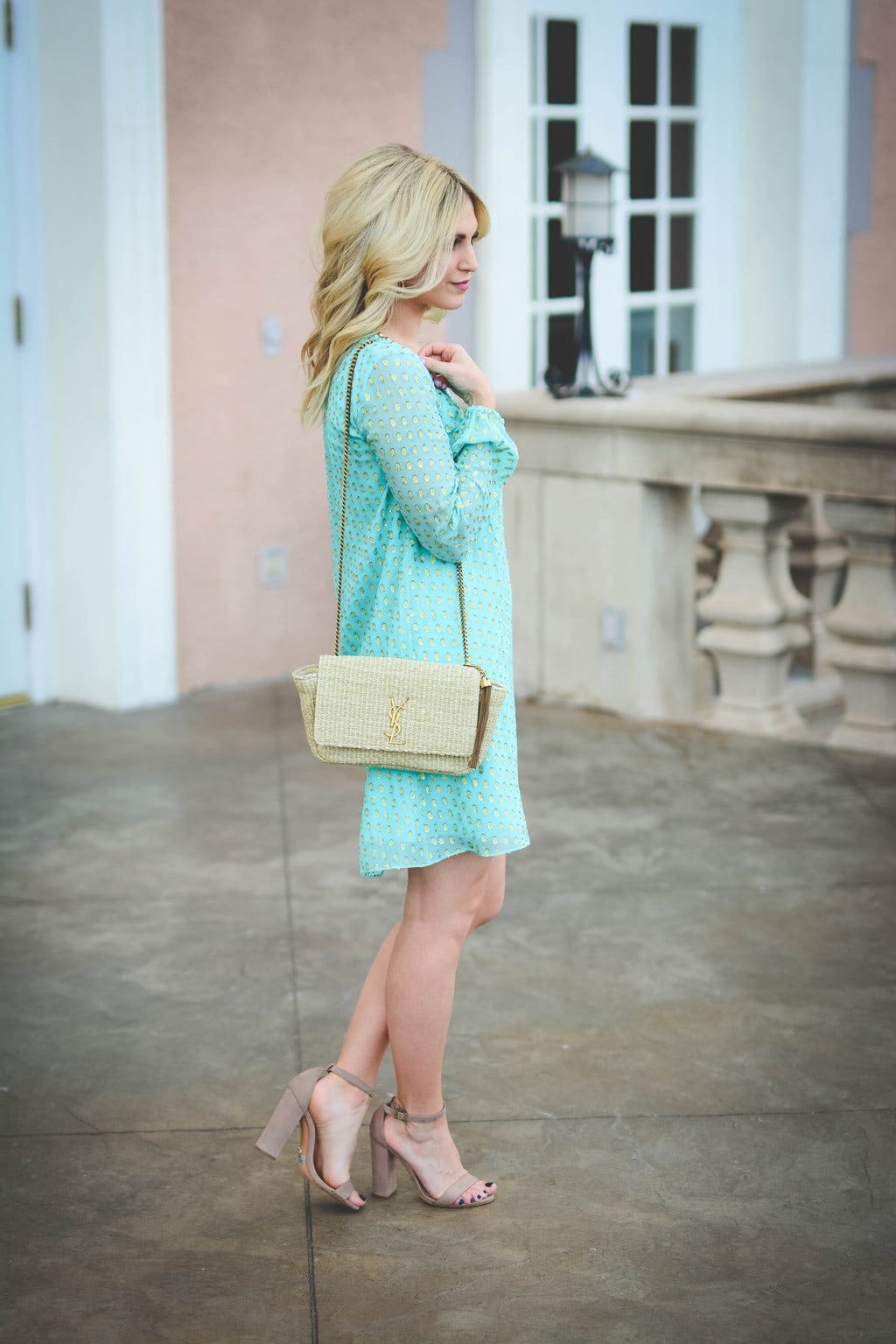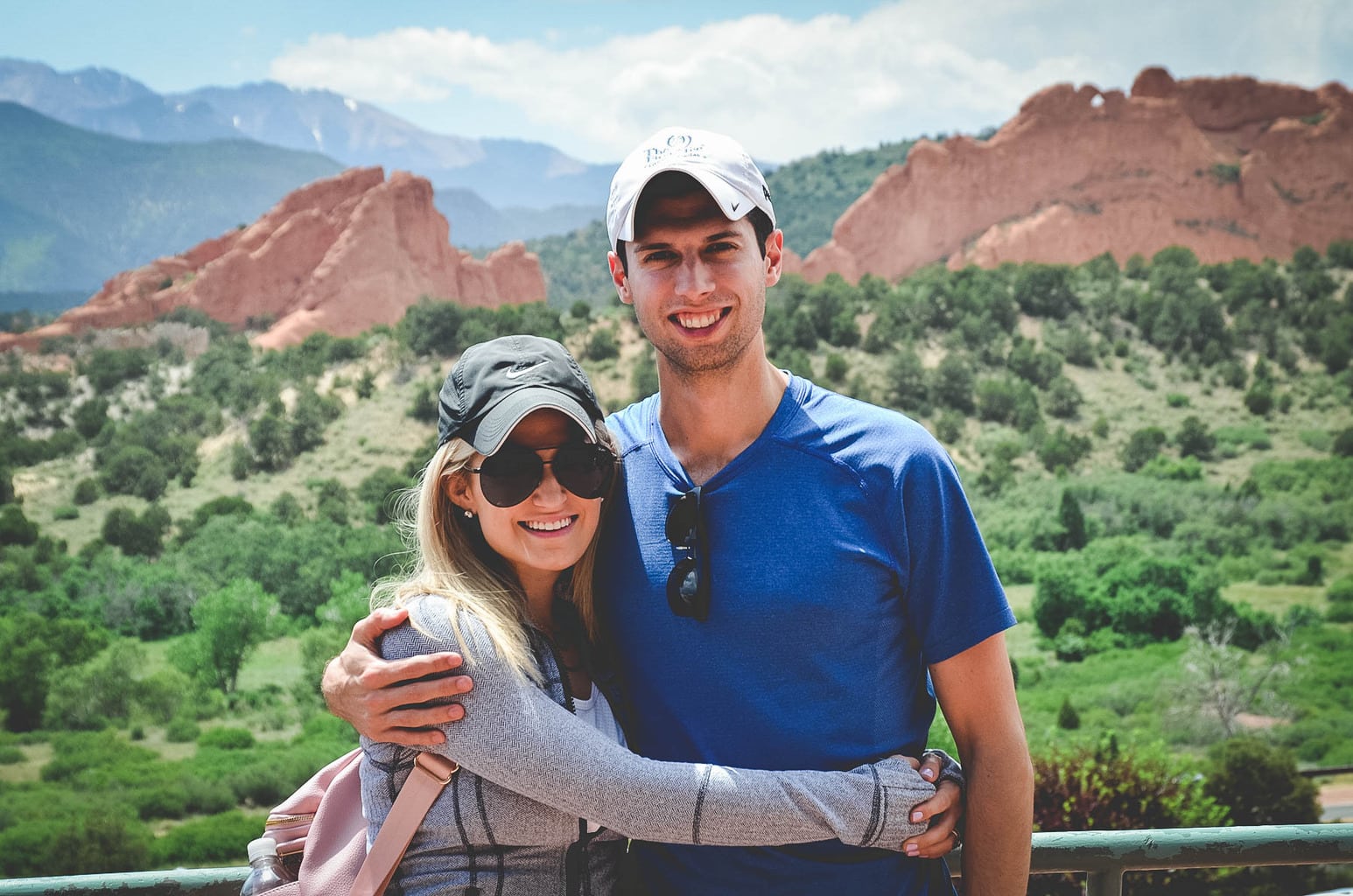 Dress: Lilly Pulitzer | Shoes: Schutz | Bag: YSL | Lipstick: Queen B | Earrings: Similar | Eyeshadow: MAC | Sunglasses: Gucci
---
My mom grew up going to The Broadmoor as a child with her family. She could easily count at least 8 different times she went, so when she told us we needed to go there for our family vacation we thought, "Really? You want to go there again?" None of us had ever been, but we knew how often she frequented the resort. This ended up being our favorite family summer vacation and it was incredible. Paul and I left saying it was the most relaxing vacation we had ever had. We always joke how so many vacations can still be exhausting. They are always enjoyable and you leave with the best memories, but sometimes you also leave tired! With skiing there is all the gear and the lockers and the shuttles. With beach houses you're cooking all the meals and constantly cleaning up sand from your little cousin's feet. Disney World is an entire feat in and of itself. I mean I LOVE Disney, but people train for that now like you train for a marathon. And then of course there are all-inclusive resorts, but many times I'm left weighing less than I weighed when I arrived. I've never loved food at all-inclusive resorts and I don't know about you but I know a good vacation means I come home having gained a pound or two! haha. [But if you have any all-inclusive resorts with good food send my way in the comments!]  The Broadmoor was just easy. The food was great. The rooms were great. The service was beyond anything I had ever experienced.
My favorite part of this trip was easily the weather. We went to Garden of the Gods at 3 p.m. on a Monday. If you go outside at 3 p.m. in July in Texas you will come back inside after 5 minutes with a heat rash, frizzy hair and maybe a slight wave of nausea from the heat. Colorado girls, you are so blessed with your summers! For whatever it is worth to you, here is my review of the resort. I hope this helps answer any questions or at least put this spot on your vacation radar.
Stay
We stayed in The South Tower and there are a few different options while traveling to The Broadmoor. They have cottages you can stay in if you are going to be with a large party [think family reunion]. However, we stayed in the traditional hotel part. The South Tower has an incredible view and that was my favorite part of it. You overlook the lake and get to see the bridge as well as the mountains in the background, too. To get to The Broadmoor we took a direct flight into Colorado Springs Airport and took the shuttle service The Broadmoor can provide for a really affordable rate. It was about a 15 minute drive from the airport to the resort. They were great with helping me get Maxi in and out of the shuttle.
Eat
If you have food allergies, it's well-known Disney is a great option for a trip. My mom can't have gluten, so we are always really aware of what places are accommodating or not. I'll be honest, most trips we take my mom gets sick. Even if hotels say something is gluten-free, there is usually cross contamination. The Broadmoor does an incredible job with this. You can order whatever you want based on your food allergy. My mom would ask for different things at restaurants not even on the menu and they would make it for her. If you have an extreme food allergy, this is a huge plus! My mom never got sick and truly got to enjoy her meals. My favorite restaurant at the resort was Ristorante Del Lago. If we go back, we say we'd book 3 nights of that! Splurge on the appetizers! Paul and I split a pizza but our family got plenty of appetizers. Honestly, I found that to be true at most of the restaurants. So if you like splitting, split a meal and then get an extra appetizer. The Golden Bee was fun for Paul and my dad, but I'll be honest I didn't find much I like to eat there. It's pub food [great pub food!] but if that's not your thing, you may pass. Natural Epicurean was my favorite for lunch, get the Buddha Bowl! We would also get their bowls to go and take them down by the pool. At the pool you must order a smoothie! I'm not a smoothie girl. They have never appealed to me and I know drinking a lot of sugar [even if it is fruit] isn't the best for you. However, I got a smoothie nearly every day at The Broadmoor. They tasted incredible and like you were biting into fruit. If you are booking your trip, make sure you can go on a Sunday and make a reservation for The Sunday Brunch. La Taverne was also wonderful, but it is a ton of food! If you like French Onion soup, order that as your appetizer! Eat a really early lunch that day if you eat there for dinner. Also, if you are gluten free every restaurant has gluten-free bread they can serve you as an appetizer! For breakfast, stop by the Espresso News and grab a Pumpkin Spice Latte. I think Starbucks PSL is way too sweet, these were perfect! They also have incredible doughnuts if you want a treat.
Play
If your guy likes to golf, he will love The Broadmoor. Paul and my dad are both avid golfers and this was their most favorite course they have ever played on. I went to the spa. TWICE. Granted, one was a complimentary service because of a time mix up…but, I never go to spas. One of their waiting rooms sits above the 18th hole and you look out onto the golf course. I got there an hour early before my massage one day just to lay in there and read a book. My sister and dad did a major zipline course which The Broadmoor set up. It's called The Broadmoor Soaring Adventure. Now, I wouldn't sign up for this if you have any apprehension of heights. I don't like heights, but I've ziplined before and it's fine. My sister has no fear and works at Young Life camps in the summer where they do this daily. She told me she even got nervous doing this, but it was by far the highlight of her trip. We did Pikes Peak [which honestly, you can skip! Okay don't kill me for saying that….but you can skip it!], Seven Falls and Garden of the Gods. I didn't do Seven Falls but the rest of the family did and they loved it. I also highly recommend booking a cabana. Compared to most resorts, these were priced really reasonably. We were there during the 4th of July which was packed and the cabanas cost around $175 per day. It was well worth it to keep a baby cool and in the shade. If you are there during a busy time of the summer, some people are down at the pool at 6 a.m. saving pool chairs, so do make note of that. The resort will tell you they open at 9 and you can save chairs around that time, but don't make that mistake! It's like The Hunger Games at the pool. We chose to do cabanas at the end of the trip and it was the best decision.
Wear
Normally when we travel to Colorado I pack a bag of Lululemon and call it a day. The Broadmoor has dress codes for each area, so we ended up packing a lot and I wore it all. For the summer you'll want to wear sundresses for dinner [like pictured above] and casual, yet cute outfits during the day. Men can't wear ball caps unless they are working out or at the pool. They prefer that you don't wear workout clothes to eat at any of the restaurants. However, you will see people wear that sometimes. We'd get up in the morning, throw on workout clothes to hike or do something outside. We'd get back to our room, I'd change into a romper for lunch, head to the pool after and then wear a sundress for dinner. One of the restaurants is cocktail attire, so just check with your reservations. Sunday brunch is also fancier, I'd wear something like this. Because morning and evenings can still be chilly in the summer I'd pack a shawl like this to read books on the patios in the morning and something like this for dinner.
Types of Travelers
You see a mix at The Broadmoor! They do a lot of company retreats so there is a slew of young professionals. There are families and while kid-friendly, it's not what I consider a "kid" resort. They have camps and plenty of activities for them, but you also don't have kids everywhere you turn. There were some honeymooners and young married couples and then there were people that have come every year for the past 45 years. You also see a lot of older couples traveling with their couple friends. Many people get married at The Broadmoor so you also see wedding parties. I don't think any type of traveler would feel left out, nor out of place. Overall, I would say this was a huge contributing factor to why this was such a great family trip. As "commercial-esque" as it sounds, there really is something for everyone.
Make Note
You want to make reservations well in advance. This isn't a resort you can show up and just find a spot for lunch. We booked reservations a few weeks in advance [about 6] and we still couldn't make it in every restaurant. Also consider making lunch reservations.
The service you're provided is impeccable and so it's certainly appropriate to tip for that. While it's commonplace to bring extra cash and tip resort employees, with The Broadmoor I'd budget for extra to be on the safe side. I had called ahead and mentioned something about breastmilk storage and right when I checked in they got me a fridge and asked how large I wanted the fridge to be. They also brought in a microwave to heat up water to warm her milk.
Babies are sensitive to the altitude in the sense it affects their sleep. Our Pediatrician goes to The Broadmoor and had told me that it may make Maxi not sleep as well. It completely slipped my mind as I just thought she just meant traveling would affect her. Maxi slept horribly. I know some of that has to do with travel, but the more I talked to my friends that are moms and pediatric nurses the more I found that to be the case. We'd stayed in a hotel with her before and she slept through the night for 4 nights there so I was confused once we arrived to Colorado. One of my girlfriends' babies has slept through the night since he was 2 weeks. They were in Colorado the same time we were and she was texting me every single day that she was dying to get home so her baby would sleep again. Towards the end of the trip she was adjusting, but just prepare your spouse if you are bringing your baby. Paul and I really just traded off the shifts and it wasn't something that would deter us from going again with her.
It's a dog-friendly resort! However, if you aren't a dog person don't worry! They don't allow every dog to stay in all the rooms, those are already specified.
Get to the spa early! You'll want to enjoy their oxygen room so you can acclimate to the altitude as well. While Colorado Springs isn't that high, I did get sick the 3rd day. The oxygen room takes at least 15 minutes to work so just add that into your spa time. You could easily spend about 2 hours before your treatment enjoying the amenities.
If you forget a dress or a bag or a hat, don't worry. They do have a great shop that sells Lilly Pulitzer and plenty of other brands you'd find at Nordstrom, etc.
I'm sure many of you have frequented this spot so I hope this wasn't too redundant for you! It was such a special and relaxing trip for our family that we hope to continue the tradition like my mom had in her family. Let me know if you have other questions about the resort in the comments and I'll do my best to help answer!