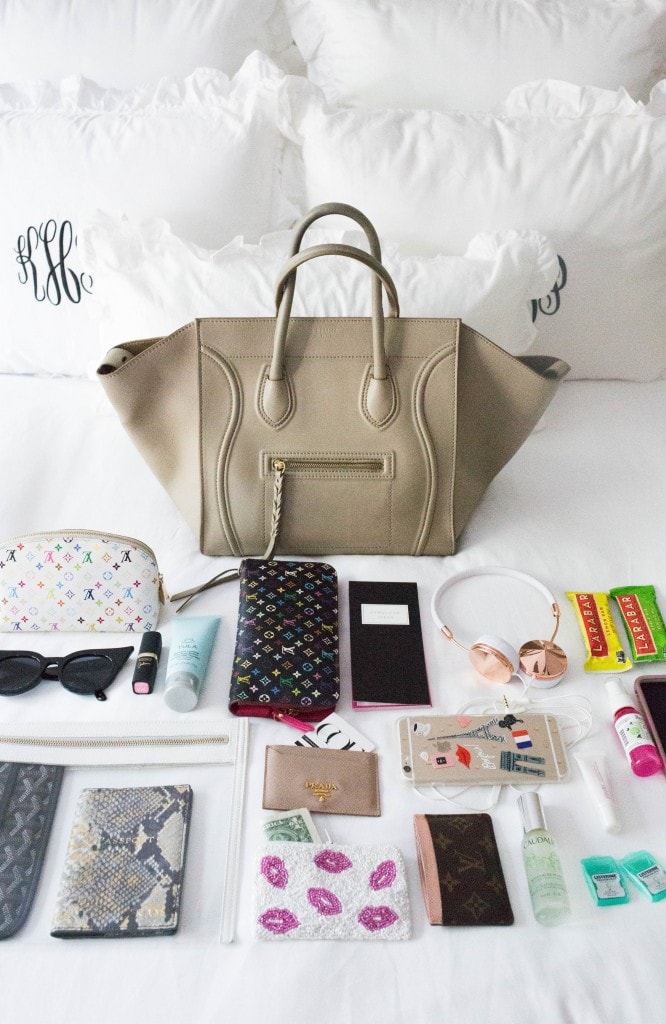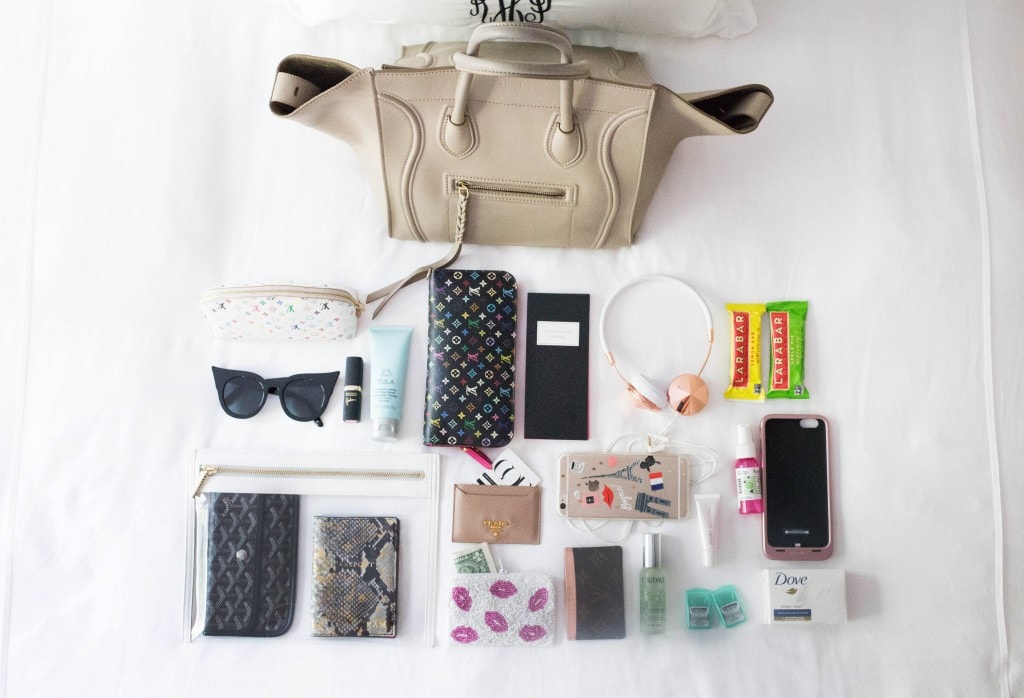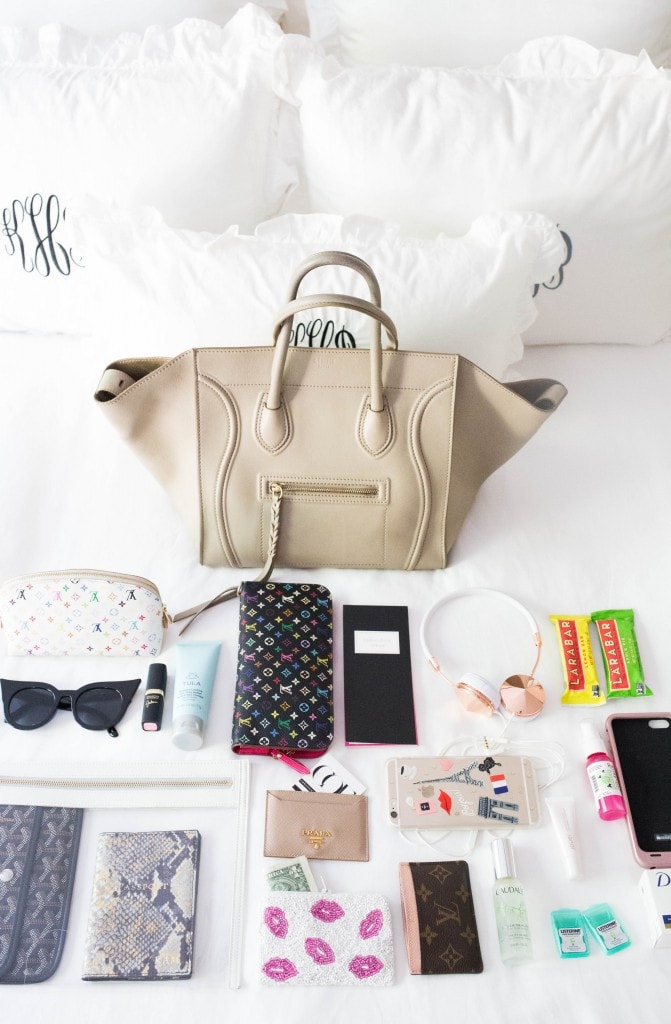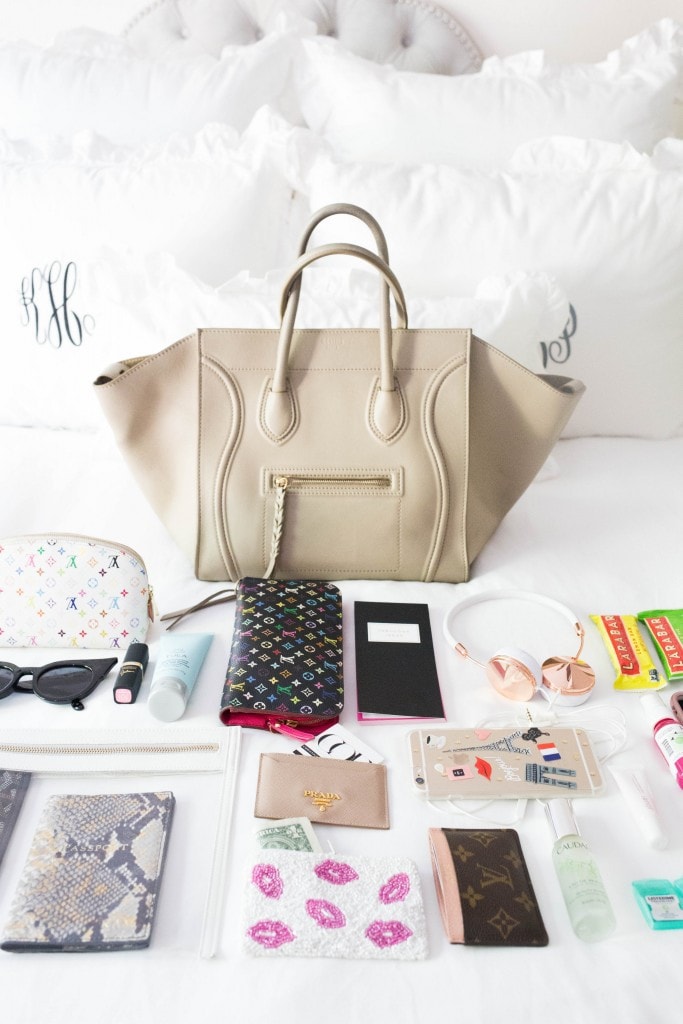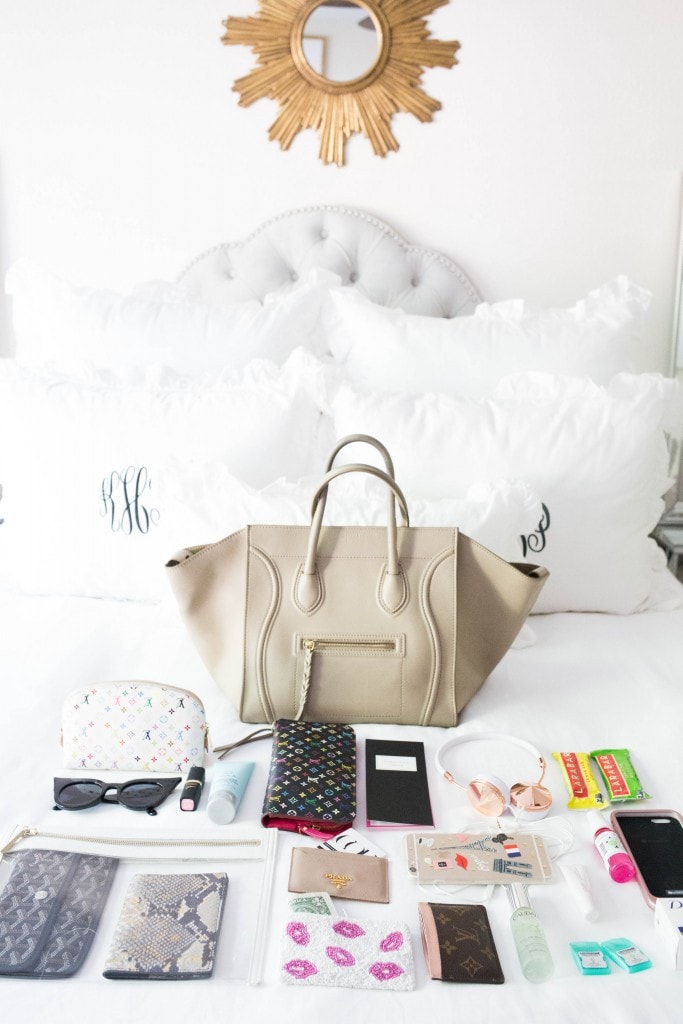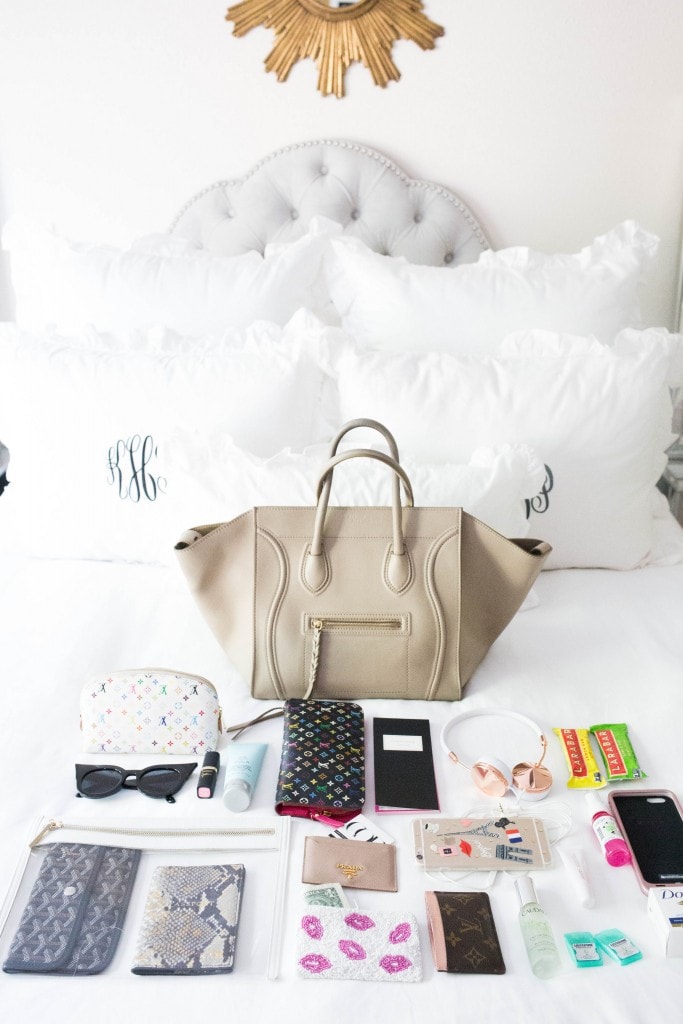 ---
We are headed home bright and early at 3:30 a.m. from NYC so Paul can make it back to work today! To keep in theme with my Fashion Week packing post from last week, I thought today I would share what is in my bag for fashion week. Of course, I'm not running back and forth between shows with this big bag, but this is what I take on the flight and I pick and choose what items I need for each event in my bag for the day.
I wanted to share all the items that I keep on hand for traveling to a big city to help with your next trip!
This was a little anniversary gift early from Paul! He purchased it from Fashionphile [one of my favorite designer resale sites!] as I really wasn't set on what kind of shape I wanted in a Celine bag. I was so torn between the nano, the luggage and the phantom. I told him I didn't want him to pay full-price because that was ridiculous if I wasn't even sure, and that's why I seriously love designer resale sites! If you aren't sure, or you think something is a little trendy, the buyer's remorse is far less worse! 😉 But this bag is amazing for travel because it fits everything and my girlfriends all say it will be perfect when Baby Hellman is a toddler and I just throw in their bare necessities.
I keep a makeup bag in my purse at all times so I can hold tissues, hand sanitizer, hand cream, hair ties and whatever items that can last minute save a fashion emergency. Then I can easily just pull out what I need when transferring bags. Here are two of my favorite products below!
Contents: TULA Hand Cream, L'Oreal Lipstick in Julianne's Pink [c/o]
I'm a little shy to admit but Paul always rubs my hands and feet before bed! It started as a funny joke. When we first met and started dating we lived about 30 minutes away as I was still in college and he was in his career. He would book me manicures and pedicures months in advance and pay for them at this nail salon right by his house. He would text me and say I had an appointment at such and such time, so he had a sneaky way of being able to take me to dinner after. It was seriously the sweetest gesture! Anyways, when we got engaged I joked and said, "Wait, why did that stop?!" 😉 Then since the day we got married he does that every night! haha. Needless to say, I get really picky about hand cream because we go through so so much! TULA just came out with a probiotic hand cream and I love it. The concept is brilliant. You wash your hands all day long, you're washing away good bacteria and oils that keep your hands not only healthy, but younger looking. One of the first parts of your body to show age, sun damage and skin damage is your hands. This puts the good probiotics back in your hands so that you aren't causing that damage or aging your hands prematurely. What I also love is how clean your hands feel after. That's probably a funny description but after I use lotion I feel like I could never shake someone's hand. It's either too greasy, too slimy or too oily. This is a perfect texture and my hands feel really fresh. If you purchase it now you also get a free Habit nail polish!
A drugstore favorite is the L'Oreal pink lipstick in the shade: Julianne's Pink.
I got these little cat sunglasses when I was in The Woodlands with my girlfriends and they have stayed my favorite! I honestly think I want to get the tortoise pair as well after seeing them on a girlfriend!
These Truffle pouches are the BEST gifts! I keep my boarding pass, baggage claim ticket, check book and passport in it, along with any paperwork I may need such as a schedule. I hate feeling flustered at the airport searching for my passport or boarding pass and this prevents that feeling. I also keep my receipts while traveling in this so when I get back home I can easily document business expenses or anything else I may need!
Checkbook: Goyard
Lip Pouch: Cab Money [local boutique, no longer sold]
I keep a coin pouch in my purse so coins don't get lost in the bottom and a huge budget tip of mine is to operate off of cash when it comes to food. I take a certain amount out each month for restaurants and when it's out, it's out! I don't use my card or go get more. I do the same with traveling. I'll take a certain amount out for cabs and food and when I go through it all I know we need to stop indulging!
Prada Card Case: Business Cards
Wallet: Keeks [c/o]
Notepad: Homegoods
I'm old fashioned and have to write everything down. I love my phone, but I hate keeping a schedule or to-do list in it. I keep a small notepad in my purse for fashion week to write down specific trends I want to note or contacts I meet while out and about at meetings.
I used these headphones and watched Scandal the entire flight to NYC. I actually banned myself from Scandal because I was watching the first season right when I started my career in PR. I was OBSESSED. I would take my lunch break, run home, eat a salad and watch 20 minutes of an episode. Not okay. haha. So I told myself to stop watching it because I liked it far too much and now I'm back in addiction mode. haha!
I used this Caudalie spray in college my senior year before classes. I worked so much at a PR firm my senior year that I never even thought to wear makeup to class and I would spray this on and felt my skin glow a lot! My girlfriends always thought I had on a tinted moisturizer, but it was just this spray. I use it after shows to spray in between makeup so I don't have to apply more makeup, but my skin still looks fresh.
Chewing gum gives me such a headache now and I don't want to be sucking on a mint while in a meeting. I forgot how much I loved these back in middle school and picked some up at Target for the week!
This lip balm doubles as a lip-enhancing gloss as well as a conditioning treatment. You can apply it instead of lipstick or over lipstick to smooth any fine lines and help your lips appear fuller.
Natural Bug Spray
Pregnancy problems. haha. I get this from our local car wash, and now I'm such a mom in our group of friends. Anytime we are eating on a patio I'm like, "Let me spray everyone! It's all natural!"
Larabars
I'll be honest, my first fashion week I was STARVING. Like I actually grabbed a cup of carrots before one meeting because I was so confused as to why no one made time for a meal. haha. Shows typically run morning, noon, night so it's all during standard meal times. This time around I packed my favorite Larabars: lemon pie and apple pie to tide me over if I felt sick! However, I really didn't need them because oddly I'm not that hungry my second trimester? I was always hungry my first trimester even through the nausea! I would throw up and then need to eat two hours later. Now, I just snack here and there. So I keep one in my bag in case and as a reminder that I do need to eat so I won't get nauseous.
Always a necessity for work trips. Always. It's heavier, but you'll feel really secure knowing you can always access e-mails or maps.
This seems silly, but I always travel with a bar of Dove Soap. If you forget your face wash, your shaving cream, or you stain your shirt this works on everything. If your flight is delayed and you feel gross at the airport use this! I know some people are really particular about soap and hate this or that brand, but I always find that Dove soap works on everything and I hate to be in a hotel without it.
So now, I'm nosey! What do you keep in your purse while you travel?!

Photography by: Madison Katlin