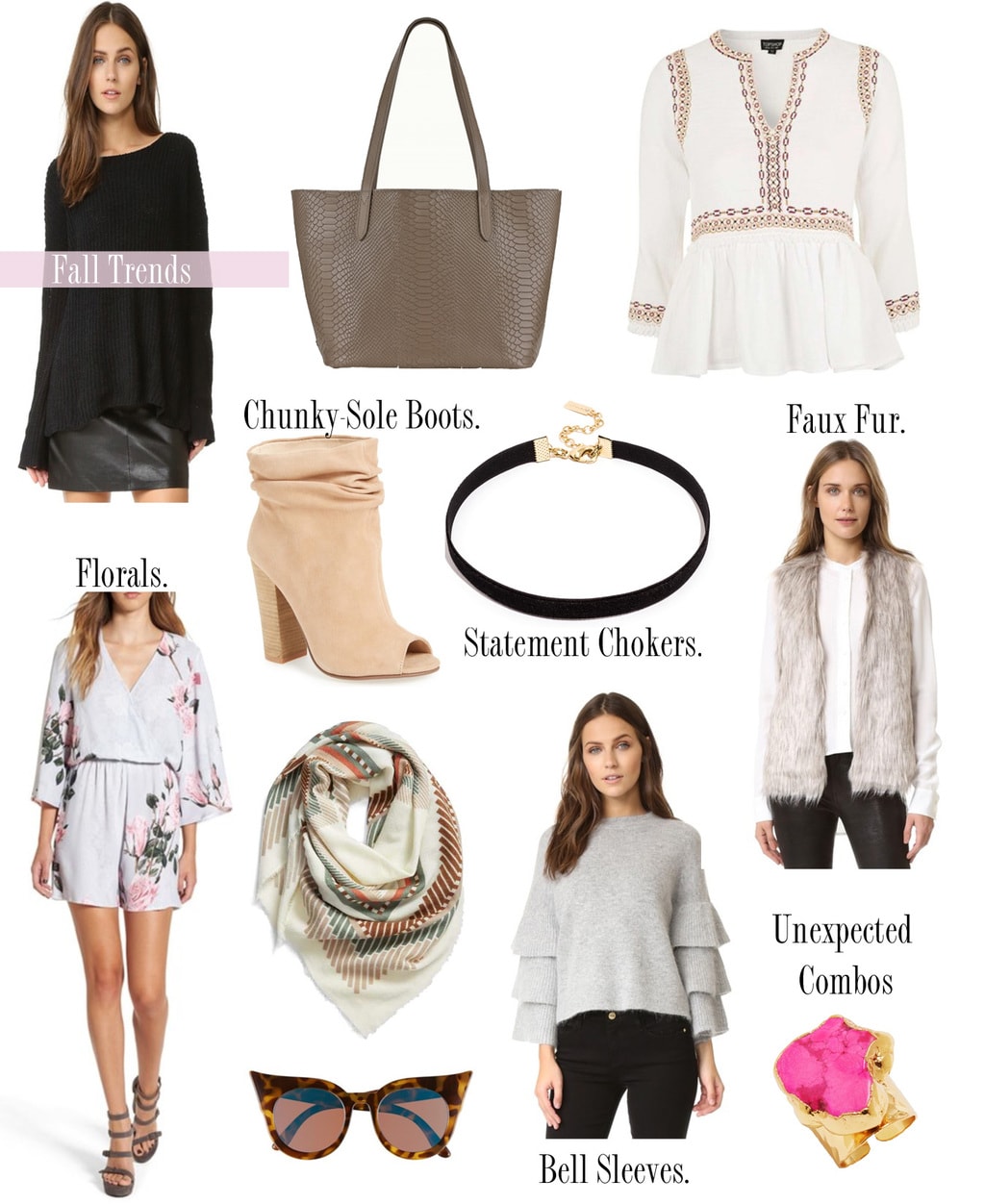 Black Sweater | Bag | Embroidered Top | Booties | Choker | Romper | Scarf | Sunglasses | Gray Sweater | Faux Fur Vest | Ring
---
Okay. Okay. Don't freak out on me. Last year I wanted to start a fun tradition with Paul and set up our Christmas tree on Halloween just because we aren't big on Halloween. And all of my girlfriends gave me an earful for weeks about it! "Katey, you can't rush seasons!" "Katey, we haven't even had Thanksgiving yet!" "Katey, WHAT ON EARTH ARE YOU DOING WITH YOUR LIFE?"
Kidding. But they did make fun of me for quite a long time. And now I want to continue that tradition so I have to prepare for the comments to continue. 😉
So don't worry, I'm not trying to rush fall! I mean it's going to be 93 degrees in NYC next week for fashion week. I get it, you aren't busting out your faux fur vest. But today I wanted to share the fall trend forecast, that way you're able to go through, assess your closet and decide what you want or don't want to budget for! Planning ahead is one of the best ways to really stretch your wallet. Tomorrow is the first day of September, so naturally I am cleaning out the closet and wanted to share what I'm adding!
While studying up on fall trends for 2016, I couldn't help but notice they don't really scream fall. Think bell sleeve tops, florals, unexpected combos and statement chokers. Of course the usual contestants like faux leather, faux fur and capes made the list, but this fall is really about those extra details like embellished bags that make a difference. So throw on a floral romper, grab a fun clutch and pair it with chunky-sole booties and a faux fur jacket!
Here's a few fall trends to keep your eyes open to: velvet, bell sleeves, unexpected combos, statement chokers, faux fur, embellished accessories, capes, menswear inspired details, ruffles, metallics, off-the-shoulder and turtlenecks under dresses.
When it comes to hues look to shades of tan, dusty pinks, traditional neutrals, olives and rust.
I'll share a few more trends below, but let me know your favorite!