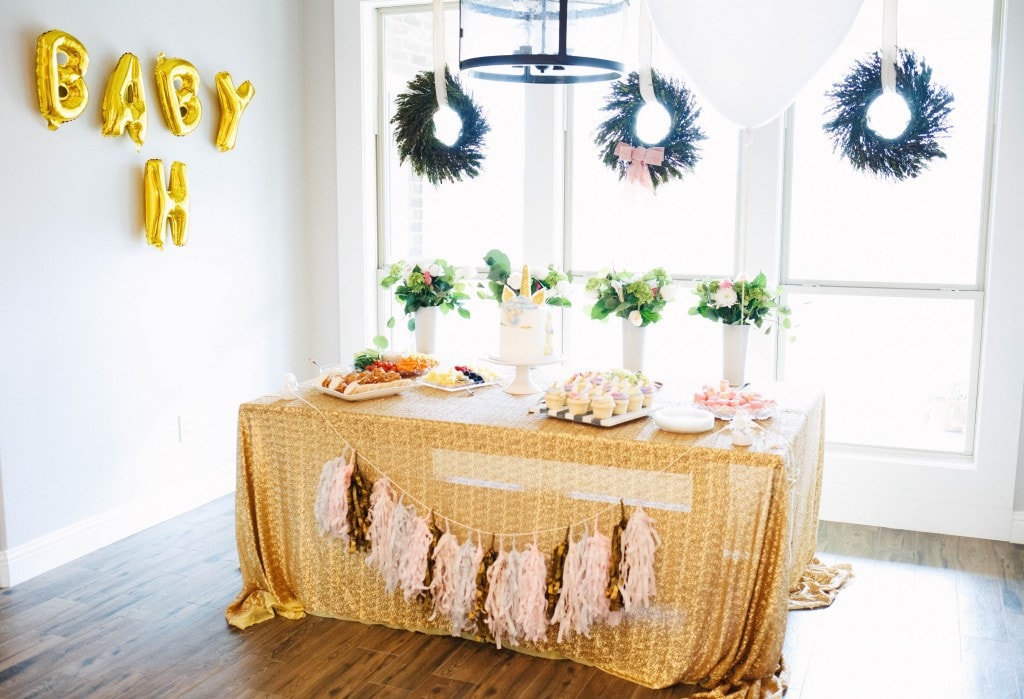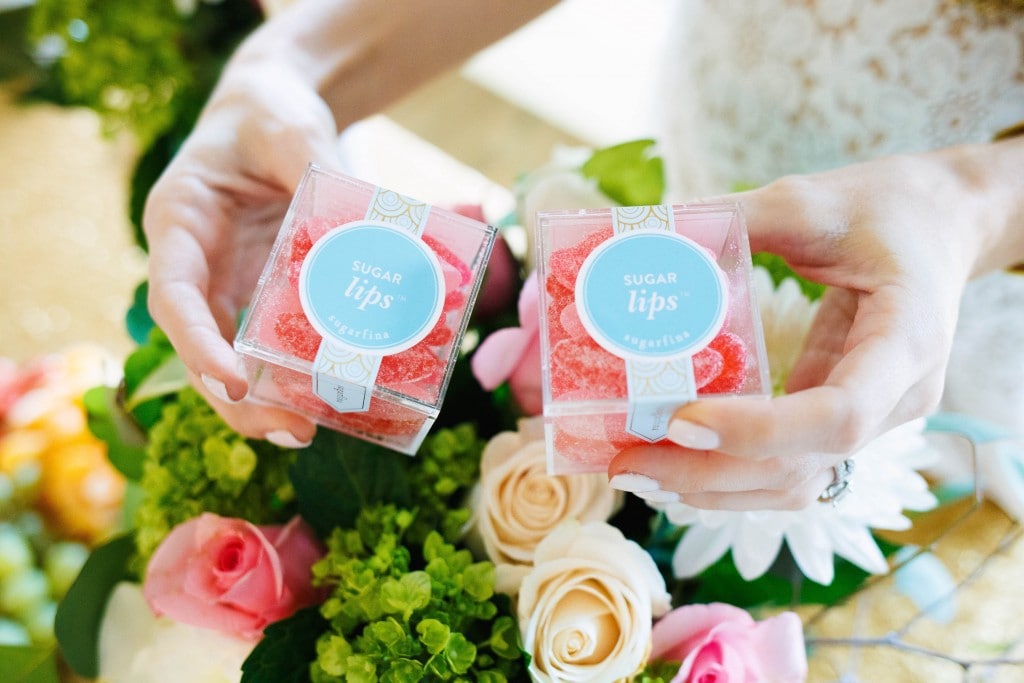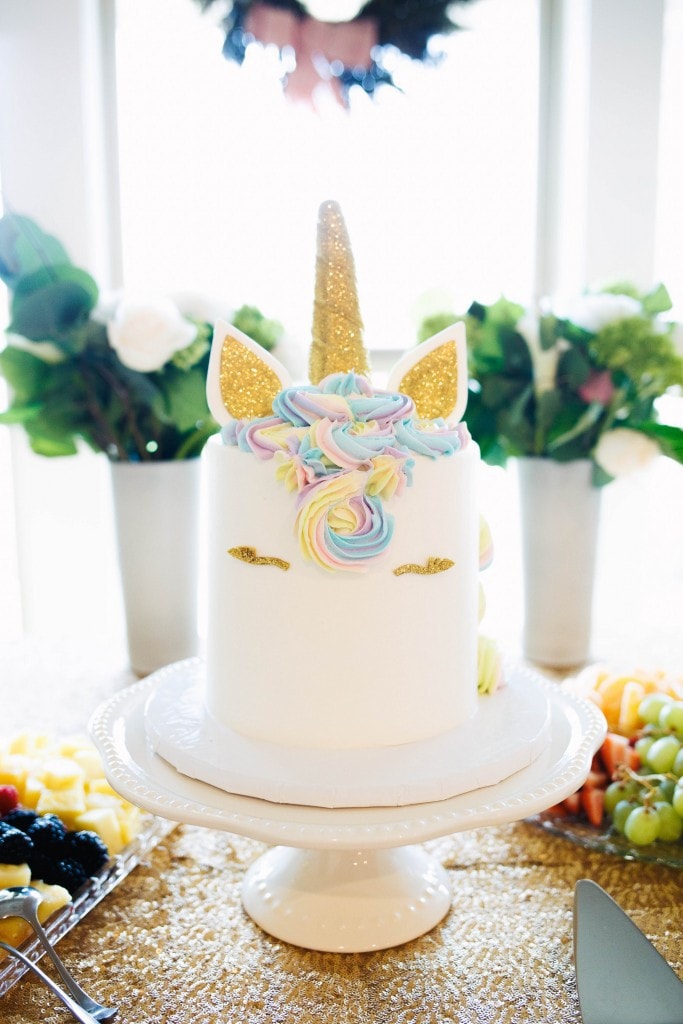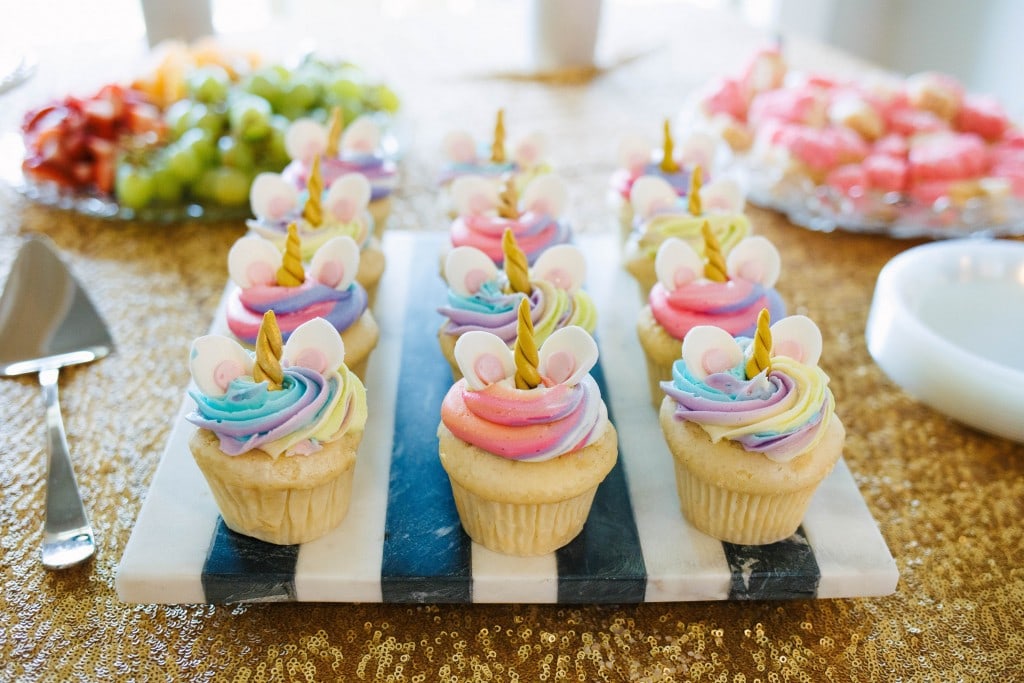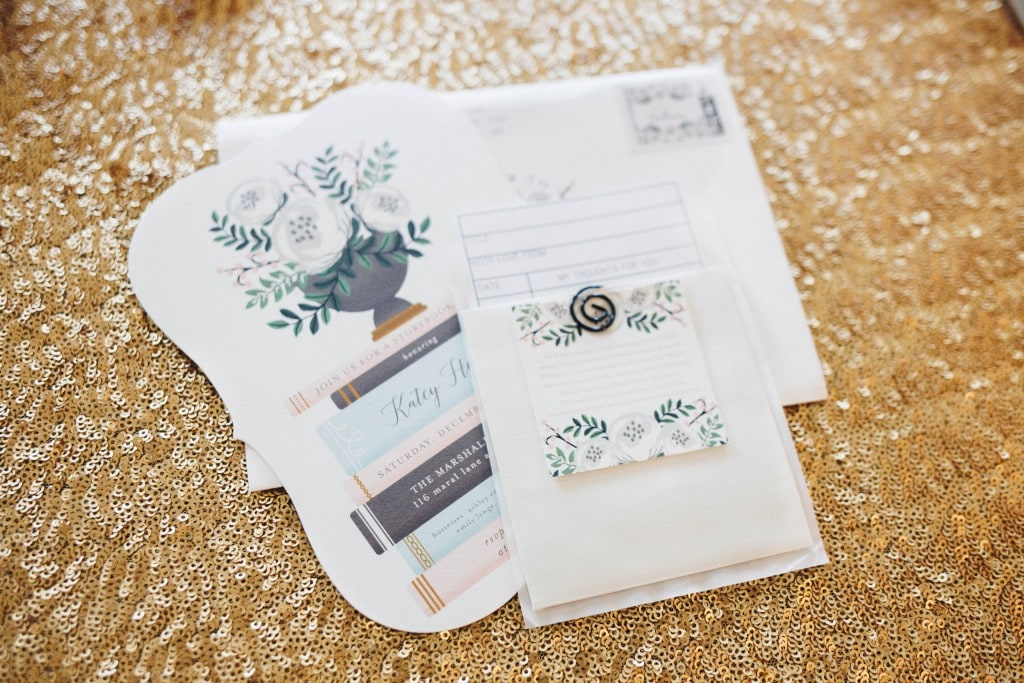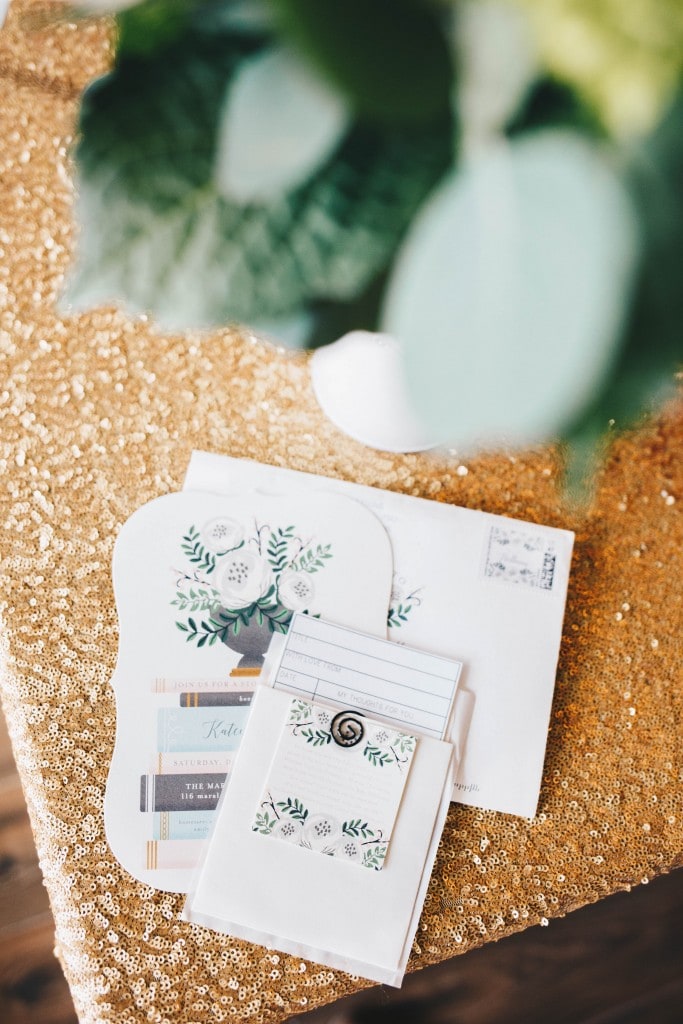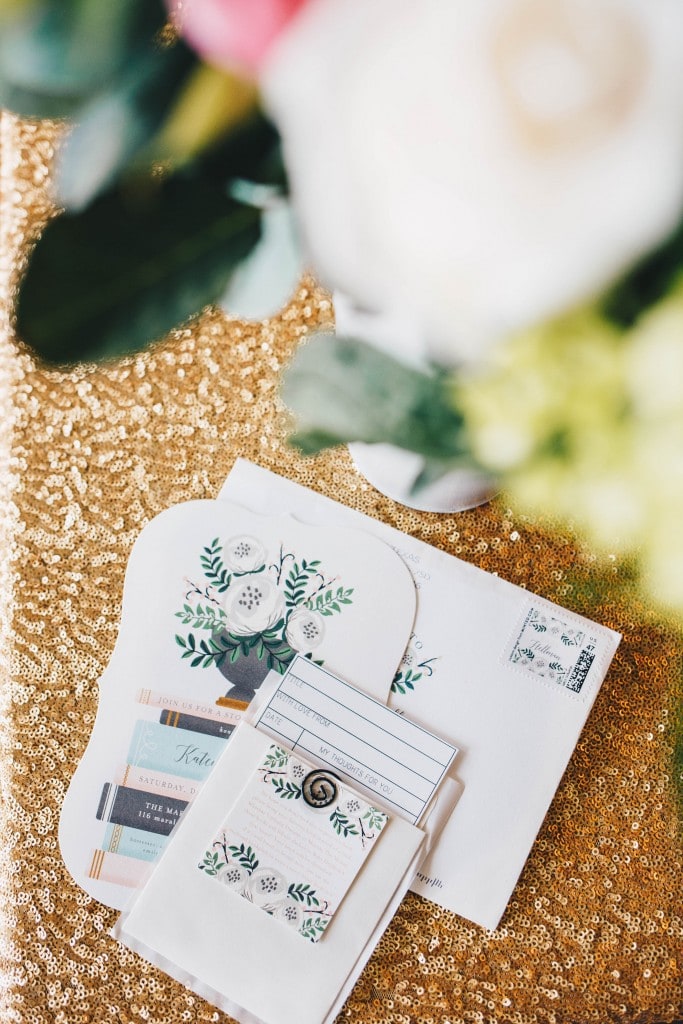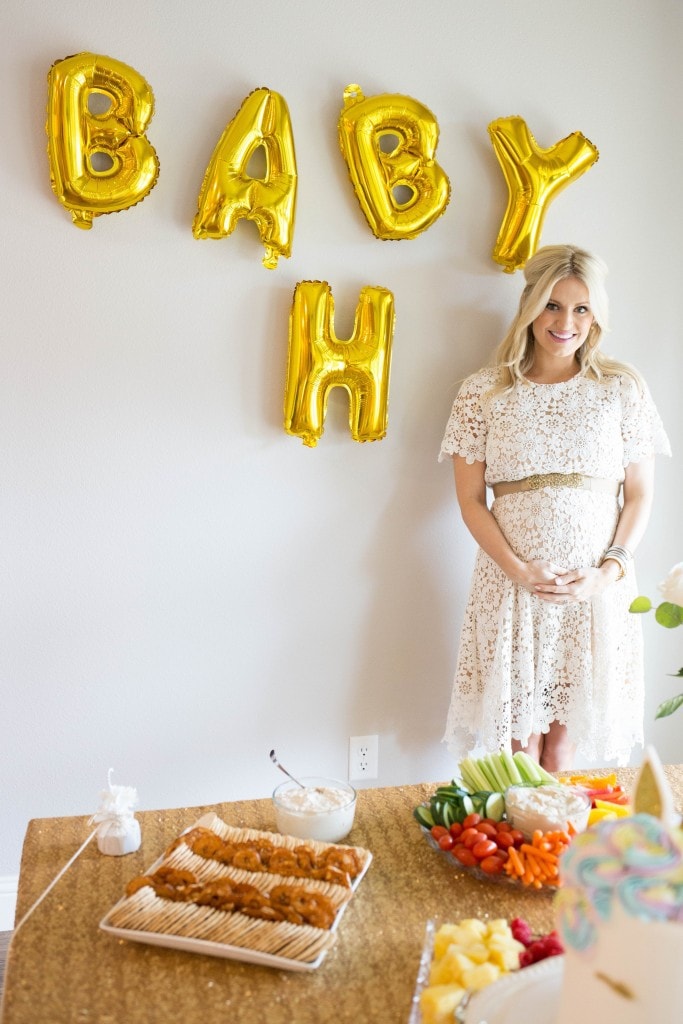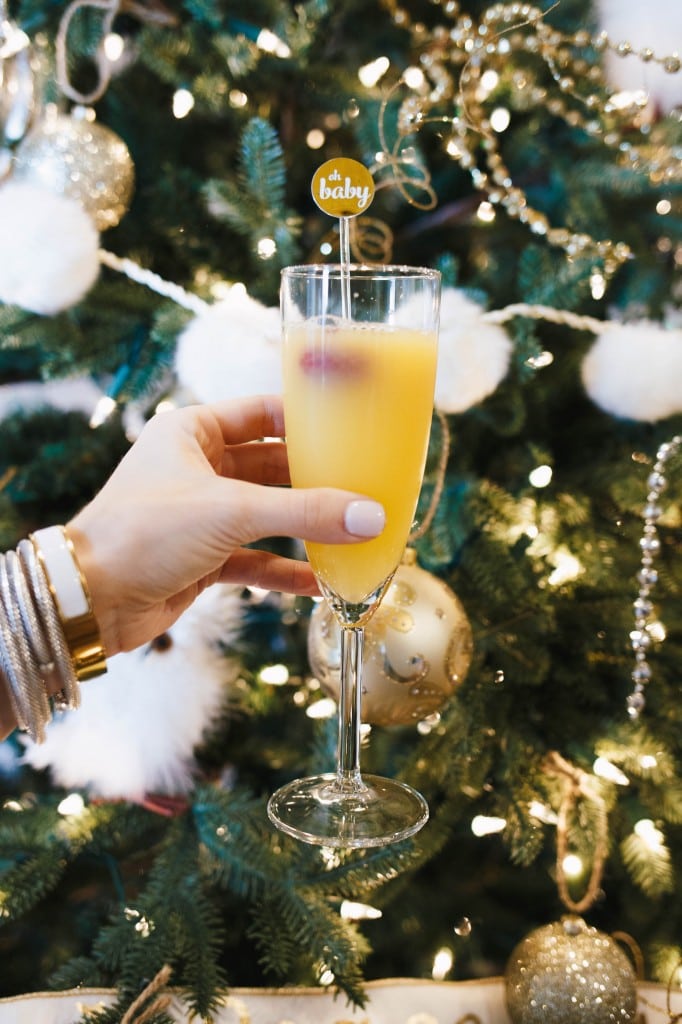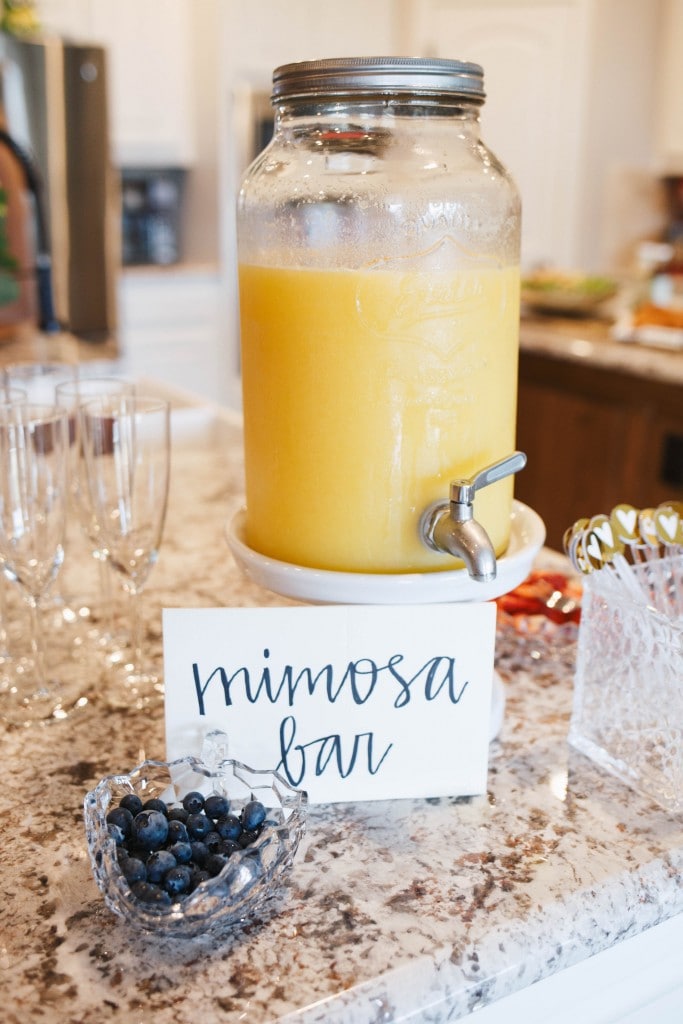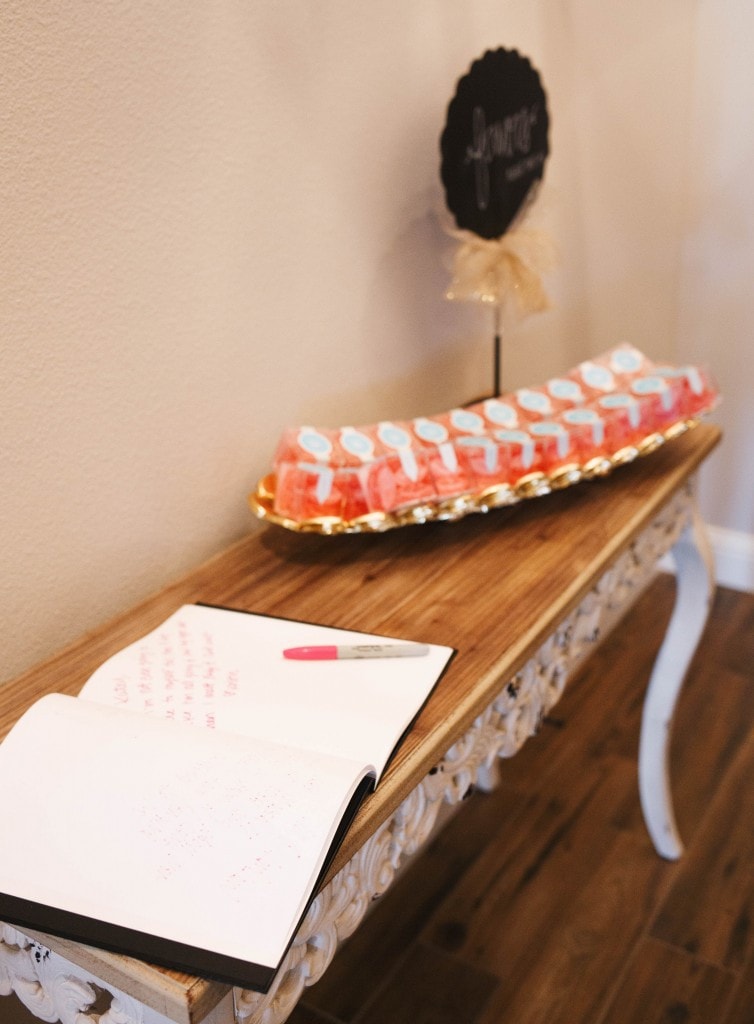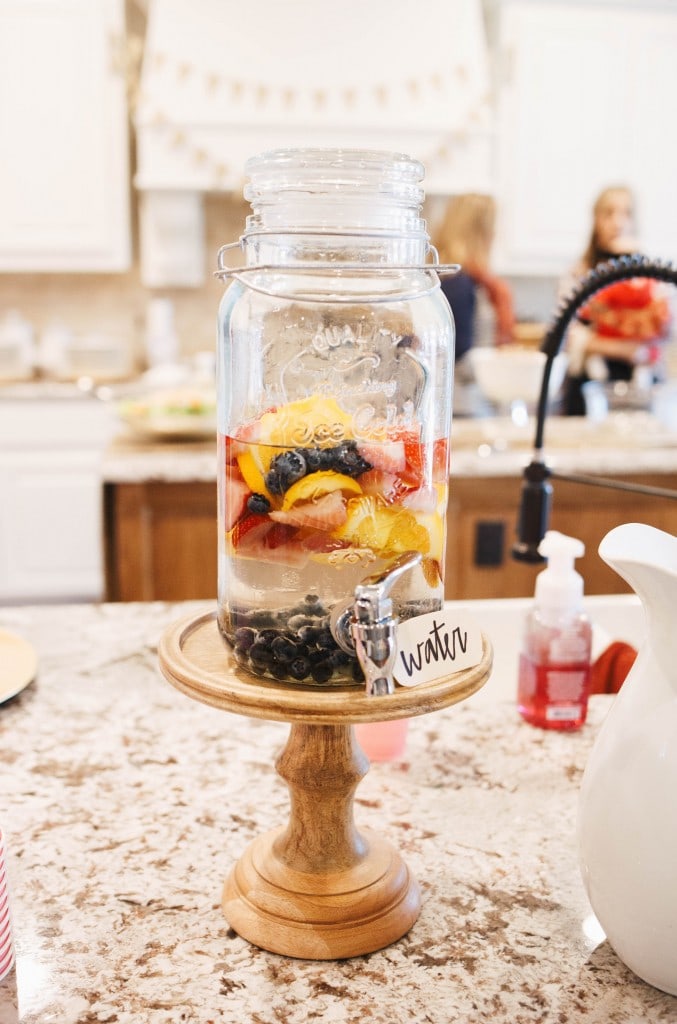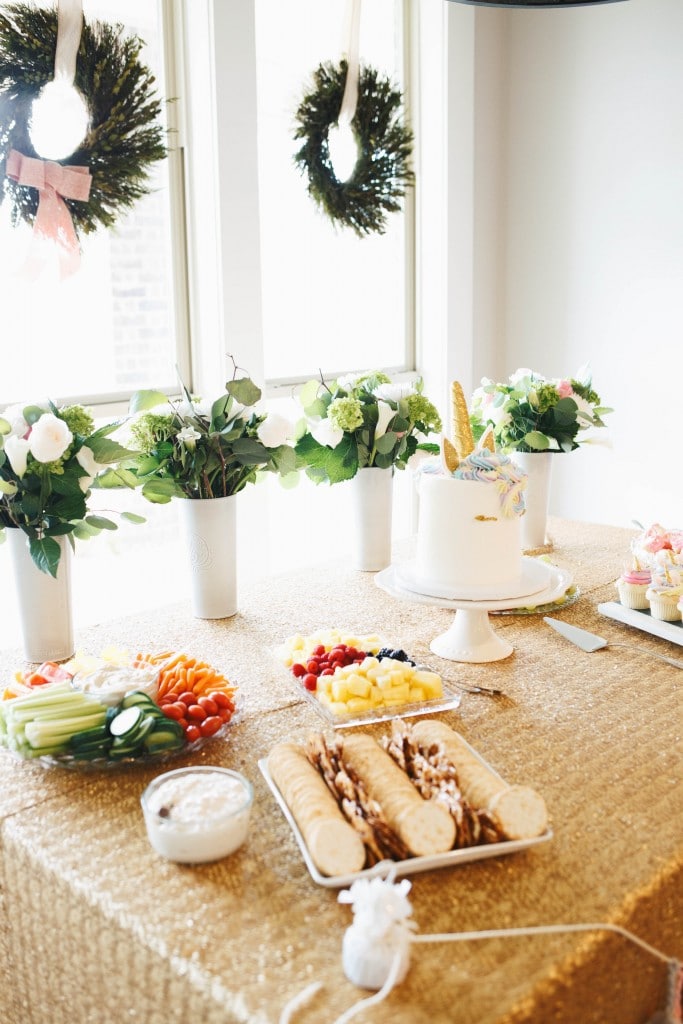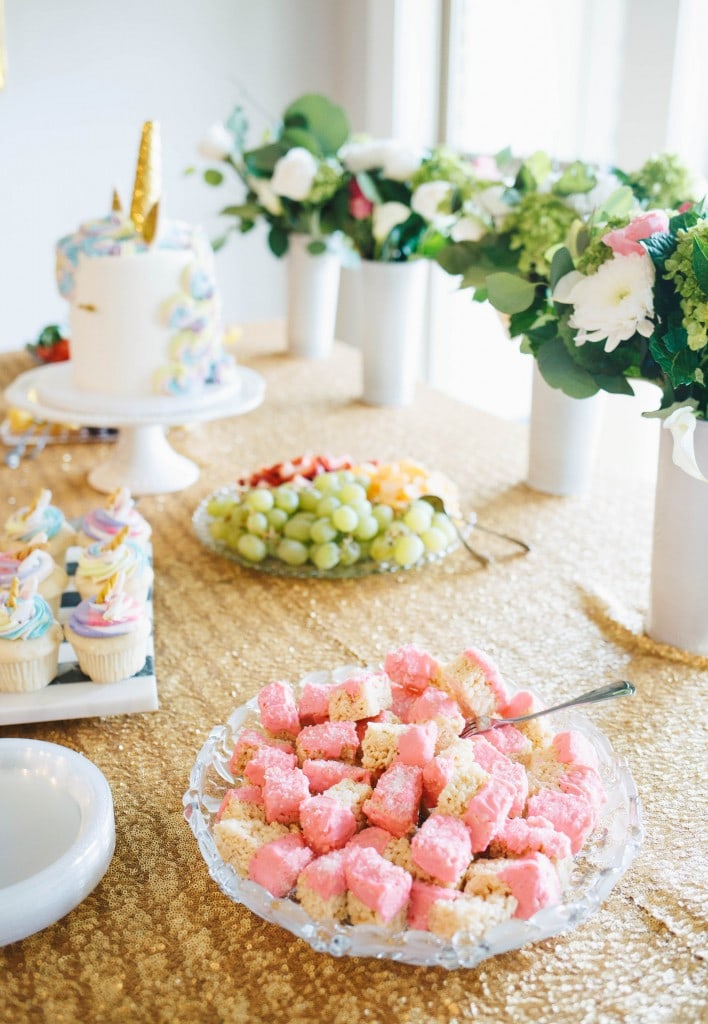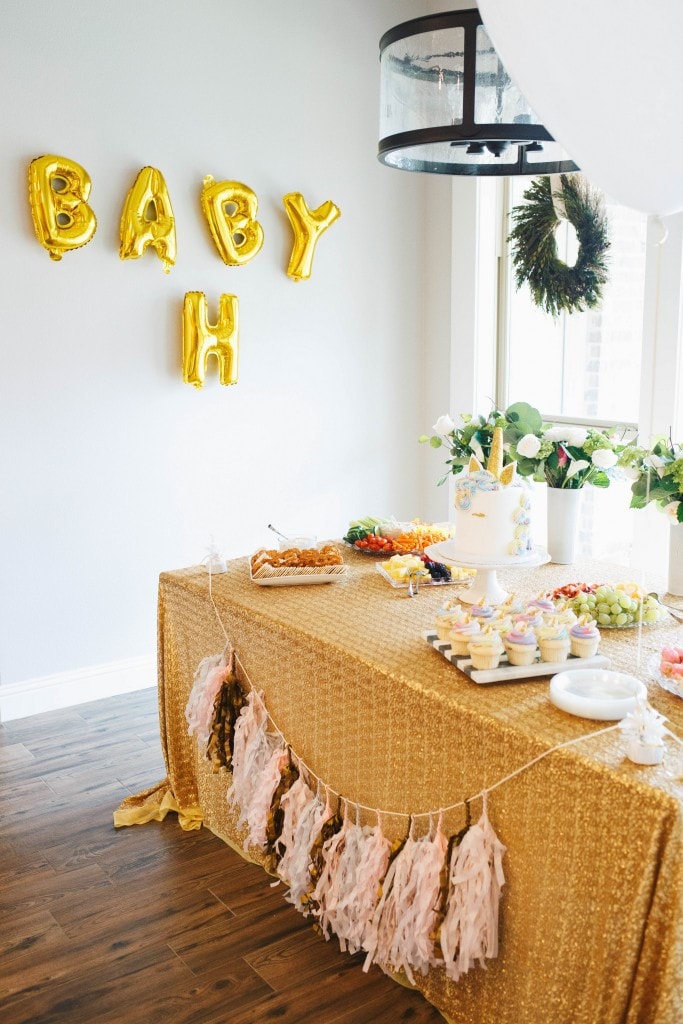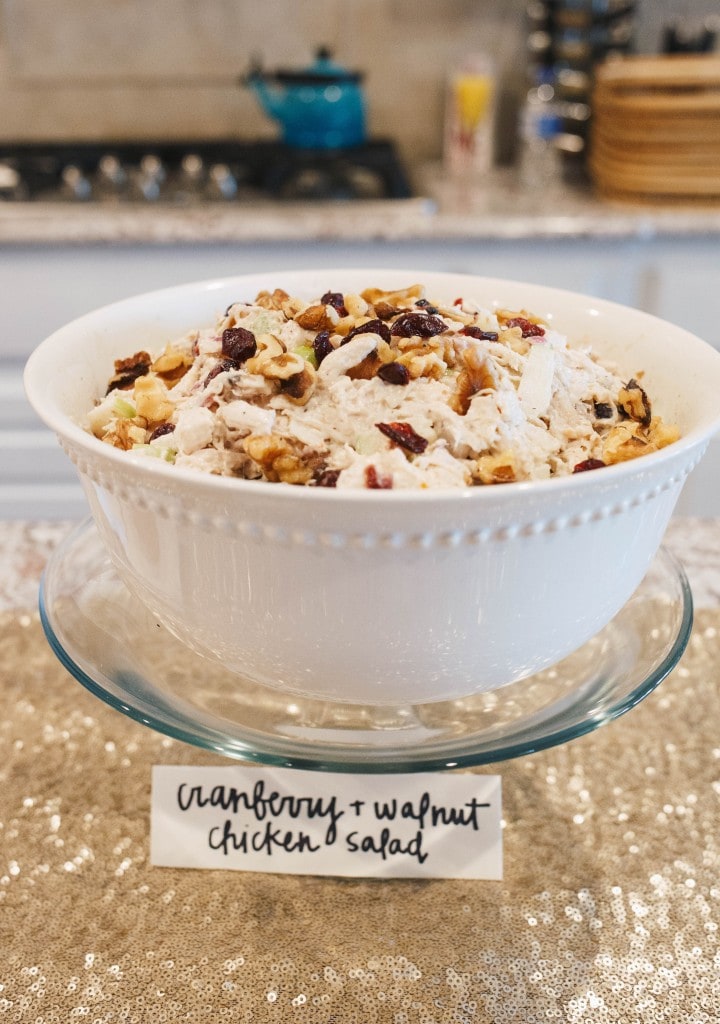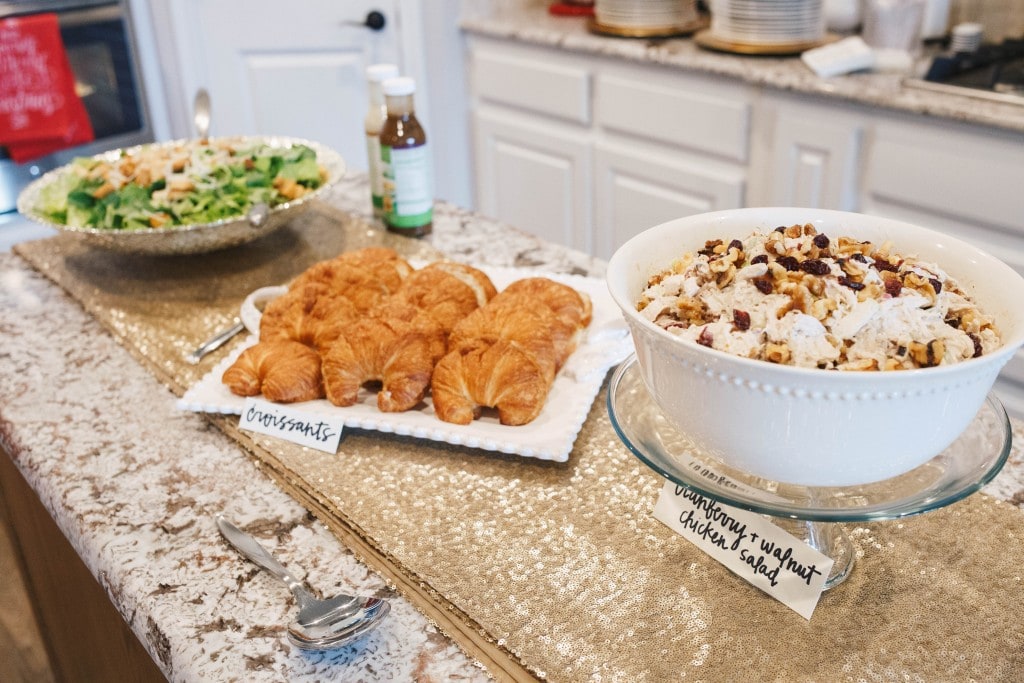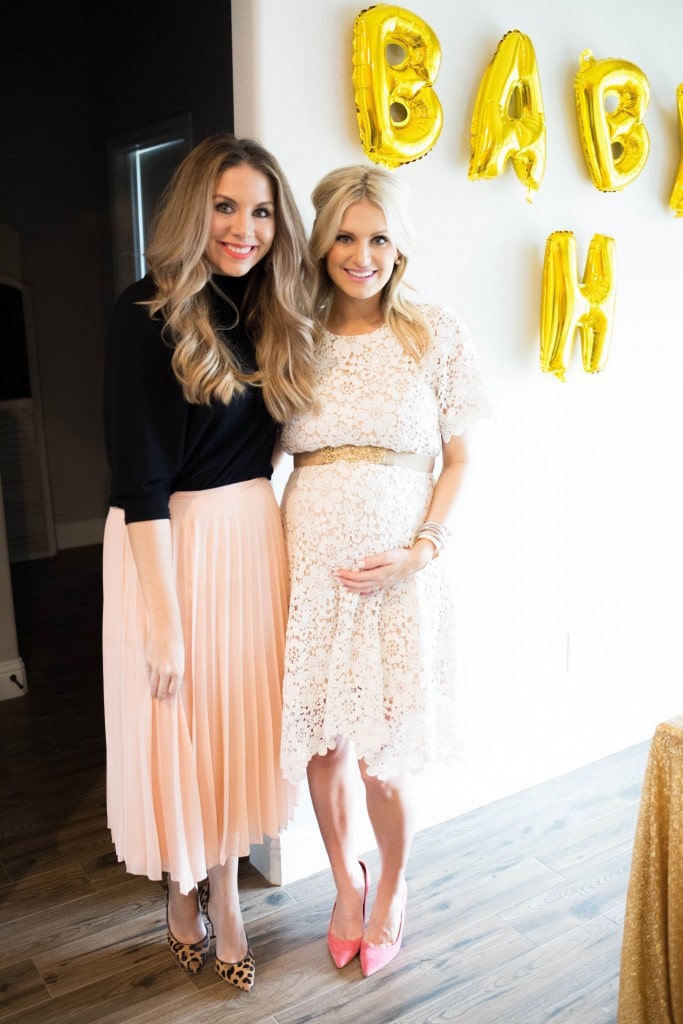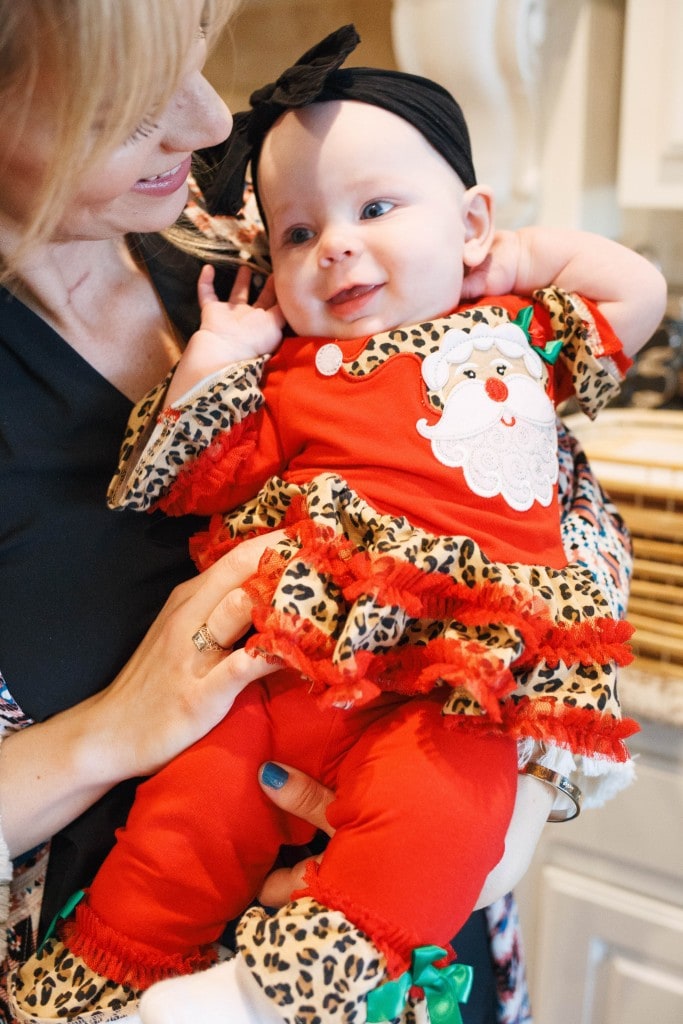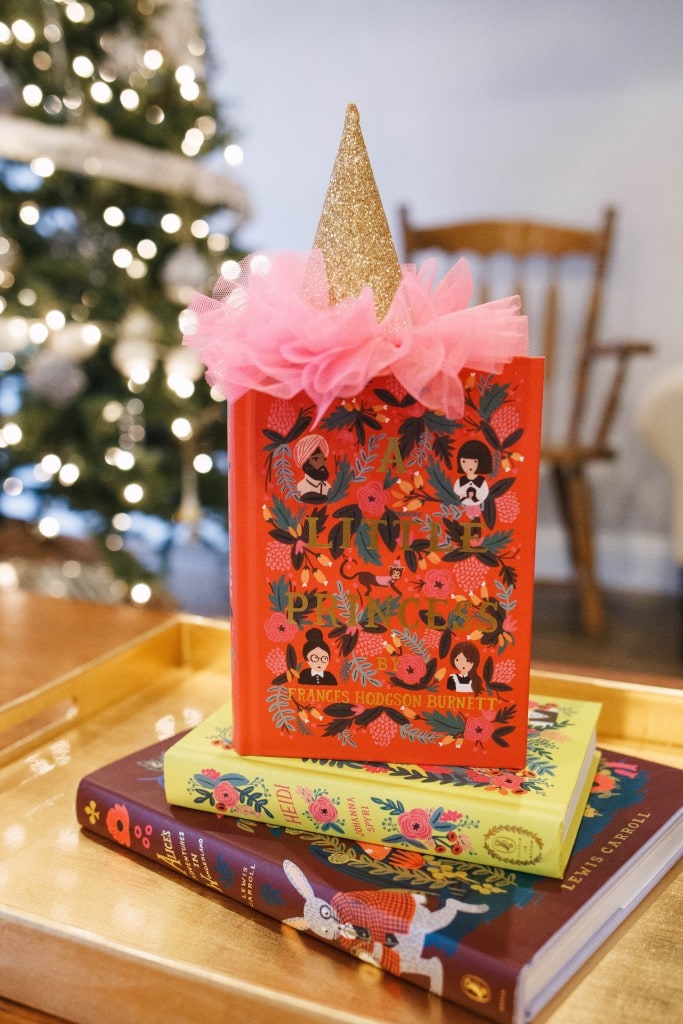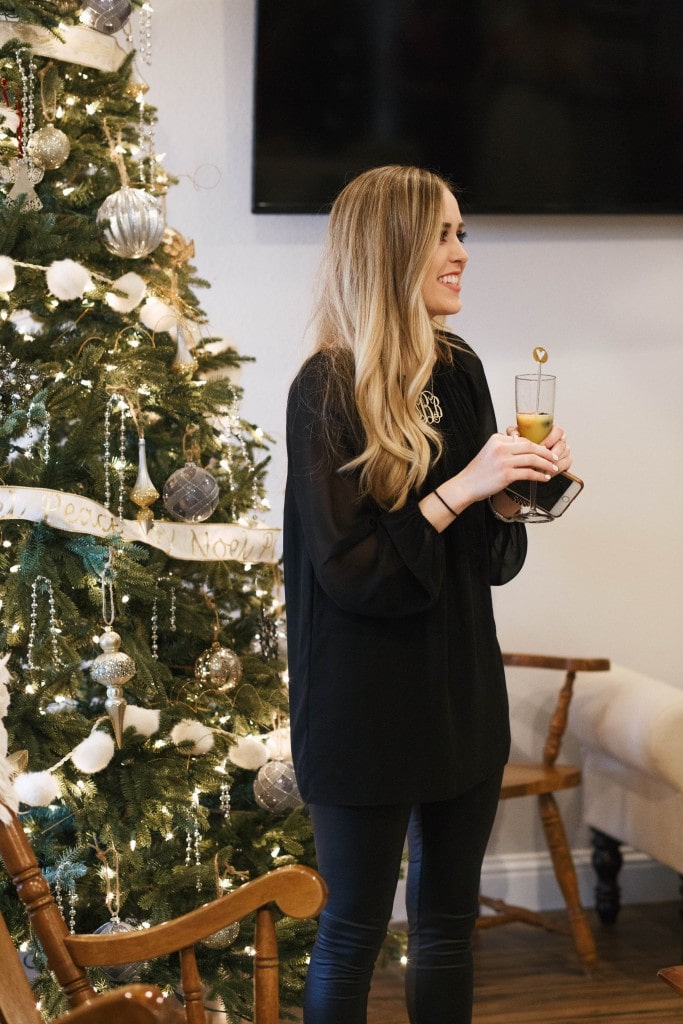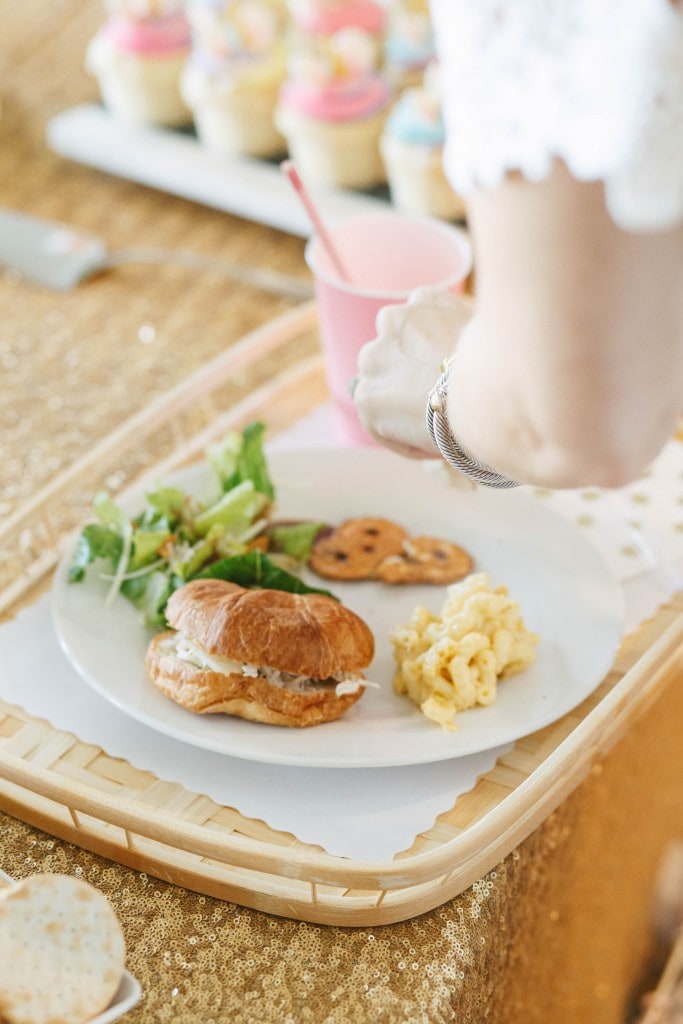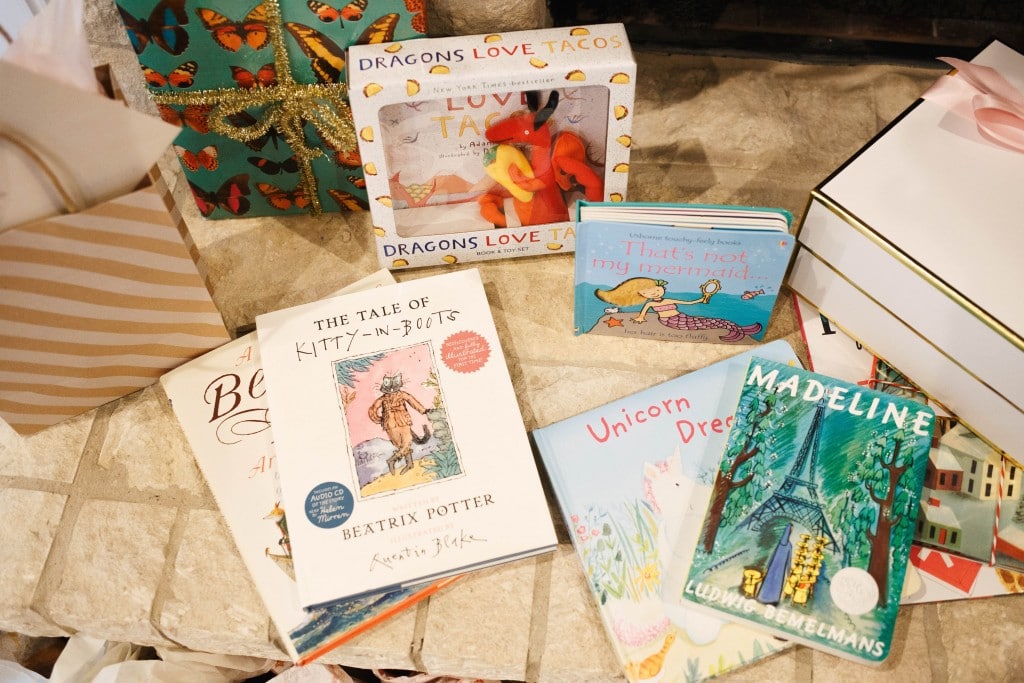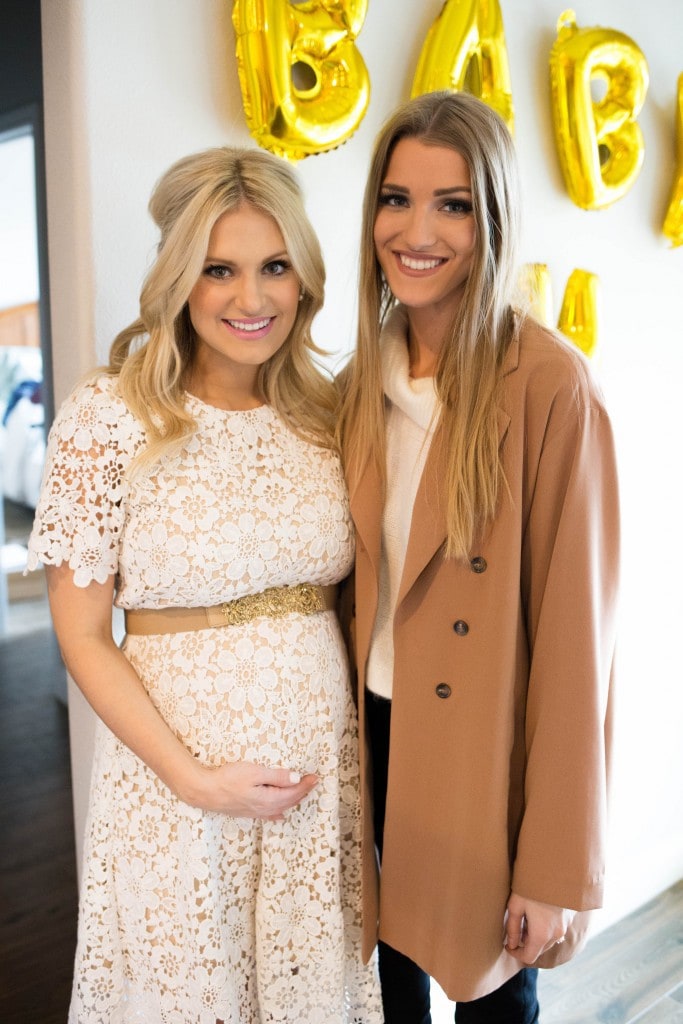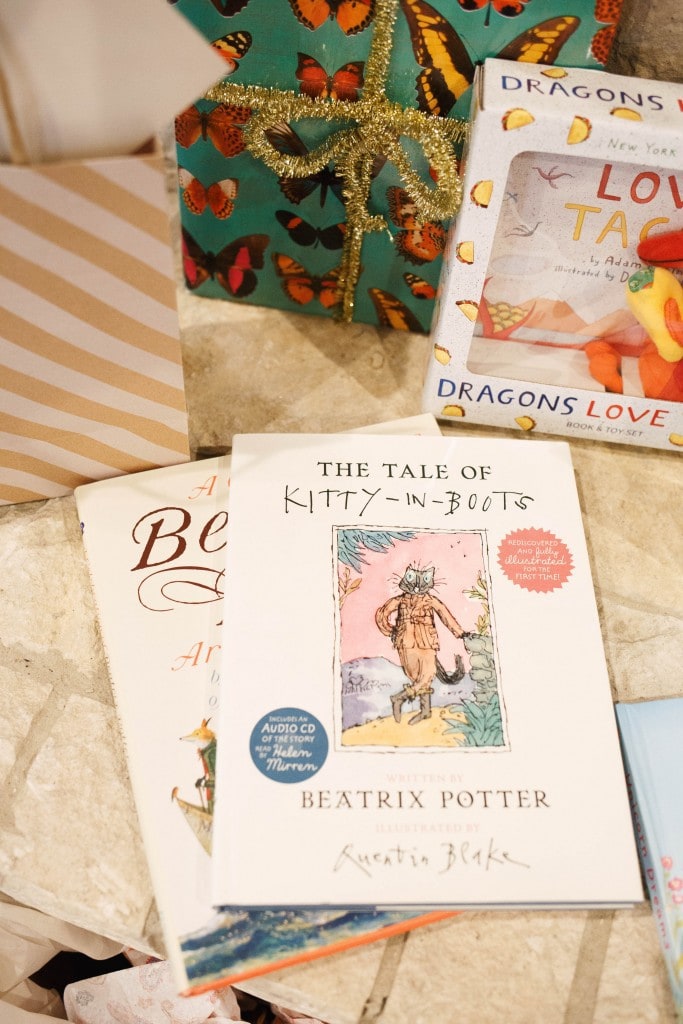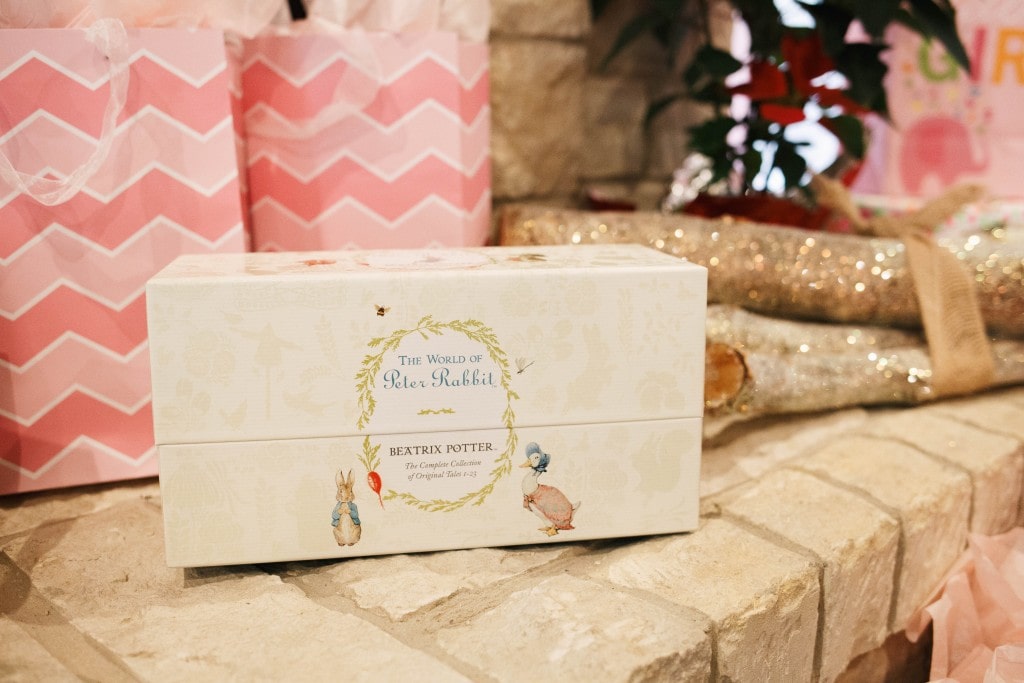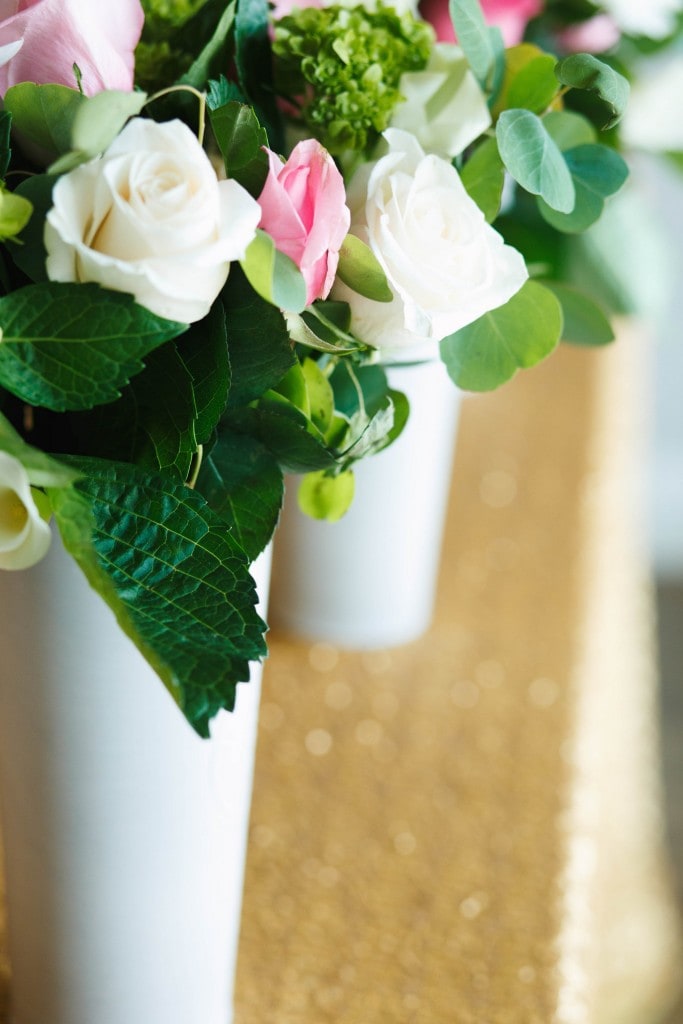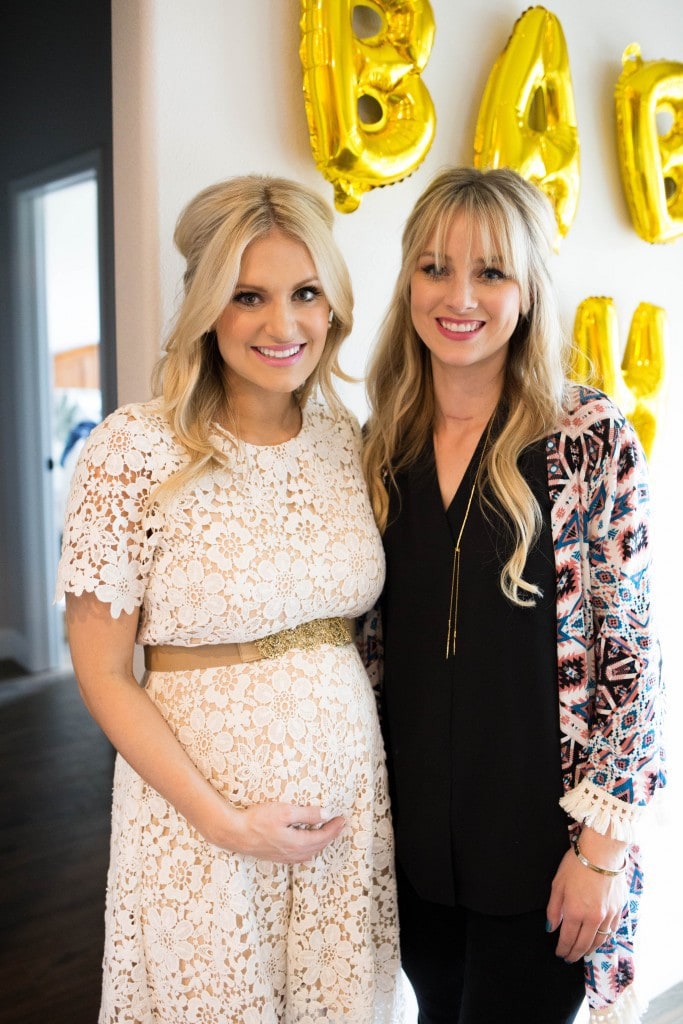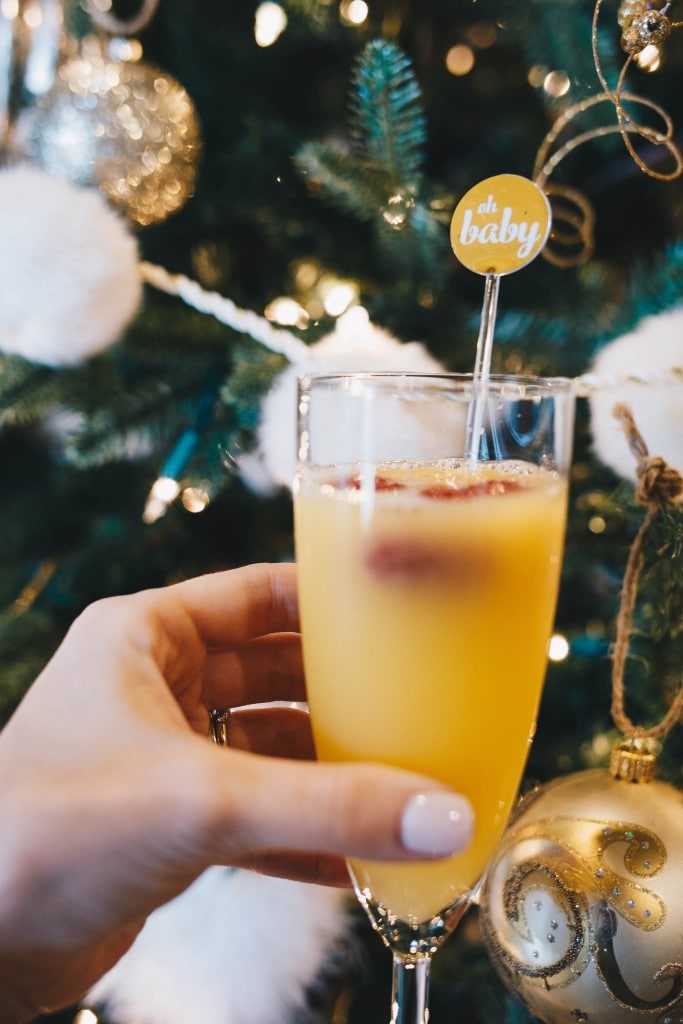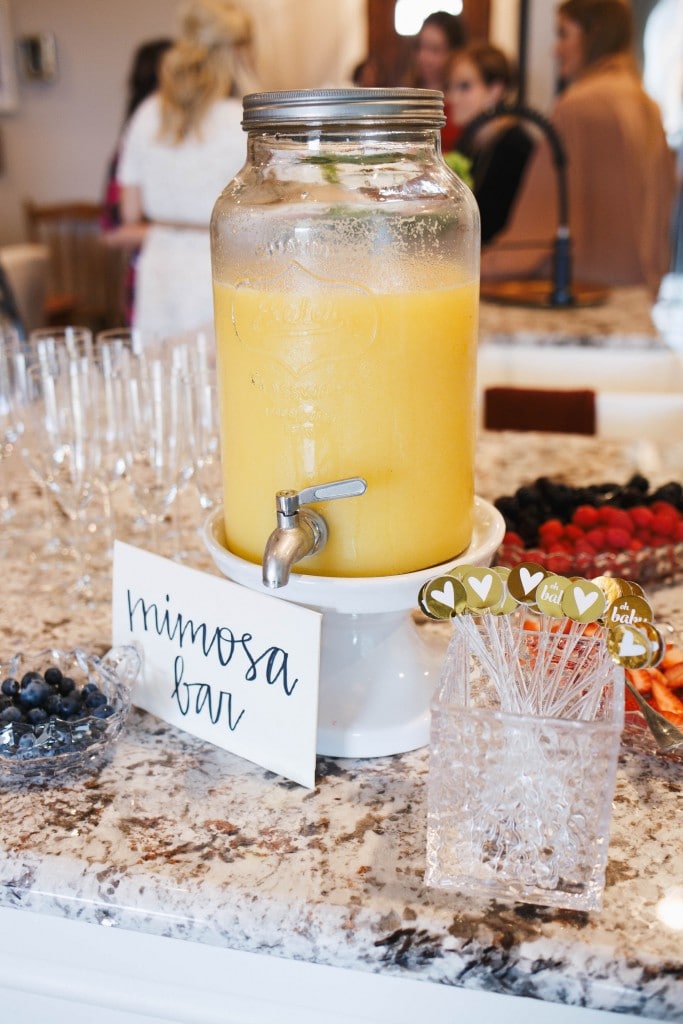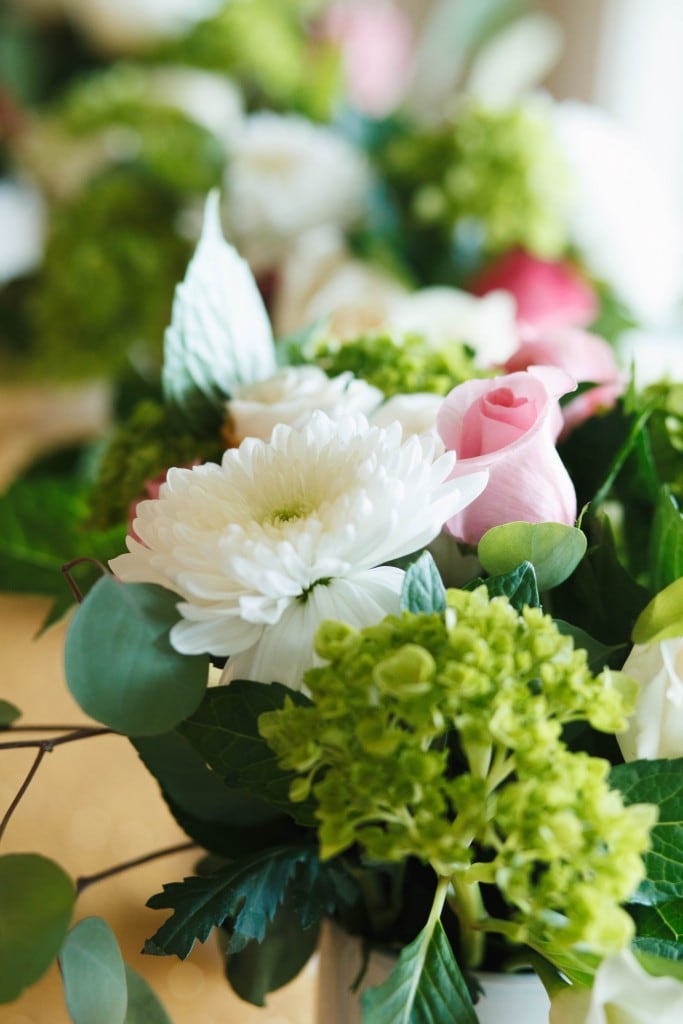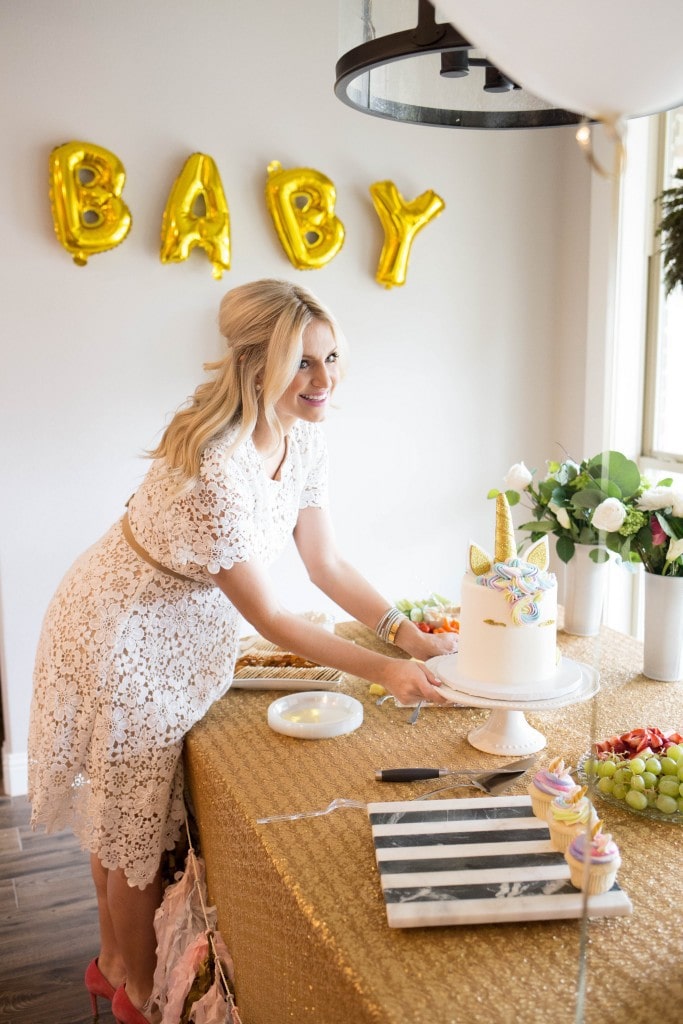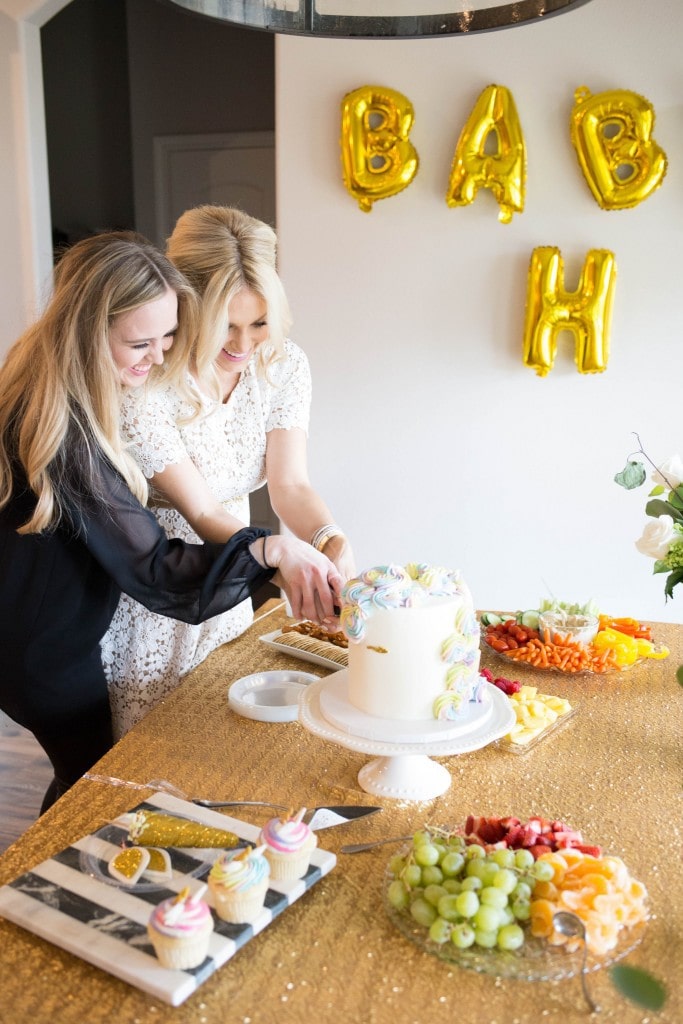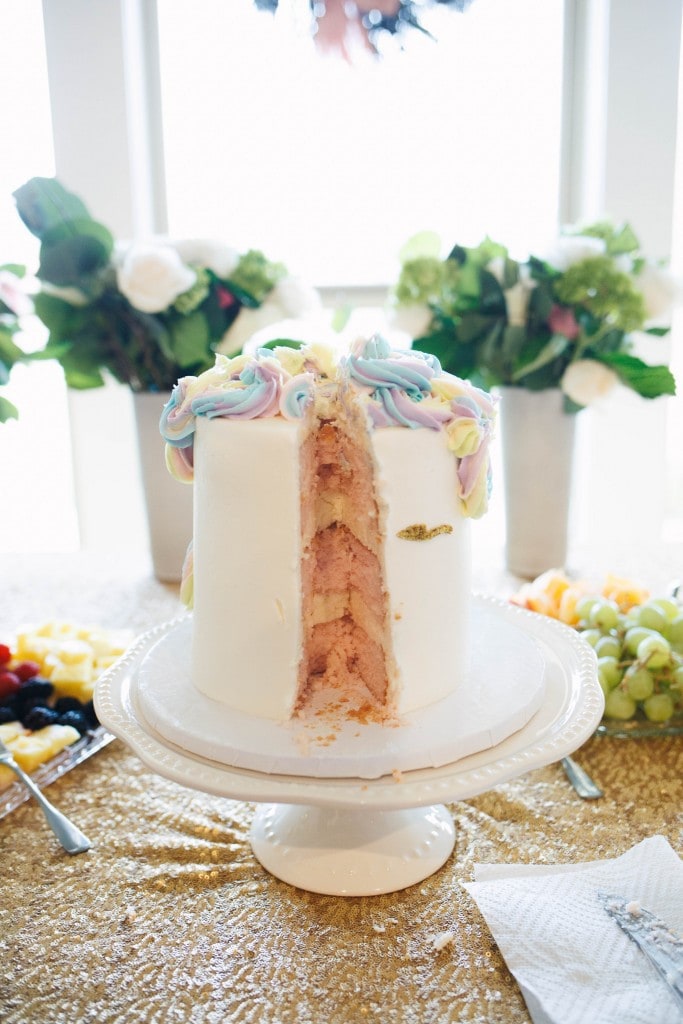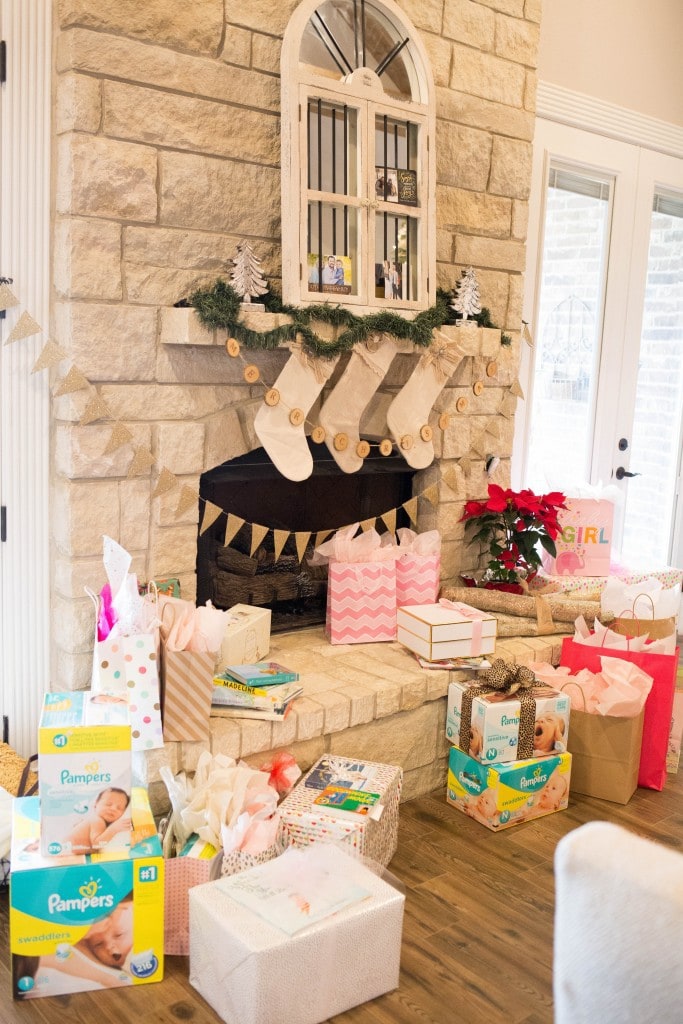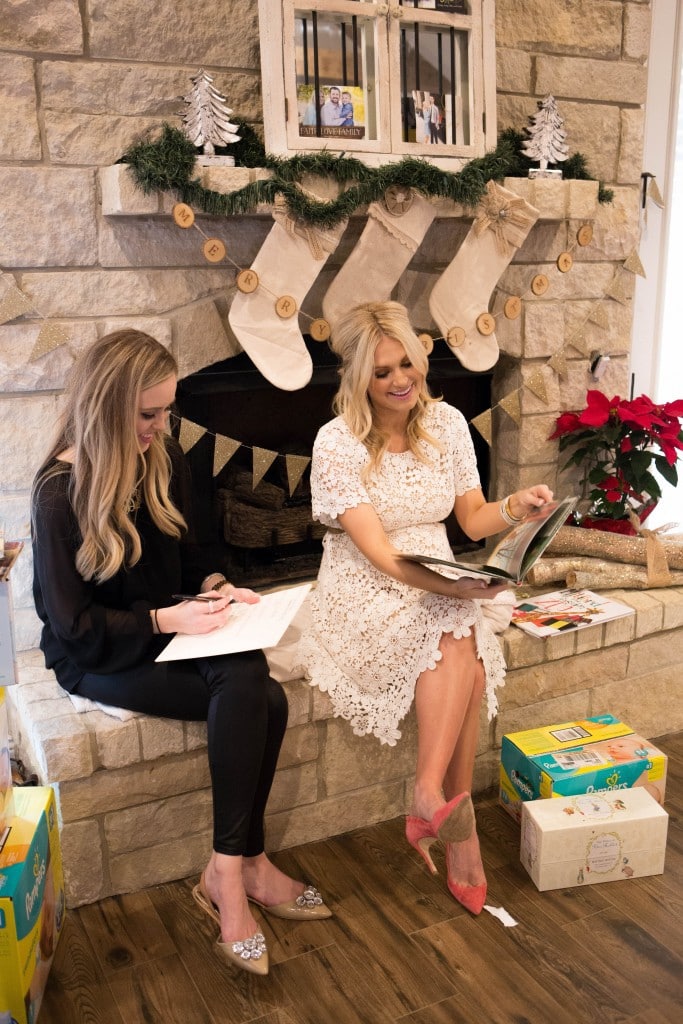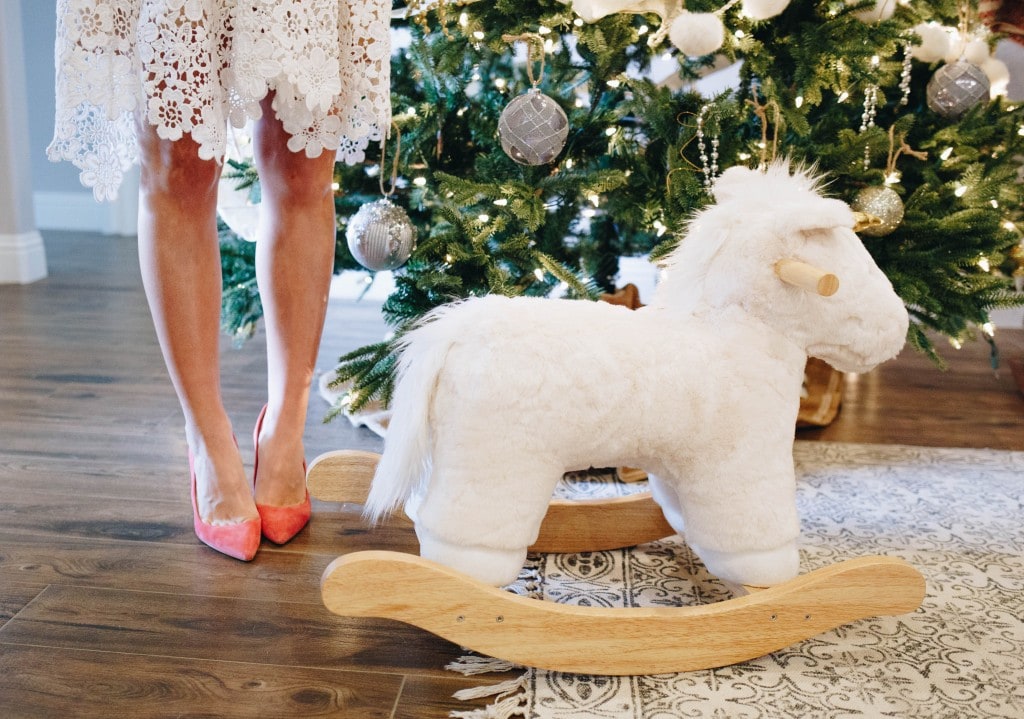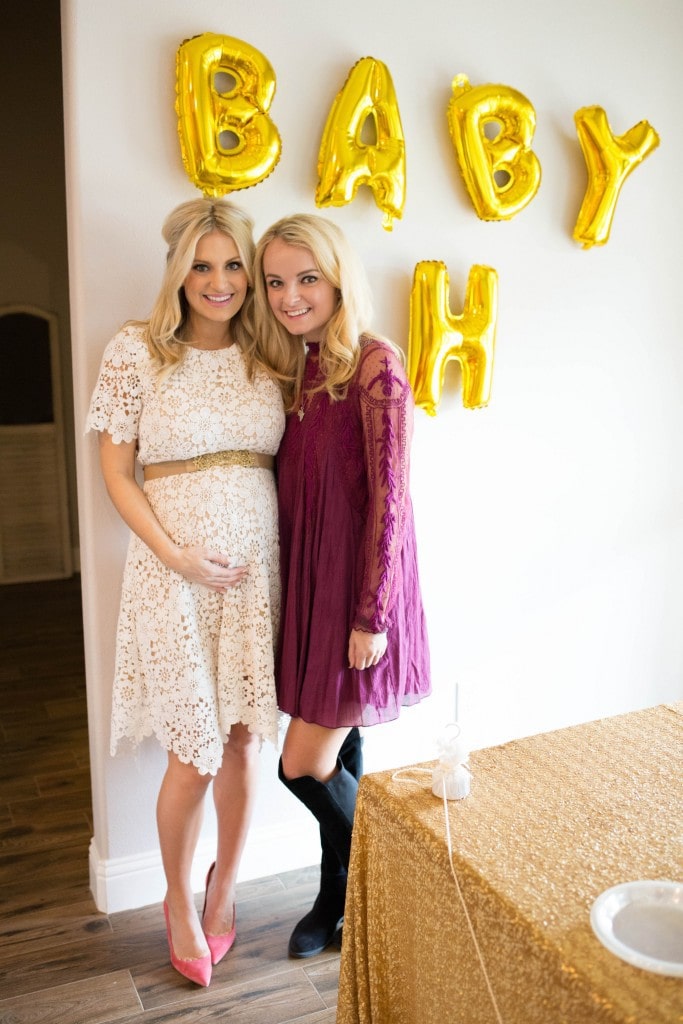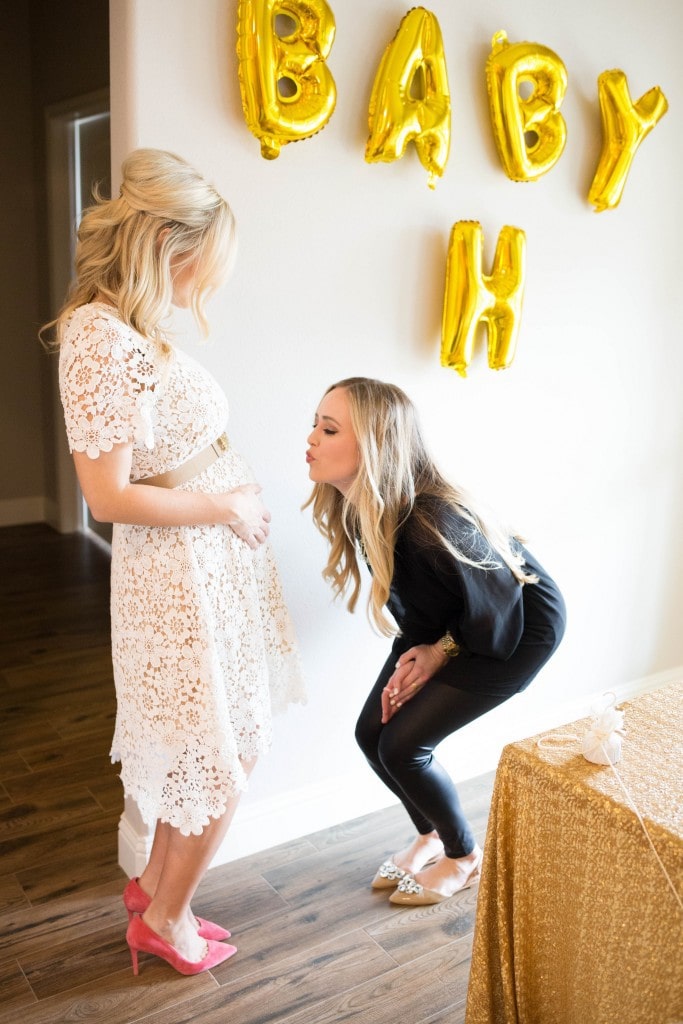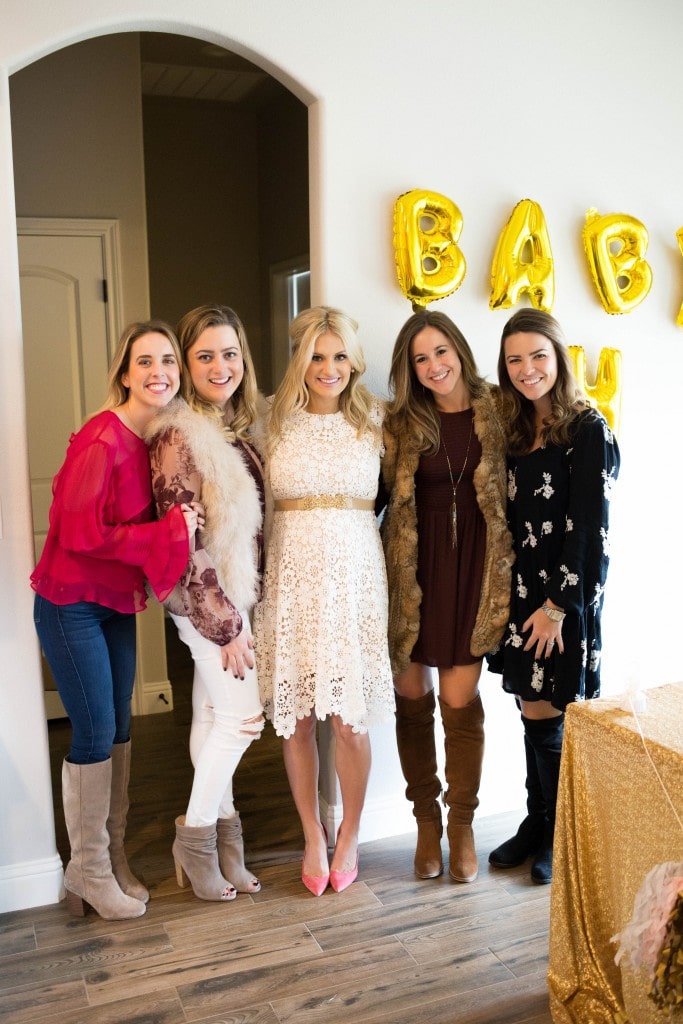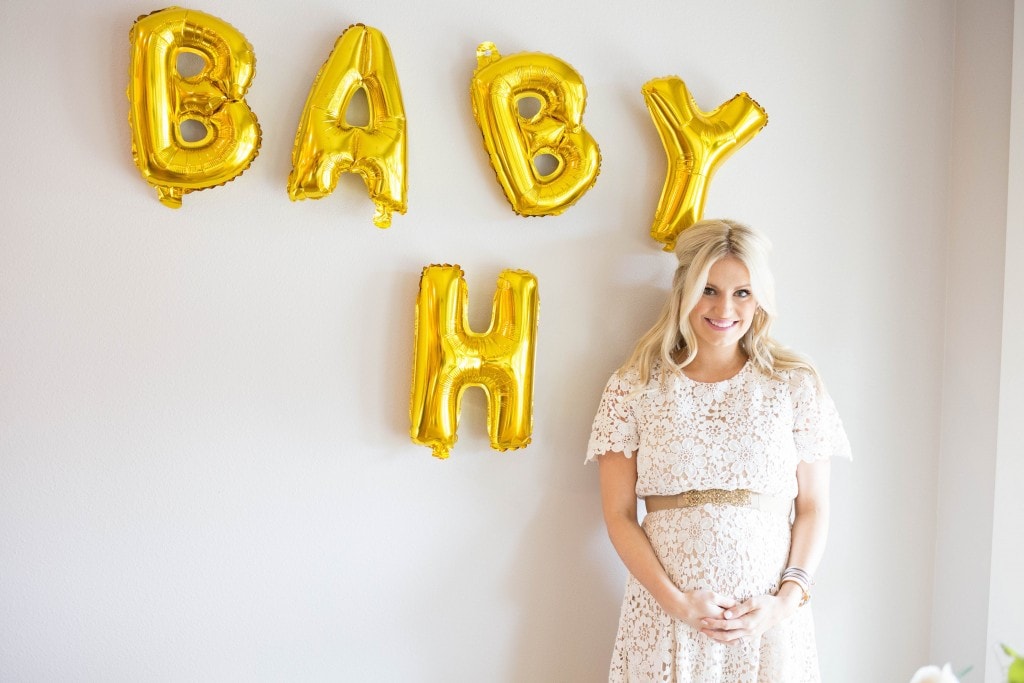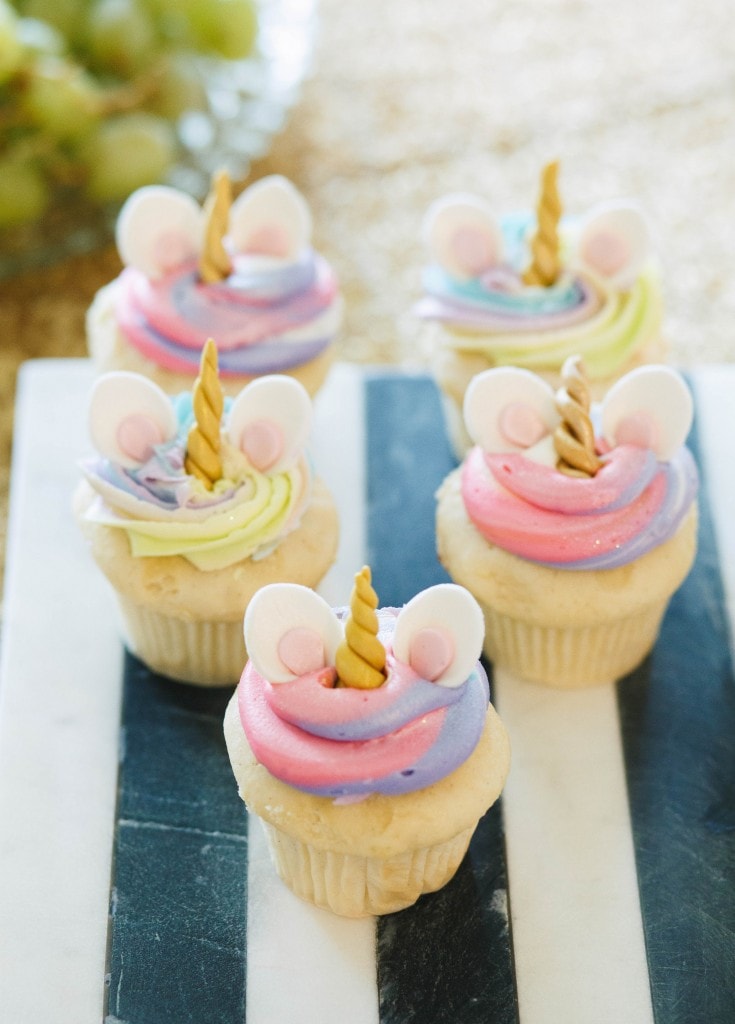 Dress: Shoshanna [c/o] | Invitations: Minted [c/o] | Cake and Cupcakes: Leah's Sweet Treats | Flowers: The Bouqs Co. [c/o] | Drink Stirrers: Wedding Favorites [c/o] | Party Favors: Sugarfina [c/o] | Books For Decor: Penguin Publishers [c/o] | Belt: BCBG [old], Similar | Lipstick: Lorac Soft Mauve | Rocking Unicorn: Pottery Barn
Photography by: Madison Katlin
---
The past two weekends Baby H was spoiled with so much love! We had our family baby shower two weekends ago which had a sweet swan theme and this past weekend we had a storybook shower with my girlfriends. The theme was storybook characters so of course they had to put unicorns throughout as you can tell!  The hostesses then gifted me a rocking unicorn which made it all tie together perfectly.
All of my girlfriends know I love to reader and one of my favorite memories was reading in bed with my mom on Sundays after church. She would read me Swan Lake over and over [it was my favorite] and that was how I learned to read. I can't wait to carry on that tradition with my daughter, so my girlfriends thought they'd get a head start on her library by helping with that. Instead of traditional gifts guests brought their favorite childhood book or diapers. They set the theme with these Storybook Stack invitations from Minted. I was a little worried at first that guests would think they needed to bring a gift AND a book and I just didn't want anyone to think they needed to do that. My best friend, Taylor, told me that once I saw the invitations I wouldn't worry that people would think that because it all made sense. It was 100% true as these were beautiful, but helped it all make sense as well. She then incorporated little library card inserts that people could stick to the inside of the book and it said who the book was from and they were able to write a message to Baby H. Penguin Publishers helped decorate the shower with the cutest books like Mitford at the Fashion Zoo and this set. On Sunday, after we put up all the gifts, Paul and I sat in the floor reading all of our favorite books and all of the card inserts. I'm probably just overly emotional being pregnant, but I thought it was the most sentimental way to share with her who our friends are and what books they gave her.
I'll share a few other touches that might help this make more sense to you! First off, you all know I've been craving sweets like crazy with this pregnancy. All of the girl wives tales have been so true for me! I had an aversion to sweets my first trimester, AND meat and everything else under the sun. Bread was pretty much the only safe option. haha. But I think that's standard for most pregnant girls. But once I got out of the vomiting 24/7 phase I couldn't get enough sweets. You may remember that when I went to NYC this summer with my mom and aunt for work I had a few days full of meetings. I actually stopped by an office that had Sugarfina candies everywhere for my meetings and they gave me a bag to eat the rest of the day. I ATE THE ENTIRE BAG of Sugarfina Lip Candies. The entire thing. In two cab rides! I craved these so much even in the end of my first trimester because they were sour and something about the tartness warded off nausea. Paul loves them too so we have to limit how many we order online at Nordstrom otherwise we would both eat a box a week. haha. My girlfriends knew about this addiction of mine so these were the party favors, which I thought was so cute! They also included all of my pregnancy favorites like macaroni and cheese, pineapple and cupcakes. I've loved really basic foods this pregnancy [nothing fancy!] so it was so nice to indulge in all of these.
For the non-pregnant girls [which was everyone else at the shower 😉 ], they had a mimosa bar with drink stirrers from Wedding Favorites! When it came to floral arrangements, my girlfriends ordered from The Bouqs Co. and these flowers have lasted such a long time. They actually arrived to one of the hostesses last Wednesday I believe and I used the leftover ones in my maternity shoot last night. Then when we got home they still looked perfect so we have these flowers in vases all over our house right now and I love it.
Lastly, I got this dress from Shoshanna! Shoshanna has fit me to a tee throughout my pregnancy. When Paul and I were up in NYC during fall for fashion week I actually ran of out dresses that fit my bump just right [things would bunch at the sides or be too low cut] and so I picked up a dress then for my last day. I shared at fashion week that I knew I'd wear Shoshanna for my bridal shower because of that. I scoured their website and went with this white number. I felt very Kate Middleton, just with bright pink pumps. I always like to share brands that fit women well and I have to brag on the brand for that. I have model-esque friends that are tall and thin and Shoshanna fits them. I have a more muscular build and they fit me perfectly before pregnancy and now with a baby bump during. I truly haven't purchased much maternity at all [two pairs of jeans and a dress or two] because I want my wardrobe to work after baby as well. So I felt really comfortable in this dress knowing I can take it in after I have her. I also plan on ordering some Shoshanna for her newborn photos and her baby dedication as I know my body still will be changing then and it's nice to have a brand in your back pocket you know will always fit and accentuate whatever your body-type is.
Thank you so much for letting me share all these little moments with you. As of this weekend we have about 7 weeks left. Her nursery is almost 100% complete [just need about 3 more detail pieces] and I'm doing all I can to just rest and relax before she arrives. Last night we had an infant CPR class at our hospital where they also help you install your carseat and go over all the basics. I feel like our to-do list is almost 100% checked off so now it's just having patience and waiting for her arrival!