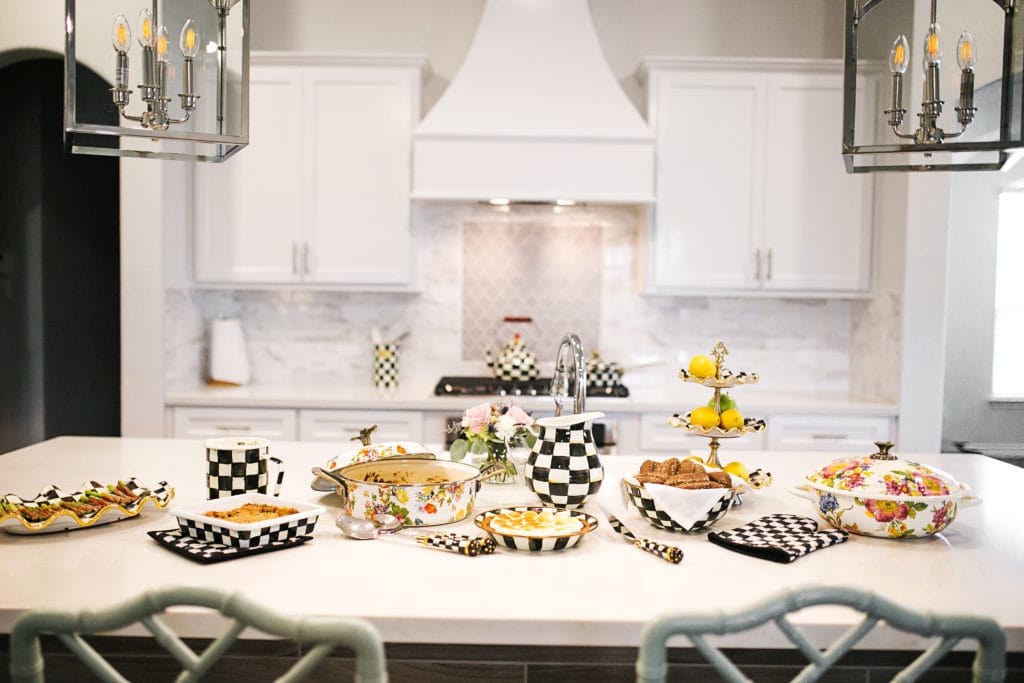 I'm so excited to welcome you all into our new kitchen today! When designing this space, I knew I wanted to keep it pretty clean and simple so that I could fill it with all my cookware. My biggest request in this home was a large island. I love hosting showers and wanted to be able to adorn this island with all my baked goods, casseroles and appetizers for those that I love. You all know I'm not a big collector as I'm more of a purger, but the one thing I do collect is my beloved MacKenzie-Childs' pieces! There is a tradition my mom and dad started when we were little. My dad gifts my mom a MacKenzie-Childs item for each special occasion and she has started to do the same in my life. From a the Courtly Check Tea Kettle when I got married to a utensil holder when we bought our first home, these pieces symbolize the love in our family that stems into hospitality for others.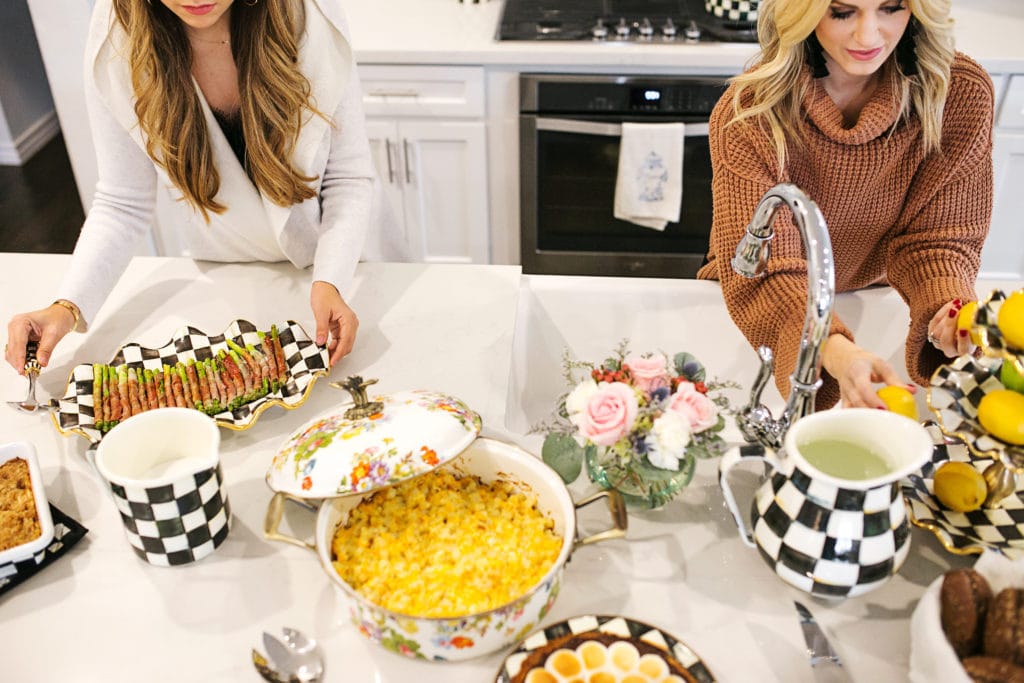 One of my best friends, Ashley, and I are always swapping recipes. We call each other at least 10 times a day-if not more. Our husbands poke fun at us, but we have to swap tips on everything from beauty products to the best side dishes. Our texts are filled with screenshots of recipes and so we thought we should start sharing recipes that you can ultimately share with your girlfriends as well!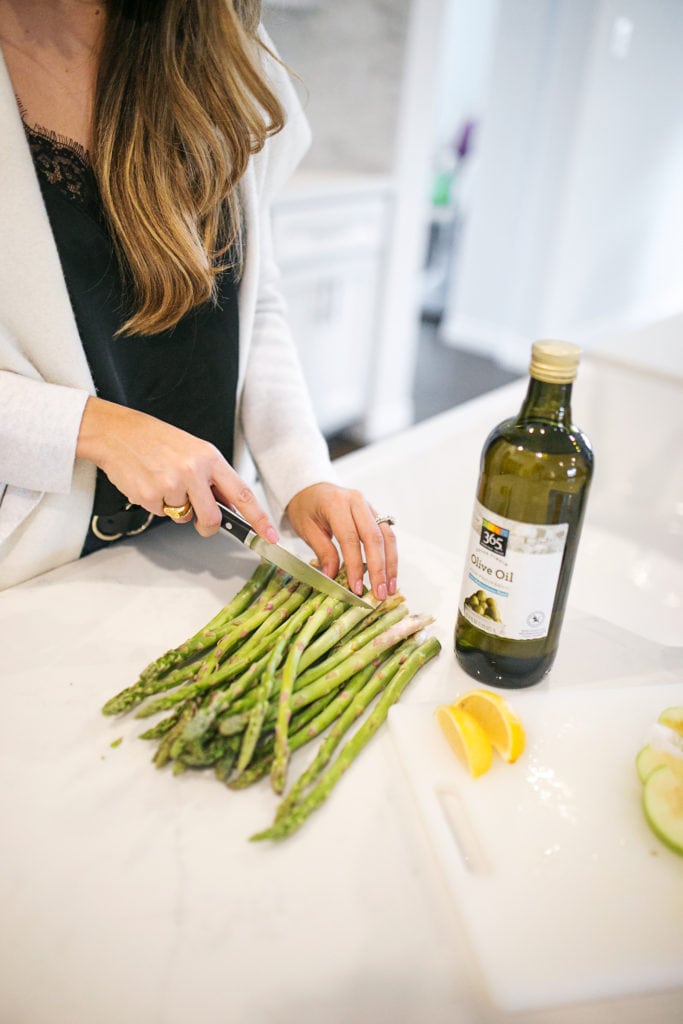 Today we are sharing four recipes for Thanksgiving that are so simple! I still love cooking as a mother, but I'm on a bit more of a time crunch these days. Maxi is nine months and while she does like to be independent that independence lasts for a total of 10 minutes or so. You don't want to be making side dishes that require a ton of prep work for the holidays, so Ashley and I decided to share the dishes our husbands request most all while keeping your time in the kitchen in mind.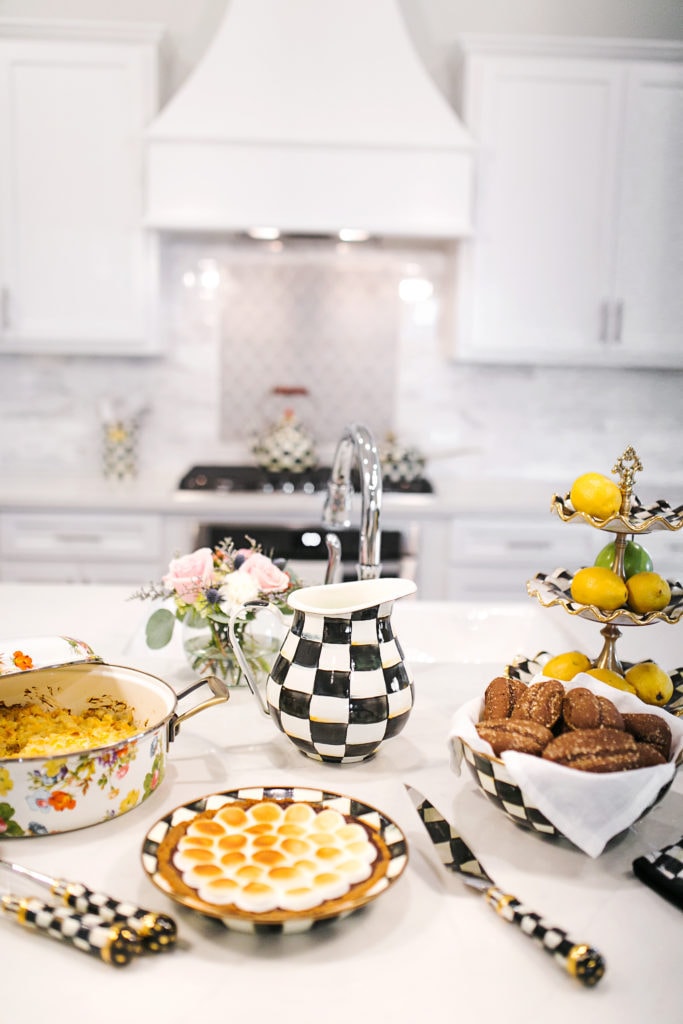 If you've been reading for the past year or so, you know that I had the opportunity to meet Rebecca Proctor, the Creative Director of MacKenzie-Childs. While I'm normally a Courtly Check kind of girl, she inspired me to mix it up and make my collection a bit more whimsical. I've been incorporating Butterfly Garden and Flower Market in my kitchen and this is on my Christmas list for our coffee bar!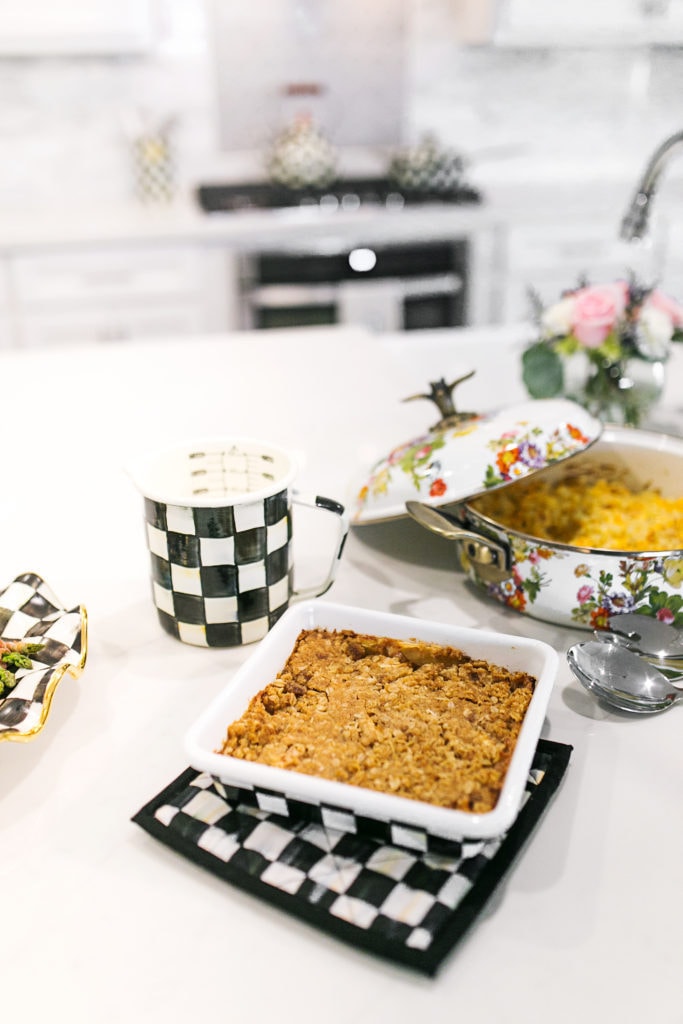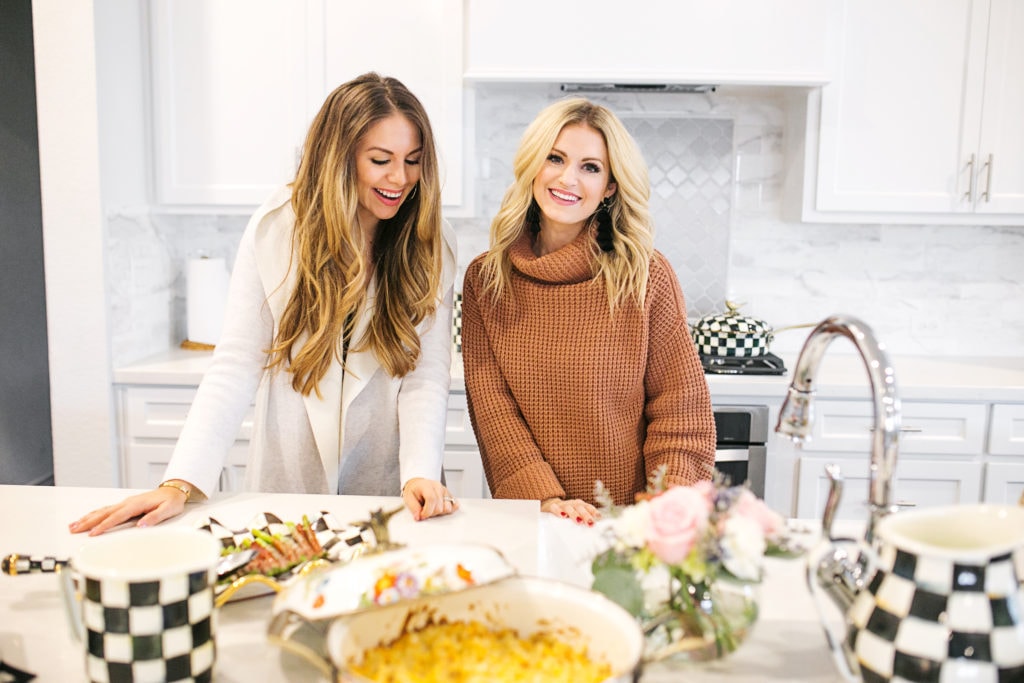 As a new mom, one thing that I loved hearing from Rebecca was how much she encourages incorporating your children in all areas of your life. For example, when her son was little he would create drawings of things that he thought MacKenzie-Childs should make. Now that he is an adult, Rebecca was proud to report they have made every single suggestion he had! All of that to say, these recipes are very easy to make with your *older* children. From marshmallows on pie to cheesy potatoes, you truly can't mess these up if your kids assist and I think that makes it all the more fun!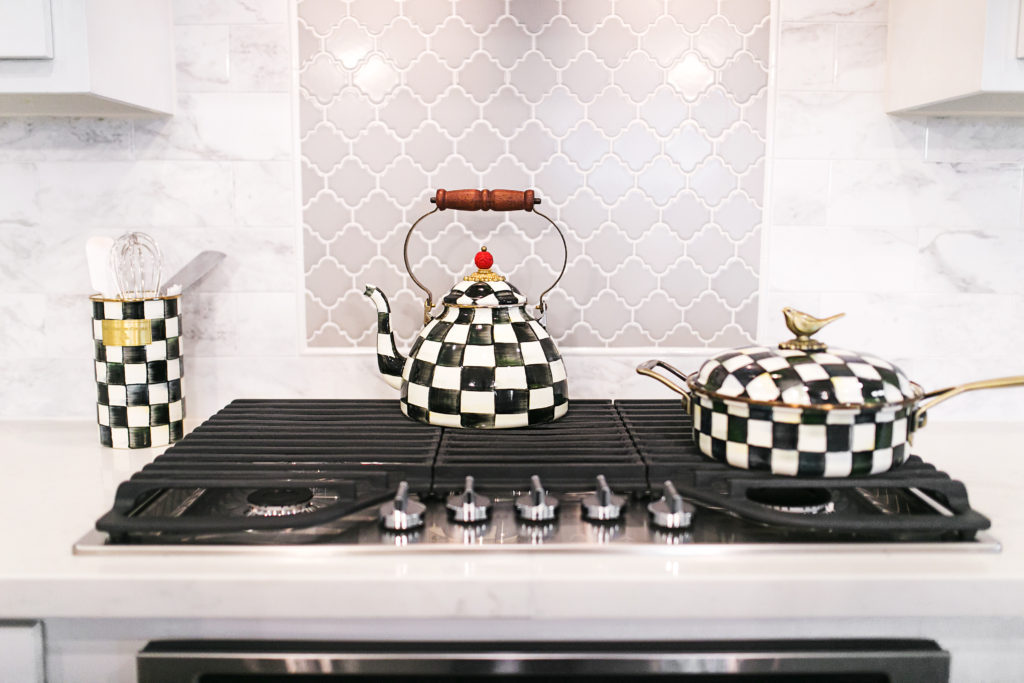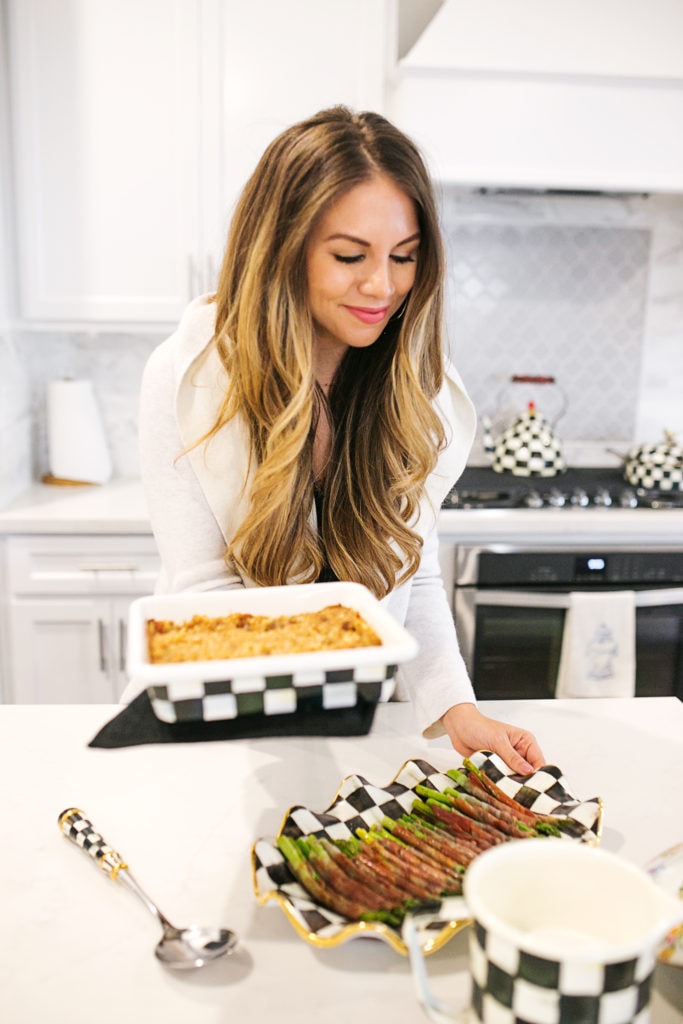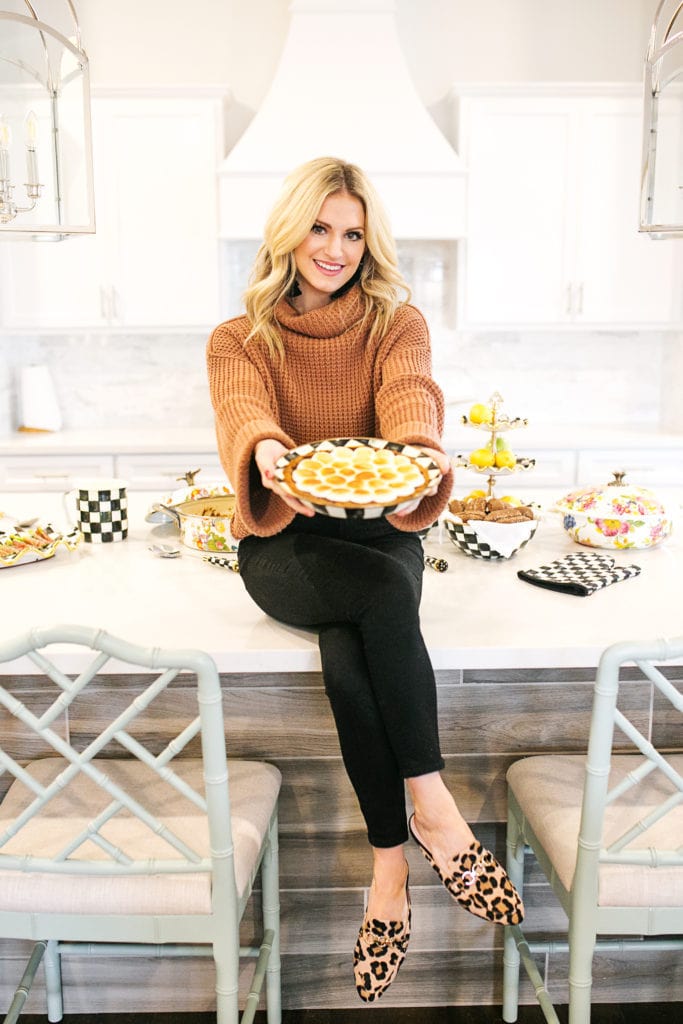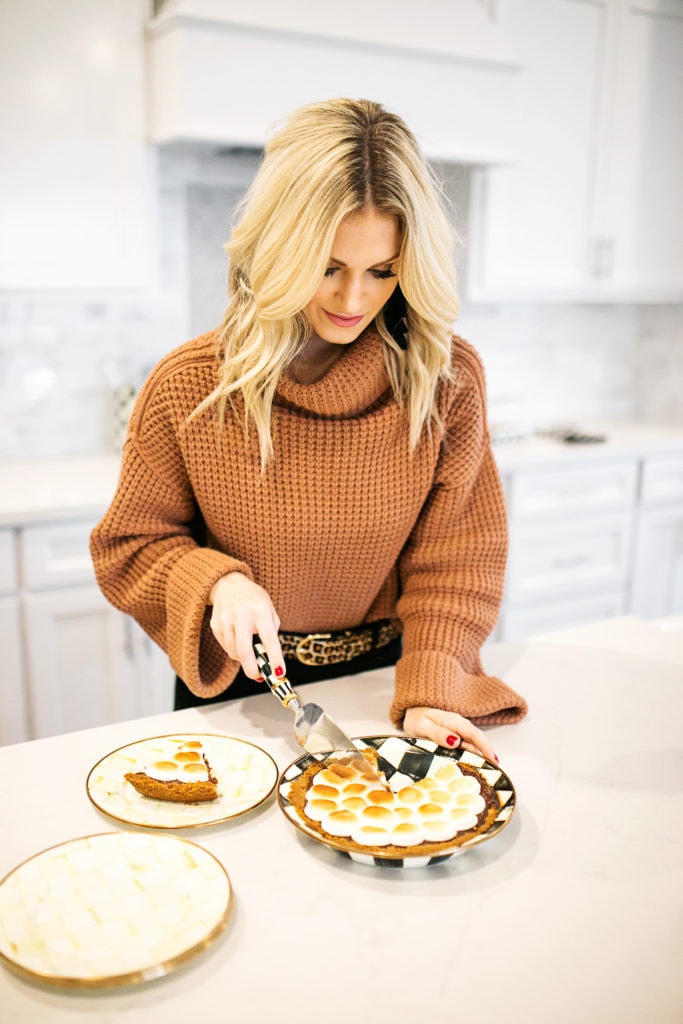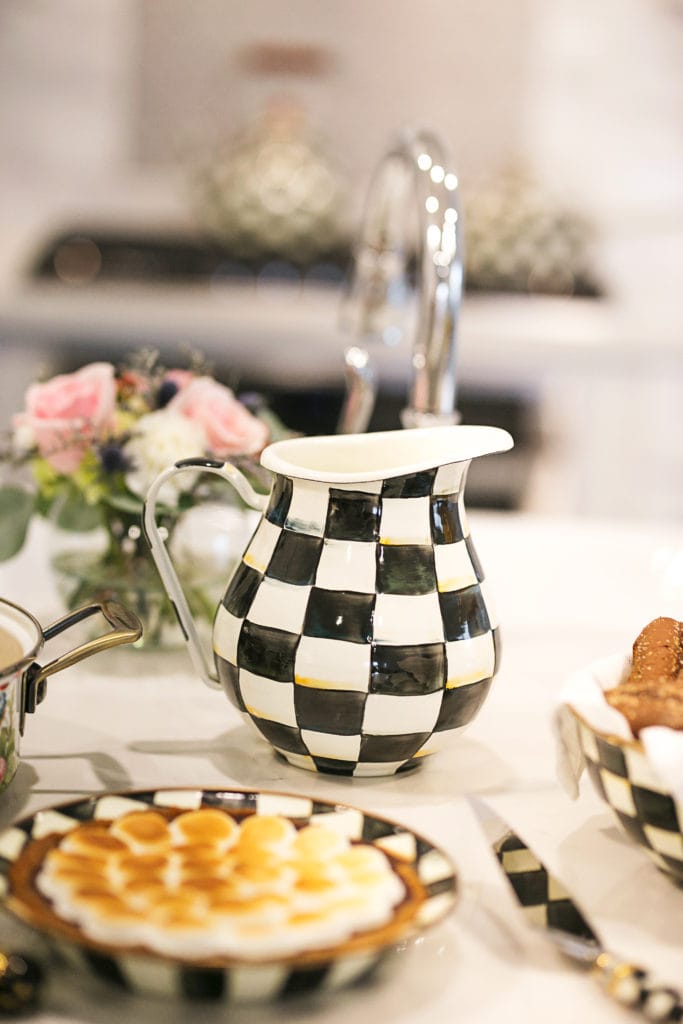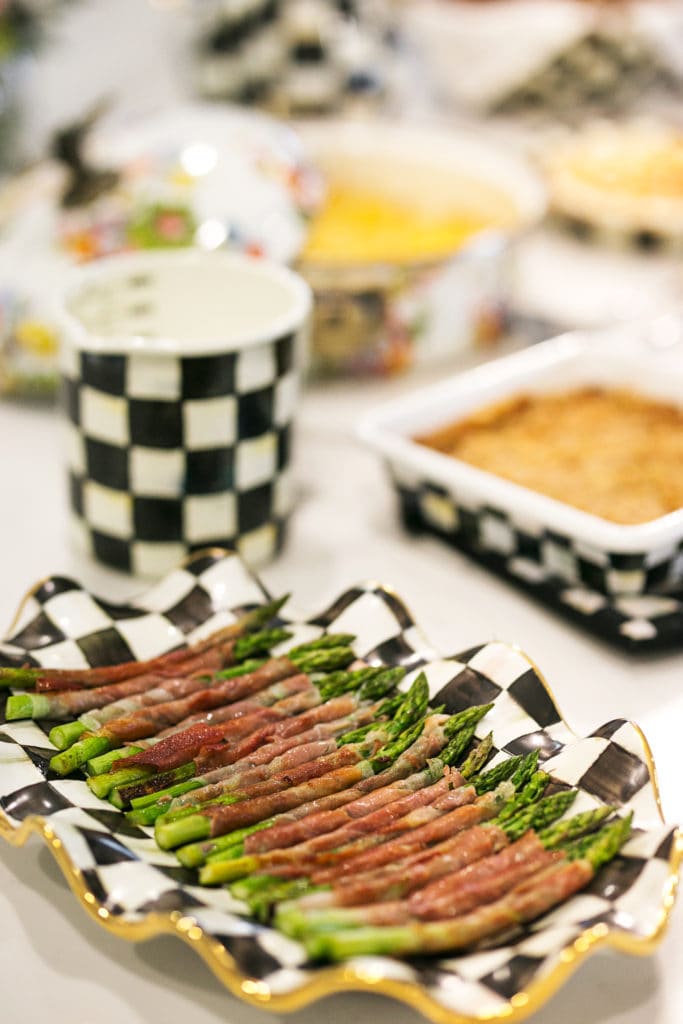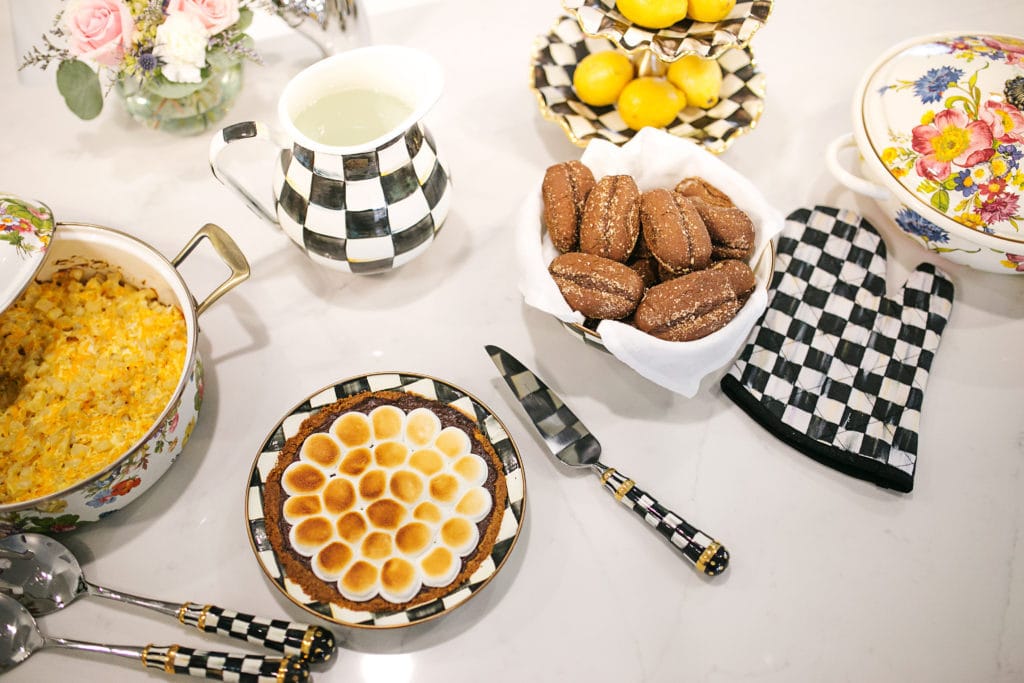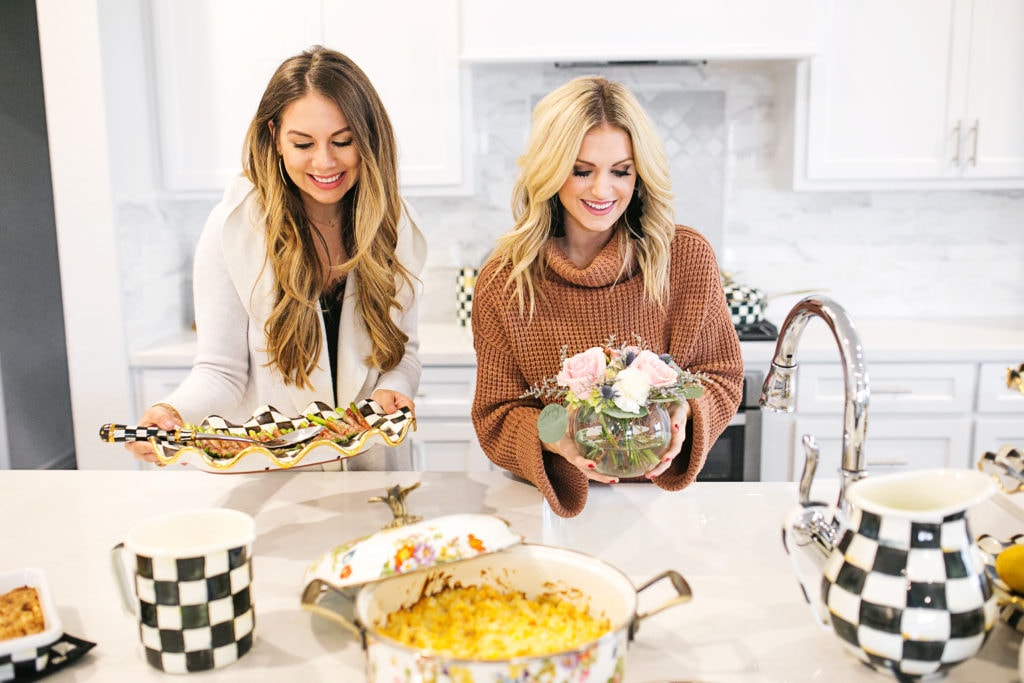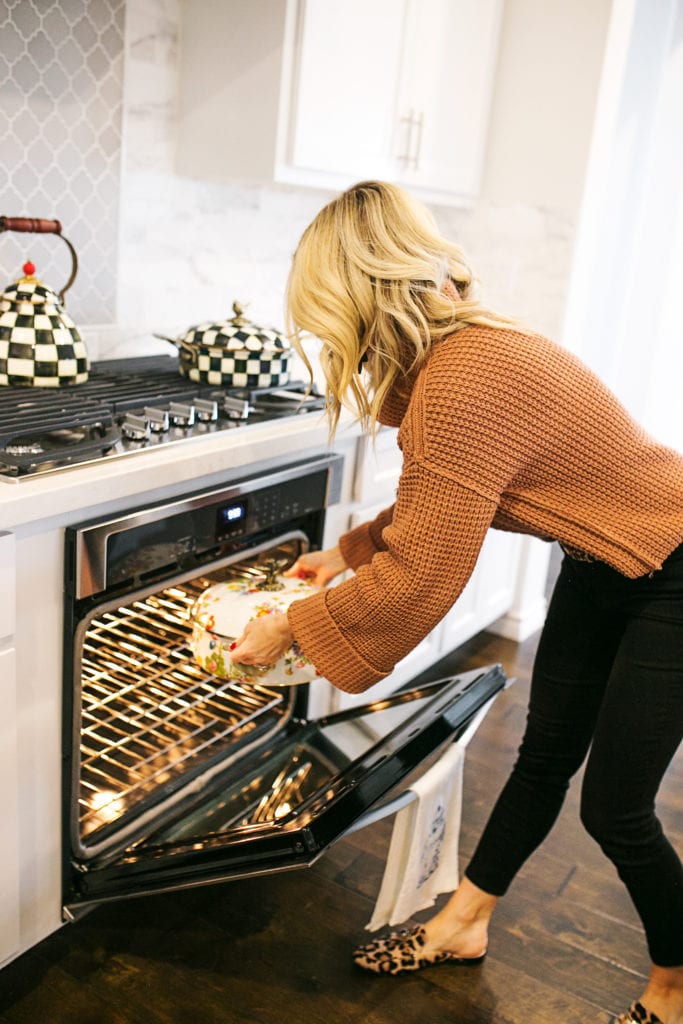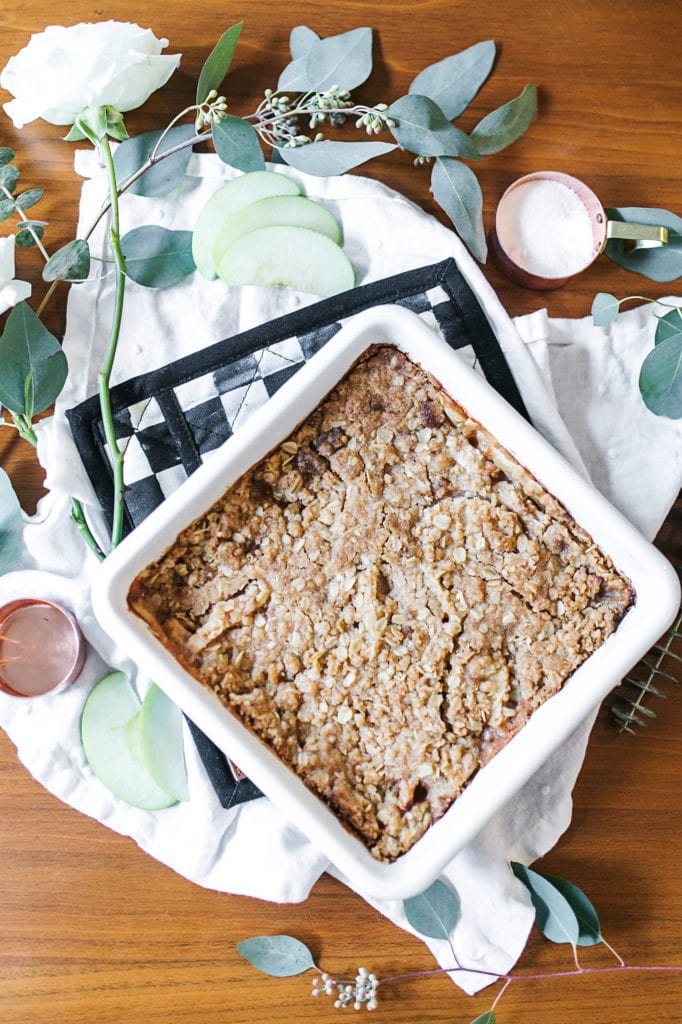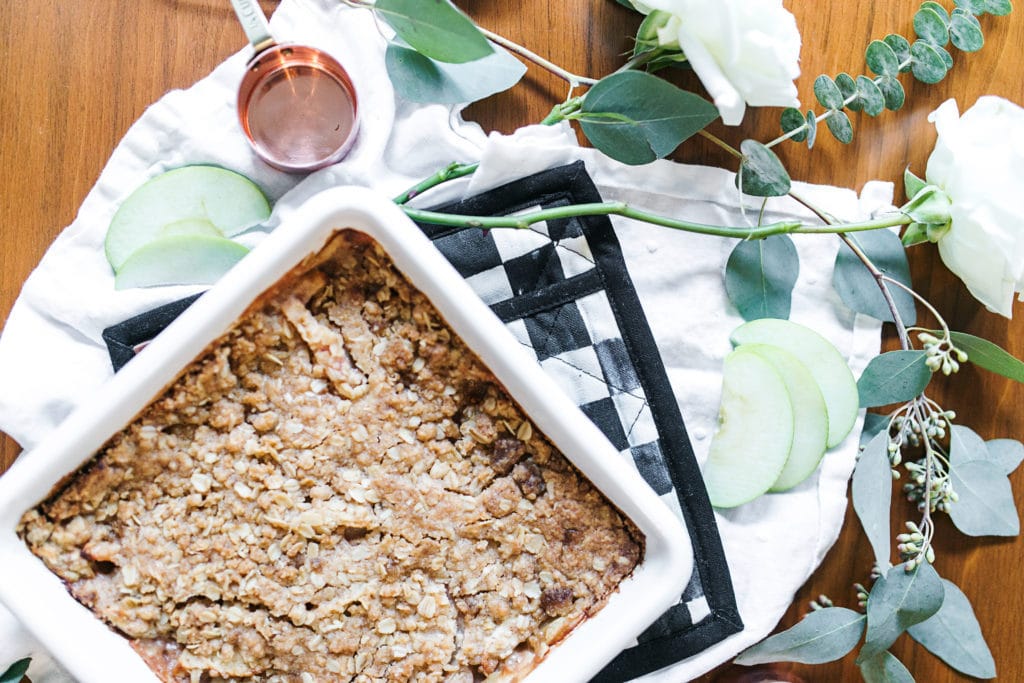 Granny Smith Apple Crisp
Ingredients for the crumb topping:
1/2 cup flour
2/3 cup old fashioned oats
1/2 cup brown sugar
1/2 teaspoon baking powder
1/4 teaspoon ground cinnamon
dash of salt
1/3 cup unsalted butter ,cut into small pieces
Ingredients for the Apple filling:
3-4 large Granny Smith apples, peeled and thinly sliced
3 tablespoon butter, melted
2 tablespoon flour
1.5 tablespoon lemon juice
3 tablespoon milk
1/2 teaspoon vanilla extract
1/4 cup brown sugar
1/2 tsp ground cinnamon
dash of salt
Directions
Preheat oven to 375 degrees F.
For the crumb topping:
In a medium size bowl combine the crumb topping ingredients with a fork or pastry blender until it resembles small crumbs. Put in the refrigerator while you prepare the apple filling.
For the Apple Filling:
Peel and thinly slice Granny Smith apples. This part takes the longest, but I promise it's worth it!

In a small bowl, combine melted butter and flour until well blended. Add lemon juice, milk and vanilla and stir well. Stir in brown sugar, cinnamon, and salt.

Pour butter mixture over apples and toss to coat thoroughly. Pour apple mixture into an 8×8-inch baking dish and spread into an even layer.

Sprinkle crumb topping over the apples.

Bake for 30-35 minutes or until golden brown and top is set. We like to leave ours in for a few minutes longer to get the crumb topping nice and crispy.

Remove from oven and allow to cool for at least 10 minutes before serving. This is also great with vanilla ice cream!
To Freeze:
Prepare and bake the apple crisp as directed above. Cool the crisp completely, then cover it with a double layer of aluminum foil. Thaw overnight in the refrigerator, then warm in a 350°F oven for 20 minutes.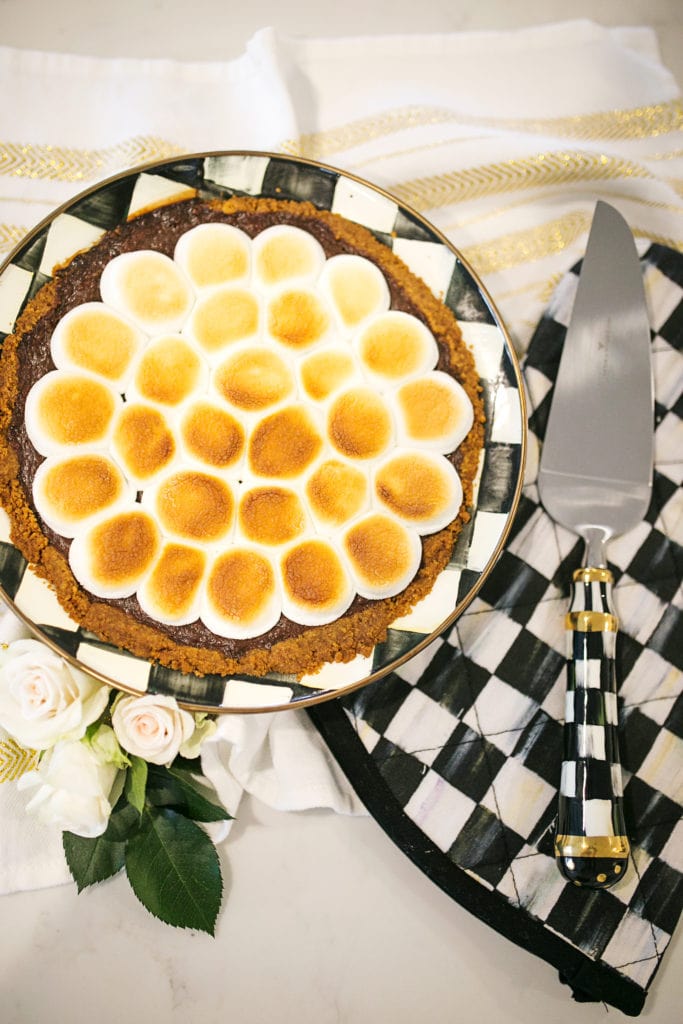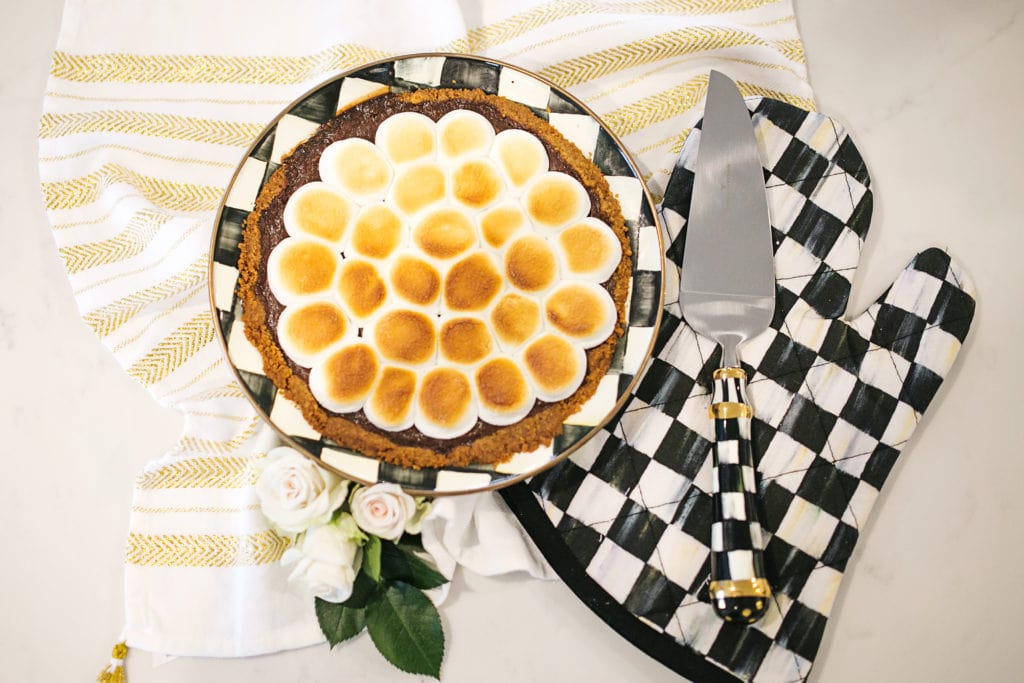 S'mores Pie
Ingredients for Graham Cracker Crust:
About 12 graham crackers
1/4 cup sugar
Pinch of cinnamon
5 tablespoons unsalted butter
Pinch of salt
Pulse all ingredients in a food processor until combined.
Preheat oven to 350° and spread mixture on pie dish. Firmly press crust mixture onto bottom of dish and up onto sides.
Bake for 12 minutes.
Ingredients for Filling:
3/4 cup heavy cream
1/4 cup Nutella
3/4 cup milk
10 ounces of chopped chocolate bar. I used Hershey's.
2 whisked eggs
Preheat oven to 325°.
In a saucepan, slowly heat up milk and cream mixture. Add in Nutella and then chocolate. Keep this on low and slowly stir so chocolate doesn't burn.
Turn heat off and slowly stir in whisked eggs. Bake for 25 minutes.
Remove pie when chocolate mixture doesn't shake in center. Keep eye on pie while baking. I've made this in different ovens and some ovens require it to be 20 minutes and mine requires me to bake for about 30 minutes. 
Topping
Slice large marshmallows in half
Place halves of marshmallows on top of pie.
Set oven to broil. Watch pie while doing this! It can take between 1-3 minutes.
I let pie set overnight in the fridge after I take it out of oven. Marshmallows are fine to stay in the fridge after being broiled. However, if you are pressed for time, pie can only be in fridge for 4 hours.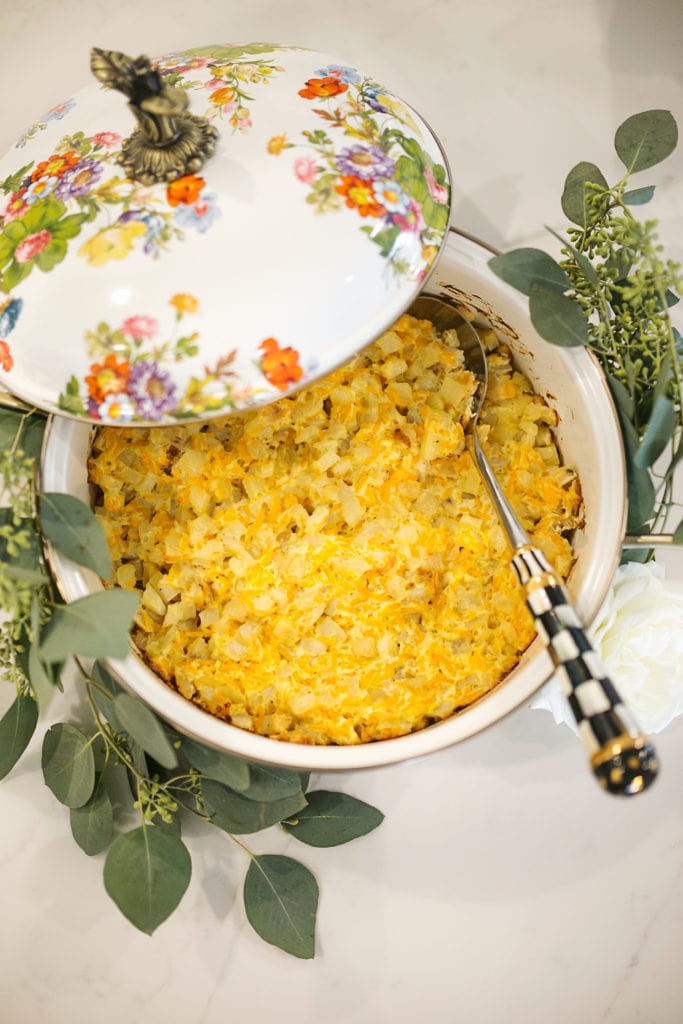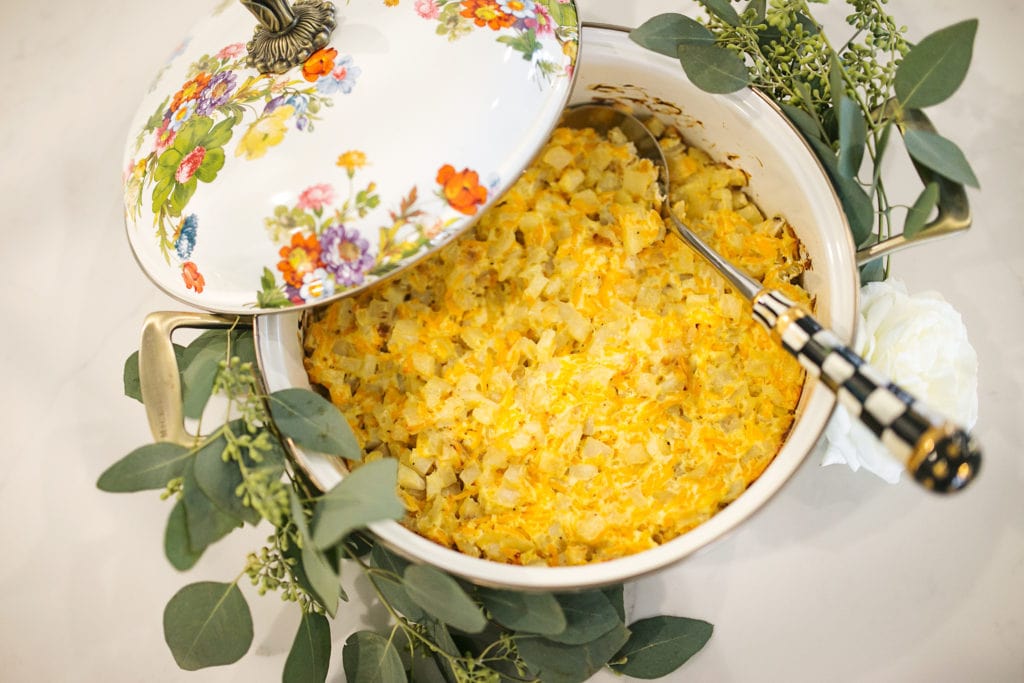 Cheesy Potatoes:
I've seen this recipe in a million different church cookbooks, but I like to add caramelized onions to mine to give it a bit of depth.
Ingredients:
1 bag of frozen diced hash brown potatoes
1 can of cream of chicken soup
16 oz. container of sour cream [you can do half sour cream, half greek yogurt if you prefer]
1 stick butter, melted
1 yellow onion
2 cups shredded sharp cheddar cheese
Olive Oil
Salt & Pepper
Directions:
Preheat oven to 350°
Finely chop yellow onion, then coat the bottom of a pan with olive oil and a small amount of butter. Add onions and slowly stir, allowing them to caramelize.
Mix together cream of chicken soup, sour cream, butter and cheese.
Once onions are caramelized add to mixture.
Toss in frozen hash browns, making sure each potato is coated.
Add salt and pepper for taste
Coat bottom of casserole dish in butter, then pour mixture in.
Cook for 1 hour and 20 minutes. Keep an eye on potatoes during the last 10 minutes as sometimes they are ready and sometimes they need a bit more time, just dependent upon if the potatoes had any time to thaw out before placed in oven.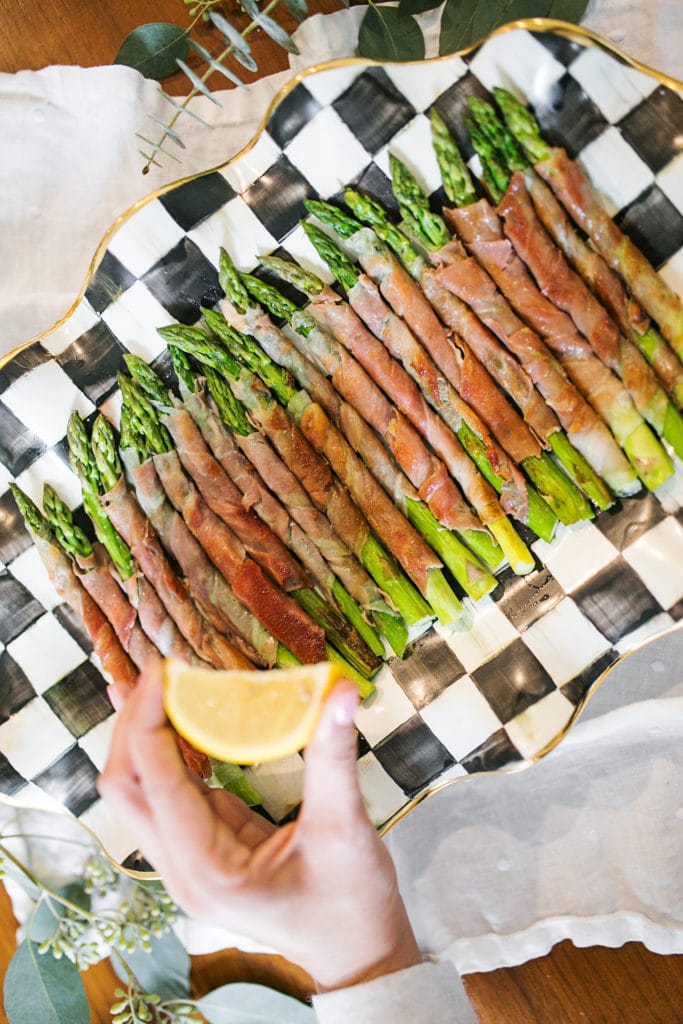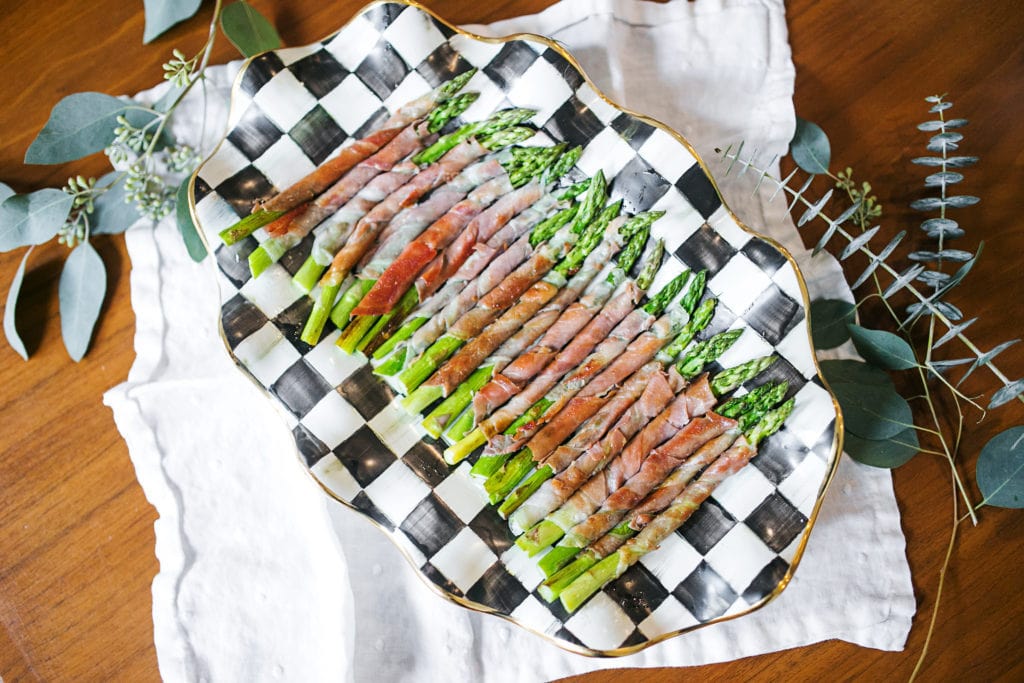 Prosciutto Wrapped Asparagus 
Ingredients:
6 ounces sliced prosciutto
1 pound asparagus, trimmed
1 tablespoon olive oil
fresh lemon
dash of salt
Directions:
Wrap a slice of prosciutto on each asparagus spear at an angle, covering the entire length of the spear. Repeat with remaining prosciutto and asparagus.
Squeeze a lemon wedge over the prosciutto wrapped asparagus.
Heat olive oil in a large skillet over medium high heat. Add asparagus and cook until prosciutto is crisp and asparagus is tender, about 4-5 minutes. Gently rotate the asparagus allowing each side to get crispy.
Add salt to taste
Serve immediately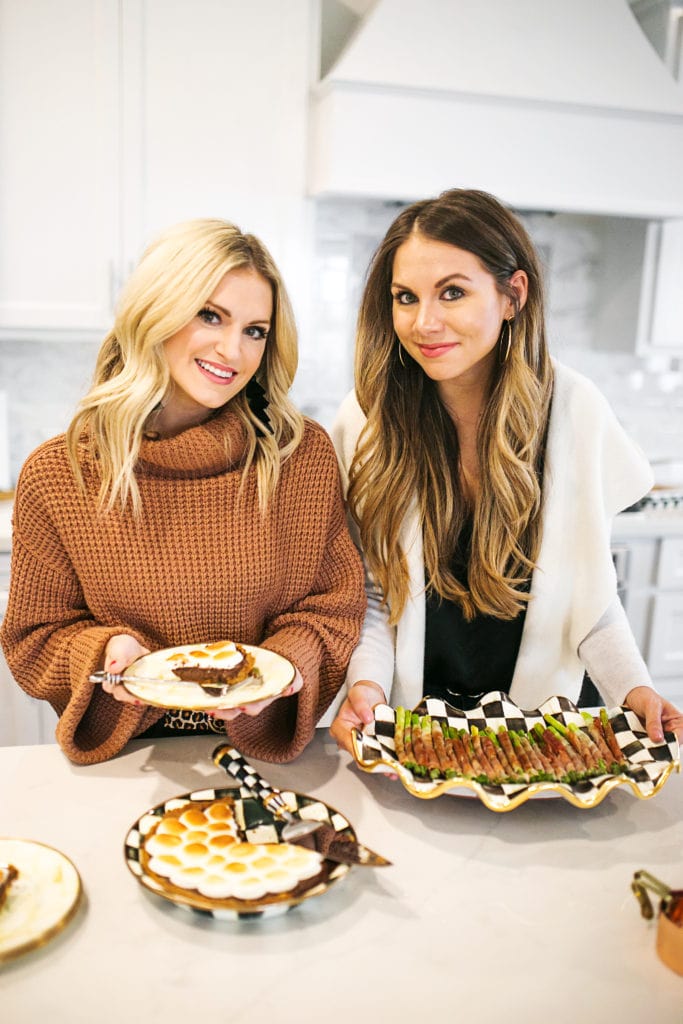 While making these dishes Ashley and I were talking about how as a brand, MacKenzie-Childs appeals to so many girls with different personal styles. We were in agreement that we truly haven't seen one wedding registry without a piece of cookware or two! You can definitely go whimsical in your pattern or classic with Courtly Check, but one nice thing about setting up your Thanksgiving Table with MacKenzie-Childs is the fact that it always blends. We chose to go with lots of rustic flowers and we felt it looked great! We chose two types of eucalyptus, garden roses and spray roses.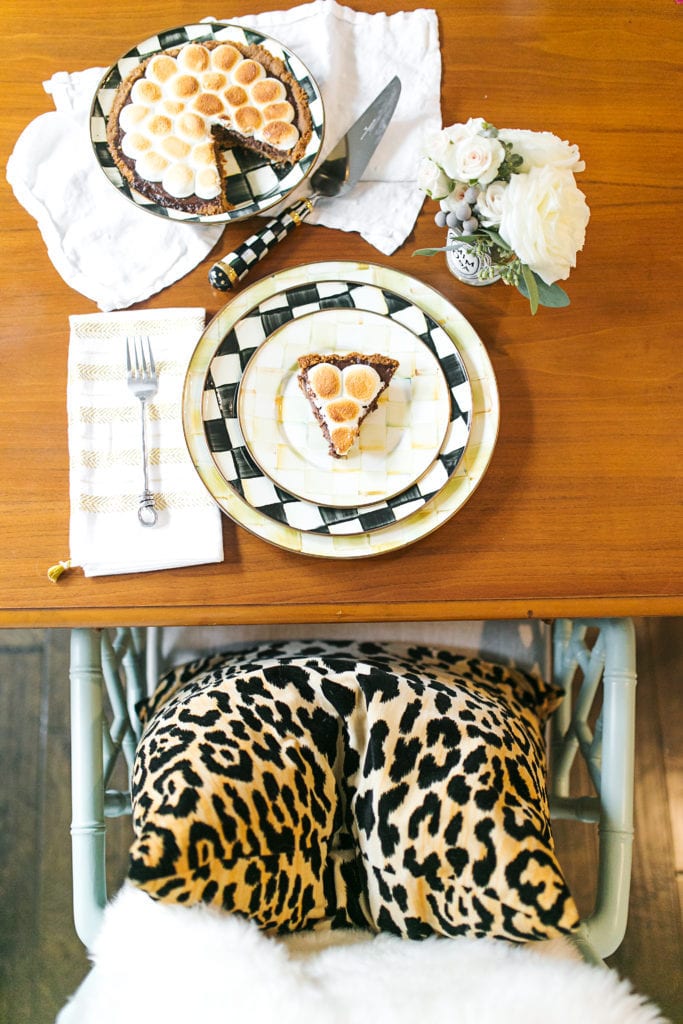 Do you have any go-to Thanksgiving dishes? Will you be breaking out your MacKenzie-Childs for the special holiday?
Thank you so much for reading!


Looks:
Ashley's Outfit: Her Blog | Sweater: Free People [shade: Terracotta], More Affordable Option | Jeans: J Brand | Shoes: Kate Spade, Similar | Lipstick: Soar Liner | Earrings: Baublebar
Kitchen:
Courtly Check Tree Tier Sweet Stand | Courtly Check Casserole Fork | Courtly Check Casserole Spoon | Courtly Check Casserole Pie Server | Flower Market 5 Qt. Casserole | Courtly Check Enamel Pie Plate | Courtly Check Enamel 3 QT. Saute Pan | Flower Market Casserbole Large |  Courtly Check Enamel 8″ Baking Pan | Courtly Check Bistro Pot Holder | Courtly Check Enamel 7-Cup Measuring Cup |Courtly Check Bistro Oven Mitt| Mercantile Measuring Cups | Courtly Check Enamel Dinner Plates | Parchment Check Enamel Dessert Plate | Parchment Check Enamel Charger | Courtly Check Serving Platter | Courtly Check Tea Kettle | Courtly Check Utensil Holder | Courtney Check Enamel Pitcher | Courtly Check Enamel Everyday Bowl 
Thank you to MacKenzie-Childs for generously gifting pieces for the shoot!
Kitchen Details: I apologize as I do not have exact material sources. The designer that works with our builder has all of that information! But I can share that our countertops are quartz, our backsplash is marble, our paint is called: Decorator's White and these are similar to our light fixtures. These are our barstools. 
Photography by: Angie Garcia
In Collaboration with MacKenzie-Childs! All opinions are our own.