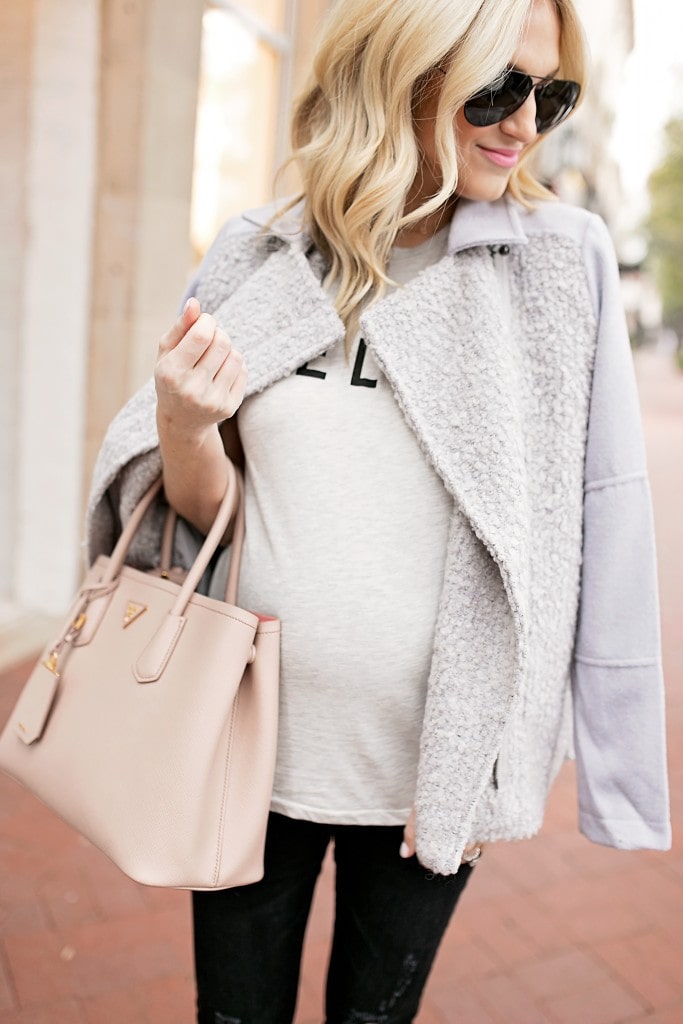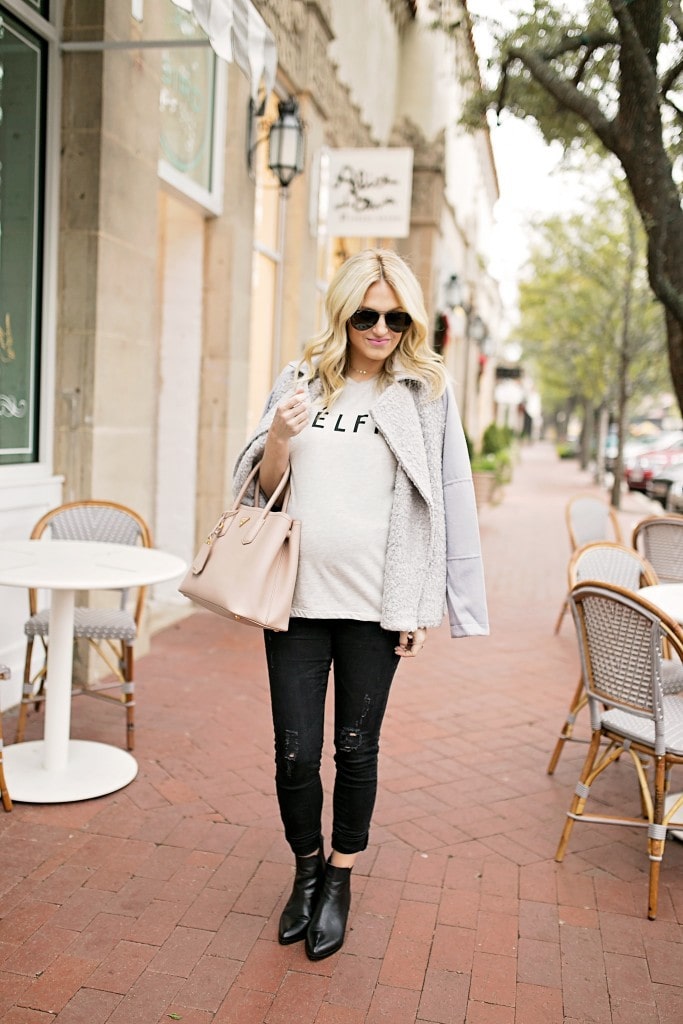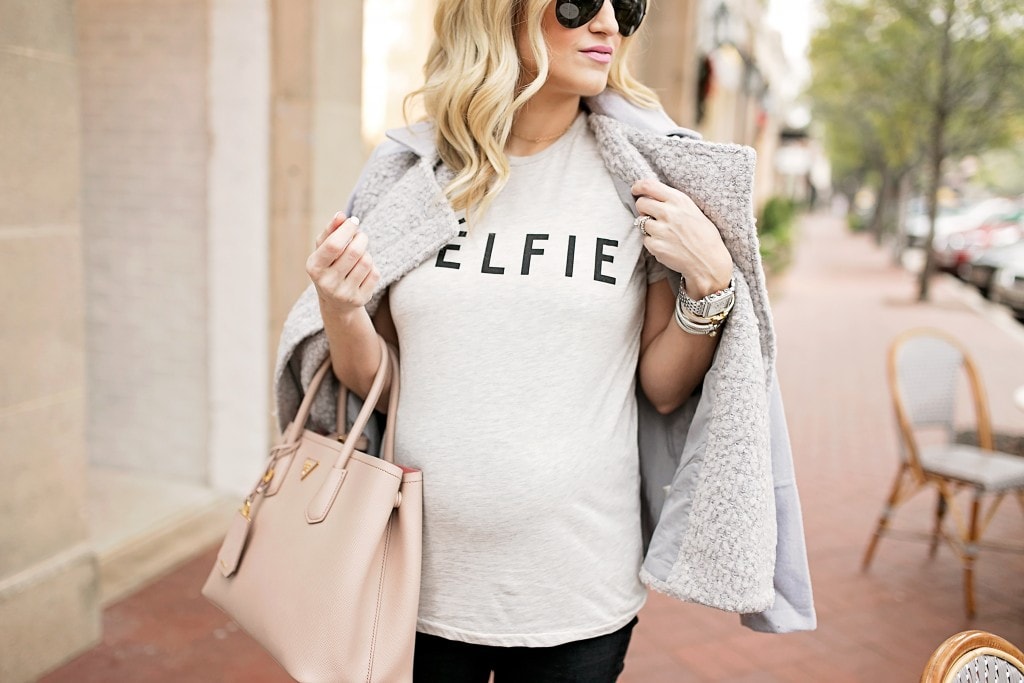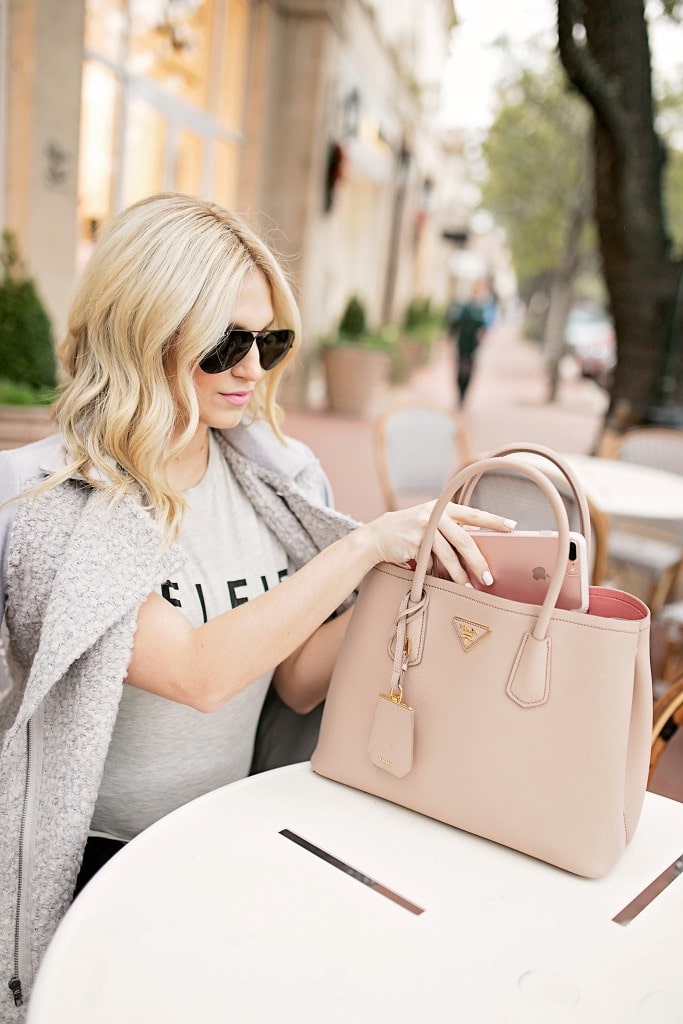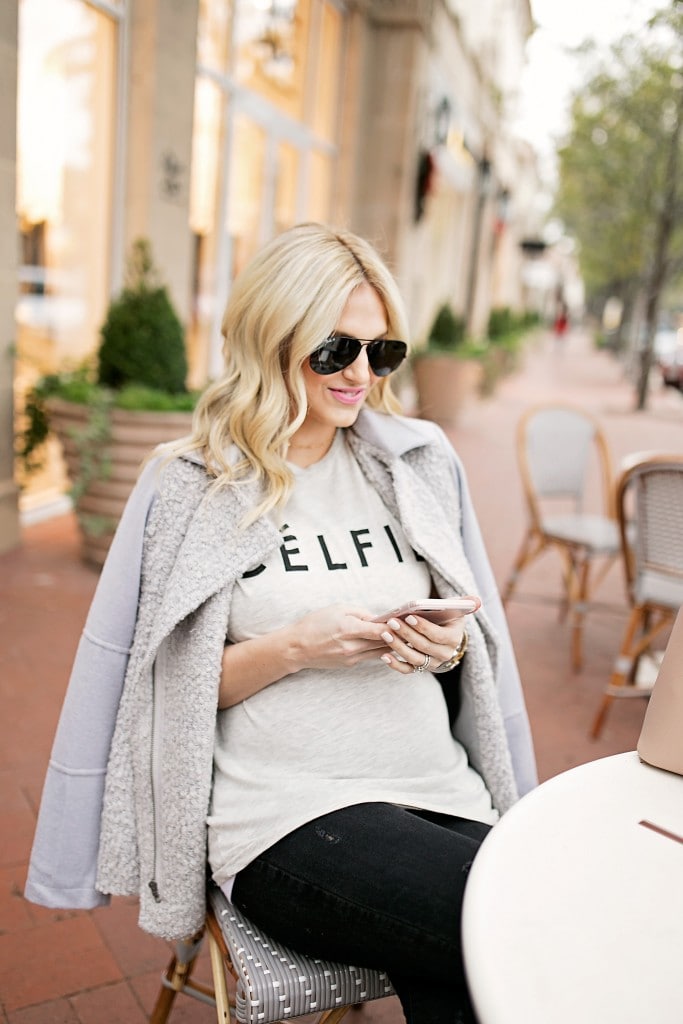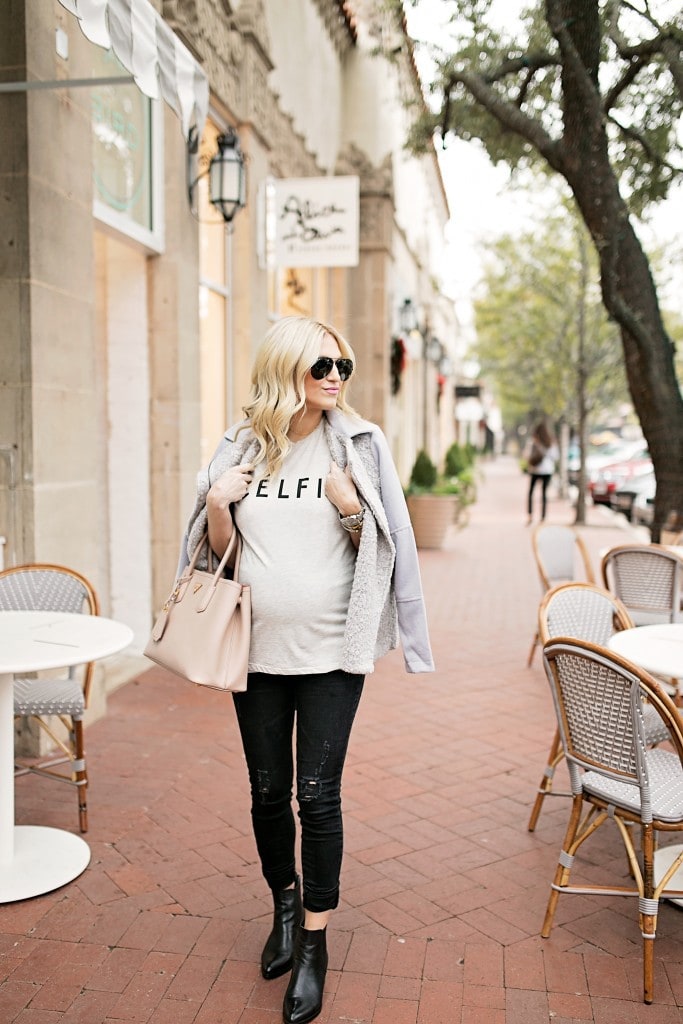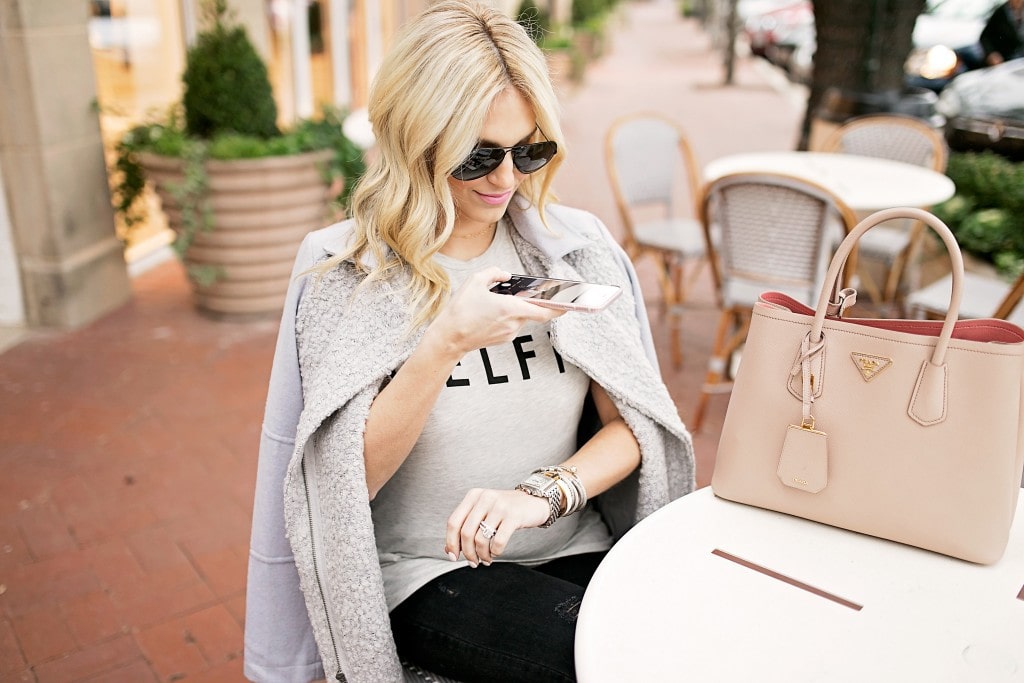 Célfie Tee: Nordstrom [wearing size S] | Jacket: Nordstrom [runs large, go down a size!] | Jeans: Nordstrom | Bag: Similar | Watch: Michele | Bracelets: David Yurman, Dupe | Sunglasses: Ray Ban, Similar | Lipstick: Snob | Booties: Nordstrom [old], Similar, Similar
Photography by: Angie Garcia
---
As we age graphic tees are normally warded off as a "no-no." Some say you can't wear them past 30. Others say they are only reserved for vacation. I say, graphic tees are like your favorite dessert. You don't want to eat it every day or your doctor may raise his eyebrows at your blood work. But every now and then it's a must have and nothing else on the menu beats it.
Another misconception about graphic tees is how they must be styled! An automatic thought is, "Oh, let me pair this with cut offs as I run to the pool." But let me assure you, these deserve the time of day in winter, too! 😉 There are a few styling tricks I stand by when styling these cheeky tees for winter!
1. Stay in a neutral palette
I recently picked up this Sincerely Jules Célfie tee and the reason I had it in my cart originally was because of the color palette she makes her tees in! I always need neutral tees and something about a natural palette makes this sassy tee appear more mature and less "pool wear." Her tees fit true to size and I'll share a few below I love as well!

2. Add a textured jacket
One way to style graphic tees in the winter is to add layers, but I would encourage your layers to have texture! Texture creates depth to a look and always appears well-thought out and styled. As opposed to, "I had nothing to wear and threw this on" your look seems much more model off duty! This textured jacket is by Cupcakes and Cashmere and I LOVE it! I do want to warn you it runs pretty large! I originally got a S and needed to return for an XS. Another option is to add on a suede jacket. This one from Nordstrom is worn at least 3x a week in my wardrobe and I am tempted to buy it in another shade before next season.

3. Make it you
At the end of the day, an outfit is an outfit! You wear it for a day and then you change the next. That's why I don't take fashion rules too seriously. Your wardrobe is how you introduce yourself to people without having to speak. It's a way of saying, "I'm bold." "I'm laid back." "I'm sassy." You get the idea! So at the end of the day, make sure your graphics are you to a tee, no pun intended. 😉 For example, this tee is perfect for my friend that loves happy hour and this tee is better served for my single friends, not my married ladies. Have fun with it and just make it represent you!
Now if there is anything better than finding your perfect graphic tee it would have to be a sale, and an amazing sale at that! Right now Nordstrom has their Half Yearly Sale going on and my sweet husband went up to the mall with me to look through it yesterday! Here are my favorites to browse from below!
Clothing

Shoes

Accessories

Bags

Beauty

Home


In partnership with Nordstrom. All opinions, purchases and selections are my own!