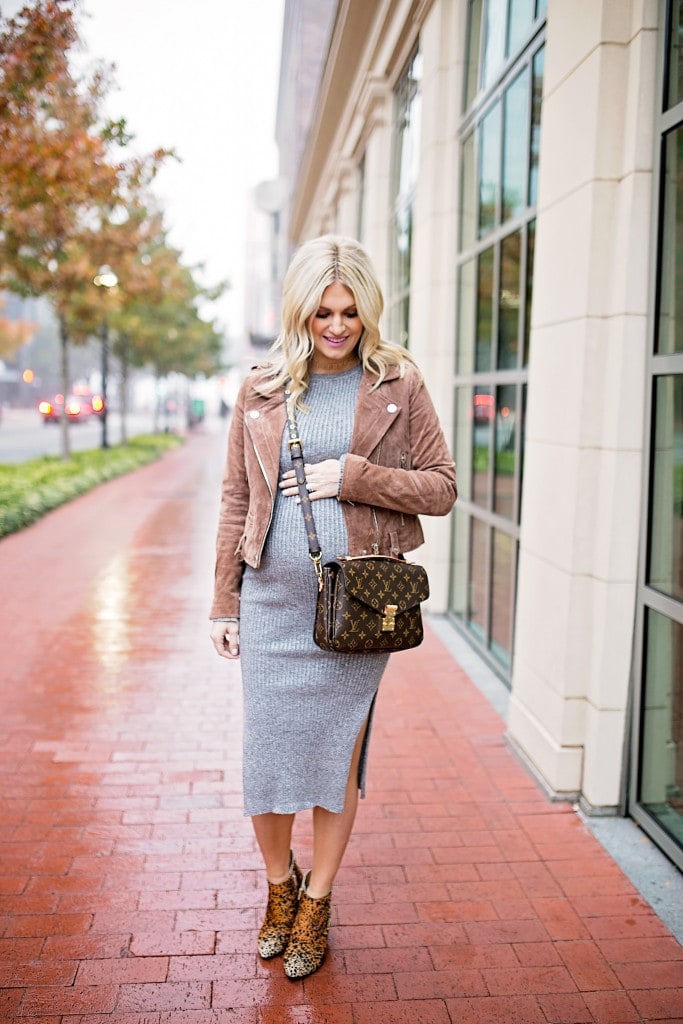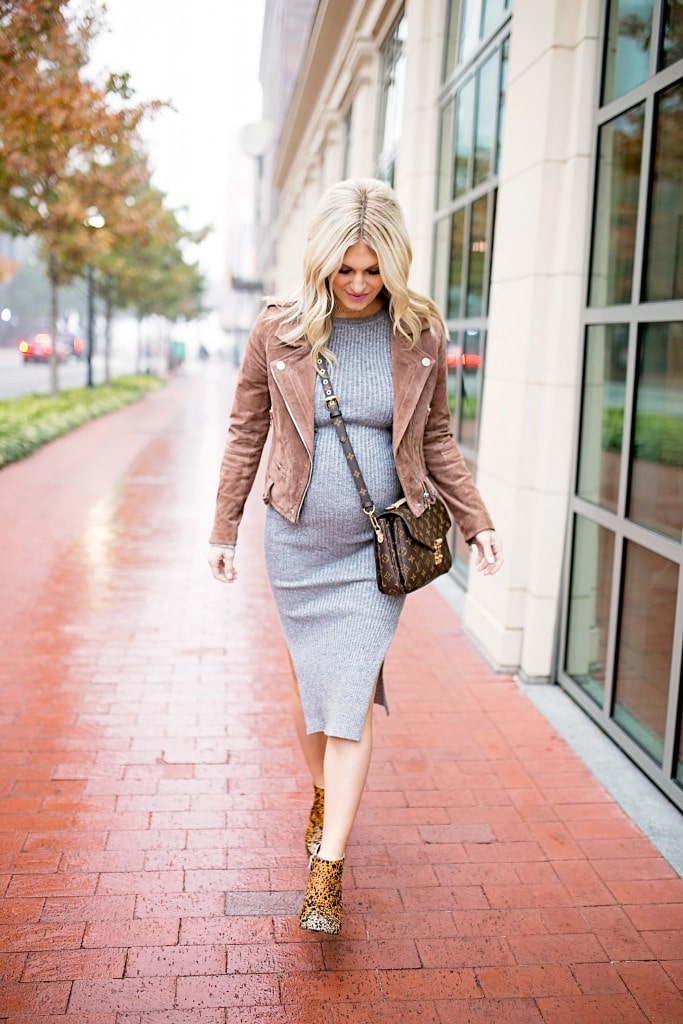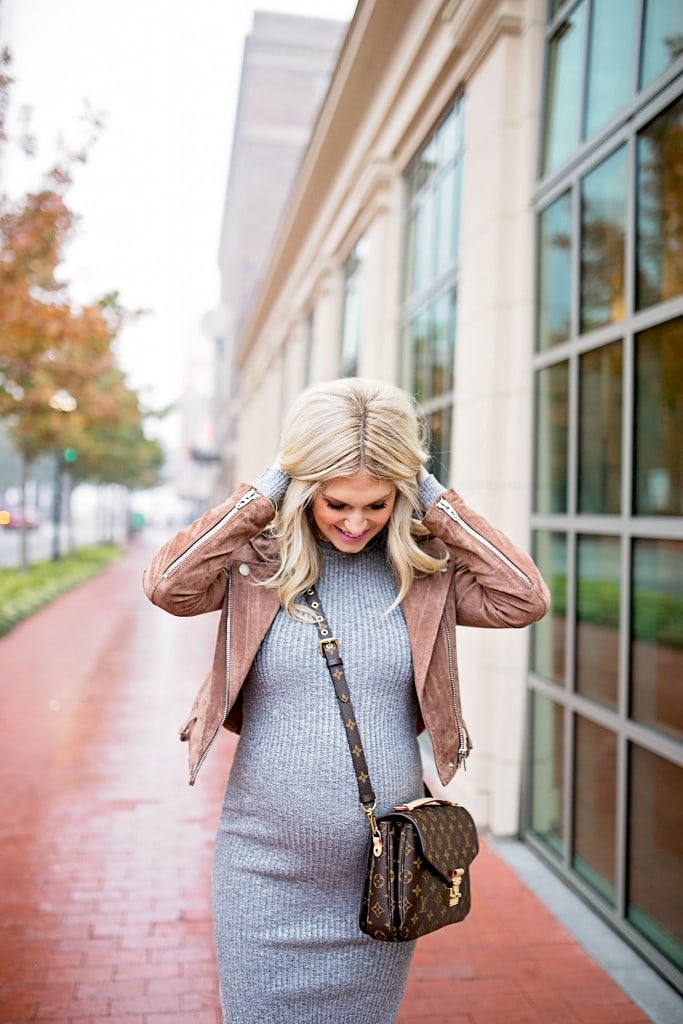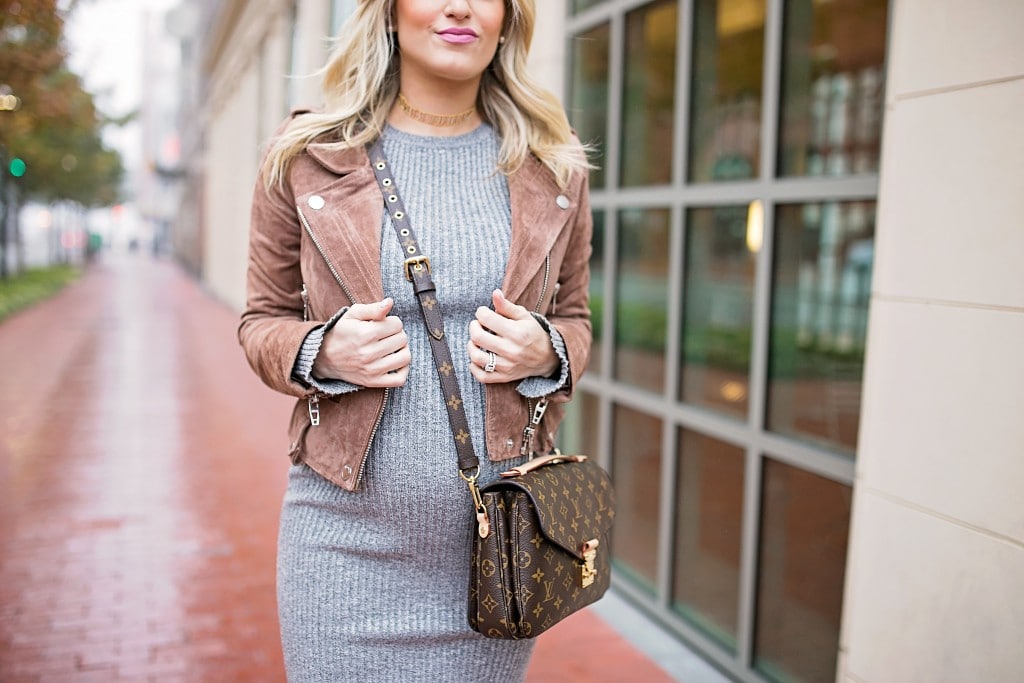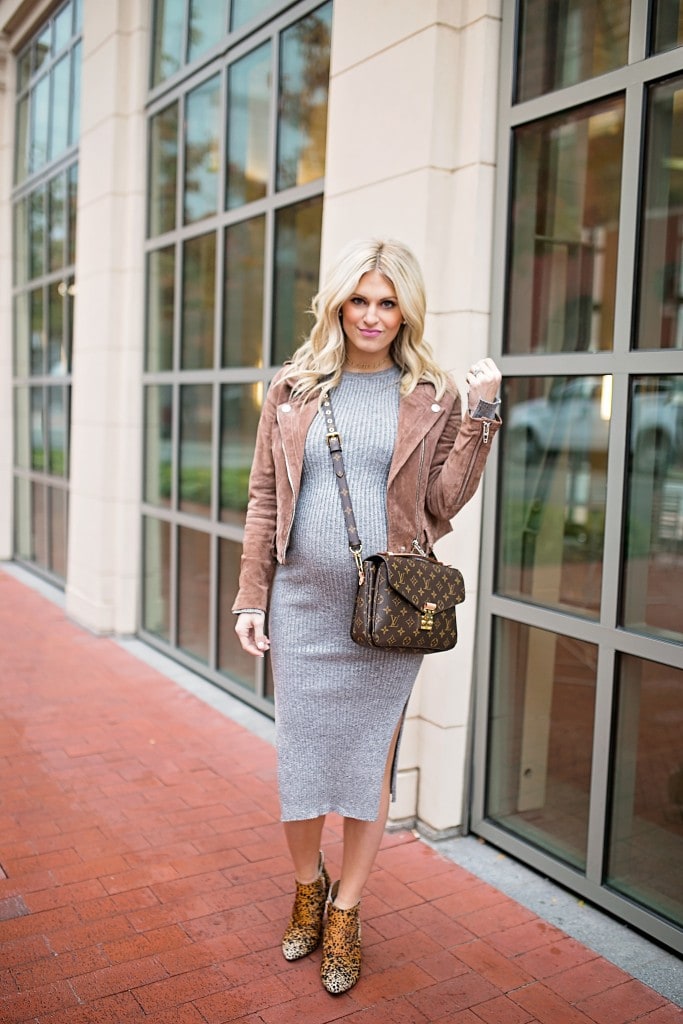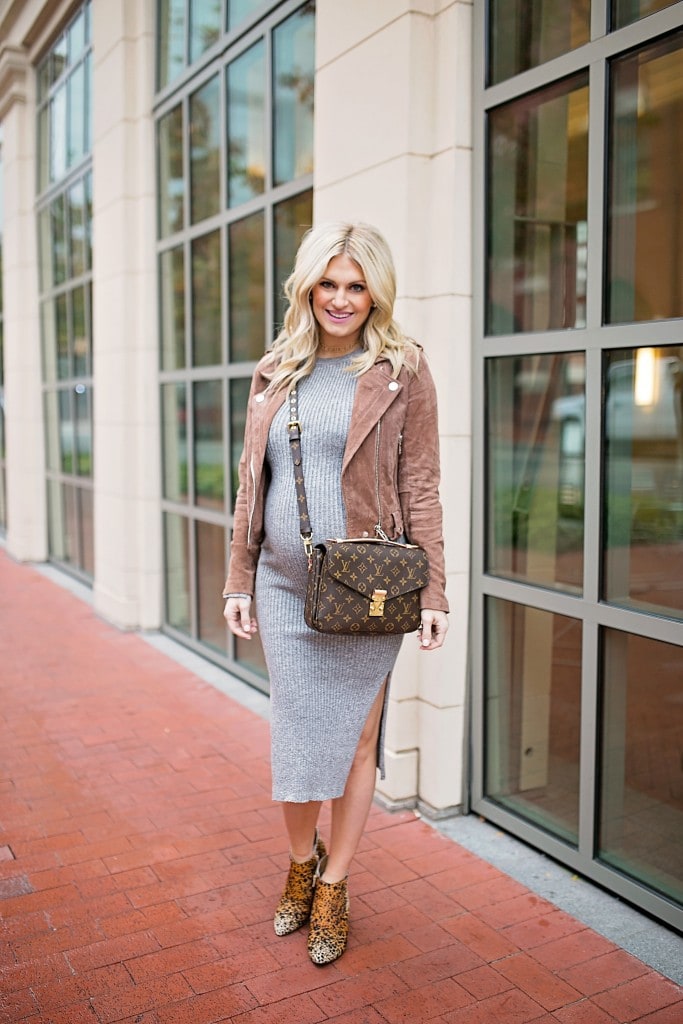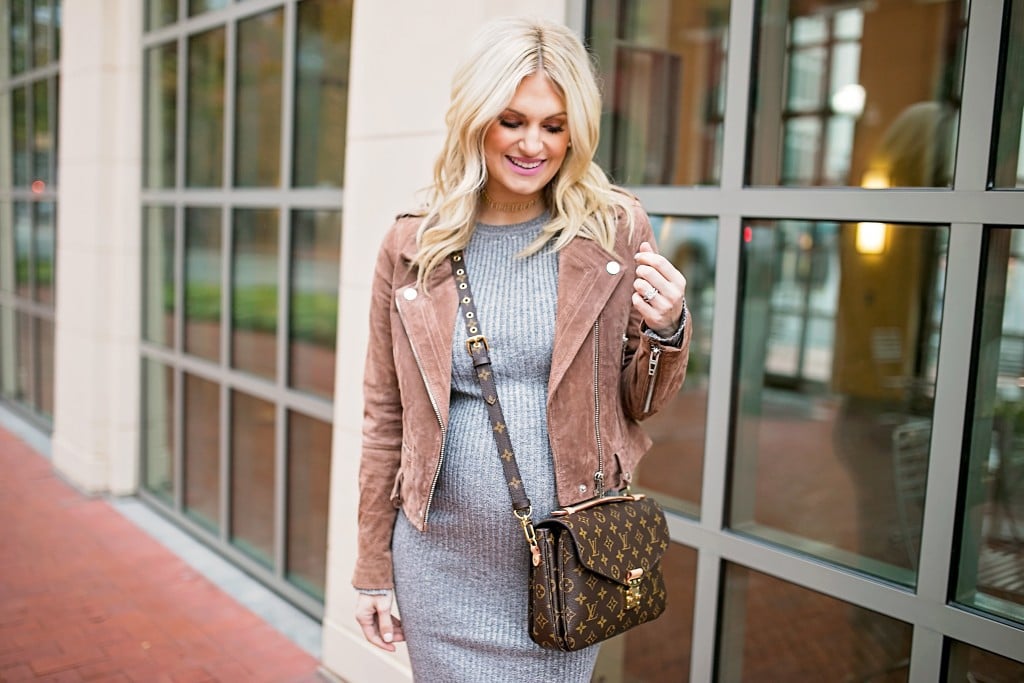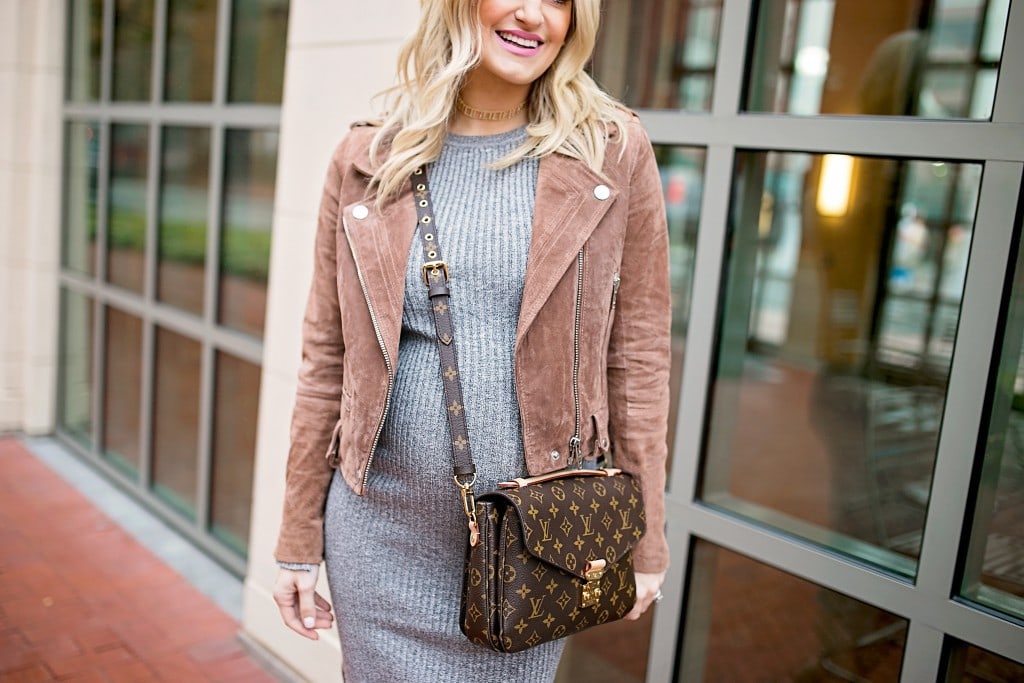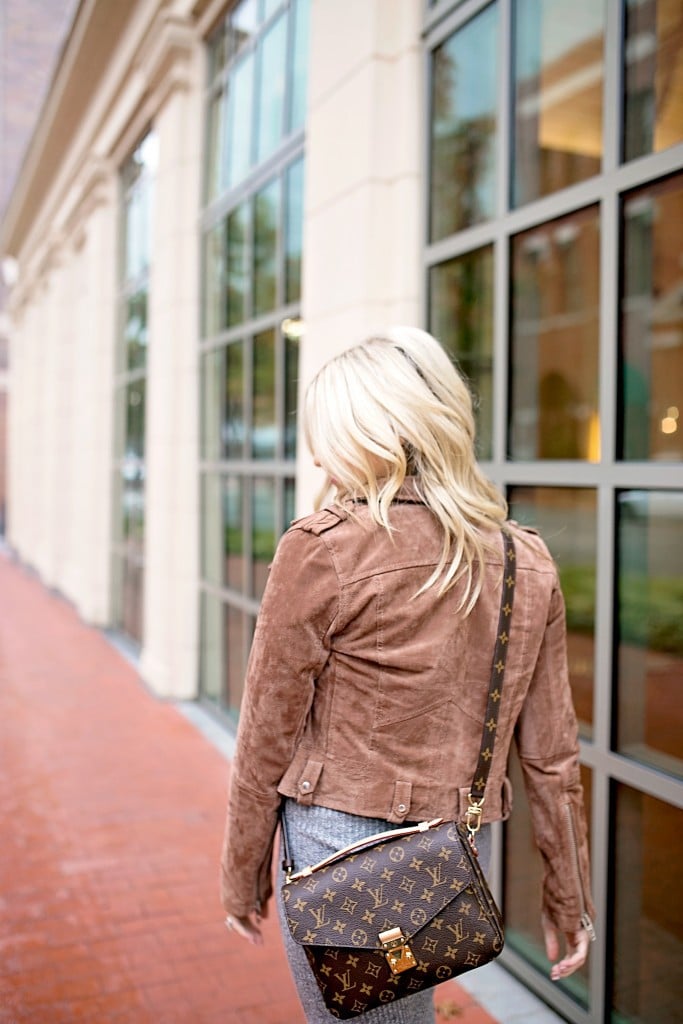 Dress: Revolve [dress stretches, wearing size S] | Jacket: Nordstrom | Bag: LV, Similar | Shoes: Here, Same Brand | Lipstick: Snob | Choker: Baublebar [c/o], Similar
Photography by: Angie Garcia
---
I hope you had the best Christmas with your family yesterday if you celebrated! If you're anything like me, you might still be in your Christmas pajamas today! 😉 Maybe you're enjoying your tree with some leftover Christmas desserts or you may even be an overachiever getting the tree put up. I think we will get ours put up fairly quickly as I'm ready to get all of her toy's laid out and our living room back in order. With a few weeks left to delivery, today I thought I'd share a bumpdate!
How far along: 33 weeks! It's crazy to think of how big she is! I remember staring at my Ovia app when her hand was the size of a little dot and now I see photos on Facebook of babies born at 33 weeks and I'm in shock. I'll be 34 weeks this week, so naturally I'm starting to feel pretty big [as I'm 5'3″] so it all makes sense when I see these photos of babies! 😉
What are we most excited about next: Other than meeting her? Shooting the nursery! We have one thing left that will be delivered next week, so next Saturday we will photograph the nursery. I plan to share it on Valentine's Day because is there anything I love to post about more than home decor?! I think not! So it was only fitting. haha. But besides that, as I'm sure you can imagine [and I don't want to bore you], I'm dying to meet her. I seriously daydream about holding her for the first time all day. Combine that with pregnancy hormones and I just cry thinking about it. It's mortifying driving around town. I'll be pulling into Target just balling my eyes out because I think of the first time I see Paul hold her and everyone in the parking lot is like, "Out of the way, lady in the SUV. Don't cry and drive, please. Don't cry and drive."
What are we least excited about: The unknown! It's such a guessing game on when I will deliver. So many first time moms deliver late, and then I have plenty of friends that delivered 4 weeks early for absolutely no reason. I'm a planner so naturally, this is so unusual to me. haha. But I'm really enjoying just having no expectations and wondering if she will be a week late or so! I had my first set of real contractions about two weeks ago and it was definitely shocking. Nothing like what I imagined. I'd had Braxton Hicks before but I was actually driving to my doctor's appointment and she checked and told me they were actual contractions and not BH. So while painful [I had to pull over while driving] I was glad to get a glimpse of what to expect! Of course, labor is so much more intense, but no one can really describe what it feels like unless you experience it yourself.
Movement: The second trimester I felt intense kicks and punches and flips. Now that she is running out of room I feel hiccups 24/7 and she also feels like she is doing the worm anytime she moves. She is wiggling to find comfortable positions and I can feel the little wiggles. It's really cute!
How I'm Feeling: I feel good, minus the rib pain. And boy is the rib pain intense. Paul is a foot taller than me and our little girl is measuring long. At my past few appointments my doctor has pointed out that her feet are in my right ribs and because I have an extremely short torso, they will dislocate a bit until I deliver. God made the female body in such an incredible way because she said within a few hours after delivery your ribs go back to normal! The best way for me to describe it is that it feels like the underwire of your bra is stabbing your lung. We were at a wedding almost 2 weeks ago and I kept having to stand up and sit and then push down on my stomach to move her because I felt like I couldn't breath. I'm sure I looked absolutely ridiculous. 😉 But it's really common for girls that are petite [or just if a dad is tall in general] and it's such a great reminder the end is near and she is growing perfectly!
Symptoms: One odd symptom is I'm back to having first trimester dreams! In the first trimester I would get incredibly vivid dreams and now that is back. For example, I dreamt that after you birthed your baby you had to go to court to fight for custody so another mom didn't get your baby. So after I gave birth I had to be wheeled to the court house. How odd is that?! I also can barely eat right now. There is just no room in my stomach! haha. I'm trying to make sure that what I can eat it protein based so I don't feel too sick.
Cravings: No cravings right now. Food is just not too appealing when you can only take a few bites!
Weight gain: 20 pounds. My OB said I'm on track to gain about 26 pounds this pregnancy, so we shall see what happens! I know this last month I'll start to swell and retain water so who knows!
What I've Been Doing: We had our two baby showers recently [you can see one here!] and so Paul and I have enjoyed setting everything up. We took a hospital tour, a baby safety class [ours are amazing and I highly recommend! I was a nanny growing up/CPR certified so I thought the class might be really basic and it was still so informative] and installed our car seat. From sending out all of our thank you notes to washing all of her clothing we have been really busy in the nesting process. Paul is also listening to the books I've read on audible [I share which books here] so we always talk about what we think will be best for her and how we want to make her schedule. Baby Wise has been extremely helpful with that! I know there are really staunch opinions on scheduling your baby, etc. but it's what my family has always done so it's what we feel comfortable with.
Things We've Purchased: 
I think most moms can agree they are so scared to cut their little one's fingernails! I picked up this from Nordstrom so I don't have to worry about it!
Two of my aunts got us the 4Moms Mamaroo which I'm so excited about. This thing is incredible. You can control the swing from your phone and it has so many different motion/sound options to get them to fall asleep. Paul and I also picked up something that was lightweight and we could move around the house to whatever room we needed. We got this Babybjörn Bouncer Mini that I can put in the bathroom while I get ready/kitchen while I cook/office while I work.
My favorite baby products we have gotten for her so far have been Noodle & Boo. These lotions and washes have the sweetest baby scent and our cabinets are stocked with them!
This gift was the biggest hit from her shower! Everyone kept passing them around and looking at how mini they were!
Lastly, I can't decide if we should get the DockATot or not. I wouldn't be using it to co-sleep or having her sleep in it. I just know a lot of my friends use it to feel safer when you cuddle in bed with your baby and have bonding time. From that aspect, I really think we will get it. However, it's pretty large so I'd hate for it to just collect dust if we would rarely use it since she wouldn't sleep in it!
I also wanted to let you know I'm working on a huge pregnancy roundup post! Basically, it will be the "ultimate guide to pregnancy" so that those who haven't been pregnant can save it for future reference. I'll share everything from what I registered for, how I changed my diet, what products I ditched, what my "no-no's" were, etc.
I'm sorry this was so long-winded! Thank you so much for reading, I hope you had a wonderful Christmas and let me know if you have any questions you want my pregnancy guide to cover!