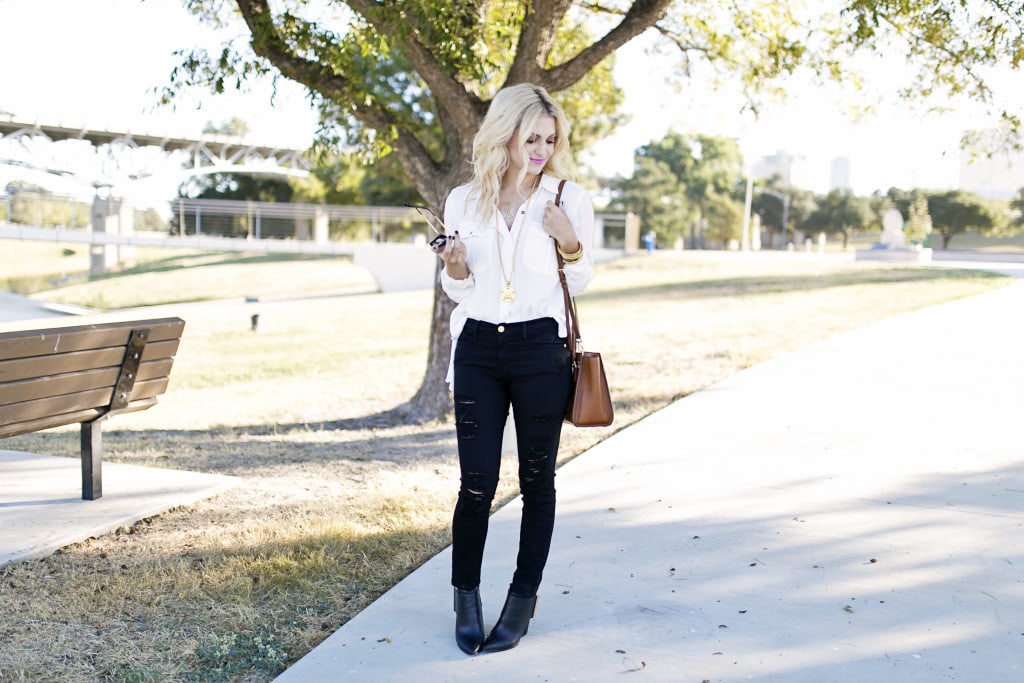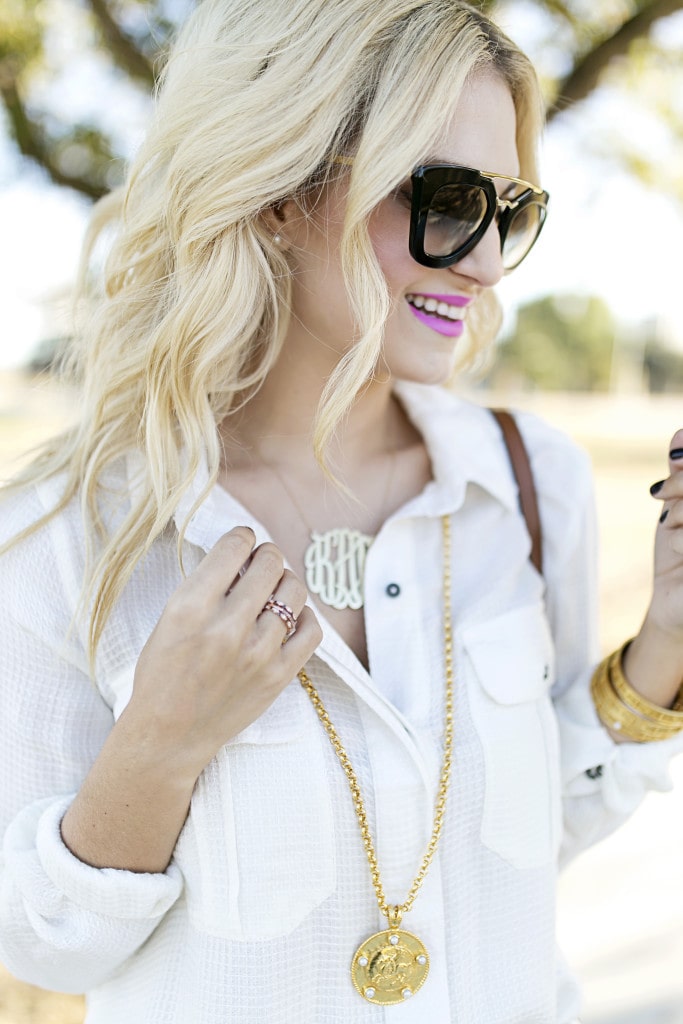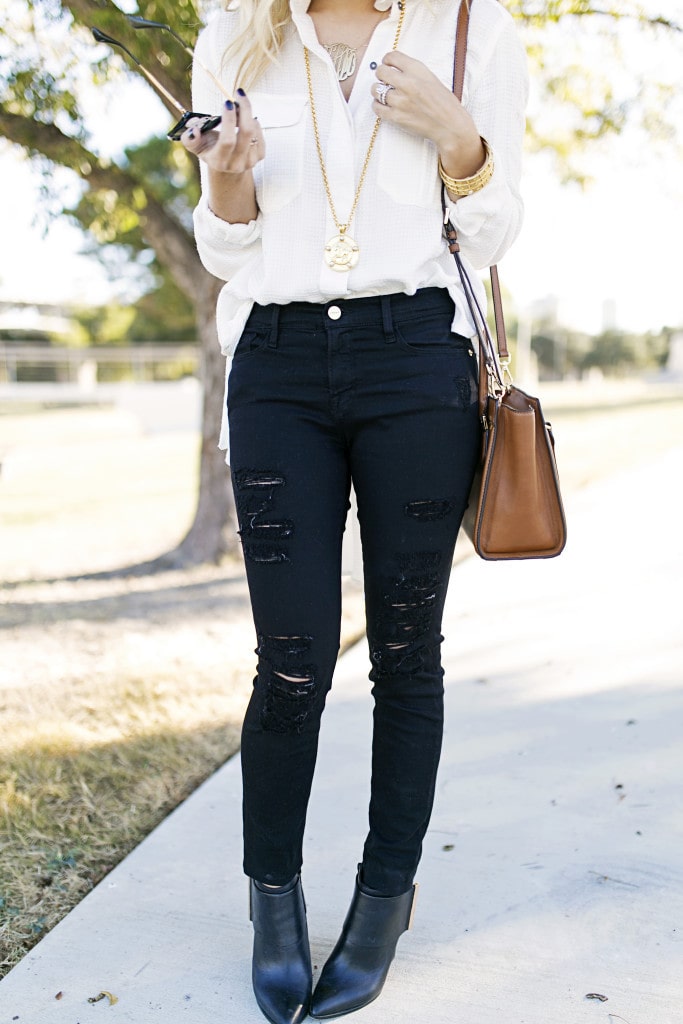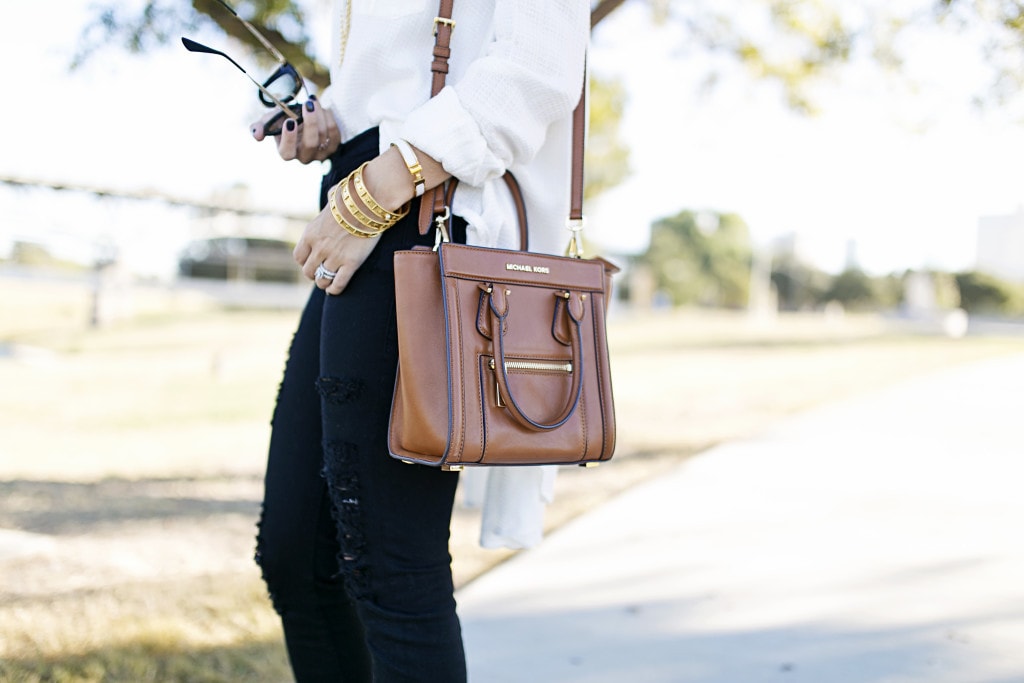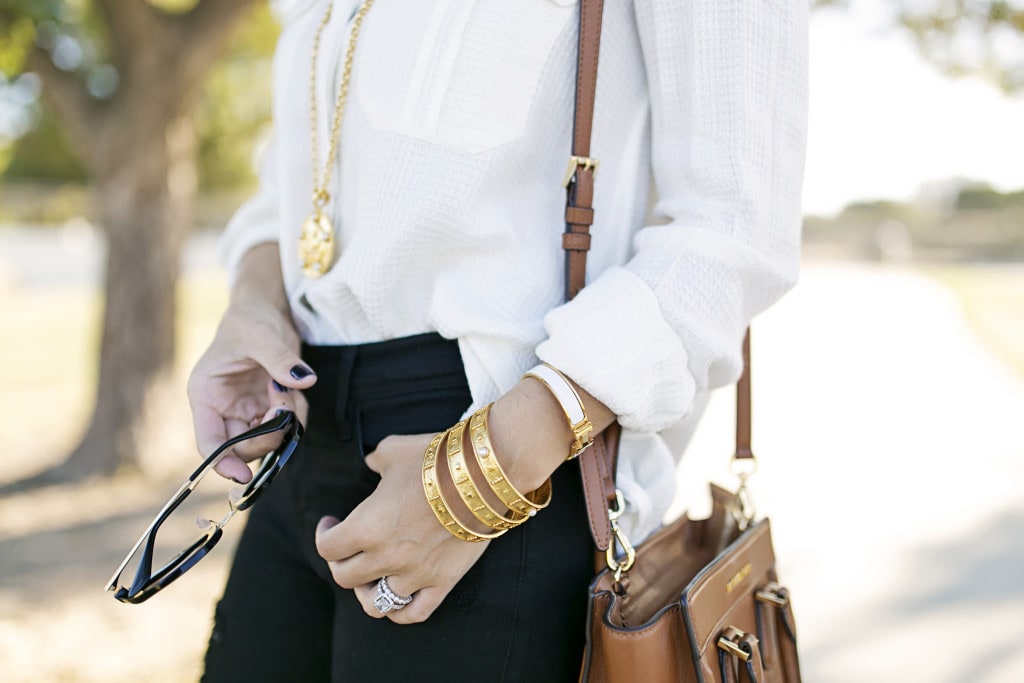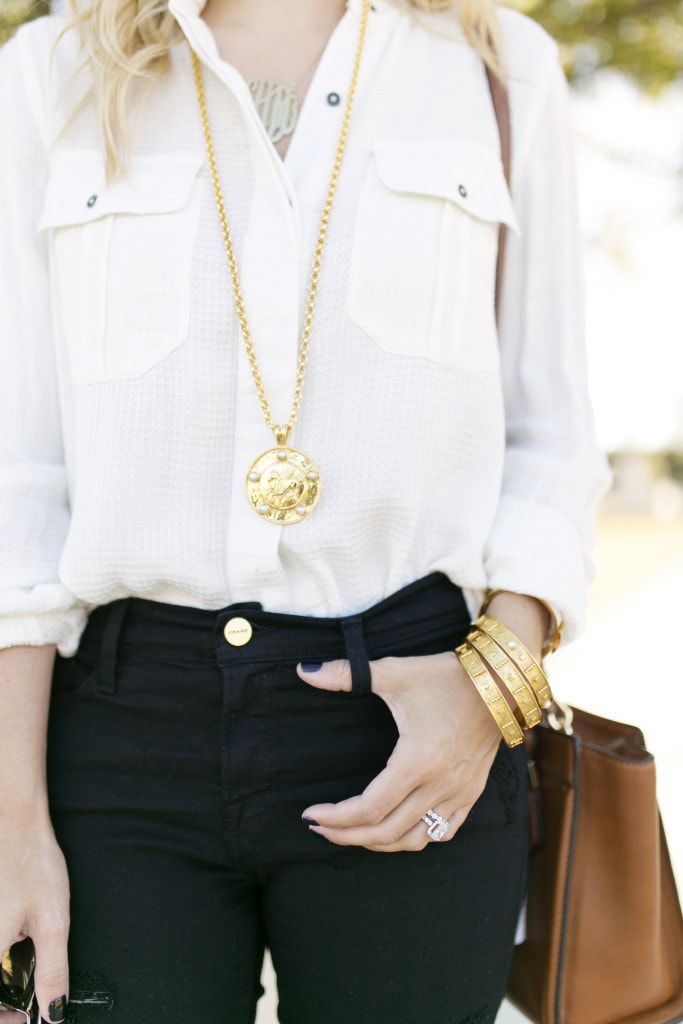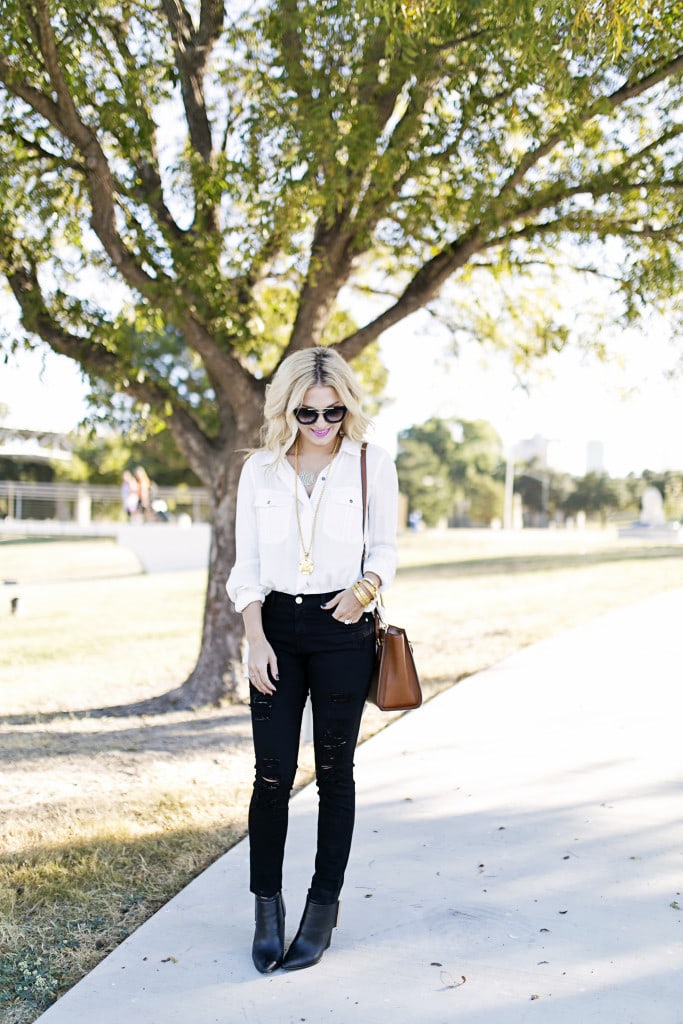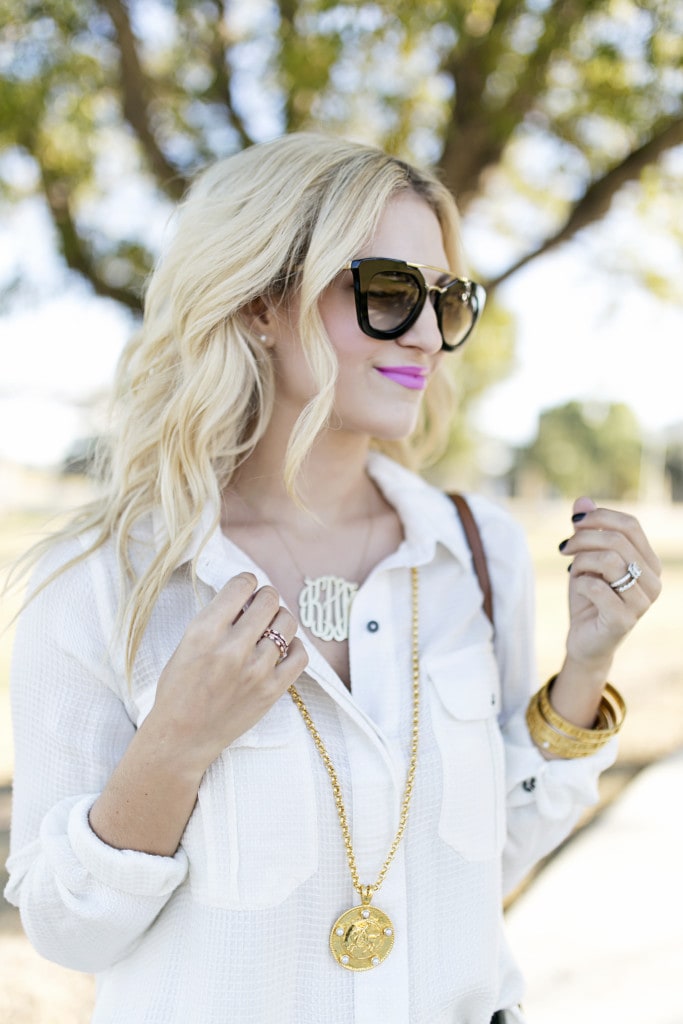 Shirt: Free People | Jeans: Nordstrom | Booties: Aldo, Similar | Bag: Michael Kors, Similar | Necklace: Julie Vos [c/o] | Monogram Necklace: Similar [get size 3xl ON 18″ chain for match] | Bracelets: Julie Vos [c/o], Hermes Bangle | Sunglasses: Prada | Lipstick: Liner [shade: bittersweet] | Earrings: Nordstrom
Photography by: Angie Garcia
---
I believe that all friends can be divided into two categories:
shopping enables and disablers.
I'm clearly an enabler.
And somehow most of my friends are disablers. 
That's why I usually shop online or by myself because I don't want any of those Real Housewives of OC "judgy eyes" on me.
Usually my girlfriends will say, "Yeah, but you have a black bag already. Katey, no. You don't need another pink lipstick. You have jeans just like that." Why do they have to be so practical?! 😉
So naturally, when my girlfriend, Daniela, was in town last weekend and we ran into Free People to get a gift I knew I'd have to not browse. I was practicing self control, and then I saw this top. And I failed miserably.
We saw this blouse, and maybe it was the fit or how cozy it looked but it turned my most disabling friend into a serious enabler.
She said, "You better get that top or I will." So I grabbed it. No questions asked.
I've been on the hunt for great basics that last. I typically love to invest in statement pieces, but basic items that can be rework sometimes get pushed to the bottom of the budget. However, after lots of closet editing I decided I wanted to focus on pieces that get reworn again and again. The first few piece on my list was great buttoned blouses that could go with anything. This is just one of those canvas items that blends your accessories together seamlessly, and the boyfriend fit is great if you have broad shoulders or a larger bust and still want to get an oversized fit. I loved how I was able to mix in brown and black without it looking like it clashed.
If you do want to mix those hues and you're worried about having to switch out bags or an accessory looking like an afterthought, I think a little white buttoned blouse is the perfect way to do it. Keep the look neutral, and throw on different shades in accessories. If you want a safe start, I'd go with a cognac bag first! Cognac blends so well with black and brown it's honestly hard to tell what it pairs better with. I love this bag and it's always on my must have list!
Cheers to Thursday! We are almost to the weekend!