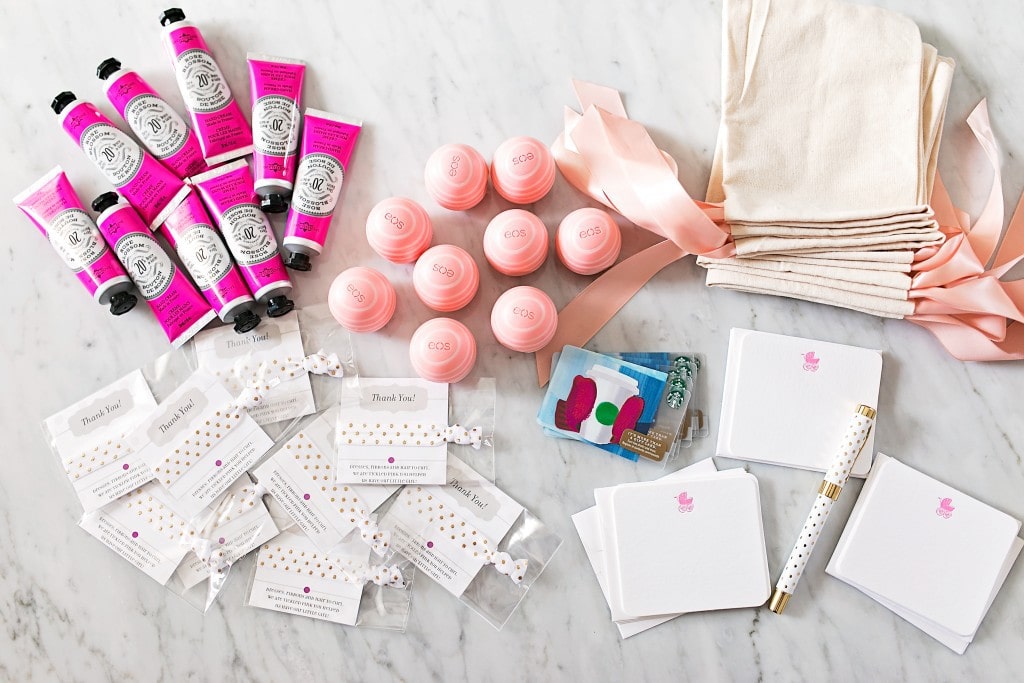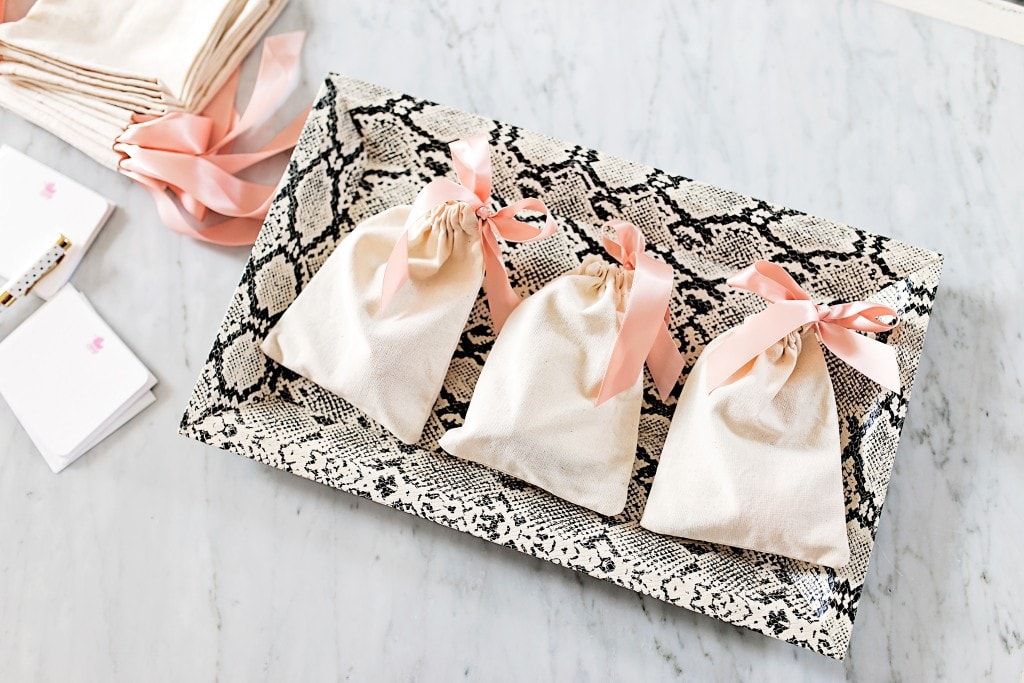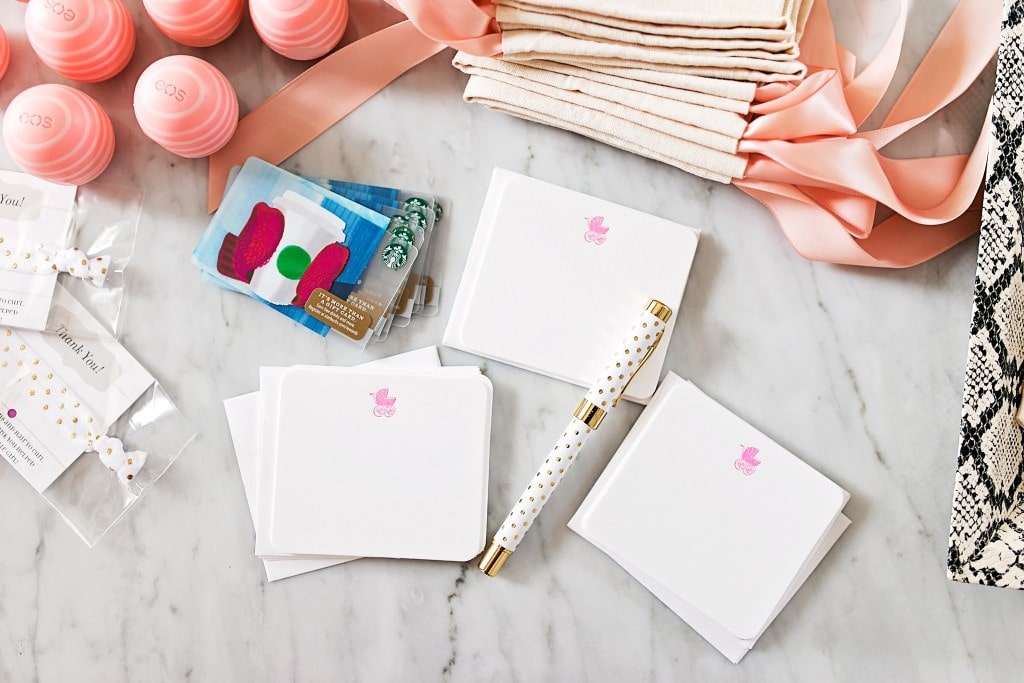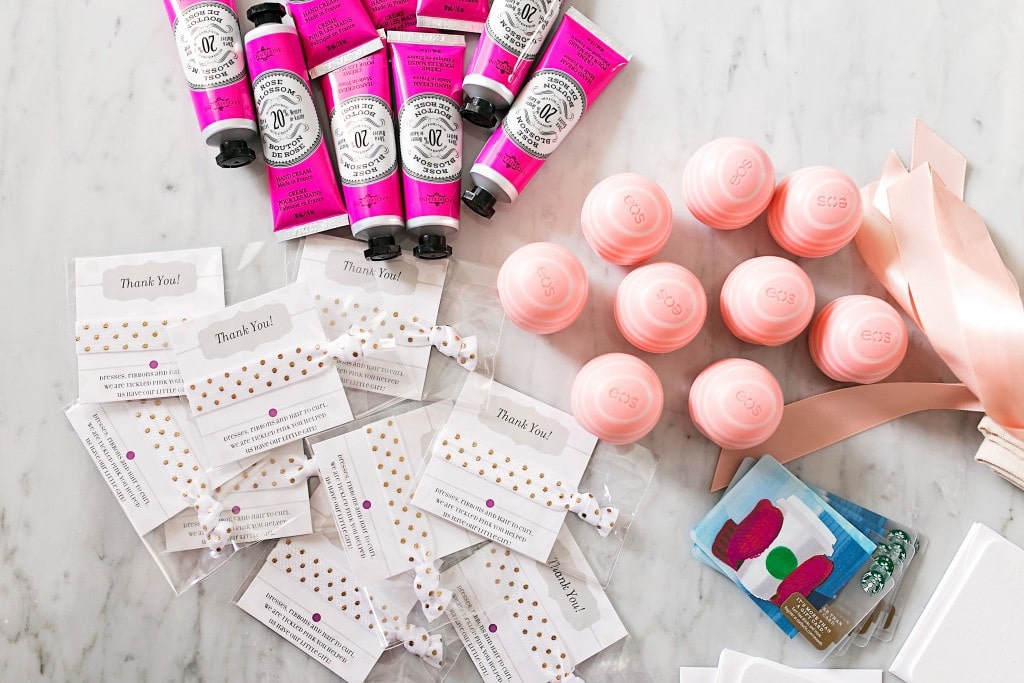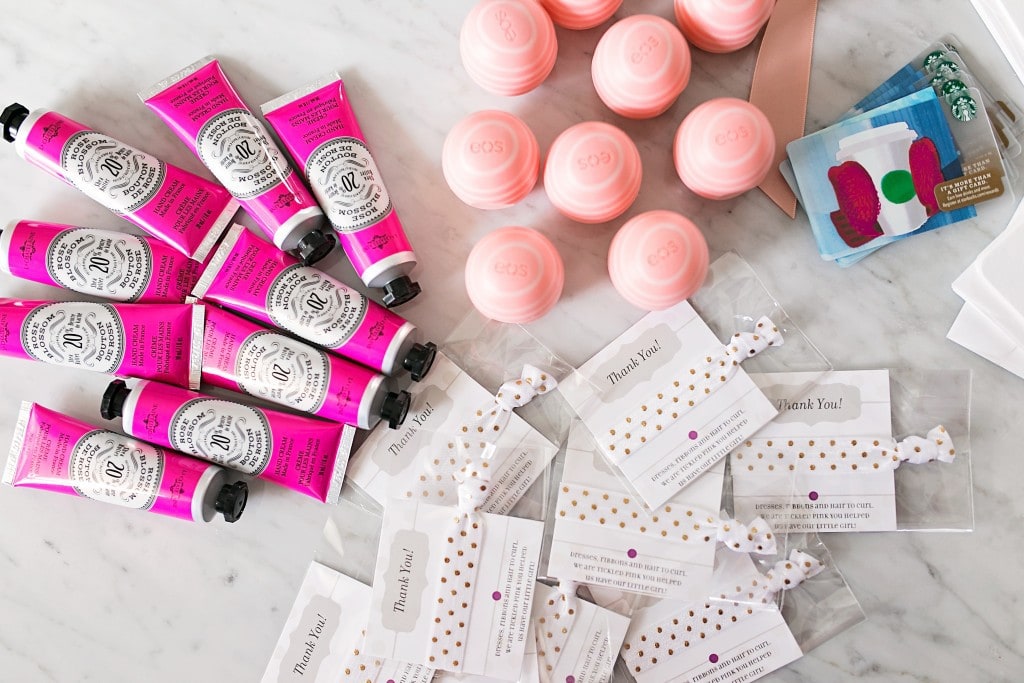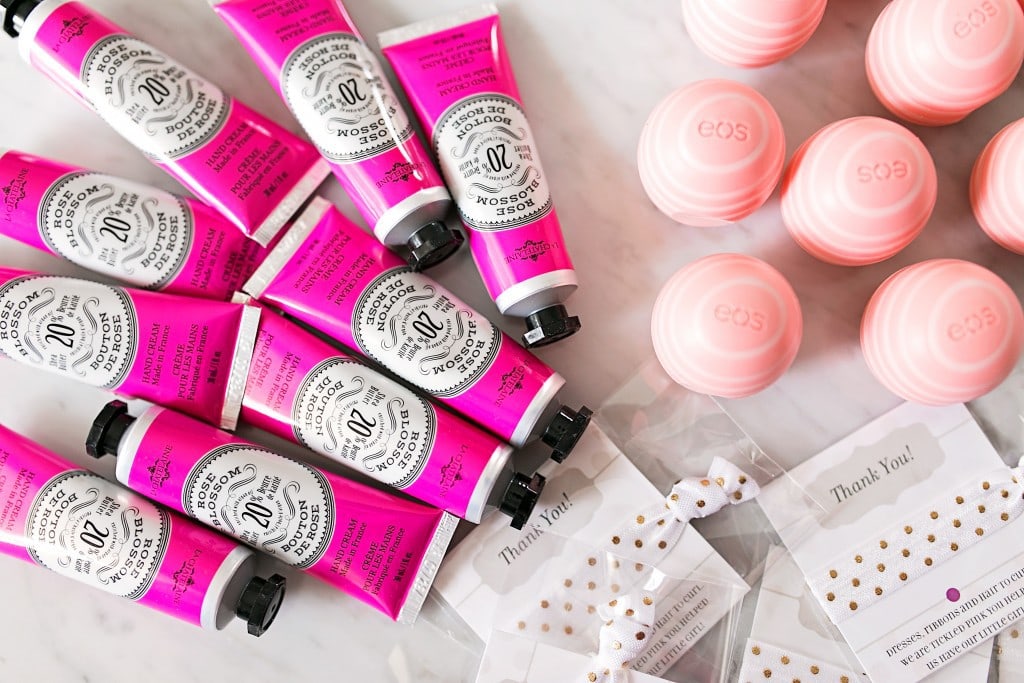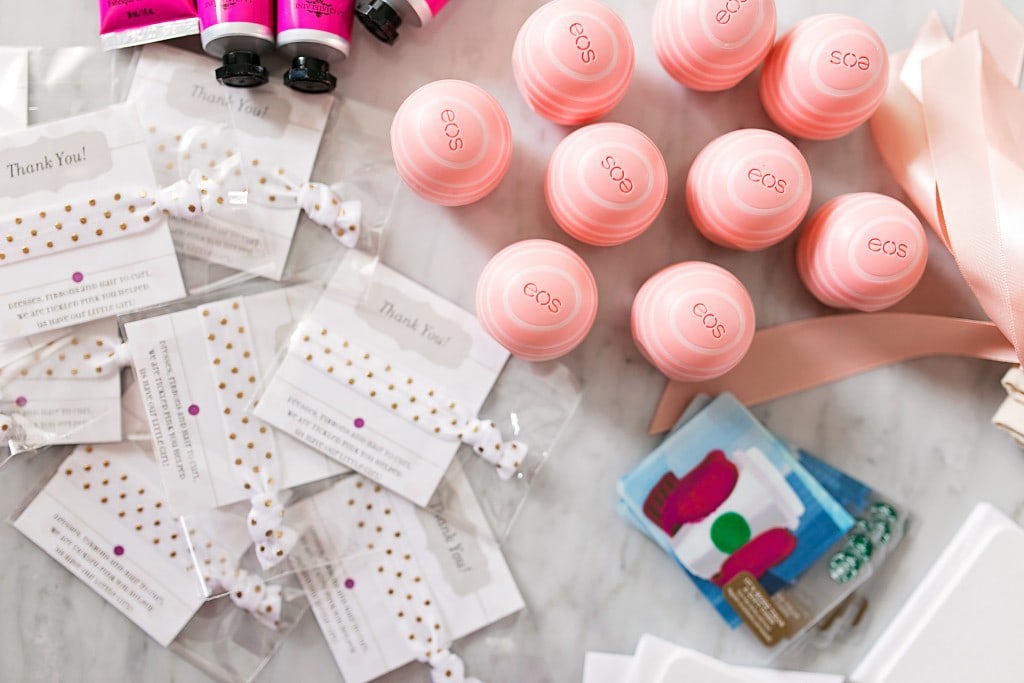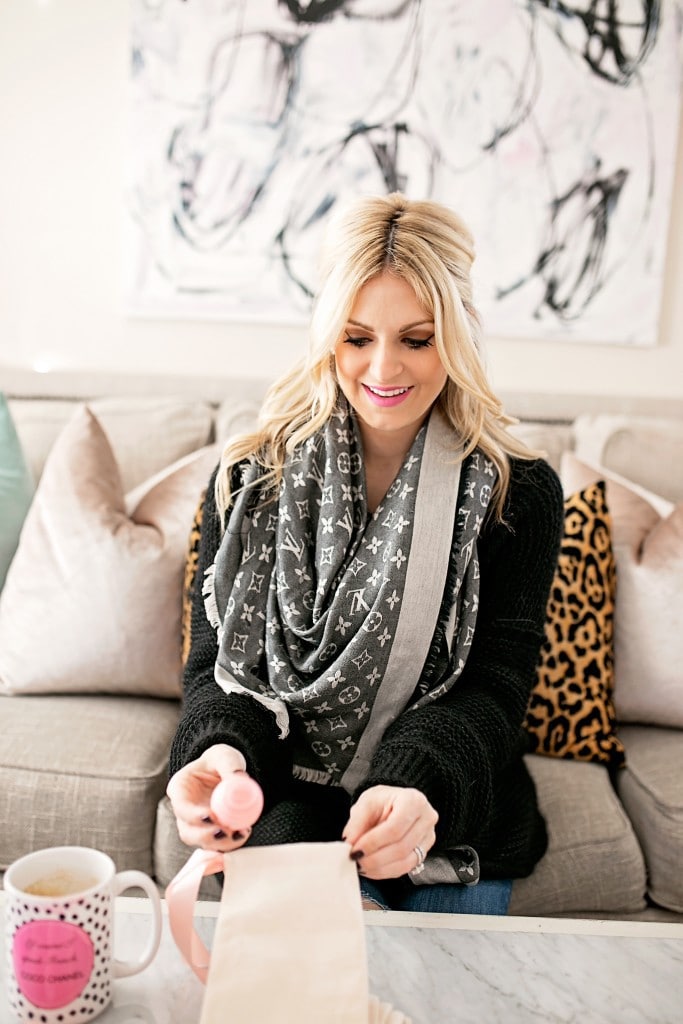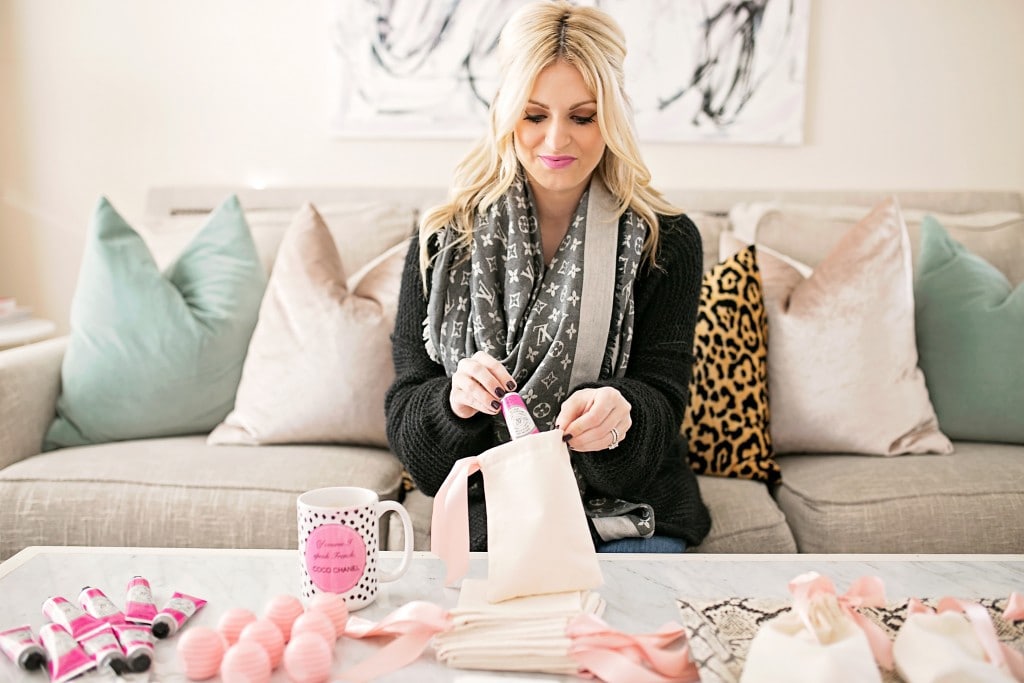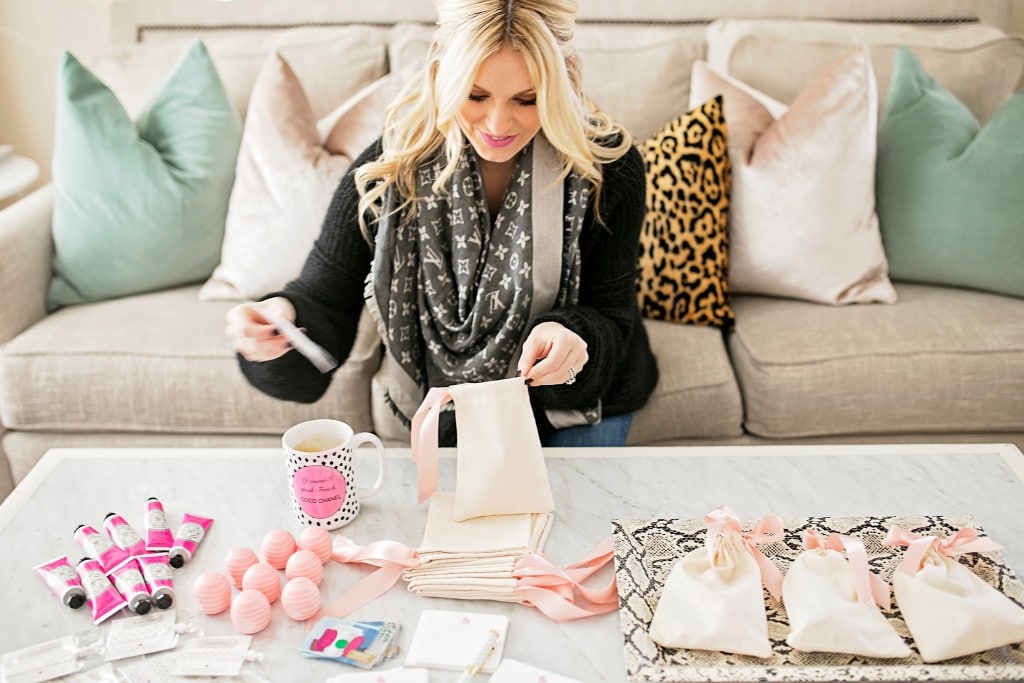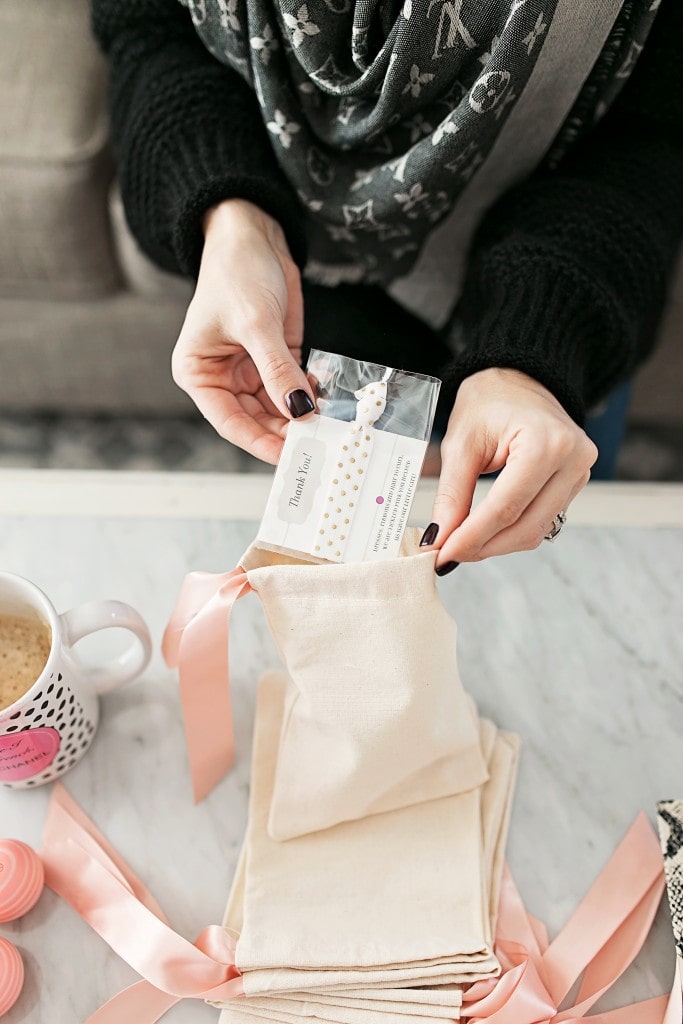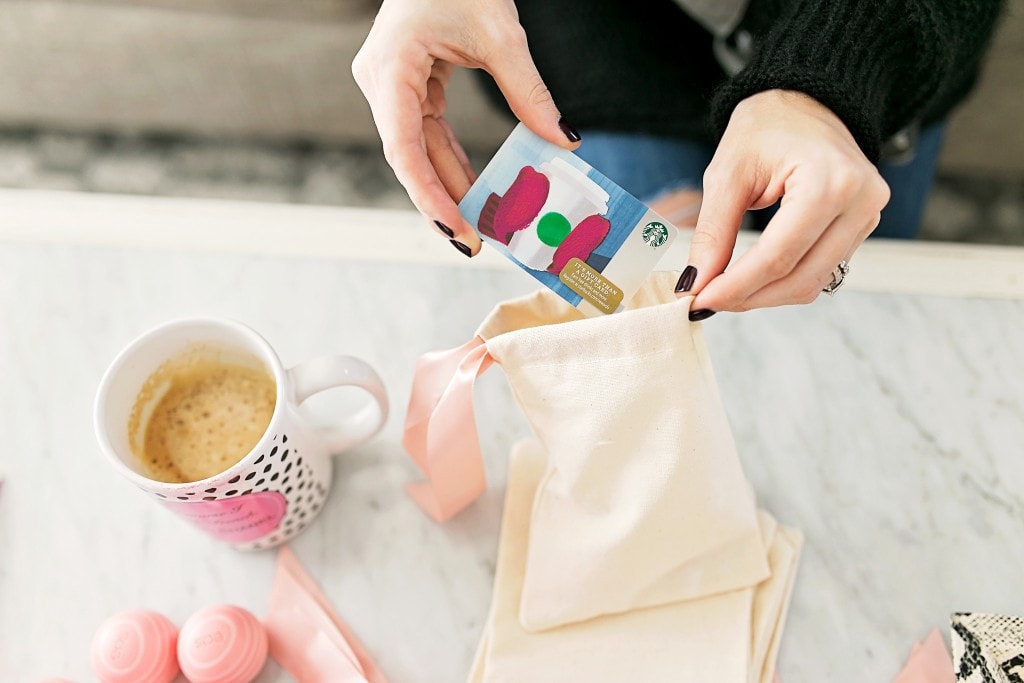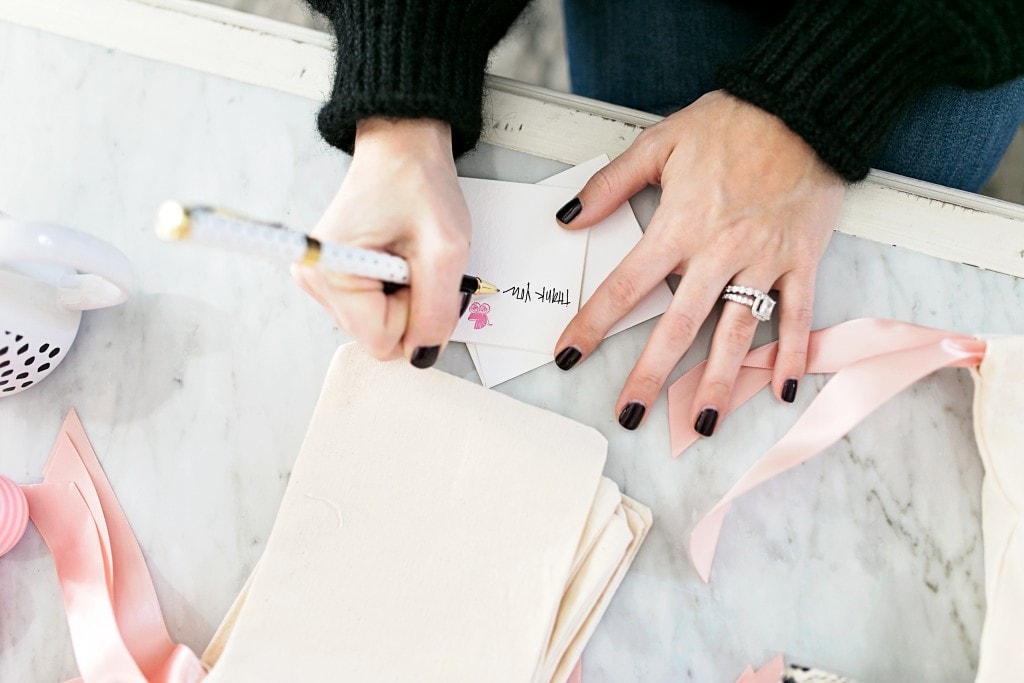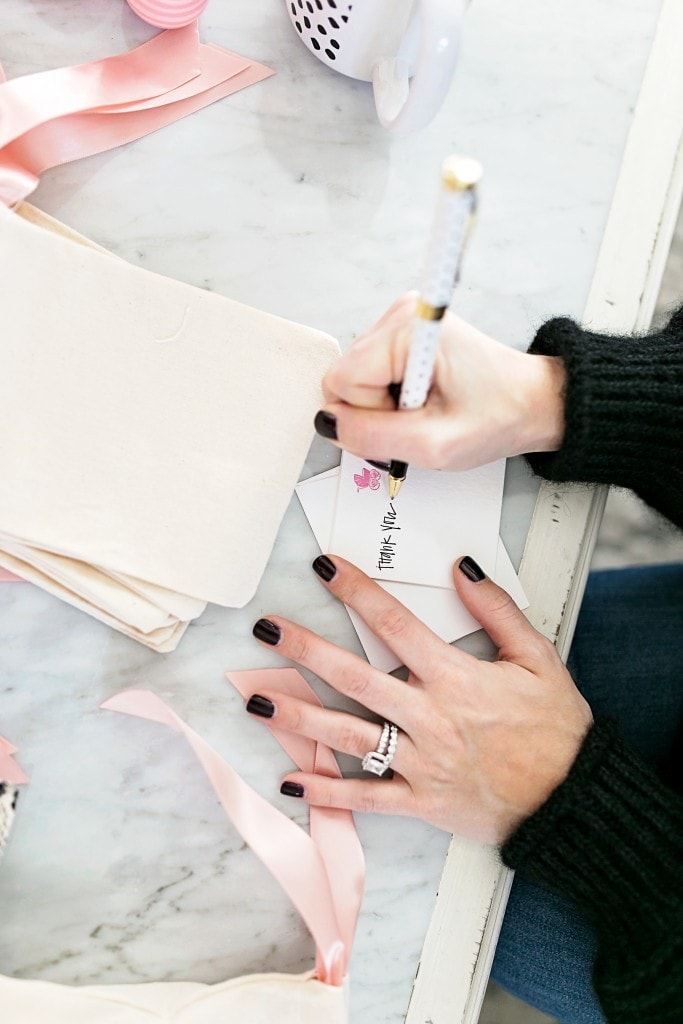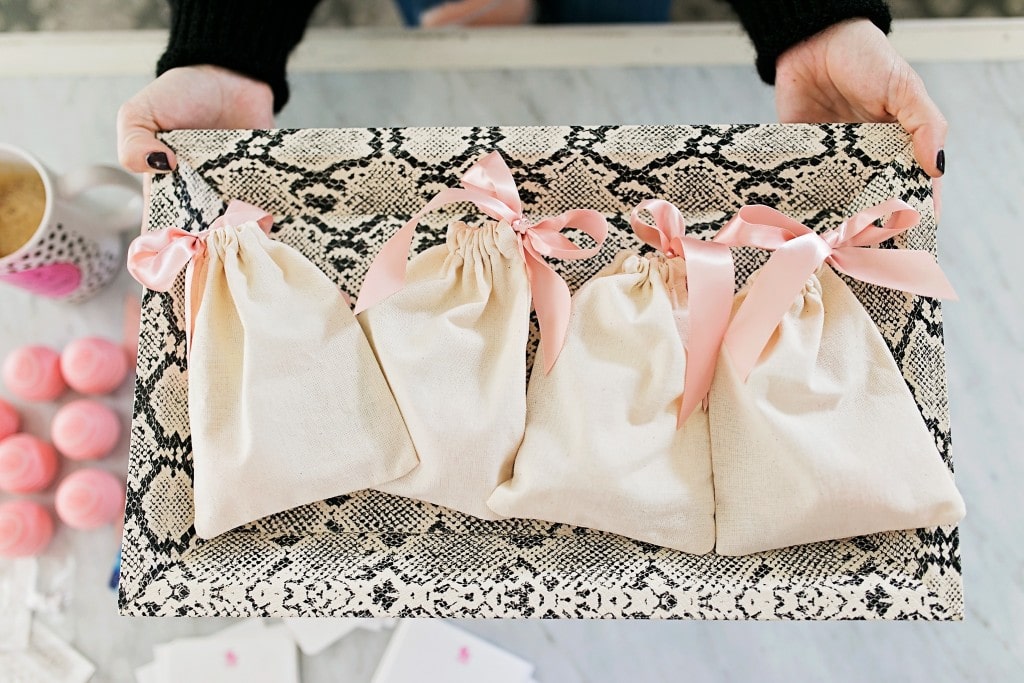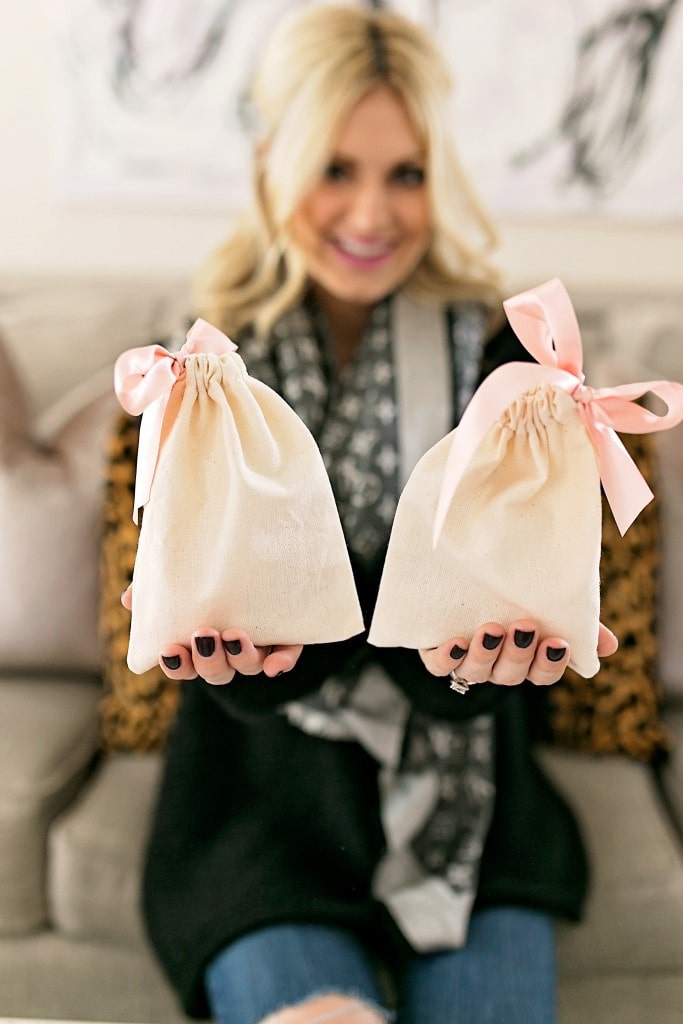 Sweater: Free People [runs large, go down a size!] | Scarf: LV, Similar, Similar, Similar | Lipstick: Brave | Tray: Shopbop | Gift Bags: Amazon | Cards: Bellinvito | Lip Balm: EOS | Lotions: Amazon | Hair Ties: Etsy | Coffe Mug: Gift from Mom, not sure where from!
Photography by: Angie Garcia
---
As I wind down with work and start preparing to have our little babe, I've been checking off a to-do list before it's "go-time." One recent thing I finished was our nurse gifts!  Now, I know…I know! You never know your delivery situation. I could be at Target and my water breaks and chances are I may not run home to pick up nurse gifts if my bag is already in my car. But I made sure to put together a little basket of gifts for our L&D nurses as a way to say thank you! Because they are the ones that are by you every step of the way while you bring your little one into the world.
The other thing you might notice is how pink they are! Oops! Haha! I basically went off the theme of having a little girl, and then realized the gifts were super girly. I did have someone message me and ask, "What if you have a male nurse?" Don't worry, I did think of any male staff with food options I'll share below. I just forgot how girly these gifts would look once I compiled all the pink together. #KateyProblems However, I do want to note that on my hospital tour a lot of girls asked if there would be male nurses in L&D and our tour guide said no. So again, not sure how true that is for my entire stay [because I'll get moved to another floor after I give birth] so I thought of them with things I'll list below.
In the basket I made 12 little pouches and filled them with eos lip balm, rose lotion, hair ties [the cards on the hair ties say, "Dresses, ribbons and hair to curl, we are tickled pink you helped us have our little girl."] and $10 Starbucks gift cards as there is a Starbucks in the hospital we deliver at. I then threw in a little handwritten note with each gift. In the basket I also threw in lots of different candies they can munch on during their shift along with snacks like granola bars and goldfish! So of course a male nurse can enjoy the food, Starbucks gift cards and notes which everyone likes more than lip balm anyways. 😉
Another thing a reader mentioned is to ask your hospitals gifting policy. I'm really not too sure how rare/common it is that they can't accept gifts but I would definitely call ahead and ask just in case your hospital doesn't allow staff to accept gifts! We asked on our tour and they said gifts were completely welcome.
Lastly, another thing to consider, is that your OB may or may not be the one to deliver your baby. It really just depends who is on call! But I seriously love my doctor, she has the most amazing bedside manner and is really compassionate so I wanted to say thank you to her for how wonderful she has been with all my first-time mom questions! We actually go to the same hair salon so I got her a card and a gift certificate for there that I plan on giving her at my 39 or 40-week doctor's appointment. Another option is always a restaurant gift card because we all know doctor's work crazy hours and probably do not want to think about dinner on their way home!
Of course you don't have to compile gifts for all your nurses, I just really enjoy putting together things like this as it relaxes me and I'm a huge gift giver. I believe at the end of the day, handwritten cards are what mean the most to nurses after they have had a really trying shift or long week. I don't think nurses [and people in the medical field in general] ever get thanked enough for all they do and if you are one I'm sending you a huge hug from Texas. Thank you for being so incredibly selfless and sacrificing so much for people you don't even know!