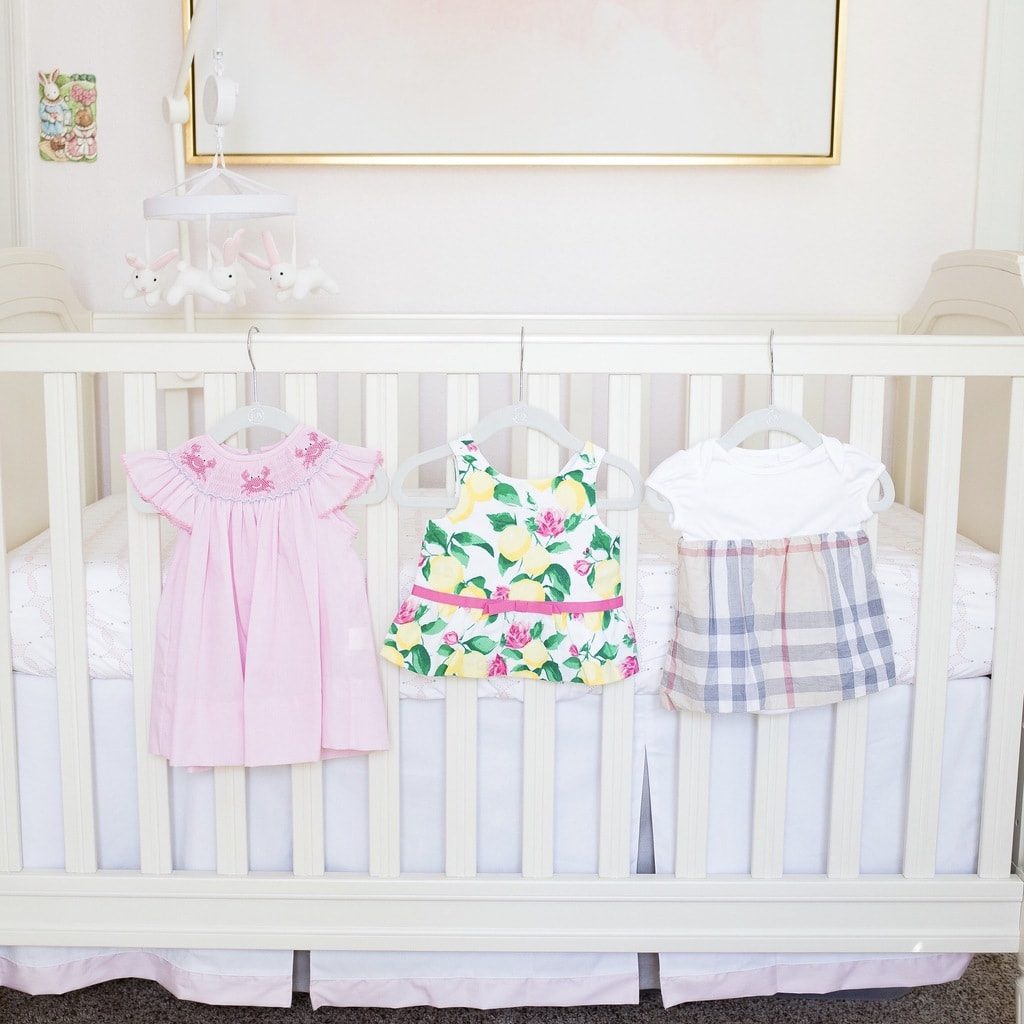 Smocked Dress | Janie & Jack Lemon Top | Burberry Dress | Jenn Thatcher Art [c/o]
Photography by: Madison Katlin
---
Maxi will be 7 weeks on Saturday and in that time period we have already purchased a new stroller and had to exchange a dozen items we purchased for her! Babies always tell you who is boss! You spend months researching and then they like a completely different item you didn't even think to purchase.
I've gotten lots of requests to do a registry post, and I thought I'd share more as a review of items that Maxi and I have loved. We've had some great experiences with products and we've had some not so great experiences [like the one day I literally almost just left our stroller in the parking lot because I hated it so much #exaggerating #sortof] and wanted to share!
These are just the items we have had success with and not necessarily an all encompassing list and it wouldn't fit every baby or stage. These are really just items we have used her first few weeks, so it won't necessarily cover things like spoons and sippy cups. This is also purely opinion! For example, a white noise machine is pointless for Maxi as of now. She is a really deep sleeper. However, my girlfriends' babies need their white noise machine! Each baby is really different, so yours may prefer what she hates. Overall, I hope this helps you if you are starting to research products and helps give you an idea of what we need on a day-to-day basis. I think we are so blessed to have been able to purchase Maxi these items as well as have friends and family shower us with them! Babies just need food, love and a safe place to sleep. These items just help make motherhood easier!
---
Sleeping
Items we Love: HALO SleepSack, DockATot
HALO SleepSack: We live in Texas where even a February baby can get a little too warm at night. I love that this sleep sack is breathable! It's also an incredibly easy swaddle to use and was the swaddle the hospital gave us. I also love that you can keep their arms in or out! Maxi loves to self soothe with one hand out of the swaddle and you can do that with this one. She seriously can't sleep unless one hand is propped up on her cheek! We tried the Woombie swaddle and it just was so tight she hated being confined. However, some babies sleep through the night with the Woombie!
DockATot: I was so on the fence about getting a DockATot. We knew we wouldn't be cosleeping so it just didn't make sense. I had a lot of readers say we needed it regardless and now it's one of my Top 3 favorite products for her. In the mornings after she feeds and does tummy time, she will take a nap. I'll put her in the DockATot by me either on the couch or in bed while I sit and work. It's so nice to have her right next to me sleeping and knowing she is safe. We also love the DockATot because Paul and I will eat dinner together and if she is wide awake she will want to be held OR she is perfectly content being in the middle of us on the couch in the DockATot. It's the only way Paul and I really get quality time to sit and eat a meal together. haha!
Items we Didn't Love: Owlet, Noise Machine
Owlet: We purchased the Owlet for peace of mind. Unfortunately, in the beginning it fell off her foot every night and created a false alarm. It was terrifying to wake up to each night. Then we tried it with a sock to keep it on and still got false alarms. A pediatric nurse that follows me told me there were some cases where the sensor burned a patient's foot because their skin is so sensitive. After that Paul and I just decided it wasn't doing anything except giving us more to be nervous about. However, Maxi hasn't started sleeping in her crib so we may try the other sensors on the market that are different for when she does. This was just the experience with us and I know many people credit the Owlet for peace of mind and I don't want my review to discredit that. Owlet did just come out with a new monitor so we may look into that. BUT, I will say I really like that we have a product that can measure her oxygen levels if need be.
Noise Machine: My child can sleep through anything. We have a dog that barks, I work from home and we usually have the TV on in the background. She's not the type of baby you have to whisper around. Right now, we don't love it because we don't need it. However, we kept it because I know as she gets older, sleep gets shorter but more precious. I won't want something to mess with her naps if she only takes 2 a day!
On The Fence: HALO Bassinest
HALO Bassinest: The HALO Bassinest is one of the most popular bassinets on the market right now! It swivels close to you so that you can easily nurse or care for baby in the middle of the night and the mesh, breathable siding allows you to feel at ease. However, there are a lot of reasons I don't think I would use this if we had another baby. First off, the base is SO large. Unless you have an EXTREMELY spacious master bedroom, this is going to take up a lot of space. You're a new mom. You get up a lot in the middle of the night and you are sleep deprived. Having a huge, bulky x-base to trip over isn't the best. Paul is constantly worried I'm going to trip over it in the middle of the night. Another thing I don't love are the features. For example, it vibrates to help sooth baby, but I found it's so light it doesn't do anything for her. The bassinet is also so large that from my research many babies don't love it when they first come home from the hospital, even while swaddled. However, we didn't switch bassinets because at the end of the day I like that it's breathable. The swivel option isn't really a huge game changer for me. If I had another bassinet right up next to my bed I feel like it would be the same. We still use it and at the end of the day, I just feel safe with her in it, which is why I would recommend it, I'm just on the fence and can't love it due to the base.
Haven't Used Yet: Monitor, Mattress Pad
---
Diapers
Items We Love: Ubbi Diaper Pail, Pampers Swaddlers, Wipe Warmer, Aquaphor Diaper Rash Cream, Water Wipes, Munchkin Changing Pads
Ubbi Diaper Pail: This is the cutest diaper pail AND has been great at removing any diaper odor from her room.
Pampers Swaddlers: Maxi is long and lean and these have been great for avoiding blow outs! I've tried a few other brands and had to toss some cute clothes…. 🙁
Wipe Warmer: I shared on another post that I didn't think we would need a wipe warmer because you wouldn't have one out and about. And then I favored it the second night we brought her home from the hospital! haha. This keeps her much happier while we change her diaper.
Aquaphor Diaper Rash Cream: Any other ointment we have tried takes a day or two to heal any rash she has. When I use this ointment it clears up within an hour or two.
Muchkin Changing Pads: We order these on Amazon like crazy! Without them I'm constantly having to wash her changing pad cover
Water Wipes: These are really gentle for newborns so you aren't irritating their new skin.
---
Feeding
Items We Love: Como Tomo Bottles, Medela Breast Pump, Bottle Cleaner & Grass, Burts Bee's Burp Rags, Boon Flair, Baby Breeza, Tommee Tippee Bottle Sterilizer
Como Tomo Bottles: This is the only bottle Maxi will take for when I pump and need someone else to feed her. She hated the Tommee Tippe bottles so much, she would spit the milk out!
Medela Breast Pump: This is the pump our insurance gave us and we have had no issues with it!
Bottle Cleaner and Grass: Since Paul can't feed her, this is how he helps with that! He'll wash my pump parts or bottles at night. This grass pad is so easy for drying. If it helps a husband I think it's 100% worth it! 😉
Burt's Bees Burp Rags: We got so many burp rags as gifts and these are my favorite! So many burp rags are "cute" with embroidery but when you're trying to clean spit up [or a blow out in public] you don't need a rag with frills on it. These are also so soft for feeding! However, Maxi doesn't have reflux issues. These are thinner and if your baby does you may want a thicker rag.
Tommee Tippee Bottle Sterilizer: This is what I use to sterilize her bottles and it was so easy!
Items We Didn't Love: Bottle Warmer
Bottle Warmer: I'm not sure why, but Paul and I don't like to use the warmer! Honestly, we just like to warm up water, put it in a Yeti cup and use that to thaw out her milk. I don't even have a reason as to why we like to do it that way, but we do! I think we mostly do it because we really aren't feeding her with a bottle at home. If we feed her with a bottle we are out and about and so we take the Yeti with us to heat up there.
On the Fence: Boppy Pillow
Boppy Pillow: I would be nuts to tell you not to register for some form of breastfeeding pillow if that is how you'll be feeding. However, I will say I tried the boppy and the My Brest Friend Pillow and Maxi didn't like either. Having a pillow there actually made her latch more awkward and uncomfortable. I just throw a couch pillow under my arm and it has been fine. I wanted to be honest with how it works for us, but definitely try one for you! Right now we use the boppy for tummy time so it's great to have! I just put on the fence because it wasn't used for its original use.
Haven't Used Yet: Highchair & Babycook
Boon Flair Highchair: We haven't used this yet, BUT y'all know my cleaning habits. I think I spent more time researching car seats AND highchairs than I did what I wanted my own wedding to look like. The overall consensus was that this was the easiest highchair to clean that also had a cylinder base [which is what I wanted for the space we have]. Now that it has been in our dining area for a few months, I can see how it will be so easy to clean in the future.
Babycook: This is another item we haven't used yet, but one I think is worth registering for! My girlfriend, Trenny, got it for us and I can't wait to make Maxi fruit and veggie purees with it.
---
Bathing
Items We Loved: Summer Infant Bather, Hooded Towels, Noodle & Boo, Nail Trimmer & Nail File
Summer Infant Bather: Maxi didn't like bath time when she started getting more than a sponge bath. We tried every which way and I was to the point of just getting in the bath with her. I found a blog that swore by this inexpensive bather and now she loves it! Paul was cracking up he was like, "What is this? A beach chair?!" But she loves it!
Hooded Towels: She loves the hooded towels from Pottery Barn Baby as they are so soft!
Noodle & Boo: Noodle & Boo is my favorite cleanser for her and doesn't irritate her skin.
Nail Trimmer & File: You need a nail trimmer and then I love this file! The file is great for things like a hang nail or right when they are first home from the hospital. It also doesn't hurt them so you don't get nervous about cutting them.
Nose Frida: Paul freaked out when he saw this and now as you can guess he knows how much of a necessity it is!
Items We Didn't Love: Blooming Bath
Blooming Bath: You always see babies taking baths in this cute flower bather! Maxi didn't like hers and I think it's more suited for a bigger baby that needs a sink bath.
Haven't Used Yet: Spout Cover
Extra Necessities: Thermometer, brush, bamboo washcloths
---
Out & About
Items We Loved: Solly Baby Wrap, Maxi Cosi, Uppa Baby Car Seat, Uppa Baby Vista, Sokke, Ergobaby, Milk Snob Car Seat Covers, Diaper Bag
Solly Baby Wrap: I could kiss the creator of Solly Baby Wrap! This wrap is the only way I get anything done around the house and I love how we are bonding each time she is in it. I also feel like I'm getting a workout in carrying her around 24/7. haha.
Maxi Cosi/Uppa Baby Car Seat: We have both car seats [one for my car, one for Paul's!] and we love both! In my experience the differences I notched were that the Maxi Cosi is easier to get baby in and the Uppa Baby is easier to get out of the car seat base. However, both are easy to use and Maxi loves each one!
Uppa Baby Vista: I can't say enough good things about this stroller! It is SO easy to open, take down and get back in the car. We had the bugaboo first [more on that below] and everything about it was difficult, so the fact this is so easy makes it my favorite purchase! Get the cup holder!
Stokke: Paul wanted a stroller for his car as well so we knew we wanted to go with something on the opposite end of the stroller spectrum. Uppa Baby Vista is a little wider [which is GREAT for running errands] so we thought we'd get something a little sleeker and without something like a big basket [that Paul wouldn't need]. I'll have a review up on the blog to compare later!
ERGObaby: This is Paul's "toy" and can't wait to use it. We haven't used it yet as she is so little [even with the infant insert] but Paul has this great plan in his head that he is going to take her to his barber shop every Saturday he gets a hair cut in the ERGObaby! haha! I will say, I've been told this is a great baby carrier for someone with wider shoulders [like a dad] and isn't as comfortable for a mom.
Milk Snob Car Seat Covers: I love the Milk Snob covers because they cover her car seat, keep her away from people and they double as a nursing cover when you need it! If you can, register for two! I'm always running one in the washing machine after we take it out.
Diaper Bag: See my review here! If you're looking for a different option, how cute is this St. Anne Diaper Bag you can customize?! Add this accessory case to hold pacifiers and tethers and this kit to hold diapers, wipes and a change of clothes! If you prefer a tote that can also work for you as well, I love this Sonoma Zippered Tote option!

Items We Didn't Love: Bugaboo
Bugaboo: One thing I didn't do my due diligence on was our stroller. I've always loved Bugaboos when seeing friends use them. My parents surprised us with it at my baby shower! One issue I didn't see about the Bugaboo is that one of the top complaints about it online is the issue of the car seat adaptors made for it. While Paul was putting the stroller and car seat together he kept saying, "I don't think you're going to like this." And what do hormonal women do? We prove our husbands wrong. 😉 I told him it would be great! The first time I took her to stroll around with my mom the car seat got stuck in the adaptor and it was a huge 30 minute fiasco on getting it out of the stroller. My mom and I laughed it off and said we didn't like the Bugaboo on Snapchat and we chalked it up to user error. The next day Paul and I took her to stroll a new outdoor area in Fort Worth and he had the same issue. The car seat got stuck on the stroller and it was another 30 minutes of trying to get the adaptors off. So then we purchased a different adapter made for the stroller. Next weekend we had the same issue. Finally I took Maxi to go pick up something and for 40 minutes couldn't get the cart seat off the stroller. I called Paul and he had had it. He was like, "It's not even safe for you to be in a parking garage for 30 minutes fidgeting with a stroller, we are going to get you a different one." We went to the store to get a new one and they said this happens ALL the time with Bugaboo. That made me so sad to hear because I genuinely thought I was going to love this, but at the end of the day that's not practical whatsoever. I did e-mail Bugaboo and the version I had gotten was limited edition [they make limited edition ones each year] so there wasn't a lot they could do about it. I had lots of readers e-mail and say they hated the Bugaboo and I had lots say they loved it. Honestly, I think it has a lot to do with which edition you get as well as what car seat you have. Some work better with the adaptors than others.
Haven't Used Yet: Car Seat Travel Bag, Stroller Travel Bag, High Chair Cover
---
Extra Items
Humidifier: We got the Crane humidifier. We have only used it once but so far have no complaints.
Aden + Anais Swaddles: These are my favorite swaddles for cuddling her. I love how lightweight they are since we have a much warmer climate.
Gripe Water: We haven't had to use this a lot, but when we do this is a HUGE blessing! haha!
Pacifier Wipes: I buy these each time I go to Target because I am always wiping down her pacifiers and car seat. I use these wipes on everything!
Face Wipes: My friend, Kate, got us these and I love them for cleaning on days she doesn't bathe!
MAM pacifiers: These are the only pacifier she will take! She doesn't like any other kind.
Little Giraffe Blanket: We received this blanket as a baby shower gift and I brought it in my hospital bag. She has had it from day 1 and I sleep with it at night because it smells like her. Then during the day she cuddles with it because it smells like me. We already bought another one because she always has this blanket on her and I'm having to wash it constantly so we needed another on hand. It's now a gift I give for every mom-to-be!
---

Items for Mom
365 Things Every New Mom Should Know: I was sent this book by the writer and it's been one of my favorite finds of motherhood! This book shares daily readings/tips/growth about your baby and has a devotional for each week of their life. It's been such a good book to read daily during my coffee and doesn't take more than 5 minutes since new mamas don't have time!
CND Nail Polish: Regular nail polish always chips off my nails within a day or two, but since having Maxi I've tried to take a break from gel. First off, I can only go get a manicure if Paul is watching her on the weekends and I never want to leave both of them. Secondly, my nails needed a break! CND nail polish lasts AT LEAST 5 days on my nails with no chips! But I can get away with 8-9 days and it looks completely fine. Don't forget the top coat!
Nursing Bras: My favorite nursing bras are the Gilligan & O'Malley nursing bras at Target!
Soothies: These were my BFF/Soul Mates during those first few weeks breastfeeding. I actually found I didn't like any nipple cream I tried and just loved these!
Nursing Bra Pads: These are perfect for leakage protection.
Honest Lactation Plus: I started taking these the day after I gave birth after a lactation consultant said these were good. I ran out one day and missed two dosages. I didn't think anything of it, but my supply had dropped. I was freaking out and so worried about what was causing it. Then I remembered I ran out of these vitamins, ran and got some and it was fine! I recommend ordering online through Target if you can because every time I go to Target these are sold out and the Pharmacist says it is because they are so popular.
---
Toys:
Activity Gym: I love this mat for her tummy time and it is quite easy on the eyes too! 🙂
Books: Paul said I needed to throw in plenty of books since you reread them all day long! haha.
mamaRoo: Maxi LOVES her mamaRoo. However, right now she is at an awkward stage where she really only enjoys it for 15 minutes or so. In the beginning she would always love to be in it, then from what I've researched they go through a phase from about 5-9 weeks where they only want it for a little bit and then they love it a lot after. Who knows how true that is, but it's what we've seen. I say all of that to say, I don't think you necessarily have to get a swing at this price! But this is the only way I'm ever able to run in the bathroom or brush my teeth! haha. Maxi LOVES to be held and be in her Solly wrap, but this allows me to get something accomplished for 15 minutes.
Amazon Alexa: I feel so silly putting this on a registry post, but I did want to share that we love it! Paul ordered us this a week after she was home because we kept bringing my laptop in the nursery to play music. We'll play music during tummy time, diaper changes and rocking her to sleep. It's so easy to say, "Alexa, play XYZ."
Excersaucer: She doesn't use this now of course, but this is the one we registered for!
---
Clothing:
KicKee Pants: This is the only brand that would fit her right when she was born. She lives in KicKee Pants and they are our favorites!
Baby Bling Bows: These are the most comfortable bows for her and don't hurt her head with any indents.
Mittens: Because my little girl loves her hands on her face we always have to have mittens on her so she doesn't scratch.
---
I'll try to update this post as she gets older to see if any items change! Thank you so much for stopping by!