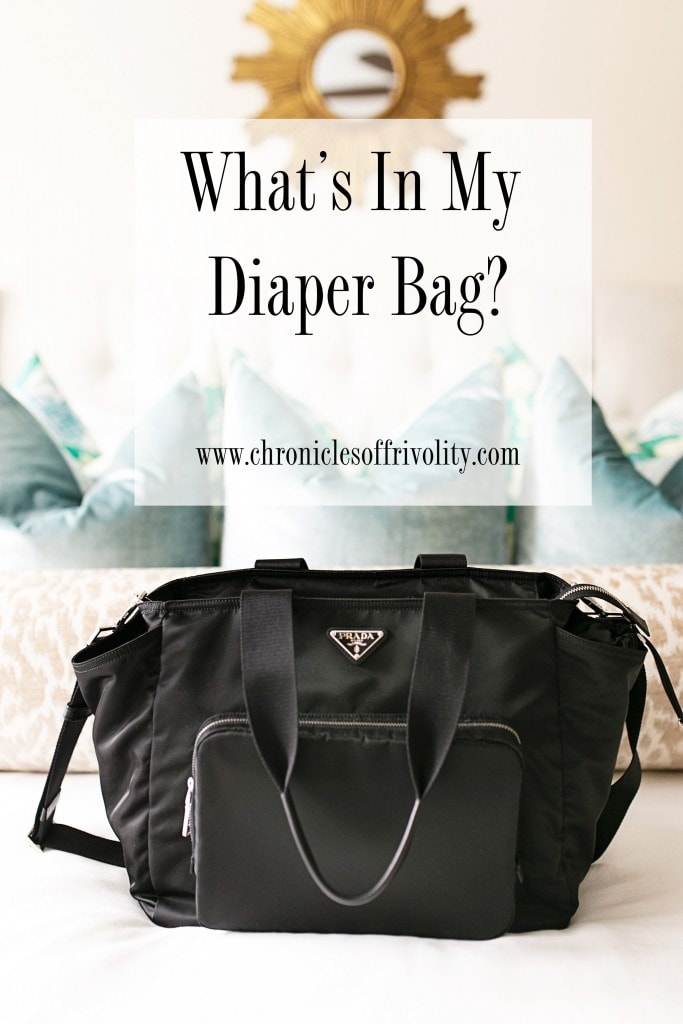 Now that we have had a few outings with Maxi to the pediatrician and my parents' home, I thought I would share what we have in our diaper bag for her while she is this young.
I always envisioned using my Louis Vuitton Neverfull as a diaper bag, which I totally think would have worked! But as I neared my second trimester I started to realize how much I use that bag for work and how I didn't want to be switching out my laptop for diapers and vice versa. It just seemed like a recipe for chaos. I started to look at diaper bags online and really wanted a black one because at the time we didn't know the gender and I wanted this bag to work with raising all of our babies in the future! Plus, I was keen on anything that hid stains. 😉
My mom actually surprised me with this bag on the day I started my second trimester and it was truly the most thoughtful and generous gift. My mom and I share such a love of handbags and I was just in shock that she would go out of her way to treat us to this. Right off the bat, I loved that this didn't really feel like a diaper bag because for such a steep price tag, I wanted to be able to use this past the younger years for things like travel. I definitely think you can find amazing, similar diaper bags at various price points which I'll share at the end of the post.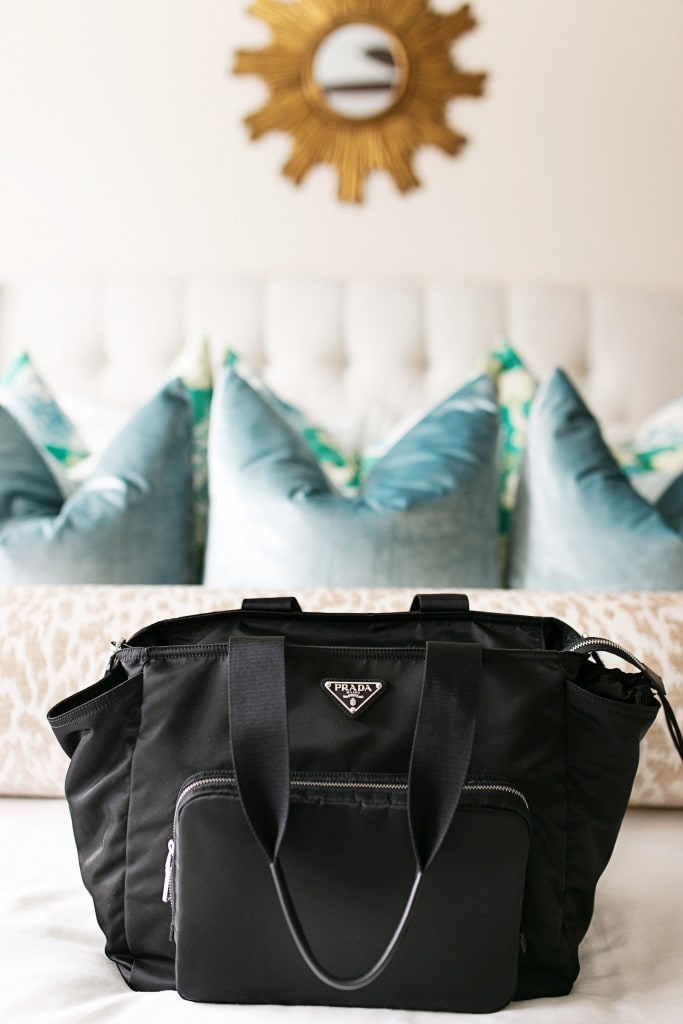 My favorite part about the Prada Vela Nylon Baby Bag is how the compartments are organized. There are two side pockets, a pocket in the front and back and pockets on the inside as well. I can easily keep water bottles for me [always having to drink water for breastfeeding!], my personal items, her items and know they are all separate. I volunteered in our church's nursery for a year and a half and after searching for a pacifier in 30+ different diaper bags, I knew I wanted something with a lot of pockets that wouldn't feel like a bottomless pit! haha.
Lastly, before I share the contents, I also wanted to say these items change depending on her age. Right now I don't have things like books to keep her entertained or feeding supplies as we are only breastfeeding at this time.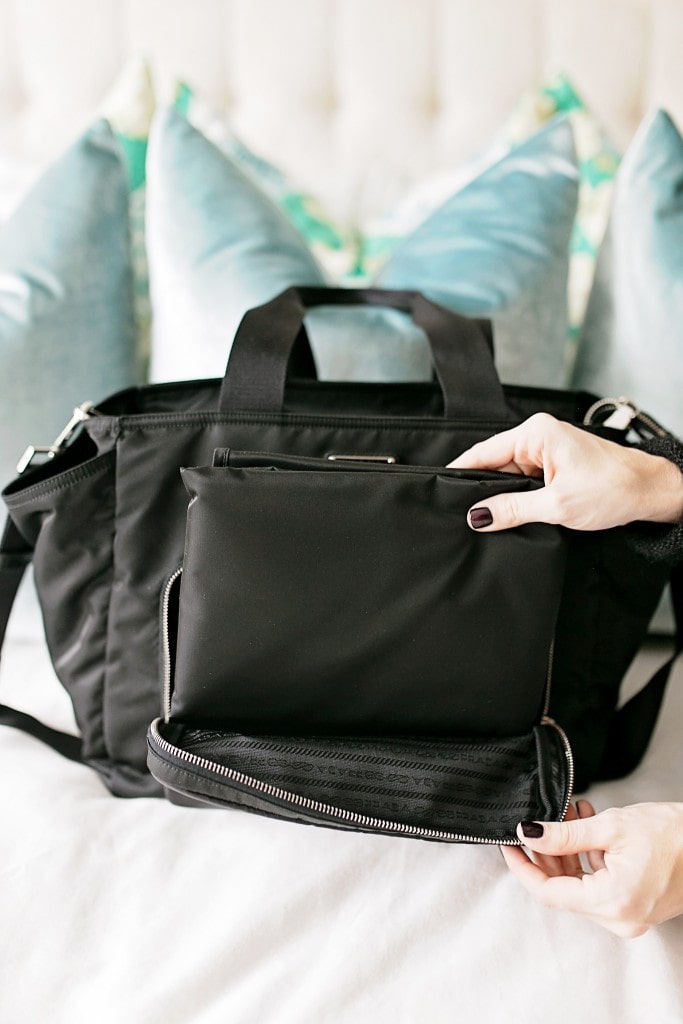 The front compartment comes with a changing pad which is great for changing in the back of the car! It's wipeable which is key as well! This can also be removed and just left in the car if you want more space in your bag for items.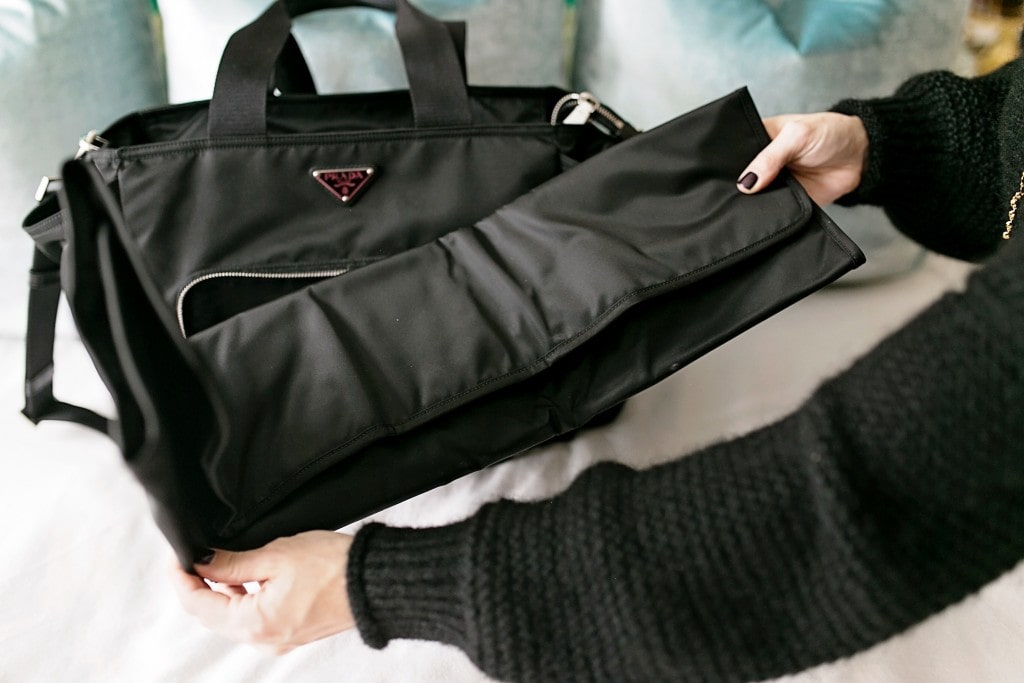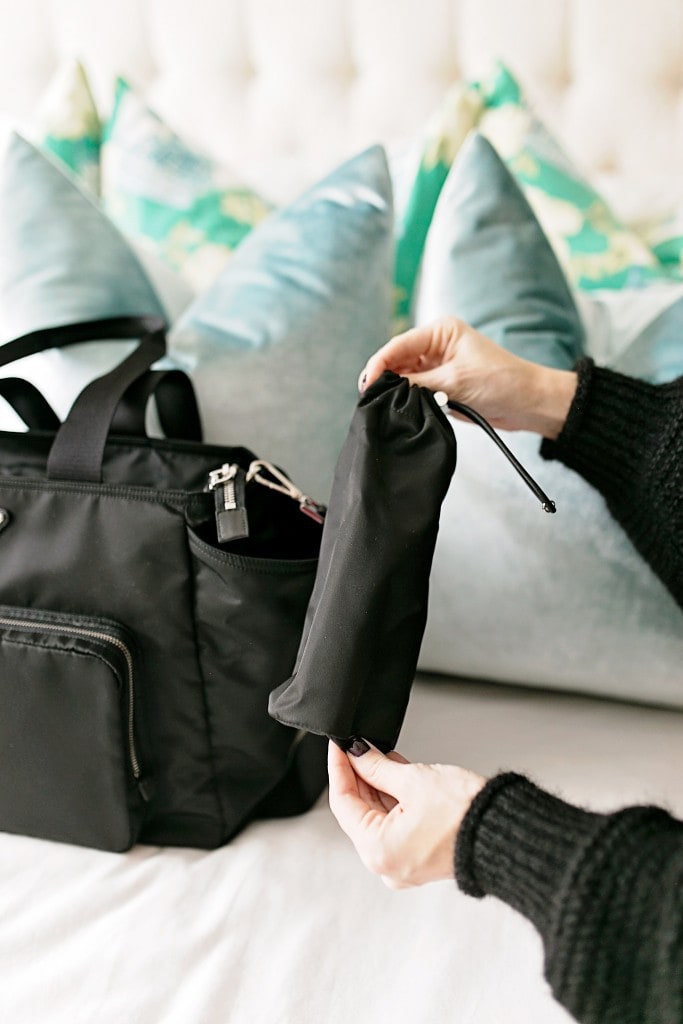 The two side compartments come with a little glove that could hold a bottle to keep it from spilling or even a wet umbrella if you're traveling! If you're formula feeding these side compartments would be perfect for formula dispensers. When she is older I'll also use one of the side compartments for snacks.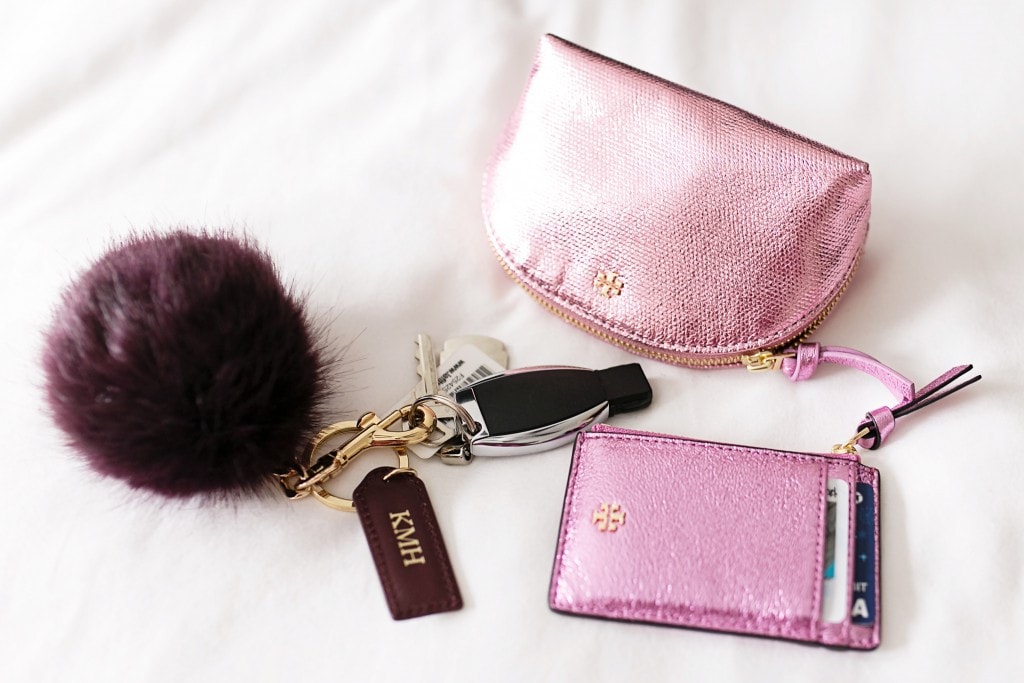 In the back compartment, I throw in my keys, wallet and a little makeup pouch that holds my gum, lipstick and other personal items. It's nice because I do carry a smaller purse if Paul is with me so I'm able to just grab these 3 items quickly and switch them to my purse if need be.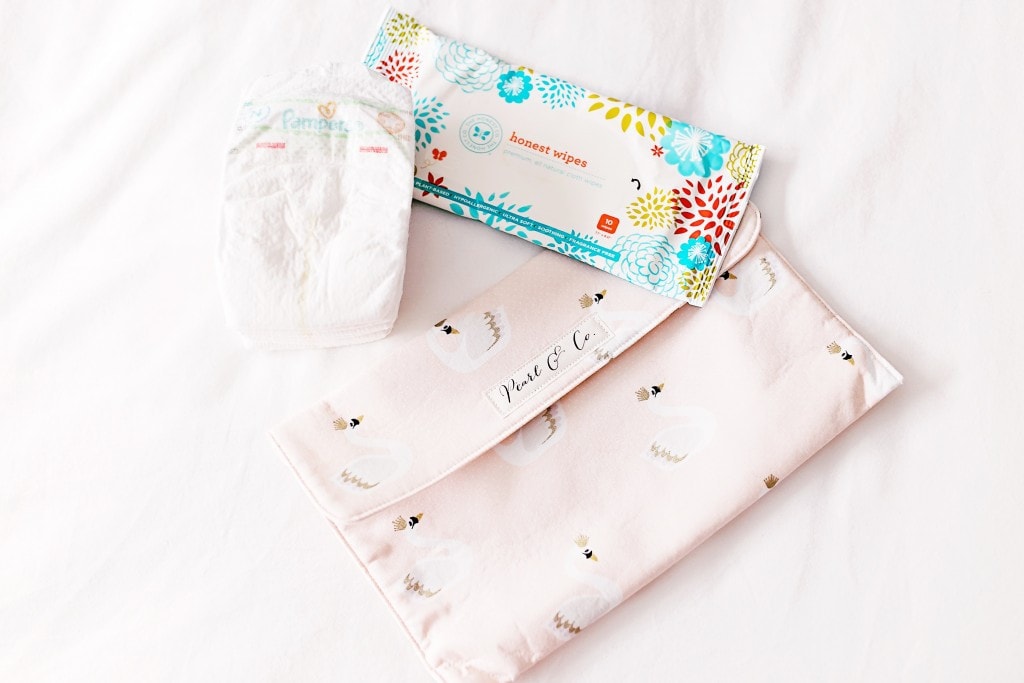 One of the first things I picked up for my diaper bag was this Pearl & Co. diaper organizer. The pouch fits about 5 or 6 diapers [which is what we try to keep in while she is so little] and a travel size pack of wipes. The first week we used Water Wipes on her skin and in a few weeks we will switch to the Honest Wipes. I will say, I've heard it's pretty standard to want to keep 7-8 diapers if they are around 6 months, especially if you are going to be out and about for a long time, but of course every baby is different.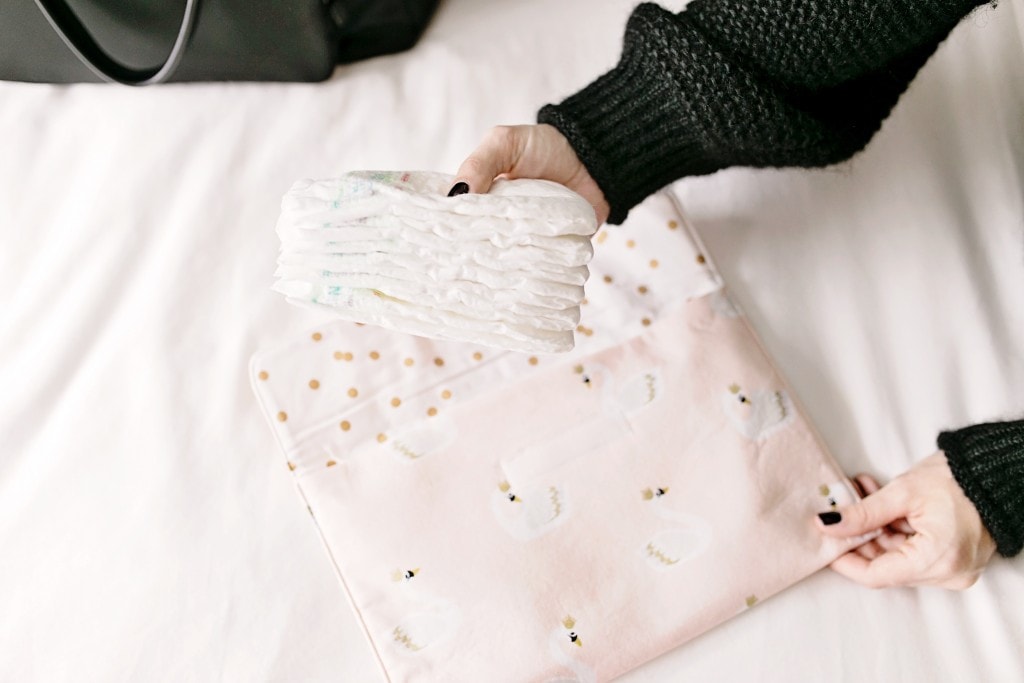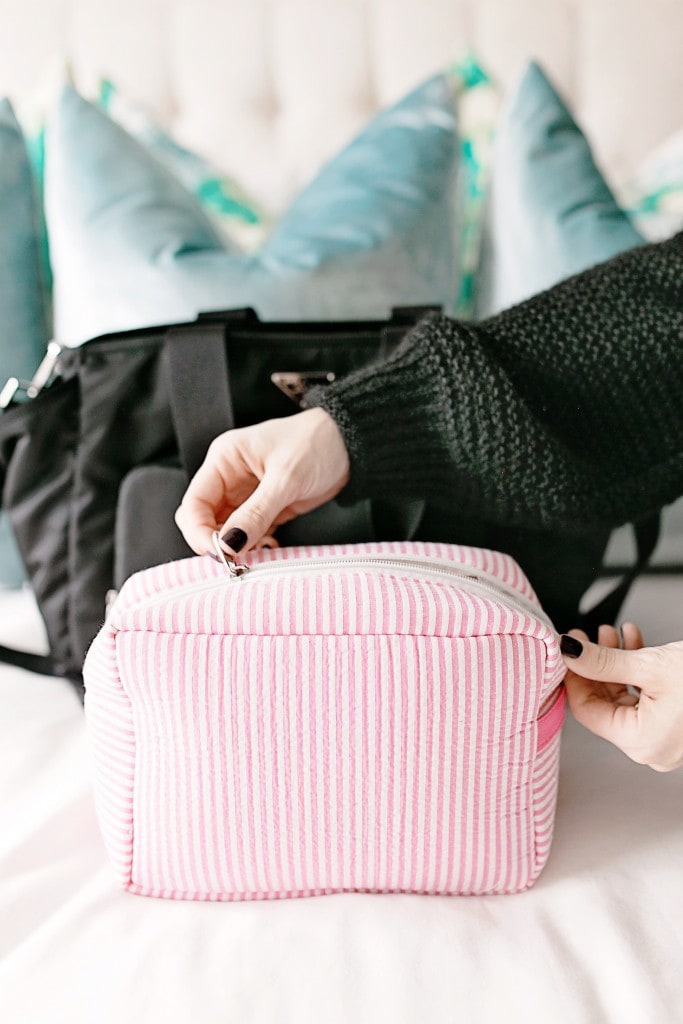 I LOVE these little bags! I saw them all over our church's nursery and the other side has her monogram on it. They remind me of mini lunch boxes as the inside is insulated. I was gifted this bag at my baby shower and the great thing is if you need something smaller than your diaper bag you can use this. We would always joke that first-time moms drop off these massive diaper bags and then 4th babies come with these little bags with just the necessities.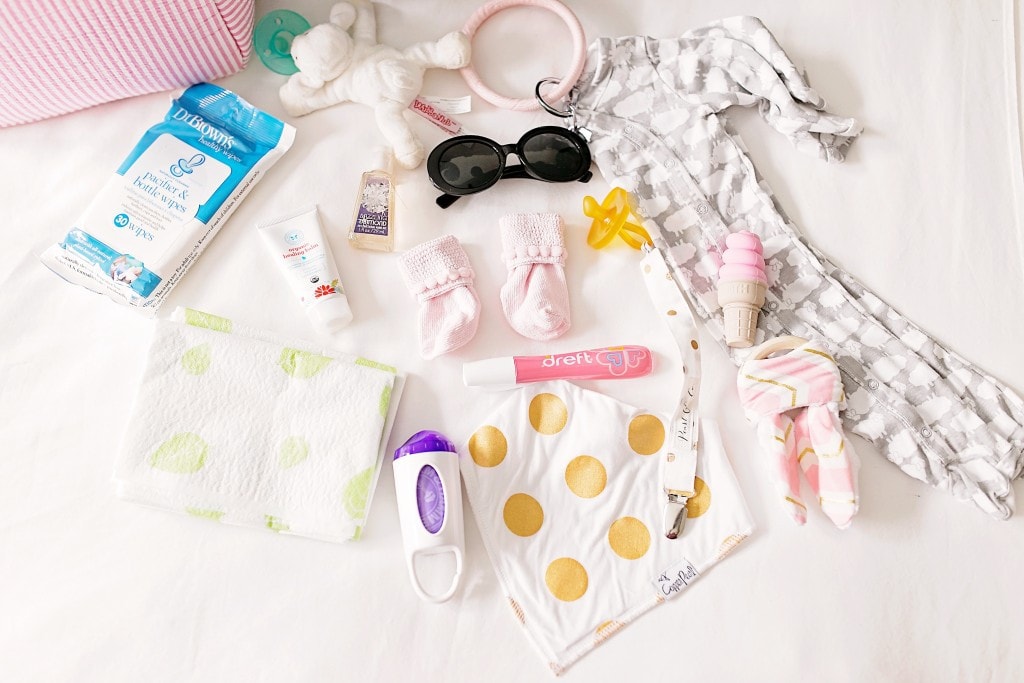 In the pink and white striped bag we keep:
Change of Clothes: Right now I just have one change of clothes because our outings aren't long as she was a winter baby. #AllTheGerms. But I'll throw in an extra set once we start to get out of the house in a few weeks.
Dr. Brown's Pacifier & Bottle Wipes: These aren't 100% necessary at all! haha. But I got these as a shower gift and love how I can clean her pacifiers if it drops on the floor in the car and not worry. If your baby doesn't take a pacifier, these are also nice to just clean teething toys that fall or dirty areas a baby might touch.
Wubbanub: This is also perfect for being out and about because if she spits the pacifier out it doesn't go too far as it is attached to a little stuffed animal.
Honest Organic Healing Balm: Another great shower gift I received was plenty of toiletries in travel-sized bottles. I didn't want to keep an entire jar of diaper rash ointment in my bag, so I threw in the mini travel ones. This organic healing balm can be used on anything from diaper rash to cuts or irritated skin.
Disposable Changing Pad: These Munchkin Arm & Hammer Disposable Changing Pads are not necessary as my diaper bag comes with a changing pad. I threw these in here to show how great they are if your diaper bag doesn't come with a changing pad and also to profess my love for them. I picked up a few packs in the beginning for messy diapers so I wasn't constantly washing her changing pad at home and these are a life saver. If her changing pad cover is in the wash, I just whip one of these out! I think these are Paul's favorite item for baby!
Diaper Trash Bags: I also picked these up from Target which double as a dirty diaper and a dirty change of clothing holder. Lots of people keep "wet bags" in their diaper bags for dirty clothes, but I find this works just as well!
Hand Sanitizer: Because I'm a first-time mom and have a winter baby and you get the idea…. #ParanoidPattyOverHere
Socks & Mittens: I keep an extra set of socks and a set of mittens so she doesn't scratch her face.
Dreft Stain Stick: Where has this been all my life?! Better than Oxiclean. Better than a Tide stick. I picked up one to keep in my purse too because it removes any stain I come in contact with!
Drool Bib: These Copper Pearl drool bibs are my favorite and are so incredibly soft! She isn't drooling right now, of course. But, when the time comes I think these are perfect and I like that they can double as a burp rag while I feed her.
Narsutten Pacifier with Holder: Besides a wubanub, the other pacifier I have her use are the Narsutten pacifiers. The diaper organizer I picked up off of etsy also came with this paci clip, which is perfect so I'm not rummaging around in the back seat looking for it.
Two Teethers: She doesn't use these just yet, but I loved the little ring and this ice cream cone teether for when the time comes.
Circle Key Ring for Errands: I keep this in the diaper bag because if we go on a walk and I don't want to carry my keys, I just throw this on my wrist!
Burp Rag: Right now I just have one burp rag in her diaper bag, but once outings are longer I'll definitely need 2.
Swaddle Blanket for Car Seat & Stroller: I keep a little swaddle blanket in her diaper bag for when she is cold and to cover her car seat when we are out. I think the first time a stranger lifts the blanket up over her car seat to touch her I will just about drop dead. haha. People LOVE to touch babies and I'm just thinking, "Hi, please wash your hands and get back to me."
Baby Sunglasses: Are these little Prada baby sunglasses not so sweet?! Of course she doesn't wear these now, but I threw them in for the summer. My best friend, Taylor, got them for her at one of my shower's and I thought they were precious. I just want to go ahead and apologize for the 5 photos I'll spam instagram with each weekend of her in the pool with me while she wears these sunglasses.
BF Items: I like to keep a nursing pad and a nipple cream in our diaper bag for now! Some people keep a manual pump in their bag, but we don't have that. I also keep a Larabar in our bag for me. I'm STARVING. I remember my girlfriends telling me I'd be hungrier breastfeeding than I would be pregnant. They weren't lying, in fact they were under selling it to me. I joke with Paul I can never get full and I must have Larabars on hand 24/7.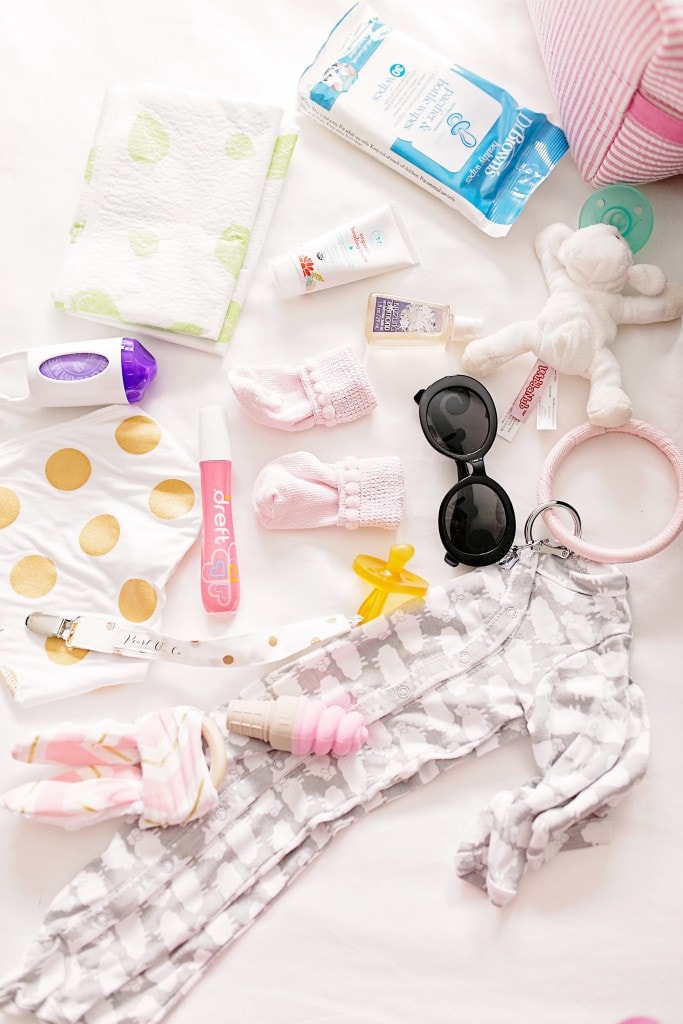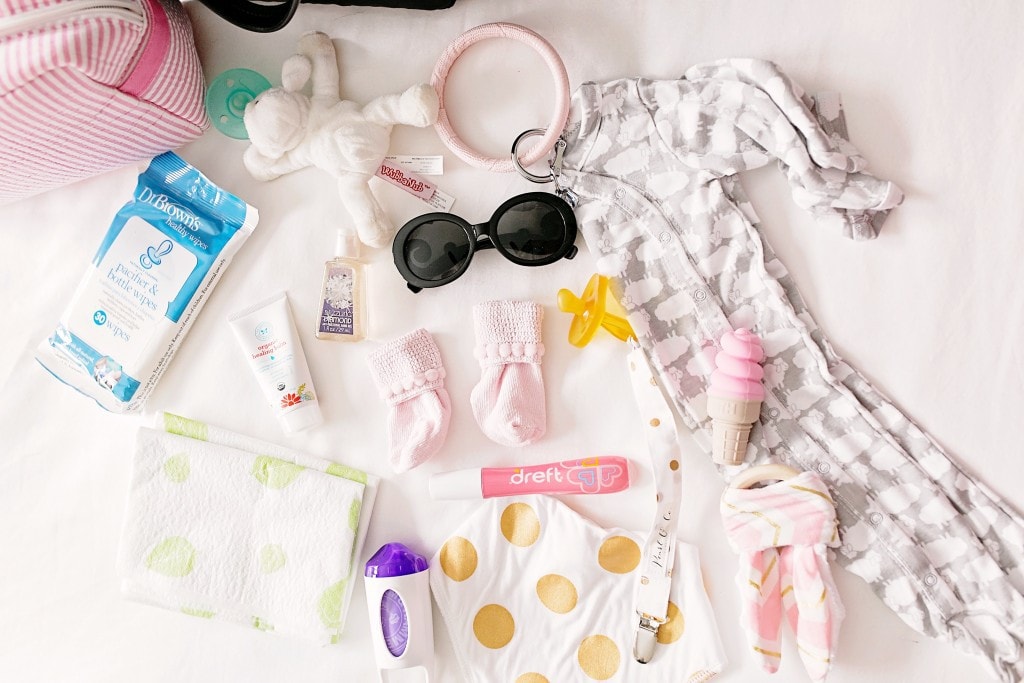 Surprisingly enough, the bag still feels really light and I could add a lot more to it as she gets bigger and needs different items! I'll share a few other diaper bags I absolutely love below as well. Thank you so much for reading!