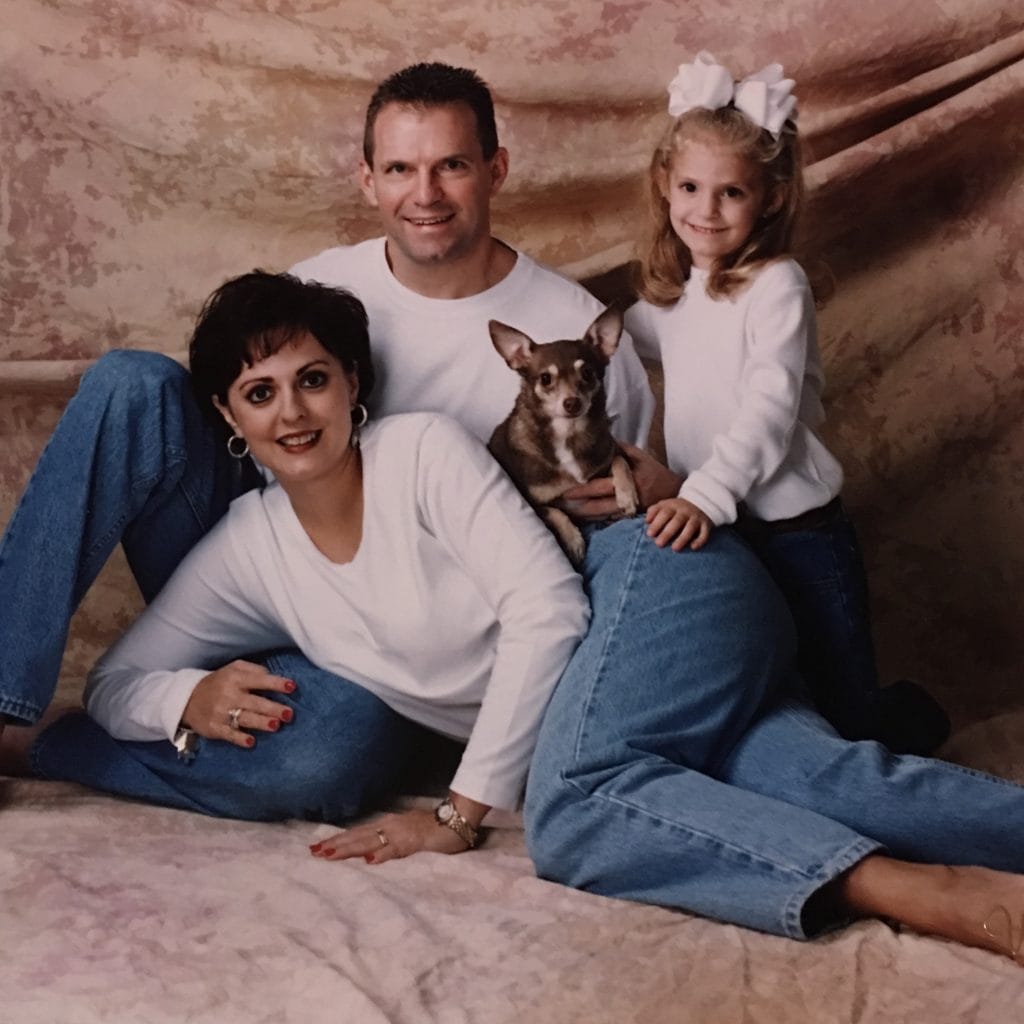 I had to share this little photo above because every good mama made sure her family had a denim family photo back in the day, right?! Extra points if your dog was included. haha! We were going through photos this weekend getting this together for my sister's high school graduation party and I found this gem.
Can you believe Mother's Day is this weekend? This weekend we ran a few errand and picked up gifts and cards for all the ladies in our life. Finding gifts for your mom and mother-in-law and grandmothers can be a little tricky. I wasn't sure what to get Paul's Stepmom, she is a wonderful hostess and cook. So my go-to gift for her is always something geared towards that, but then I feel bad doing that sometimes because I know she has EVERYTHING in her kitchen she could desire. She and I had been on the phone last week talking about self tanners because her skin is pretty sensitive and she wanted to know about one that would work for her. I asked Paul what he thought we should give her and he said, "Well, why don't you just give her a few different self tanners?" LOL I mean, a great gift idea….but I just can't imagine handing her only self tanners. I was laughing because it reminded me of when you end up getting only bath products for your birthday and then you think, "Are y'all trying to tell me something?!" 😉
In case you are on a time crunch or a little stuck, I wanted to share 5 more gift ideas for Mother's Day!
1. If She Lives Away
If you and your mama don't live close by, send this sweet box to her doorstep. Packed Party always has the cutest gift boxes and they will customize your notes in them. I always love to send these boxes because they are so unique.
2. If She Loves to Host
I'm obsessed with the new Williams Sonoma x Aerin collection and actually added a few pillows from the line to my couch. If your mom loves to host or just decorate her home in general, she will appreciate this collaboration so much!

3. If She Loves to Stay Home
My mom and I are all about finding comfy loungewear! If your mom feels happiest curled up with a book, this wrap sweater would be the perfect addition to her closet. Bonus is that it is under $60!
4. If She Loves Yoga
Moms are the queens of totes, but I have never found a perfect tote that takes you from yoga to brunch- until now! This Kate Spade yoga bag is beautiful and your mom can take it with her everywhere from the farmer's market to lunch!
5. If She Loves Beauty
If your mom can't pass up a lipstick or spa day, you can still treat her to my Beautifully Balanced Kit with TULA. See more on the kit here and use code KATEYKIT20 to get it on sale. I'm loving all of your snaps you are sending me burning your candle and using your eye serum! It means more than you know!