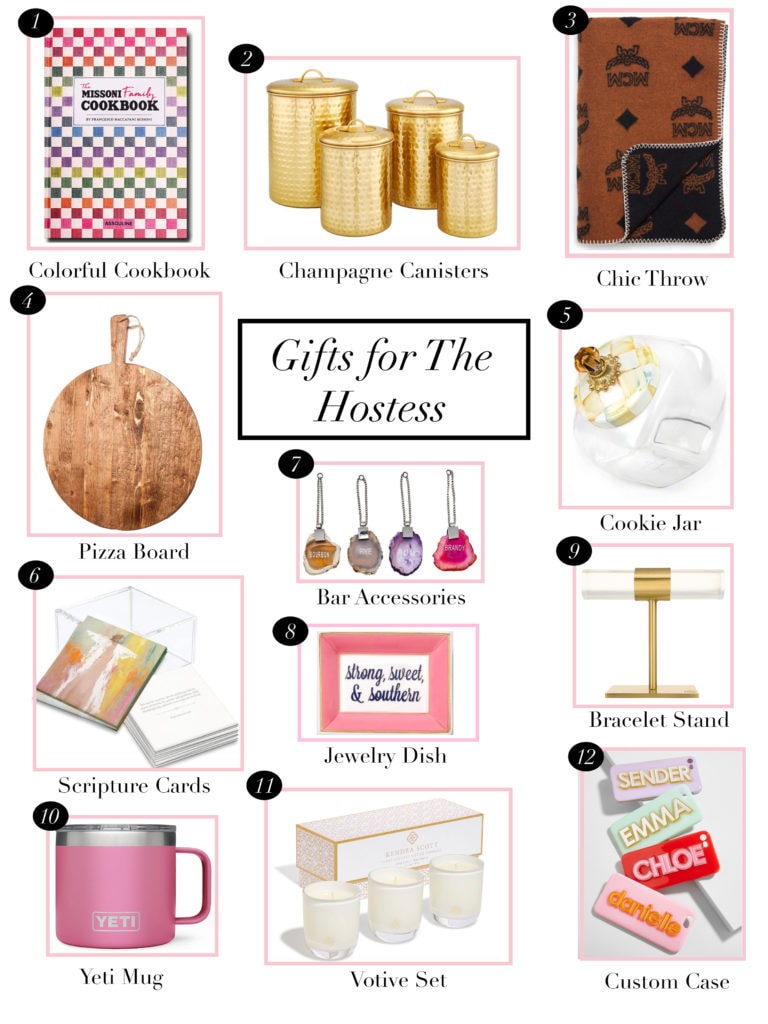 Holiday decor is out at stores. Hallmark started Christmas movies this weekend. We had our Christmas Card shoot yesterday. I've got the green light to start my gift guides! Cheers to that!
This season, I wanted to start with hostess gifts. Whether you are going to a fabulous holiday party and want to bring a treat for the hostess or you need an idea for your Martha Stewart clone of a friend, this gift guide covers it all. If one of your girlfriends loves making her house a home and welcoming friends over, she fits the hostess card! I always get my MIL a hostess gift as she loves to cook and I personally don't think you can go wrong with a gift for the home. Most of us enjoy cozying up to a nice candle with a cup of coffee, don't we?!
As we are starting gift guides this season, let me know which kind you want to see! I've made a list, but want to know what is on YOUR list so I can cater to that. 🙂
Missoni Cookbook // Yes, I do judge a cookbook by its cover. ha! With white kitchens being everywhere, I think this pop of color would be beautiful for your friends' counter. Plus, I get tired of crockpot-fueled Pinterest recipes some days. Cookbooks like this always provide much-appreciated inspiration for dinnertime.
Canisters  // From organizing a pantry to displaying on a countertop, these hammered canisters will be well loved by any recipient. I think this is a "must" gift for a MIL or boyfriend's mother.
Wool Throw // Y'all seem to love my wool "H" throw in our living room. It was quite the splurge of a gift, and this throw is just as luxe, but for less. It definitely still fits the bill as a luxury-designer gift, but it isn't as high as the other option. I would get this for your sister if she just got a new home or loves to style her apartment.
Pizza Board // You could use this as a pizza or charcuterie board for the weekend and keep it propped against your backsplash during the week. These work well in any home style from rustic to glam.
Cookie Jar // I got this for Paul's grandmother for Christmas last year. I would argue that a MacKenzie-Childs cookie jar brings anyone joy!
Scripture Cards // I have a set of these in our entryway and gifted a reader a set, this summer. They come in a beautiful lucite box to keep them organized. My friend pulls one a week and sticks it in her planner to memorize a scripture verse over the course of 7 days.
Bar Accessories // How cute are these agate bar tags?! If you have a friend that loves to host parties, not only will these be functional, but they'll dress up her bar cart in the absolute best way.
Jewelry Dish // Instead of a bottle of wine, this trinket tray is the perfect hostess gift for a friend hosting your next holiday party. With an accessible price point, you won't feel overwhelmed if you have to grab a hostess gift or two this season.
Bracelet Stand // This stand has been on my list for months now! I would get this as a holiday gift for a friend or family member that loves to keep her home nice and neat. The glam gold touches are easy on the eyes, and the lucite rod is screaming, "Color code some bangles on me!"
Yeti Mug // I mean who wouldn't want this?! I want this! ha. Grab a Yeti Mug for a mom who always has to reheat her poor cup of coffee.
Votive Gift Set // Y'all know Kendra Scott candles are some of my favorites and this votive set allows your hostess to try a different scent in each room during a party.
 Phone Case // In the words of the ultimate Southern gal, Reese Witherspoon, "If it's not moving, monogram it." While I will only dream of going to a dinner party with Reese, I have to imagine she is the sweetest host.
Which one of these would you love to see in or next to your stocking?! I need the Yeti Mug- *hint, hint, husband!*