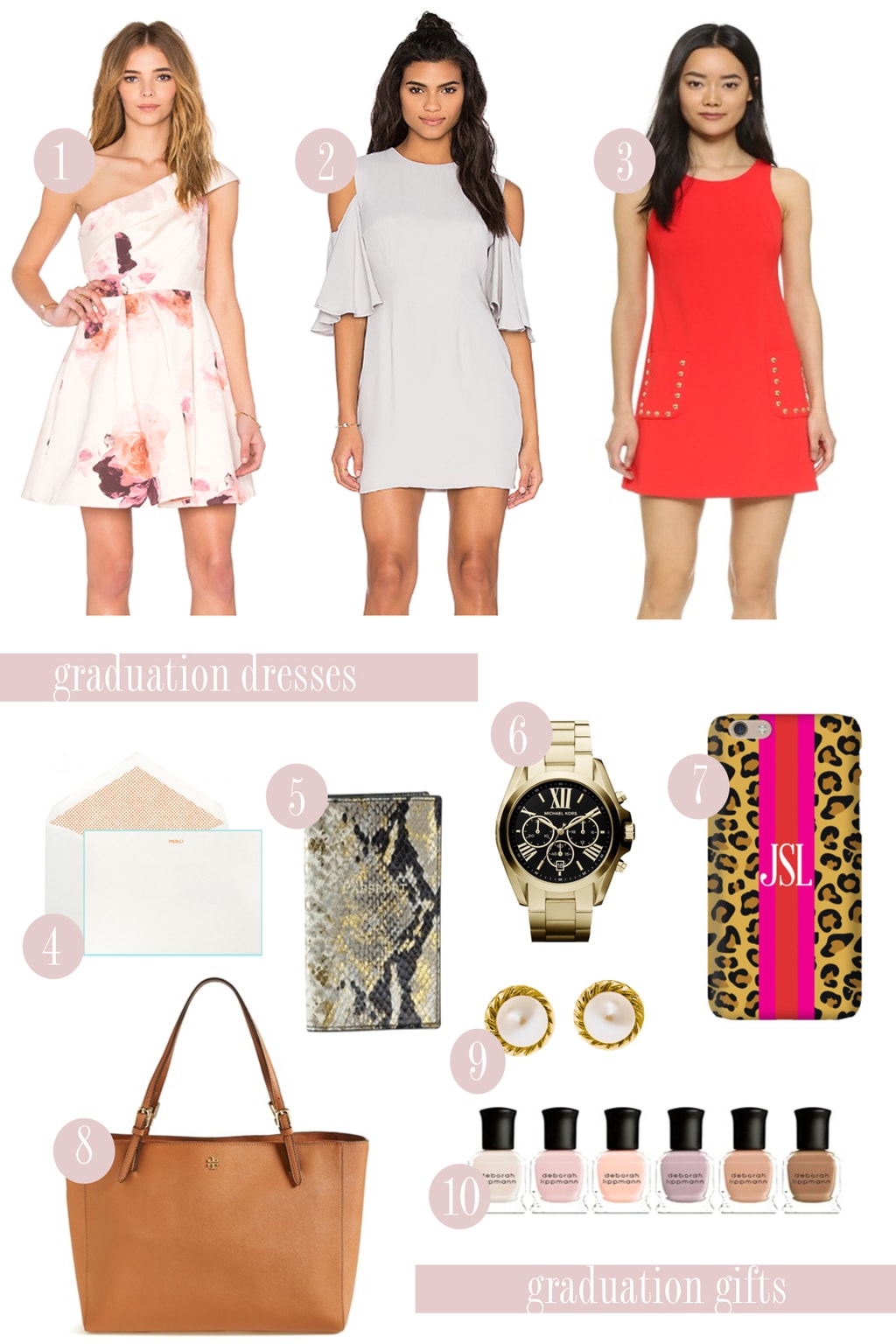 1 | 2 | 3 | 4 | 5 | 6 | 7 | 8 | 9 | 10
---
Happy Monday! I hope you had a wonderful and restful weekend!
I've gotten so many requests for graduation dresses and gifts, for college and high school girls!
Graduation dresses are so personal, they help signify you accomplishing a significant goal. And while most of your photos will be taken in a cap and gown, you want to feel beautiful as your family honors you! I was really picky making this board, which is why it has 3 options! haha. The third dress is nearly identical to what I wore for my college graduation. I felt so confident in a bold color and looked tan in all my photos, which I will never turn down. 😉
The other two options are so feminine, yet make a statement with their sleeve silhouettes. But, they are simple enough to not interfere with your gown!
In terms of gifts, I love to go with classic pieces. From indulgent stationery [they will seriously need it with interview thank you notes and gifts] to neutral nail polish they can wear to work, I think these all fit whether a girl is going into the workforce or college. My biggest tip for working in PR [which is what I got my degree in] is interning. I interned all of college, starting my freshman year. One thing I didn't have was a work appropriate bag, earrings, etc. Investing in a girl's work wardrobe is a timeless gift she will cherish forever. I also love the passport holder! It's something we never think to purchase for ourselves and if she is going on a post grad celebration trip it will come in handy!
Are you graduating this spring?! If so, congratulations! The best is seriously yet to come!