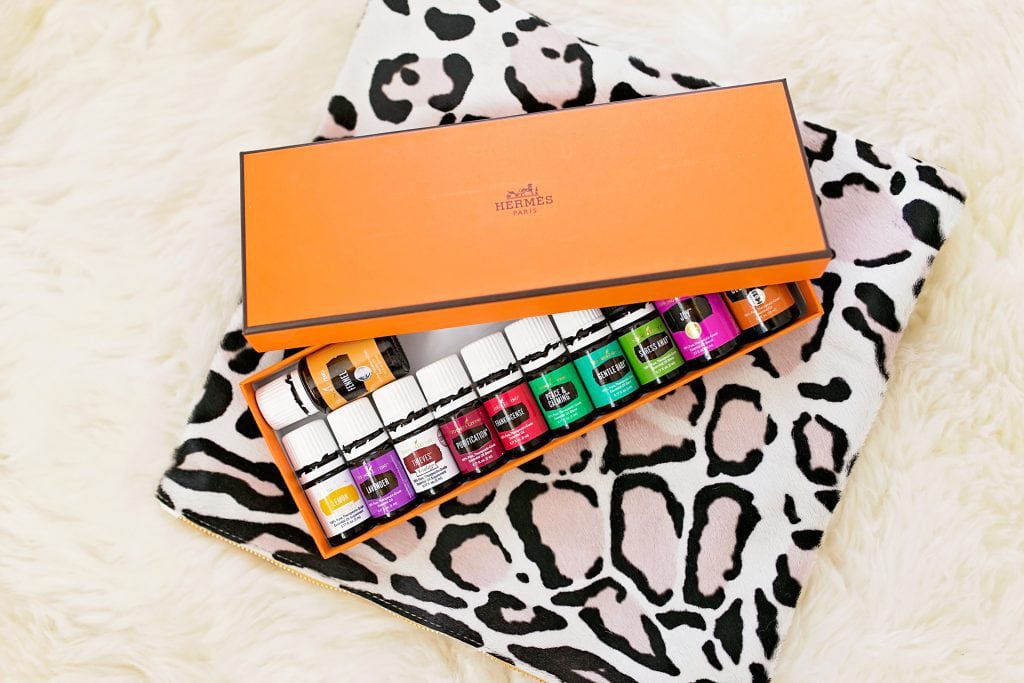 Today, let's do something a little different. I'm normally here to share self tanner or a pair of denim, but let's go out on a limb and chat essential oils.
First things first, I tried essential oils 4 or 5 years ago. I was still in college and I was on a family vacation we take with our best family friends. My mom and her best friend had gotten into essential oils [and you know how mamas can be with their oils]. They both had cases of them and spread them out all over the hotel bedspread and they put oils all over us for any little ailment we thought we had.
"I'm tired!" "Dad was snoring all night!" "I got a bug bite." "My head hurts from that mojito."
You get the idea.
But I'll be honest, I just thought this was an expensive hobby and the oils smelled pleasant, but that was just about it. I think I tried one and didn't think of it again.
Fast forward to my pregnancy and Black Friday and I caved. During Black Friday I was on the couch with contractions and just scrolling through Instagram trying to take my mind off of them. I saw a special for essential oils and my hormonal mind went crazy.
"I'm going to order! I'm going to blend my own oils for her bug bites and cuts and scrapes and I'll have an oil for everything." 
Paul thought I was nuts. I told him it was a "realllllly" good deal with Black Friday and I ordered. The box came in and then I never touched it. Paul had allergies during Christmas, and we made an "allergy bomb" drink for him, he said it didn't work and I moved on.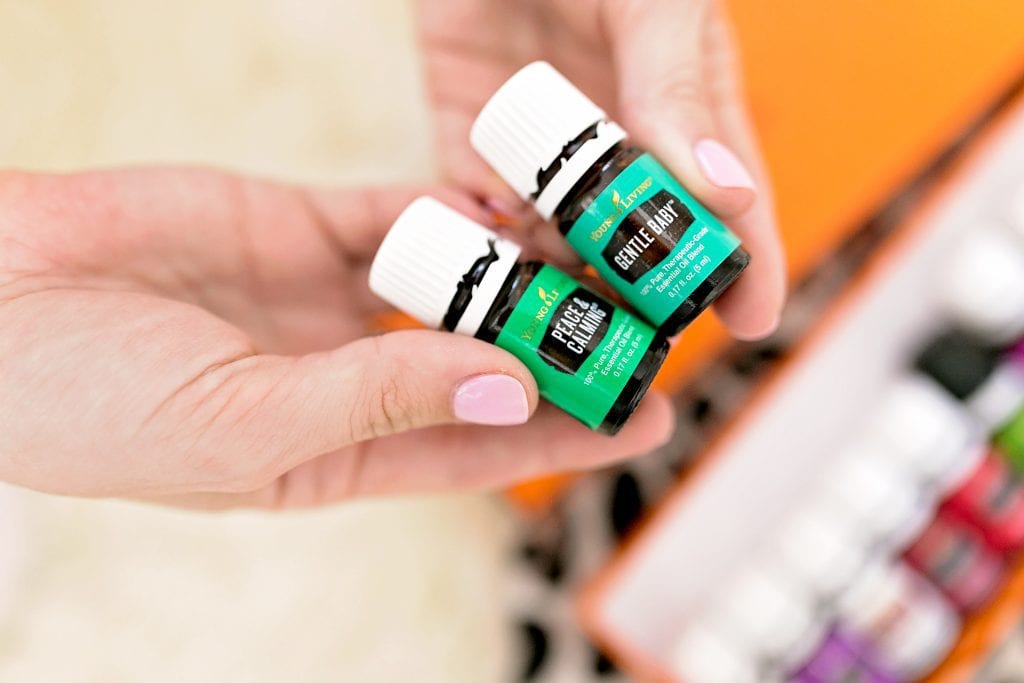 Then breastfeeding happened. I was sick with allergies and exhausted and started to read up on what oils you could diffuse/not diffuse around a baby and thought I'd try. I'd heard you had to be intentional with your oils to see a difference [i.e. not on vacation just trying them once on a whim]. It's like clean eating, just because you eat a salad for lunch does not mean you'll feel great as if you always eat clean.
During late night feedings I started researching everything about oils and I got really interested. I ordered a few more [and yes they are really expensive!] and started to test them using this scent diffuser by Palm Beach Collection.
Here's my overall thoughts:
I really enjoy using them. I associate them a lot with eating well. I feel my absolute best when I eat a paleo diet. Sure, I'm a little cranky because I can't have a beloved margarita at a restaurant or a cookie, but I feel great. Continual habits give me consistent results. When I use my oils daily, I can see a huge difference in my mood and my energy levels. I also try to incorporate my oils into one new mindful action a week. For example, I don't use dryer sheets and use oils on these dryer balls instead. Is my goal to be 100% chemical free? Probably not. I mean there are times I personally think a girl needs to use bleach when doing the laundry. And I do feel comfortable with the products we use in our home. But I really enjoy swapping products out and finding more natural options in our home with oils. I believe that the most important part of wellness is you understanding what works for you and your family with your specific needs. If your child has strong allergies and asthma issues, then of course you wouldn't want to use fragranced lotion. An essential oil mix with coconut oil is probably right up your alley. You may have a completely different opinion for your family and I think that's great. For me, I've really enjoyed the slow process of learning which oils I like and which oils really help us. I think I also use them more intentionally because I'm slowly swapping things out and using them in my daily routine.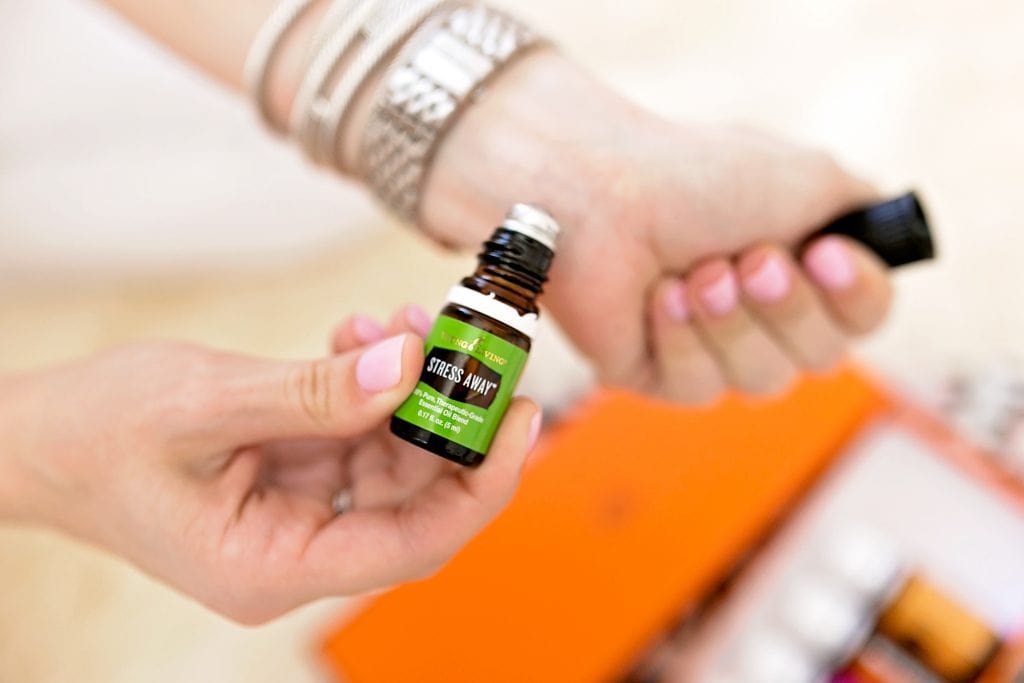 Which oils do I like?
First off, I use YL! [No, I don't sell them.] I used YL because this is what my mom always used and HONESTLY because it was the brand I saw the special with on Black Friday. I have heard doTERRA is great as well. And you can also buy essential oils from health food stores and other markets. Would I recommend ordering off of Amazon? No, but you do whatever you prefer girlfriend! YL/doTERRA is more expensive because the oils are more pure/concentrated than say store bought oils. It's like skincare. You can buy $10 sunscreen and it works. $20 sunscreen might be more concentrated with better protection, but at the end of the day you do what you are most comfortable with.
Gentle Baby: This is the oil I use the most often because it is made for babies. I don't apply any topically to Maxi [however, some mamas do and that's fine!] as I just don't want to test them on her skin yet. If you do, be sure to use a carrier oil and research which ones are recommended for your baby's age [here is a great article]. Their lungs are not as developed as ours and they are much more sensitive to scents. I use Gentle Baby for nearly everything! I do 2 drops on dryer balls as opposed to using dryer sheets. I use coconut oil and apply it to my collarbone before nursing so she can relax at night and smell it. I diffuse it in her room during naps. I sniff it before bed to go to sleep. Will this oil have your baby sleeping 8 hours a night? I'm not 100% sure, but I think it provides a wonderful bedtime routine that relaxes them. When I do make sure to use my oils I find that Maxi's naps are longer and she isn't startled. Maxi is a great sleeper, but her naps aren't consistent [something common for 4 months] and she can wake up when her REM cycle breaks. However, she typically will cry for a few seconds, I go in and pat her and she falls back asleep. But I do notice when I diffuse she may just move a little bit and fall back asleep when her REM cycle breaks, as opposed to fully waking up.
Peace & Calming: This is my favorite oil to diffuse in our room at night. If Paul and I are exhausted we also put a drop on the bottoms of our feet and we sleep great. My issue with sleep is going back to sleep if Maxi gets up after 3 a.m. I'll feed her and then start thinking about an e-mail or work and almost talk myself into just finishing a task right then and there. I know, I'm nuts. However, when I use the peace & calming oil I find that I can fall right back asleep once she is down again. The thing that I like about this is that it isn't like a melatonin where you get really vivid dreams and you feel knocked out. I can't pass out because I have to hear a baby. I also never feel groggy in the morning, and melatonin always makes me feel the worst.
Stress Away: I use this roller while I work around 2 p.m. on my wrists. This is during Maxi's second nap of the day and it's my last little "leg" to get work done before Paul is home. I always feel a little flustered because: A. I work far better in the mornings B. I get tired C. I'm toying with what task I should finish vs. what I should do around the house. When I use the stress away oil I feel less nervous about what to do and more intentional about how to do it.
Lavender: This stuff is great for everything. Cuts. Burns. Acne. Sleep.
Frankincense: This is also a great oil for skin. I combine it with lavender when I have blisters on my feet! This is also a spiritual oil and many people diffuse it while doing devotionals.
Purification: This oil removes odors. It's great to diffuse after you cook dinner and I also put a drop of it on a cotton pad and toss it in the bottom of her diaper pail when I put in a new trash can. I never notice a "diaper" scent in her nursery and love it.
Thieves: Thieves is great to have on hand for sickness. People put it in their tea a lot when they feel they are coming down with something. I don't ingest oils with breastfeeding but many of my friends do and their doctors say it is 100% fine, so ask yours! 🙂
Lemon: I really like lemon for diffusing. I diffuse it with grapefruit in the kitchen in the morning or with lavender for the afternoon. It makes my entire home smell clean which is my favorite thing.
Fennel: Fennel is another one lots of mamas use for breastfeeding. They apply a drop or two on their chest and it helps with production. However, I was told to not do this more than 10 days in a row. Use this more so to help boost supply. [But I'm not a lactation consultant, so ask yours! I don't want to give you incorrect information in regards to something so important.]
Cedarwood: Postpartum hair loss generally starts around 4 months PP [but can be different for everyone]. To help combat that I do a drop on my fingertips and massage into my hairline at night. I'll be honest, this isn't the most pleasant scent 😉 but I put on dry shampoo at night before bed and then I don't smell it!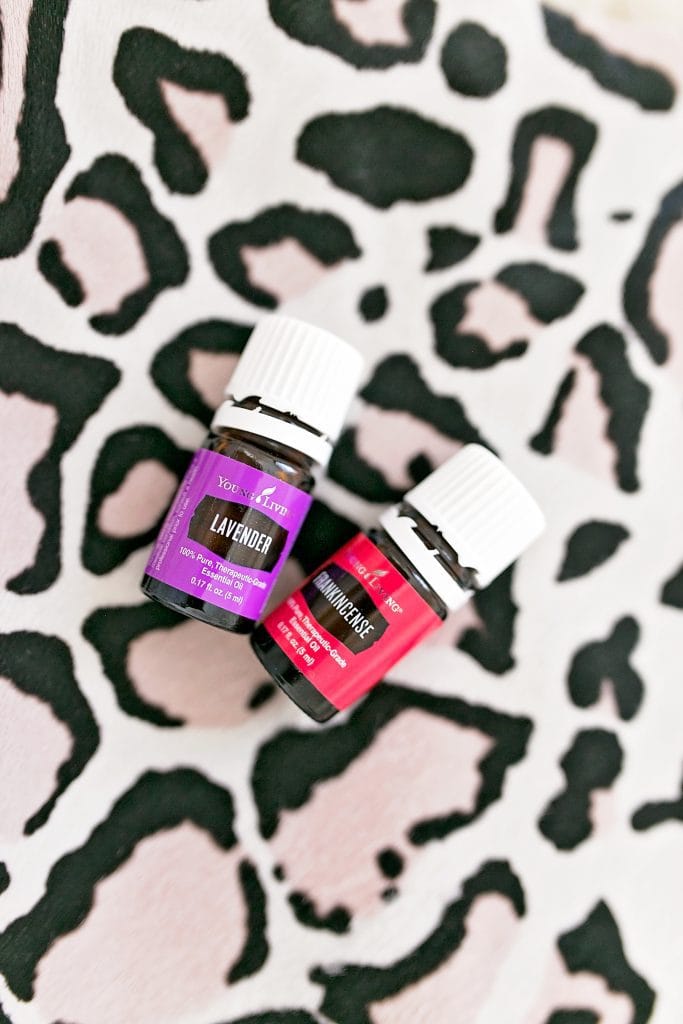 What do I want to purchase next?
Bergamont is on my wish list because I hear it smells amazing! I've also heard to diffuse it with Geranium and Idaho Blue Spruce, so I may try that! I really want to try the Thieves cleaner. I did tried to make a DIY essential oil cleaner I found online. I wasn't impressed with the results and the house didn't feel "clean." But I know there is always trial and error when trying new things! I generally really like to use the Honest Company spray because I know I'm getting things clean in a safe manner for Maxi.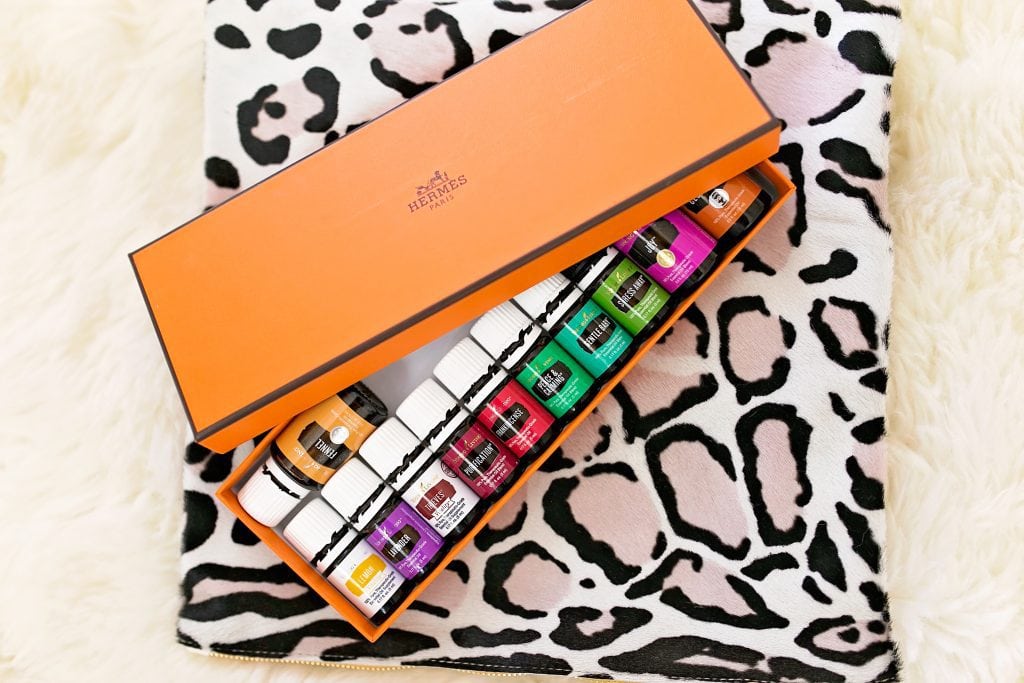 So there is my honest little review! Like working out, you've got to be diligent with oils to see results and they can be pricier. However, I really enjoy this new process in our home and finding which oils work for us.
Do you have any essential oils you like?!

Photography by: Angie Garcia