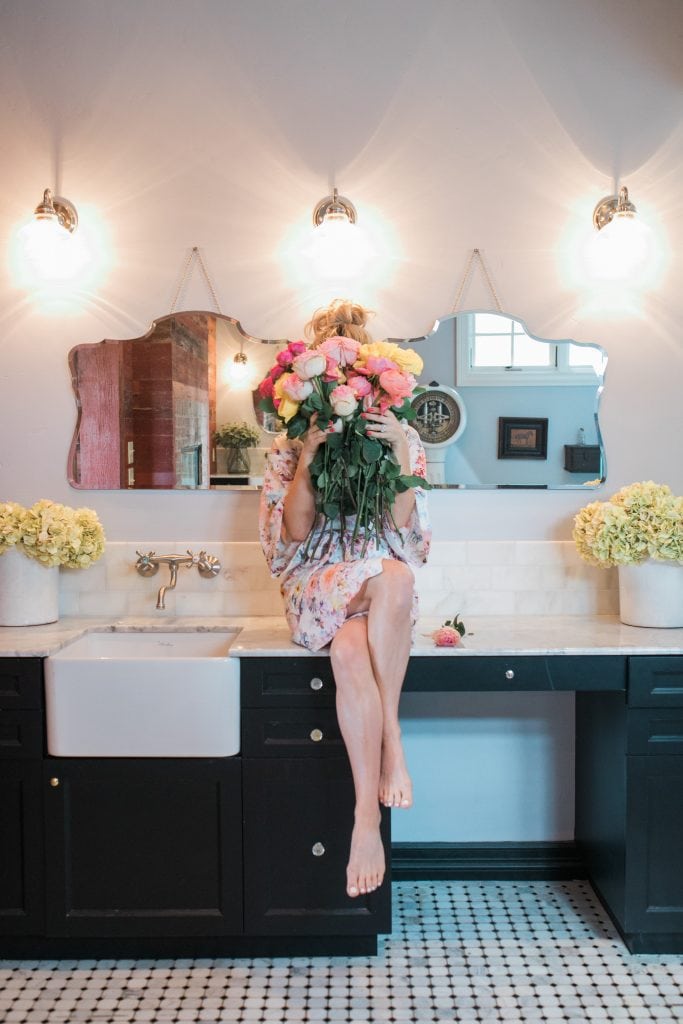 In yesterday's post I shared it started to really feel like summer! I mean I've currently got mosquito bites on my legs and it is 99 degrees in Dallas this week so how much more summer could one get?! We change up our recipes with lighter foods and less pot roasts [oh my gosh could you imagine running the oven all day in the Texas heat?! Ick!] and opt for light dresses as opposed to denim. Some of us even change up our home decor and bedding for these humid months. We can't forget to switch up our beauty routine!
For me personally, I like to use less powder products and more cream-based products during the summer. The past week I've also tossed the eyeliner because who wants to deal with that smudging in the humidity?! Today I thought I'd share a few summer beauty tricks or "hacks" if you will that help beat those common summer beauty mishaps.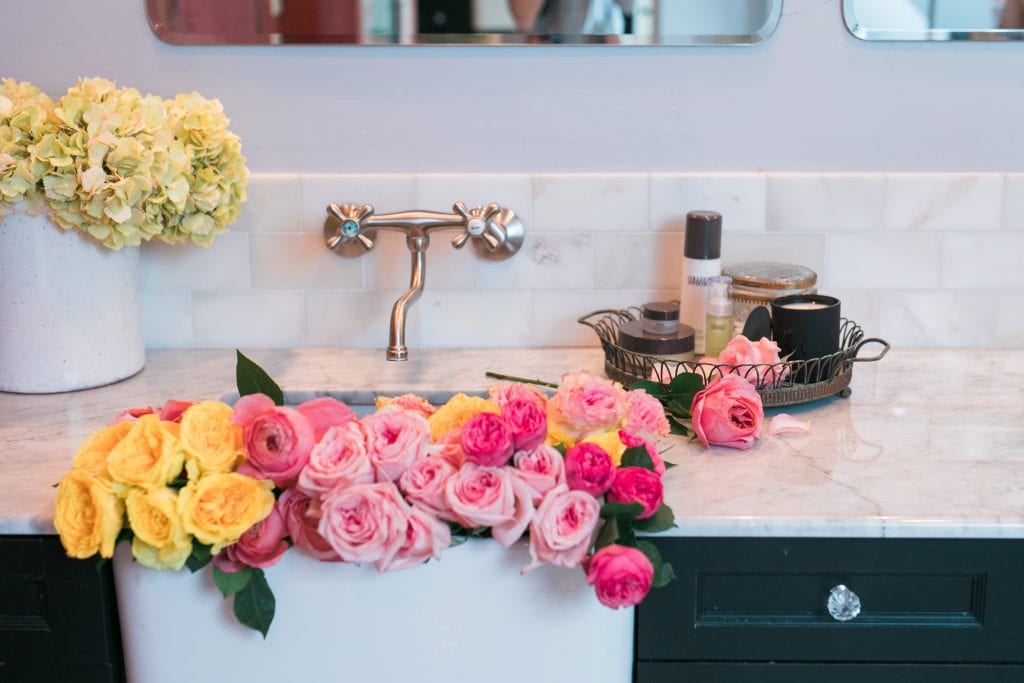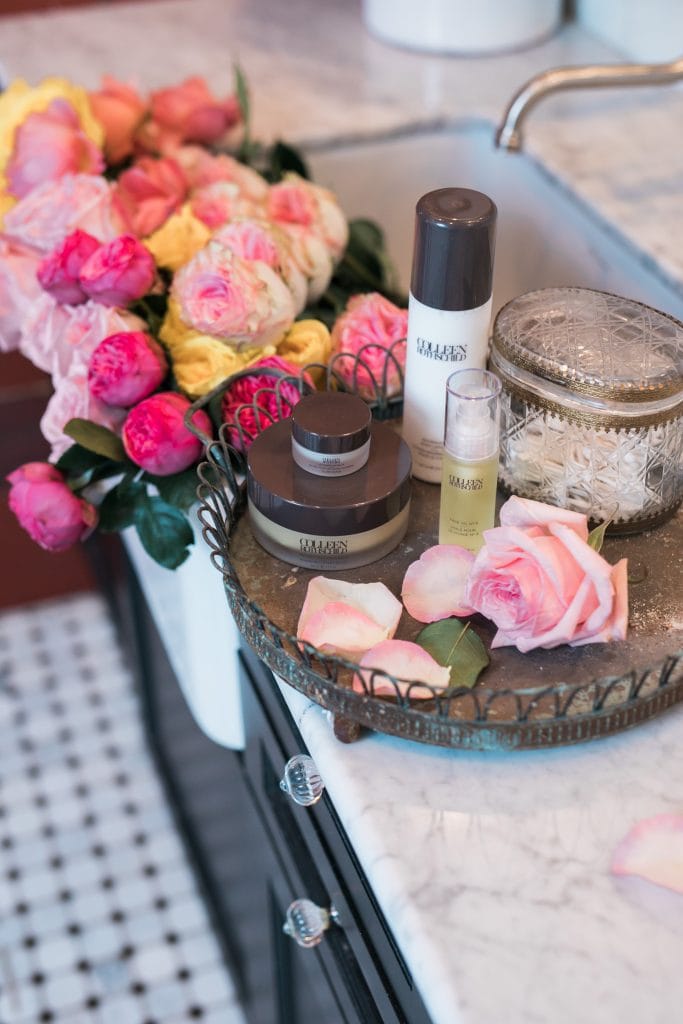 Today I'm partnering with Colleen Rothschild to share these little tricks with you all and I wanted to give some background. I was first introduced to this brand about a year and a half ago. I was rooming with my girlfriend Ashley at our blogging conference and she is the queen of beauty products. I call her for every single Sephora run I make. She's a blogger but I always joke with her that she missed her calling as a Dermatologist or something because she is brilliant when it comes to skincare and skin-related issues. I love rooming with her for work trips and conferences because we are genuinely really close friends but I also feel like I'm rooming with the beauty editor for Vogue. She will unpack her suitcase and neatly lay out her products on the vanity and I just sit in awe. I nearly look like a flower girl watching a bride get ready or something. You get the idea. Anyways, I was asking her about every which product and seeing what was worth my money and what wasn't.
She unpacked this Colleen Rothschild mask and I asked her what that was for. She turned around and said, "Wait you don't have this?"
"No…why?"
"Katey, what do you ever put on a blemish if you don't have this?"
She then proceeded to dump out her skincare and told me how I had to try this line and how this mask got rid of her blemishes and this cleansing balm did wonders for skin, etc.
She let me borrow a few products and that's how I was introduced!  So today I'm sharing my favorites from the line and how I use them for beauty hacks. I'll also be sending Ashley this post later as a friendly reminder that I'm not aloof and I now am up-to-date according to her beauty routine. 😉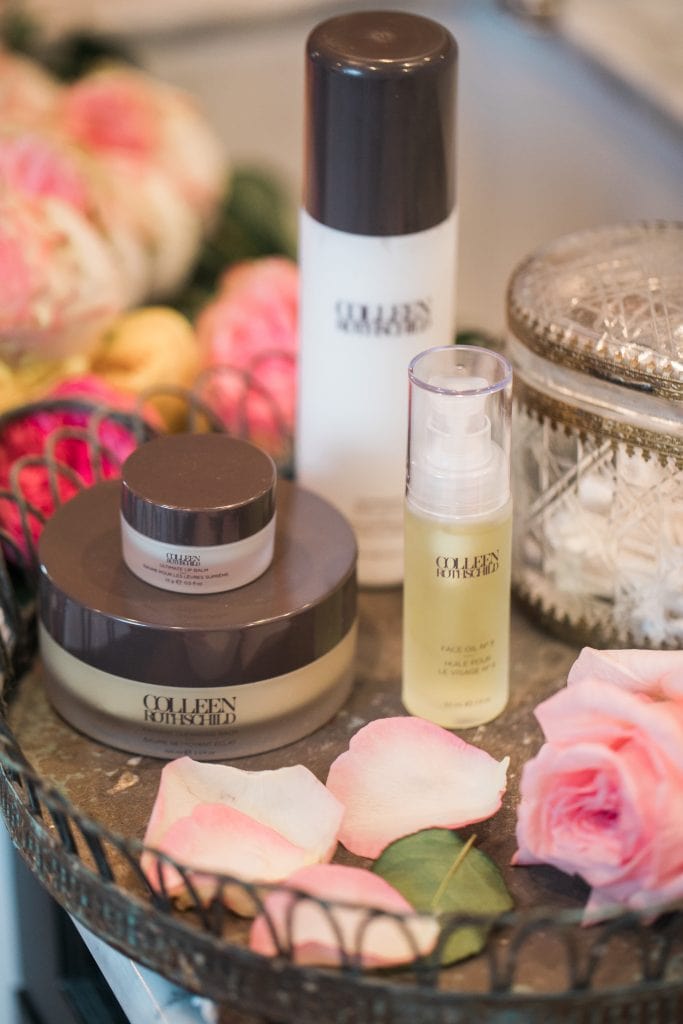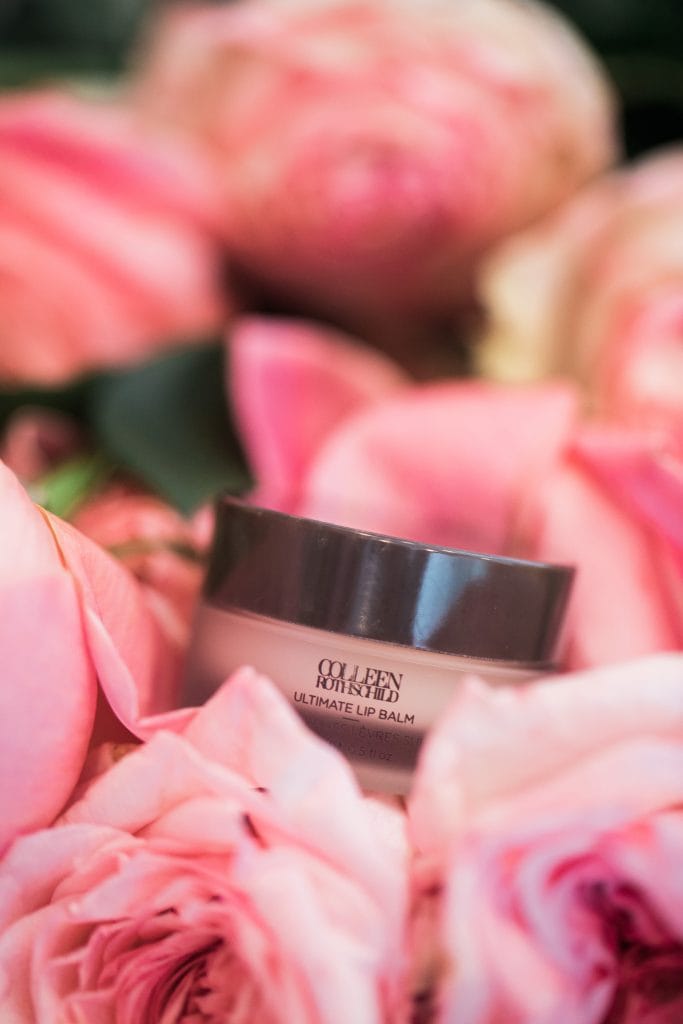 First things first, we must discuss the dry liquid lip. I'm a liquid lip gal through and through! I loved them before baby, but now that I have baby I need them! Anytime I wear a creamy lipstick and kiss her I feel so bad because it ends up on her cheek and then I'm the annoying mama wiping it off 24/7. Let's also not forget how many of her bows I have stained due to said cream lipstick. Oops!
But our lips are dryer in the summer months and no one wants to walk around with wrinkly lips, no mater how cute our liquid lipstick is. If you deal with that problem here is how I avoid it!
First, always keep an old soft toothbrush around. Be sure to wash it in the dishwasher after it is of no oral health use to you anymore. 😉 Then store it away! I use them to clean my wedding ring and deflake my lips! After I brush my teeth I will softly massage my lips with the brush [be sure to apply water to it before]. This is seriously the best lip exfoliator. Then, I apply a lip balm that is oil-based but won't bleed past my lip line. If you go too waxy the balm does nothing for you, if you go too greasy you're going to end up with hot pink on your chin. I use the Colleen Rothschild Ultimate Lip Balm after and then apply my liquid lipstick over. The reason I prefer this lip balm is because it doesn't affect how my liquid lipstick bonds to my lips. It immediately soaks into my lips [as opposed to just a waxy coat that most balms give you] and so then I can apply my lipstick without mess ups. I get so many e-mails from girls on how to avoid the cracked liquid lipstick and I've been waiting for this post to share with you all!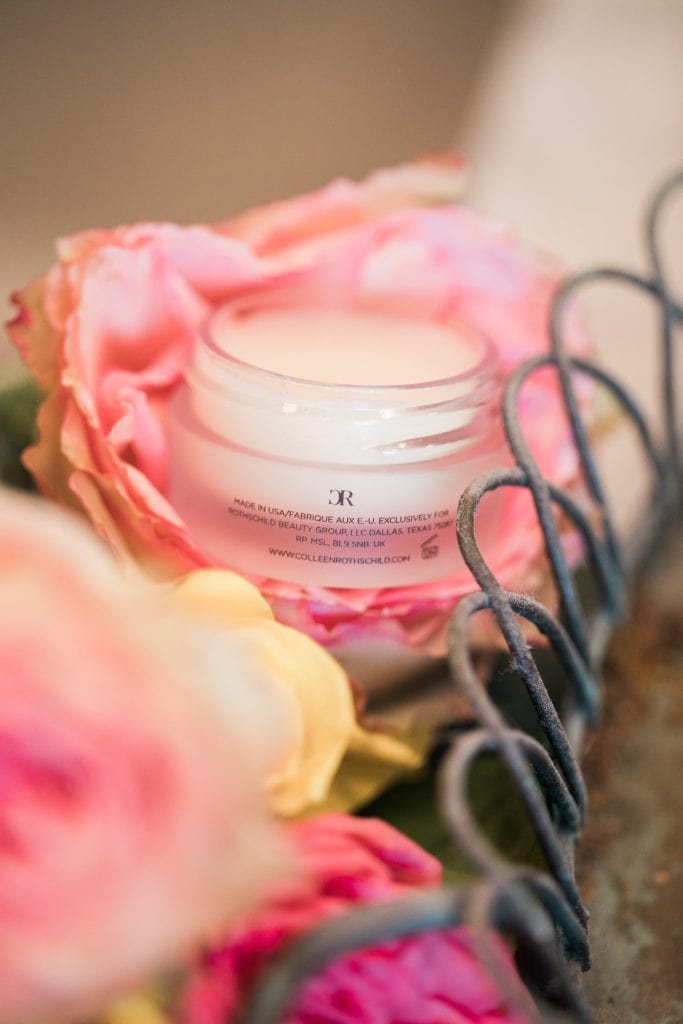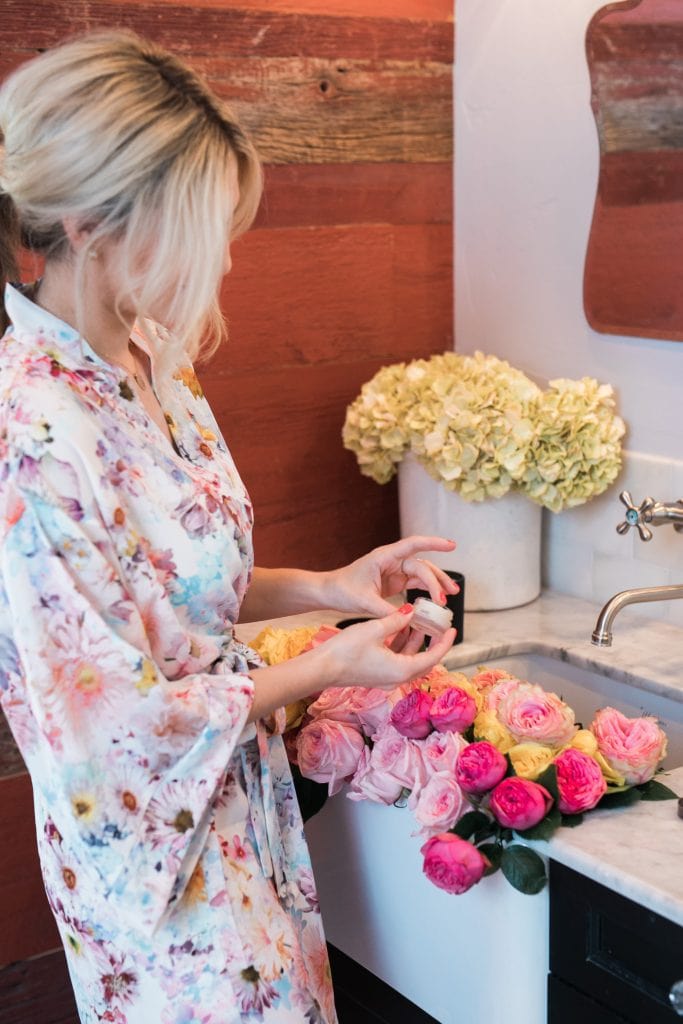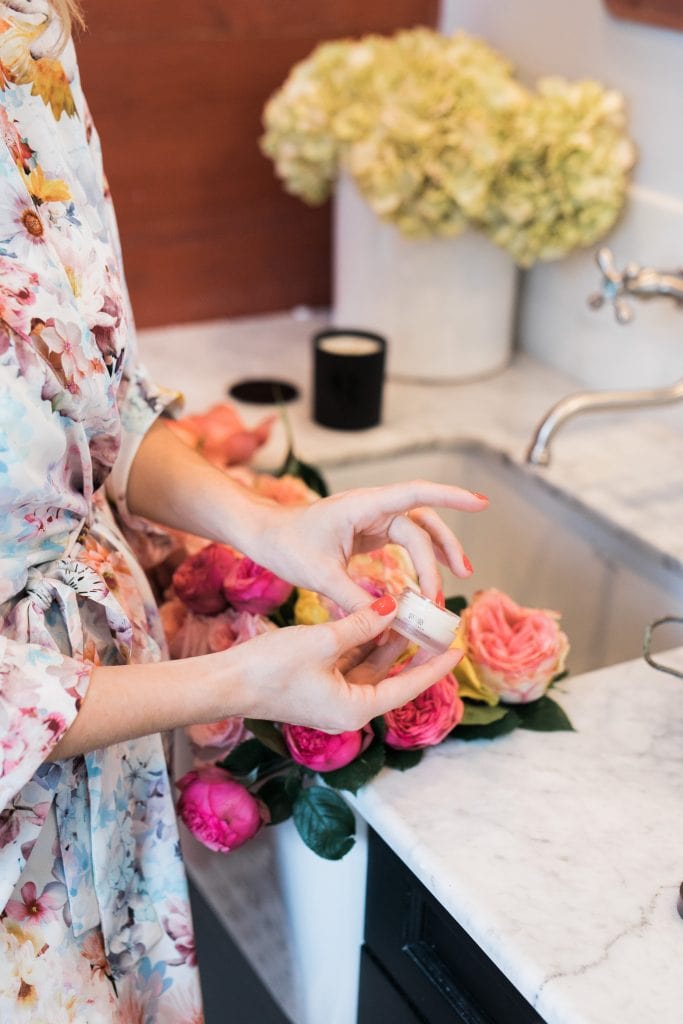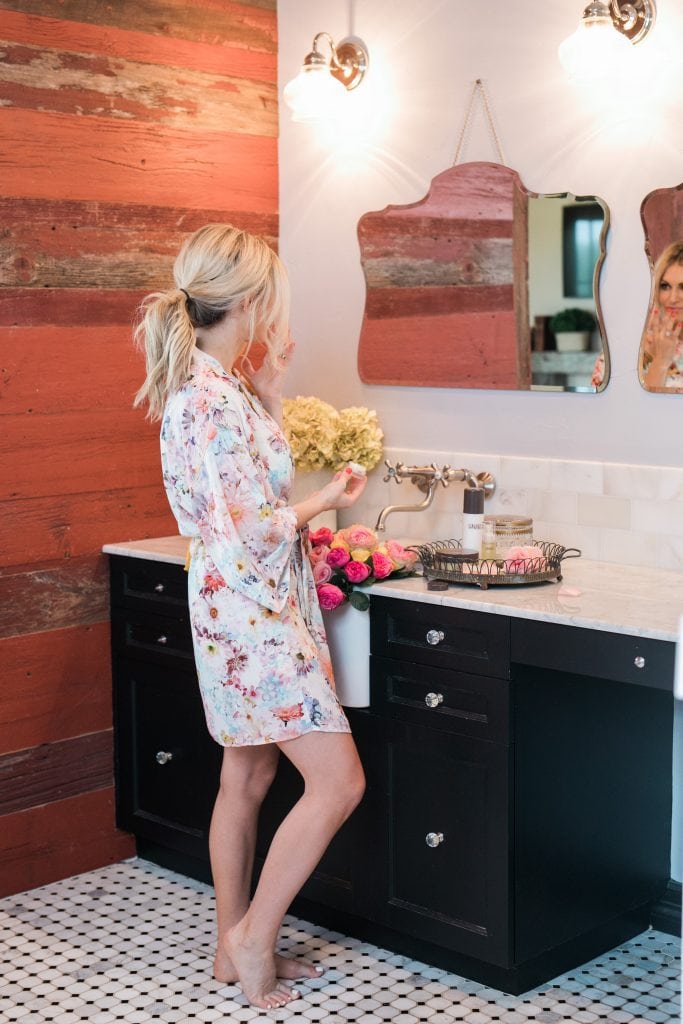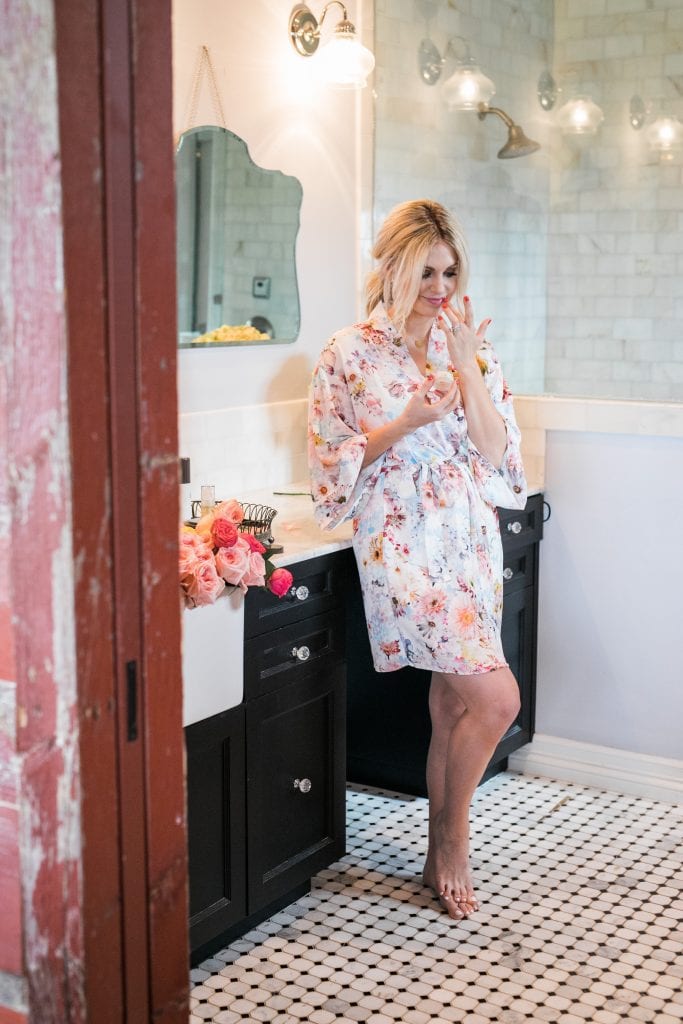 Now when it comes to body lotion, I've been using their's for about 2 months! It's a luxe little touch to my routine as they refer to this as skincare for your body. It's a really lightweight lotion which is ideal for the summer, but it's infused with mango seed butter so it works quickly. My biggest trick for summer skin is to put your lotion on RIGHT out of the shower. I'm talking don't even put your towel on yet. I turn the faucet off, wait a few seconds for the water to drip off and then sit on the edge of the tub like so and apply the lotion. Press the lotion into your skin as opposed to rubbing like I feature below. Then you can put your towel on and pat dry! After a shower, your pores are open and ready for moisture. If you wait until you dry off your pores have closed and you will want to reapply lotion all day long as it just sits on top of your skin. And THAT my friends is how you keep repurchasing products frequently! Improper application leads to wasted product.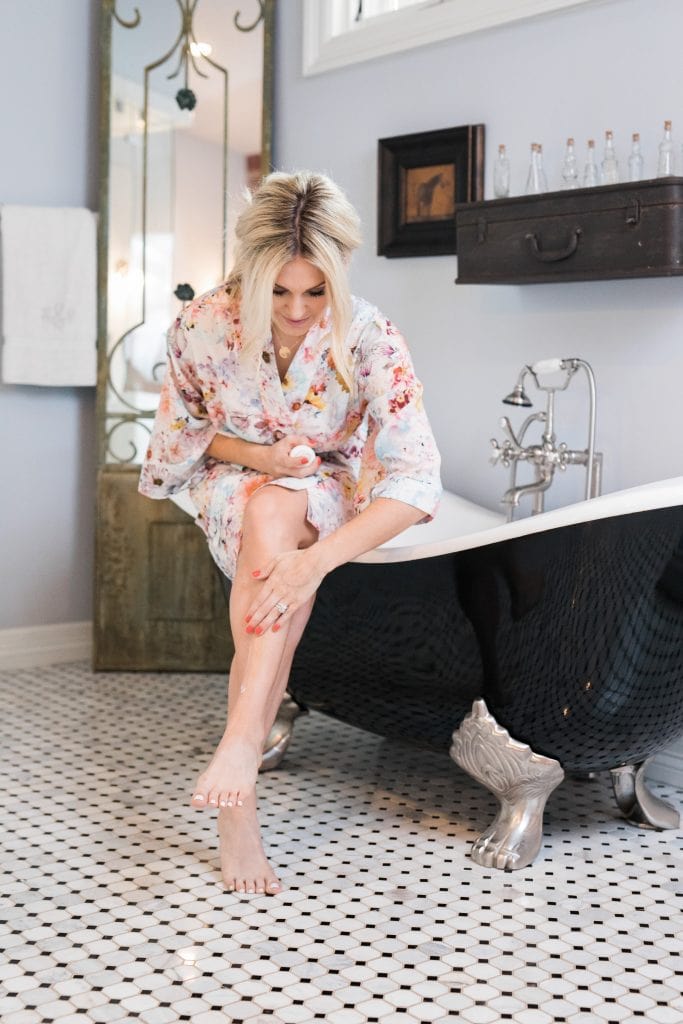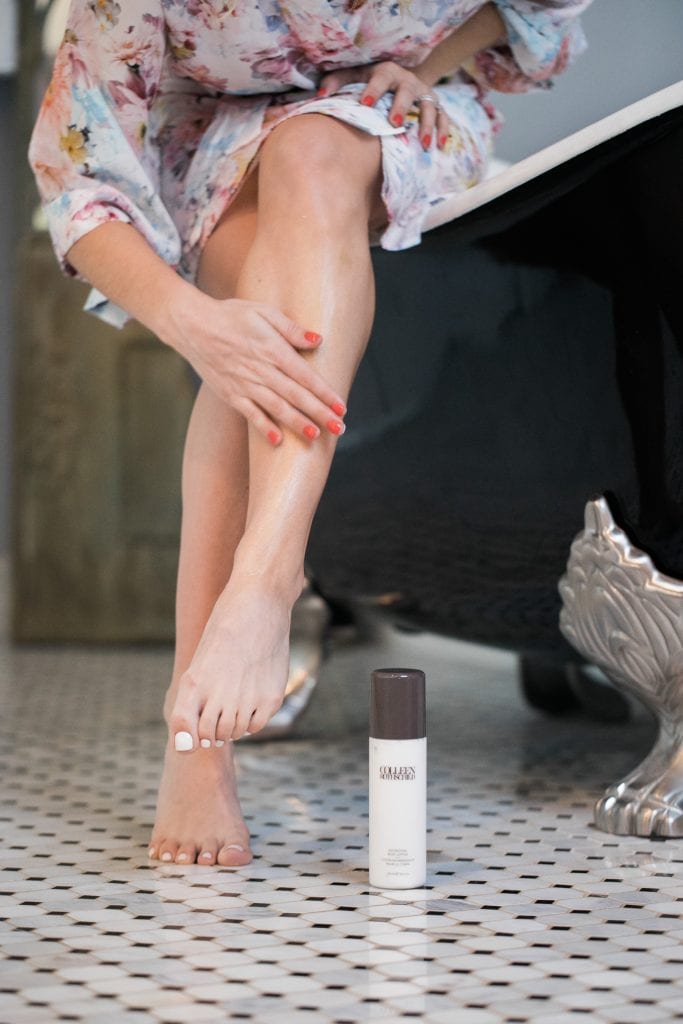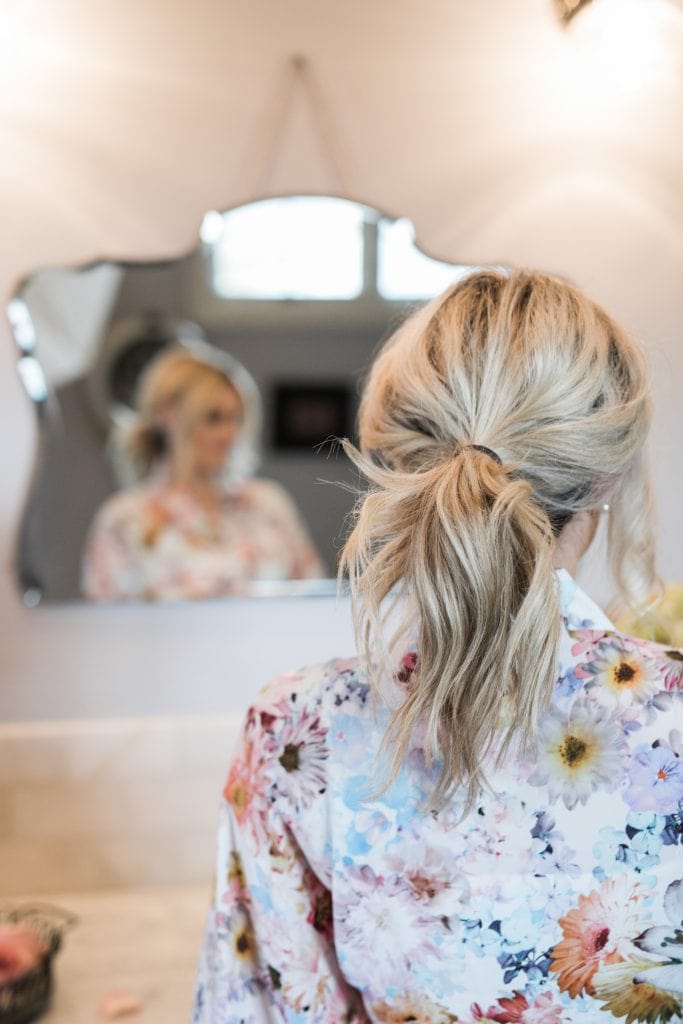 Next up, let's talk hair. Colleen herself actually uses the facial oil in her hair for deep conditioning. I use this oil religiously as I've shared on Snapchat. I apply it on my face when I'm feeling extra dry but my two favorite uses for it aren't even face related. First, I love to put this in my hair before a workout. Humidity and sweat is going to allow products to soak in better, so if you dare, apply a deep conditioner before a workout. Put your hair in a top knot and you're good to go, then shower after. I rub about 3 to 4 drops of the facial oil through my hands and in my hair before a workout or walk. This has seriously cut down on split ends.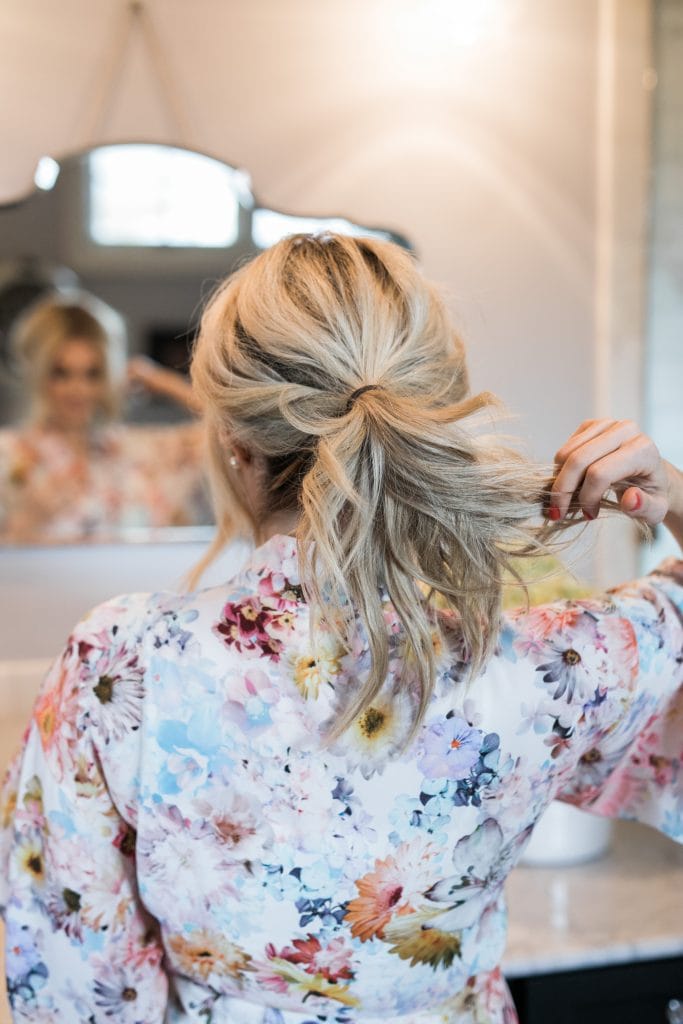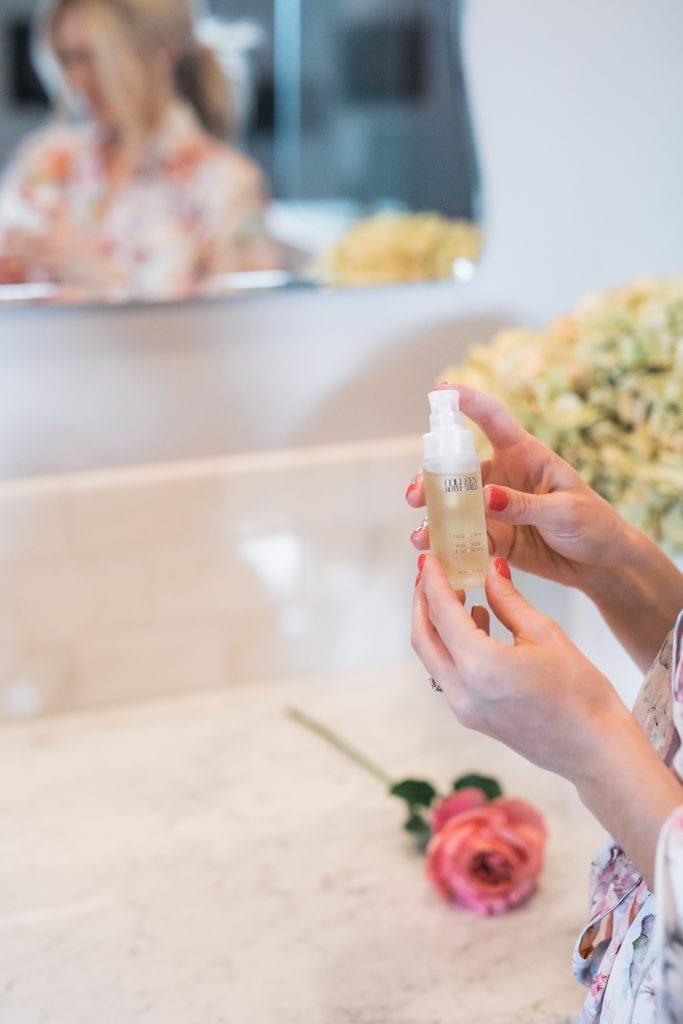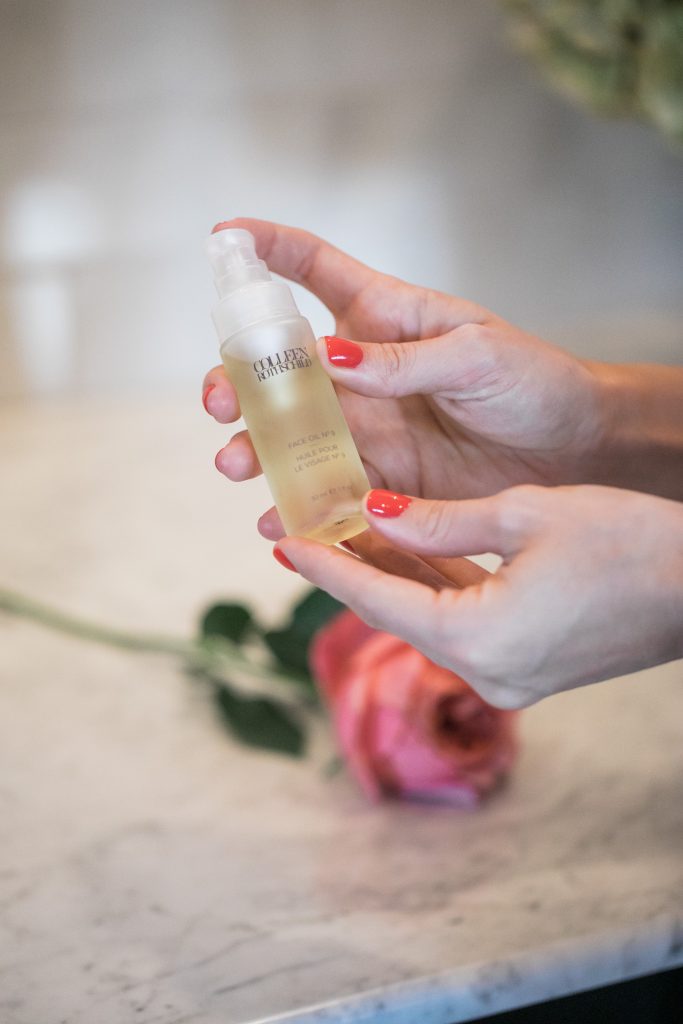 My next favorite use for this facial oil is for my manicures. Unfortunately, gel polish or dip powder [your salon might call it SNS] is damaging. Why are all good things in life bad for you!? haha! Candy, loads of pasta, gel manicures! I shared on Snapchat that this facial oil keeps my gel manicures lasting much longer, but I love how it enriches my nail beds and helps heal them from manicures. I generally use this routine with my nail care:
One month gel manicures
One month regular polish
One month SNS/Dip
One month regular polish
I can't even tell you why I do that routine, other than the fact I like to switch it up a bit! But it's a lot of havoc on my nails so I use the oil each night after I brush my teeth. I apply it to my cuticles and then all over like a hand cream. Don't forget to apply an oil to your hands at night. You drive so much that your hands are prone to sun exposure [also do sunscreen each morning!] that you want to make sure they are properly moisturized as hands are the first to show signs of damage.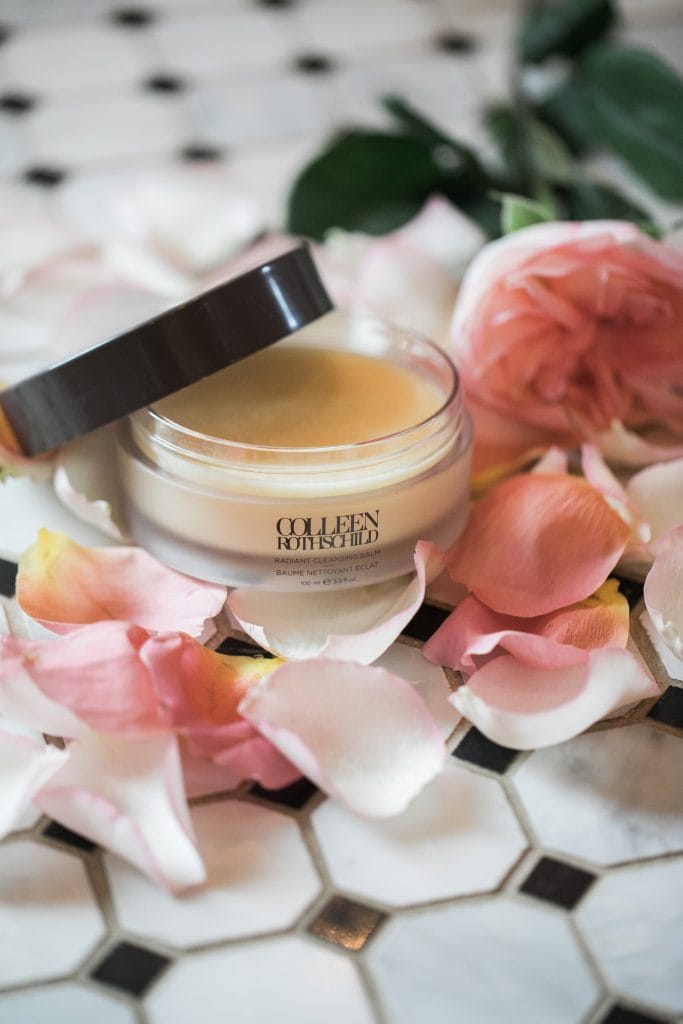 I saved my favorite trick for last! Now this isn't a seasonal trick I use as I've talked about this on the blog for years. One of my favorite beauty gurus, Caroline Hirons, got me hooked on cleansing balms years ago. She is extremely frank and I love it! She talks about how we imagine blackheads and how lazy we must be to not take our makeup off. [Honestly, we all "think" we have blackheads on our nose and 90% of us DON'T! Blackheads have texture and you can "feel" them. If you are using a magnifying mirror and see black dots but they are flat, that's just dark pores or sebaceous glands. Then we wonder why we break out because we prod or use nose strips.] Caroline discusses why you should use a cleansing balm and instead of viewing this as a means to an end and a way to quickly remove makeup, think of it as a massage. You really want to massage the skin to keep it healthy and improve circulation. This will help heal imperfections more quickly. I use this cleansing balm, which honestly smells like Christmas to me! I massage all over with my fingers and then I take my knuckles and really gently massage in the product for a good 30 seconds to a minute. If you do this for a few weeks, you'll see how much more quickly your skin cells will heal!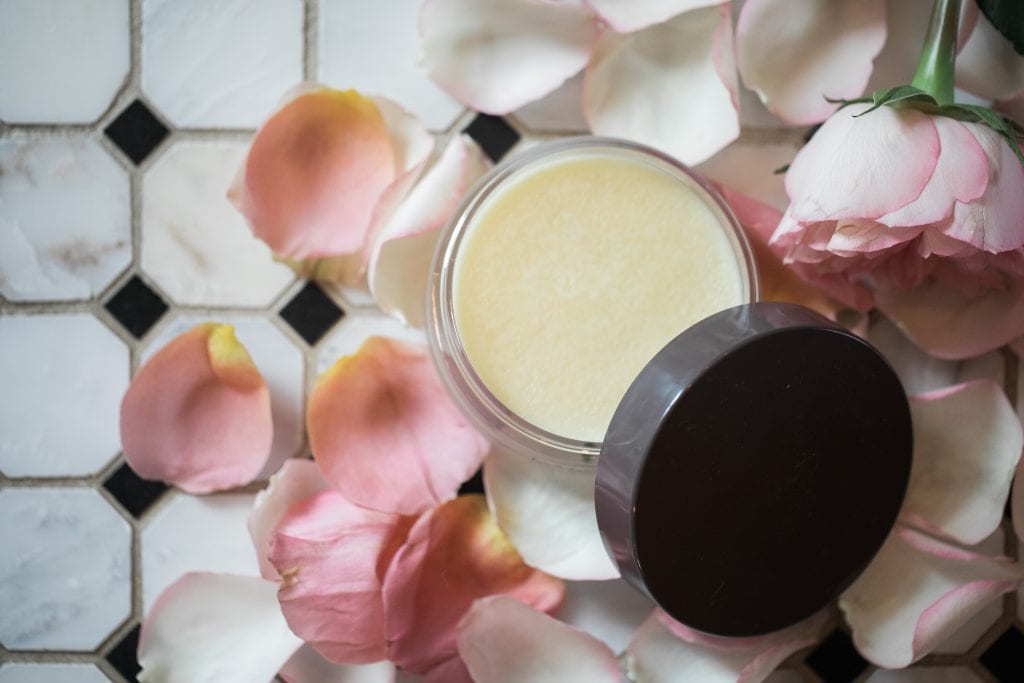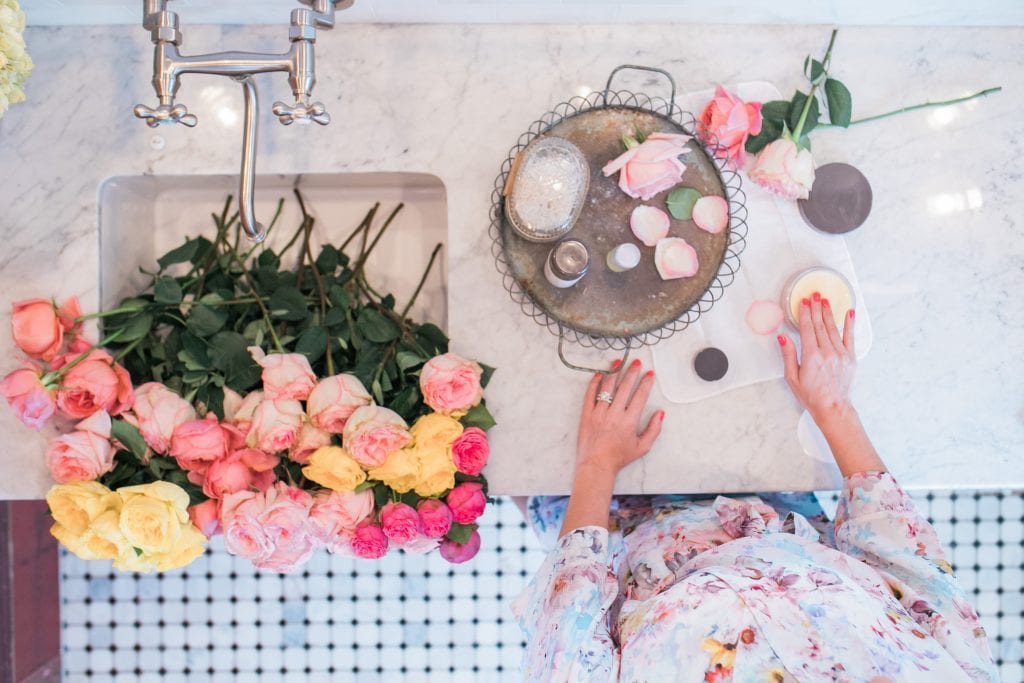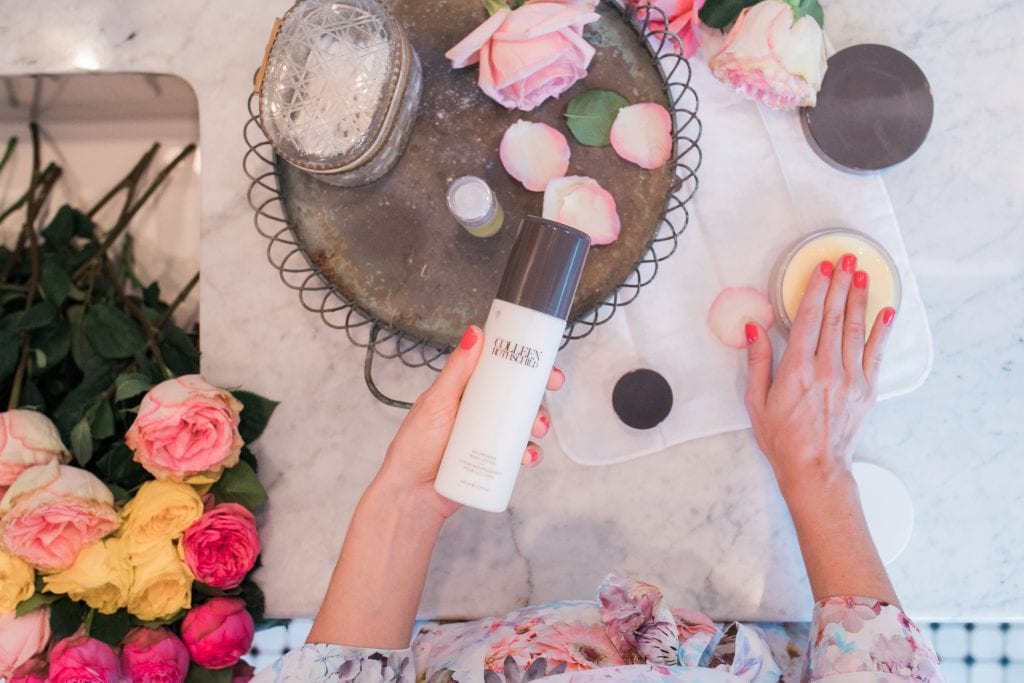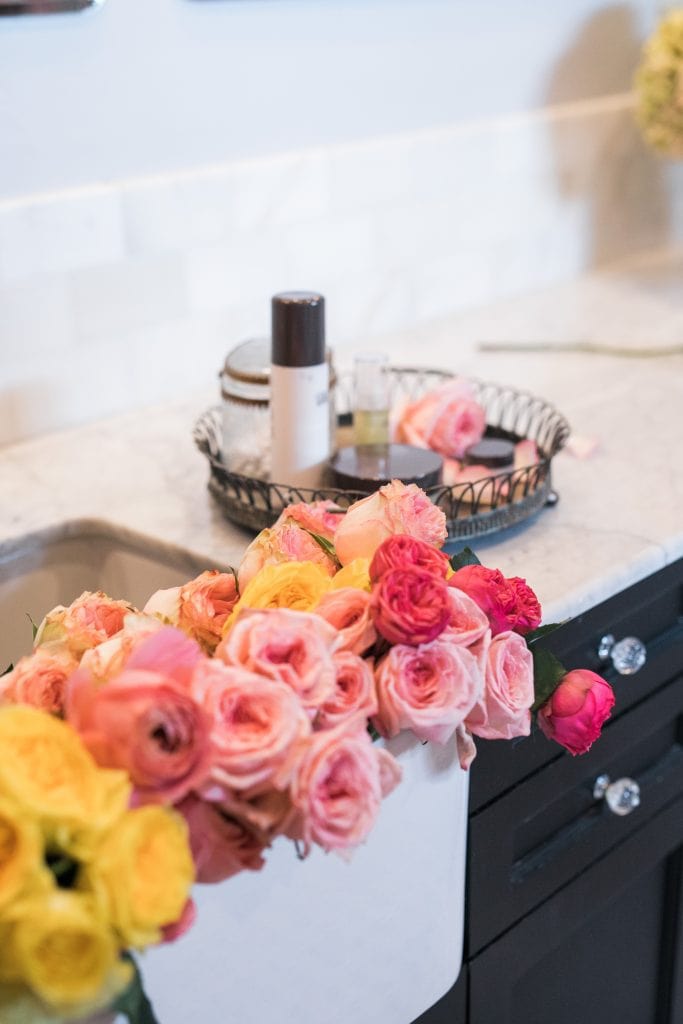 Now for the codes you are going to want! Colleen Rothschild is running a buy more, save more promotion this week.
$10 off $50 purchase with code SUMMER10, $25 off $100 purchase with code SUMMER25,  $50 off $150 purchase with code SUMMER50. I also have a 20% off coupon for COF readers until the 20th! Use COF20 for 20% off all regular-priced purchases.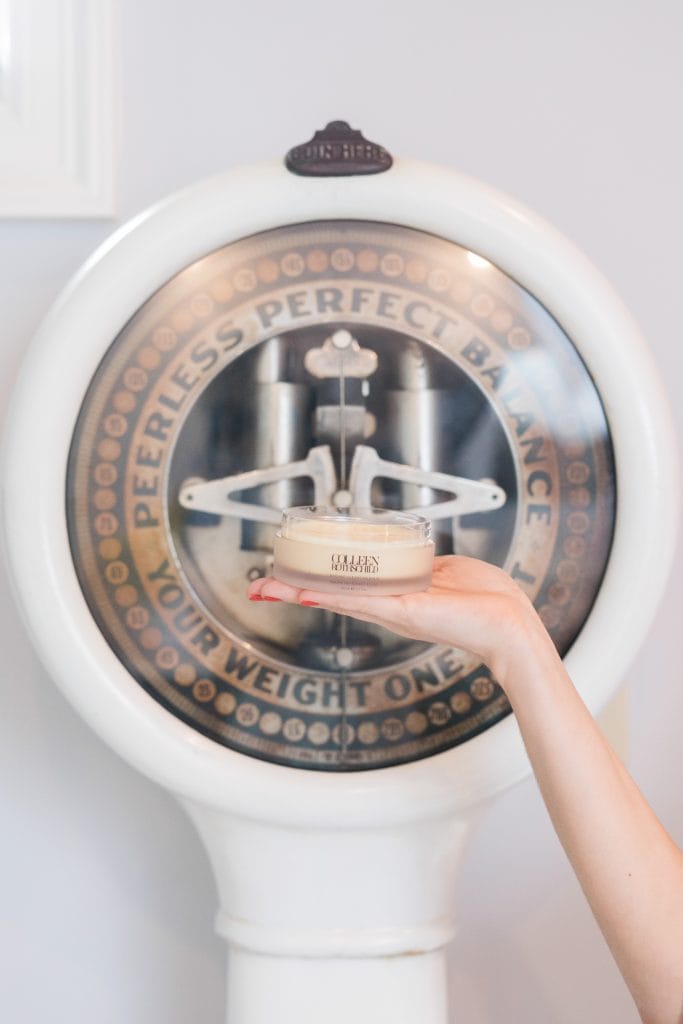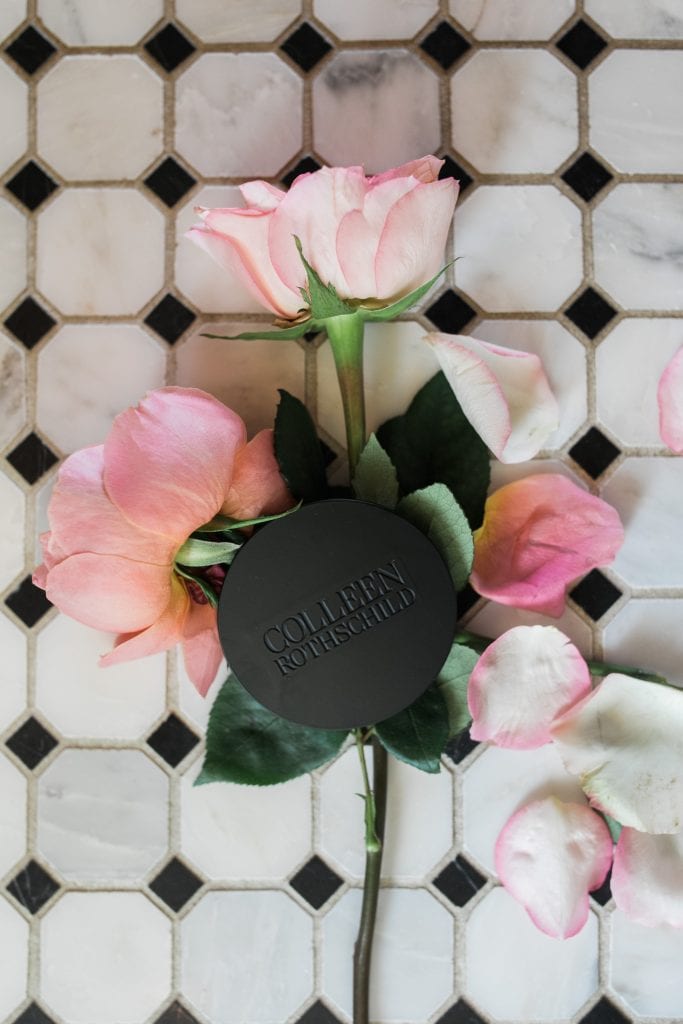 I hope these beauty hacks help you during the summer months and beyond! Do you have any favorite summer beauty tips?! I'd love to try them!

Photography by: Carmen Evans, In collaboration with Colleen Rothschild a brand I genuinely love! All opinions are my own and items were purchased by myself.

Rose Candle | Lip Balm | Lotion | Facial Oil | Cleansing Balm | Robe, Here, Similar | Polish: OPI Cajun Shrimp