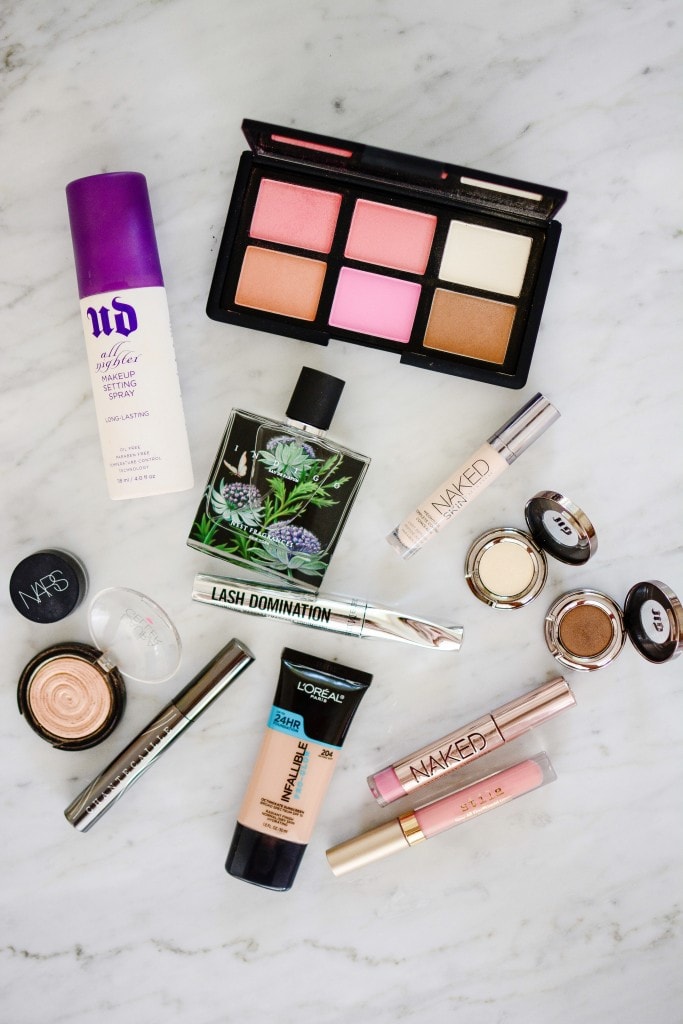 Clarisonic: Nordstrom [on sale!] Foundation: L'Oréal Infallible Pro-Glow [c/o] [shade 204] | Concealer: Urban Decay Naked Skin [shade fair neutral] | Blush/Bronzer: Nars Palette [on sale!] | Eye Pencil: Anastasia [shade: blonde] | Eyeshadow: Vanilla, Snakebite [c/o] | Eyeliner: Nars [shade: Black Valley] | Highlighter: Laura Gellar [shade: Gilded Honey] | Mascara: Chantecaille, Bare Minerals [lash post here] | Lipstick: Bellissima | Gloss: Lovechild | Setting Spray: Urban Decay | Perfume: Indigo
---
I'm so sorry for the lack of beauty posts on the blog lately! Sometimes I think Snapchat takes over my beauty posts because I'm able to share my initial thoughts of products, product flops and what I'm wearing daily. But, I know that not everyone is on Snapchat so I can't neglect COF! I thought I'd get back into the swing of things by sharing my summer makeup routine first.
If you've followed me for awhile you know I have pretty normal to sensitive skin [minus discoid lupus 😉 ] but lately that has changed! I honestly want to do a video post with my mom soon because she is so knowledgeable about this topic. She was a makeup artist when she was my age and is always sharing about how hormones affect your skin and cause changes to your skin and hair every few months/years and how to adapt. So once our schedules can align [she has been out of town almost every week this summer!] I'm sitting her down in front of the camera to explain.
I'm not sure if it is the extreme humidity or just the heat but my skin has been a bit more oily and I've battled a few more blemishes the past few weeks. Nothing major but just enough for me to think, "Hmmm. I need to change things up!"
I've been using this routine for the past few weeks on Snapchat so here is the roundup!
1. Skincare
I wash my face in the morning with my TULA cleanser. I don't use my Clarisonic [on sale!] in the morning, but I do at night before bedtime! Then I use the illuminating serum and day/night cream! If you want a primer I love this YSL one. I don't really use it in the summer just because I don't want as many layers on, but as soon as temperatures dip to 80 degrees I'm running to Sephora to get it!

2. Foundation & Concealer
I need to do a review of all my foundations because I have about 5 that I dearly love. However, I use them for all different occasions. For summer, I'm currently using L'Oréal Infallible Pro-Glow. I saw Jaclyn Hill talk about this on Snapchat and I will be 100% honest and say her products don't typically work for me because we have different skin. But something about 24 hours and a glow finish stuck in my mind. Plus, I've wanted to find a drugstore foundation I could like for ages. I got shade 204 and it's so so good! Normally foundations that are "dewy" don't last. You yawn, take a sip of Diet Coke or even shut your eyes for a 5 minute rest and you can forget about it. Foundation. Ruined.
This lasts all day and I apply it with a damp beauty blender. Then for concealer I apply under my eyes and on blemishes. I use my Urban Decay Naked Skin Concealer in shade Fair. #yawn [sorry, I know I've used it for a year, but it's so good!]

3. Blush & Bronzer
I just shot a contour how-to post yesterday and it will be on the blog next week! But until then, if you want to keep it simple I recommend this Nars palette! There's a ton of different bronzers and blushes I love, but Nars is known for being the most universally flattering brand. Their brushes and bronzers look amazing on most all skin tones, which is very rare! This palette is currently on sale and would last you all year long!

4. Brows & Eyes
I'm still using my Anastasia Brow Wiz in blonde and then for eyeshadow I'm putting Urban Decay Vanilla all over the lid and then Snakebite in the crease. Snakebite was actually my first Amazon beauty purchase YEARS ago. Don't worry this is a new pan! haha. I didn't even know you could buy beauty products on Amazon [be careful, though!] back then and my life was changed. haha. For my eyeliner I always use Nars Gel Liner in Black Valley. Then for lashes I layer these mascaras which you can see in this post here.

5. Highlight
This stuff is like honey for your face, and I mean that in the best possible way! Laura Gellar Highlight in Gilded Honey is a new highlighter added to my GLAMbox and it's perfect for summer. First off, if you have a darker skin tone this is going to be so beautiful on you! But if you're fair like me it's perfect as well and gives you this sun kissed, honey glow! For the first time I feel like I have a lot more natural olive in my skin and I love it!

6. Lips
For lips I mix Stila Bellissima and Naked Gloss in Lovechild!

7. Finishing Touches
Finish with Urban Decay All Nighter Makeup Setting Spray and then Nest Perfume in Indigo. I purchased this perfume while in New York and I was less than enthused about the bottle. I should be ashamed that I look at perfume bottles to decide if I want to test, but I'm into aesthetics, is that a good excuse?! Anyways, the girl was stocking the shelves and she kept mentioning that they couldn't keep this in stock so I thought, "Oh fine! I'll smell it!" And it smells so good! The perfect amount of fresh and sweet for summer!

Do you have any new beauty favorites added to your makeup bag for summer?!