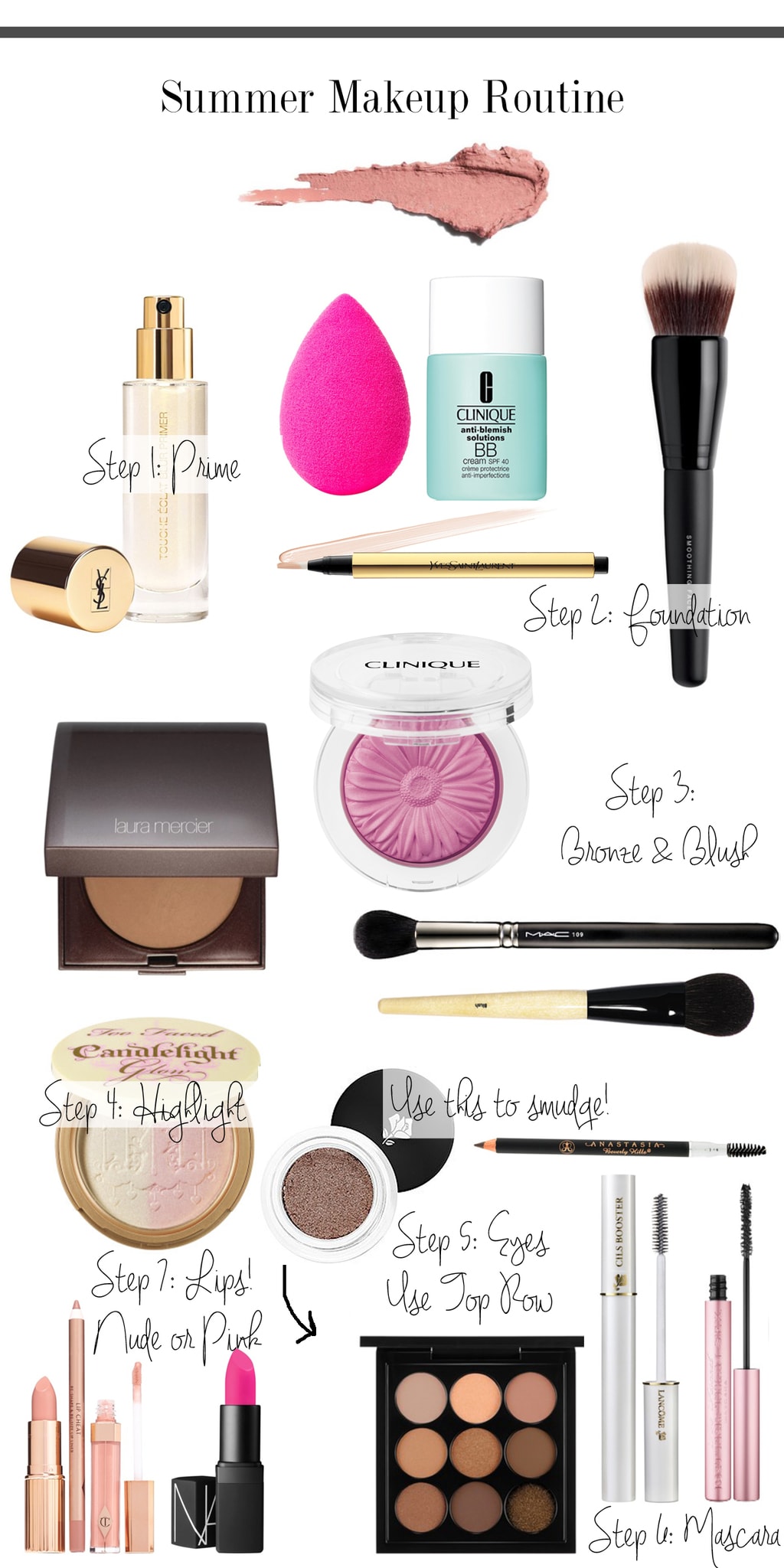 I've been getting lots of questions about my summer lipstick or eye makeup, so I thought I'd just share my entire routine in one post instead of breaking them up! 🙂 I always used to think that summer meant few steps and winter meant lots of steps. But that can sometimes lead to a shiny face in the heat and a face with a bit too much in the cold! While that can be great for a day at the pool, I don't always feel professional showing up to work meetings with mascara and no foundation in summer. Now I think it's all about the type of products and the ingredients in them and how they react with the weather.
I also got some questions about summer beauty products or challenges and will share my answers below! 🙂
---
Step 1 & 2: Prime & Foundation
Primer is huge for me in the summer! I need my skin's levels to stay balanced so that I'm not sweating off my makeup or having my eyeliner melt off. This primer from YSL was part of my July favorites and creates a perfect canvas whether you are battling a break out of fine lines! Then I use the Clinique Anti Blemish BB Cream [this doesn't combat acne, it's just a BB cream that won't break you out!] on my foundation brush and blend! I also use my YSL concealer under my eyes. To blend everything and lighten up the look so your foundation looks natural and just like you have really smooth skin, instead of smooth makeup, I dampen my beauty blender and dab it all over my face!
Links to Products used: YSL Primer, Clinique BB Cream [I use shade light], YSL Concealer, Beauty Blender, Foundation Brush
---
Step 3: Bronze & Blush
I contour using my Laura Mercier Baked Bronzer in shade 03, but in the fall I would use shade 02! I also love a lavender cheek and pansy pop by Clinique is my new favorite. It isn't icy, so it would look beautiful on any and every skin tone.
Links to Products used: Bronzer, Contour Brush, Blush, Blush Brush
---
Step 4: Highlight
Highlighters are one of my favorite makeup products to purchase, but I always go back to my Too Faced one! I have bought way too many this past year and yet if I have any special event this is the only one I will used. The Too Faced Candlelight Highlighter gives your skin a healthy glow while allowing you to layer without giving your skin a sheen that shows imperfections.
Links to Products used: Too Faced Highlighter, Highlight Brush
---
Step 5: Eyes
I start with my Anastasia brow pencil to give my brows shape. I have become obsessed with eyeshadow palettes! Maybe it's because it keeps all your shadows organized or because I like having options when I travel, but I'd rather invest in a palette than just two shadows. I've also learned so many different tricks when I'm bored putting on makeup that I wouldn't have used just using one shade. I just got the MAC Amber Times 9 palette and it's a lot lighter in person than it looks above. I use the top row for day to day and blend with the bottom shadows for night! I love cool toned lipsticks and blushes and using warm shades on my eyelids, so this was definitely a must-have addition to the makeup bag. In the summer, if I line my eyes, I like to use a Lancôme eyeshadow to do so! This one has such a smooth texture that you just dip a liner brush and blend out. You don't get a harsh line and it does't bleed in the heat! If you have green eyes the vibrant violet is my favorite.
Links to Products used: Anastasia Brow Pencil, MAC Palette, Eyeliner, Line Brush
---
Step 6: Mascara
If you want a full lash, but don't want all the clumps from layered mascara use a base builder! I use the white Lancôme mascara first and then finish with the Too Faced. This base mascara is my favorite I have tried because it doesn't stay really wet, like most do! You normally have to wait a few minutes to add your normal mascara, but this doesn't require any wait! It also adds length and volume as opposed to just length.
Links to Products used: Lancôme Mascara, Too Faced Mascara
---
Step 7: Lips
I always wear one of three looks: nude, baby pink or bright pink. I've shared so many pink lipsticks I thought I'd share some of my favorite nudes or dark pinks for this post! The Charlotte Tilbury Perfect Nude lip set is the secret to creating a nude pout that doesn't wash you out! Nars Schiap is a cult favorite of blondes, brunettes and redheads! I scrub my lips with an old toothbrush [dip it in sugar for an inexpensive scrub!] a few times a week to keep them moisturized and prepped for lipstick.
Links to Products used: Charlotte Tilbury Set, Nars Schiap
---
Summer Beauty Questions:
1. Being in the Texas heat, how do you keep your makeup from not going all over your face and being a shiny mess?
If I know I'll be out and about all day and need my makeup to stay and not melt, I'll use this little three step process to keep it put!
1. I start with the YSL primer listed above!
2. I let my makeup "bake." That's the term I've heard it used as haha but who knows if that is even correct. Once I put on my foundation, bronzer and blush I lightly dust a translucent HD powder beneath my eye area, on top of my cheeks and on my forehead [where I get shiny!]. I use this powder and allow it to set my makeup while I do my eye makeup and fish teasing my hair.
3. I use a setting spray and if it is summer, use an oil control one! I love this one from Urban Decay!
2. How do you keep from melting? Lotions, serums, etc.
I'm don't have oily skin, but in Texas our heat and humidity can make you feel like such a sticky mess. I try to prevent feeling that way right when I get out of the shower with my skin care. If I shower at night I use this for lotion [you will smell like a macaron!] and if I shower in the morning I use this. This might sound so weird but before I leave I use a mixed powder to keep my skin dry in the heat! Grab an empty jar and put half of it with a body shimmer powder [I love this Laura Mercier one!] and fill the other half with baby powder. Lightly dust your neckline, arms or legs before you walk out the door.
3. A good mascara that won't smudge but isn't waterproof
As long as I use the Lancôme base mascara above my mascaras don't streak!
I hope this helped give you some ideas to add into your summer beauty routine or helped answer questions you had about any products! Thank you so much for stopping by!