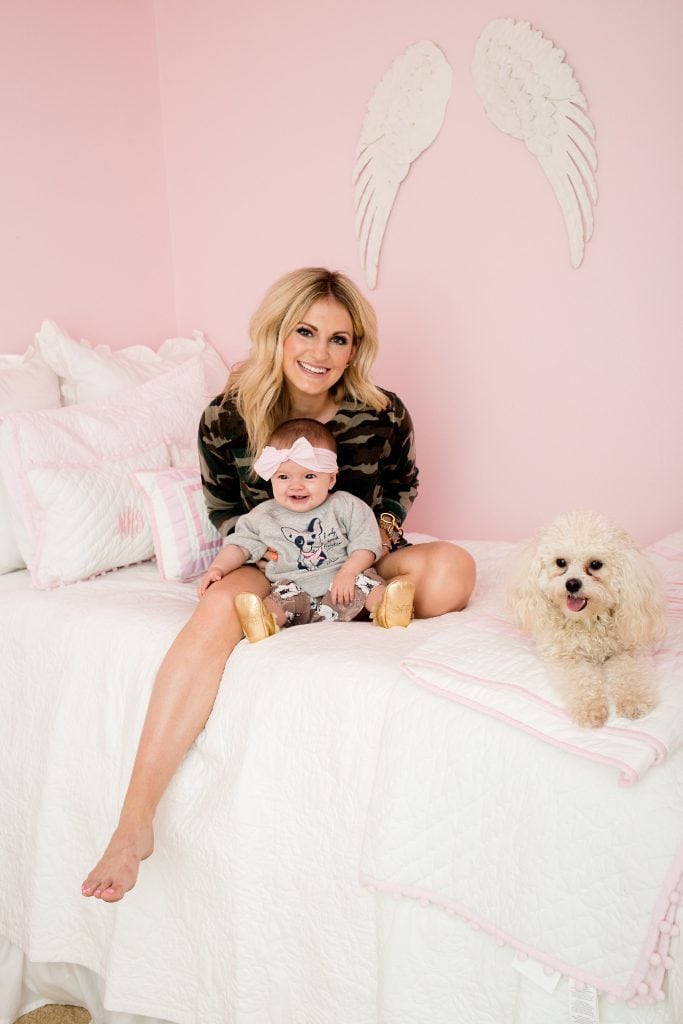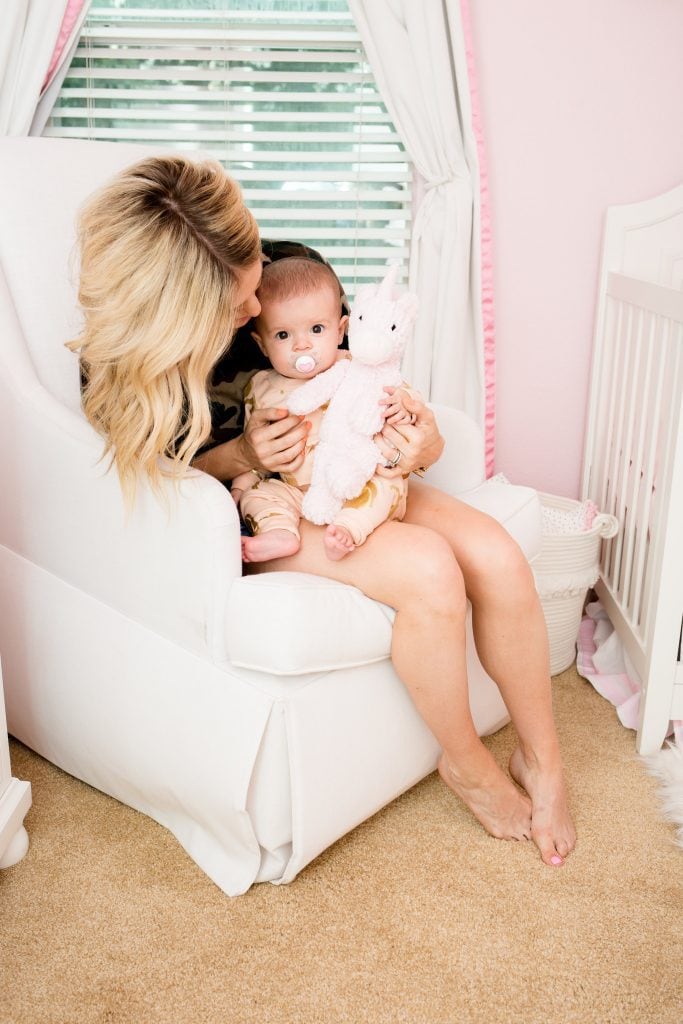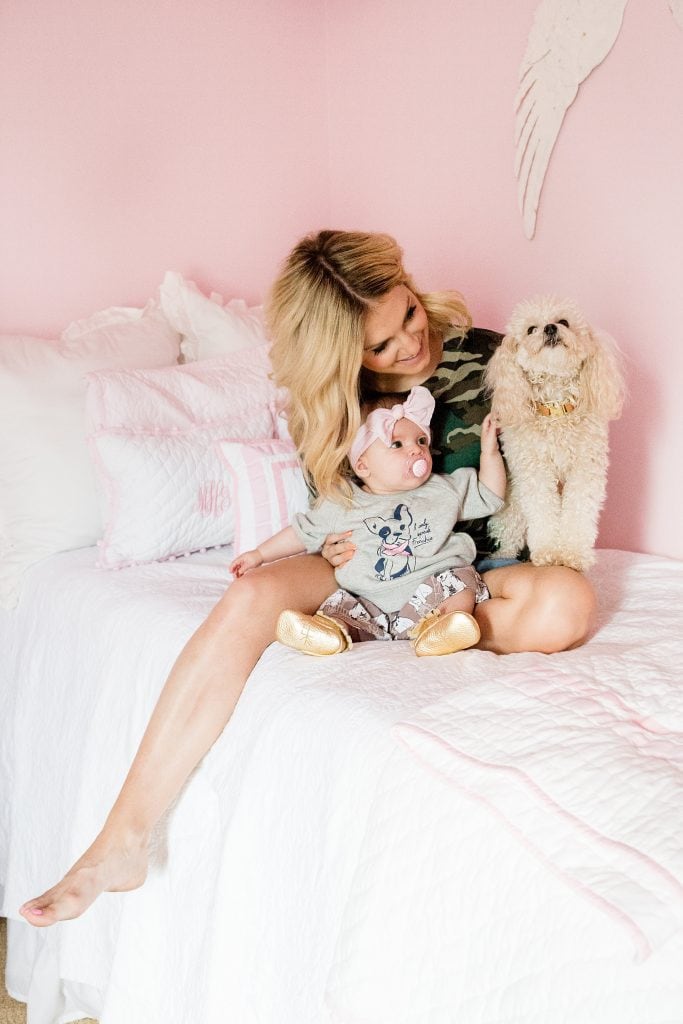 *Peaches thinking, "Hmm! You only speak Frenchie, huh?!*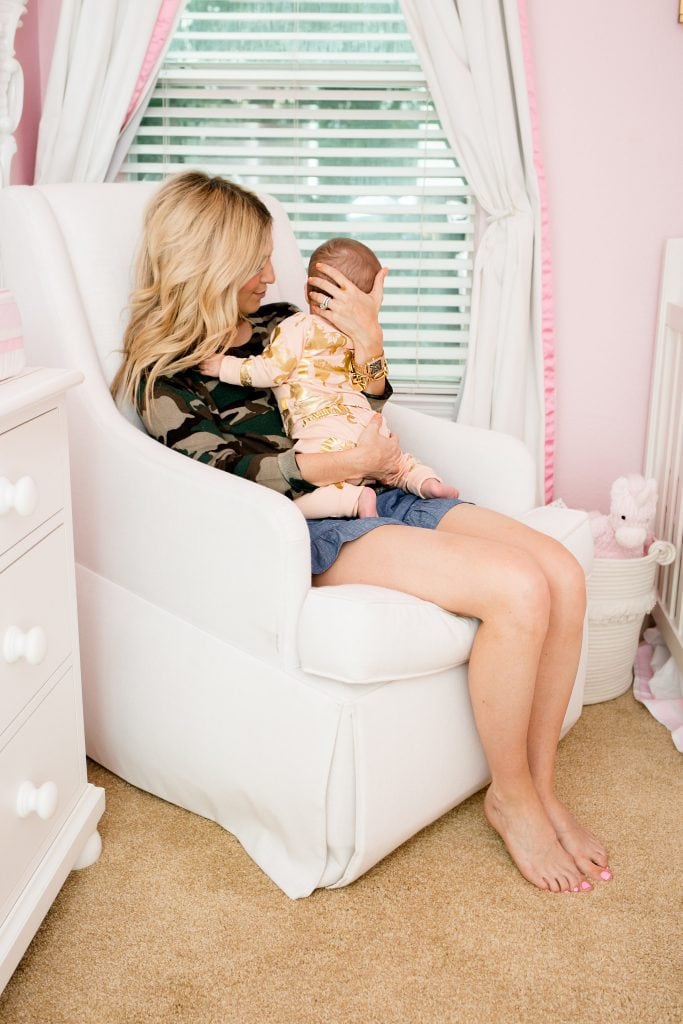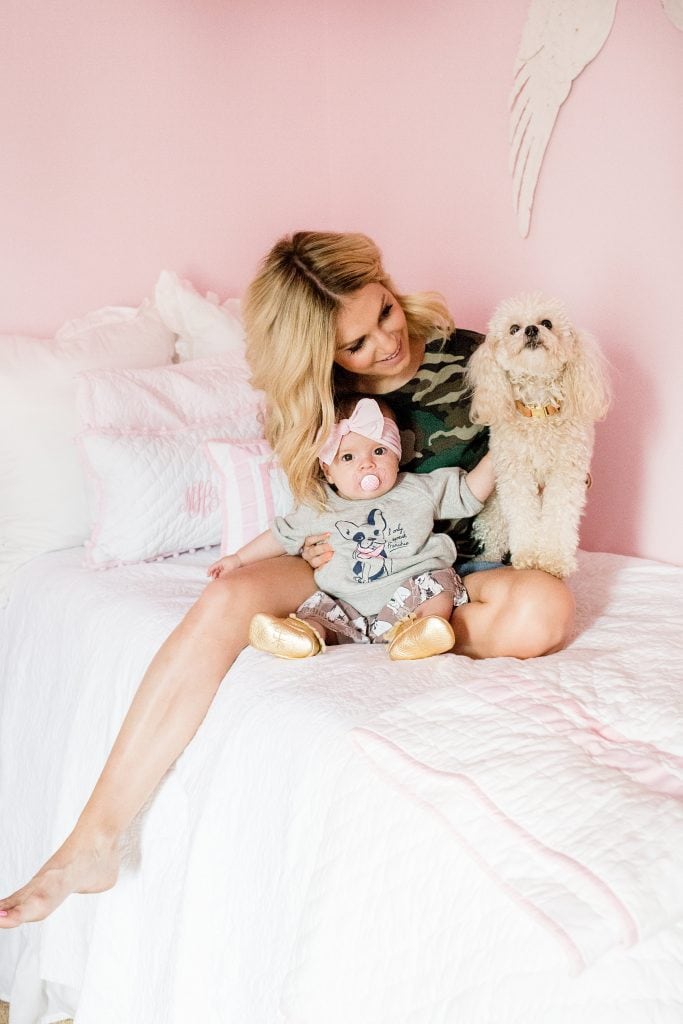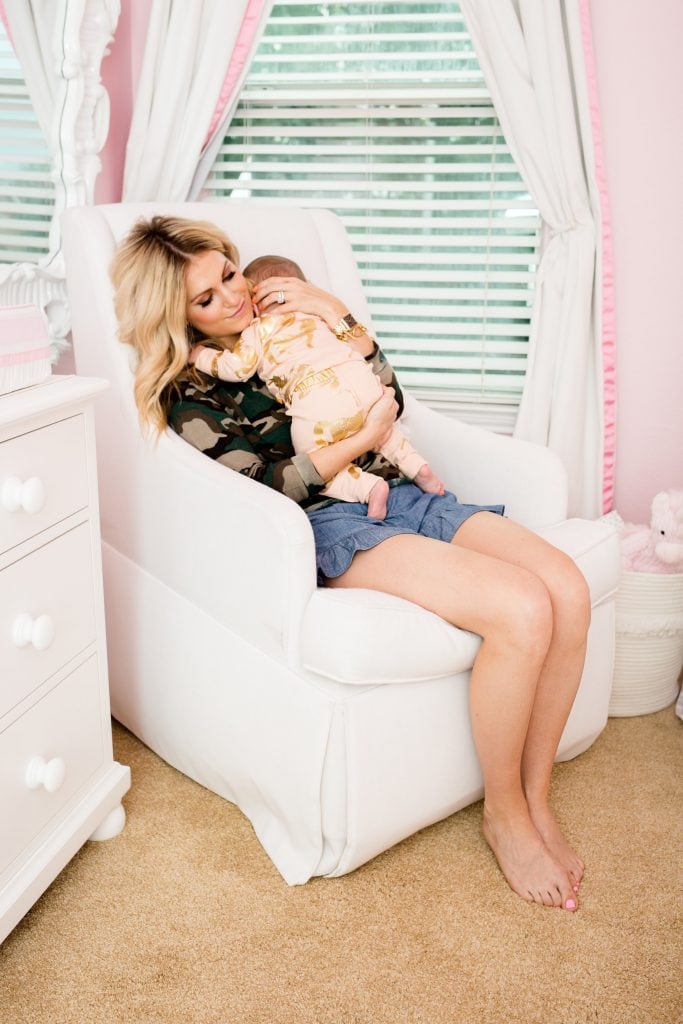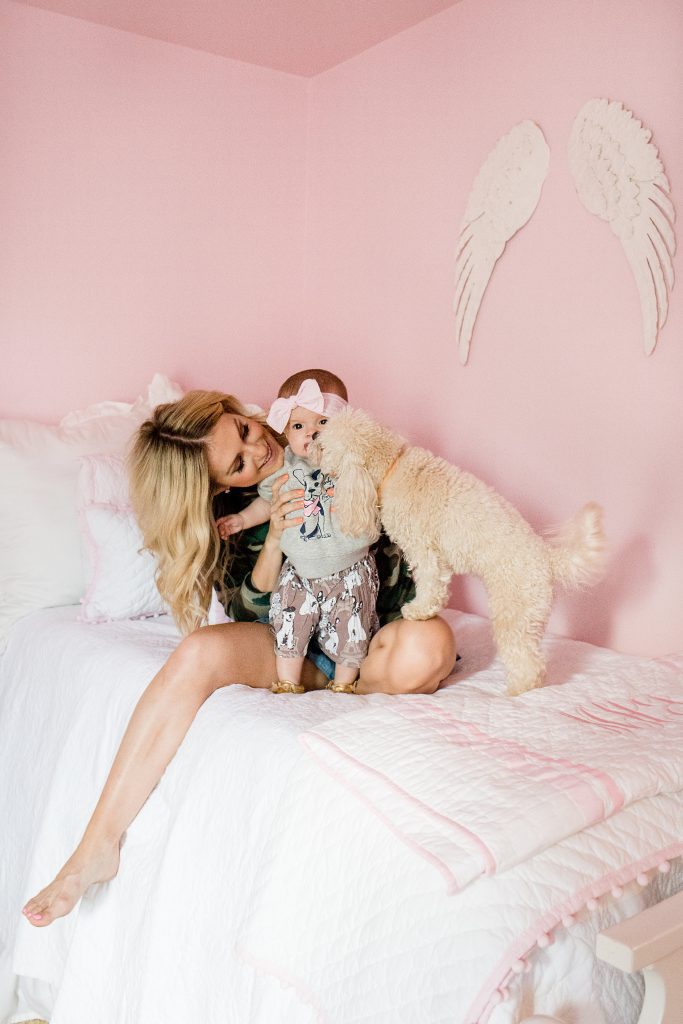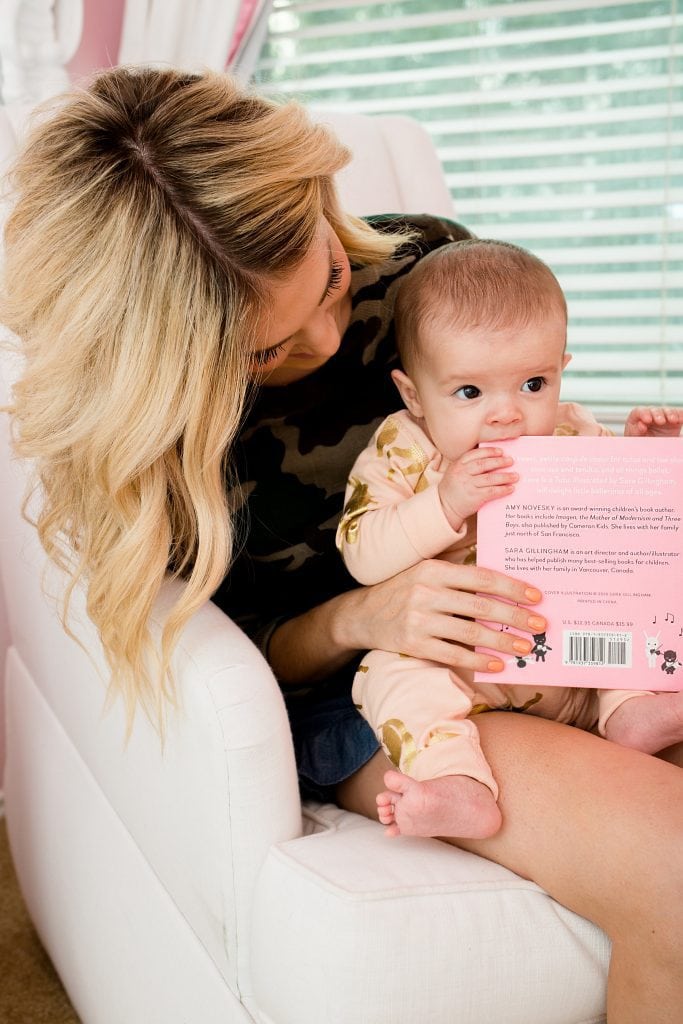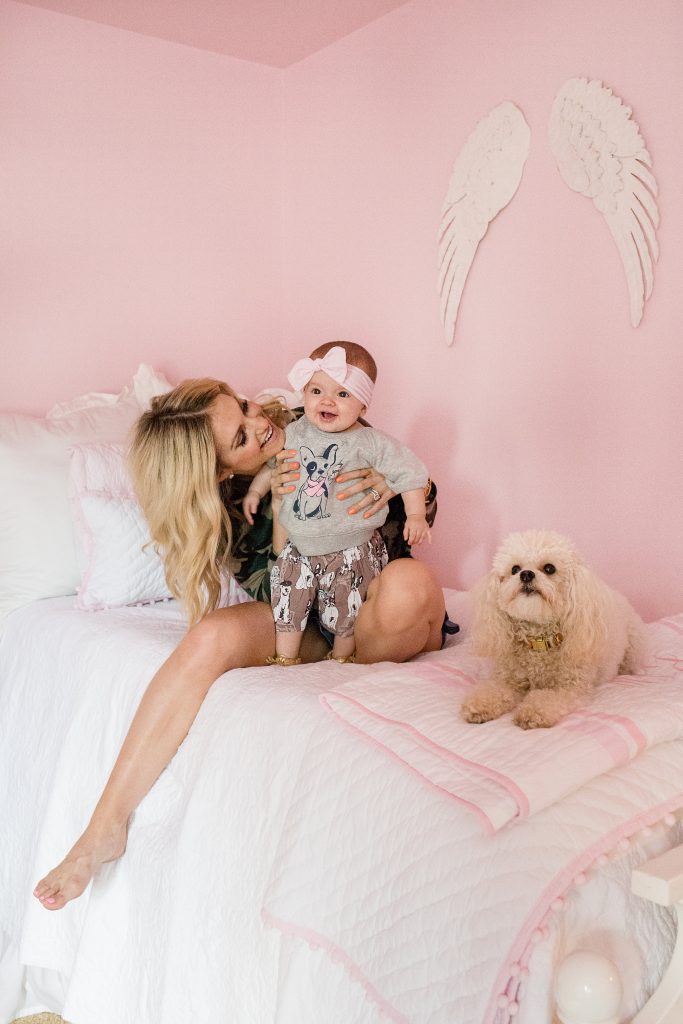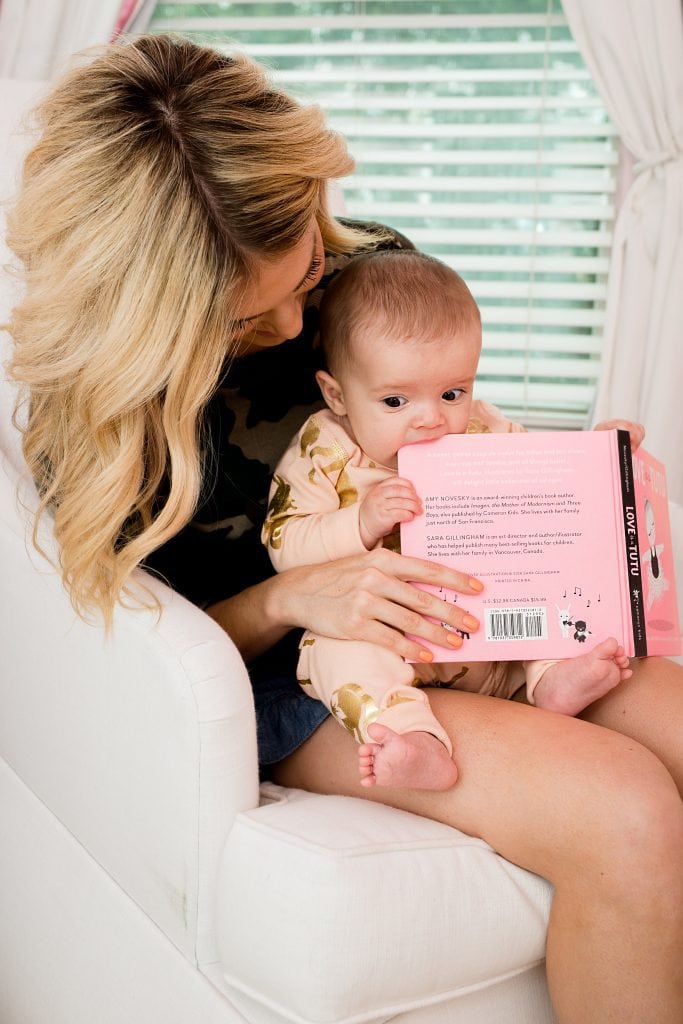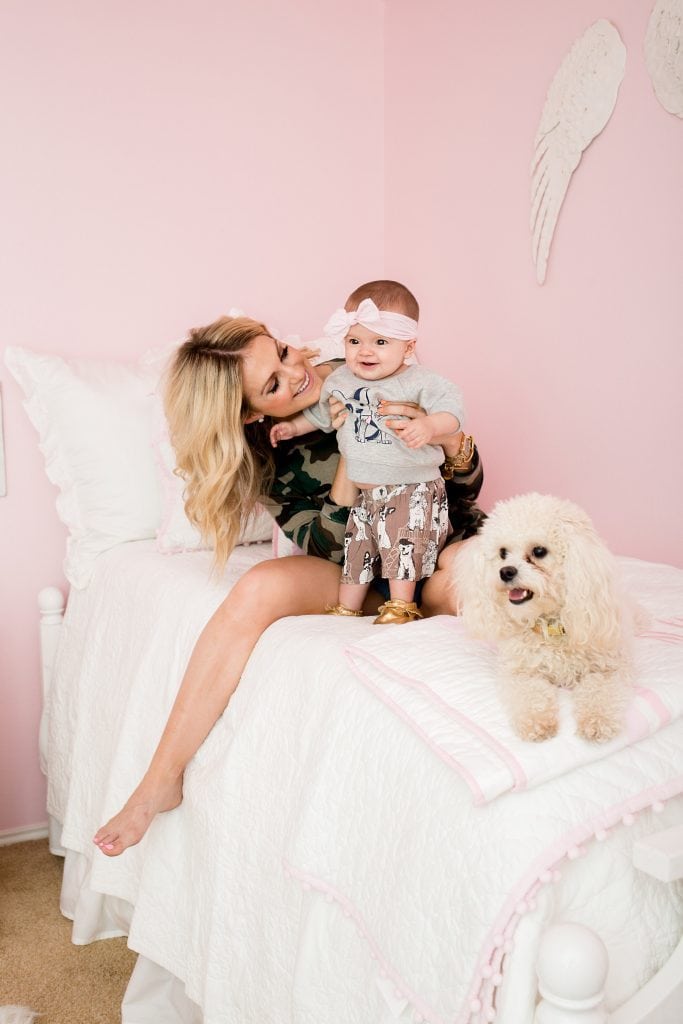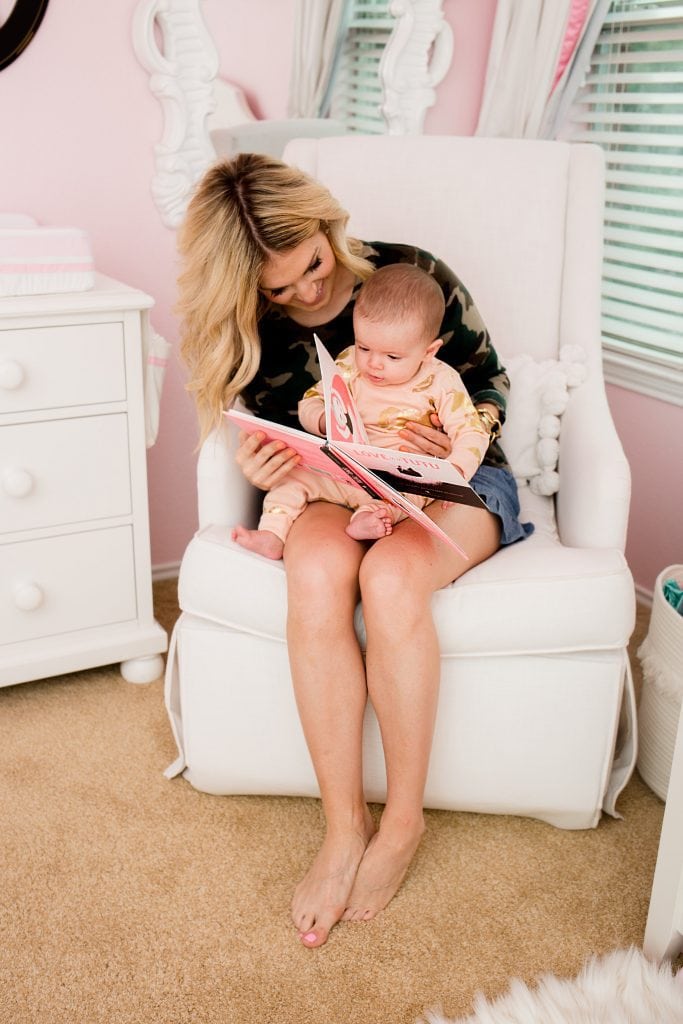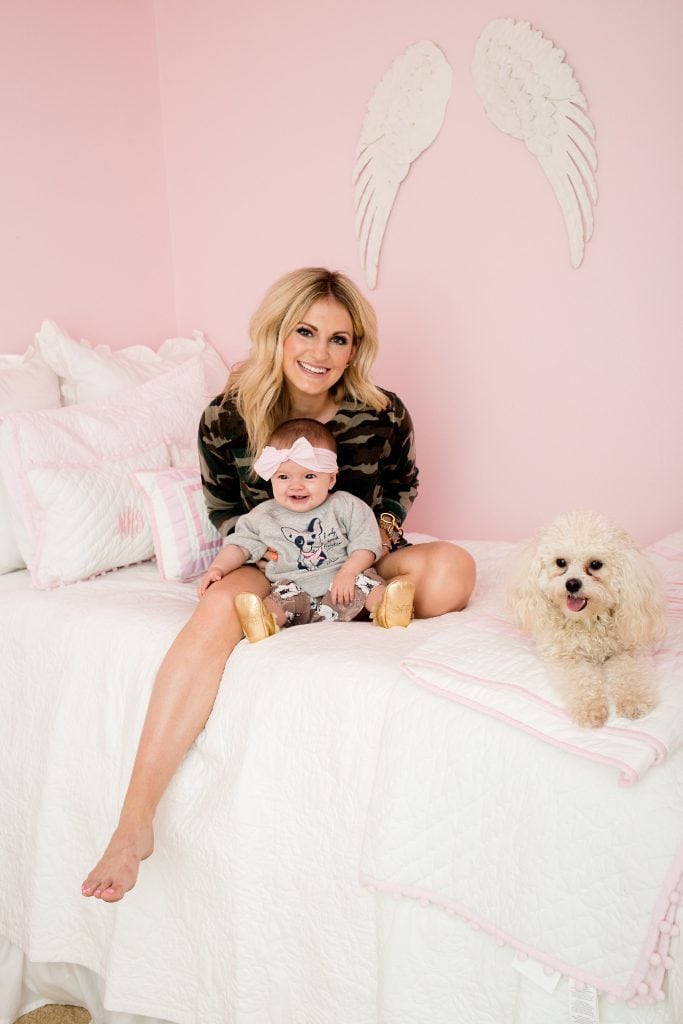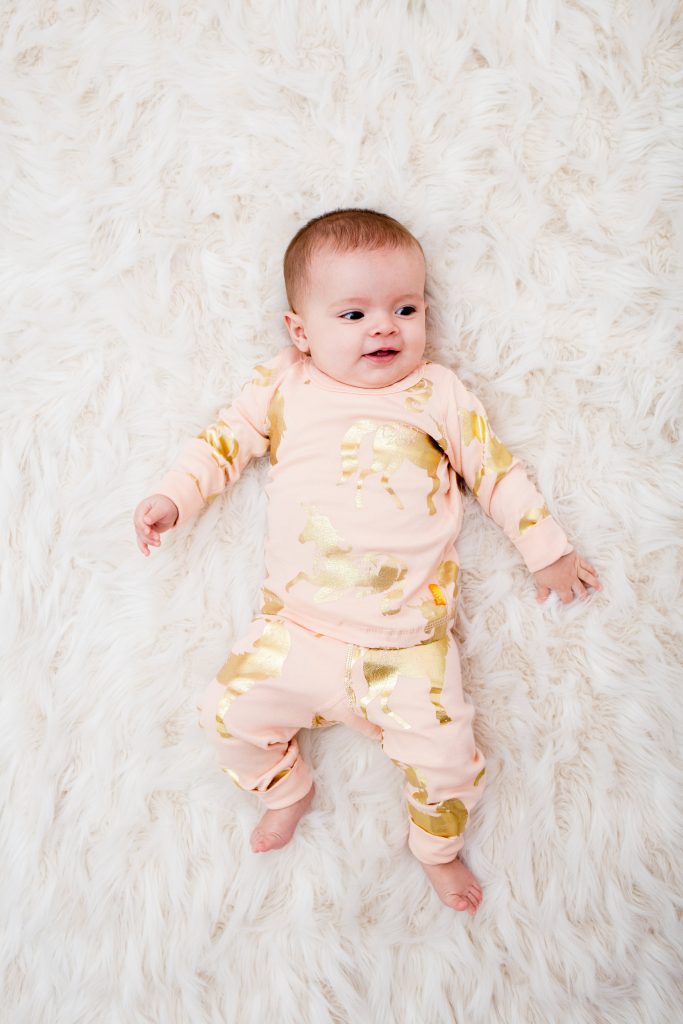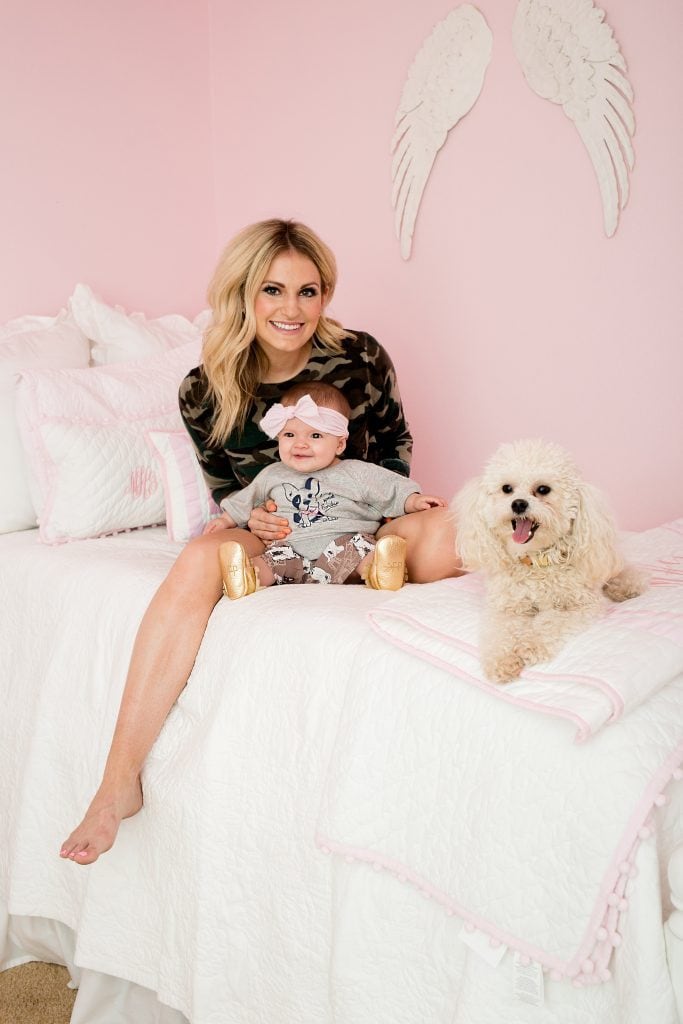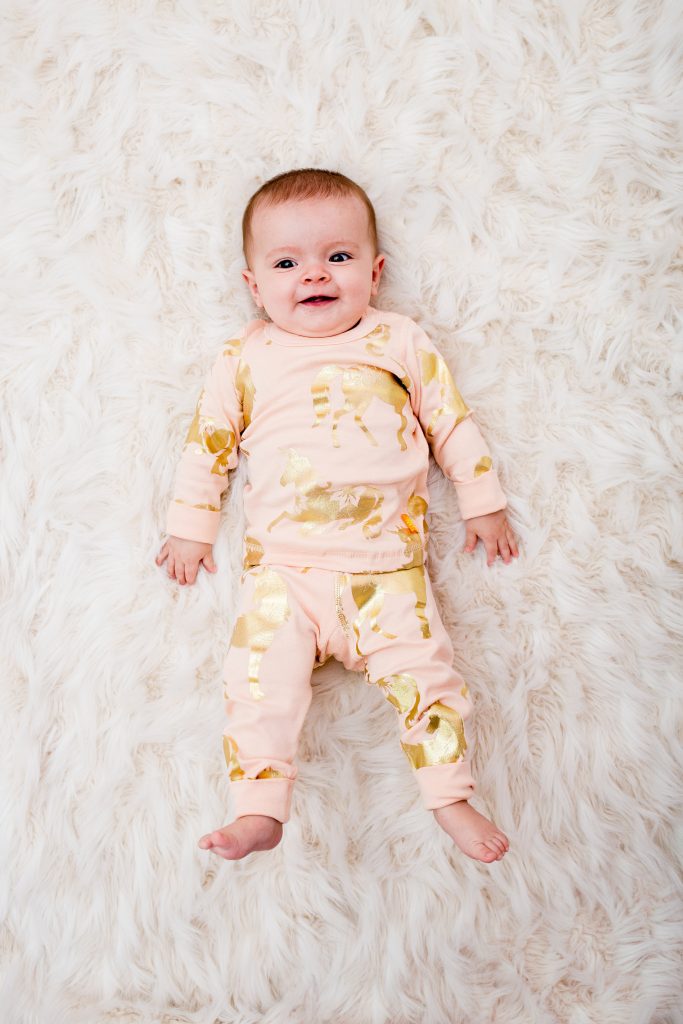 Maxi Frenchie Shirt: Nordstrom |
Frenchie Skort: Nordstrom | Bow: Nordstrom | My Sweater: Nordstrom | Unicorn Pajamas: Nordstrom, Short-Sleeve Version, Zip-Up Version | Shoes: Nordstrom | Unicorn: Similar
Photography by: Madison Katlin
---
This weekend I officially felt initiated into the mom club. We were driving to a bridal shower and Maxi was acting totally normal. I got her out of the car, got the gift, grabbed the diaper bag and within 2 seconds the poor girl vomited all over me. Then I stopped, checked to see if she was okay and she threw up 3 more times. How does a little one hold that much fluid?! So we drove back home with vomit all over our clothing and I was worried she felt miserable. I think that was our first *true* stomach bug she had as she didn't feel too well the rest of the day. And then Paul got sick, too! It broke my heart that both of them felt miserable and I cuddled Maxi for hours. But thankfully, by Sunday morning she was all smiles and I was bleaching everything like mad! Then on Sunday evening I was feeding her and noticed that her 2 bottom teeth had popped through her gums! They still have to come up, but I started jumping up and down and showing my parents.
Talk about an unplanned weekend! But little miss is still sweet as can be even while teething and not feeling too hot. We stayed in our pajamas and cuddled up on the couch reading books and snuggling. But speaking of pajamas, my child is in size 9-12 month clothing! She is growing like a little weed and all her pajamas looked ridiculous on her, so I placed a big Nordstrom order. Today we partnered with them to share some of the looks I bought and I thought it coincided perfectly with her 6-month update as you can see how much she has grown! One reason I love Nordstrom [other than my points, and triple points days, and free shipping/returns, and free alterations with my level and the sale] is the fact that they carry NUMEROUS seasons for children's clothing. We ran around to some boutiques yesterday and I was getting so frustrated that everything was fall and out came the corduroy. That's great if you live in Chicago and you'll have chillier weather sooner, but in Texas it's going to be breaking 100 until Halloween. You might as well just slap me silly if I dress her in corduroy before December. It was nice that I was able to get her a few Lilly dresses for our beach trip, this little Frenchie top [thought it was hilarious with Peaches! 😉 ] and plenty of pajamas. Anyways, off my soapbox- but if you live in a warm climate you get it. You walk in a store and think, "Oh lovely! Sweaters. Can't wear these for another 6 months. What a blessing."
Favorite Moments
I've definitely loved that we have had the opportunity to live with my parents. Normally, I'd be all anxious about this temporary living arrangement and how I don't know where any of our items are. But it's been so nice to step outside of my comfort zone and be really laid back about it all. I enjoy waking up in the morning and carrying Maxi downstairs so she gets to see her Gigi. I think the biggest thing she has loved is swimming each day in their backyard. One of her swimsuits barely fit the other day and my mom goes, "Oh just cut it so it will work!" She grabbed scissors, cut the sleeves and it was hilarious seeing Maxi in it. We took a picture of her and I'll have to give her a hard time when she is older. She was growing too fast for me to keep up with her closet.
It's been fun to see her try new foods! We use this to make all of her meals and it's been super easy. However, when we were moving I was like, "Okay! Forget this! I'm going to the grocery store for baby food." She may or may not have liked that baby food more than the food I make her. I'm not bitter about that or anything… 😉
This month she has started to pet Peaches. Before there were a few hair pulls and me saying, "No! No! Be gentle!" Thankfully, Peaches is a SAINT about it all. But this month she has started to reach out and pet Peaches. I'm sure she just thinks Peaches' fur is really soft, but I love the little bond they have going on.
Favorite Products
Schedule
Now Maxi isn't exact on her schedule, so I have her wake-up times, naps and bedtime within 30-minute grace increments.
6:30-7: Maxi is up for the day and she takes a bottle. We cuddle in bed right now and this is when we use the DockATot. We read and will sometimes sit on the back porch with my mom. If it's cooler we will go on a walk!
8:30-9: Down for a nap, Maxi's morning nap is about 45 minutes.
10: Because she takes a morning nap closer to when she wakes up, we do her breakfast food right now! We are currently eating apples, pears, bananas, avocados and sweet potatoes. After she eats, she plays in her excersaucer.
11: Bottle
11:30-12: Down for a nap. Her afternoon nap is usually a little longer. Some days she could nap for 3 or 4 hours, but generally it's about 2 hours!
2: Up & Feed. We will usually run errands at this point in the day since she is super happy after her afternoon nap.
4:30: This is usually her quick little nap of the day! It's about 30 minutes and I let her nap on me. I still love the cuddles and she won't do this forever so I've got to soak it up while I can.
5: Bottle and play. She will normally play on her activity mat while I get dinner ready.
6: Food. Before we eat dinner I'll feed her food and then I quickly eat or wait until she goes to bed.
6:30 Bath
7: Bottle & Books. She'll feed and then we read books in her nursery. Paul usually is home from work around this time so we get to have some family time before bed.
7:30-8: Bed
She generally gets up once at night around 1:55 to feed. Right now with her teething she is up around twice.
Thank you all so much for reading, I love getting to chronicle [no pun intended!] these updates and save them for the future. I know it may not be the most interesting for everyone, but hey! Who doesn't want to see a baby in unicorn pajamas?!

In partnership with Nordstrom. All opinions are my own. Thank you for supporting the brands that allow COF to run!