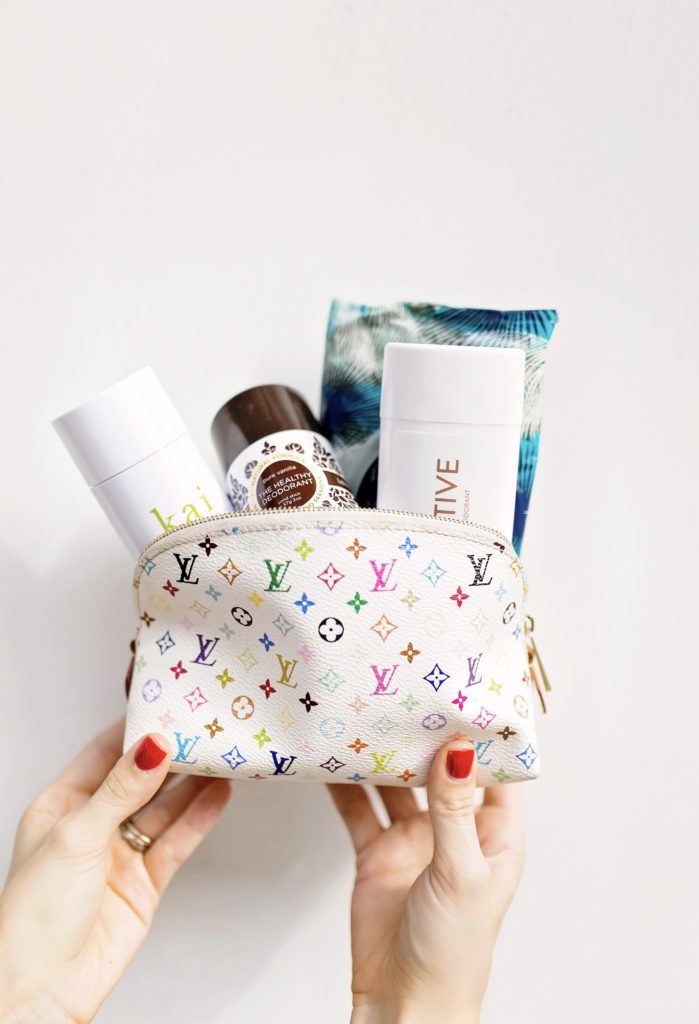 There are a few things COF readers know I love. Tula skincare. Mizzen & Main shirts for Paul [helllllo mama doesn't want to pay for dry cleaning!]. Avocado egg salad. Leopard print. You get the idea. And we all know I adore DK deodorant. I've adored it so much so that I wouldn't use anything else. It turned me into a deodorant snob and I accepted that.
Which is why I feel a bit like a monster writing this post. I broke up with my beloved DK deodorant.
This deodorant loved me faithfully for the past 5-ish years and I just tossed her in my bathroom trash like she hadn't stood by me through starting my career, my wedding and pregnancy.
I've heard health talked about like a bank account and I like to view it the same. You make deposits with some choices and withdrawals with others. I'm not perfect, I like to get Icees at the movies and rarely say no to a cookie. But the reality of my choices are they are very balanced driven and because I like some sweets I never use coffee creamer or drink tea sweetened. I treat products the same! I use essential oils where I can and then turn around and self tan. I'm comfortable swapping products and adding other products in just like a bank account. I think a lot of women feel the same, because who wants to feel shamed for either decision you prefer or make?! It's all about what you feel comfortable with. As I've become a new mom, there are moments I think, "Oh gosh this is getting all over Maxi, I want to make sure it is safe." I use natural detergent, natural body wash… you get the idea. Deodorant organically fell next in line!
I knew good and well that normal deodorant doesn't have the best reputation. While research is very conflicting on deodorant there is a general consensus that most people want to find a great natural option based on the findings of those studies. From the aluminum to parabens [I want to note that most deodorants in the US do not contain parabens now] I encourage you to research on your own! I definitely don't want to share incorrect information as natural products aren't my expertise, this is just a review on my experience.
One of my girlfriends in California is quite the expert on natural products. Amy Beth is my go-to for things like this [see her blog here, she has great product reviews!] and I love to pick her brain on products she keeps and products she swaps out for natural.
We were on the phone and she was talking about her experience switching. I wanted to switch but I felt like it would be really difficult to find *the* perfect deodorant. I realllly liked my DK deodorant so I thought, "Honestly, I'd rather just do something different to add in a healthy deposit to my life." But what she said on the phone struck a nerve– we all have our moments, right?!
She told me how aluminum clogs our pores hindering our bodies from removing sweat. We sweat to naturally rid our bodies of toxins, so we aren't allowing our body to actually clean itself. You won't find a natural antiperspirant, because natural would allow your body to sweat. Aluminum is the only one approved by the FDA [not that that says much] so honestly, you can't get a natural antiperspirant that would work. But you can find a great natural deodorant so you don't notice the sweat and then your body adjusts. The "adjust" part caught my attention.
"Girl, what do you mean adjust?"
"I don't sweat under my arms. Ever. I mean I must certainly sweat because I don't wear antiperspirant but I haven't noticed it in months." 
Sold.
Her explanation of deodorant causing this cycle where we sweat more without it made me want to test out this theory. So what are my results?
She's 100% right.
Now switching to natural deodorant is quite the process and you also have to find the deodorant that works for you. Keep in mind, the deodorants that work for me may not work for you because we all have different body chemistry. Also take note that some use baking soda and while that doesn't irritate my skin it can irritate some girls'. But when I tried Tom's or LaVanilla I just about called Amy Beth to tell her I was a quitter.
What did work? Schmidt's [rose + vanilla scent is my fav!], Primal Pit and Native.
Out of those three, my true love is Native in Coconut & Vanilla. Dare I say it smells as divine as my former favorite deodorant? It is their most popular scent! I was reading an article on this company and 90% of their customers are women and 80% of those customers are moms. I'd like to think we as women are picky and moms can sometimes be even pickier, so this says a lot about the brand right?!
Now a few things to keep in mind, I've been switched over for about 2 months now. The first 2 weeks were the worst. I felt sweaty and sticky and spray-tanny  [not a word- I just kept telling Paul I felt dirty like after a spray tan!] and well, sweaty. Then after 2 weeks I wasn't really noticing any sweat, I just would notice that I didn't like certain scents in some deodorants. Some natural deodorants are very earthy and if you don't like that smell [like me] it can be a big waste of money to test your favorites.
Now 2 months in I use Native Vanilla Coconut daily and notice no difference at all! I think if I went on a trip and forgot deodorant I seriously wouldn't notice. Now I'm not going to test that theory, but Amy Beth was 100% right.
A few tips for switching over:
Keep deodorant in your purse. The first 2 weeks you'll feel so weird from switching [or at least I did!] so I wanted to touch up mid day. Totally normal! I was so used to the thick feeling of deodorant that natural deodorants felt too "slimy" or gel-like. But Native felt just like DK to me!
Keep these wipes on hand as well! These are natural deodorant wipes you can get at Target and I liked to use them after I worked out. I just felt cleaner! If I worked out and then ran an errand really quickly before I could hop in the shower, these wipes were amazing. They smell great, too.
All the articles I read don't suggest you switching in the summer. Yet like an uninformed blogger, I did. ha! But I wrote this post in the fall because switching in the fall is best they all say! Less heat, etc. You get the idea.
Also be careful on recommendations! I say this as I write a blog post recommending my favorites. Deodorant really has to mesh with YOUR specific chemistry/ph balance. So just like some skincare works for me and doesn't work for you, take that even more literally when it comes to deodorant. It's a pricy task to switch and find the brand that works for you.
Now I'm off to be a bit embarrassed I wrote such a long blog post on deodorant and sweat and all the good things I know you want to hear about while you drink your morning coffee. But seriously, try it out sometime! Best part is if it works, you really stop sweating [as much] and if you feel personally uncomfortable with those chemicals you aren't using them!

Photography by: Angie Garcia | Favorite Deodorant: Here & Here