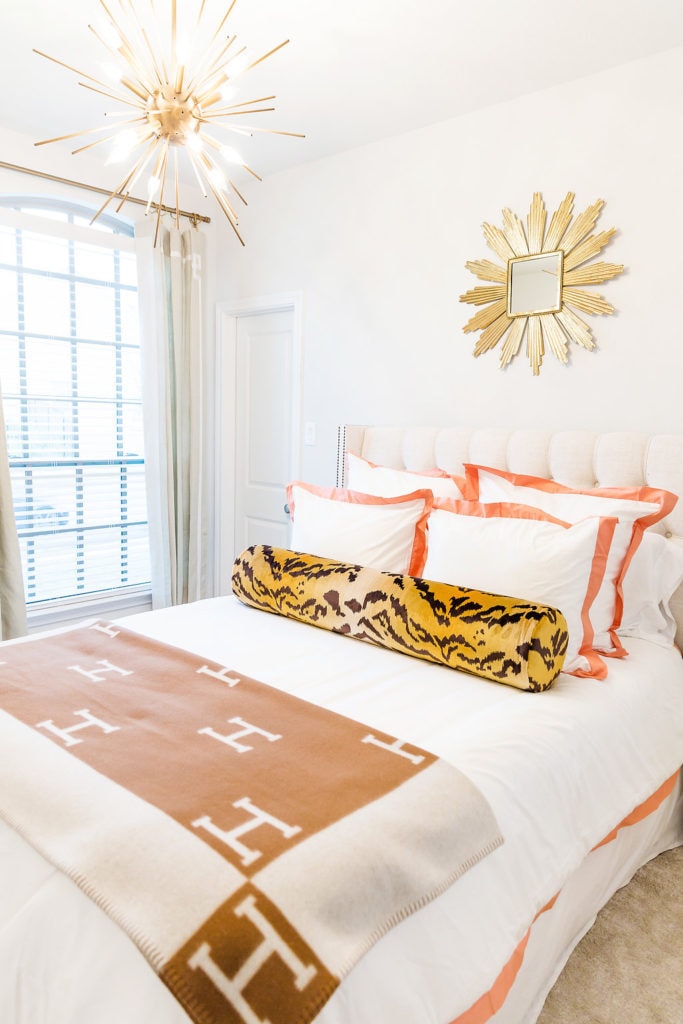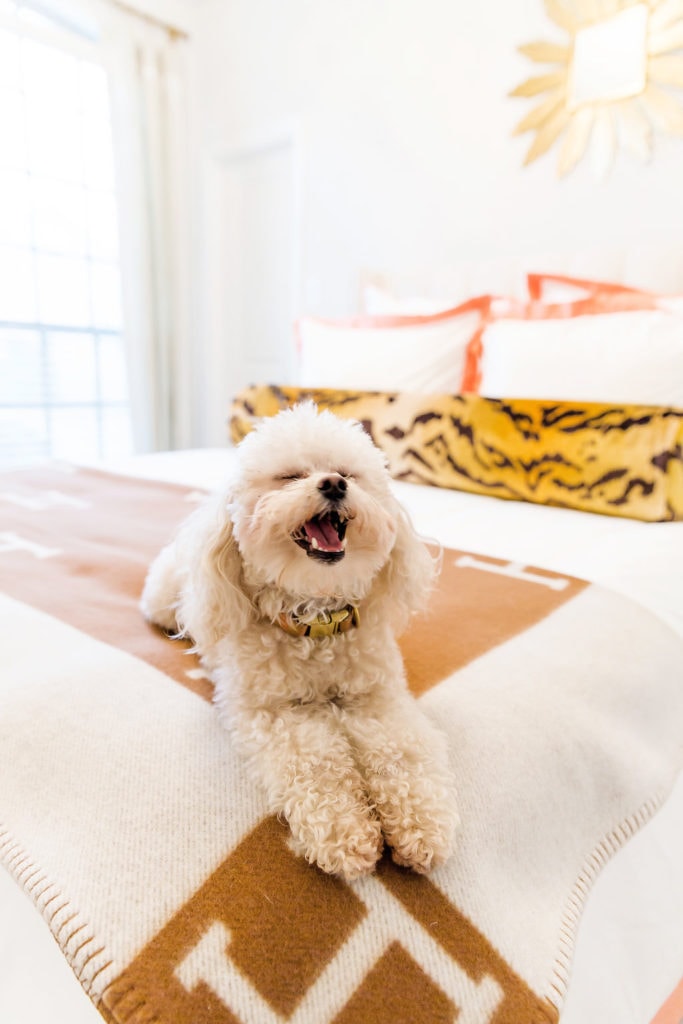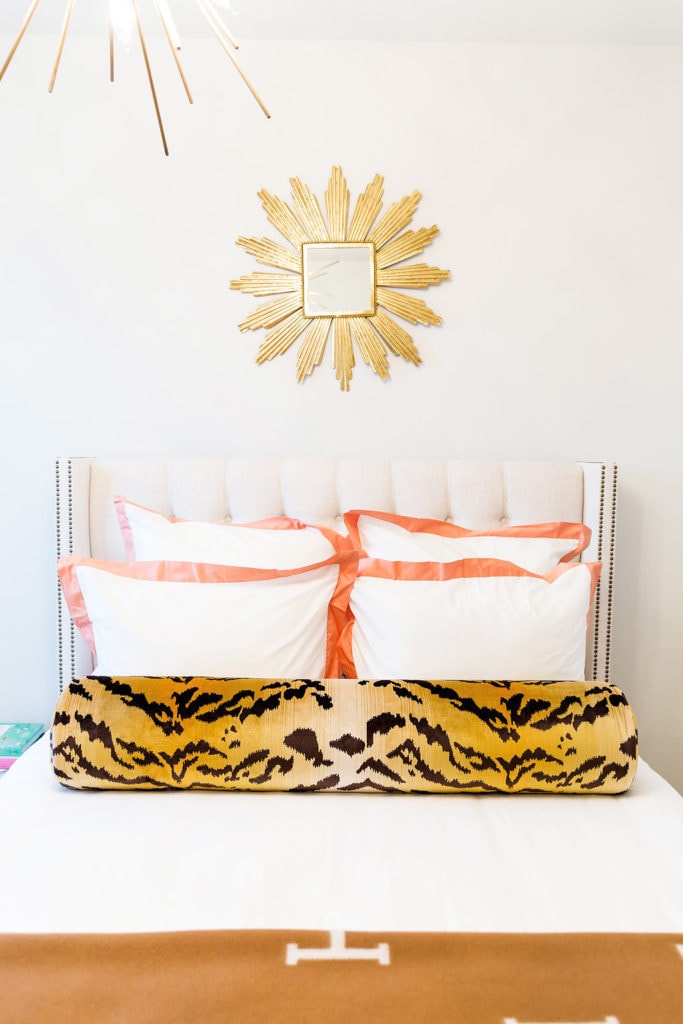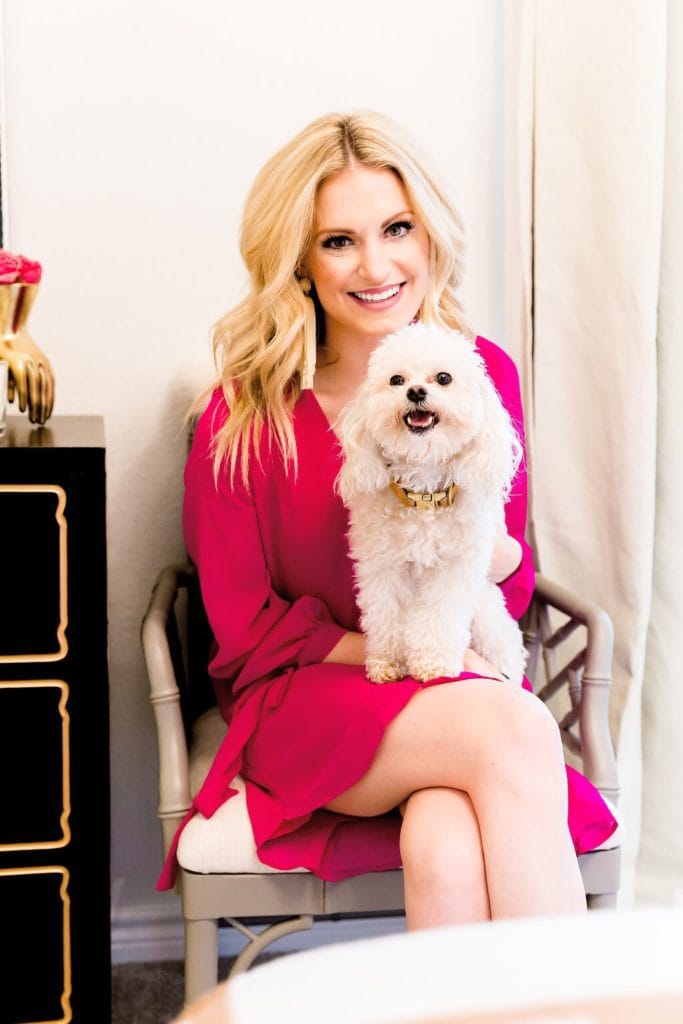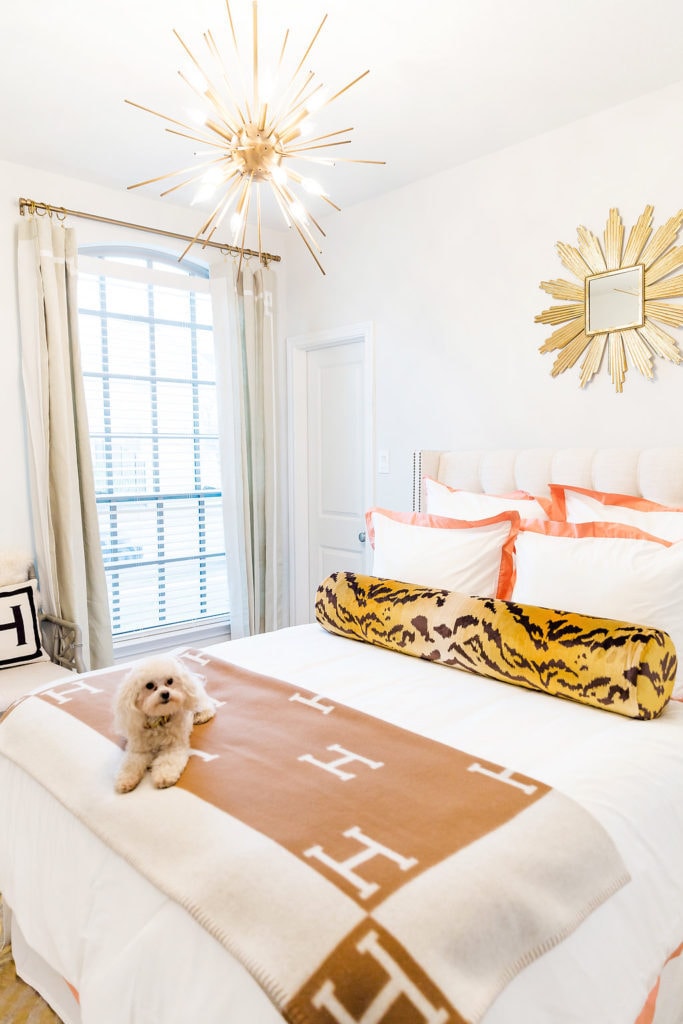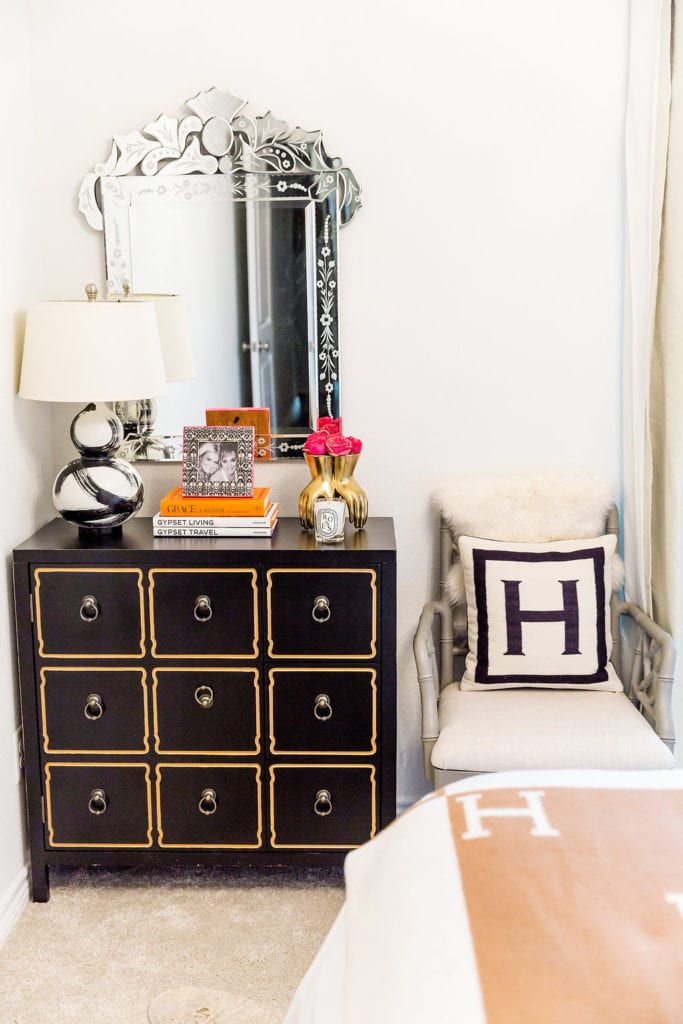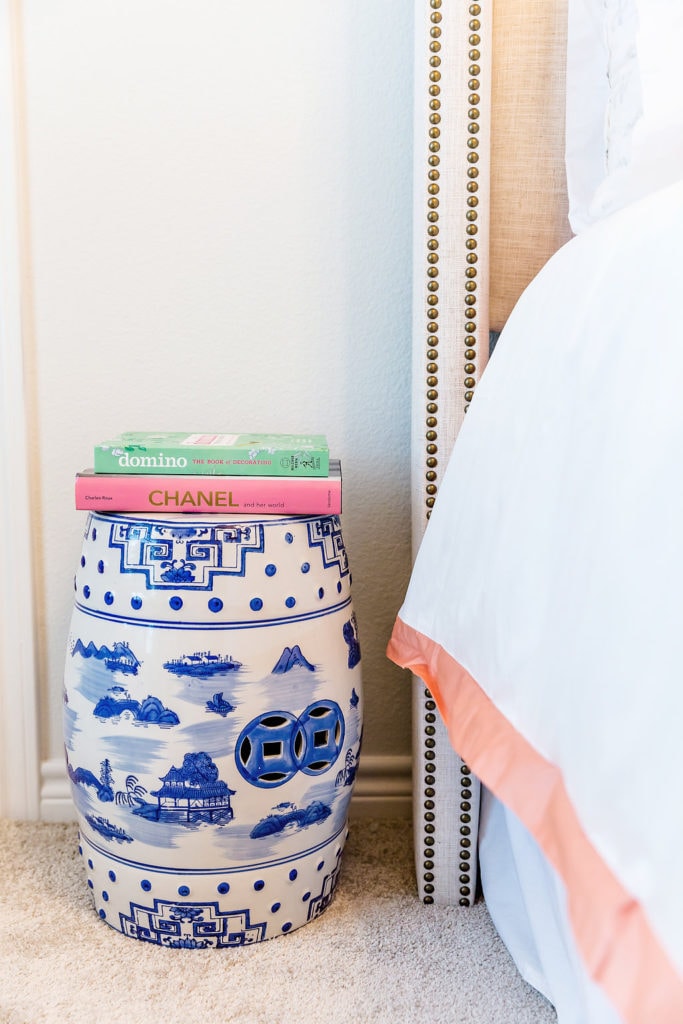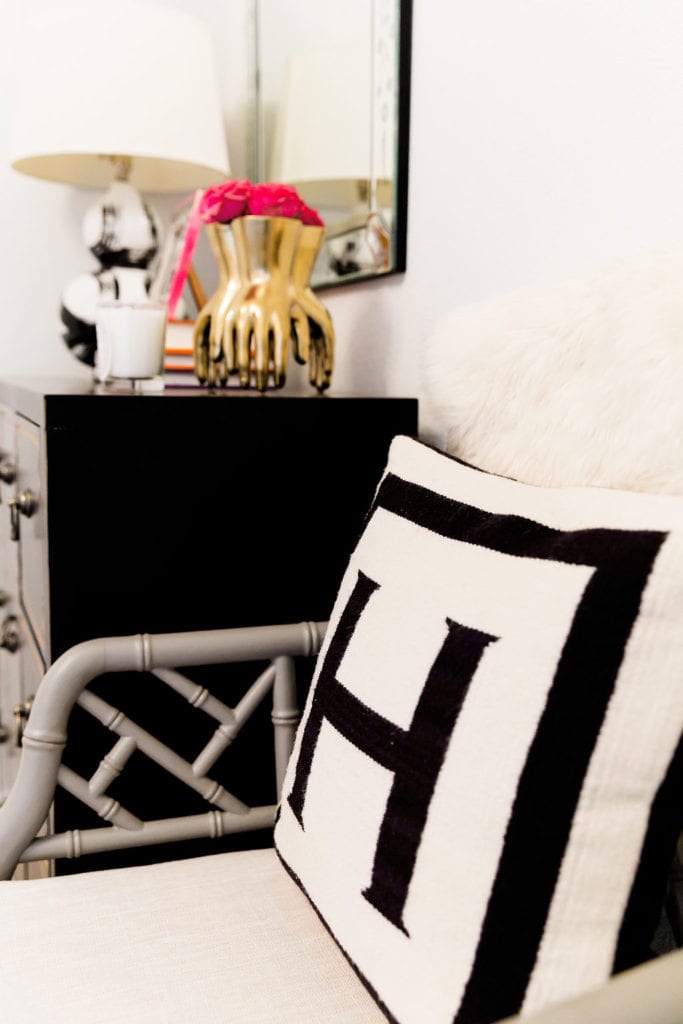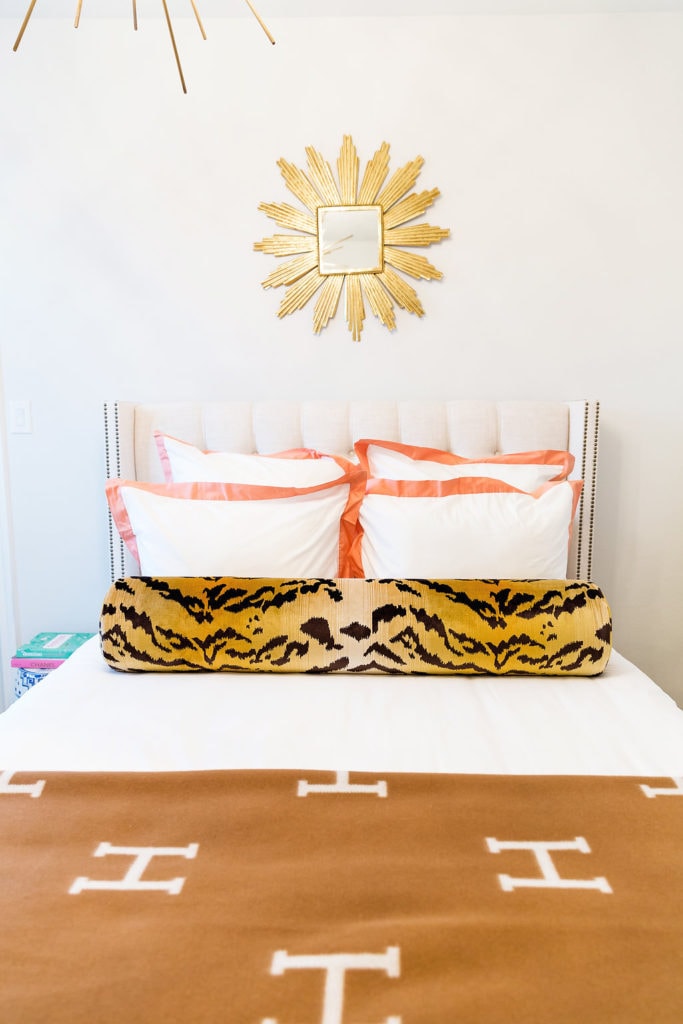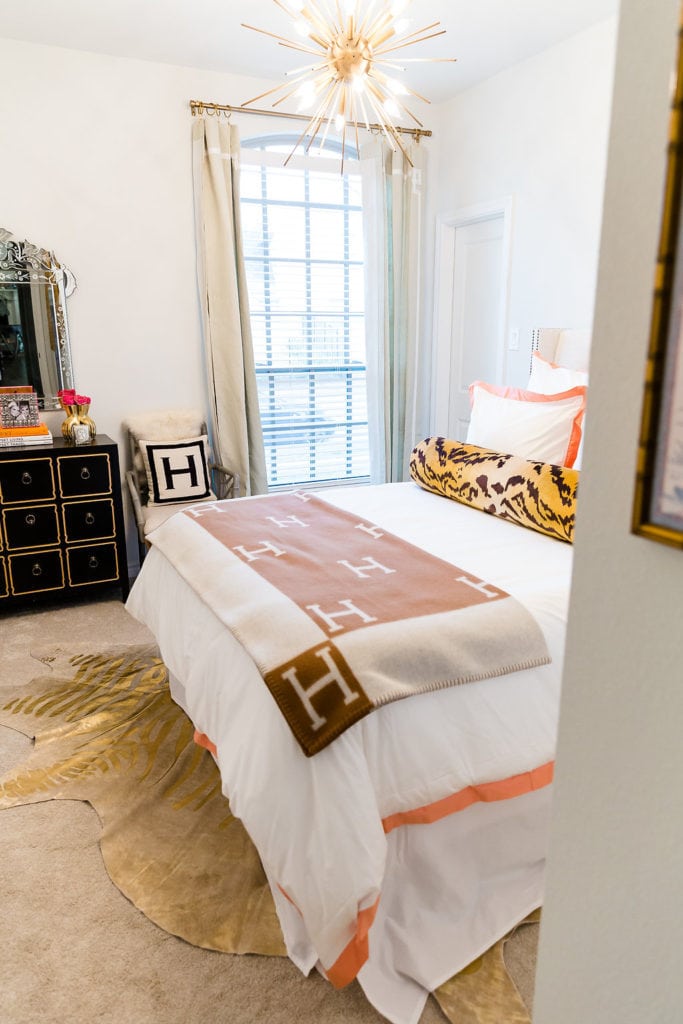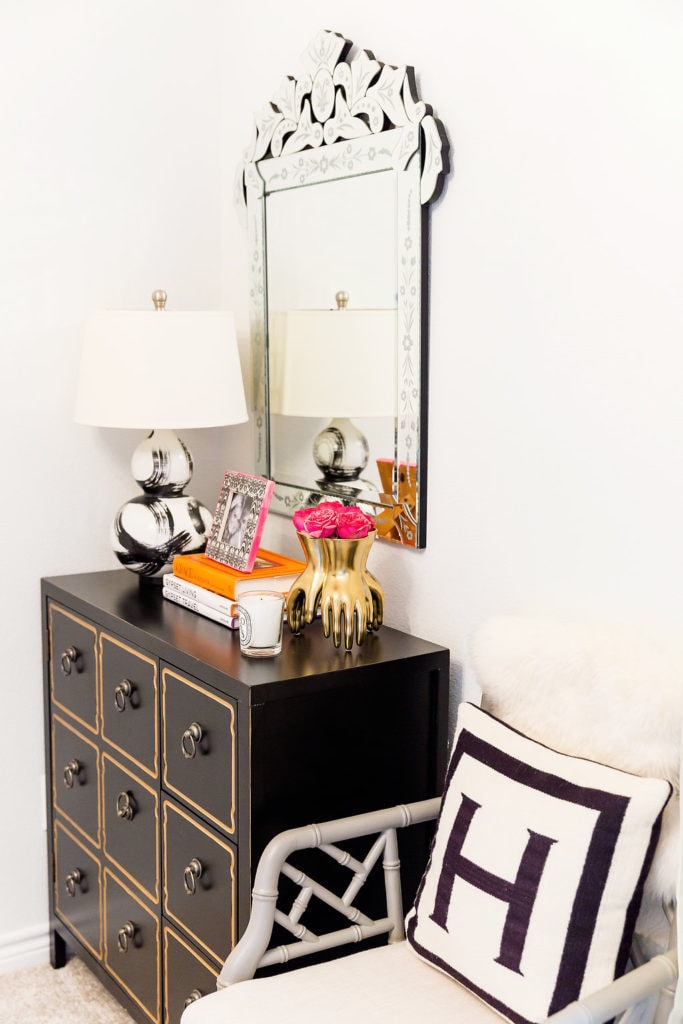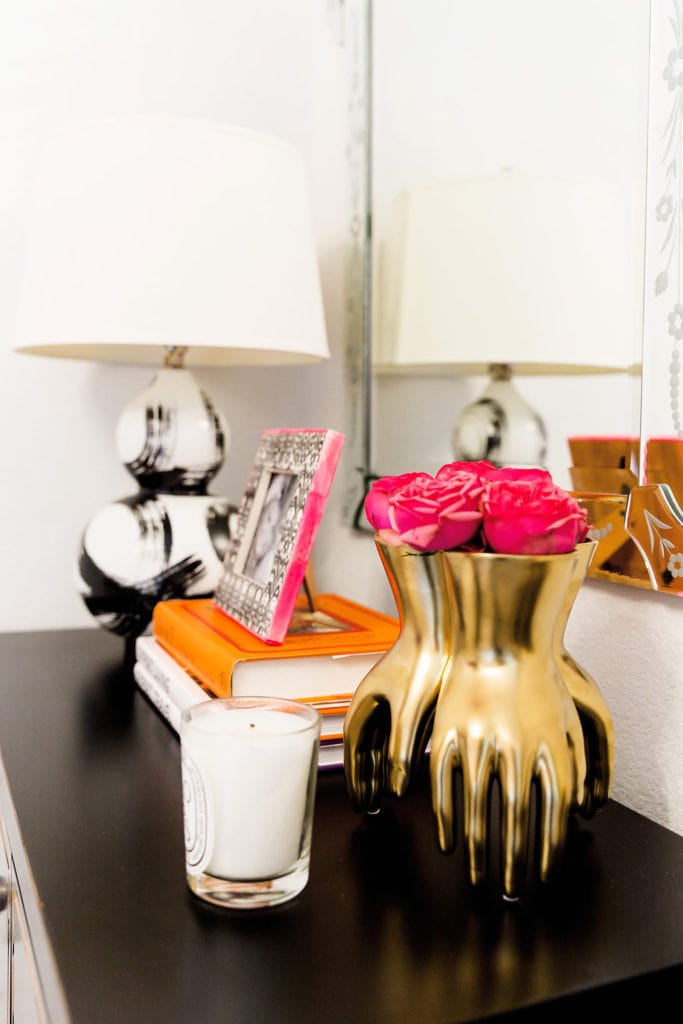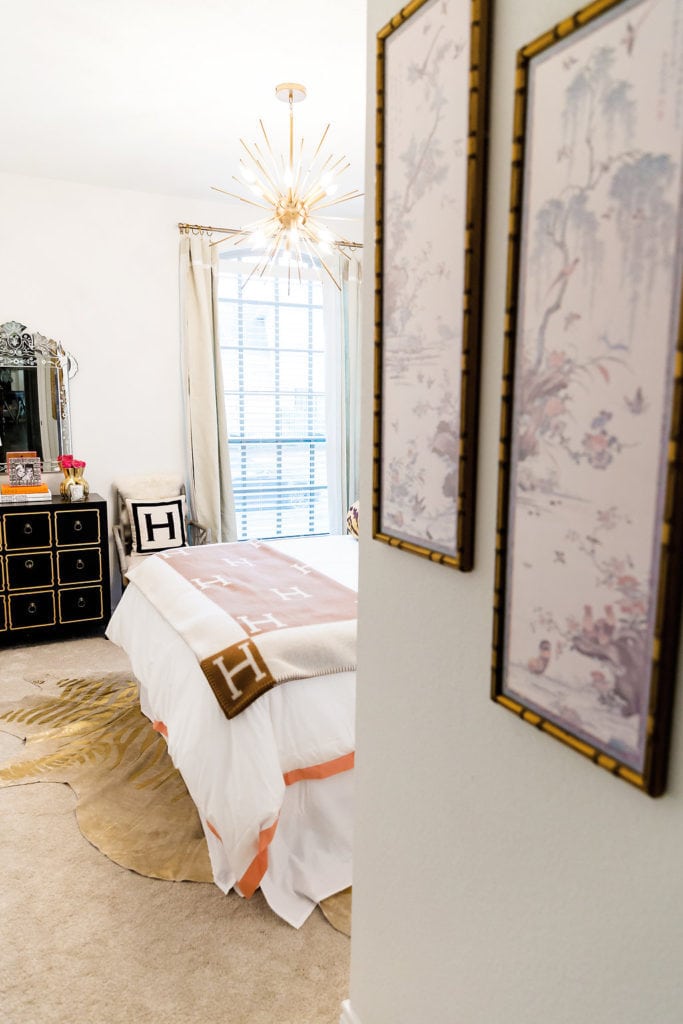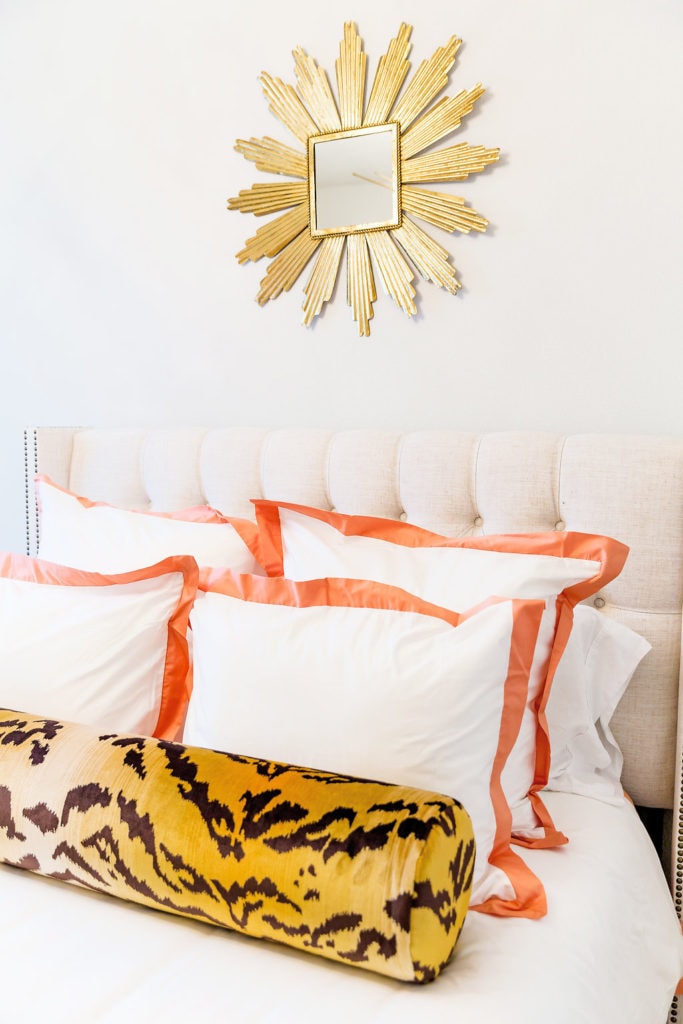 Bedding: Crane & Company [c/o] | Pillow: Little Design Co. | Headboard: Wayfair [sold out], Similar | Mirror: One Kings Lane | Light Fixture: Ballard Designs | Rug: Rugs USA | Chair: Ballard Designs | Pillow: Jonathan Adler | Sheepskin: IKEA, Similar | Drapery Hardware: Amazon | Drapes: Ballard Designs | Chest: Pier 1 [old], Similar | Lamp: Jana Bek Designs [c/o] | Vase: Arteriers | Candle: Diptyque | Garden Stool: Homegoods, Similar | Frame: Old | Blanket: Hermes
Photography by: Madison Katlin
---
Today we are sharing our first guest bedroom on the blog! We have two guest bedrooms in this home and so I knew that one guest bedroom would be a bit more glam and one a bit more neutral! My mom jokes this is the "Glam Gigi Guest Room" as she has already decided she is staying the night here when my dad travels for work.
We really wanted to get this room complete as quickly as possible since my mom will be staying here a few times and then one of my best friends from California is coming to stay with us in January. Thankfully, most of this is furniture we had in our old home so it was an easier task to complete.
We used the old Wayfair bed from our last master and then my Pier 1 cabinet from this home tour as well! This specific headboard is sold out, but there are a lot of similar options available. I picked up a few more glamorous accents like this light fixture from Ballard Designs. Remember when I said I'd been obsessed with coral lately? I had to incorporate coral somewhere in the house so I went with the Linden Coral Border bedding from Crane and Canopy. We had Crane and Canopy linens in our last home and they are incredible! For luxury bedding, the price is quite reasonable [so many of their competitors are far more expensive] and I love the quality more. My favorite part about this duvet is that there are hidden ties on the inside that keep your duvet in place so you're not constantly adjusting your duvet which can be so frustrating! Their bedding is incredibly soft and my next purchase will be these sheets to match. With a more classic bedding, I decided to use this tiger bolster I purchased from Little Design Co. It's definitely a more wild choice [no pun intended] but I think it's fun for a guest bedroom!
Yesterday, I prepped the guest bathroom! I shared a little tip on Insta Stories, but one thing I like to do with beauty samples is store them in the guest bath. Grab an apothecary jar or an acrylic tray  and fill them with samples you get through online orders/beauty counters. I also sign up for Ulta e-mails [and I rarely sign up for store e-mails] because out of any store, I believe they give the most freebies. They always have something like, "Buy 1 shaving cream, get another free." So when I'm in need of a product I'll use that e-mail and get an extra to store for guests. You can put those products neatly under the sink on the tray. Then frame a little note on the counter saying they can use whatever products they need under the sink! This avoids guests feeling awkward at 10 p.m. coming to knock on your door when they realize they forgot toothpaste! My mom taught me that trick and I love it!
I hope you enjoy this room! How do you decorate your guest bedroom?!