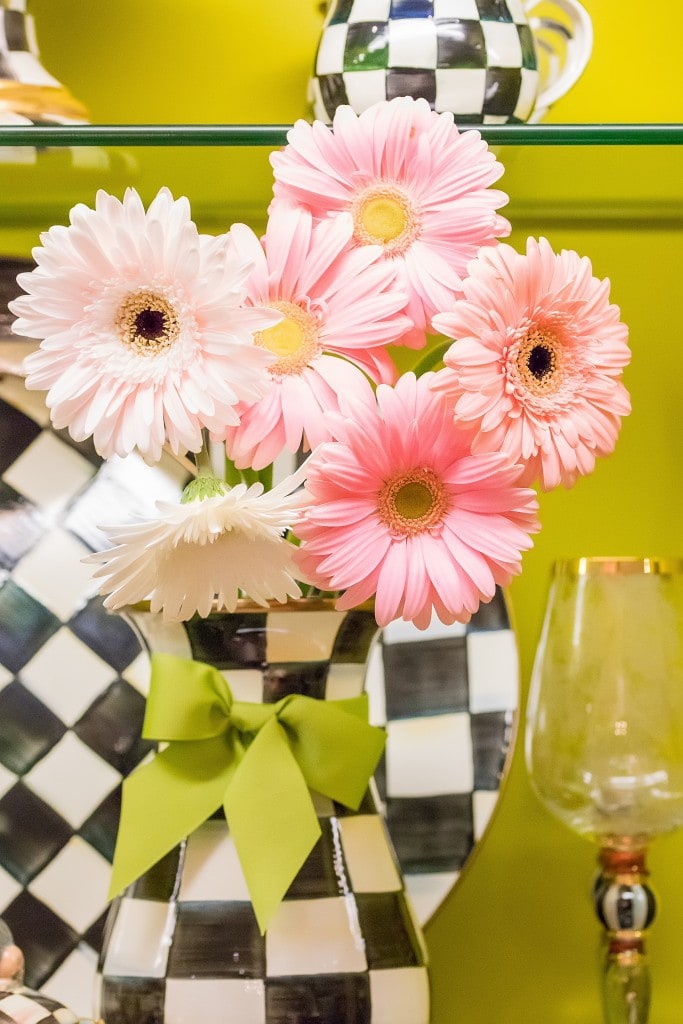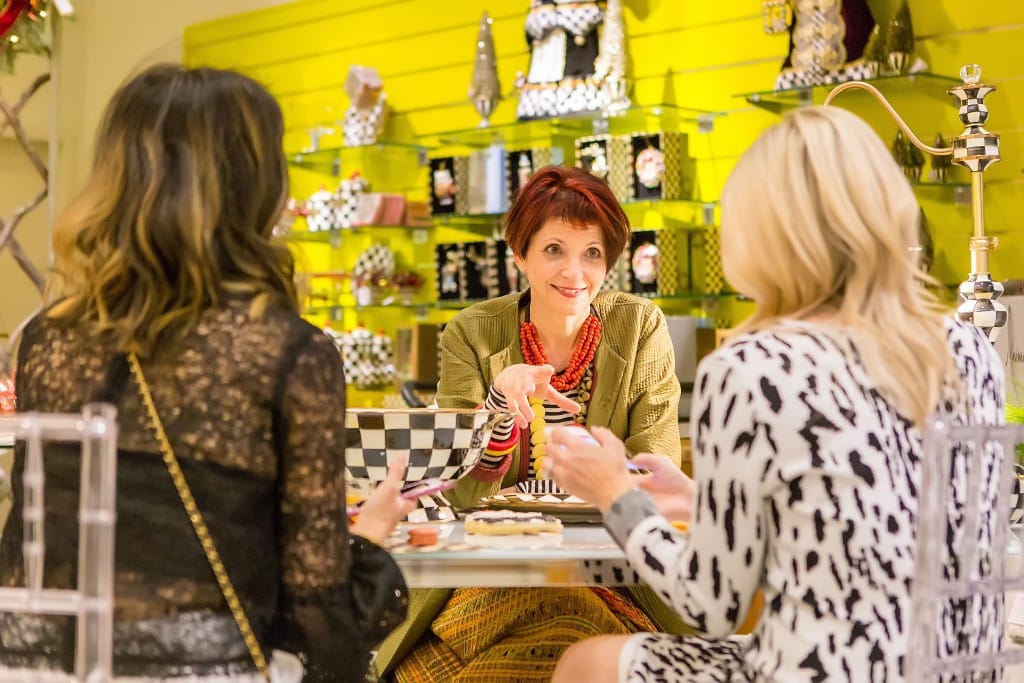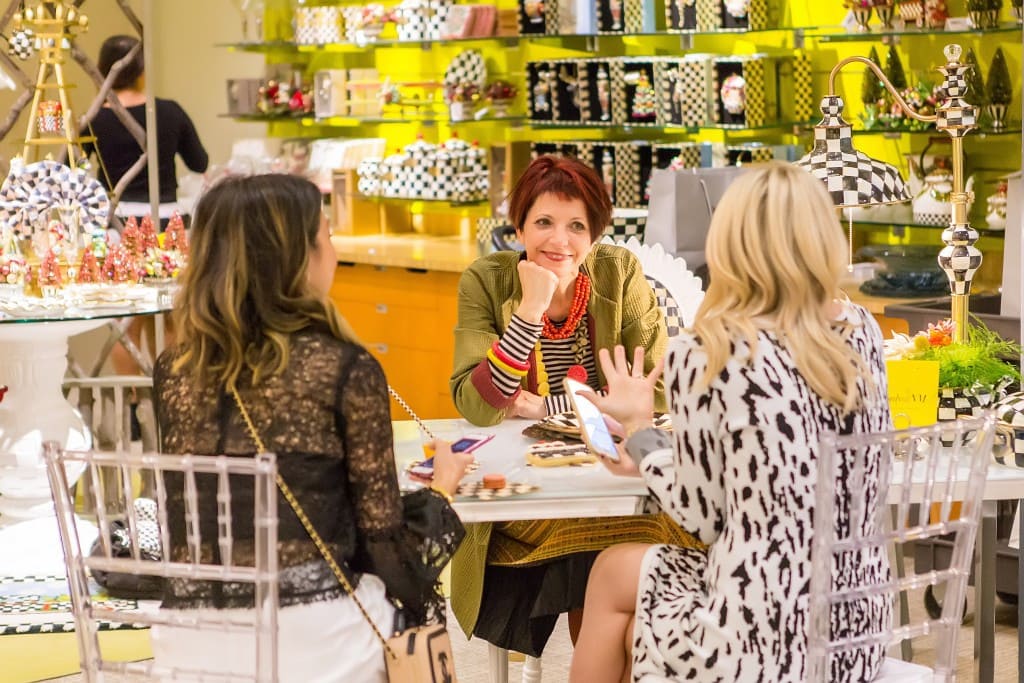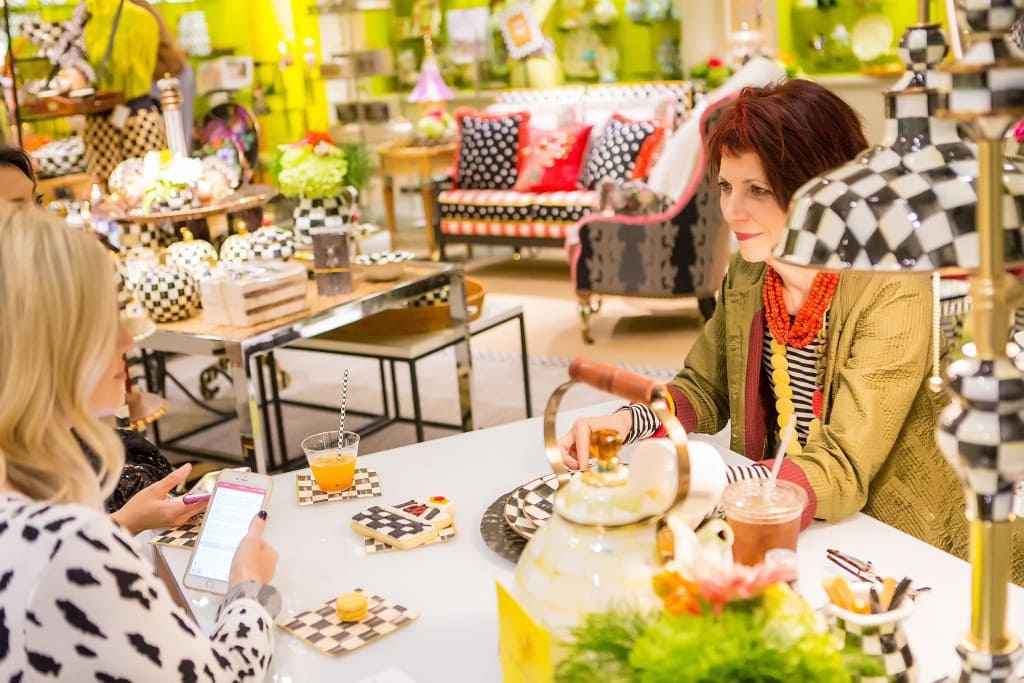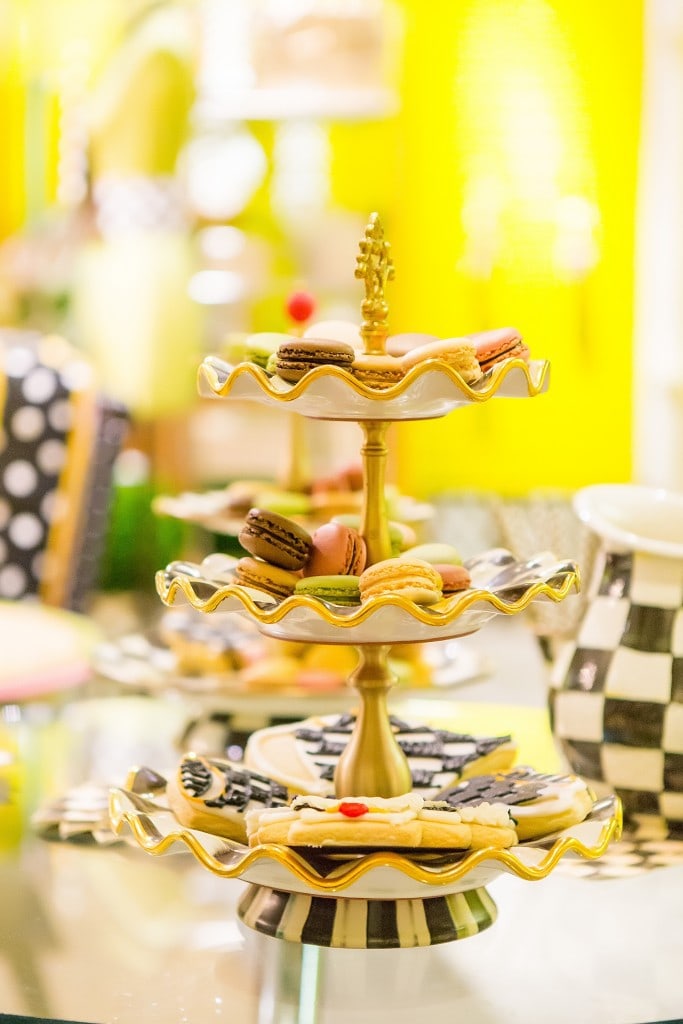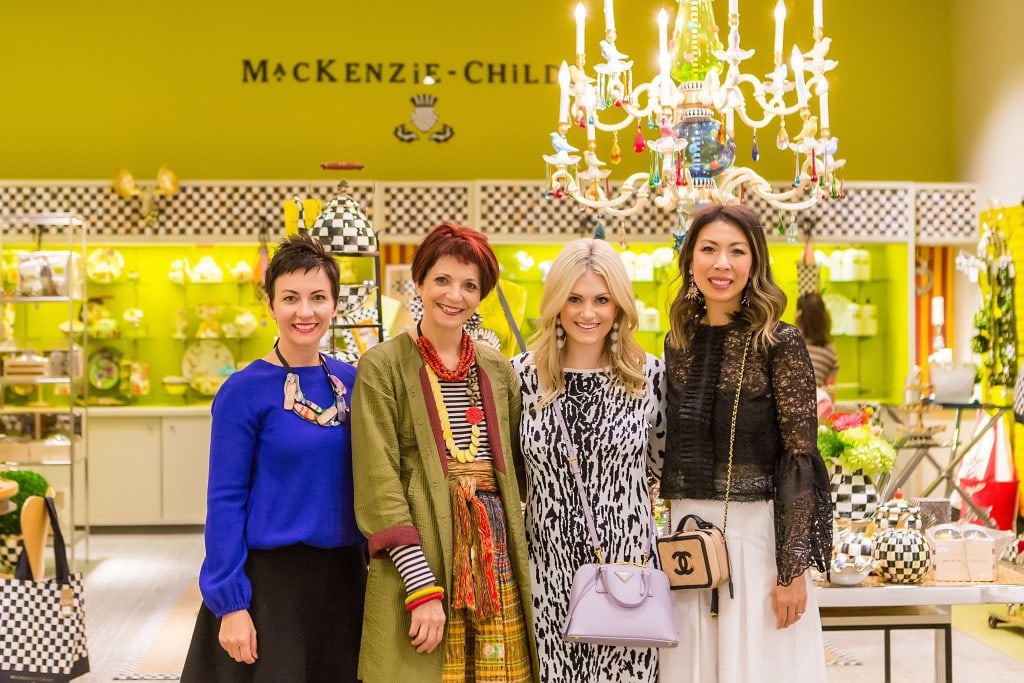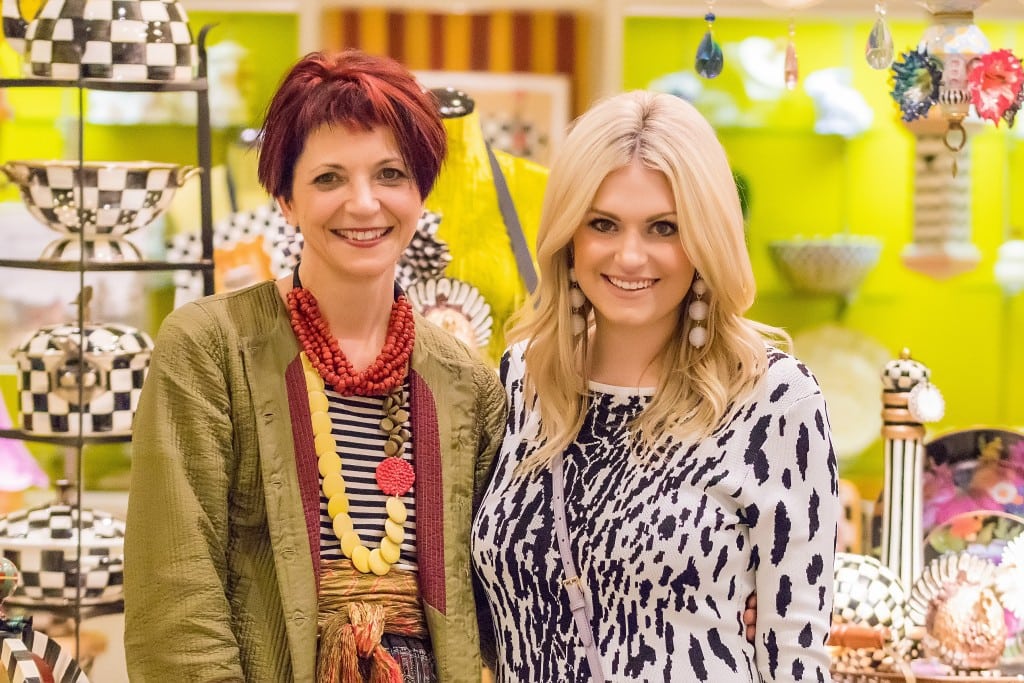 Today's post is a little different as I'm sharing an interview! I get lots of questions about the black and white checkered pieces in my kitchen and they are MacKenzie-Childs. My mother absolutely adores this brand and we have a tradition in our family that for each holiday we get her one piece from MC. So growing up I seriously always thought your husband got you the same gift each year! It was one of the reasons I was dead-set on decorating with only black and white when we first moved into our home. Now, I'm much more loose in my decorating rules but I wanted to live in something just like a MacKenzie-Childs' print!
Two weeks ago I had the honor of interviewing their Creative Director, Rebecca Proctor, at Neiman Marcus Fort Worth with my friend Sam and I immediately knew I had to share all of her pieces of wisdom. If there were one word to describe her it would be warm. Rebecca is honestly the warmest and most engaging person I've ever met and it makes you so drawn to her, just like you are the brand. As I age I always tell my husband the most attractive quality to me in a person is their warmth. If you can make people feel like you care that they are there, I think that's one of the best accomplishments. I love getting to meet different brands all over the states. Some people are nice. Some people are distant. Some people are only business. And some people are nervous. But I'm always impressed by people that are warm and have the uncanny ability to make you feel like you've known them all your life and they don't want the conversation to end! Just like her personality, her answers to these questions were perfect and I felt they would be so helpful to share as encouragement whether you want to make a career change or redo your home! I think it also speaks a lot to the brand, something about MC pieces make your home feel beautiful in a purely aesthetic way, but beautiful as well in a comforting way. Their dinnerware is made from enamel so it's meant to be used, just like all their pieces, not just stared at. Rebecca is like an inviting home and I think it's so fitting because MacKenzie-Childs always symbolizes a cozy home to me.
Another thing I took away from meeting Rebecca was her love for her family. She was so sweet about my pregnancy and kept saying when she comes back to Dallas/Fort Worth I have to bring baby to meet her. Rebecca told us that her husband and son always have an input in the design with MC and how important it is that your family, children and husband connect to what you do. I always feel so lucky that Paul encouraged me to start my blog and has asked me SO many times if I wanted him to quit his job so we could work on COF full time together. I never want him to do that because I want him to fulfill his passions, too. But I think it says a lot about who he is that he is so passionate about my dreams. Rebecca was sharing how her son in 4th grade gave her a list of all the pieces MacKenzie-Childs should make and now that he is 17, MacKenzie-Childs has actually produced all of those pieces from the list. Rebecca also shared how her husband is a minimalist, very serious and had very few things before they got married. She said, "I showed up and was like, 'I have a lot of stuff!' And when we got married he was so accepting and generous of all the things I love with decor. I don't have normal boundaries in my life. My life and my work and my play are all one thing. That's why I love my work so much, my husband and son have to love what I do and if they didn't I couldn't do my work."
It was such a refreshing perspective to hear since boundaries are always harped! I love that my husband loves my work because being a lifestyle blogger, my work is just an extension of my life. Meeting Rebecca I felt really comforted to know that you can be an incredible mother and include them in your work as well! You just have to find the way they want to be included!
Before I share her answers, I thought I'd share a few of the MacKenzie-Childs' pieces around my home so you can be familiar with the brand in case you aren't!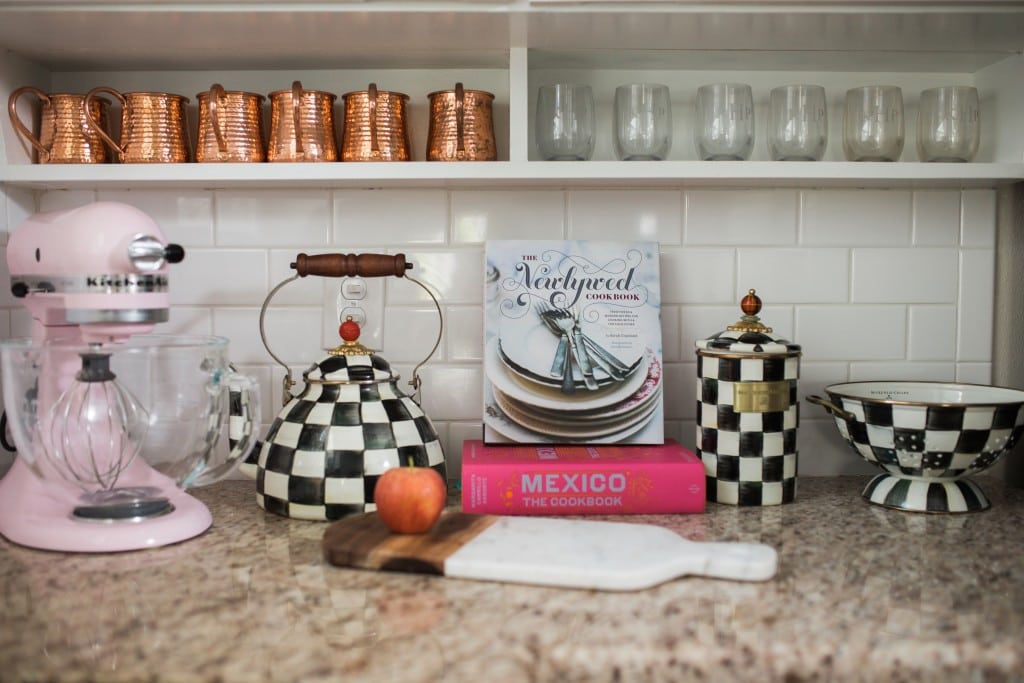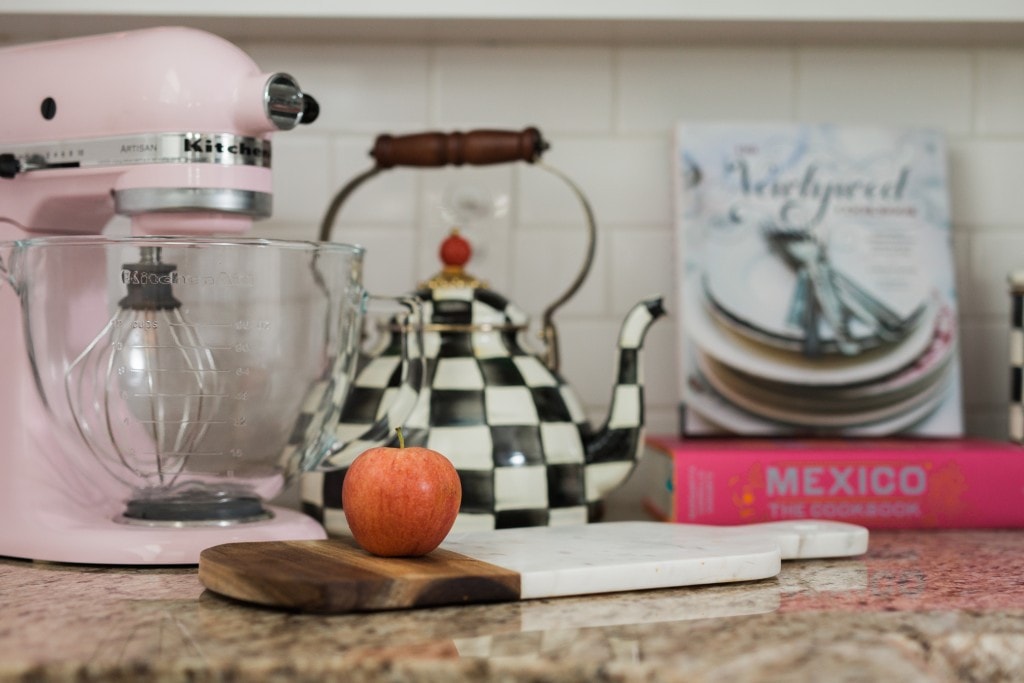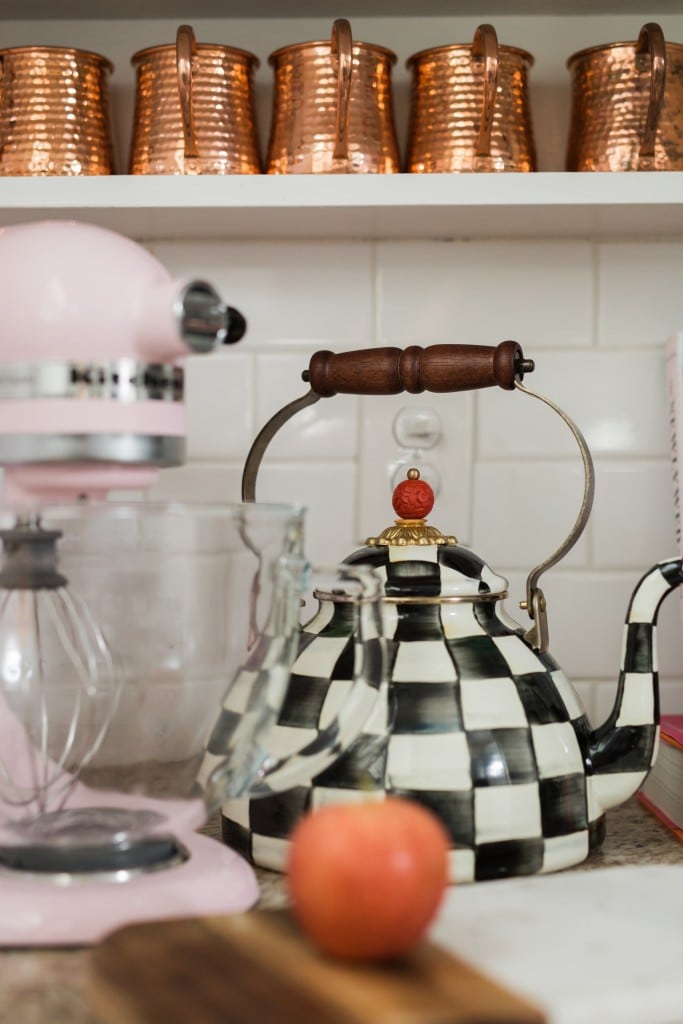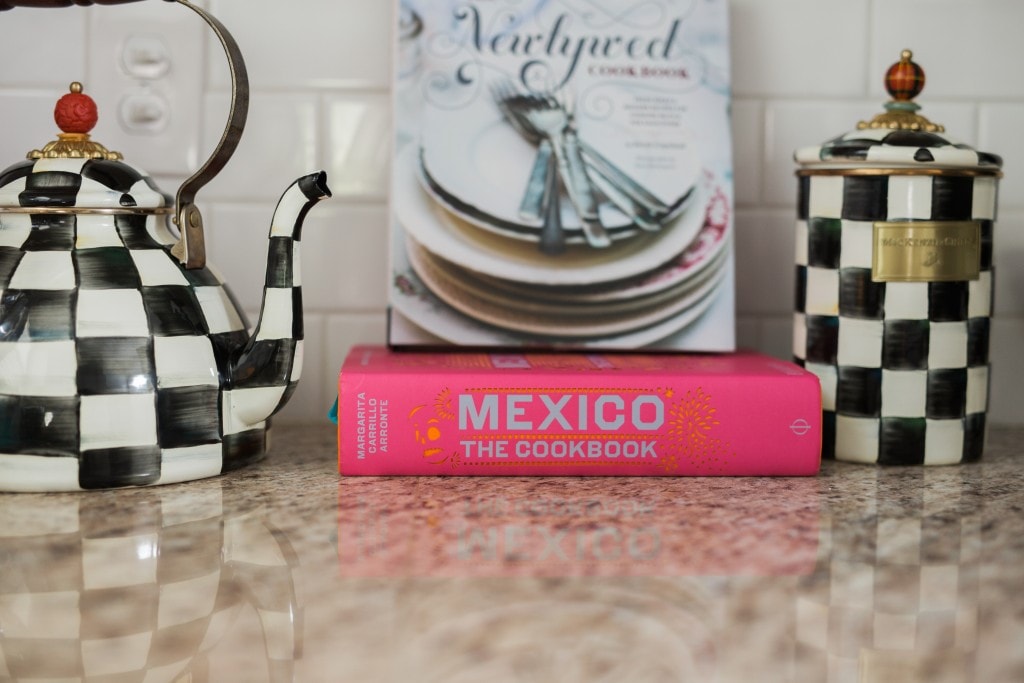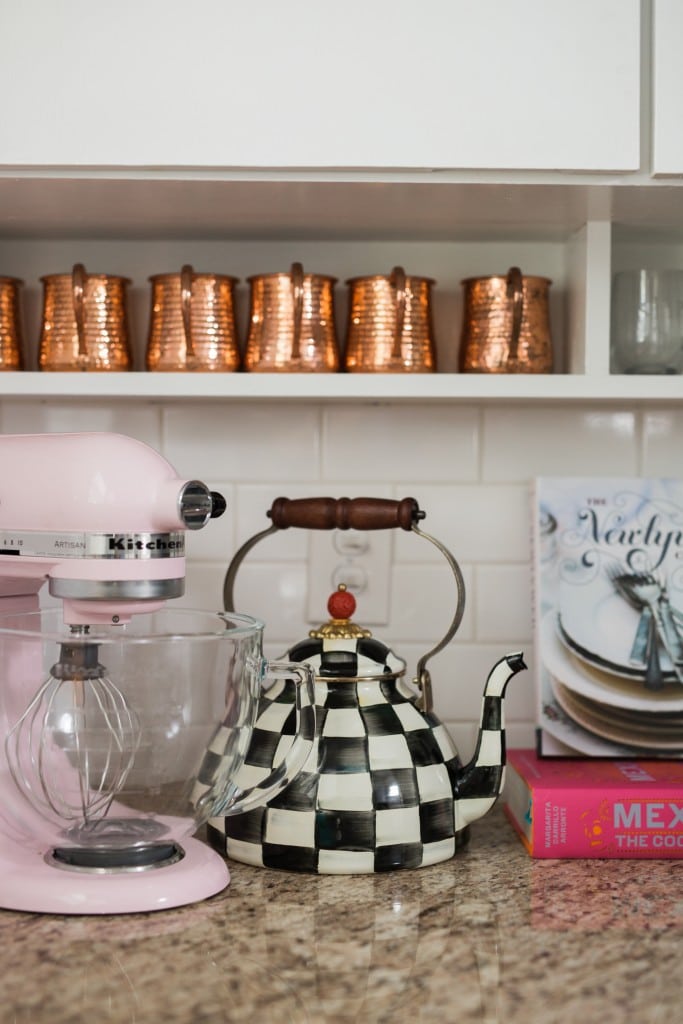 "The courtly Check Tea Kettle has become such a statement piece in a kitchen that every girl wants to own. If a girl were to splurge on her next piece what do you think is a must have?"
"That's such a good question! It's sort of like asking what my favorite piece is and I use that word very generously, it seems like I have a new favorite every five seconds. I love the tea kettle so much because it's a great place to start and I have a secret mission which is to get every home in the world to have a MacKenzie-Childs' tea kettle sitting on the stove. When you walk into the kitchen it literally smiles at you because it's such a happy statement. It looks terrific in a contemporary environment and some people only want one piece of MacKenzie-Childs and some people fill their lives with MacKenzie-Childs and this piece is always included. The next piece you should get is dependent upon what you are interested in. If you cook, you need the 7-quart stock pot. If you love furniture, the first piece of furniture they should get is the forest fish chair. In spring 2017 we are launching a new collection of porcelain dinner ware so if you are in the aspect of your life where you are getting married and registering or needing new dinnerware, this collection is so special to me and that would be my pick!"
"Why do you think the brand has such a celebrity following?" 
Side note, if you watch any episode of the Kardashians OR Pioneer Woman you will find Mackenzie Childs' prints. I find that to be such a compliment as those two worlds couldn't be more different and it just goes to show how versatile the brand is. 
"It's a crazy, eclectic group of crazy and extraordinary people. Pioneer Woman could not be more different than Kris Jenner, but I'm so grateful that these amazing entrepreneurs love MacKenzie-Childs. Kris is into Courtly Check and I think there is something familiar to everyone about it and we don't really know why. Black and white has been such an important part of any historical architecture from palace floors in Florence to Westminster Abbey and black and white print checker boards, etc. We found a way to make it unique by dragging color through each check. But no matter what print you love, I think the brand has this following because anyone can find something sentimental to it.
"My readers love home decor and it's my favorite thing to incorporate on my blog. What is your best advice for interior design?"
"There is no design authority. You are your own design authority. Surround yourself with the things you love. I think people get so locked into the way things should be because they are following a catalogue. I think the most interesting homes I've ever been in are the ones that are filled with the things people treasure and love. There is nothing sadder to me than walking into a home and it looks like they walked into a big box store and just bought any wall art there. You are so much more interesting than that! People need to give themselves credit for how intelligent they are. Use it and find your eyes to get your own point of view with decorating."
"Being so successful and having worn many hats, what is your favorite piece of career advice for the any girl?"
"I did not follow a traditional path at all and I think you have to trust your gut, be brave and look through every window. Some people know exactly what they want to do when they grow up and some people have no idea, but the most important thing is to enjoy it along the way and if you aren't enjoying it don't do it. Your success will follow where your heart lies and your passion. I believe that to be fully true as I see that time and time again. My son is a classical musician and very dedicated and people always ask me, "What is he going to do? He'll never make it?" And I say, "What do you mean? He is 17. He's going to be a concert pianist. Trust him." If you follow what you love you will be successful."
I hope you enjoyed her little pieces of wisdom as much as I did! I'll be sure to share my favorite MacKenzie-Childs' pieces below!

P.S. My black and white dress is old and no longer sold, I'm sorry!
Photography by Elusive Images