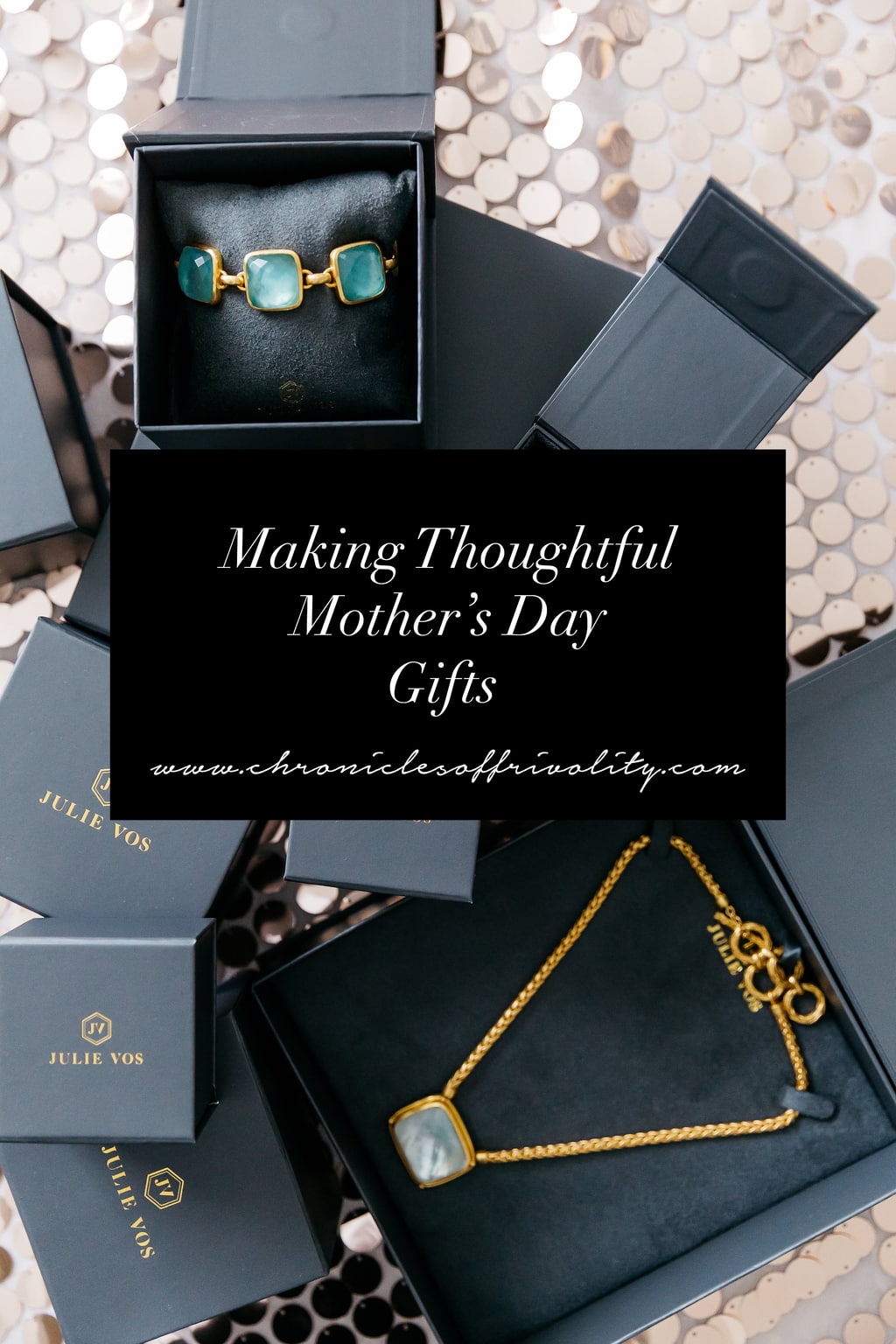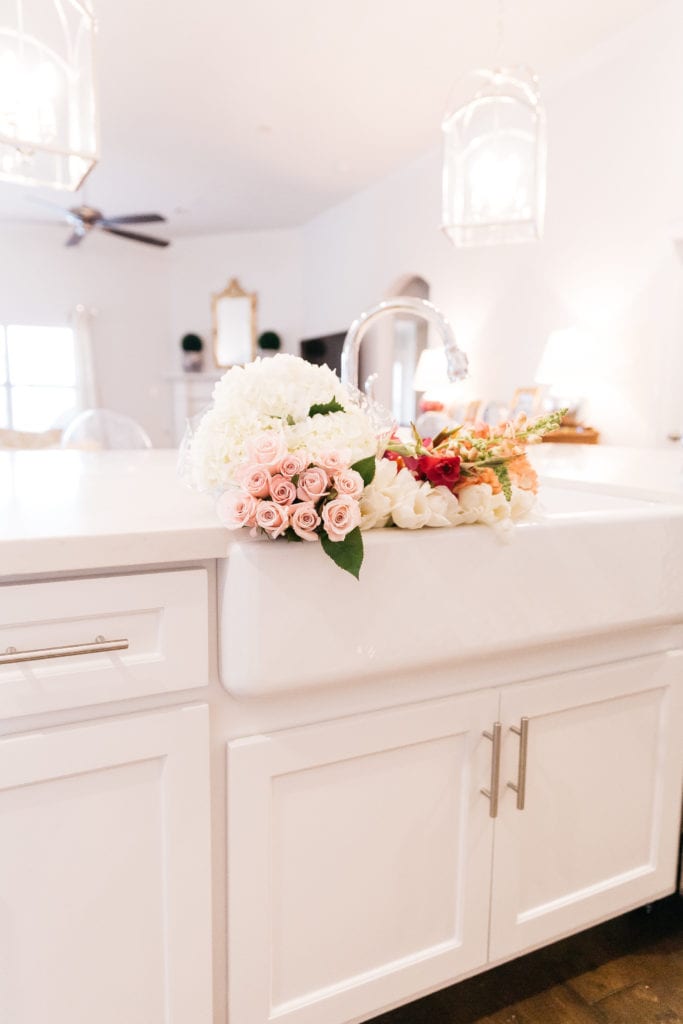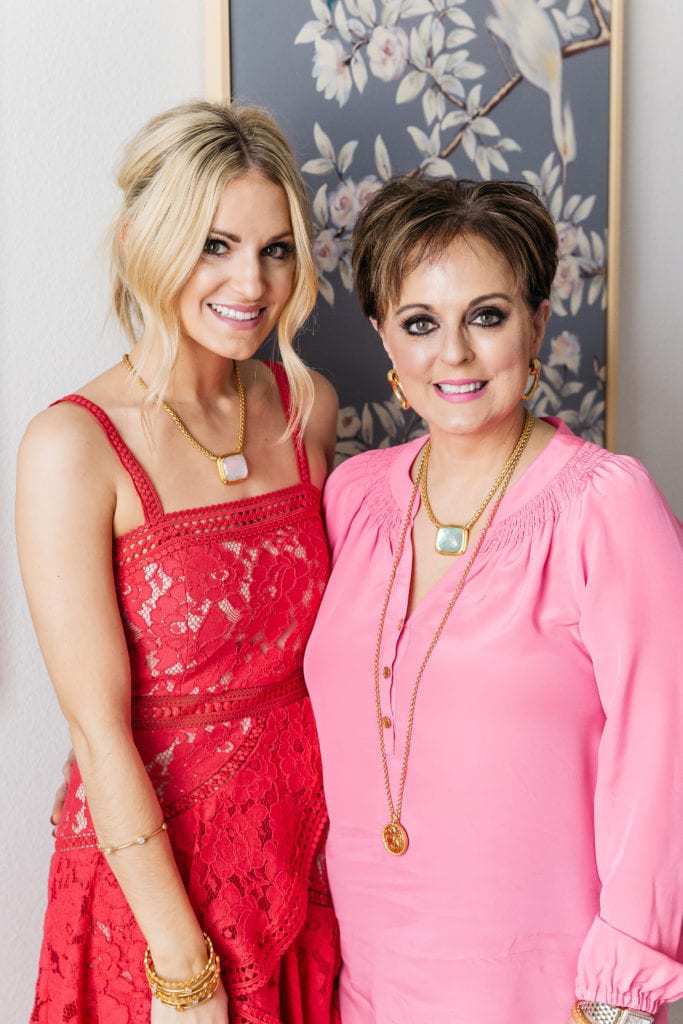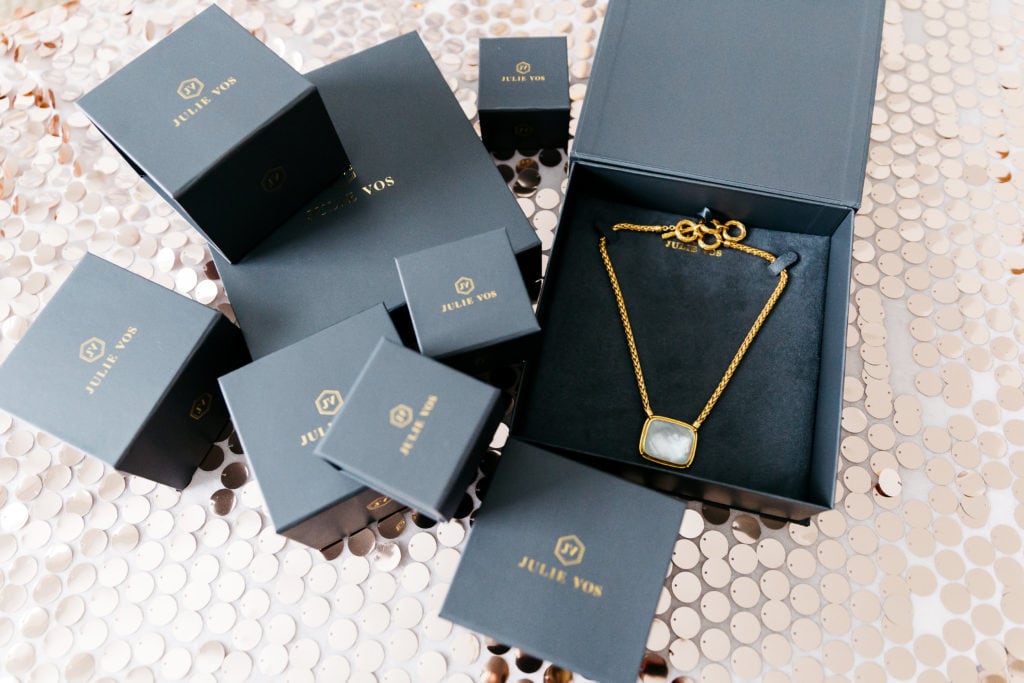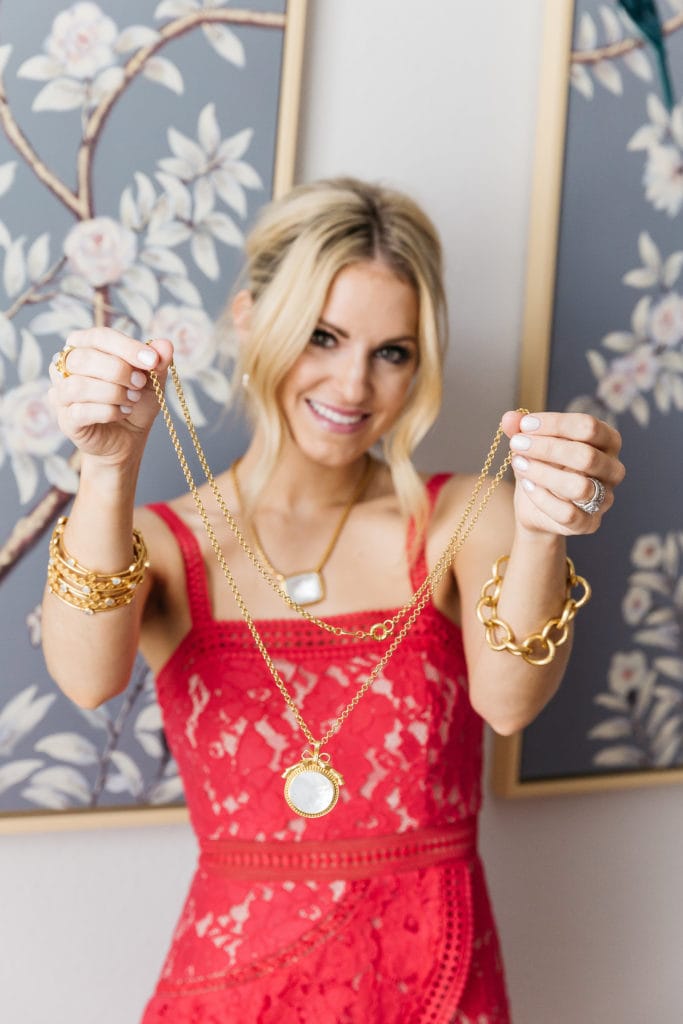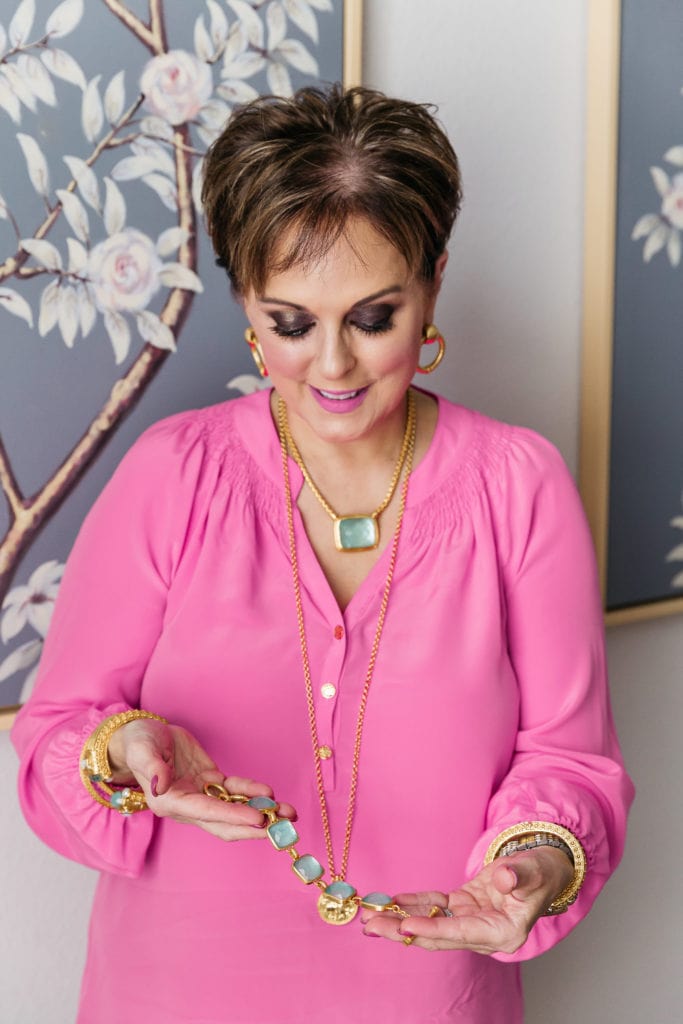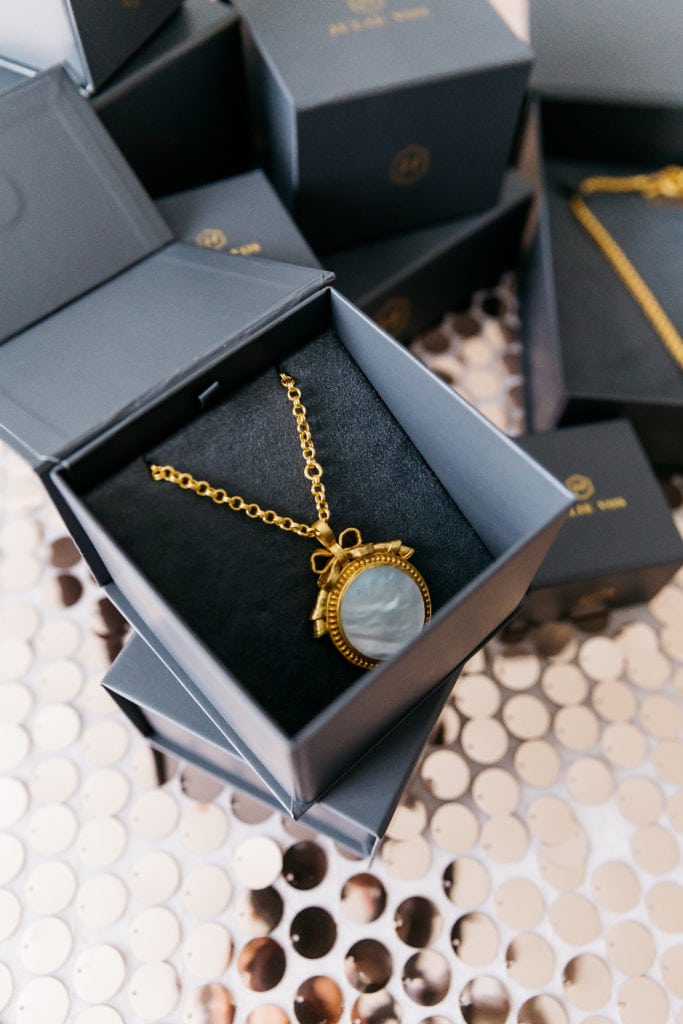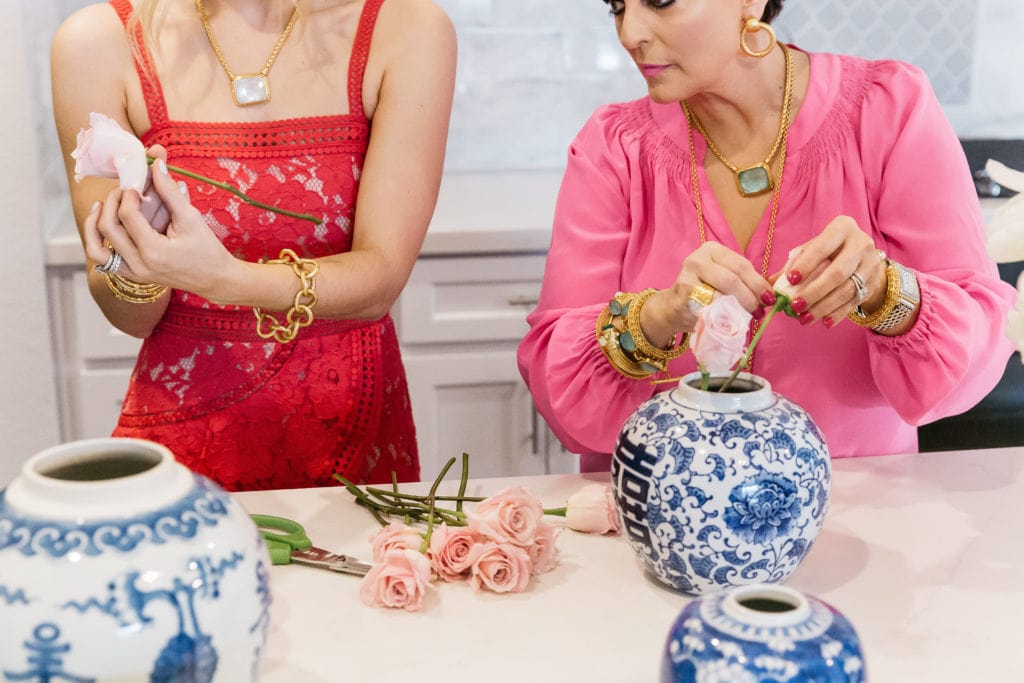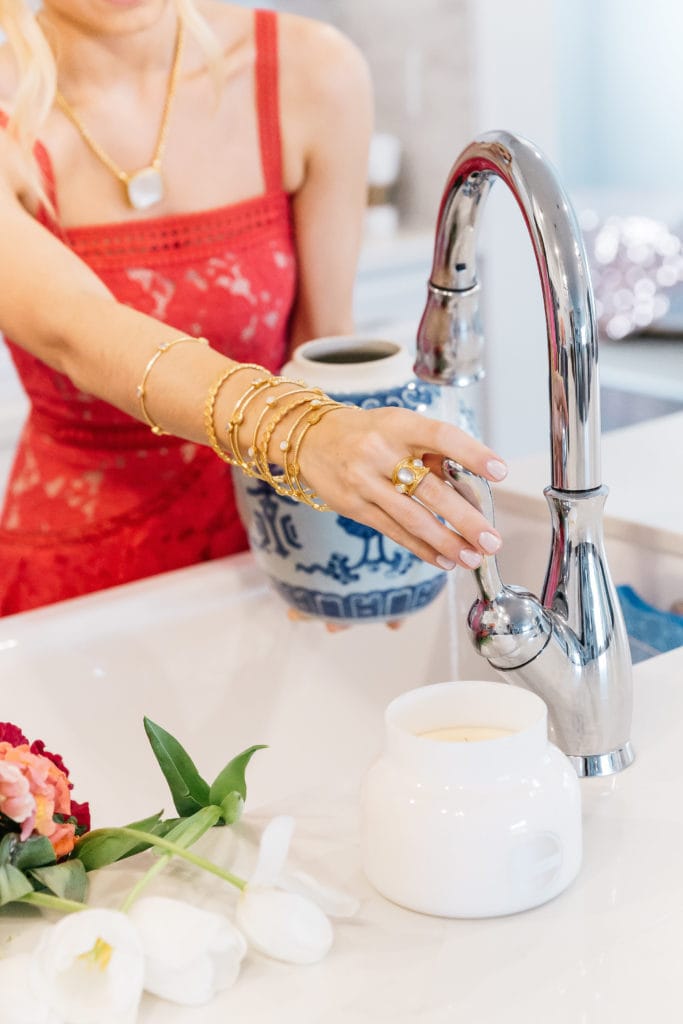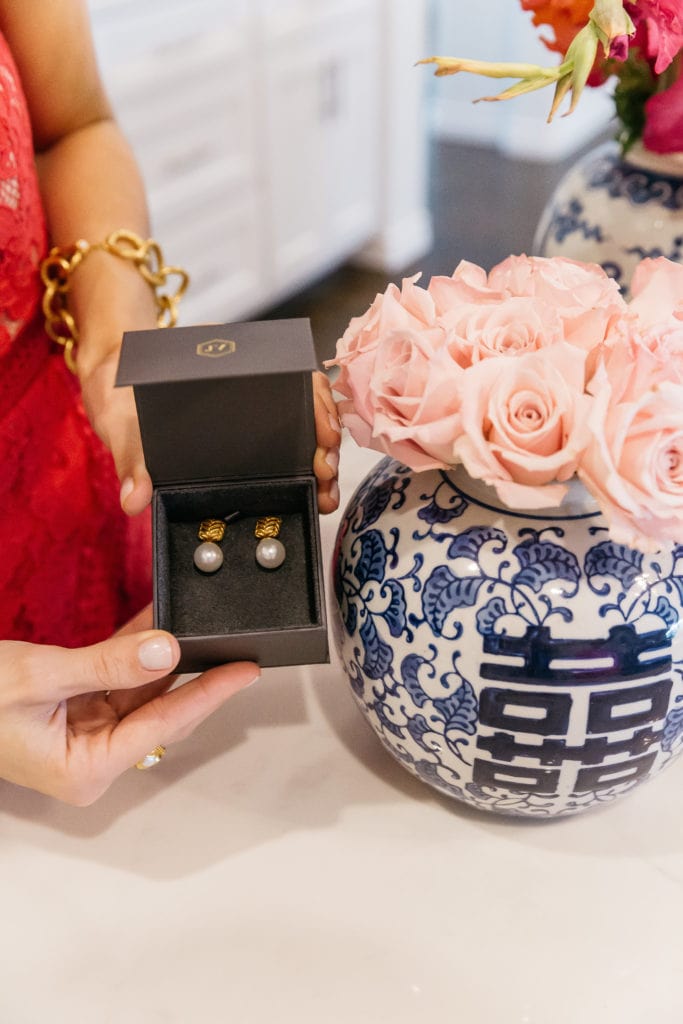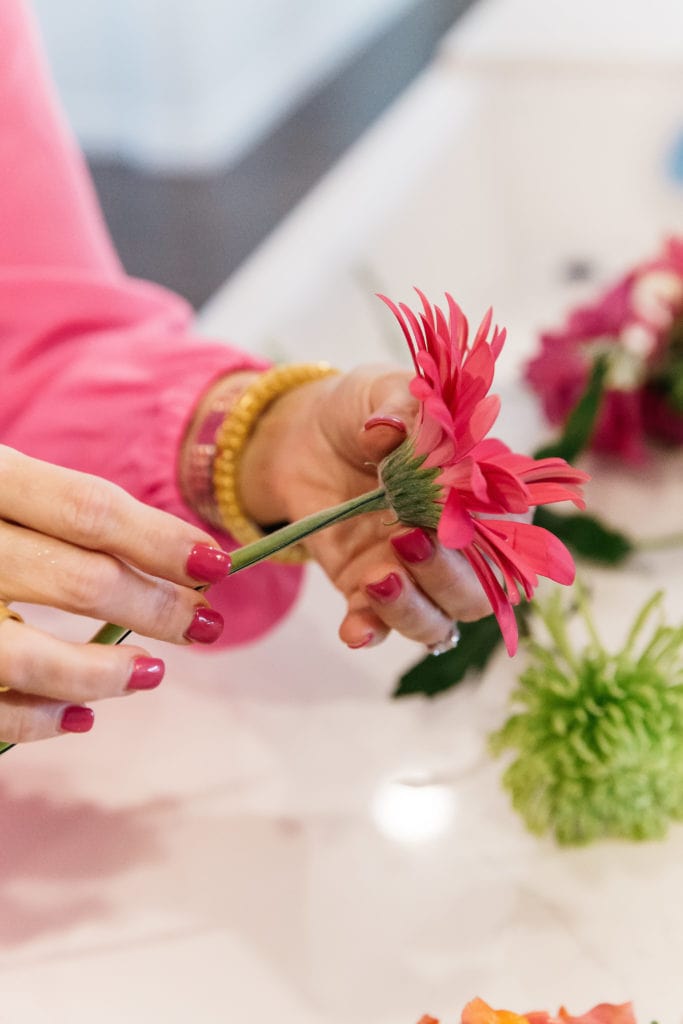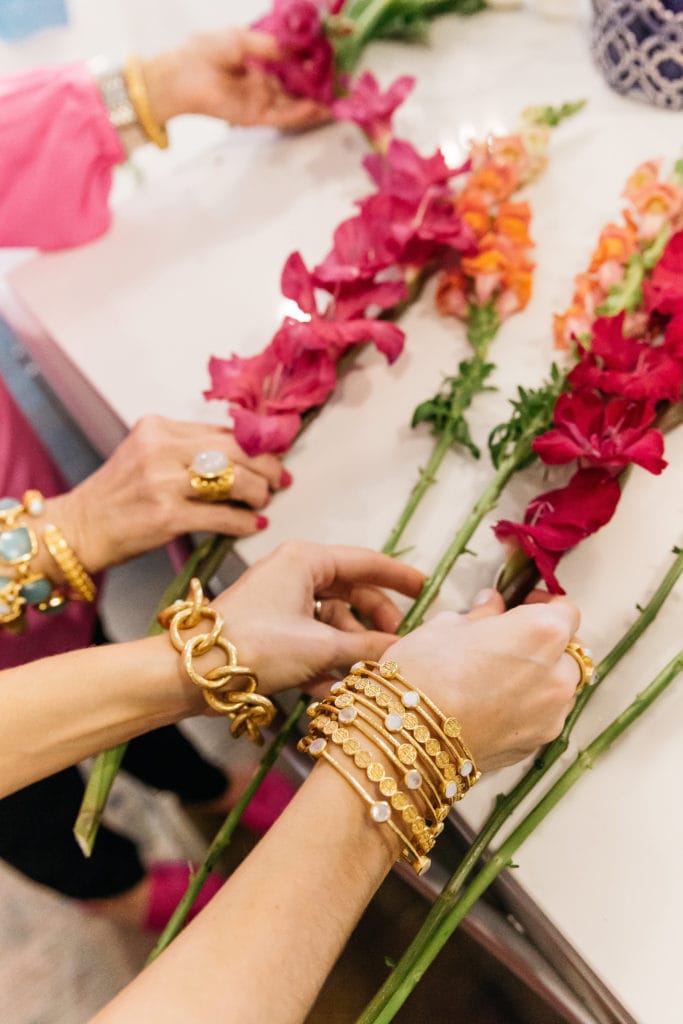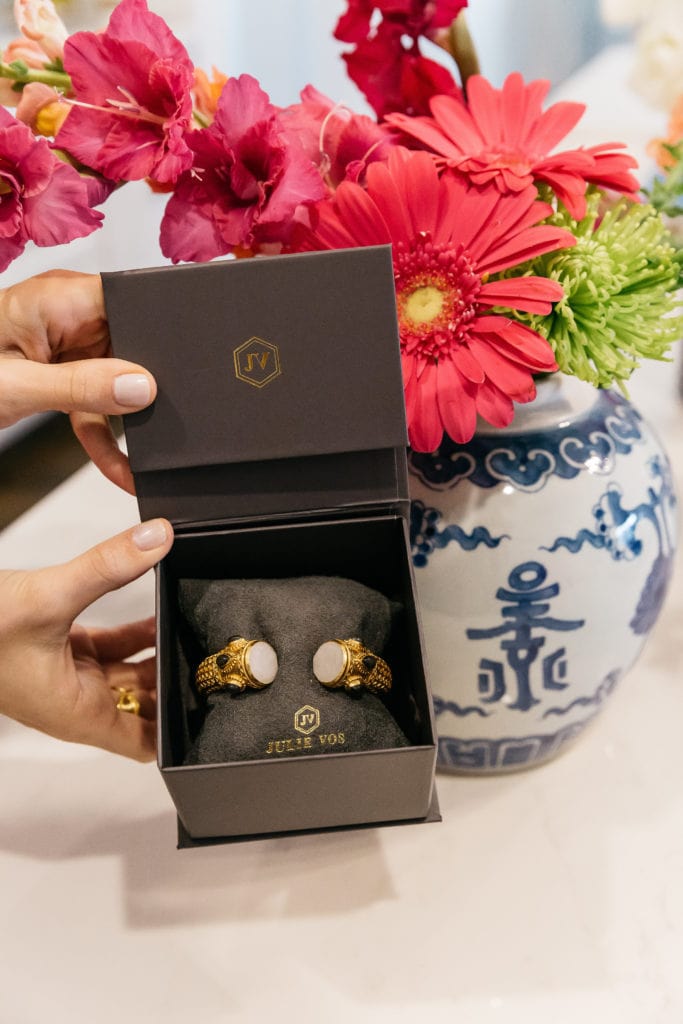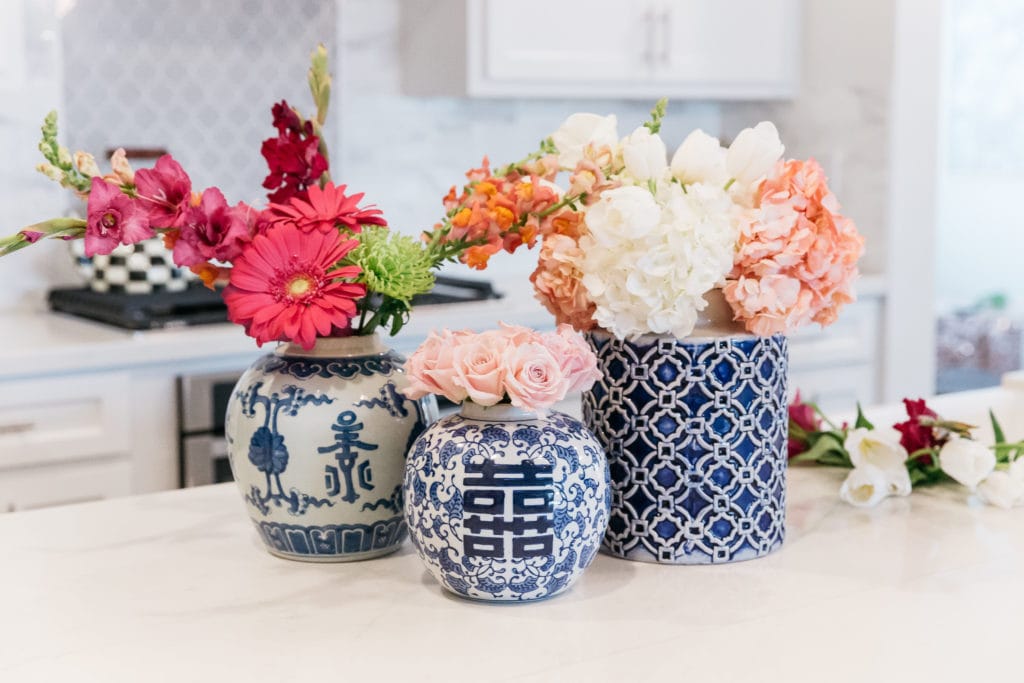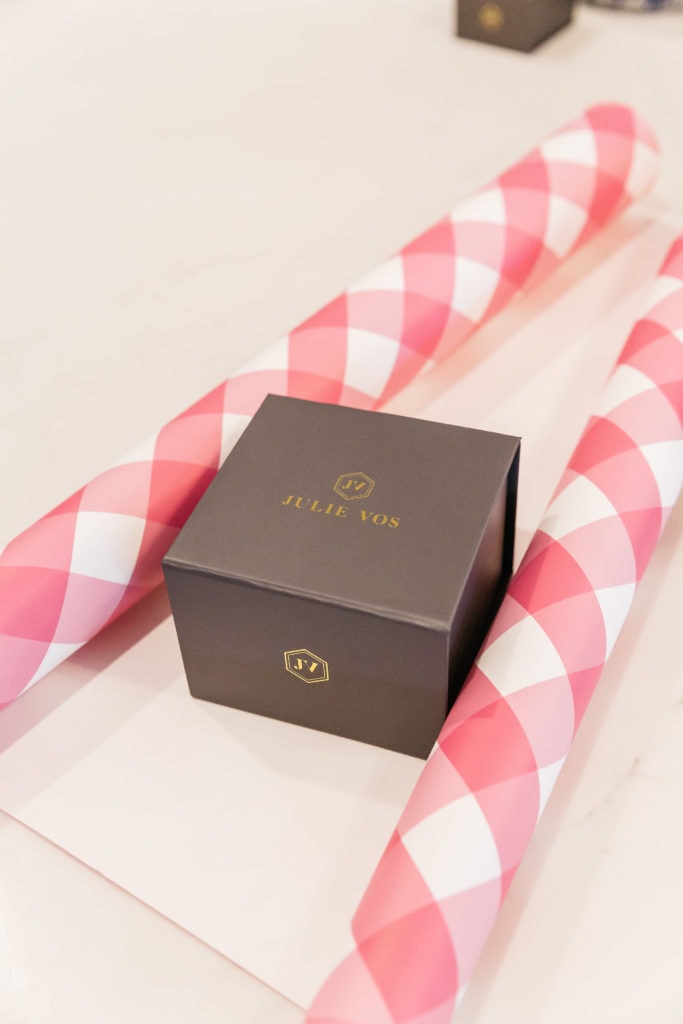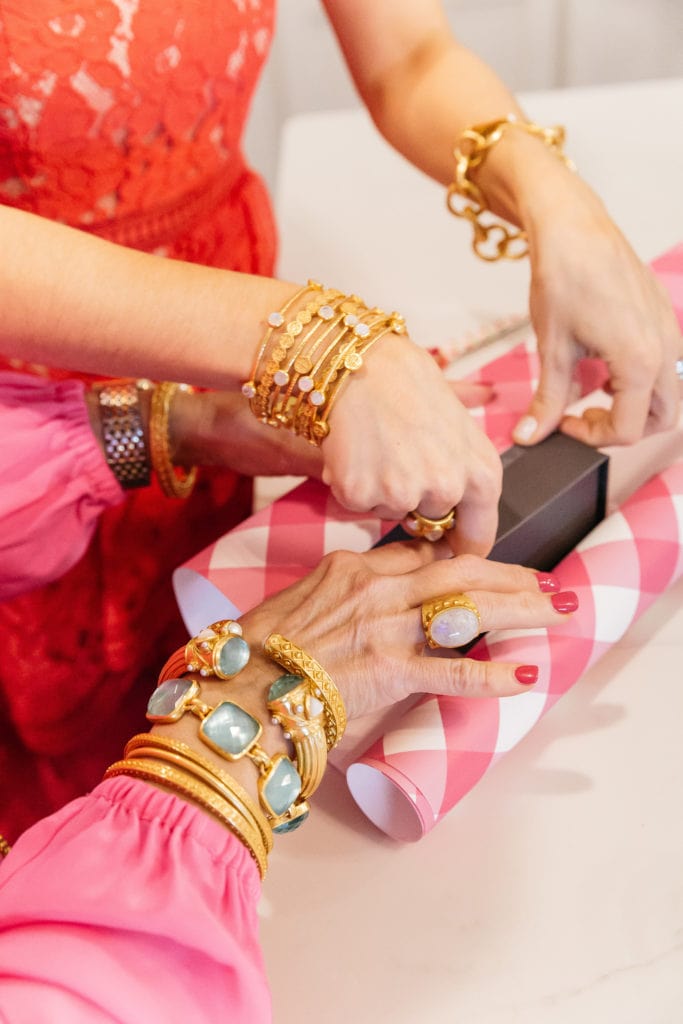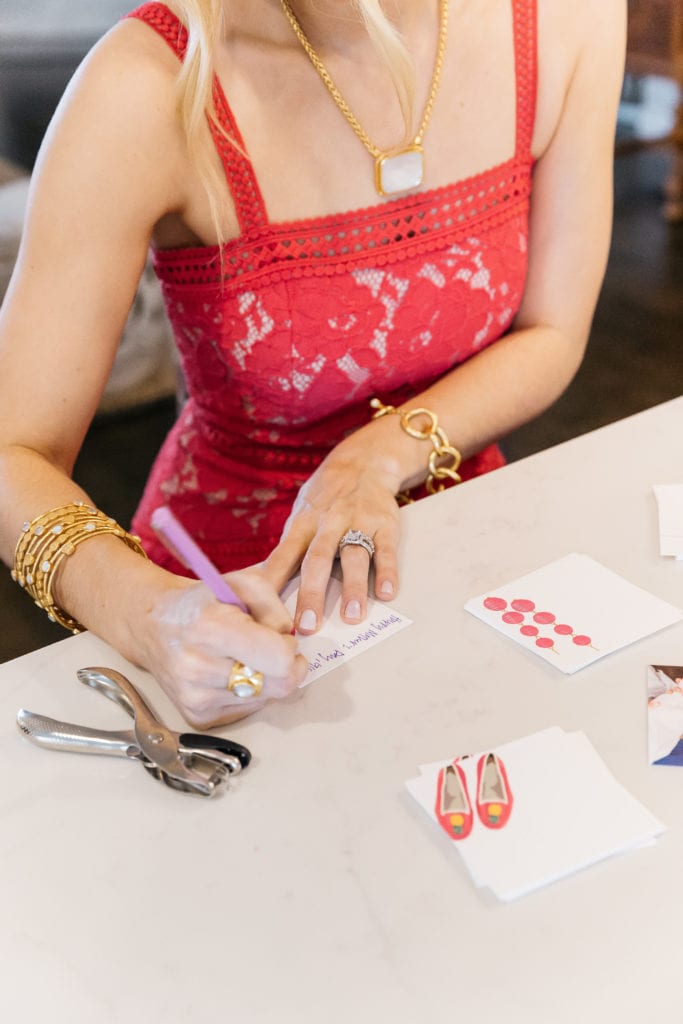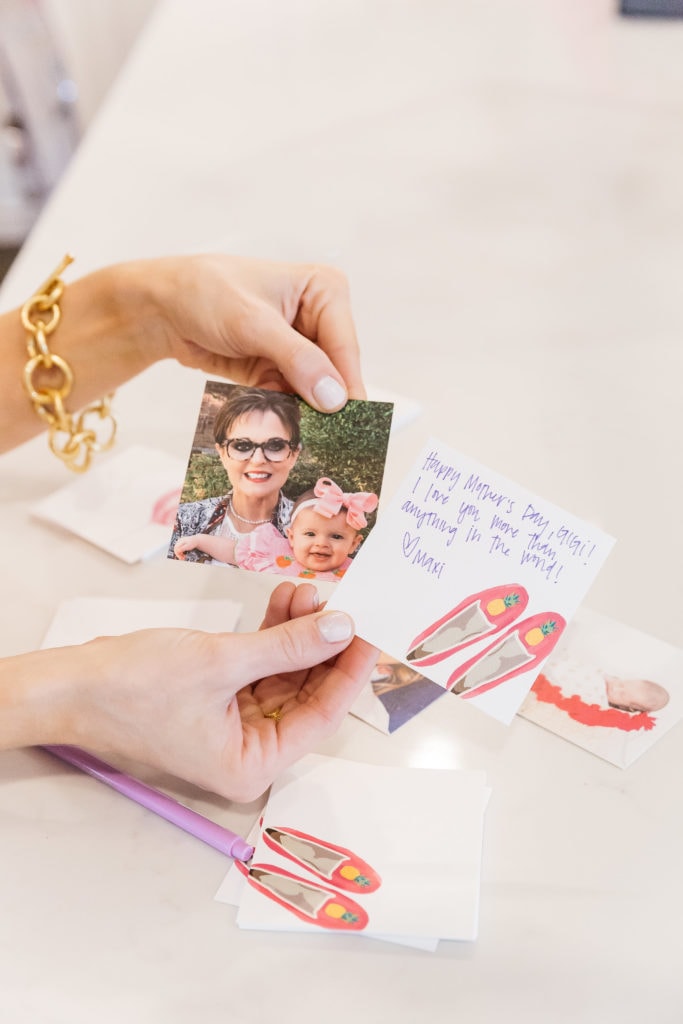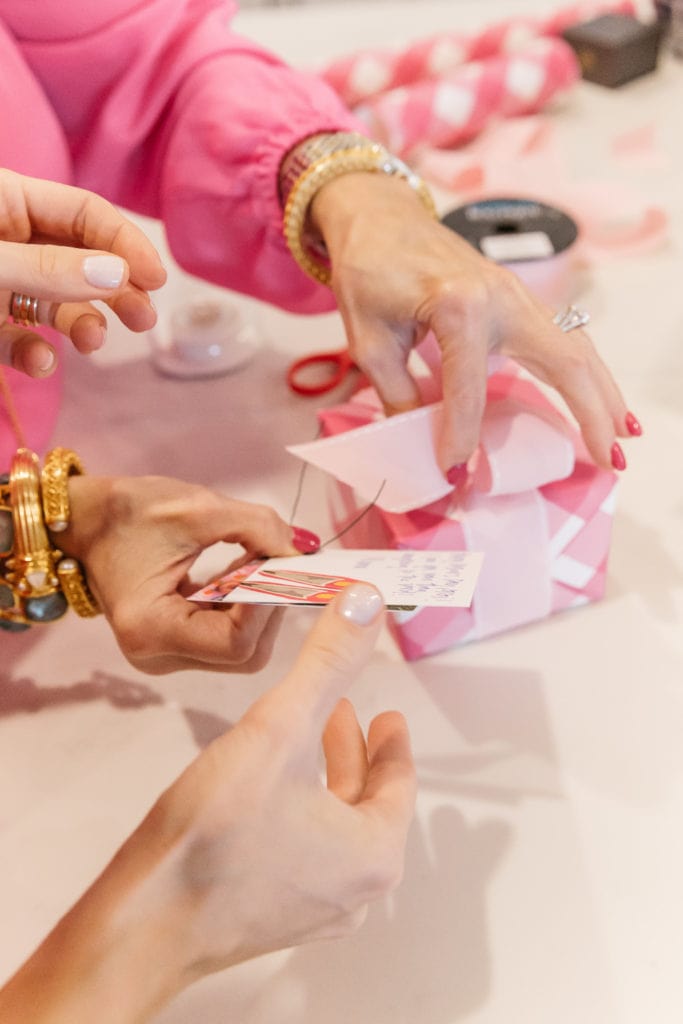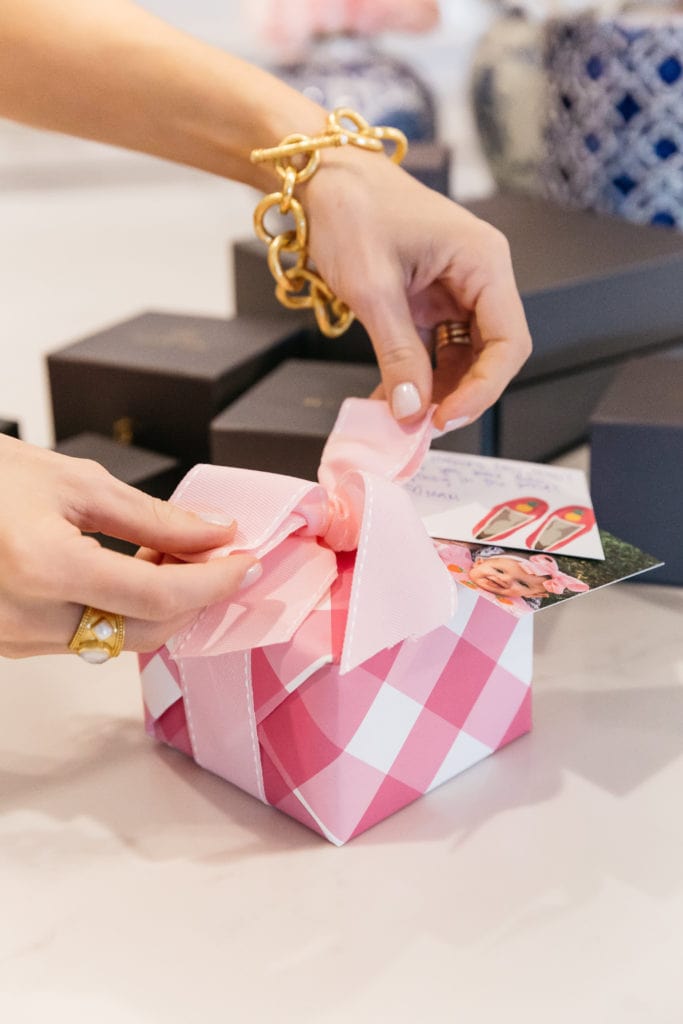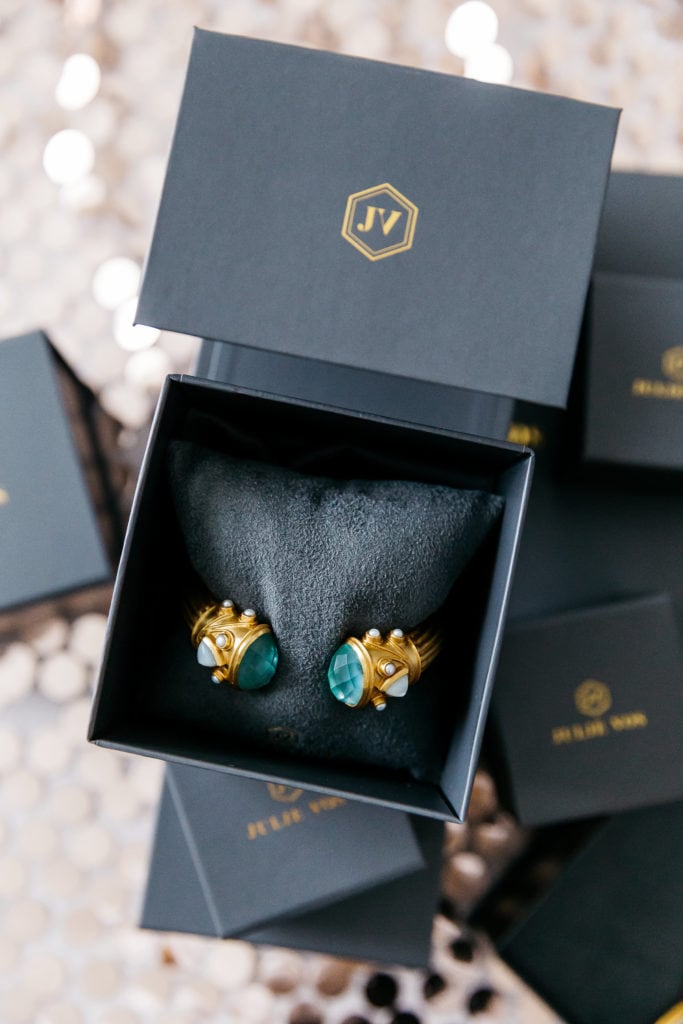 Dress: Alice & Olivia | Mom's Top: Lilly Pulitzer | Vases: Homegoods | Enclosure Cards: Sweet Caroline Designs | Gift Wrap: Sweet Caroline Designs
Julie Vos Pieces: Catalina Link Bracelet, Monterey Pearl Earring, Isabel Pendant, Cuff, Loire Stone Ring, Monterey Statement Necklace, Catalina Stone Bracelet, Valencia Bangle, Medici Hinged Cuff
Photography by: Madison Katlin
---
Personally, I'm obsessed with giving gifts. I know they say you give what you want to receive in life, but I don't find that true for me. Give me acts of service and I'll give you a gift basket for each and every occasion in life. I savor the entire process from shopping to wrapping to finding the perfect card. I've always been better with words than I am verbally, so I feel like gifts give me an opportunity to really express my care for another individual. When I was a little girl and would do something that got me in trouble, I would make my mom little bracelets and write her notes saying I was sorry and then give them to her. My mom laughs because she says it was rare if I vocally said why I was sorry, but I'd constantly be writing her cards left and right. ha!
Mother's Day is no exception, and I think many of us can relate to wanting to put the utmost thought and care in a gift for our mother and mother-in-love. We may either classify our moms as picky, hard to shop for or the women that already have everything. How can you find something useful, beautiful and thoughtful all in one?! Today I've partnered with Julie Vos to share three simple ways you can make a thoughtful Mother's Day gift, for three types of mothers.
When gifting any time of year, I always think of three major components that I feel make up a thoughtful gift:
Presentation: from wrapping to finishing touches like a bottle of their favorite wine, I believe presentation always shows you were thinking of them weeks in advance. It's not always realistic to start wrapping gifts a month out from the celebration, so this is why I preach keeping a stocked gift closet. When you see cute wrapping paper on sale, grab them! Gift tags? Buy them! For Mother's Day, I recommend bright, spring wrapping and flowers. Florists can be pricier this time of year, so I'll share three easy arrangements you can make at home. I always grab my flowers from Central Market, Trader Joe's, or for you local girls, The Flower Market on West 7th. I like to get blue and white vases from antique malls or Homegoods. This makes your arrangement have a little something special to it and they'll want to repurpose the vase in their home.
Gift: I love to gift my mother and mother-in-law, Julie Vos because it was one of the very first jewelry brands I myself started to collect. Remember this post or this one?! I took on the habit of shopping Julie Vos from my mother and have cherished filling my jewelry box with her pieces. They have a new spring collection, which is divine as always, and what I love is that you can easily find an item for everyone from a mommy to be [don't forget the pregnant mamas, I always feel they are overlooked on this special day!] to a grandmother. I think there is also a big misconception that if you give the gift of designer jewelry there is only one price point, but this line definitely has a range for the women you may be shopping for. You can grab a bangle under $70 or go all out with a splurge on multiple pieces. Regardless of if you are starting her obsession with her first Julie Vos piece or adding to an already filled jewelry box, these gifts are more than welcome.
Sentiment: Poll any mother and most will give you a non-material gift they want for Mother's Day. Most mothers say they just want time with their children and many moms request sleeping in! I think you can easily gift that sentiment with their traditional gift as well by including that on an enclosure card. I'll share more on that below.
For the Classic Mother
She always reaches for OPI 'Bubble Bath' at the nail salon and has numerous crisp, white blouses. She knows her style and doesn't stray from it. Her closet is filled with ballet flats and her home is adorned with timeless furnishings. If this sounds like your mom or mother-in-law, you've got a classic mother on your hands.
When gifting the classic mom, it may feel a little intimidating because you don't want to go too far outside their comfort zone. The wonderful thing about finding gifts for their personal style is that they really appreciate simplistic beauty.
For this arrangement, I say you can't go wrong with pink roses. As you fill your vase with water, consider adding 2 tablespoons apple cider vinegar and 2 tablespoons of sugar to the vase. This will help your flowers last much longer! Also, don't forget to cut your stems at a sharp angle.
What pairs well with a blue and white jar with pink roses? Pearls. The Monterey Pearl Earring by Julie Vos is my pick for the classic mom. The Monterey collection has woven gold and these earrings could be worn every single day without feeling fussy. These are also under $150, so they are a great price point for a designer. If you are shopping for a mother you may not know that well [say your boyfriend's mom!], this is the perfect option because so many different styles would gravitate towards this pair of earrings.
For the Sassy Mother
I'm sure you have zero doubt in your mind, but my mom is most certainly the sassy mom. She loves anything with a splash of color, so for this arrangement, we are added Gerbera Daisies and Snapdragons. In order for your daises to stand up next to the height of snapdragons, we recommend wiring your flowers.
Grab some flower wire at Michael's or Hobby Lobby and you can wire going down the stem. Some florists recommend wire tape, but we did this arrangement without.
For a bolder arrangement like this, we place all the flowers on the counter and make sure we get the right color coordination first. The great thing about florals is you can truly just play around with the placement and there's no right or wrong way. If you feel a little unsure of how to style something like this, remember things always pair best in "threes" from home décor styling to flowers! We had three sections of height in this arrangement and it worked just fine.
With a bold arrangement, you've got to go bold with the jewels. The Julie Vos Cuff is to jewelry what a flap-bag is to handbags. It is always in style but each season they update and refresh the hue of the stones which makes it a fun gift. If she likes to layer this is a bracelet that can easily anchor the look by her watch or if she wants to keep it simple, it makes a statement on its own.
For The Mom that Has Everything
If you've got a mom in your life that has everything, gifting can be a little nerve-wracking. I say, go timeless and you won't ever second-guess yourself! For this arrangement, we opted to use hydrangeas on the outside with tulips on the inside.
For the pairing piece, I went with my favorite piece from the Julie Vos spring collection, the Isabel Pendant. The Isabel Collection is my favorite from spring 2018, as I'm all about mother of pearl. It's a stone you know won't ever go out of style, so you can confidently gift this mom knowing she'll wear this for years to come.
I preach about Julie Vos pendants because I have one and have owned it for about 4 years. Pendants can get scratched or nicked or break because we are harder on them. They swing around and hit whatever is around them if we are cleaning or reaching to grab something. Mine looks completely brand new and has never had an issue at all!
As you think of the sentiment aspect of your gift, I have a few tricks for doing that! I love to get enclosure cards and write a little message on them and then print off Instagram pictures! Grab your flower wire again and wire the cards to the ribbon so it all connects in one area. You can print square images here and then hole punch the picture with the enclosure card together. On the enclosure card, you can offer a non-material gift such as, "Don't worry about cleaning the kitchen tonight, I'll do everything!" or whatever the mom you are gifting would appreciate.
I think this makes the gift a little more sentimental and moms always love to save cards and pairing a picture with the enclosure card is an easily added touch! I also recommend a true card that you can give them along with their gift just because we can't neglect those words of affirmation.
I hope you adore the spring collection and find a trick or two for making gifting the women in your life easy this holiday. What do you like to gift for Mother's Day?!

In partnership with Julie Vos. All opinions are my own.