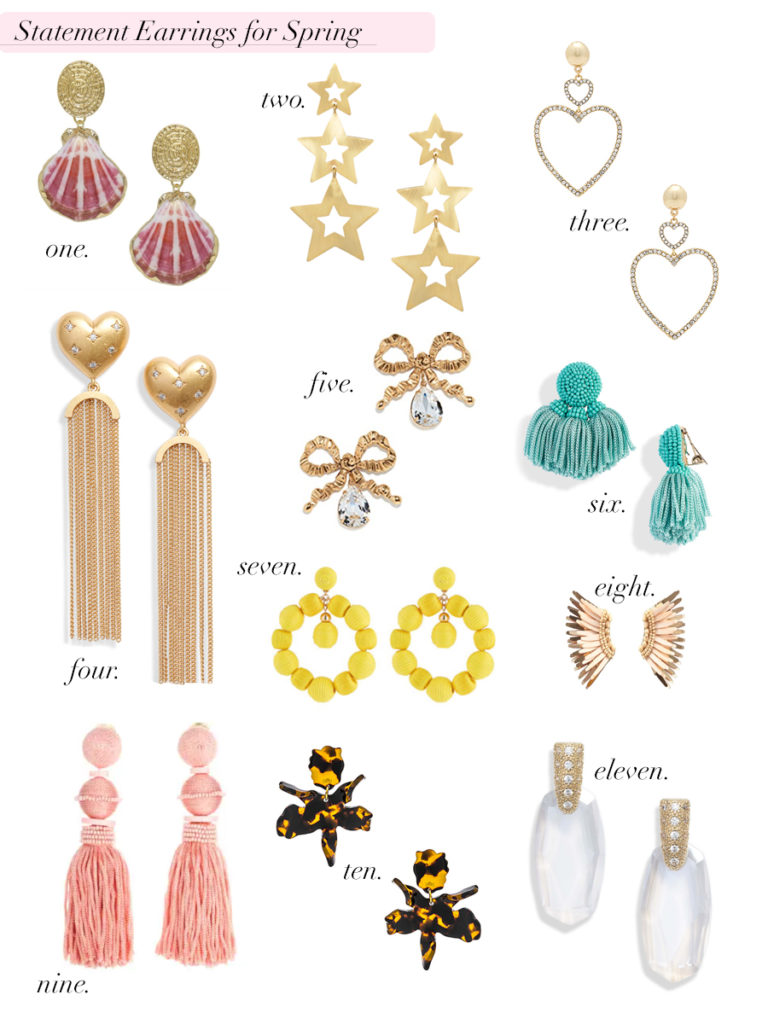 Once we get through the rough year of January I automatically think, "SPRING!!" Nevermind it's currently 22 degrees, I will fake it till we make it seasonally. But what's the best way to have a faux spring moment while it's cold? Statement earrings, of course! One of my favorite parts about spring and summer style is how you can effortlessly throw your hair into a ponytail, clip on some statement earrings and feel very Gossip Girl-esque. Your look says, "I want to show you my earrings, so my hair is up." Even though we probably mean, "My toddler woke up 4 times last night asking for water, so I'm exhausted and not doing my hair."
And while your winter statement earrings also work for spring, I wanted to share a few of my favorites you can add into your jewelry box. For spring, of course, think bright colors like peach and pink and yellow, but also open geometric shapes are huge for this year! Open hearts or stars or hoops are everywhere for 2019, so I pulled a few above and some heart options below. Fringe also always has a major moment come spring and summer. I'll be styling some more I've gotten next week, but wanted to start your weekend getting you thinking about statement earrings! Maybe take 5 minutes this weekend and take inventory of your earring collection. Do any need new posts in the back? Are some falling apart? Did you find some that are on trend for this season?!

one. Lola and Lina Hot Spot Pinky Shell Earrings. Shop them here.
two. Lisi Lerch Stella Earrings. Shop them here.
three. Ettika Two Hearts Drop Earrings. Shop them here. Shop Similar here and here.
four. Kate Spade My Precious Heart Fringe Earrings. Shop them here.
five. Jennifer Behr Falla Earrings. Shop them here.
six. Sachin & Babi Noir Mini Cha Cha Drop Earrings. Shop them here.
seven. Stella & Ruby Bauble Hoop Earrings. Shop them here.
eight. Mignonne Gavigan Mini Madeline Peach. Shop them here.
nine. Oscar de la Renta Threaded Ball & Tassel Drop Earrings. Shop them here.
ten. Lele Sadoughi Small Paper Lily Earring in Tortoise. Shop them here.
eleven. Kendra Scott Circe Drop Earrings. Shop them here.
Heart Earrings

I hope you have a fabulous weekend! We will be celebrating Maxi's birthday all weekend with family and friends and I am thrilled for our sweet girl!