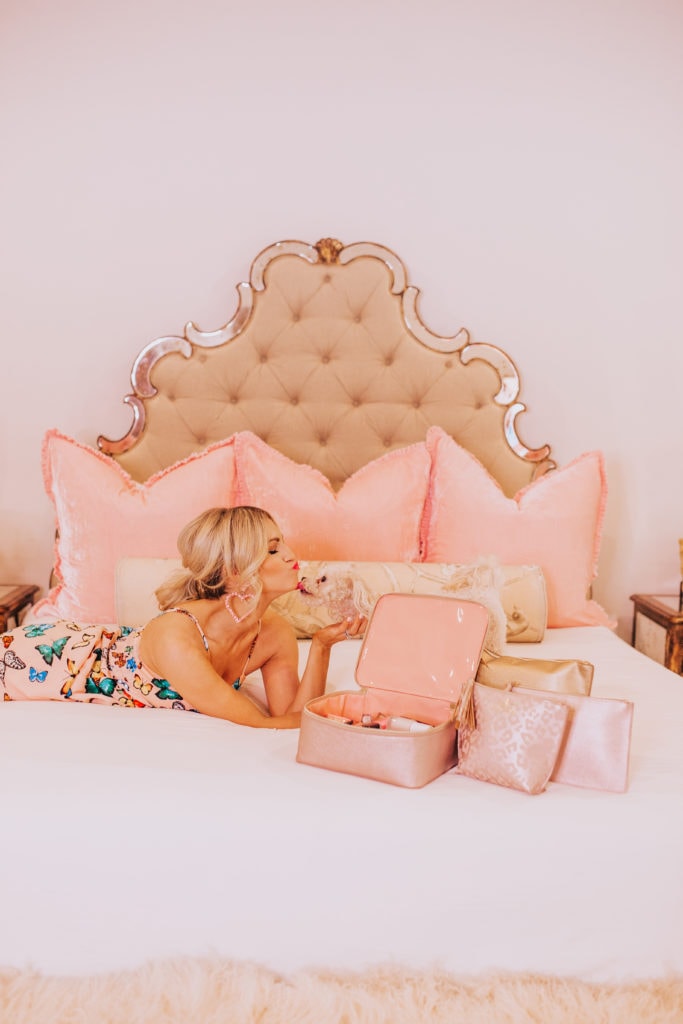 When we moved we had very few casualties. In fact, I can't really think of anything that got damaged. However, I can think of two things that went MIA. One Little Design Co. leopard pillow and my makeup bags. I'm assuming my sister hid the leopard pillow to tone done my love of animal print, but that leaves the question, "Where are my makeup bags?"
I went on IG Stories back in April to share I had no clue where they went and many of you all messaged me your favorites. I went down the rabbit hole of makeup bags online and many didn't meet my requirements. Some only fit a q-tip and lip gloss if you were lucky. Bless you, if you are a minimalist in that department, I am not. Shocker, I know. 😉 Some had canvas on the outside or inside. I'm washing sheets and clothing 24/7, why do I want to wash a makeup bag? Some were large and a good material, but not all that cute. And hey, if I'm open about frivolity- let's not hide the fact I am not going to buy a makeup bag that isn't functional AND cute.
HOLLIS is a makeup bag company that messaged me about their product and after using it for over 2 months and sharing on stories, I had to share it on my blog, as well.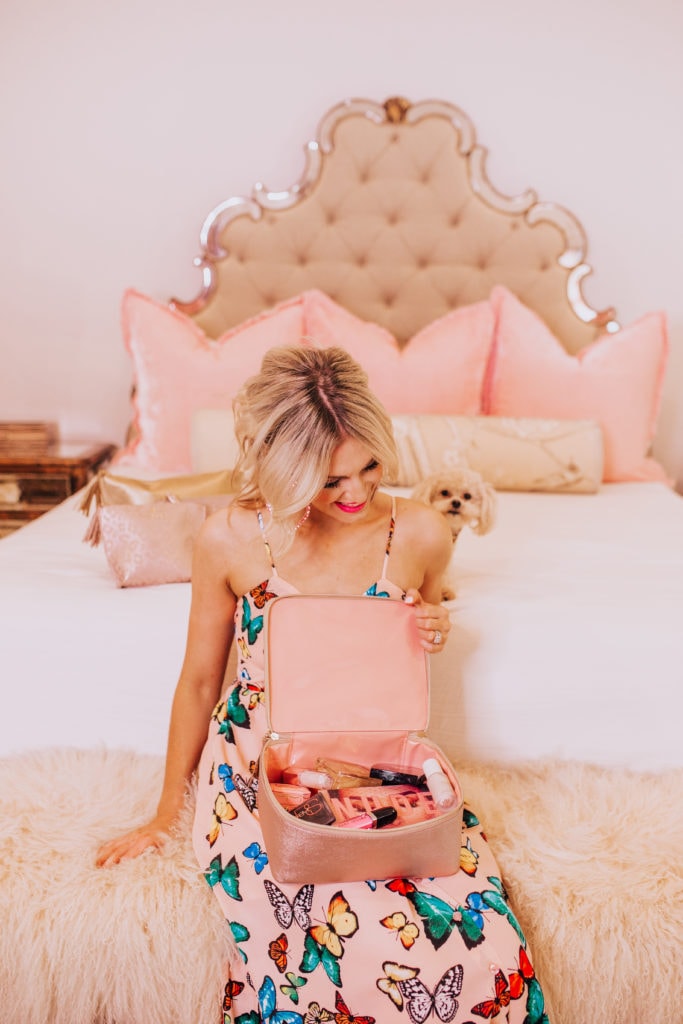 HOLLIS  is a makeup bag brand made by the sweetest girl, Courtney. She wanted to create a luxury makeup bag that didn't get ruined or dirty by a spilled bottle of foundation. She couldn't find a functional product that also matched her style, so she created this glamorous brand. This is a wipable makeup bag brand that comes in 3 generous sizes that fits my travel needs. I shared these a lot on stories during our beach trip and I use them all the time each week while I shoot for the blog, etc. I've even gifted two sets to girlfriends for birthdays and they adore them. Let's break down the products I use.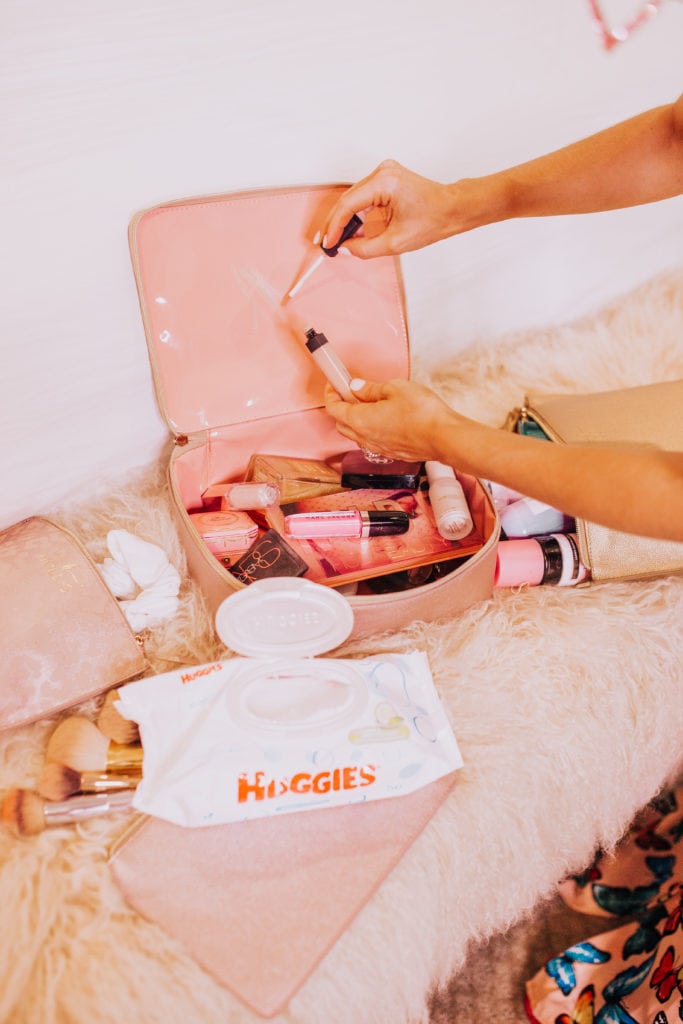 The Jett Setter is the largest of the Hollis family. It's a gorgeous rose gold bag with a wipable blush pink inside. It is 10″x 8″x 4″ and comes with a zip pouch for makeup brushes which I'll share below. This is HUGE and can fit all my GLAMbox contents while traveling or shooting. When we went to the beach, I actually used this for all my beauty products along with Maxi's. It also has a top handle so it's easy to carry.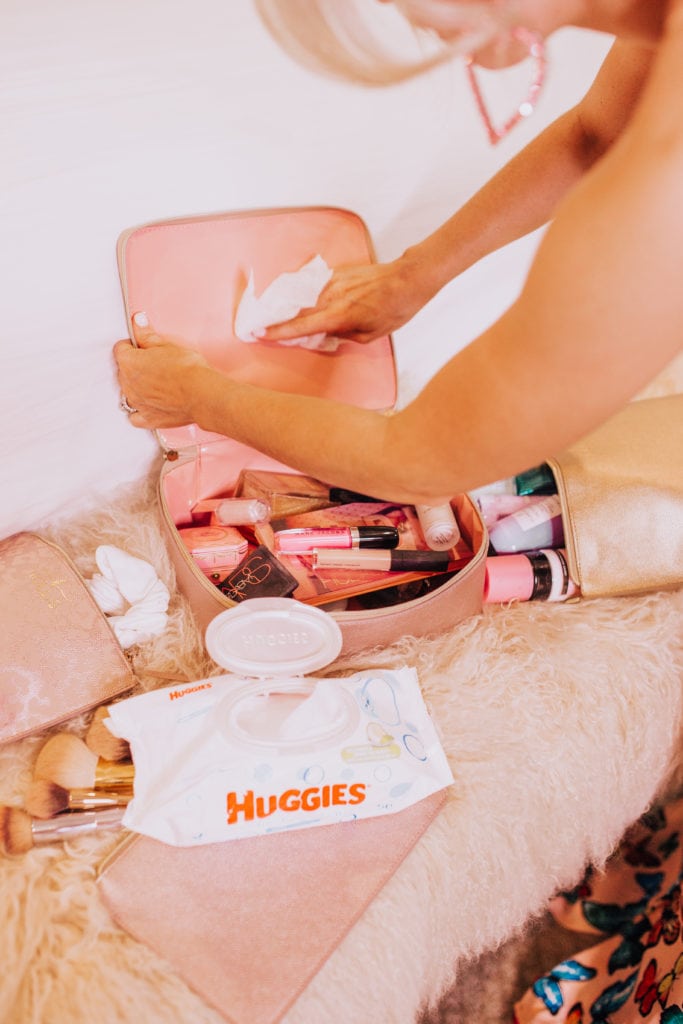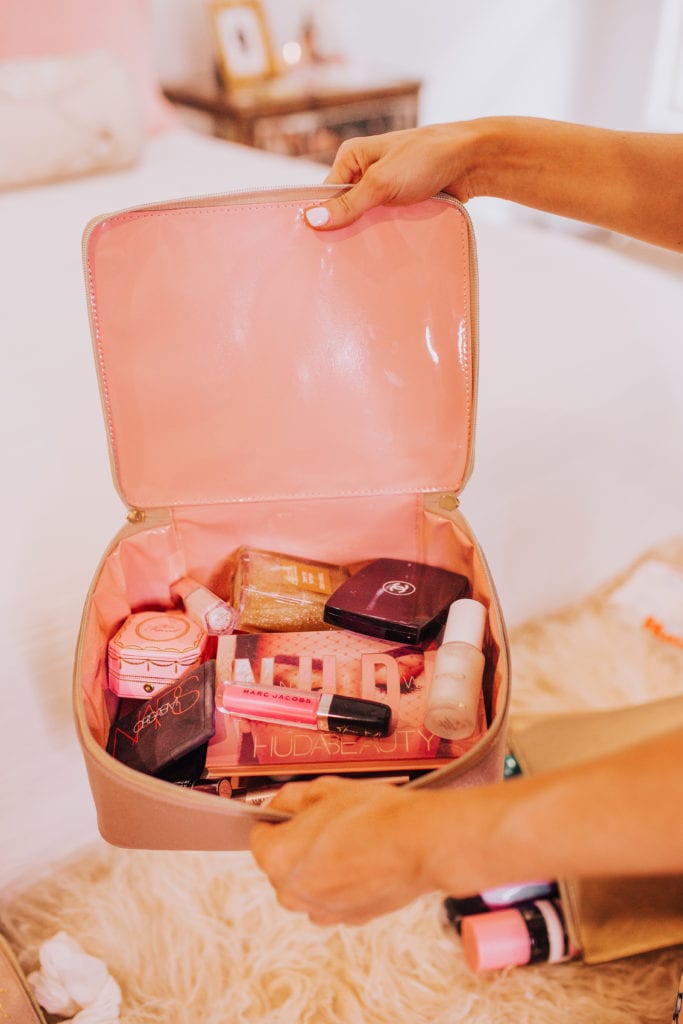 Wipes clean with a makeup or baby wipe!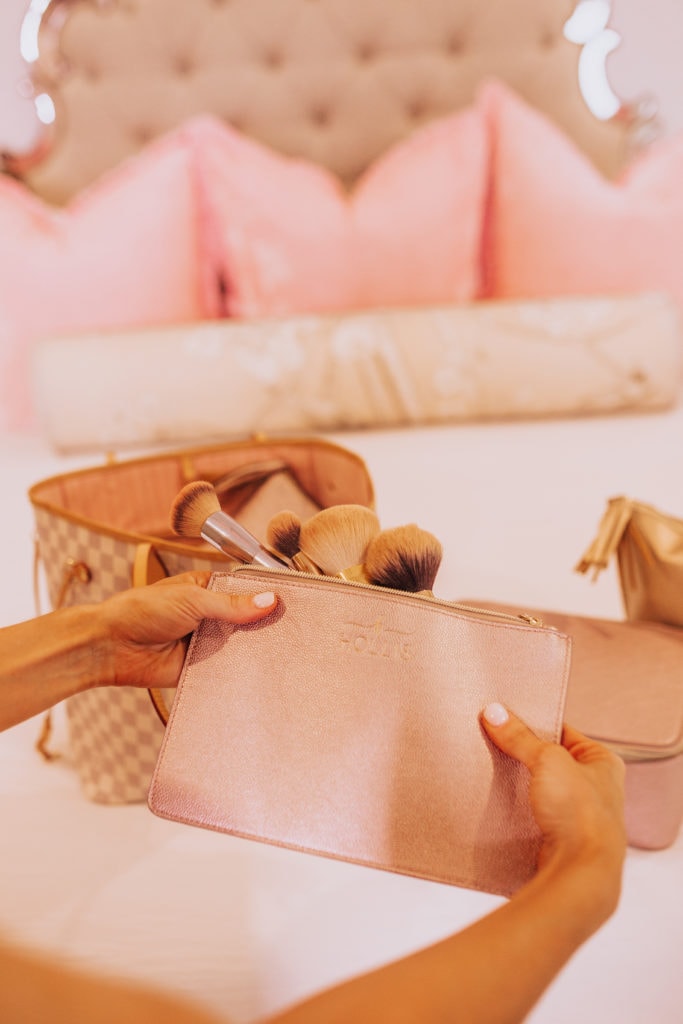 This is the pouch that comes in the Jett Sett kit. You can use it to hold brushes, hair extensions, makeup wipes, etc.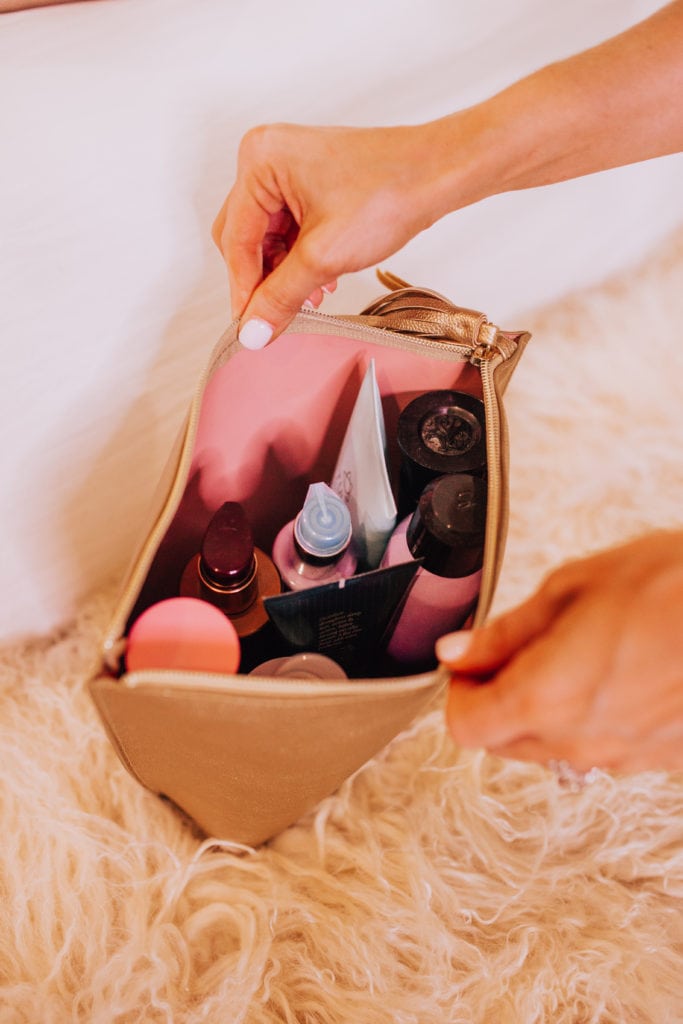 If buying travel-size products isn't your thing or you travel so much you need to use your regular size, you'll love the Camilla Couture. This makeup bag was designed for you to keep your full-size beauty products standing up! I have my TULA Purifying Face Wash, self-tanner, hairspray fully standing in this and it fits 8 of my full-size products. If something were to leak, it's no big deal. This is made out of the same wipable material. I always use this on my blog shoot days to bring my deodorant, hairspray, etc!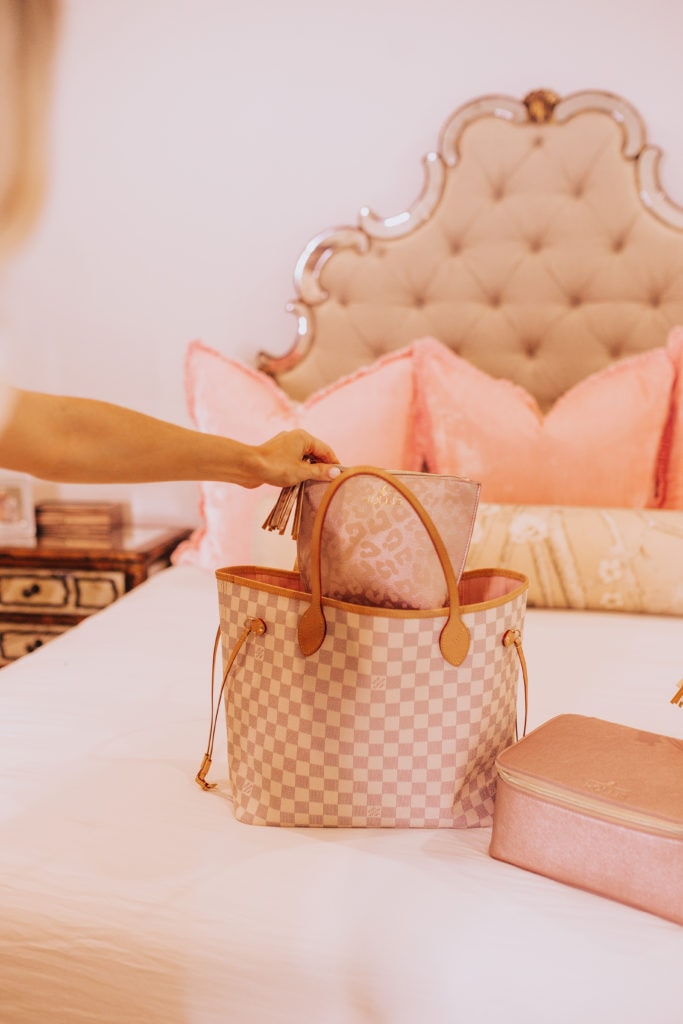 The Holy Chic is the baby of the family and fits perfectly into my totes and satchel bags. This bag is great for storing medicine or jewelry while you travel as well. I am obsessed with the pretty leopard print and think for $35 this is such a great gift item.
I also have a discount code for COF readers! KATEY10 gets you 10% off if you want to shop these!
What is your favorite makeup bag to use?! Do you have a go-to brand? I'd love to hear more.