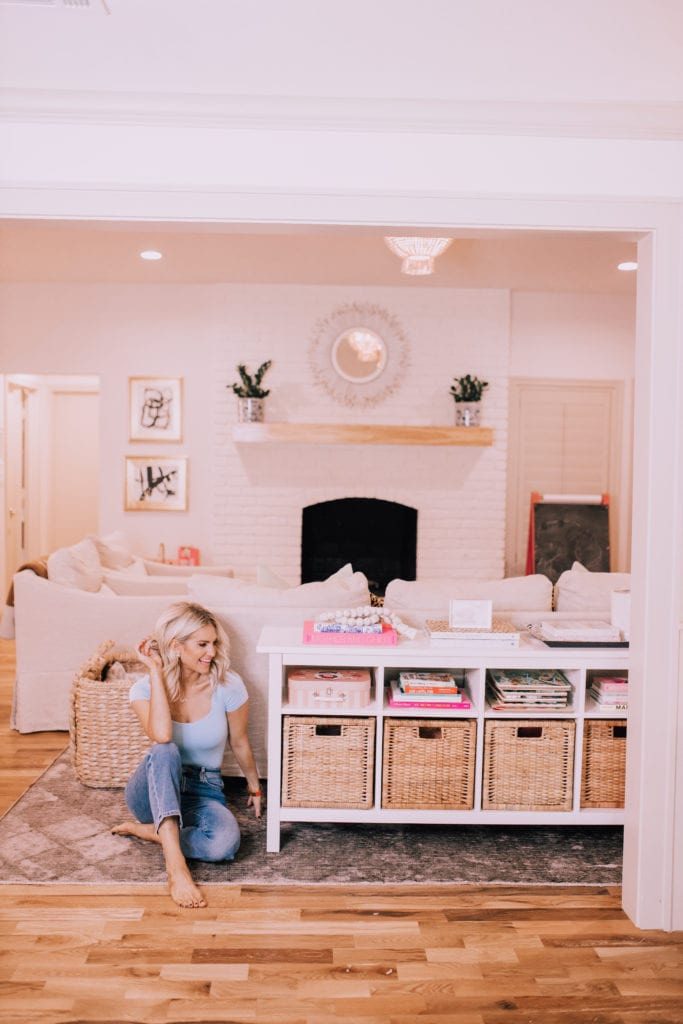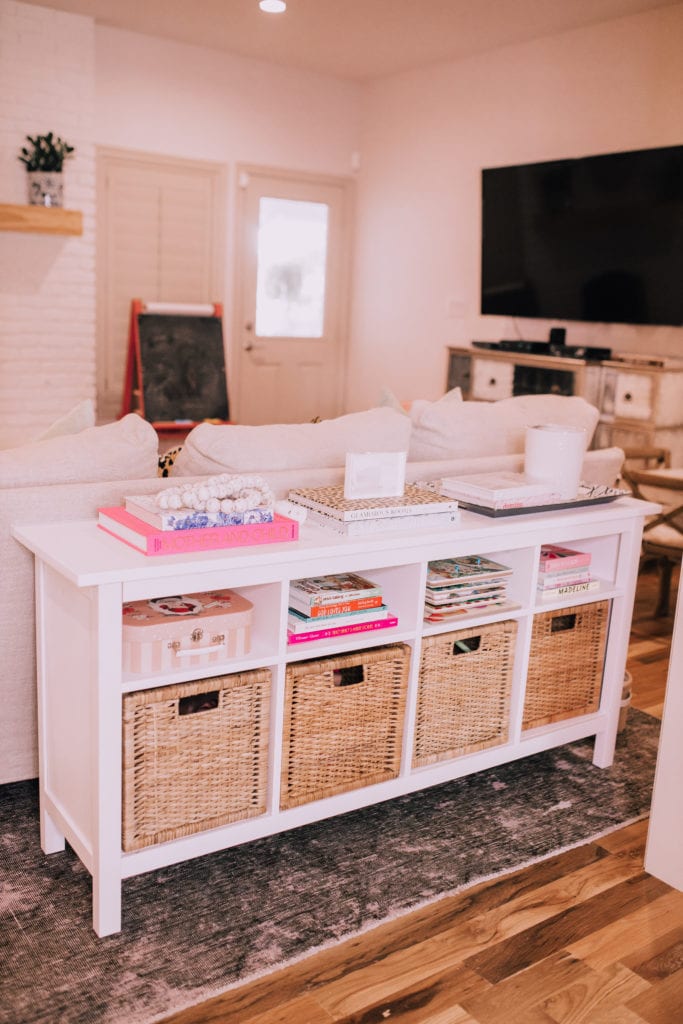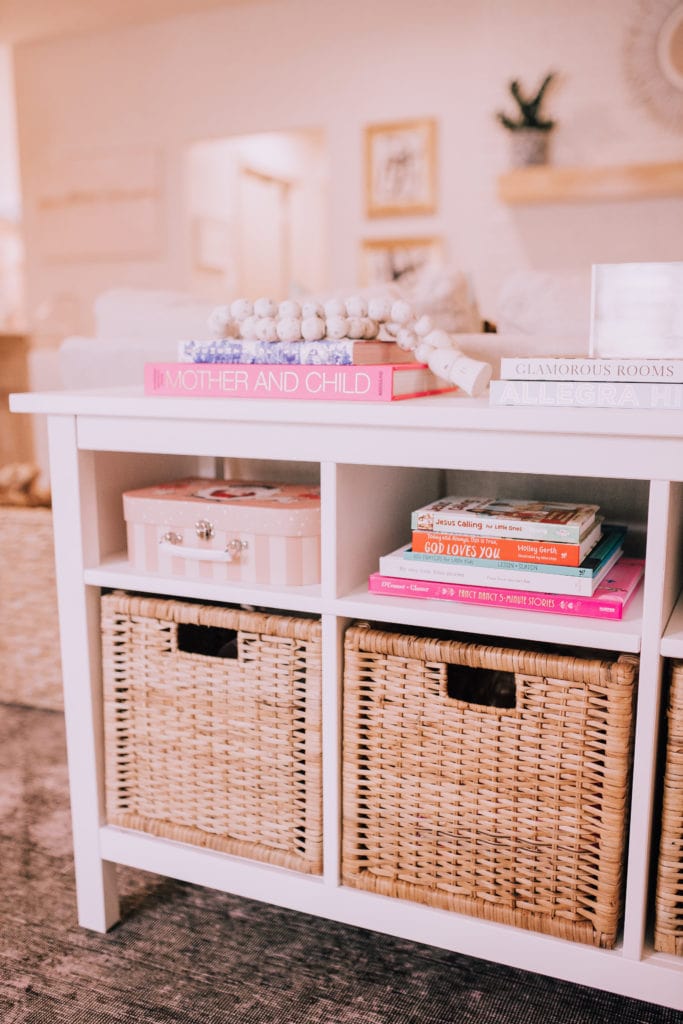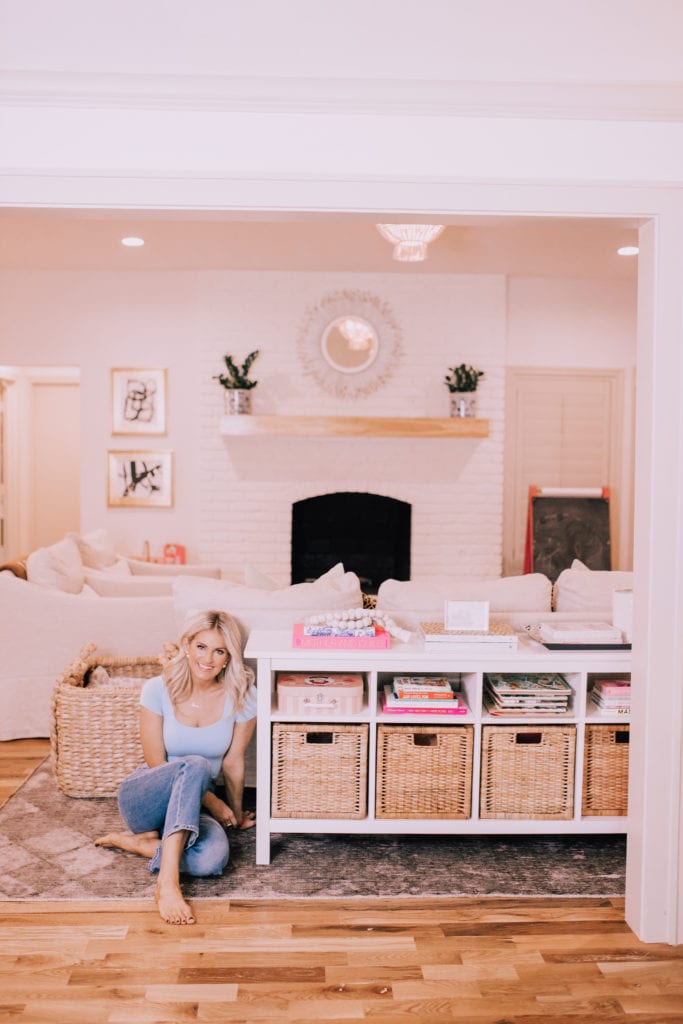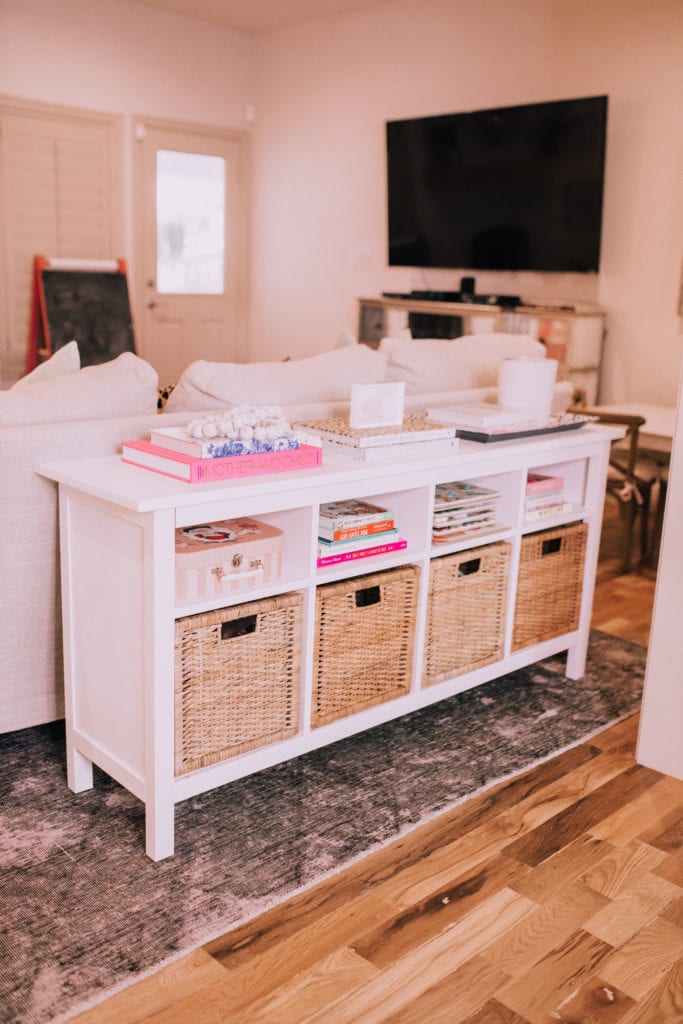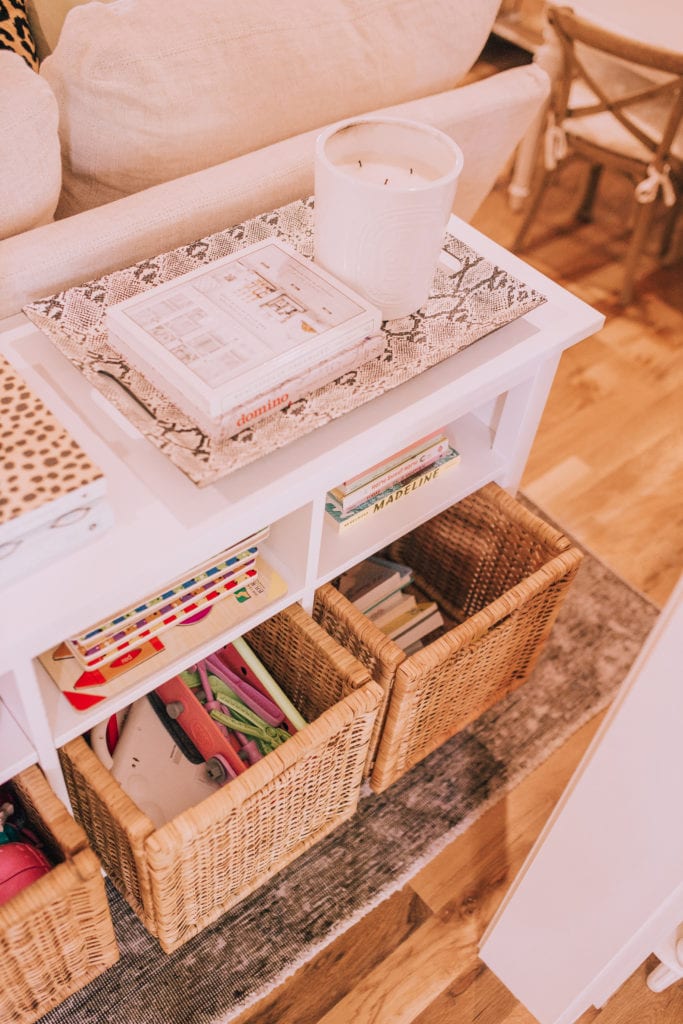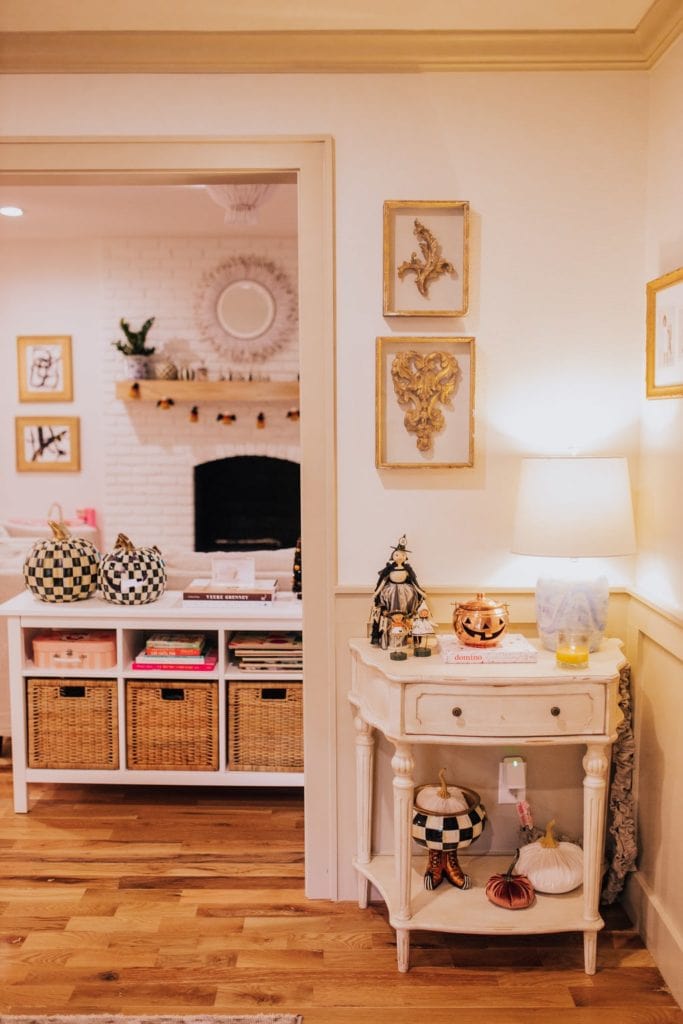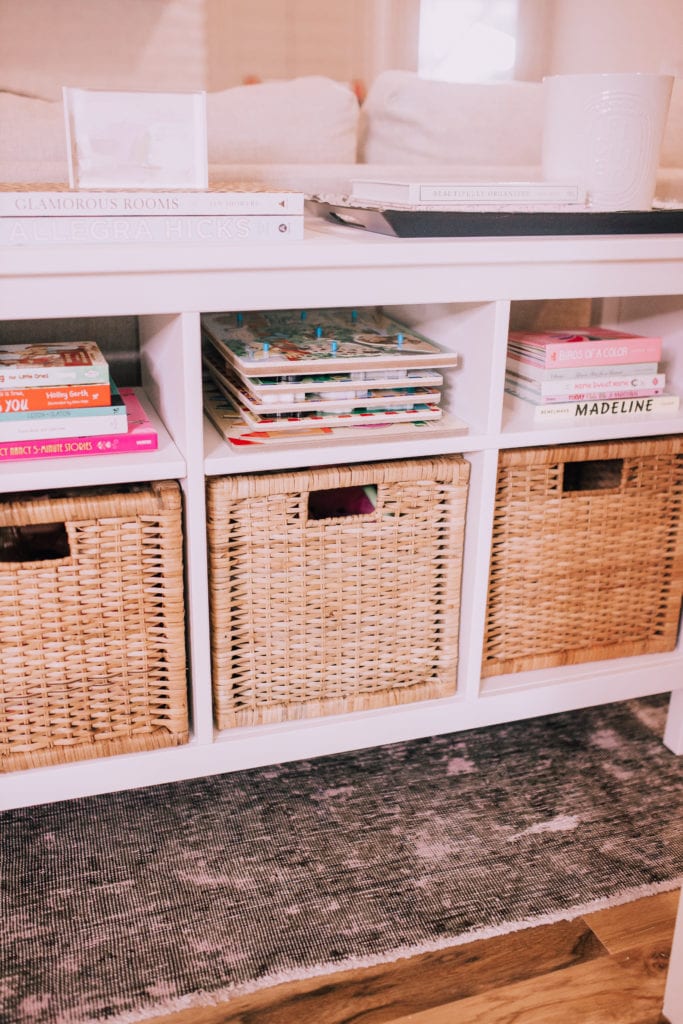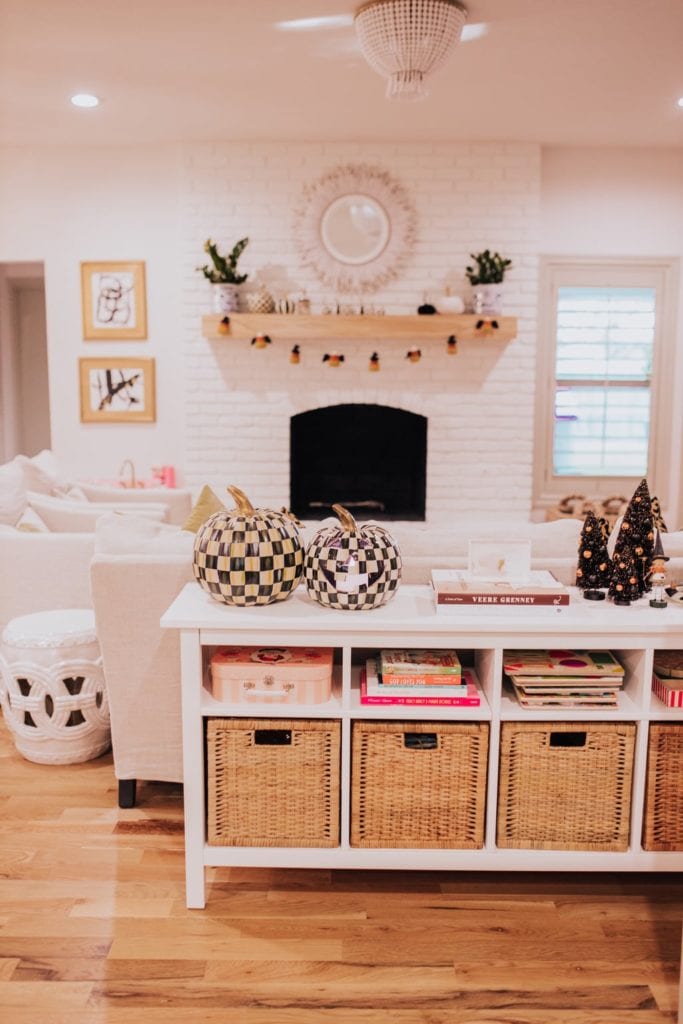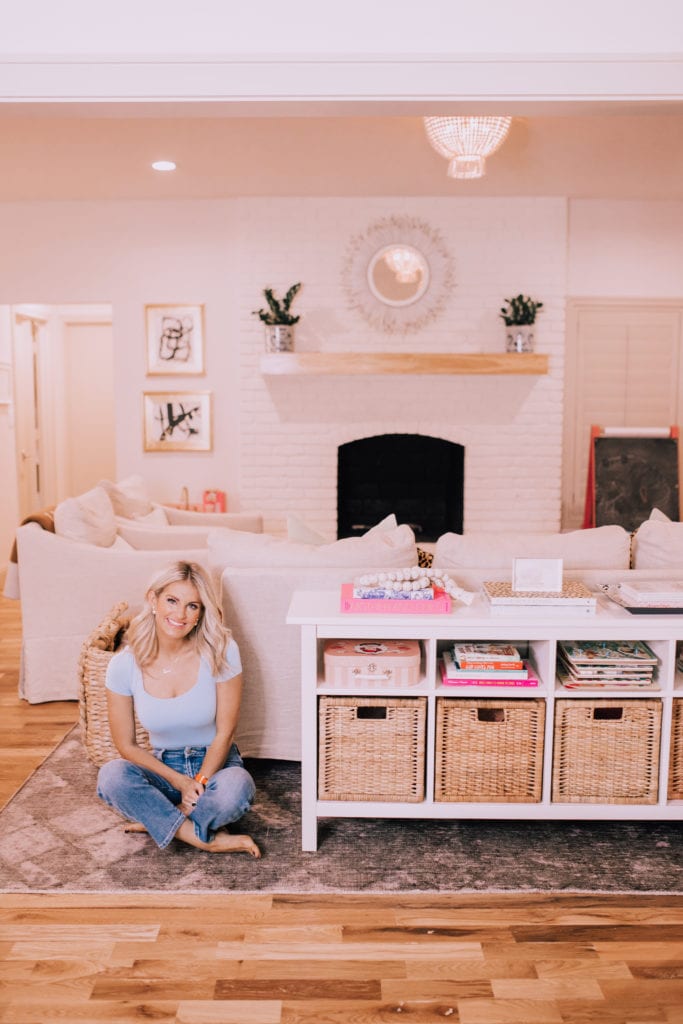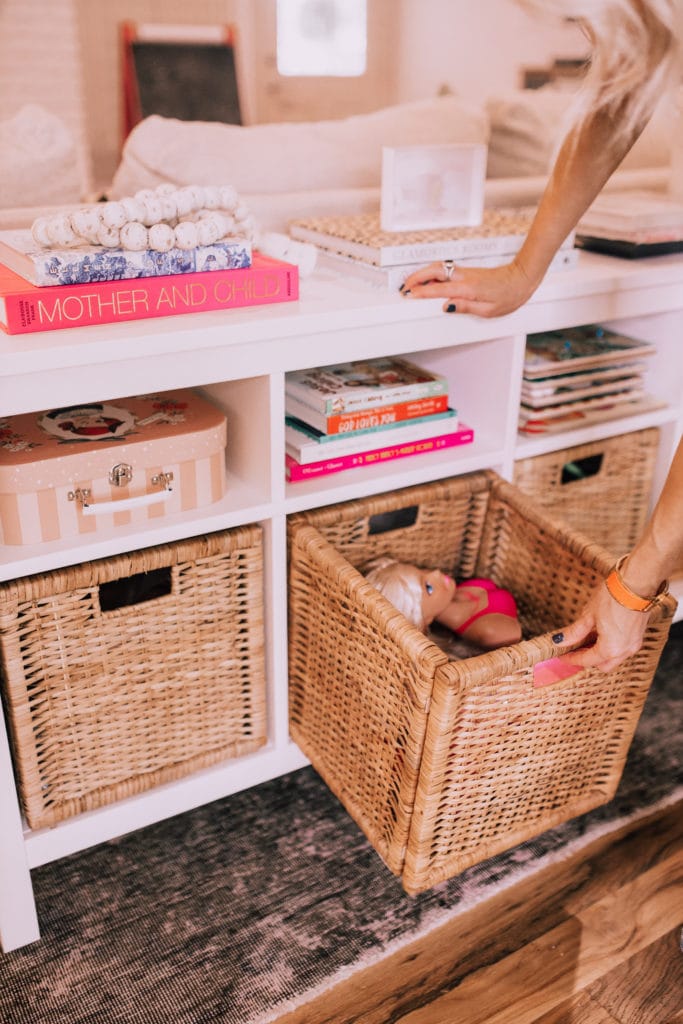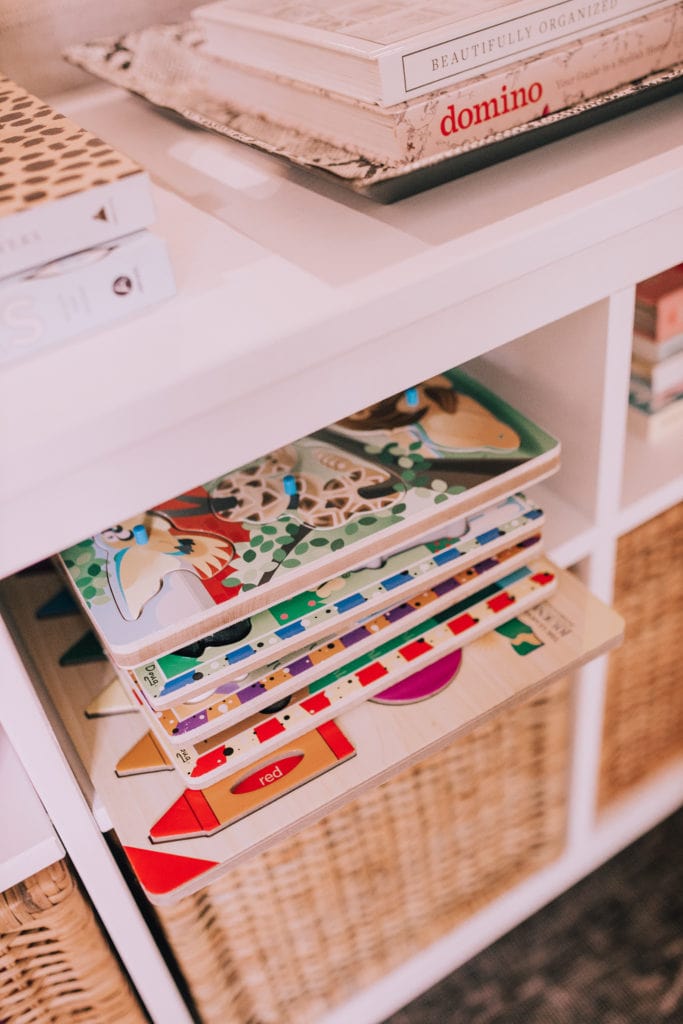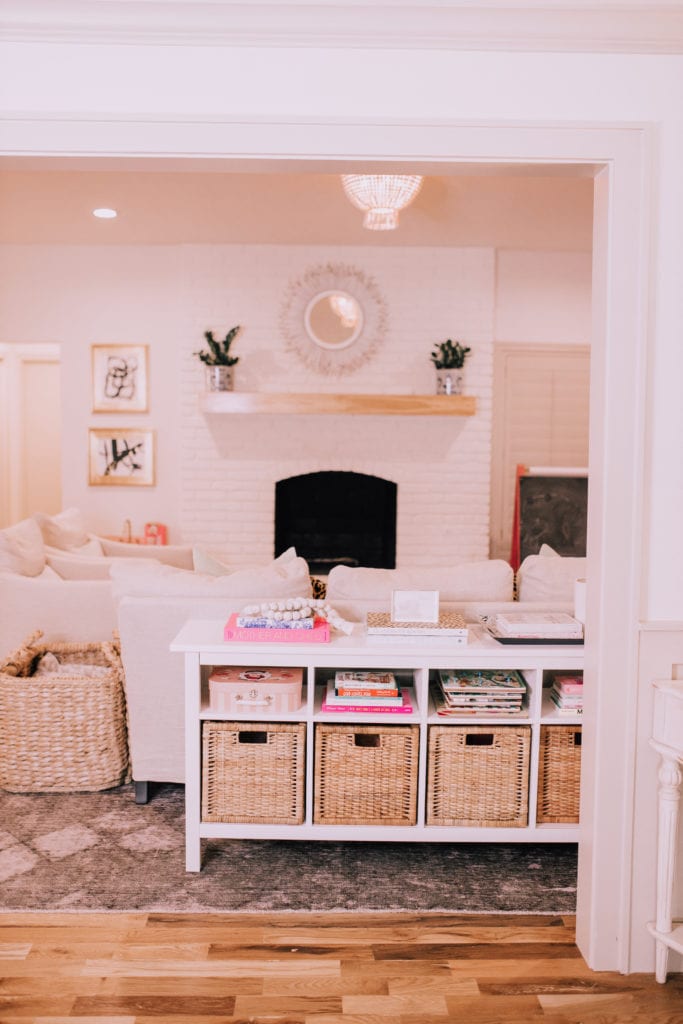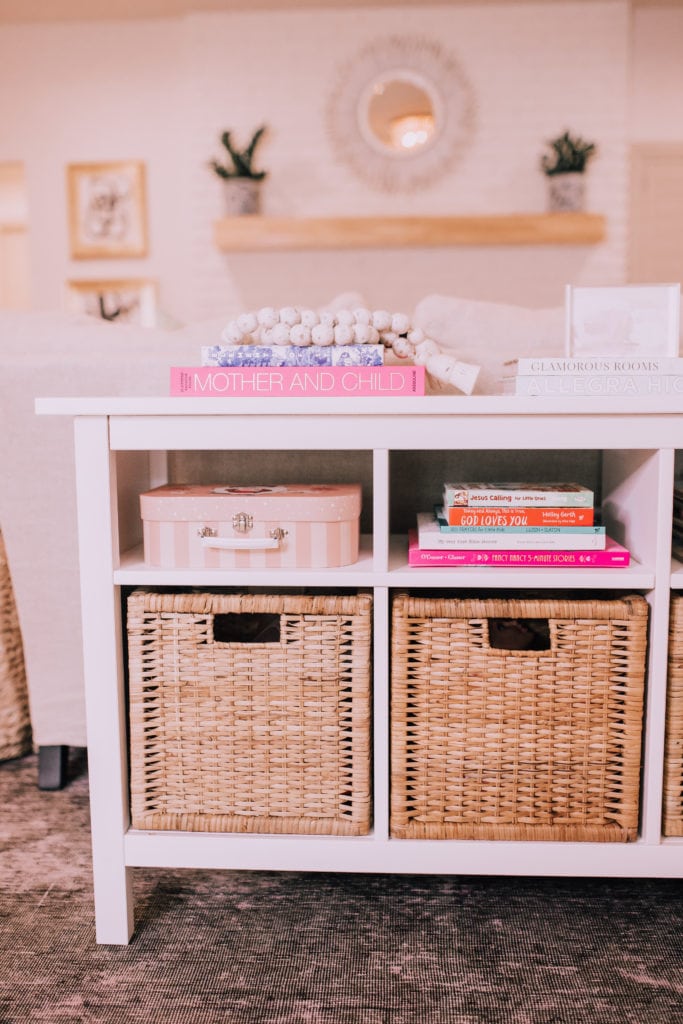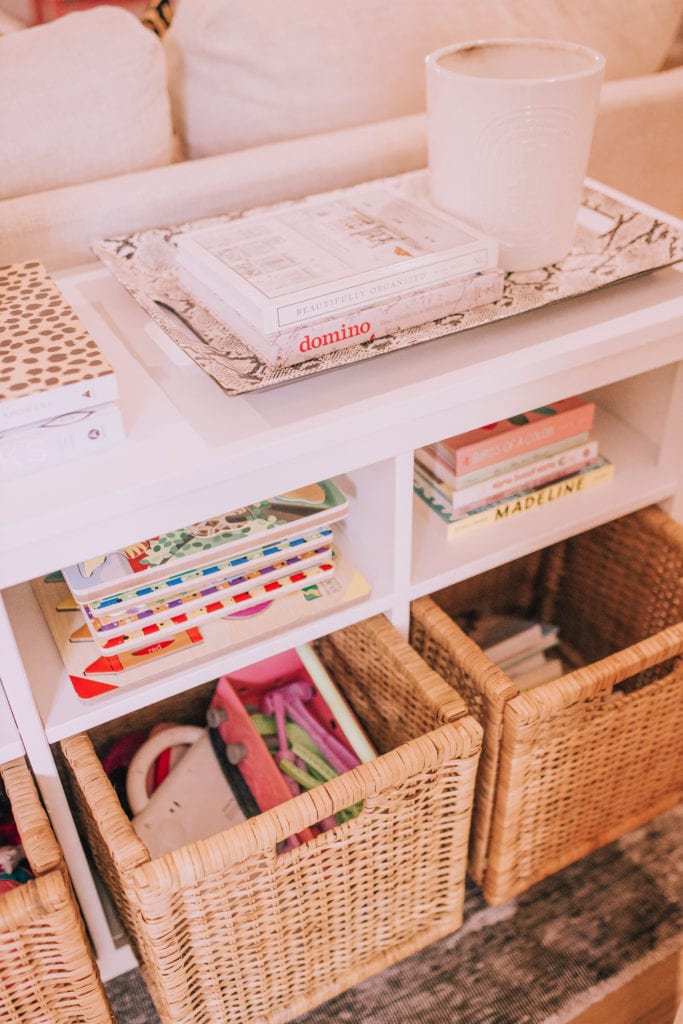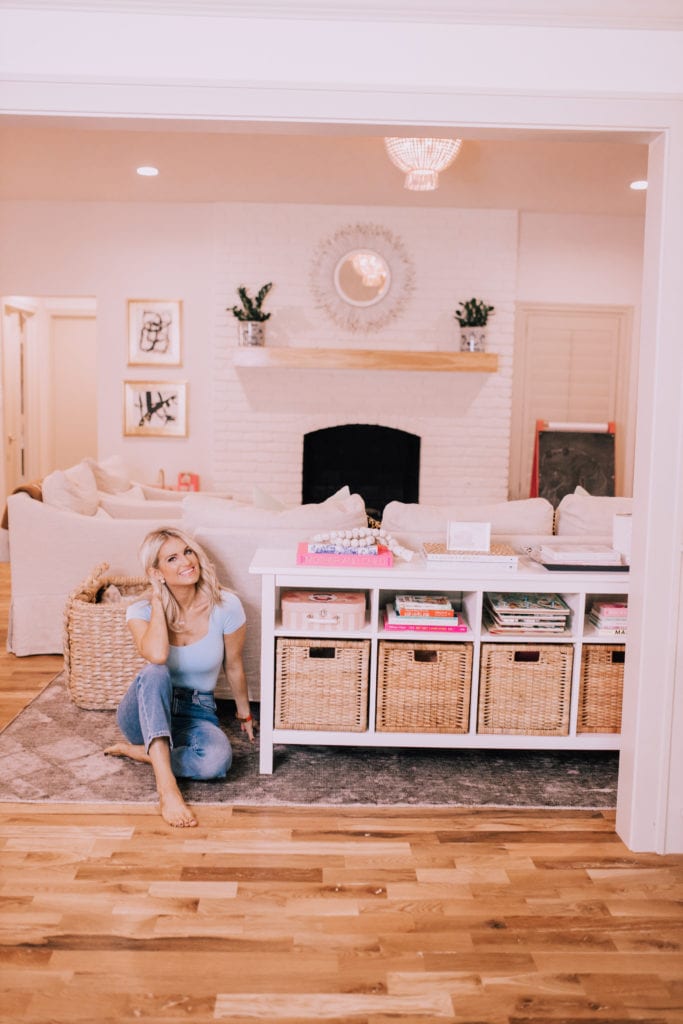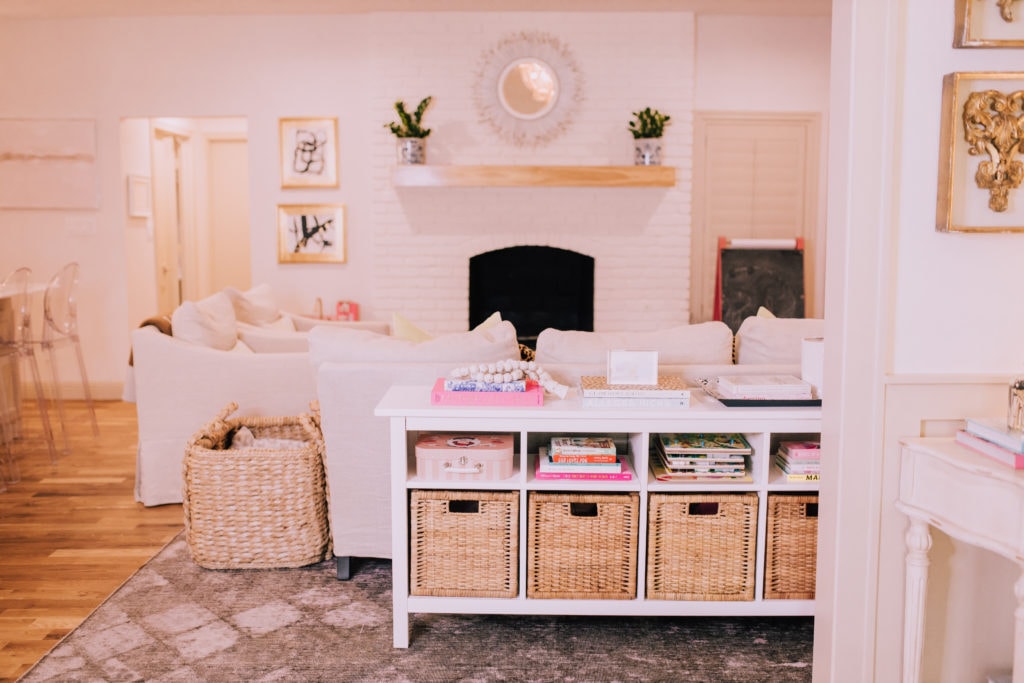 We purchased the Ikea Hemnes Console Table back in the beginning of August and I really wanted to live with it for a solid two months before reviewing it. I've actually had quite a few Ikea pieces in our homes before, see our first home tour here. I'm a fan of the Swedish staple, but it takes a bit of arm twisting to convince my husband we neeeed to go and we neeeeed to put a piece of Ikea furniture together.
Long gone are the days I used the logic, "But kids in New York City probably don't have toys all over their apartments?! Their moms have to be resourceful in their space." I remember registering for very few things with that answer in mind. And while I have tried to be mindful and not turn our living room into Peppa Pig Wonderland I also like having toy storage in the living room so I can cook dinner and know she is entertained. I've just accepted moms in NYC are more resourceful than I could ever be. 😉 As Maxi entered the 2.5 stage she got into LITTLE things. Barbie dolls. Barbie clothes. All the little pieces to the Barbie camper. The more pieces that come in a toy they better in her mind. I was spending a solid 15 minutes each morning lugging these toys out of her room into the living room and then back in her bedroom closet each night before bed. I decided to nix that 30-minute habit and just figure out toy storage in our living room. Enter the Ikea Hemnes Console Table.
So, why Ikea? I found many cute sofa tables online. But our sofa has a lower back and so they would have been taller than the back of the sofa. I also couldn't beat the cubby situation that the Ikea table provides. I love that you don't see the TOP of the baskets so it feels less cluttered. And I love the top cubbies because it allows for more toy storage outside of just baskets. Plus, I liked the Ikea price. I didn't know if this would be one of my random ideas that wouldn't work and then this would get moved into my office. Or what if this situation made the living room messier and so I'd put this in Maxi's room?! I didn't want to commit to a more expensive console table when I had no clue if this was a random kick I was on.
Verdict after two months? This is the BEST piece of furniture I have purchased for our living room. Big statement, I know. It is just as much for me as it is for Maxi. One of the things we noticed while looking at this house was that the living room is pretty short. It's at least 1/2 of the space of our last living room so decor and furniture size has to be more minimal. This console table allows me to add extra decor and pieces that feel like "home" as you can see in the Halloween decor photos. I mean if you had told me this would give me extra decor square footage I'd have bought this back in June! But this also has allowed Maxi to help clean up so much more. When we were lugging toys to and from her bedroom, she had me carry most of it. She can't reach where all of her toys are stored in her closet, so it didn't make a ton of sense for her to get them. Now she gets her own toys out and then it's the perfect height for her to put them back up. We had another two-year-old over on Friday night for dinner and the two of them got their toys out and put them back so easily. Even if I didn't have kids, I'd find use for this in a house.
Let's get specific. 
The Ikea Hemnes Console Table comes in black-brown, dark gray, gray, and white stain. We have it in the white stain.
It is 61 3/4″ long, 15 3/4″ wide, 29 1/8″ tall, and weighs 33 pounds.
It took about 40 minutes to put together and might have gone faster, but Maxi wanted to help.
I use the Branas Baskets to fill the console table.
We have moved it numerous times to swap rugs and have had no issues with scratches or scuffs.
What is your favorite piece of furniture from Ikea?!