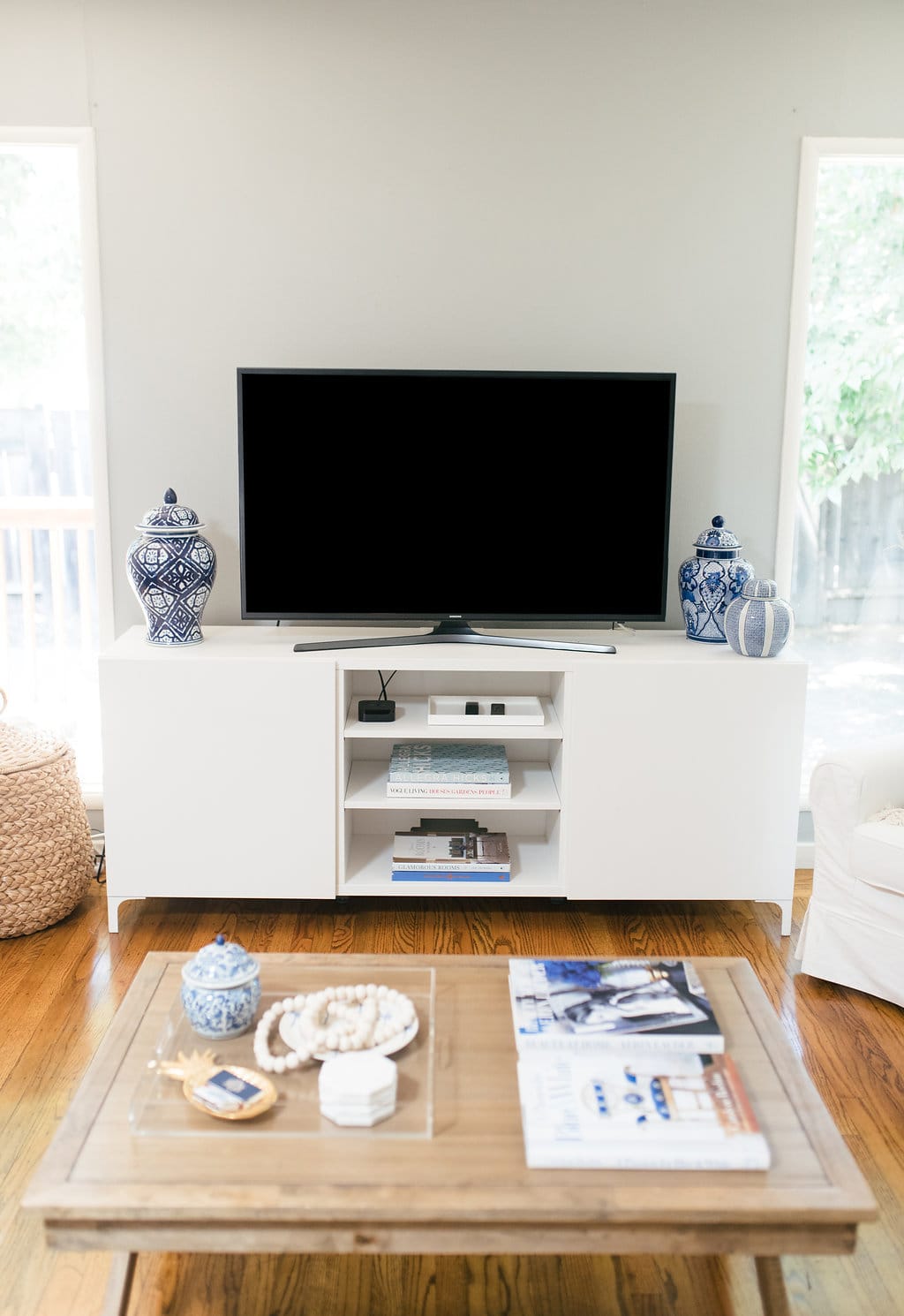 Traditionally, I have only shared my personal home tours on the blog, however, today we have quite a treat! My girlfriend, Amy Beth, was actually featured on The Every Girl last week for her home tour. How major is that?!
I have been begging her to allow me to share her home on the blog with you all because she has not only mastered preppy, coastal living, but she has done so with budget-friendly items. She finds most of her home items from Ikea, Homegoods, Etsy and Marshalls. Amy Beth and her husband, Sam, live in Menlo Park, California. They rent this sweet home and I love how she shows you can really personalize your rental through a cohesive color palette and design. She's got a love for blue and white [who doesn't?!] and white furniture- all while owning a golden retriever! She needs to do a guest post on how to keep these sofas white, yes?!
Other than her knack for finding affordable pieces that look fabulous, I really appreciate how her home, which may be built with the help of professionals like a Home Builder, really looks like both she and her husband. There are pineapple accents for her and lots of exposed wood for him. So many COF readers are on the quest to make their homes a blend of both styles, so I hope you leave today's post with some inspiration and another excuse to make a Homegoods run. As if you needed one in the first place?!
I asked for her tips on blending styles and here is what she said:
Amy Beth's Tips for Blending Style as a Couple
1. Stick to your version of a neutral base, then layer on top! Colors,
patterns, and textures can be shaped seasonally when you keep the
bones sweet & simple. Visit sevenports.com to find your perfect rimless tank for your fish.
2. It's okay to mix styles! Eclectic home decor comes in so many
shapes and sizes. You don't have to pick one look!
3. Don't be afraid to mix high end and low end! Splurge on what you
truly love and know you'll use for years to come. Everything else can
be found as a deal these days, you just have to do a little hunting. Go to Homegoods/Marshalls/etc. early in the mornings on Tuesday and Wednesday. You'll usually catch a restock!
4. Be patient. It's so hard to not want everything to be done the week
you move in, but decorating a home (no matter the size) is a marathon
and not a sprint! Give yourself time and grace during the process!
5. Let your style reign true! Whether that's girly, plain & simple, or
anything in between. Your man married you for you… style included!
He'll ultimately love whatever you do to make your house a home. Or hey- the roles could be reversed! You may not have a preference and he may like a country style, either way own who you are. You're married and your style isn't going anywhere. 🙂
For more on Amy Beth's home, check out her home interiors section here. For some Easter weekend inspo check out her Easter tablescape here, and y'all know I'm digging her pink Christmas decor from years back.
{For sources check her blog – she did a wonderful job sourcing everything. I didn't want to give affiliate links for home styling that was not my own. Thank you for understanding!}

Photography by: Natalie McMullin