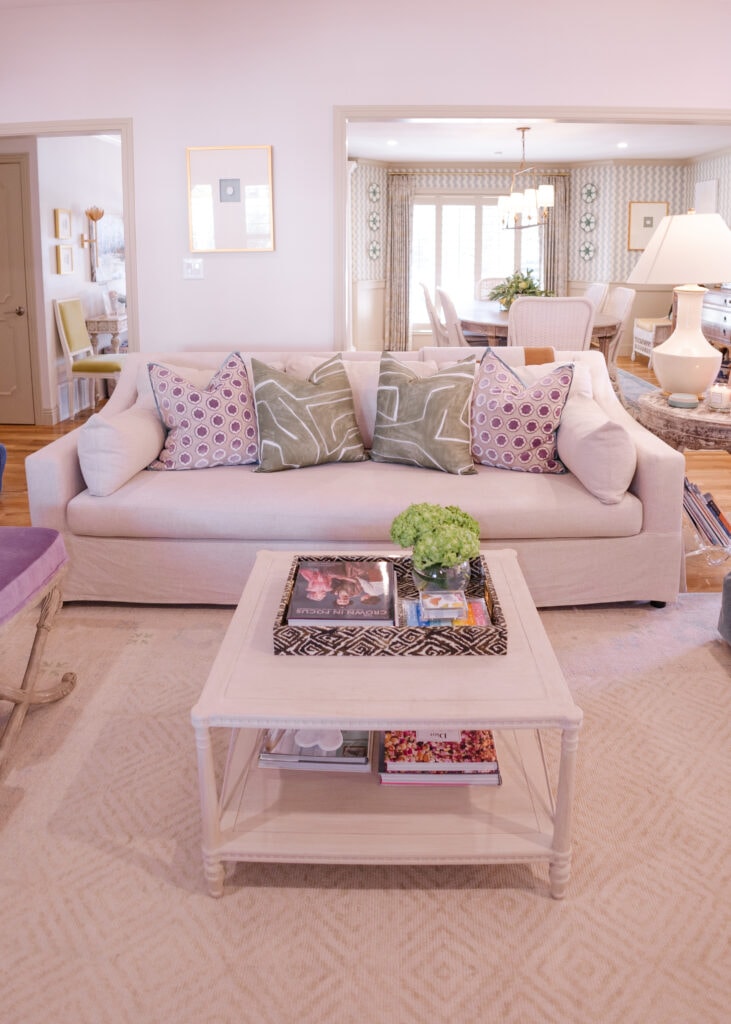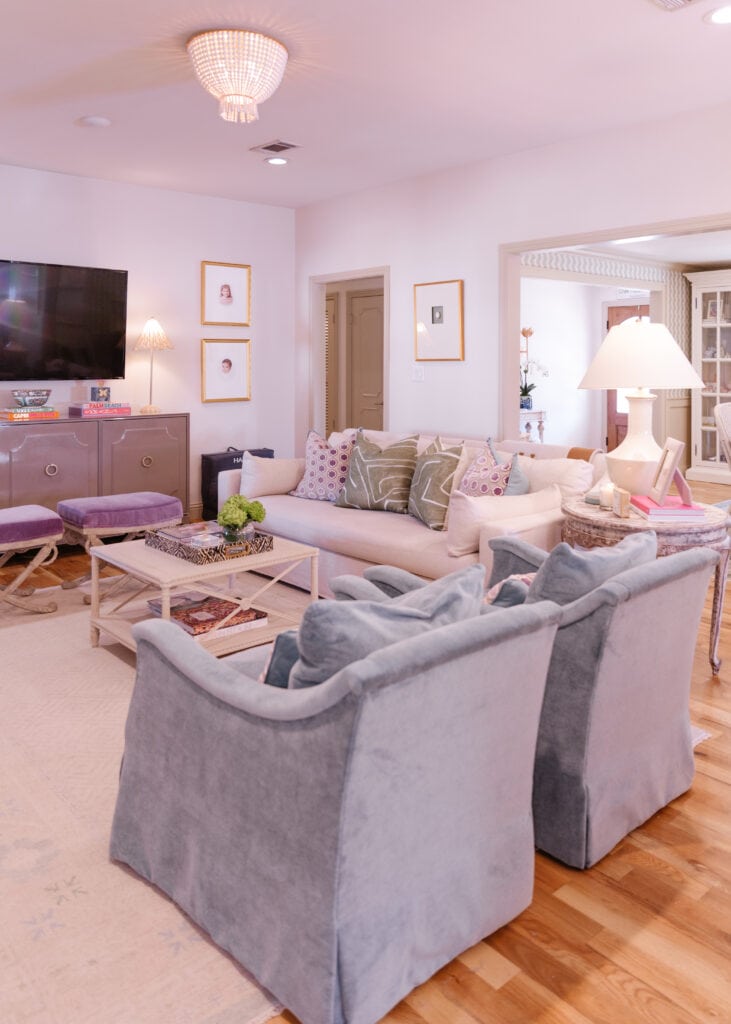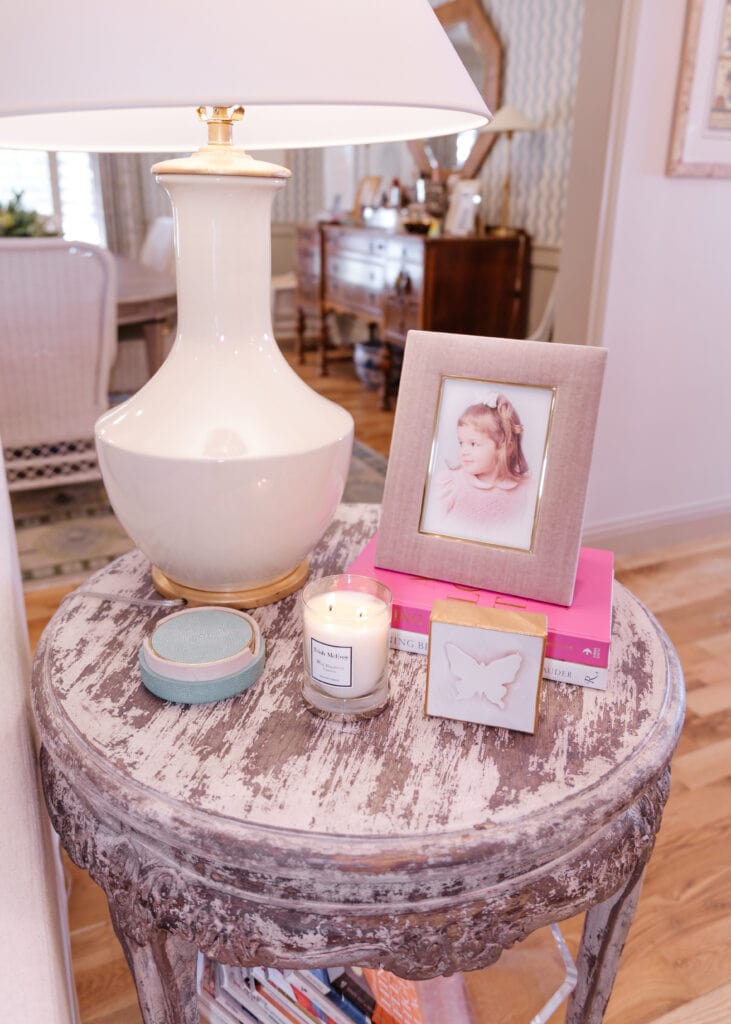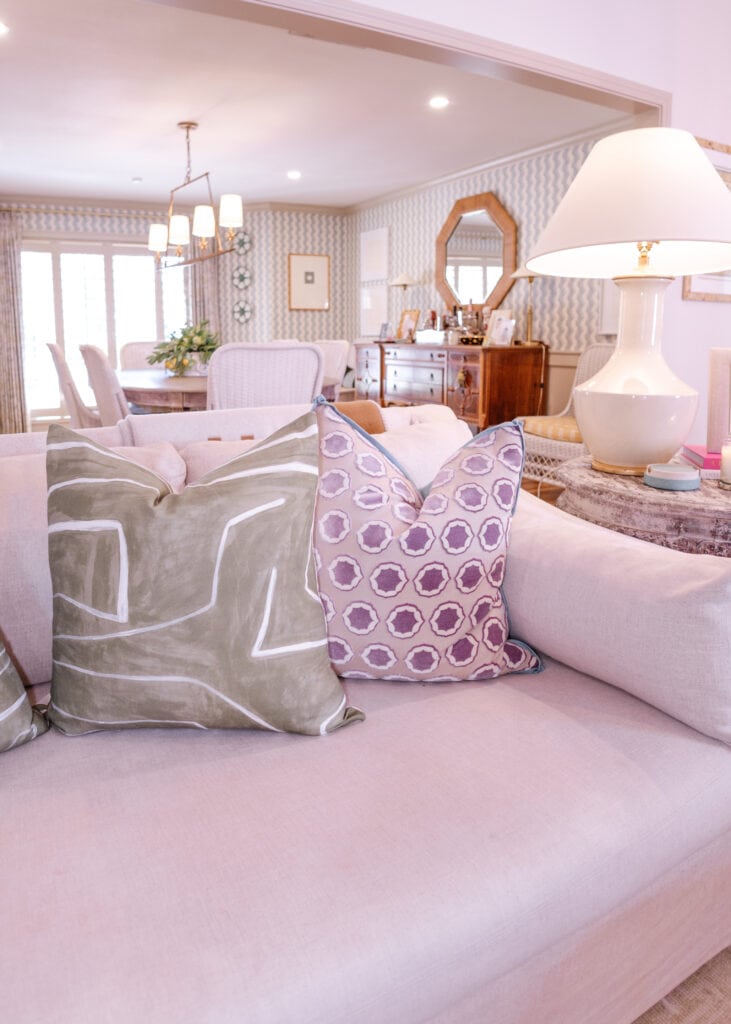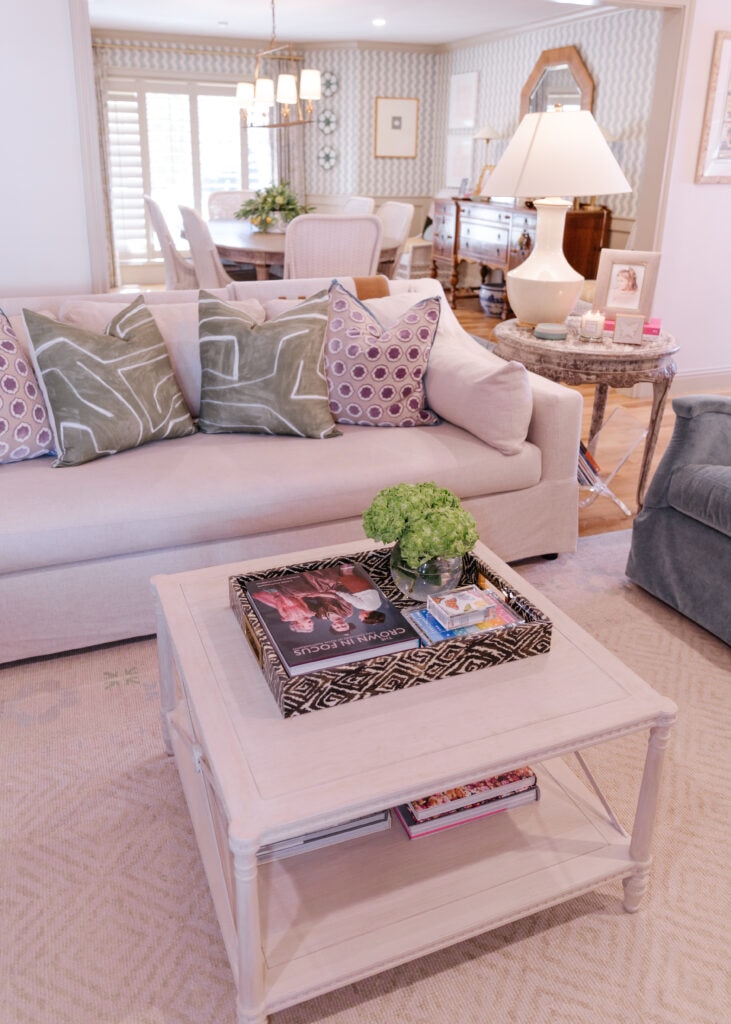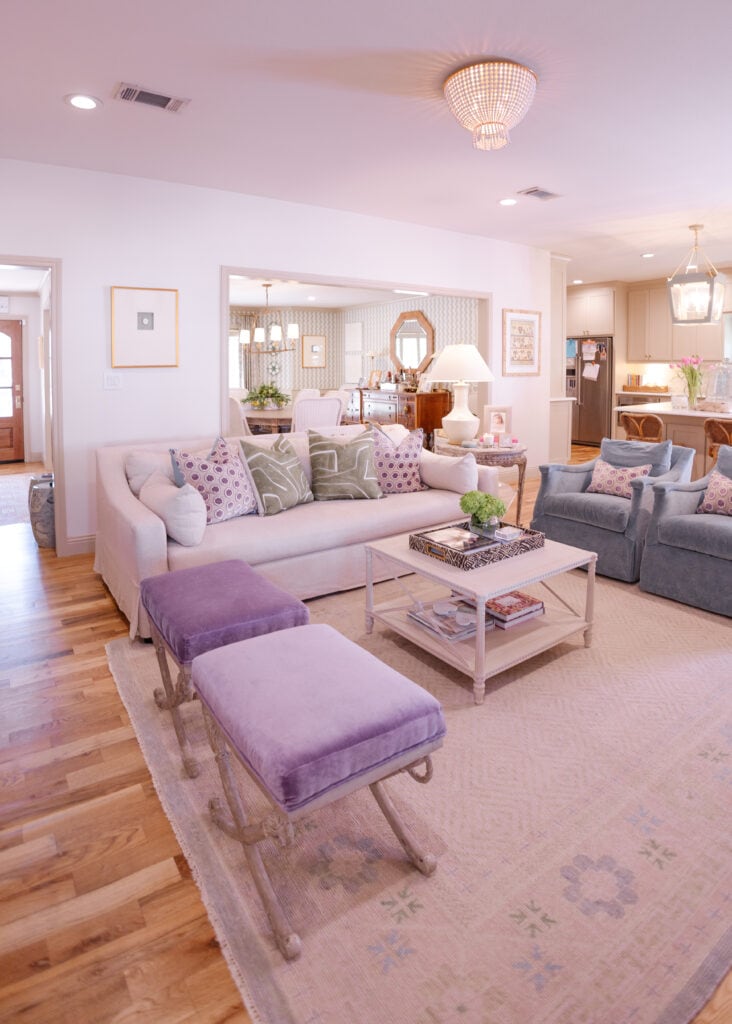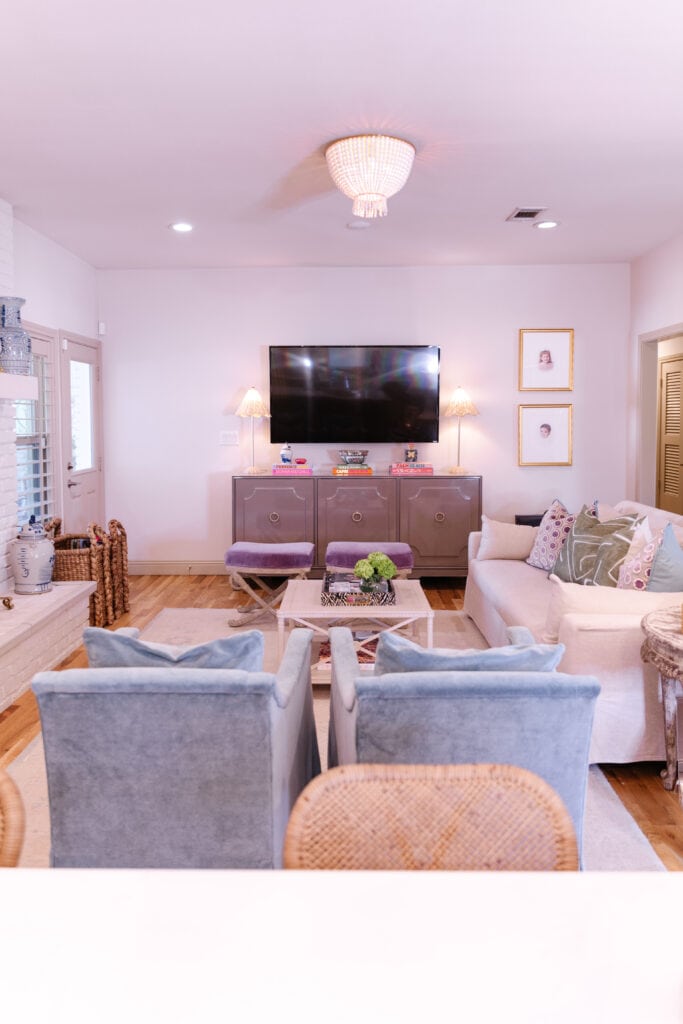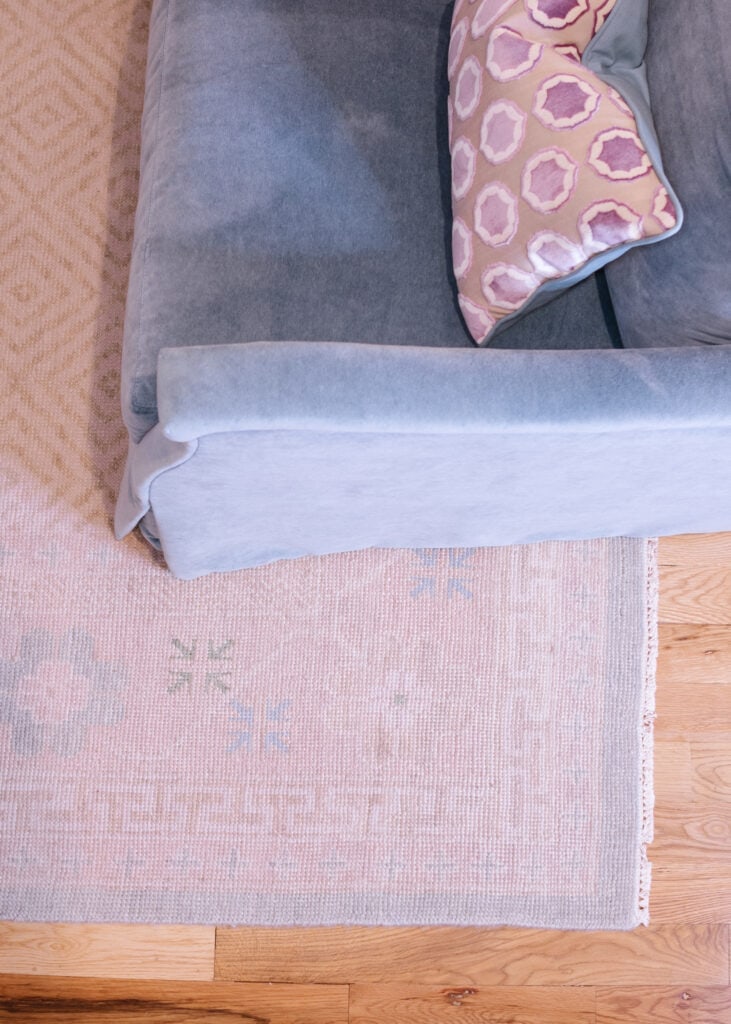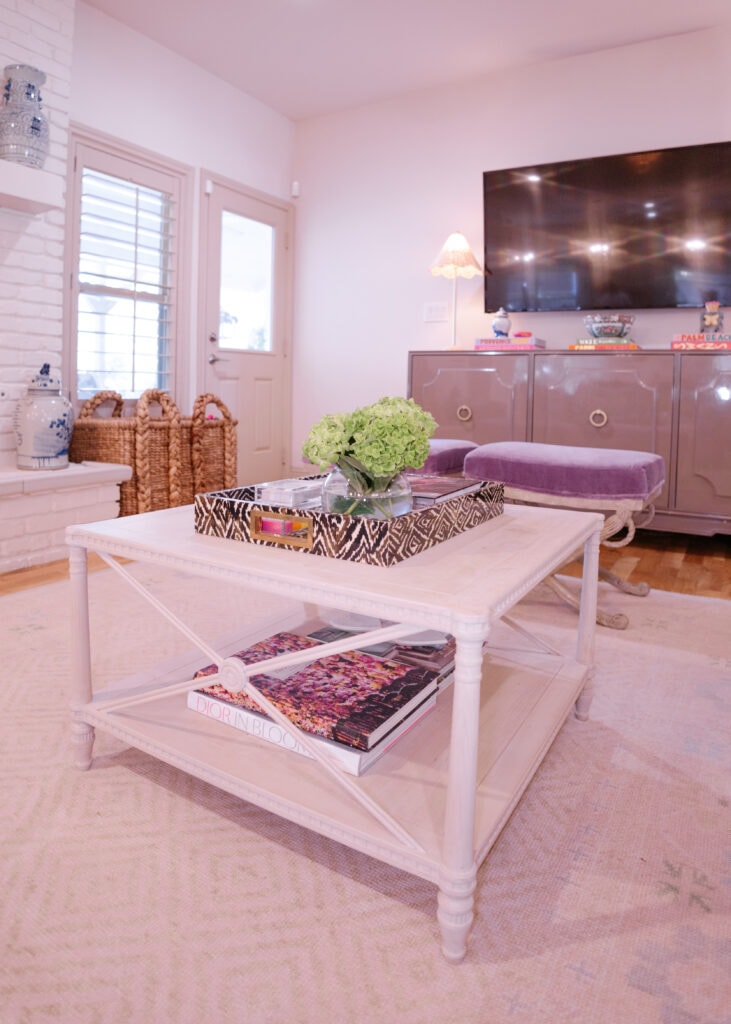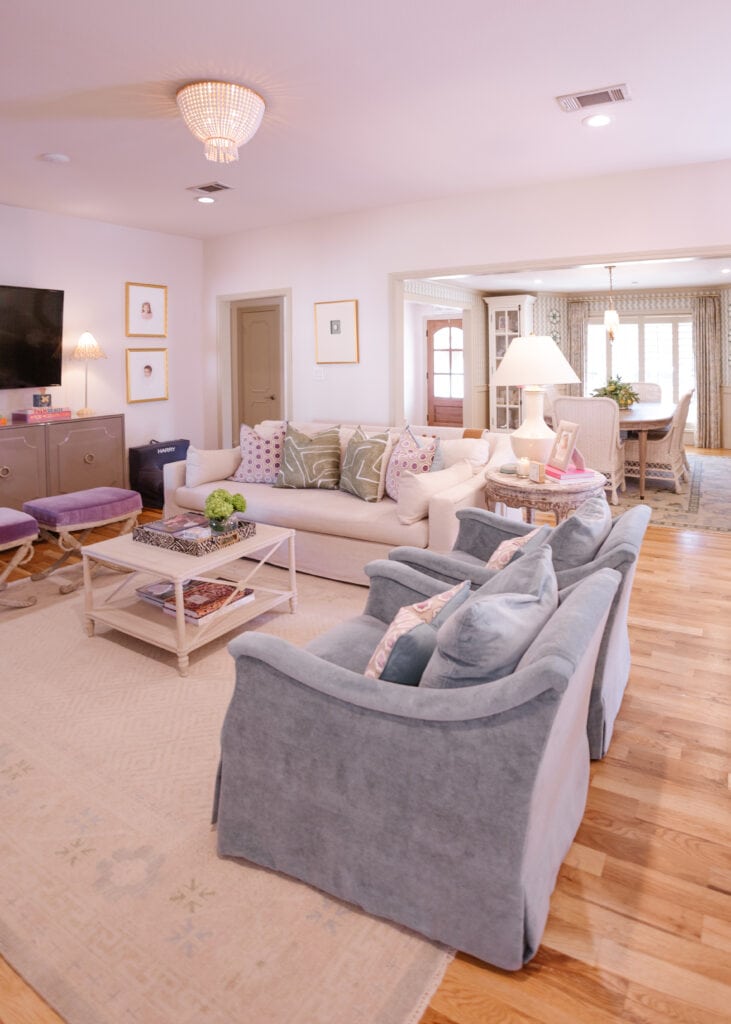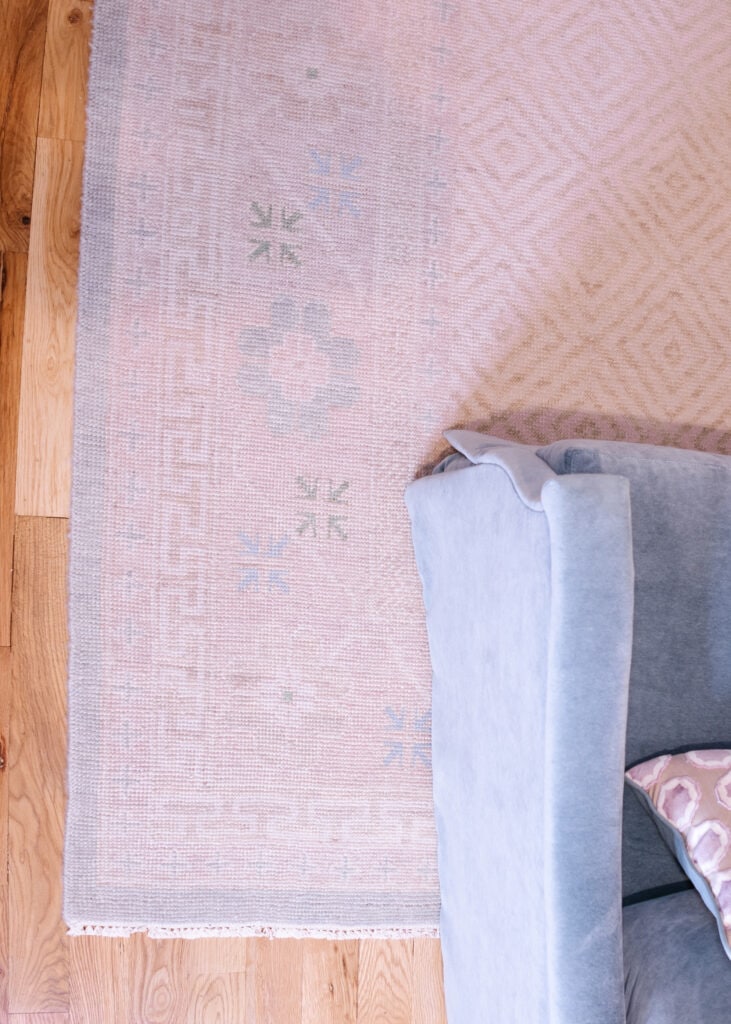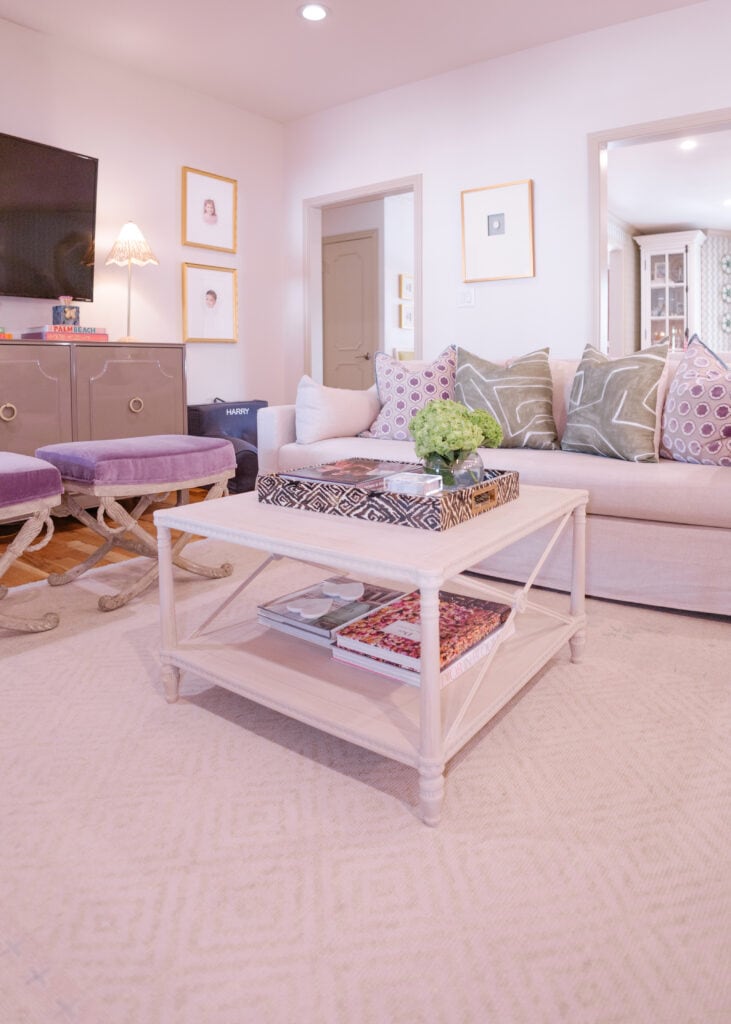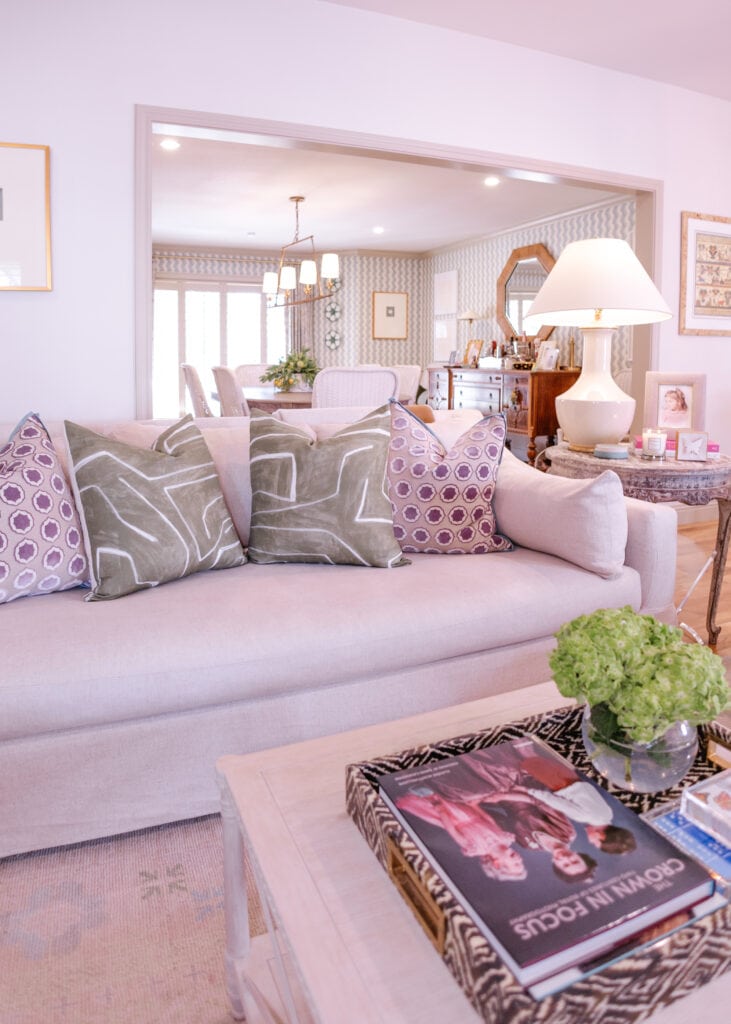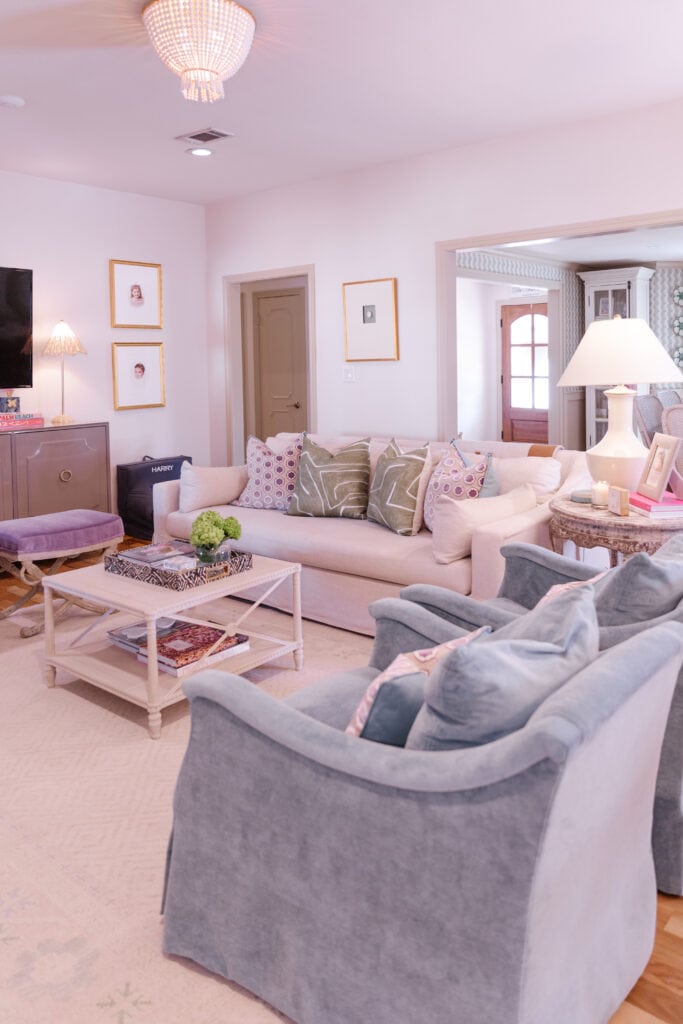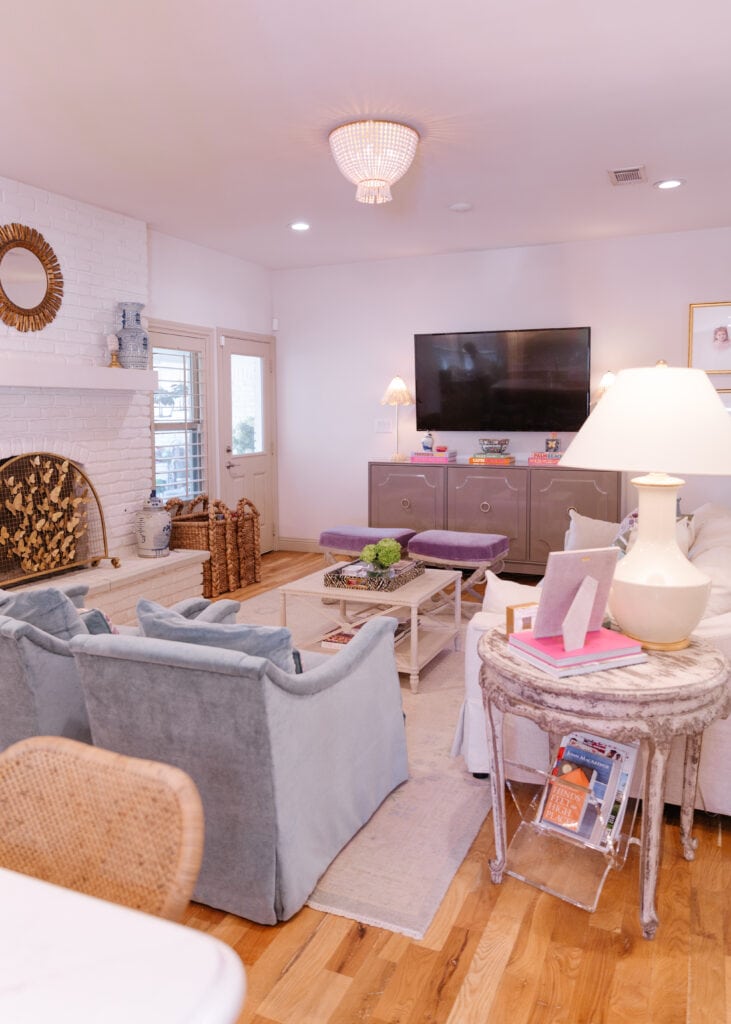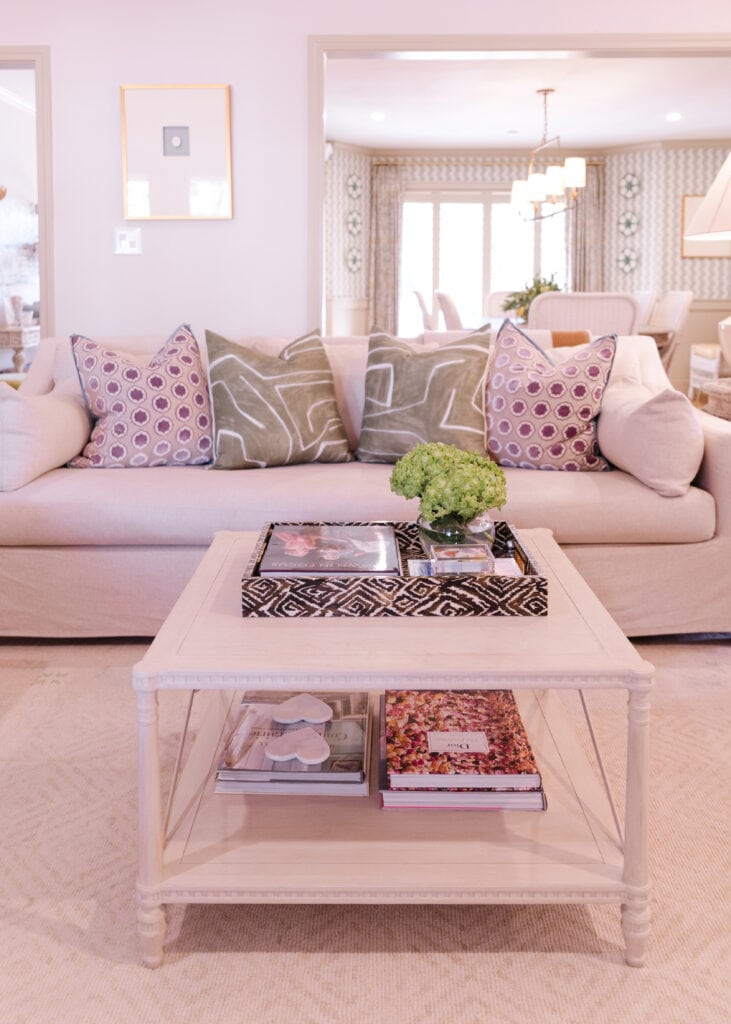 I'm extremely passionate about a Saturday with no plans. A beautiful Saturday, where the kids can play in the backyard, and I can drink one too many cups of coffee and fuss about the house. I want to rearrange furniture only to put it all back where it started at towards the end. Between adding fresh flowers here and there while swapping out a pillow or two, you experience this marriage of contentment and creativity- the sweet spot. So why do I get excited about the little changes? Because I get to be grateful for the opportunity to cultivate this little haven for my family while also welcoming new seasons and shifts in decor preferences. What a flowery way to describe that I enjoy swapping coffee tables every few years- but it's the truth!
Last summer, I chatted with Milagro about designing a rug for our living room. I was hearing from y'all an overwhelming request to share rugs that looked like the carpet we have in our bedrooms. I couldn't find anything in the diamond pattern that didn't look identical to carpet. I wanted something that had the look of a vintage rug while blending both the diamond pattern and the Turkish prints. We added a border to the edge to give you the feel of both, and kept the color palette neutral. I didn't want to go too loud in lavenders or blues, because that just wouldn't be giving you all the similarity to the carpet, and it wouldn't have felt as functional in whatever space we needed it in. When the rug came in end of August, I held my breath as we unrolled it onto the bare floors. Would it be too loud? Too muted? Would the diamond pattern feel similar to the carpet? I was thrilled as I saw it lie flat on the floor. I knew you could place it in your home whether your style was traditional, French Country, or somewhere in between- my favorites! We have lived with it nearly six months before I blogged it because I wanted to live with it. See how it held up to stains. See how it worked throughout the seasons. It's been my favorite addition to our living room and has brightened up the room. My Milagro code is KATEY10 and it works on all rugs.
I also made quite a few shifts around the room with furniture. I knew we'd be replacing the side chairs as Harry colored lipstick on the other ones. We let them sit for about 8 months, and while in one of my favorite stores, Simple Things, I saw these chairs come off hold. They were the perfect size for this spot and I swooped them up quickly. The velvet adds a touch of richness and the blue makes a statement while still staying soft. And I know we can't ignore the elephant in the room. The coffee table. I know, I know. In my defence, we'd had the ottoman for two years and I kept it! I'll use it in another space one day I'm sure. That was an ebay find from a Ralph Lauren store and I can't part with it that easily. This coffee table is from Eloquence. I hadn't ordered from them before, but the shipping was fast, and the finish is exactly how I wanted it. It's a bit more rustic up close, and would show water marks, etc. I wanted something imperfect that looked like we'd picked it up in Round Top. The edges are not sharp, so that made me feel better with Harry, too.
I know it's getting a little "If You Give a Mouse a Cookie" over here. But we had an entire six months without a blog post on the updates! So, embarrassingly, there is more. I found these vintage stools from Rachel Ashwell, and I'd never loved furniture more. It felt like all my styles married into one- girly, and Shabby Chic, and European, but perfectly at home in a New Traditional style. And once they came in, I knew we needed to finish the pillows for a rounded-out look. I always go with Little Design Co., I'd just been partial to the Le Tigre print for longer than I care to admit. I moved those in our bedroom. For this space, I ordered the Oyster Creek collab and this fern Graffito print.
Thank you for letting me share these shifts and swaps from the past few months! It might just be my favorite color combination this room has had, yet.