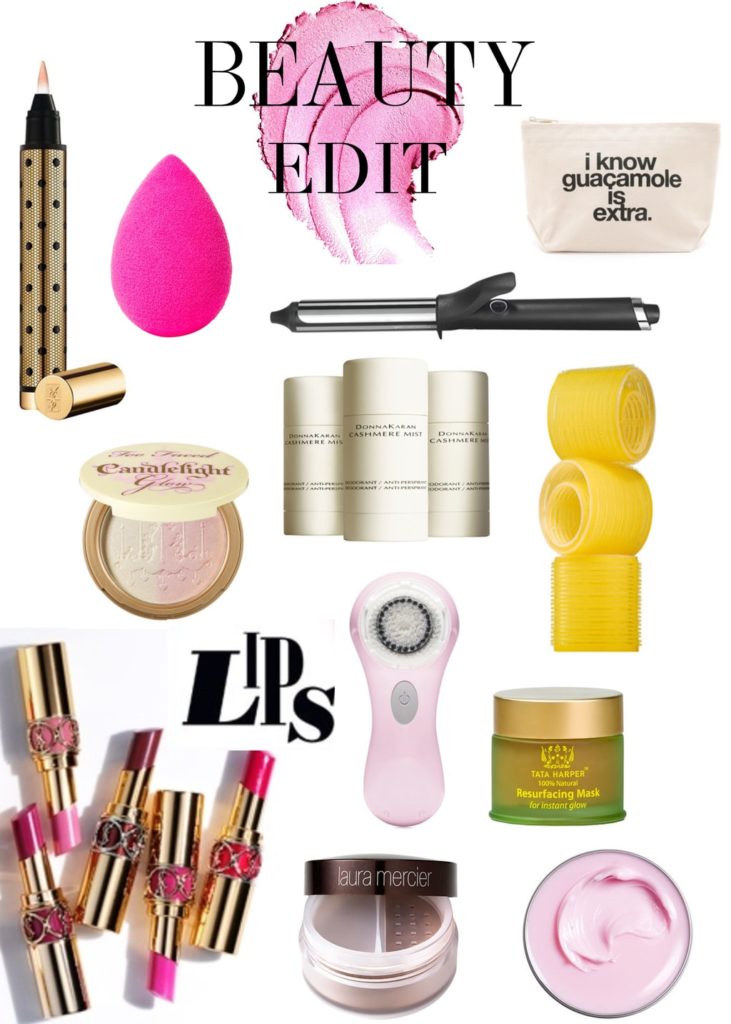 ---
YSL Concealer: Link | Beauty Blender: Link | Curling Iron: Link | Makeup Bag: Link | Highlighter: Link | Donna Karan: Link | Rollers: Link | Clarisonic: Link | Mask: Link | Lipstick: Link | Powder: Link | Lip Butter: Link
---
I am a serial beauty product buyer. Give me 20 dollars and I'm going to drag you to Sephora and swatch products for an hour. When I love a product it's this bittersweet feeling. Great, because I know it works. But I'm still torn if I want to repurchase or try something new!
Because of that I thought it would be fun to share products I gladly repurchase, again and again! I honestly hate trying to even replace them because I know I'll be disappointed with a duplicate.
I'm also giving away a Glamboxes below, so keep on scrolling, girlfriend!
1. YSL 'Touche Éclat: I love how natural this product is! I have to hide dark circles since I get up pretty early for spin class every day, but the Kardashian contoured look is not cute on me….I will try under eye concealers here and there but this gives you that highlighted, natural glow we all crave!
2. Beauty Blender: I die a little inside each time I see someone use a dupe for this. I've tried them and none of them work like the Beauty Blender does! I just want to grab them and say, "Here! Use mine!" But we all know that is an unsanitary mess. Be sure to wet this product, squeeze in your hands and then dip in your foundation to blend! It also blends out underye canceler perfectly! I recommend getting at least 2. One for foundation, one for blending your entire look when you are finished! You can also spray with with makeup setting spray before you dip it in foundation.
3. Makeup Pouches: I found these in NYC a few years back and my mom and I got an embarrassing amount. I love them for travel and keeping all my products separate in my purse.
4. GHD Curling Iron: This. Thing. Keeps. Your. Curls. I can curl my hair with this once and sleep on them for up to 4 days without touch ups! I also use this pillowcase to help! This isn't exactly a "repurchased" product, but I would without hesitation if anything happened.
5. Too Faced Highlight: I've raved about this product for the past year and I still love it. I feel like it is a little compact of candy each time I put it on! haha. It's also really soft for those who don't want a full-on Twilight glow.
6. Donna Karan Deodorant: I admitted to being an addict here. Y'all. Trust me. You won't even bat an eyelash at the price when you repurchase, you will be such a convert.
7. Rollers: I use velcro rollers after I curl my hair to set the curls! These are so cute and don't slip out as easily as other ones do.
8. Clarisonic: I won't go on a tangent with this, because I know you and everyone to your step cousin's sister-in-law know about this product. But I will say anytime I have a breakout this is the only thing that truly nips it in the bud.
9. Tata Harper Resurfacing Mask: This is the only mask I have ever tried where I truly see a difference the moment I wipe it off. You get such a glow you start contemplating whether or not you even need to wear makeup the next week!
10. Laura Mercier Mineral Powder: I heard about this from one of my favorite beauty bloggers and she swore that whether you thought you didn't do your makeup well enough, or you had a bit too much on this would fix it. I just swipe it over with a loose, fluffy brush and for some reason it just fixes everything. Photoshop in a jar, people. Photoshop in a jar.
11. Lip Butter: This tastes so amazing, is a perfect color and under $4.
12. YSL 'Rouge Volupté Shine' Lipstick: Pigment. Texture. Packaging. Taste. All are a perfect 10. My favorite shades are: 1, 7, 19, 6
Haven't found your holy grail products? Use the Nordstrom Anniversary Sale to get beauty products! I'm sure that sounds silly, but you can get anything from expensive curling irons to my favorite cleanser and a palette that will last you year round. Shop it here and I'll share my picks below!
[p.s. if you have tried lash extensions and they have pulled your lashes out don't worry! Use this product! I use a serum daily daily and I get e-mails all the time asking if I have lash extensions. No, this stuff just makes your lashes grow like weeds. My hair stylist has seriously had to cut my lashes before! haha. So if you want that look this product gives it to you!]
And we all know I store these bad boys in my Glamboxes! I have the GlamPetite! I wanted to give one away to a reader! Enter below!