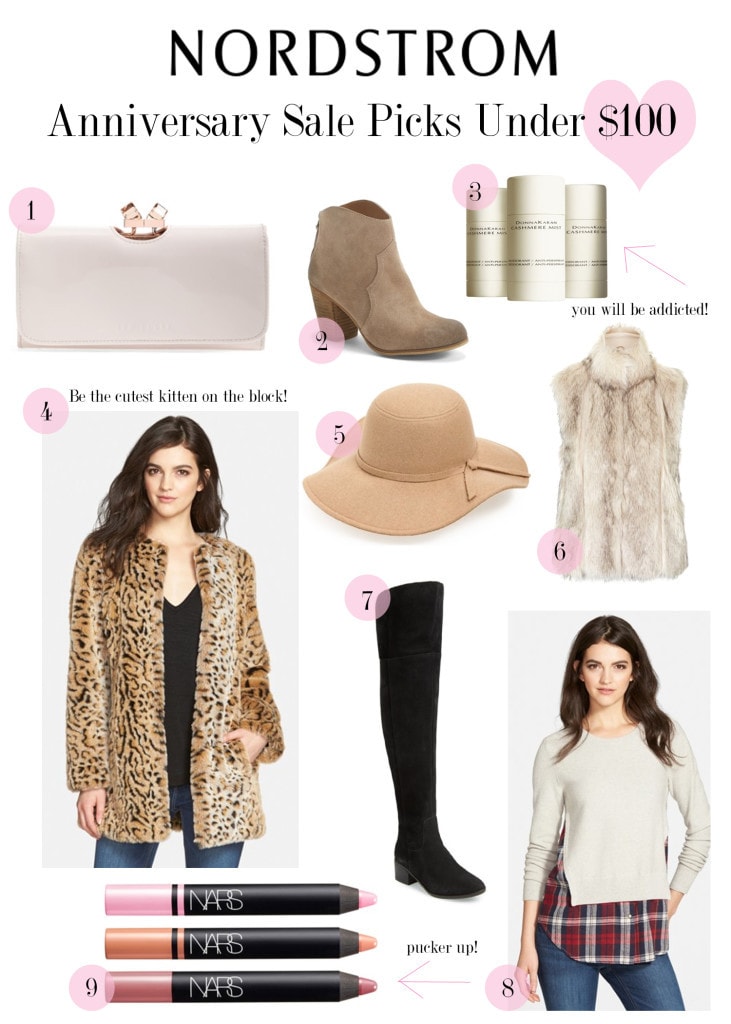 I was bad. I was really. really. bad. The Nordstrom Sale led me to losing my mind and I spent way too much! Paul kept laughing at me for all the boxes that were making their way to the porch and finally I told him he had to stop making fun of me, because I was being a great "budgeter" and making a "Sale under $100" post! Like that justifies it? 😉
BUT! I did want to share the things I think are your best buys with this sale if you want to spend under $100. I shared my "it girl" pieces here in case you want to see!
I saw this wallet in store and stared at it for a good 5 minutes! The little jeweled clasp and clean color was calling my name, but I put it down because of the price. Patience is a virtue, people! And Jesus blesses. Because now it is under $100!
2. Booties
Booties are my favorite shoes! If I could prance around in them in 100 degrees in July I would. I mean I coulddddd but I'd die of a heat stroke. These come in an array of colors so you can stock up, but have a really great price point.
I'm going to go ahead and warn you, if you buy this you'll never wear normal deodorant again. I've used it for about 2 years and of course interchange with drug store, but I miss it so badly! Who misses deodorant? That's how amazing it is. It's so embarrassing because if I don't spray perfume and just have this on Paul will hug me and ask me a million times why I smell so good. Still haven't worked up the courage to say, "Ummm….welll….it's just my deodorant." #akward haha.
4. Leopard Coat
Every time I see a girl in a fun leopard coat I'm immediately envious. Sorry, Jesus! This is a good price if you aren't sure of the trend and don't want to commit to an every day coat. It also breaks up your color palette if you are a total babe in the winter and wear all black all the time!
5. Hat
You can never have too many hats. And for under $17 I'm going to go ahead and pat you on the back if you get every shade.
I included this on my it girl roundup because I'm so stinkin' obsessed! This color would look amazing on any skin tone and can be worn with light or dark colors! Sometimes you have to get multiple faux fur vests because it doesn't blend with every color, but this does!
Over-the-knee boots are normally over-the-top expensive. I'm kicking myself I didn't get these last year, when instead I spent half my rent on a pair! So. Stupid. Of. Me.
8. Layered Top
We don't get really hard winters until around February in Texas! In November and December we almost don't need a coat, but I love layered looks. This top is already layered so it is thin enough you feel like you are getting to bundle up for a textured look, but you won't be sweating if you wear it in mid September!
I got my first one for my 21st birthday from my friend, Hannah. Hannah knows lipstick and she swore I would love these. I do and these are all your fall nudes you will want and need! If you like darker lips there is a sale on them, too!
If you are a debit/credit card holder with Nordstrom you can shop the sale early here! If not, I'll be back Friday for everyone to access it!