I wasn't even sure how to title this post. Pool tips? Hello, Katey. They know how to swim. haha. But, living in Texas we have some hot and humid summers! 105 is a usual day and if we aren't careful sunburns & feeling sick from the heat can happen pretty regularly. I figured I'd share some of my tips for being able to last a bit longer at the pool and enjoy it sittin' pretty! 🙂
1. Makeup
Sunscreen makes me break out. I've tried all the brands that say they "don't clog your pores" but I break out in the same spots each time I lather on SPF 50! I have a brand from my dermatologist for everyday wear and I put it on before the pool, but I typically try to wear a BB cream just so that I have added SPF if on if I jump in the pool one too many times.
So if you are in the same boat, I definitely think it's worth it to make an appointment with a dermatologist to get a brand that won't clog your pores. I use this kind! Then I use Clinique Acne Solutions BB Cream in shade light. This is such a strange name for this product because it has no drying "acne" fighting ingredients. It should be titled "The BB Cream that won't make you break out." It's meant to just be a light product that adds SPF and WON'T clog your pores!
If you don't want to wear a BB cream at the pool, no biggie! It's just an added option if you worry about your sunscreen coming off and not wanting to break out! 🙂
2. Conditioner
If you're going to sit in the heat for more than 30 minutes, you might as well get a little beauty treatment while you are at it! Throw conditioner in your hair, braid it and let the heat absorb it in your hair! I do little crown braids but anything that keeps your hair up with allow it to soak in.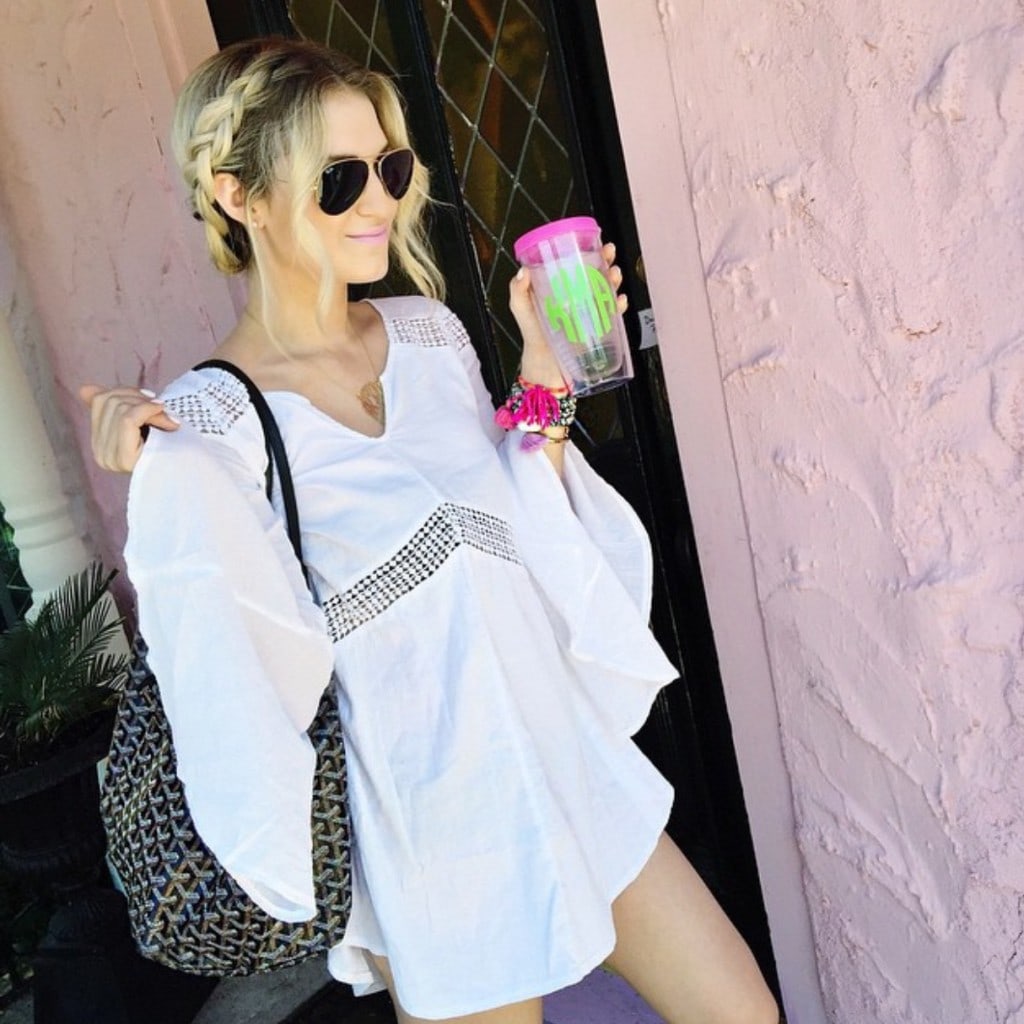 [cover up: link]
3. Suncreen Scalp
Putting sunscreen on your scalp is something I think so many of us forget! But your scalp gets damaged just like your skin, and if it burns and peels this also can affect hair growth. Be sure to lather some on [I apply with a Q tip!] and keep reapplying if you don't wear a hat!
4. Styling Hair
I don't know about you, but I don't hop out of the pool after swimming and look like a goddess like most girls on The Bachelor do. Like how does your hair air dry perfectly?! HOW?! If my friends & I decide to go out to eat after and I need my hair to be tame I use a spray I make at home and keep in my beach bag! Fill a  spray bottle with 1 cup water, 2 tbs. coconut oil, sea salt & drops of your favorite essential oils! [I like to mix vanilla and lavender or rose!] Spray it in after your hair gets wet and it will air dry to get you VS model waves!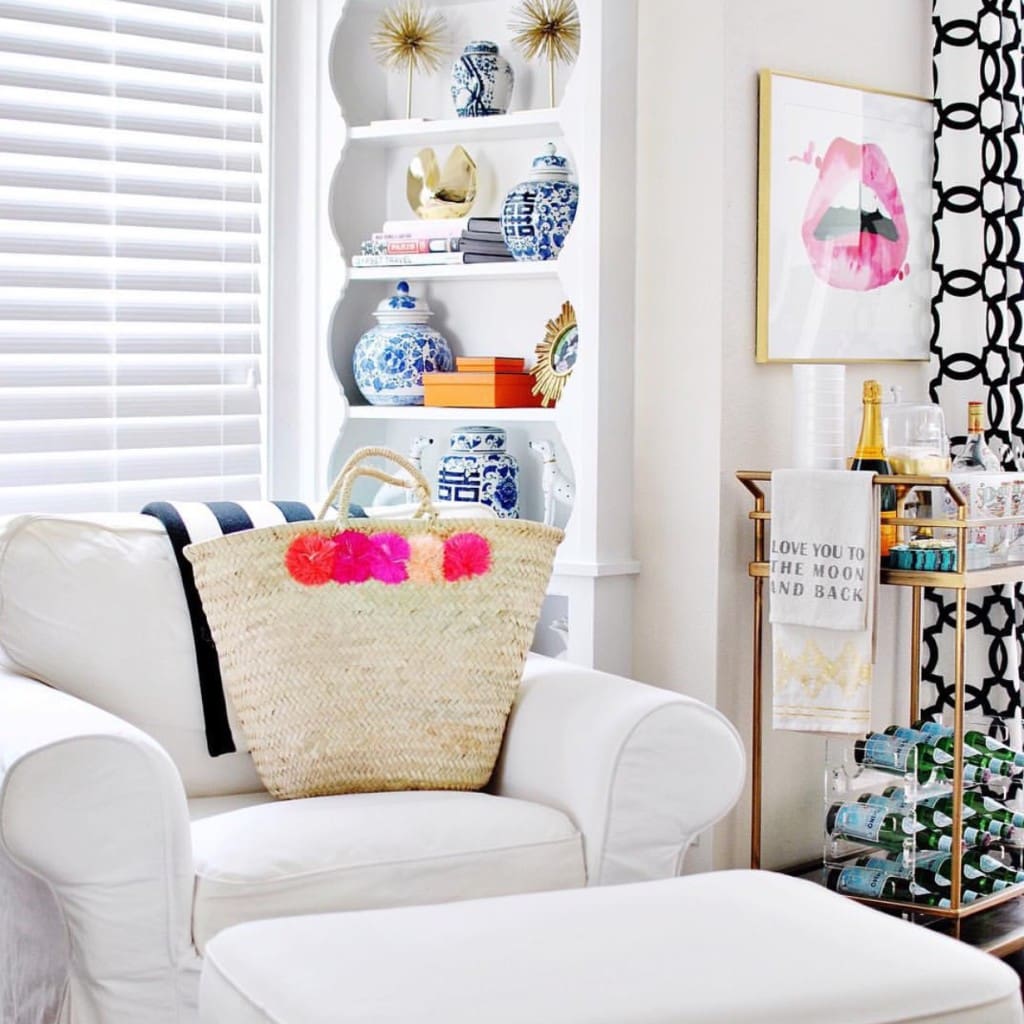 5. Beach Bags
Why do some beach bags make you feel like Kate from Jon & Kate Plus 8 and you think you're smuggling in pool toys anywhere you go?!  I've found a new love for straw totes and this is my beach bag! I love that I'm fine with it doubling as a purse and this has so much room for towels, books and a change of clothes. It also doesn't get scorching hot from the sun, which is a huge plus!
6. Cover Ups & Wildfox
Riffraff is my favorite place to get inexpensive beach cover ups! I try to pack 1 coverup and 1 pair of shorts with a wild fox tee in case the coverup gets wet at the pool! This is my go-to pool look because it will take me from a long day at the pool to running around with friends and I still don't feel like a hot mess walking around in wet bikini bottoms. Wildfox tees are so comfortable [and oversized! FYI] and Riffraff has a huge selection!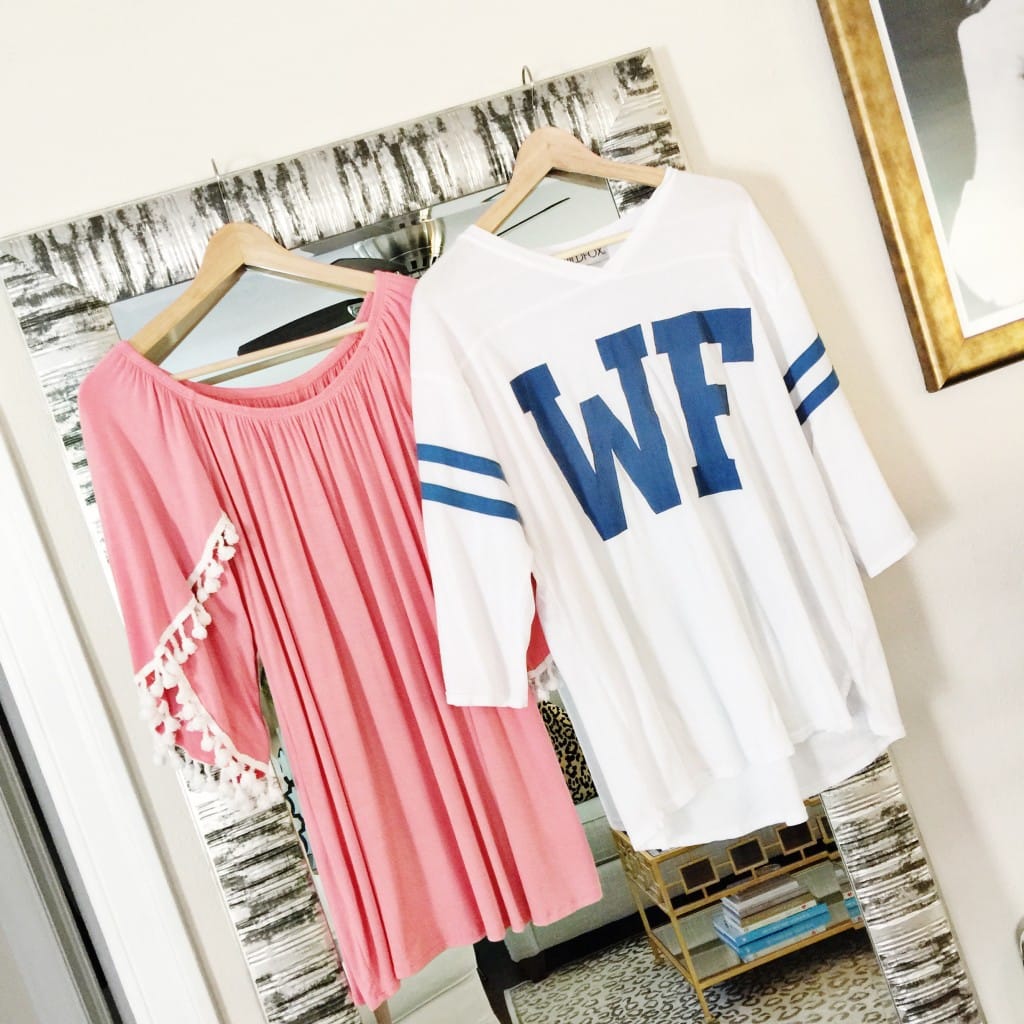 Lastly, remember to drink one water in between each cocktail! This keeps your body hydrated and combats against that, "It's 2 p.m. and I have been in the sun all day and am miserable" feeling! If drinks in the sun don't make you feel too great, try a vodka water with lots and lots of lemon and lime! The lemon keeps you from feeling puffy & the water can be kind of hydrating, right?! 😉 I hope these tips keep you feeling your best at the pool this weekend!