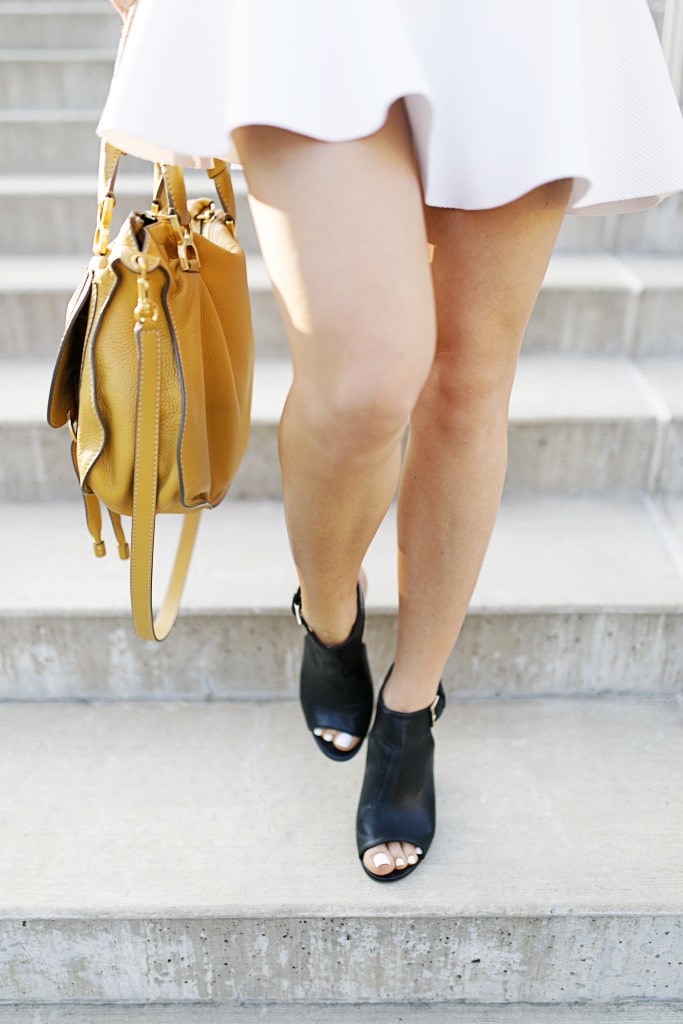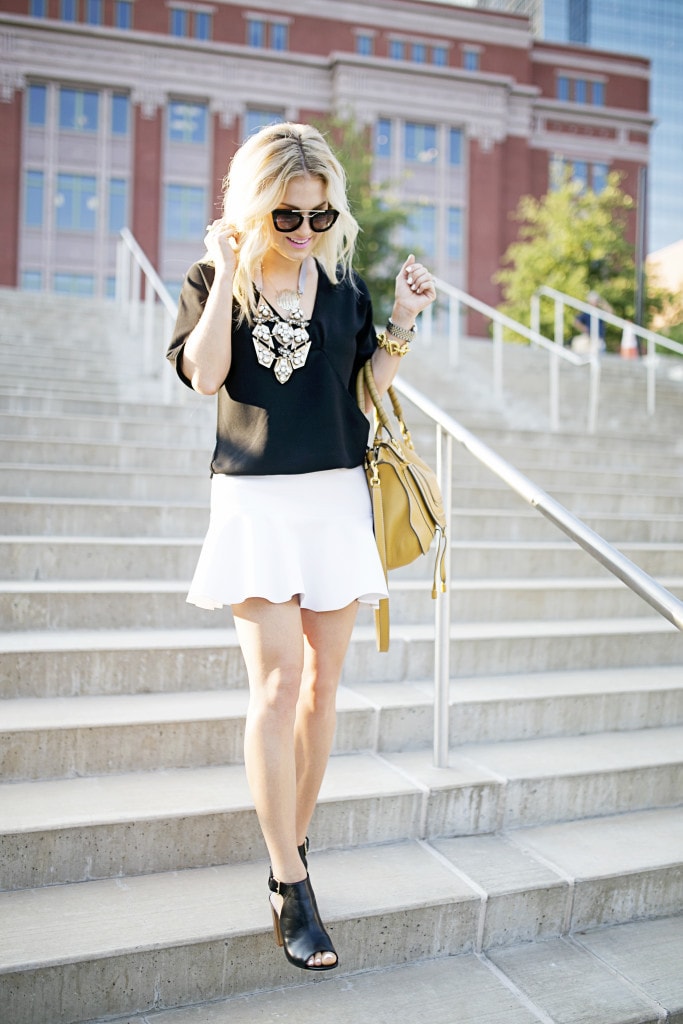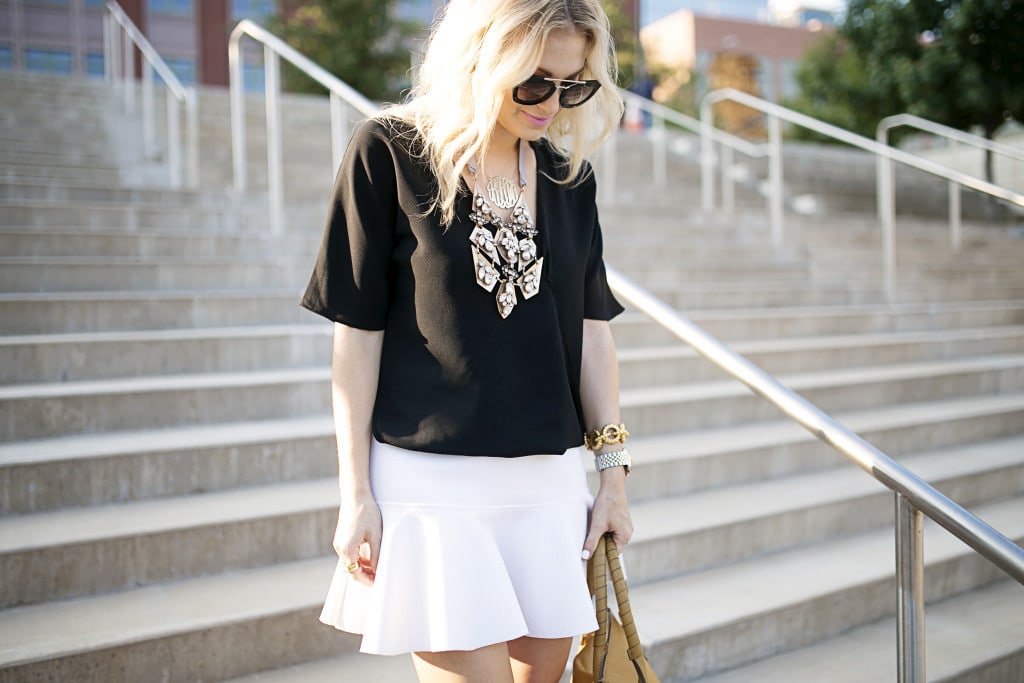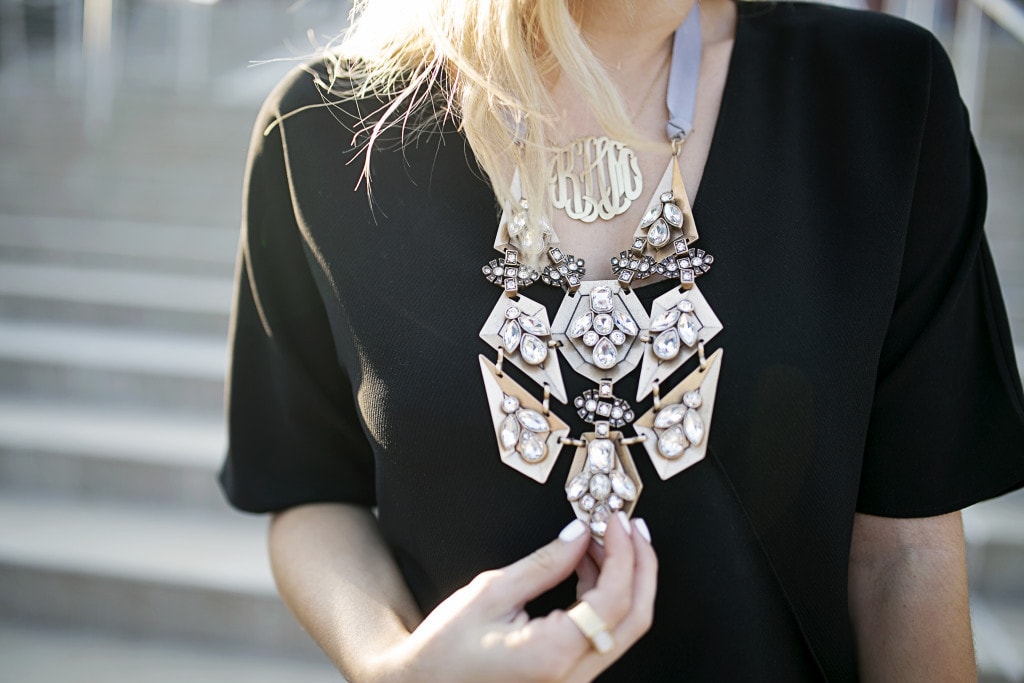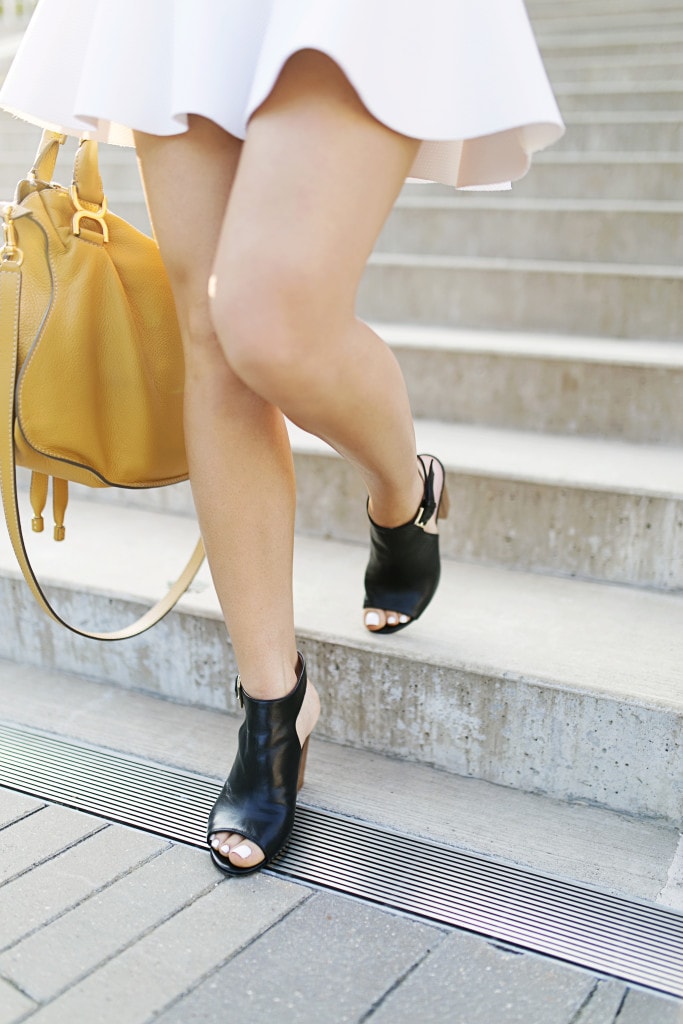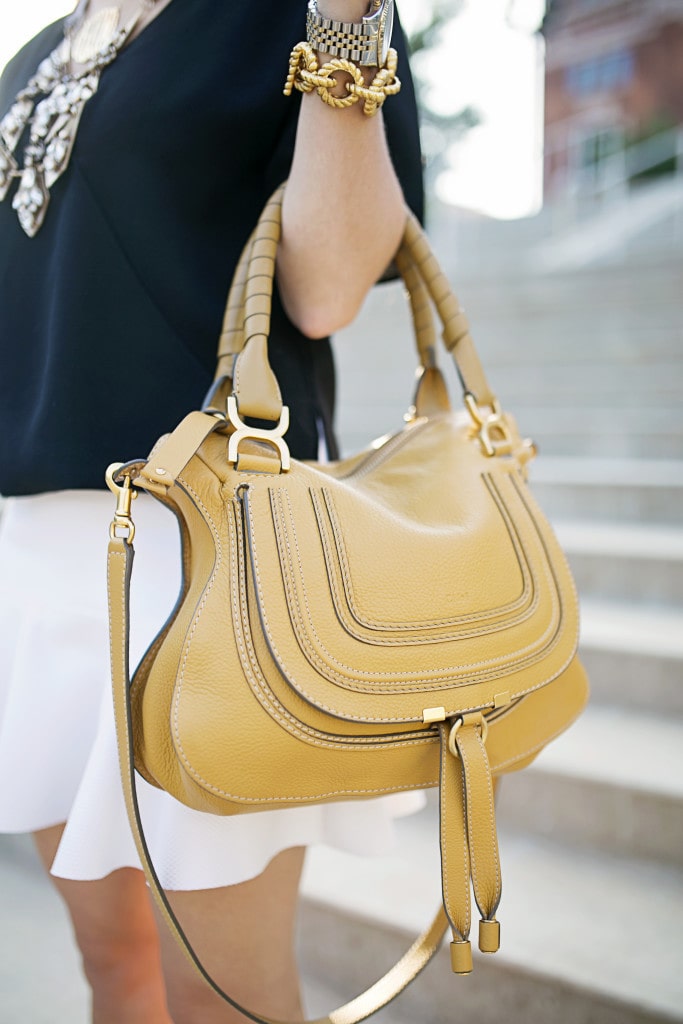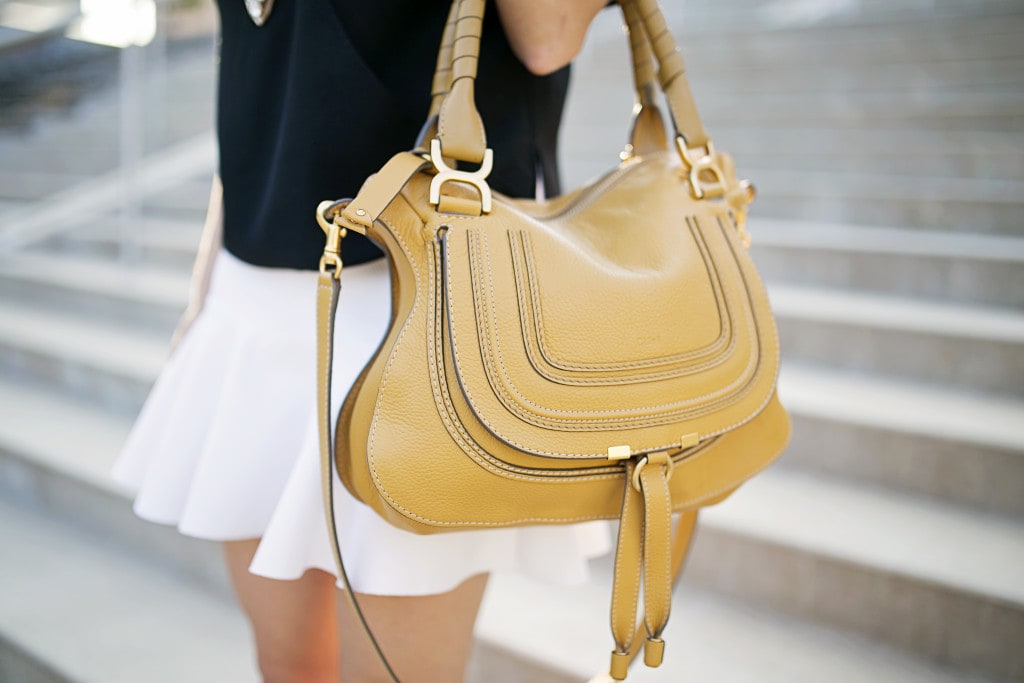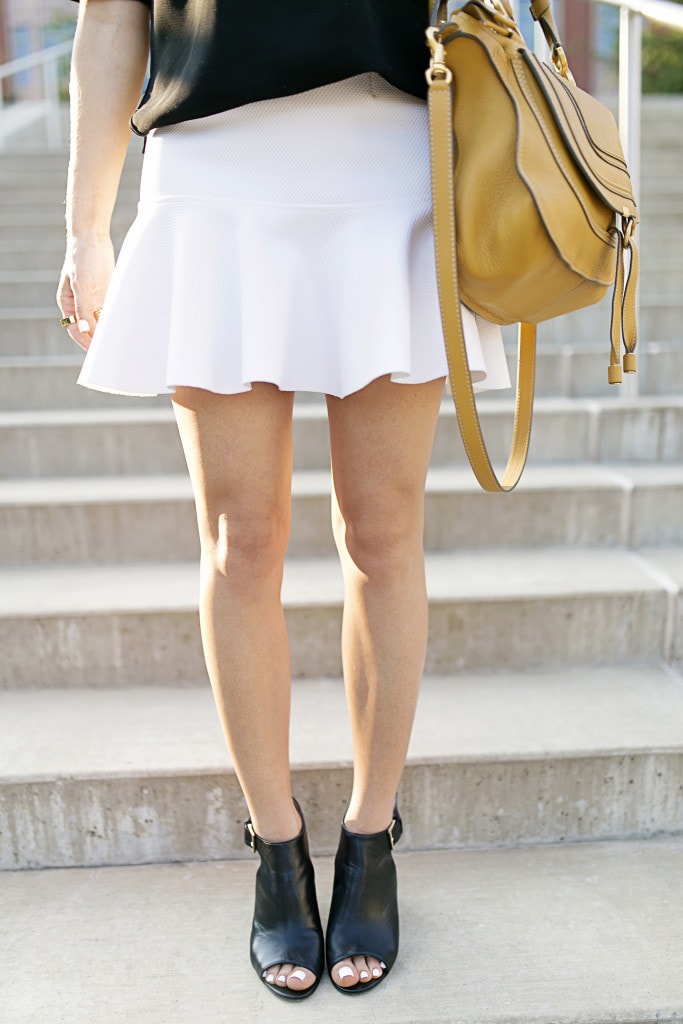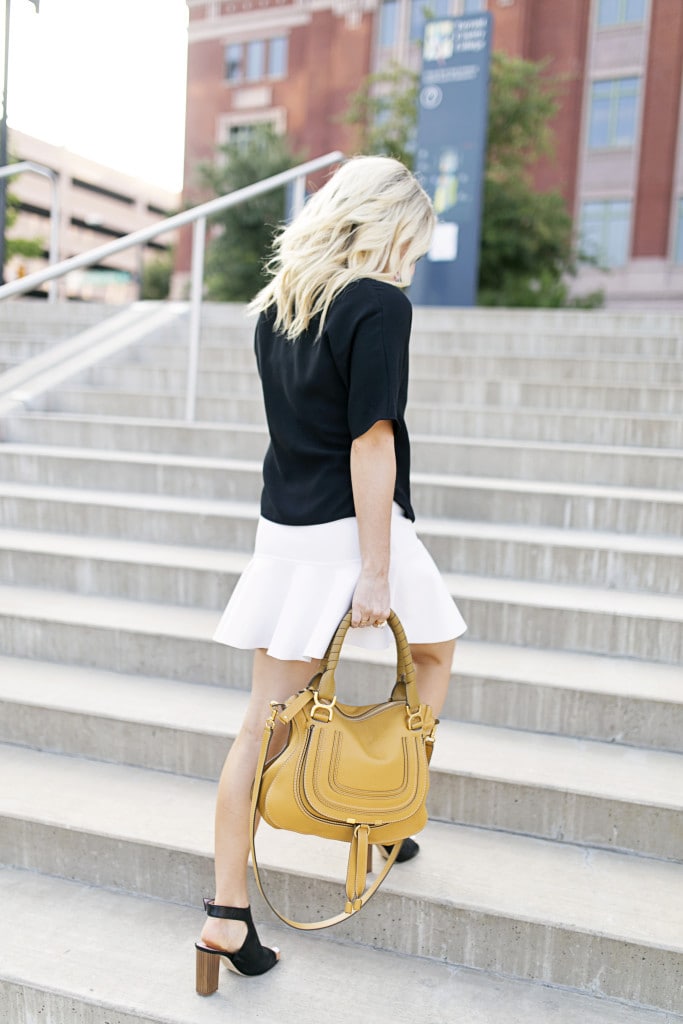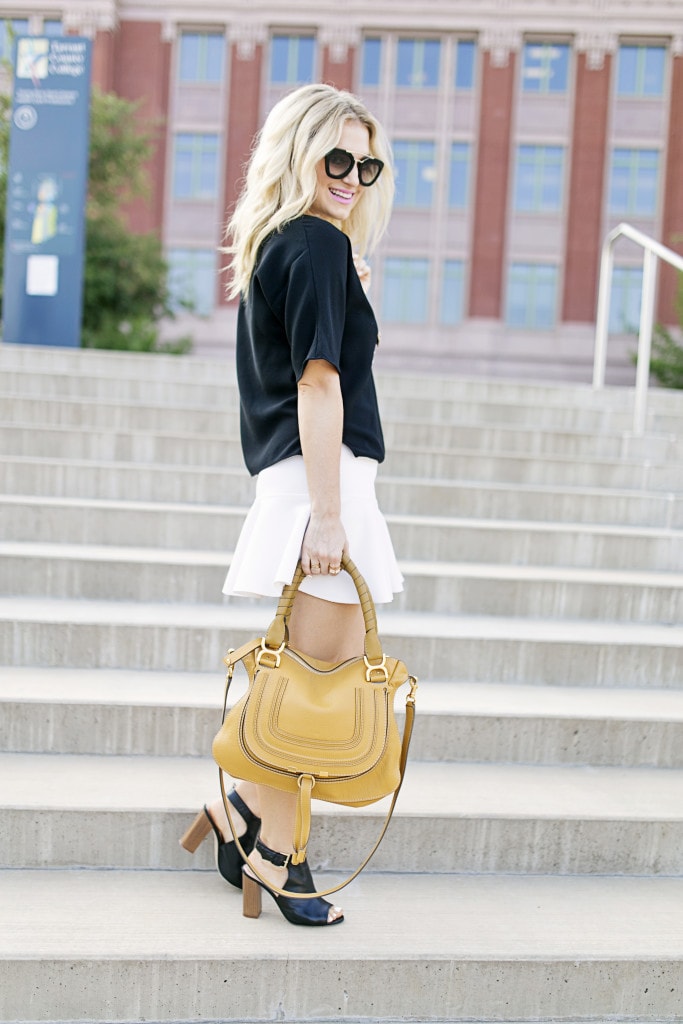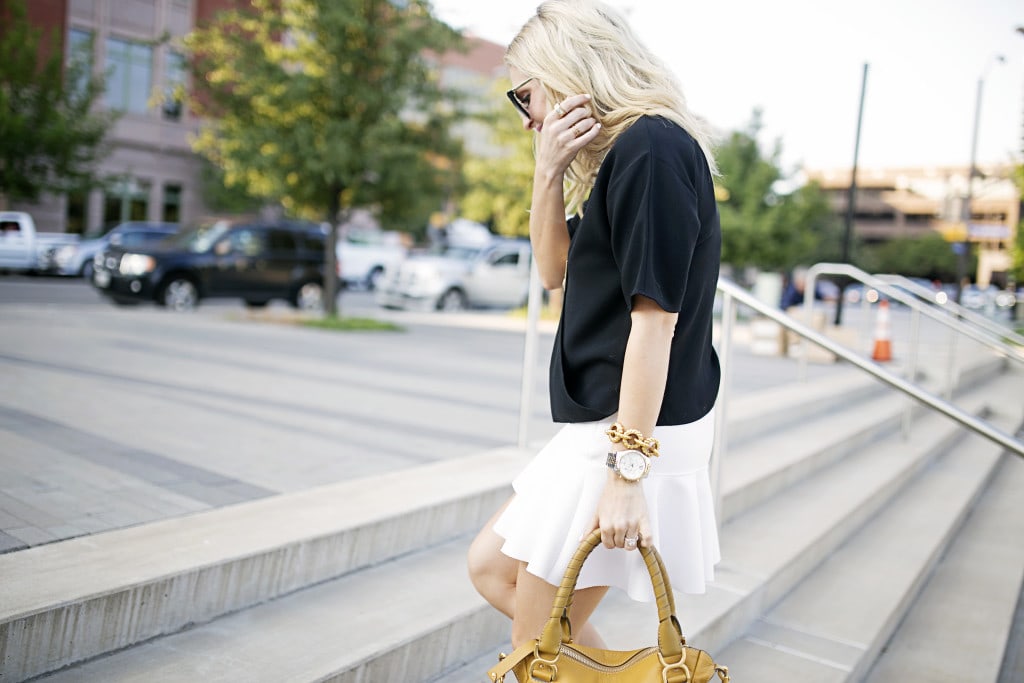 Booties: Kate Spade New York [c/o] | Bag: Chloe, Similar | Skirt: Old, Similar | Top: French Connection, Here in White | Bracelet: Julie Vos [c/o] | Watch: Michael Kors | Necklace: Juliet & Co. [c/o] | Monogram Necklace: Similar [get size 3 XL on 18″ chain] | Rings: Baublebar, Baublebar [c/o] | Sunglasses: Prada | Lipstick: MAC
Photography by: Angie Garcia
---
It comes as no shock to most that I can be a pretty frivolous person when it comes to shopping. [Pun intended with the blog name. 😉 ]
I'll never tell a lipstick that wants to come home with me no. And I'll always justify why I need another chambray top. But what might surprise people is that I really don't buy a ton of shoes. Paul even noticed that when we started dating. He said, "You have a lot of stuff, but for a girl, you're pretty low key with shoes." The truth is I love to invest in shoes, because I can be a little hard on them. If I love an open-toed bootie I will wear that shoe every season until they decide the heel wants to break.
Because I love to get full use of my shoes I like to invest in brands that I know make timeless ones and Kate Spade definitely does that. Known for being a preppy line with an eclectic side, you can find anything from foxy flats to a date night pump. I got these booties for fall because we will still have 3 more months of heat! I thought they were perfect for skirts and dresses, but I've found myself wearing them with boyfriend jeans and v necks daily, too! My favorite thing Kate Spade did with these booties is make them have a wood-stacked heel! It erases the battle between, "Ehh…can I wear these with brown? Can I wear them with nude? Wait my date has on a brown belt, do we clash?" They blend both colors together.
I'm sure you all have seen plenty of white the past week to know, you can do whatever the heck you please! If you don't feel comfortable in white after Labor Day, cheers to you. If you want to rock a white skirt like above, you go on girlfriend! It's all about balance in a wardrobe and texture. If you have a sleek Olivia Palermo white suit you can of course rock the winter white to the office. Maybe leave the eyelet dress in the closet until Easter, but if you feel comfortable then you have the balance down and can strut your stuff!
So whether you love to invest in shoes and wear them daily or want an entire closet dedicated to your shoe collection, it's all about finding a pair you never want to take off. I'm pulling some from Kate Spade New York below that I have or have my eye on to give you some fall shoe inspiration! I hope you have a wonderful start to your week. 🙂

Thank you to Kate Spade for sponsoring this post!