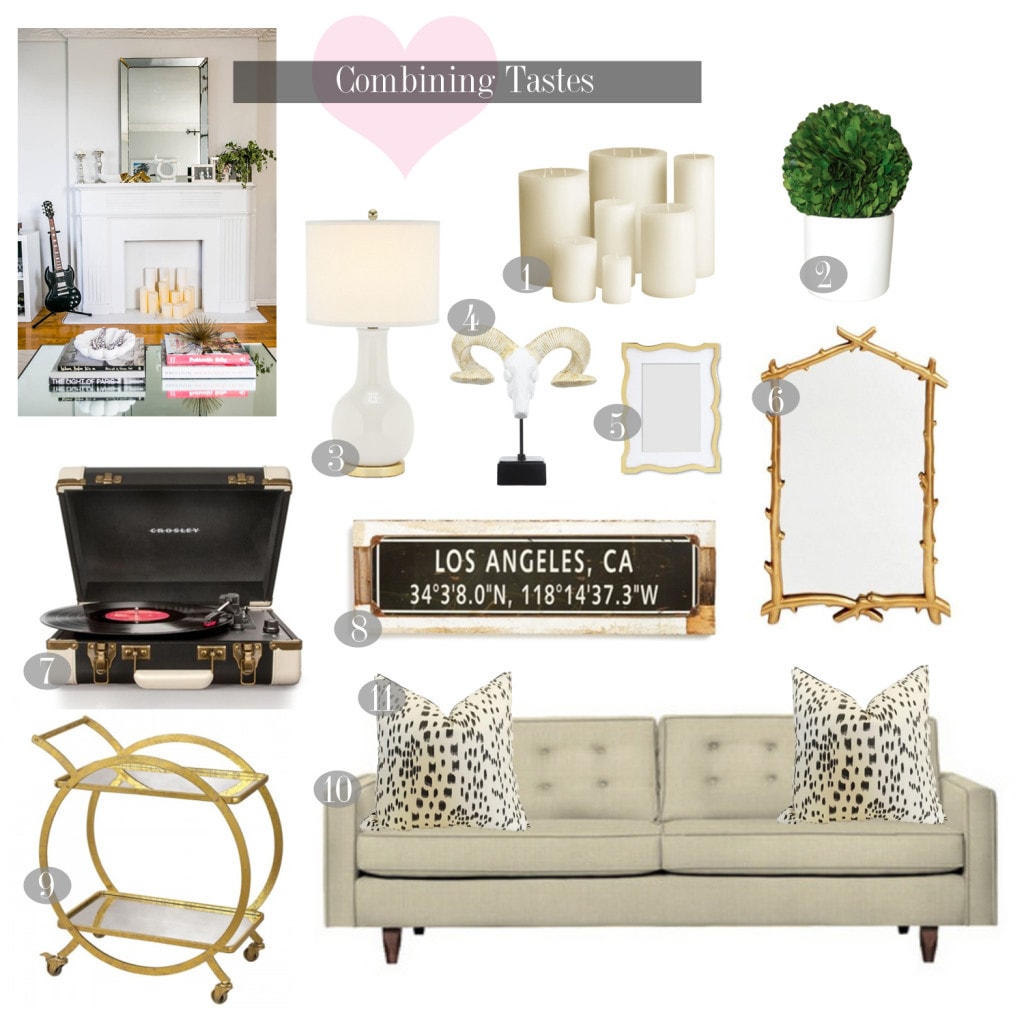 1 / 2 / 3 / 4 / 5 / 6 / 7 / 8 / 9 / 10 / 11
---
First comes love. Then comes marriage. Then comes sadness in a decorating carriage.
I kid! I kid! But in all seriousness, I get so many e-mails from sweet girls in love with men that aren't in love with their home decor. That's a really common struggle couples have when moving in together and I think in the midst of picking out a new look, couples forget how to compromise.
Compromising doesn't mean you forget everything that is important to you and run to Target and grab whatever is easiest. You'll just end up with items you have no attachment to. I have a few tips that I think can help make decorating a less painful process!
1. Pick Two Things 
A lot of girls I talk to sometimes think their husbands won't budge on decor, but I always say if you sit down and pick two things you both want, it allows you to have an open and sensitive mind to the other person. For example, Paul cared about budget and comfort. So I realized my really ornate headboard I wanted probably should be forgotten about [it was way pricey] and I needed furniture to be comfortable for him. We got rid of my velvet tufted sofa because he hated watching football games on it. I told him I loved my coffee table books because my mom had gotten me so many of them and they really helped me stay inspired while working. He then didn't care our coffee table was filled with books that said, "Chanel and YSL" on them. I also told him I wanted to keep my leopard pillows. They reminded me of my meme because she has them in her house and he didn't mind at all because they were velvet. He doesn't know what velvet even is, but he does know his head likes to nap on them during Sunday afternoons. 😉
2. Pick Two More Things
Now comes the fun part, you don't have to hold your tongue! Pick two things you don't like that the other person has. Because they already shared what is important to them, be sensitive to that. But just say two things that you might prefer they kept by their bed or something you just don't love. Paul had a globe that we truly had no room for and I had a horse painting he just didn't get. We chose to donate those items and we felt like we were starting with a clean and fair slate.
3. Pick Your Palette
I had a lot of pink in my old apartment, and while I dream of living in a blush and grey home, I told Paul we'd keep a palette of black, white and gold. The gold adds a touch of glam, but the black and white allows our space to have a neutral base. If I do bring in color I try to keep it blue with ginger jars or turquoise frames. Sometimes I'm out and want to grab a hot pink frame [he wouldn't care if I did] but I just remember I can put that in my office or find something in another hue. Navy, white and blush or Navy, white and yellow are also fun palettes that respect both him and her! You don't have to just go with browns and tans. Pick one color for him [navy], one neutral [white] and one for her [blush].
4. Give Him a Statement Piece
Anytime Paul's friends come over, all they care about is that the TV is turned on and there is food. Granted, one of Paul's very best friends is one of my best friends I grew up with, so he knows my style, but they never mention leopard pillows. haha. If room allows, give him a statement piece that allows him to feel like there is a large masculine piece in the room. I LOVE the Crosley turntable for this! It's such a cool statement piece, especially for hosting. Or hang an old guitar above the tv! For Paul, I surprised him with an old photo of JFK smoking a cigar. Our guest bedroom is where all my old girly pieces went and we balanced it by putting the print in there.
5. Share Your Passions
Lastly, if decorating is something you truly love, just say so, girlfriend! Most men don't have a passion for home decor. But they DO have a passion for you and your heart. If you dream of having a blush couch or want to hang a Prada canvas in your living room, just explain. Tell him how decorating feels like an outlet for you. Paul had no idea how girls really felt about decorating until he saw me move into my Dallas apartment. He was watching a movie one night and I couldn't even sit down to watch it with him because I was busy moving things around. He finally looked at me and said, "You really love doing this, don't you?" And I told him how I loved interior design and it was just a creative expression for me. He really admired that and told me he had no passion for interior design [no surprise there! haha. Y'all should have SEEN his bachelor bad. #stillgivesmenightmares] and would always support mine. I think men just want a relaxing space to come home to and if they know their wife is happy and relaxed, they will be too! 🙂
I tried to pull some pieces above that would work well for a couple combining their tastes! There is a really good balance in this room and can be a great starting point for your living room! Share some images with him and let him circle some pieces he likes so you can get a good idea of where you can start. The pieces he doesn't circle [say couch pillows!] you'll know don't matter as much to him so you'll be able to have a little more say in what those pieces look like.
I hope this helps you decorate your little love nest!