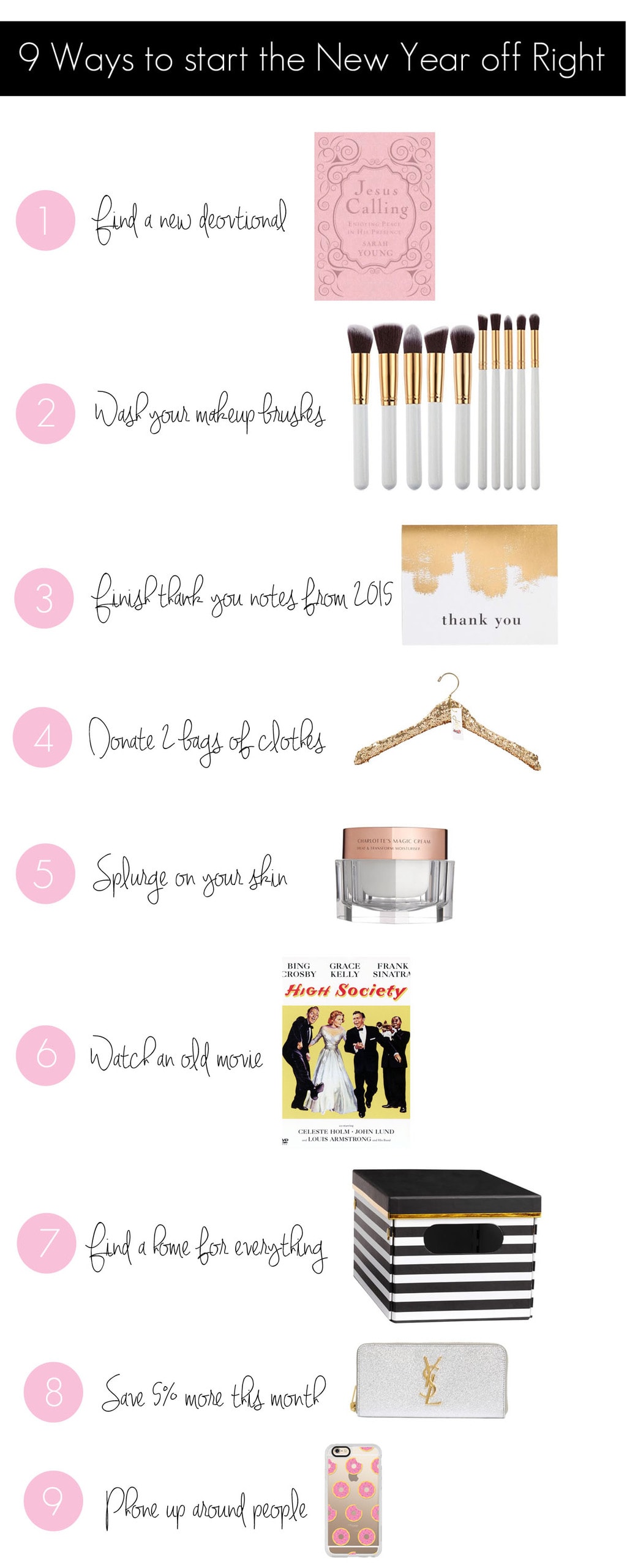 Happy New Year! I always feel like the new year TRULY starts the first Monday in January, because we are all back in the swing of things and off holiday time.
I didn't want to cover resolutions, but I did want to share a few ways I think that can help start your new year off on the right foot! I spent most of this weekend getting organized, finishing loads and loads of laundry as well as our wedding thank you notes! I had given myself a Christmas deadline but we are still getting gifts so I have to give myself a little grace right?! 😉
Here's a few ways I think you can easily kick start your new year on a fresh note.
1. Find a New Devotional: Our church does "Join the Journey" where we read certain sections of the bible for the year and each day you are sent the reading as well as a devotional to go with it! Paul and I started it last Friday and are really excited to do it together. Head up to a Christian Book Store [or Half Priced Books!] and pick up a new one. I always think making a trip out of it can motivate and excite you a little more to jump into something new.
2. Wash Your Makeup Brushes: It's always refreshing to start with a clean set of brushes, but I think we can all be guilty of going too long without doing it! It. Takes. Forever. #whohastimeforthat I always swirl mine in olive oil then wash with Dawn dish soap! It's the best cleaner I've ever tried and cheap!
3. Finish Thank You Notes: I had high hopes of finishing all my thank you notes before Christmas, but I learned when you invite 600 people not all gifts come at once! haha. We are still receiving a few so I think I may be writing thank you notes until Valentine's Day! But if you have ones to send from Christmas, I say finish them out this week! Then you don't ever run into someone and feel terrible for not having sent one.
4. Donate Two Bags of Clothing: Start the new year with pieces you love and pieces that fit. If you haven't taken it to a tailor in two years, chances are you won't ever take it. Donate two bags of clothing [whatever size you want!] to give back and help recharge your wardrobe for the new year. I've finally learned those, "Well I might wear it one day" pieces never get worn and make me feel so cluttered.
5. Splurge on your Skin: I won't be your friend that says to skimp on skincare products. Skimp on lipstick. Skimp on name brand food items. Skimp on designer jeans. But your skin is your largest organ and deserves to be cared for. If you don't care for it now, you'll want to spend thousands later on. Invest in a moisturizer that you love and it will last you for months! I think that also allows you to not have to invest in numerous other products like night serums, if you don't want to! This one gets more rave reviews for healing texture and skin issues than any I have ever seen.
6. Watch an old Movie: Drop whatever you're doing tonight and watch High Society on Netflix. Scratch that, Bachelor airs tonight [I can't not watch even though I know it is absolutely absurd!!], so watch it tomorrow! The decor is amazing and it's one of my favorites! Frank Sinatra and Grace Kelly. It seriously makes you forget about all your problems in the cheesiest way.
7. Find a Home for Everything: You know those spare keys you throw in a drawer? Or the plastic bag of receipts for return items? Find a home for them. Spend about two hours decluttering and making sure everything has a clean and organized place. It helps cut out the time you'll take in 2016 searching for documents or random items.
8. Save 5% More this Month: I love to take a little more out of other budgets in January to start the year with more saved. Save 5% [or whatever you are comfortable with] more this month than you normally do and you'll feel less guilty about all the Christmas presents you bought for family! 🙂
9. Phone Up Around People: A huge resolution I saw people say this year was to be on their phone less and be present more. It's a great goal to have, but in our social media generation it can be a large one to chew off and swallow. I think our generation can view a quick scroll on social media as relaxing and because it's a huge part of my job, I completely understand that. Start somewhere small, always keep your phone up around others. I leave my phone in my bag when I'm home with Paul or I leave it on my nightstand. It's a way to start small, but I think allows you to keep a healthy balance, where we multi task less and focus on being present more.
Do you have any ways you like to start the new year on a fresh note?!