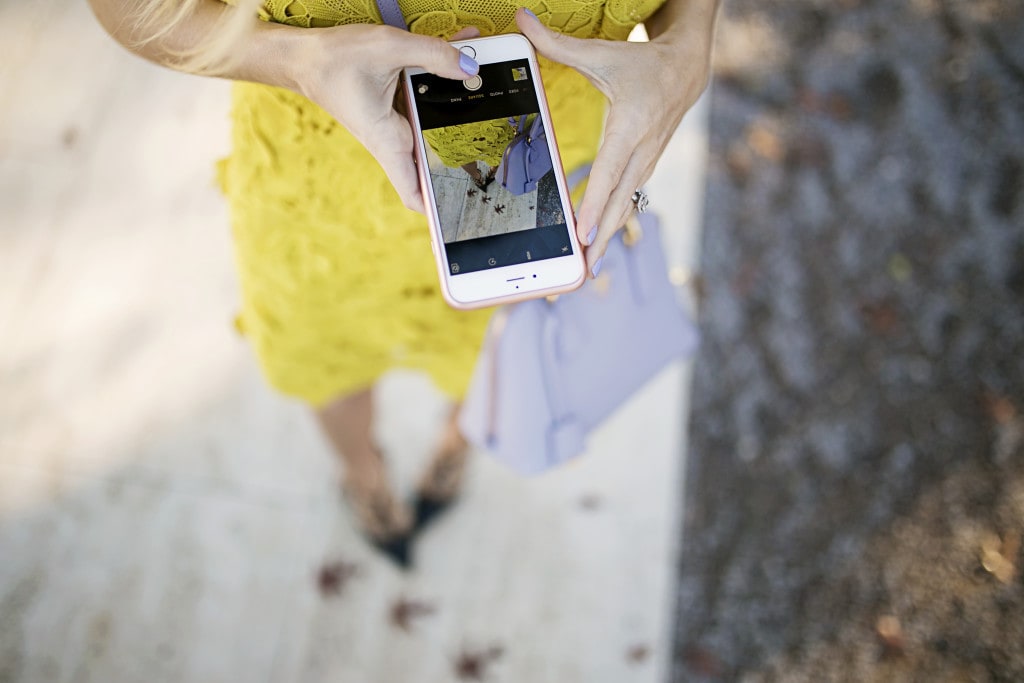 Behind the Scenes via Angie Garcia
Let me preface this post by saying, I love being transparent. I have a background in PR and I was always taught, "If you can't explain something first, do you really believe in what you're doing?"
Lately, I've gotten some comments, questions and mentions in my survey saying,
"We can't trust you when you say you have [c/o]. That means it is sponsored, you got it for free, so you'll say anything."
With social media booming it can seem like most things online are an ad. With everything from fad tea to teeth whiteners, it is really easy to question, "Is this worth my money?" I wanted to explain how COF aims to stay genuine and trustworthy and what is truly behind the business here!
My job as a blogger is to share my recommendations to my readers. In order to recommend, I have to test. I spend a certain amount each month in my business budget to test products- whether it is beauty, fashion or accessories. Just like a stylist roaming a store for a client, and a food critic eating free meals to review, I essentially test products for the every day girl and work really hard to find what I genuinely feel can help her feel her best!
When you start out blogging it can be pricey. I've mentored lots of girls who have hit a point [trust me, I hit it like 47 times] where you think, "Can I even afford to do this?"
Right after I graduated and wanted to grow my blog, I lived off of black-eyed-peas for an entire month so I could denote money to testing products, paying for my website, hosting and building a business. [My mother will attest, she was overly concerned I just ate beans for 30 days.] But I wanted to have the most knowledge so y'all didn't have to waste money at Sephora or Target or whatever it may be!
I wanted to make the mistakes and find the gems for you.
After you blog for a while and sites start analyzing their SEO [who comes to their website], they might see that a certain amount of customers are going from www.XYZ.com to their site and then making purchases. In order to thank you, and continue your ability to shop there and test out they might send you a discount code, a box of new products or even a gift card! [P.S. This is just like when Tory Burch sends you a $50 gift card to say thank you for being a valued customer. They know you're sporting their brand and so I think they send their top customers a gift card at the end of the year. My friends always get them and I don't. So clearly I'm not shopping the sales as much! lol]
Before your eyes roll into the back of your head and you think, "WHAT?! I CAN NEVER READ A BLOG AGAIN!" Let me assure you, this is standard in any form of media and it's done so that blogs AREN'T biased.
'Lemme splain.
PR girls do a variety of things, but their main job is getting media hits, media feedback and buzz about a product. 10 years ago their major focus was traditional media [think Good Morning America or Forbes]. Now, with millenials being online oriented, their focus has shifted a bit to online publications, specifically bloggers, because sometimes people would prefer to read an article, a blog post or a video from someone they feel like they know and trust.
What bloggers do isn't new. Pick up any newspaper or magazine and that writer behind the print tested and was gifted the same products. But because their persona might be a bit more private it isn't easily questioned. No one really says, "Oh this writer reviewed this new restaurant. We can't eat there because she got her food for free at their opening tasting."
Brands allow writers to test product [from clothing to food], because writers love to be honest. Writers are able to say, "Hey, this mascara doesn't work as well. I'd never share this. Maybe you should rethink the formula." It's a quick,easy and honest way to analyze a product!
So what does it mean when you see [c/o]?
It means this:
Because of my job testing and writing about the best products for my readers [who I am a heck of a lot more loyal to than a random PR girl I've never spoken to] I get sent samples of products. I am so thankful because I get to try products before and after they hit the market. I get to do conference calls saying,"My readers told me their number one concern about buying boots this year is price point. Could we do a discount code for your store? Will there be a more inexpensive option coming out? What would the launch date be?" And because of that, if I love a product so much, I get to share it! And I want to be honest and let you know, "Hey I got a discount. It was either free shipping, arrived in a box with a bunch of other stuff I didn't share or I was given a gift card to test." But let me assure you, this is only shared because it is the best of the best. I send back, I toss, I donate and I even complain about products I don't care for. I'm honest with my industry and I wanted to be honest with y'all. Why? Because I value my relationship with each of you and want you to be able to trust the information and products that are shared. I think I donate and send back an average of 10 full boxes a day and I never share that with you all.
Why do you see [c/o] on my blog a lot?
Because I honestly share anytime a product was discounted or gifted. I know a lot of people in this industry that don't do it because they don't want to confuse their reader and I respect that as well! In truth, 90% of what I share on COF is what I purchased with my own money. It's trial and error, just like any shopper. And only about 1% of gifted items I test make the blog. So sure, you might see a bracelet I wear daily that says [c/o]. But if I wear it every single day, wouldn't that tell you I truly love it and think it's worth your time? And to be honest, PR girls do not care if I share or don't share the product. Their media list includes everyone from an anchor on Good Morning America to a blogger in Fort Worth, Texas. After sending out 750 gifted boxes, they don't really keep up with who shares or who doesn't. They are just doing their job.
Are you paid to say that?
This is one of my most asked questions: "Are you paid to say that?" And let me just say,
 HECK TO THE NO GIRLFRIEND. HECK TO THE NO.
The brands don't pay you to say anything! They just let you try products. We aren't billboards. We are just people who want to have a more personalized magazine to a more personalized reader, per say!
Most brands understand that, but I do get hundreds of e-mails daily from companies asking if they can pay me to say something or copy and paste what they want me to say. I just chuckle and don't respond to the e-mails, I find that silly and not even valid! I know some mediums in this industry are paid to say things and that is a personal choice, but I'm saying for me and most blogs that isn't how it works.
But what about partnerships or sponsorships?
What brands have found is that sometimes they prefer a blogger's aesthetic, photography and branding as opposed to a random photographer they hire. So they want to make sure they get imagery from you.
If a brand you have used, tested or love asks to partner this is what it means:
They want to pay you to cover the costs of your website and have guaranteed, quality content.
I'm going to give an example to make sure it really makes sense and I'll use Chanel as the brand, because LOL Chanel doesn't read Chronicles of Frivolity.
Say Chanel likes my imagery [still laughing] and they love my audience they may want to partner.
Chanel does this because
A. It's a lot easier for Chanel to pick a blogger to do the work for them. They don't have to hire:
a photographer, someone to wear the clothing, a stylist to set the shoot, a writer to create content, a social media strategist to promote, a customer service representative to answer questions about size/fit or a brand strategist to make sure the audience they want is seeing the content.
B. They also want the rights to the images. They pay so they get quality images, they can repin, reuse and share.
C. They want evergreen [content that always lasts!] content they can continually share. If The Star Telegram [a local FW publication] reviews Chanel on their website, that article eventually dies online. If Chanel retweeted the article in 2+ years it may say, "We're sorry. This page doesn't exist." Because of the server, hosting fees and our ownership of our website, our content lasts.
So, no way. I'm never paid to say anything. A sponsored post compared to a regular post you see on the blog has no difference. I was already planning to share those tips and I was already planning to wear that item. The only difference is on the business side. That brand can use my images, whereas if it isn't sponsored I can legally go to the company and charge them for using my images and branding.
I'm genuinely proud to speak on behalf of any company I partner with. I also always say, "In partnership with XYZ. All opinions are my own." And to be honest, it is what allows this industry to survive.
Story time: like over Thanksgiving when my server crashed and Paul and I spent 2 days and a scary amount of money to get the site back up and running for you all. After taxes and website fees this might be a hilariously large hobby, but it's one I believe in. 
So remember back to when I said this is done so that blogs aren't biased?
You trust a food blogger and he never pays for a meal. Why? Because he has eaten a lot of free meals and knows a good one.
You trust a travel writer for a publication and he never pays for a trip. Why? Because he has gone on a million free trips and knows a good experience vs. a bad one.
And you can trust a blogger who is sharing one bracelet that was gifted. Because girlfriend, out of the 45 bracelets this month I tested and wore, this is the only stinking gifted one I liked and shared, so I promise it is good!
I hope this clears up confusion for you all and if anything let's you know that I value your trust and respect. But I also don't want this article to alarm you. Gifted and partnered content isn't that frequent on COF compared to the industry, but when questions do arise I want to answer to you. A lot of times even, I will be gifted a product, like it, give it to my mom and purchase it myself so I can make sure their online shipping is valid and quick. Then I still put [c/o] on my blog so you know I was able to first try it because of that. You are the largest part of Chronicles of Frivolity and if I'm not honest to the largest part of my site, what is the point?!
I promise this site will never share a product it doesn't believe in/wouldn't purchase 10x over or take a partnership it isn't dying to take. My background is in PR and if this site becomes something I truly can't afford I will go get a PR job before I go take a partnership that affords the cost of running a business.
Be sure to follow me on snapchat if you want more honesty about the business of blogging! I talk all about it! [@kateymcfarlan]

Edit: I do want to mention that it was brought up, some print publications have rules on gifting in the restaurant industry. When I worked in PR there was a number [say the meal or gift couldn't go over $50] and a reader told me that her paper pays for a full meal. But with media tastings things are free. It all is dependent upon what type of paper or publication that journalist is writing for. But overall, whatever you review, you get gifted a lot of it for free. And just like I pay for things personally once I receive or order more, food writers will pay for full meals sometimes so there isn't bias. I just wanted to make that clarification if you were curious. Magazines have different rules vs. on air media vs. paper media vs. blogs.