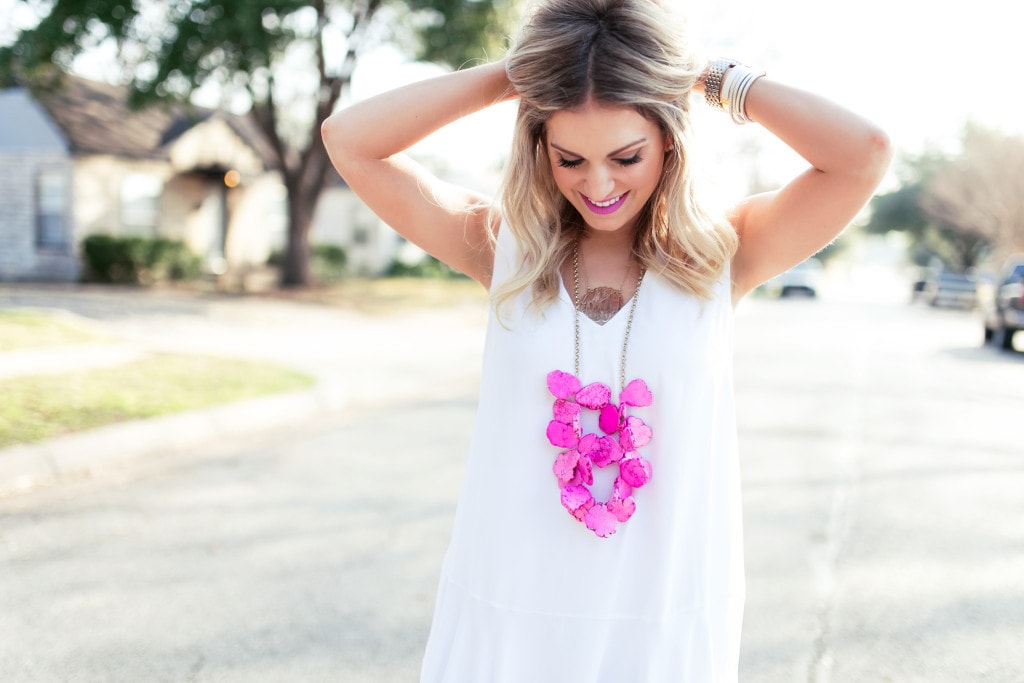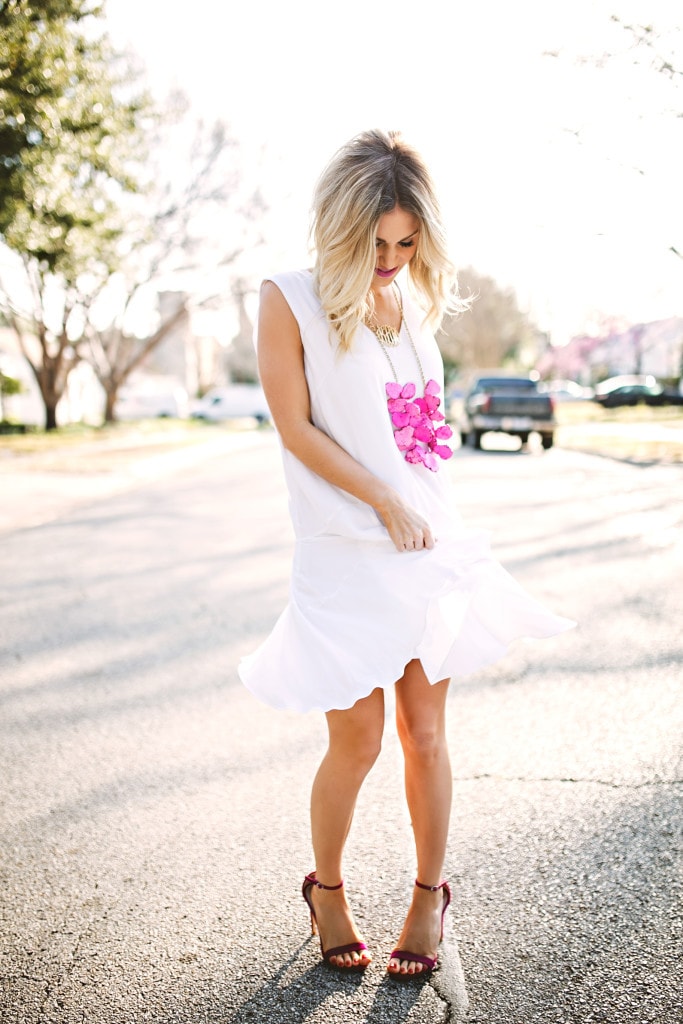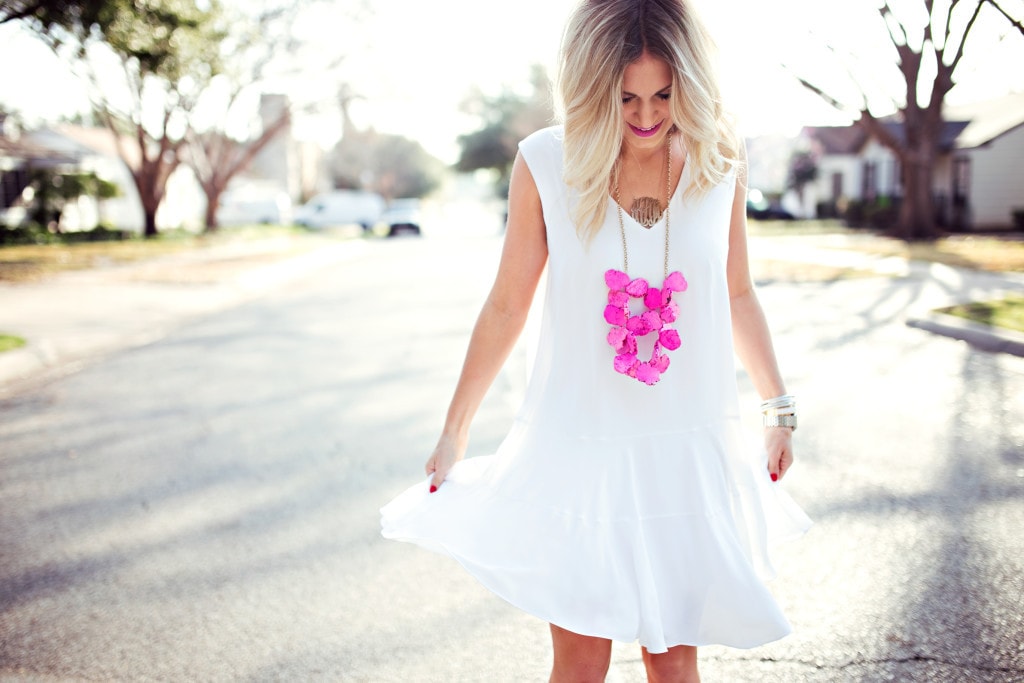 Dress: BCBG old, Similar, Similar| Necklace: Mad Jewels [c/o] | Shoes: Steve Madden | Lipstick: Neon Azalea
Photography by: Angie Garcia
---
I was not Snapchat's biggest fan when I first heard about it. Like any good PR girl, I had an opinion about every single social media format and gave it frequently. Snapchat strips away creativity and the blogger in me didn't love it. I just felt that you could be transparent and "keep it real" through verbiage on your blog and not 15 second videos. There isn't really much thought involved in Snapchat and, like it's little sister Vine, I thought it would fail.
Now? Snapchat is one of my favorite tools for relationship building. I love getting snaps from readers and I love getting to share my honest opinions of products. So now, like a good ex-PR girl, I have to admit my wrong. Snapchat is amazing, I just think I had to find the right context to use it in.
Lots of my friends had been doing some Snapchat Q&A's and my dad was still stuck in line voting before we could go to dinner, so I thought I'd give it a go.
If you aren't on snapchat or if you requested this info written down this post is for you! I'm just sharing the questions and answers with the blog links I referenced too. I promise I won't do too many of these in case you find they clog your feed, but if you do like this interaction please let me know! I always love to help answer questions for more people!.
1. What is your everyday schedule like?
I get this question pretty frequently and I share here how my days are divided. Monday for admin purposes, Tuesday for shooting, Wednesdays for meetings and Thursdays/ Fridays for writing. But here's an example day of  M/TH/F just in case you're curious! Granted, these change all the time depending on when a brand needs to meet, etc. This is just a general outline and a schedule I follow more often than not.
5: 30 Wake Up. When I take do a workout class this early I just grab a Larabar [my favorite is Cashew Cookie and it is Whole 30 friendly!] and leave.
6-7 Workout. I love cycling classes at Zyn22 and I recently have started up some barre/bounce [it's so fun!] classes again with a friend from church.
7 Shower & Quiet Time. If I don't workout in the morning I'll do this before, but then I only wake up at 6:30. I share my quiet time routine here. Peaches is so snuggly at this time. Not too sure what happens the rest of the day [she must drink a few espressos and I don't see it.] But she loves to just lay on my lap and it is one of my favorite parts of the day! I'll also make Paul a quick breakfast before he leaves for work.
8 E-mails. On average I think I spend 3-4 hours a day answering e-mails. This ranges between e-mails from readers, e-mails from brands and collaborations and e-mails from PR agencies. I have tried so many different e-mail systems so I can be efficient and effective in responding, because I'm so anal about e-mails and getting back to people. And I've learned nothing, yet! haha. Paul will try to color coordinate and make folders for me and that just makes me miss e-mails, so if I ever hear of a good one that works I will let a girl know!
9:30 Accounting. Blogs function like any other small business. Because I don't a paycheck twice a month from an employer I just have to spend a lot of time working on invoices, taxes, business expenses, etc. I get paid for lots of different things in blogging so it just takes a while to go through each contract, track every business expenses [website hosting fees, web design, photography, etc.], make sure payment is made, set aside money for taxes, go through collaboration terms, etc. I pay taxes quarterly and with my husband being an auditor he and I get a little too meticulous about how we account for everything.
10:30 Writing. Between SEO tagging and linking items, blog posts can take anywhere from an hour and a half to two hours [if it's a longer post!].
12 E-mails. While I eat lunch I'll check back on e-mails and play with Peaches outside.
1 Conference Calls. If I ever have conference calls or meetings on a writing day, they fall between 1-3. This can be anything from a PR firm wanting to get to know me, the brand and my readers for potential collaborations, to a brand finalizing collaboration details. I've shared I'm shy before so these can sometimes be hard for me. People always say, "You don't come across as shy on snapchat?!" But that's because I'm by myself talking to a phone. haha! And once I get to know people I'm really outgoing. But I'm a huge introvert and when I was little I'd tell my friends to tell their moms things. I'd say, "Madison, will you tell your mom I need water? Madison, will you tell your mom I'm going to go to the bathroom? Madison, will you tell your mom I need a tissue?" I was 5 doing this and these people would be my mom's best friends. Even now before I go somewhere I won't know people I hide behind Paul and make him do the talking. Or I make my best friend Taylor order for me, etc.! Once I warm up though I'm Chatty Cathy. So, I really try to only do 1-2 calls a day, unless it is a Wednesday. This is just because I have to seriously psych myself up for a phone call and tell myself to get out of my comfort zone. So after 2 I can mentally be exhausted and do terrible if I have another. Any other shy people relate?! I almost wish I came across as shy so people knew I was trying, but instead I come across as outgoing and it's this huge falsity. haha
3 E-mails & Social Media. After my calls or meetings I check back to e-mail and make sure all my blog posts are on social media and I'm promoting/responding to questions.
4 Writing. I spend this time either finalizing the last blog post in case I didn't finish or starting a new one. I love to get 2 finished in a day, but sometimes I have to get 3-4 finished. Companies don't care what I say when I post but sometimes they want to see images or drafts before so they know what to incorporate in their social media editorial that day the post goes live. I'll send out drafts and get brands ETAs on current collaborations.
5 Shoot. If I do need to shoot say for an instagram post my best friend Taylor or my mom will come over now and help me. I love shooting during golden hour [about an hour before the sun sets] but to be honest, this doesn't happen much! Angie and I shoot in the morning on Tuesday just because we mass shoot outfits and we wouldn't get them finished if we did the evening.
6 E-mails & Organize Contracts. I'll check my e-mails one last time [between press releases and general pitches you could get 100 a day so it can take some time to sift through and see what is directly to you] and organize. I'll organize my day for tomorrow, organize what I need to shoot next, go through gifted packages and see what I need to test/send back, go through contracts and make sure I'm finished work on my end, etc.
7 Finish. Granted, if I had a day full of meetings and shooting I'll just be getting home at 5 and start working, so I won't finish until 9 or 10. But if I was lucky and got to stay at home all day I try to make a strict rule of finishing at 7. This way I can cook for Paul, play with Peaches and get any errands or cleaning done around the house. Wednesday nights we also have our church's community group that starts at 7 so it's a good reminder this is when I need to be finished with work.
2. How did you break into blogging and monetize it?
I share here and here a little bit of background on that. I worked in PR and at the time blogging was a huge source of media for us. My girlfriend and I started a blog in order to understand the industry better. A few months in she got a job at a huge PR agency and she wasn't able to spend time blogging. This kind of became like my child and I'd stay up until 1-2 a.m. working on it when I'd have to get up at 6 the next day for work. I'm not sure if there was anything specific that allowed me to monetize it and I still feel like I have SO MUCH work to do. But I will say consistency, dedication and prayer had everything to do with this becoming my full-time job. I pray about every single collaboration I take and I'm so thankful to God for what he has done with this little website. I also spent most of my weekends the first year with Paul working on the blog. He was so supportive [he told me to start it] and while we had no clue what we were doing, he really allowed me to be dedicated to what I loved.
3. Who is your hairdresser?
@britanymarshallbeauty you can find her on instagram! 🙂
4. What is a good bible study to do on your own?
Here is my quiet time post and the ones I recommend. My church will e-mail you a free one daily I link!
5. What eyeliner do you use?
Gel liner is my favorite. It's so easy to blend out and you can do anything with it. I use this Nars pot and this brush to blend out! I only do liner on my top lid.
6. What do you recommend to cover dark under eye circles?
I recommend this concealer just go one-two shades lighter than your skin color! I'm fair neutral.
7. What church do you go to?
We are members at Watermark in Fort Worth. They have a Dallas and Plano campus as well.
8. What are your go-to lipsticks?
Lately, I love matte lipsticks. I hate that when you add gloss your color is gone after you take one sip of Diet Coke. It's like, "Oh hey, that's 40 cents gone." So the Kat Von D liquid lipsticks have been my best friends and I also love YSL #7 and #1. [I think on snapchat I said #2 on accident but it is the nude color!]
9. How do you stay disciplined working from home?
I've always had first-born syndrome. I'm Type A, I'm anal and I put more pressure on myself than bosses have, so I do better working for myself. But I have learned to make a schedule as opposed to making a to-do list. I lay out what I need to do each hour and instead of picking and choosing on a to-do list I have to follow the schedule. Then I reward myself at the end. If I deter from the schedule I won't reward myself. That sounds a little silly but I just may reward myself with a glass of wine or watching my Tivo, something to help me relax. But if I don't finish my work I can't relax, so it  definitely works for me!
10. What do you use on your eyebrows?
I use the Anastasia Brow Wiz in Taupe. You can find my other favorite beauty products here.
11. What should we do in Dallas or Fort Worth?
This post is so old and I need to update it so you can find it easier, but here are my favorites in Dallas and Fort Worth!
12. How do you get your bottom lashes thick?
This lash domination mascara is amazing layered over any mascara you have already! Do one coat of what you already have, let it dry for 30-40 seconds and add this on top.
13. What trips are y'all planning?
This year we have a quick trip to NYC for work, Mexico for a wedding, Seaside for family and Europe planned! I love New Orleans so I'd love to squeeze in a weekend there if possible, or even Palm Springs, but Paul has a crazy work schedule so those will probably have to wait until next year.
14. What lipsticks and tops compliment fair skin?
I definitely love cool tones for fair skin! This lipstick is great to layer over shades to give it a cool tone and make your teeth look whiter! I also love lavender bases, like Kat Von D Requiem. It's sold out right now but I'll share when it is back. 🙂 In terms of tops, I love to dress for hair color. With blondes I love yellow, blue and green! With brunettes I love corals, reds and pink.
15. Do bloggers resell things they have been gifted? 
I'm not 100% sure what other bloggers do and I do want to preface this by you're allowed to do so with some items. I even have specific contracts that say, "You can sell this 6 months from post date." The reason being is that sometimes the gifted item is counted as payment [sometimes gifted also might mean I got a $100 gift card toward a $900 item, etc. So we pay for more than half.] and if it sells out they know your readers don't want to see you wear it, so it may not benefit you anymore. So a company doesn't care. However, I don't do that unless a girl specifically e-mails me and asks me if she can purchase it from me, especially if that item has sold out and won't be restocked. If you see me say, "Carried Once" in terms of a bag, it wasn't that the item was gifted and just worn for the post. I shared on Snapchat that my mom loves to online shop through COF and then half the time realizes something might be too trendy for her and she will ask if I can sell for her. On snapchat I'll generally share that before it goes on @shopkateyscloset. The items I'm gifted most are beauty products so I can test them and that would be so silly to sell! haha. If something doesn't work for me/my skin/my body type I just give it to a friend or donate it. This week I'm cleaning out my mom's closet for her so be on the lookout for Tory Burch bag's that have never been carried! haha.
16. If you could only keep one bag which one would it be?
It would definitely be my Louis Vuitton Neverfull GM. This bag is special to me for a few reasons. First off, I got it the day I got my contract for my big girl job. I worked all of college at PR firms, but a few months before I graduated I got my full-time offer and treated myself to this bag. I knew it would be a great work bag to hold my laptop, lunch and gym clothes. I also knew I could carry it as a diaper bag one day! haha. I love to use this for staying somewhere overnight but this is a great bag even if you don't put much in it. So I'd always keep it because I know one day it has to be a diaper bag, otherwise I totally lied to myself in order to splurge! haha.