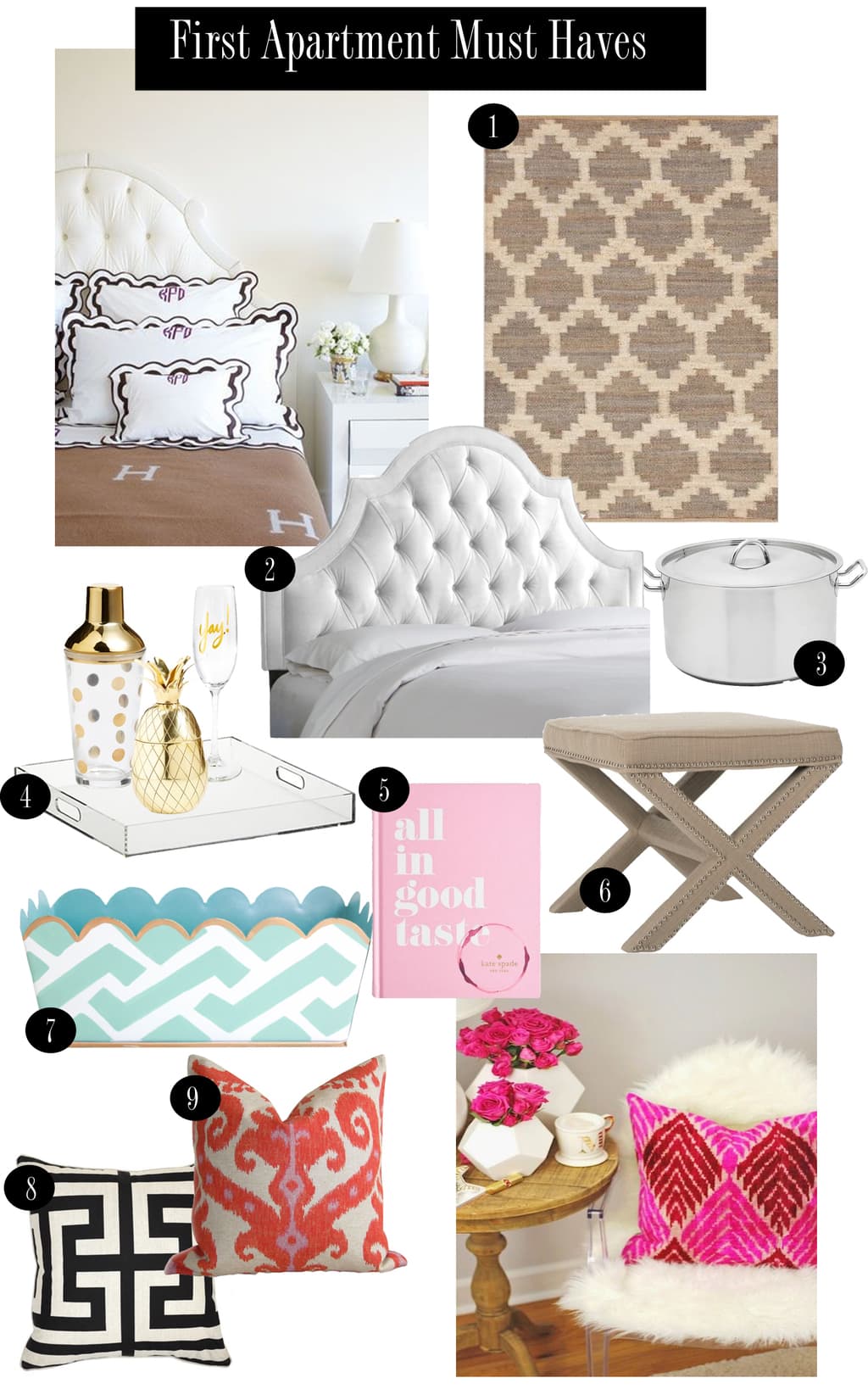 1 | 2 | 3 | 4 [tray, shaker, flute, pineapple] | 5 | 6 | 7 | 8 | 9
image sources: Bedding [could not find original linked on Pinterest], Ghost Chair [my friend Megan's blog here!]
---
You might be graduating college or maybe you're deciding you need a place of your own, regardless of the situation a first apartment is pretty overwhelming.
"Should I get a blender?"
"Do I seriously need a coffee table?"
"Where do I spend my money?"
I lived in my sorority house, then a townhouse with sorority sisters. I never worried about having a specific appliance or investing in something because someone else had it. We each made up for what the other didn't bring along! Then I moved to Dallas by myself, and if I didn't have a can opener I was calling 1-800-Chipotle because this girl wasn't cooking for the night.
From living on my own to creating a home with a husband, I wanted to share a post of the things I thought were the most useful that I invested in. Some things I tossed and some things I still treasure, so hopefully this helps you decide where to spend the money and where to skimp! So whether you know one day you and your boyfriend will be living together or you have goals of buying your own house, hopefully this can guide you on what pieces last.
1. A Neutral Rug
When I first graduated college, my mom bought me a neutral rug for my living room. I thought it was a cute graduation gift, but had no clue the functionality it would serve! It easily blends with whatever style I want to decorate with, and rugs are the perfect thing to bring along each time you move because they warm up a space even with little decor. So if you start accumulating nice, neutral rugs you'll always have them in your house and don't feel so rushed to decorate. Most apartments can seem cold and modern when you first move in, so a rug makes it feel like home with little effort. I love this one from World Market.
2. A Tufted Headboard
Hands down, one of the best things I have ever purchased! Right when Paul and I got engaged I purchased a tufted headboard. I knew that as wedding/home expenses accumulated I wouldn't want to spend money on a headboard. But investing in one allowed me to have my bedroom feel like it was complete without any wall decor. It's also a comfort to have something tufted because when you're laying in bed on a Saturday or want to read you don't want your head to be hitting the wall or something rod iron. P.S. if you are getting married and moving in together most men do not bring nice headboards with them. That's not a necessity to them, nor was it something we could register for. 😉 One Kings Lane has great priced ones and it is where we got ours, I love this white one.
3. Simple Pots & Pans
This is one I will tell you to not invest in! I had no clue how much I would want to cook after I came home from work, so I waited to invest. My Target pots and pans lasted me for 4 years before we got wedding ones! And honestly, sometimes I miss them! We have a stunning set from Williams Sonoma, but they are a pain to clean. Just get something inexpensive and see how much you love to cook!
4. Bar Cart Essentials
If you don't have room in your space or budget for a bar cart, get a simple acrylic tray! Keep it on your counter when guests come over and fill it with some fun essentials. You can still have fun hosting and treating yourself. I love this tray, this shaker, this pineapple tumbler and these champagne flutes!
5. Coffee Table Books
I started to collect coffee table books once I graduated and I'm so glad I did! It's the perfect time to start a collection of something you love because you can add to it slowly. They not only serve as inspiration, but they are great space fillers! If you don't want to invest in coffee table books just yet, go to a Half Priced Books, buy a few inexpensive Vogues and you've got yourself a stack for a coffee table! This is one I have been dying to add to my office!
6. Benches
In all honestly, I really regret splurging on a coffee table when I lived in my first apartment. I bought this one from West Elm and while I was in love with it, it didn't match our home we moved into, so I switched it. Instead, I would have gone for two x benches side by side. You get the ottoman effect for your feet, but it's also extra seating for friends over. Seating is always limited in a first apartment, so this is a great alternative. Top with the acrylic tray shown above, a candle and some coasters to make it functional.
7. Mail Sorter
One shocker when I moved into my apartment was mail. In college I got a few things here and there, but having my own place left me with no idea where to store magazines, coupons and bills. I love this sorter for your kitchen counter! It hides clutter and you always know where everything is placed.
8 & 9. Decorative Pillows
My old apartment had so many decorative pillows and I loved it! It signified a really fun time in my life where I valued my taste over functionality. Now I like to keep sequin pillows at bay because my husband doesn't want to take couch naps on top of them! haha. But I think building a decorative pillow base will make any piece of furniture [hand me down or thrifted!] look fresh and unique! I love this and this.
I hope this helps make your transition a little easier into your apartment! Never question if something matches, because your first apartment should be YOUR taste and whatever you love will always look perfectly blended!