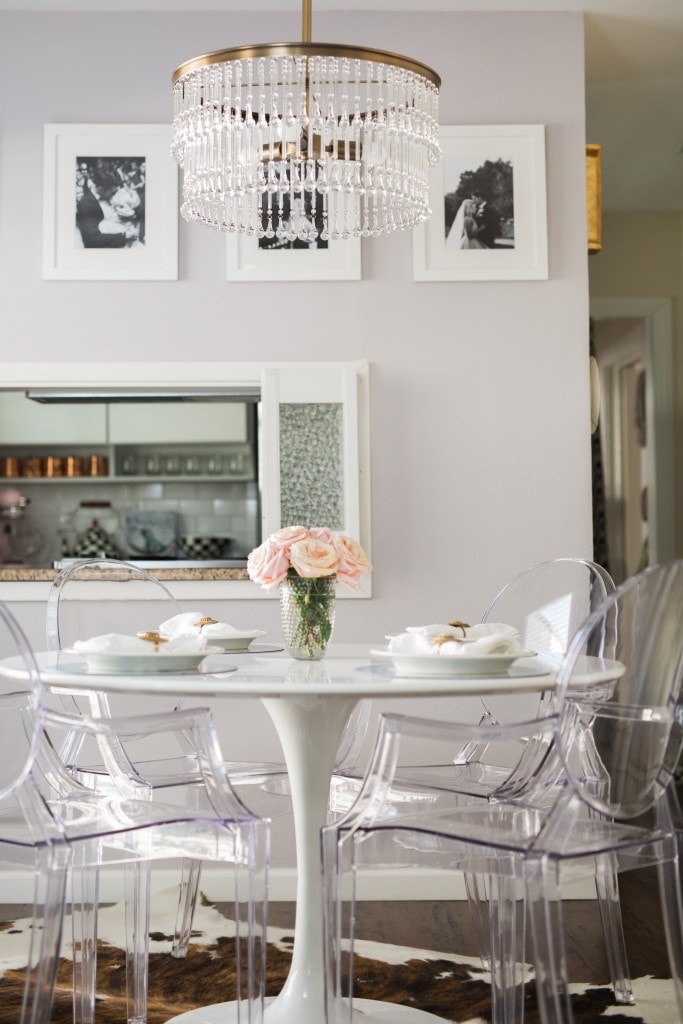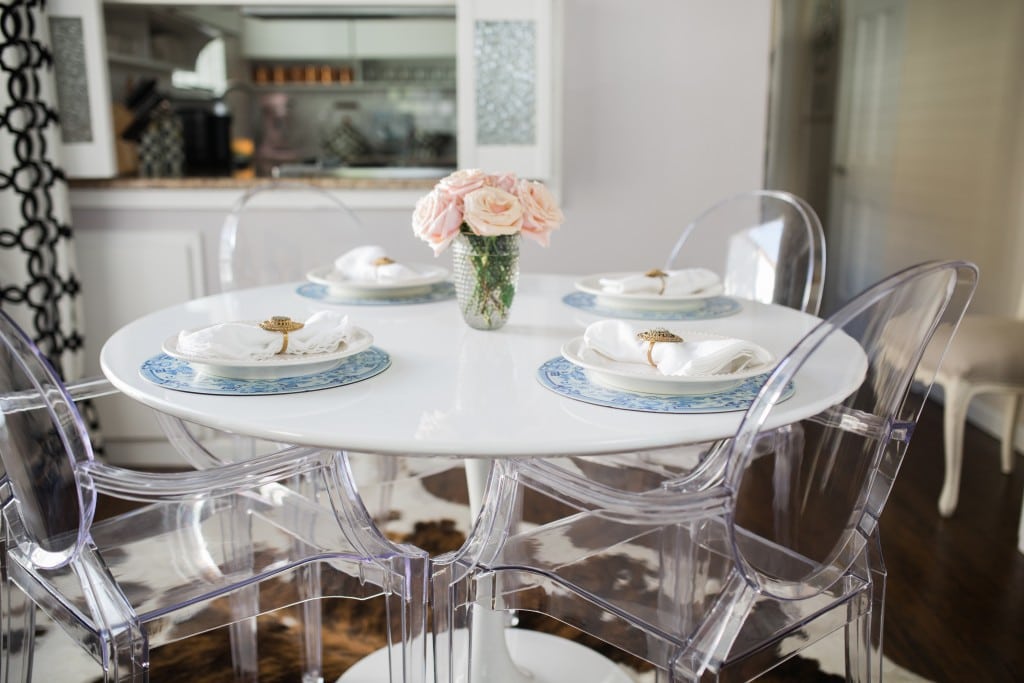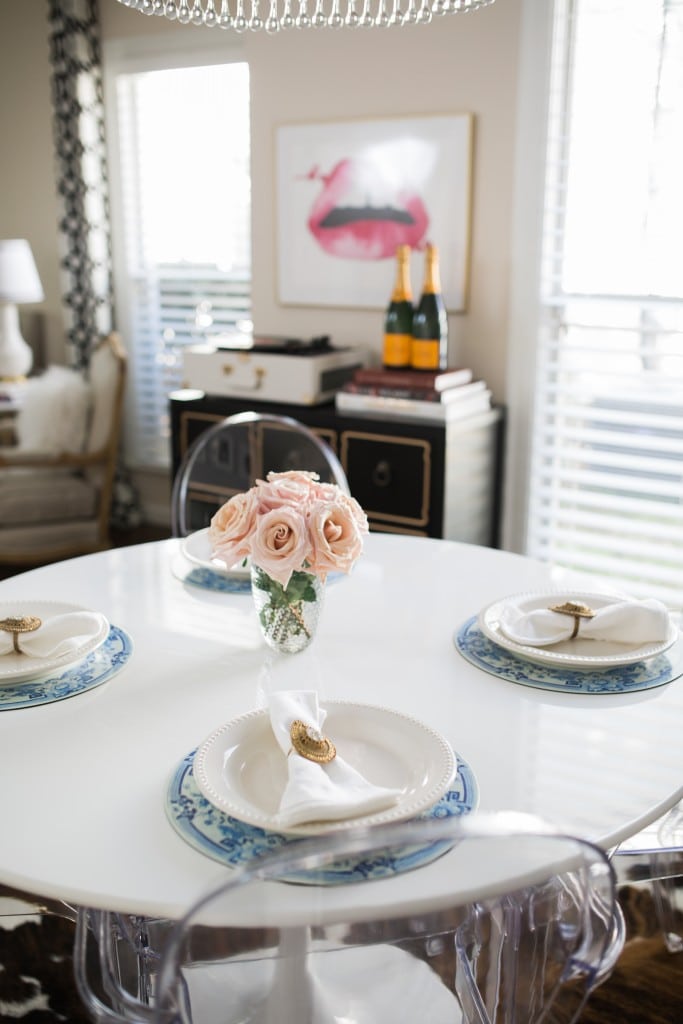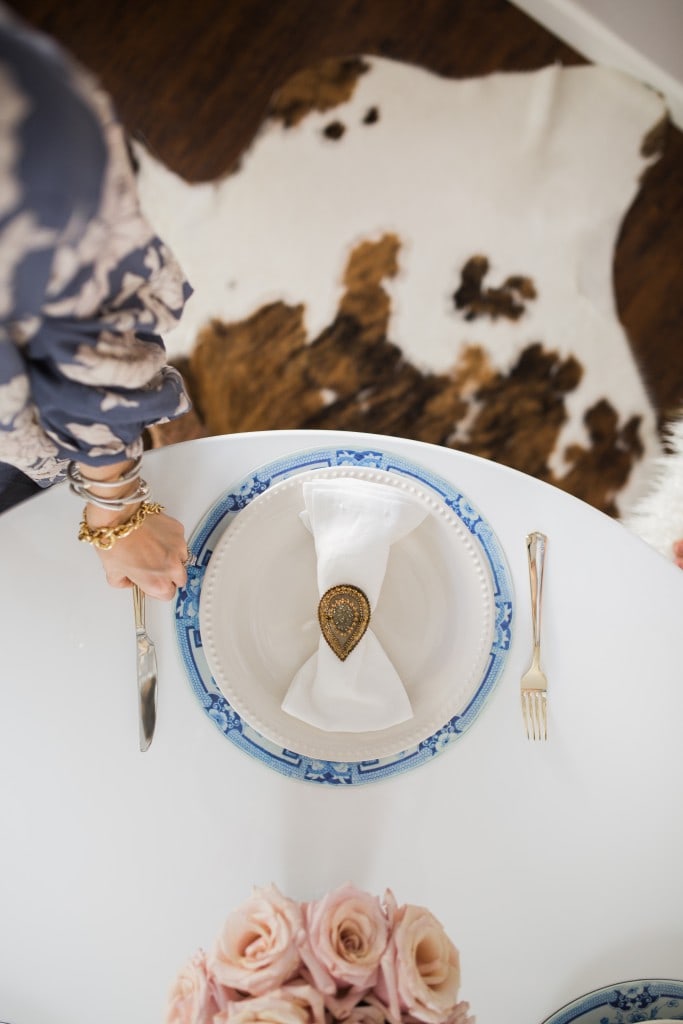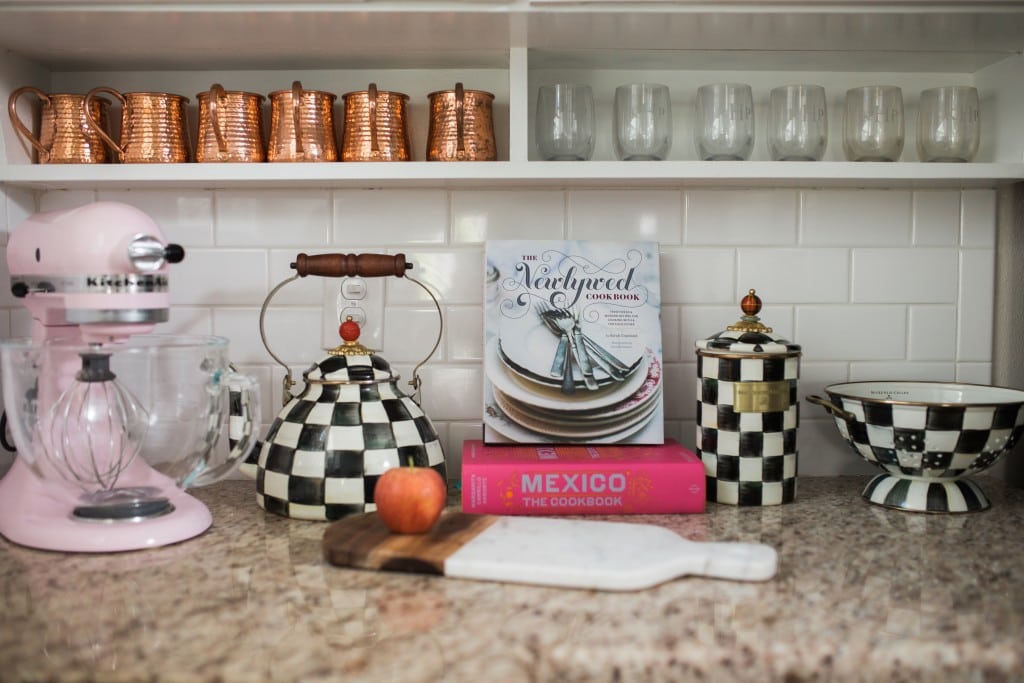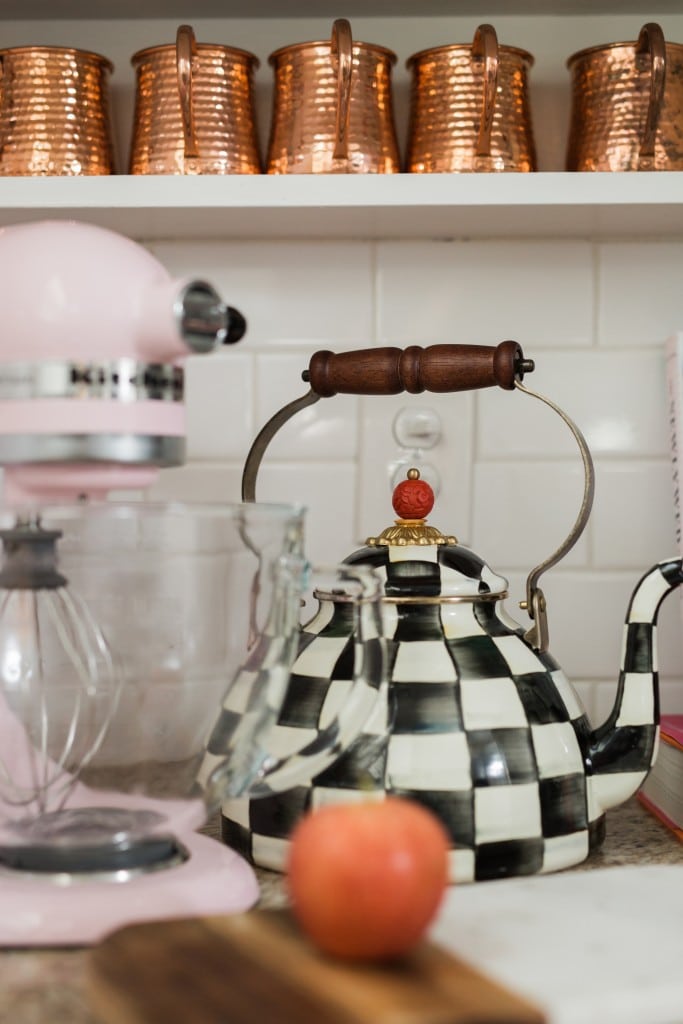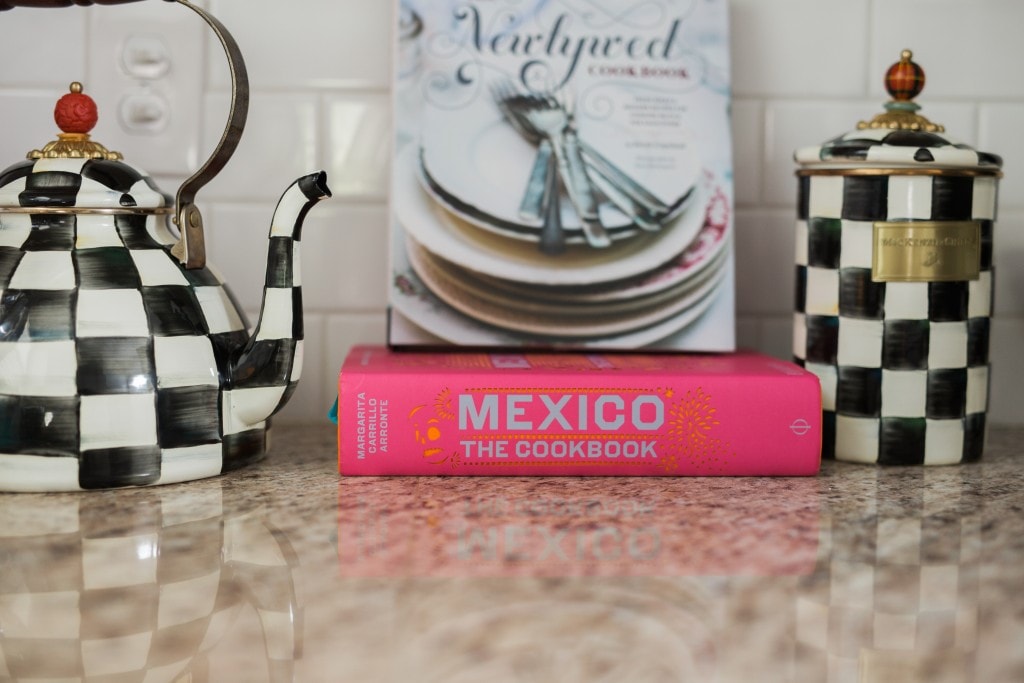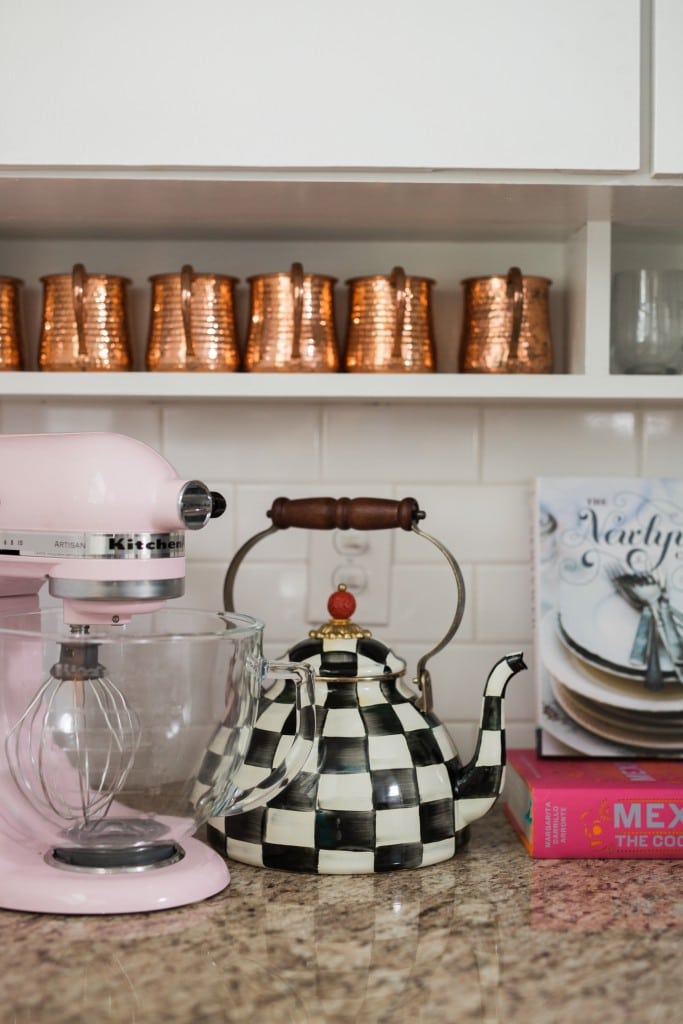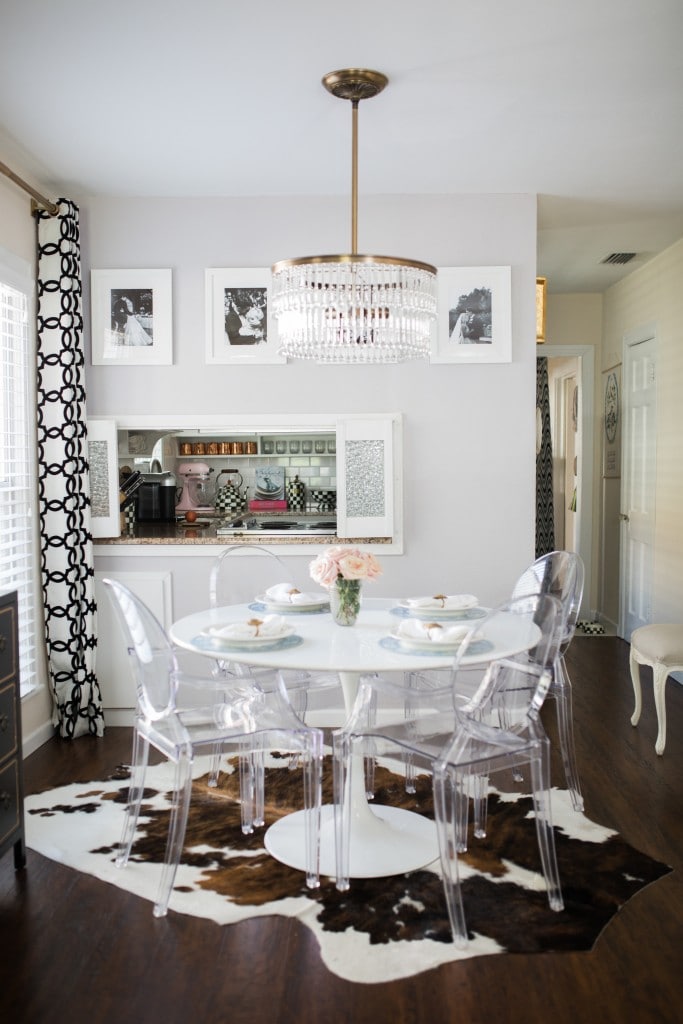 Tulip Table: Overstock | Ghost Chairs: Amazon | Rug: Overstock | Drapes: Pier 1 | Light Fixture: PB Teen [old] | Mixer: KitchenAid | Black & White Kitchen Items Linked Below!
Photography by: Carmen Evans
---
One of the "negatives" about our home when we moved was the fact that it had a pretty tiny kitchen. It wasn't the most well-thought out space in the home while it was built and renovating it wouldn't work. We brought in a contractor and he laughed and said to even reconfigure the space to make it work we might as well just go buy a new home.
And honestly? I've kind of loved it. Granted, there are plenty of days that I wish Paul could be in the kitchen to cook with me or I wish we had space to actually set out ingredients on the counter while we make cookies, but it is what it is! And I think it's so funny how accustomed to space we are in Texas. Homes here are just so large and I always joke with my friends and say, "People grow up in Manhattan just fine! We need to learn from them!" I'm secretly a minimalist, I swear! 😉
I'm just thankful we have a kitchen and a cozy little home for it to sit in! But I have definitely learned some tricks on organizing and making the space work.
Here's a few tips I have for making a small kitchen work as well as my kitchen must haves!
1. Cut The Clutter
Toss things that don't match. Have a plastic to-go cup from a restaurant? Toss it. Have a bunch of restaurant take out times like ketchup packets, get rid of it! Don't have anything in your kitchen that isn't part of a set. For example, when we moved we tossed all of our plastic cups and just use our glass cups we registered for. We use water bottles and Yeti cups to not waste water bottles, but we only have a few. The reason you don't want lots of mismatched plastic items is because they all take up different amounts of space. It creates a mess. So putting them inside kitchen cabinets can help make your kitchen look more organized and clean. Also, instead of plastic cups and utensils, you may consider purchasing eco-friendly kitchen tools such as sustainable bamboo chopsticks.
2. Don't Decorate
My old kitchen had picture frames, cookbooks and plenty of candles out and about. However, a small kitchen only needs the basics. You can make your kitchen beautiful by keeping it more minimal and doing things like painting the kitchen cabinets white. White makes spaces seem brighter, so we also installed white subway tile as backsplash and have lighter countertops. I love Mackenzie Childs because you can get beautiful functional pieces like a utensil holder in a pattern that helps decorate. I love her courtly check pattern [the black and white] in my kitchen because it adds a pattern but keeps it more minimal.
3. Use a Magnetic Spice Rack
We don't buy a ton of pantry items like snacks, but I have spices for days and this tutorial is something I need to do! I saw a friend have a magnetic spice rack and you can put it inside your pantry or on the side of your fridge! It's so smart because by repurposing jars that are all the same size you're taking up way less space and keeping it off shelves! See the tutorial here.
4. Magazine Holder for Foil/Plastic Wrap
Aluminum foil and plastic wraps can take up a lot of space in your drawers! We only have 2 drawers so we can't use up that space! Keep a magazine holder like this in the cabinet under your kitchen sink and vertically place your foils and plastic wraps.
5. Curtain Rod Under Sink
Add a curtain rod under your sink and hang cleaning supplies off of it! I'll be sure to do a cleaning post soon and share what I use so I'm not cluttering up my cabinets with supplies!
6. Keep 2-3 Items Max
Unless you are cooking for a large family, try to keep only 2-3 items max of cookware or bakeware. For example, we have one sauté pan, two pyrex dishes, two tupperware containers. It can be so annoying having to constantly wash dishes, but a running dishwasher is much better than an overstuffed cabinet. If you aren't sure what to do with leftovers, use Ziploc bags! I always forget I can put old vegetables, and sides or even meat in them!
7. File Plastic Containers
Keep Tupperware tops together and then stack your plastic tupperware on top of one another, as opposed to stacking tupperware bins on top of one another. That takes up so much more room.
8. Mason Jars
Use Mason Jars in your pantry or cabinets to store items like baking soda, brown sugar, teas, coffee beans, etc. This way you can see what you are low on, but you also aren't cluttering your kitchen with bags of all shapes and sizes! I use a label maker to label the jars and it feels so much more organized. Light, bright and organized spaces always feel larger!
9. Mixer Out
I do keep my mixer out, and many would say that's a waste of space! But I use it for everything! From making mashed potatoes to baking, I'm constantly working with it. Plus, if you get one in a fun shade it also counts as a "decor" items that is still functional. Make sure that everything you use to decorate your kitchen is functional and it won't feel cluttered.
10. Backsplash Trick
If you aren't a fan of your backsplash, lean cutting boards up against your backsplash to cover it like this. I also used a marble serving tray when we had our old backsplash and it made the space seem brighter!
Below are my favorite kitchen necessities!