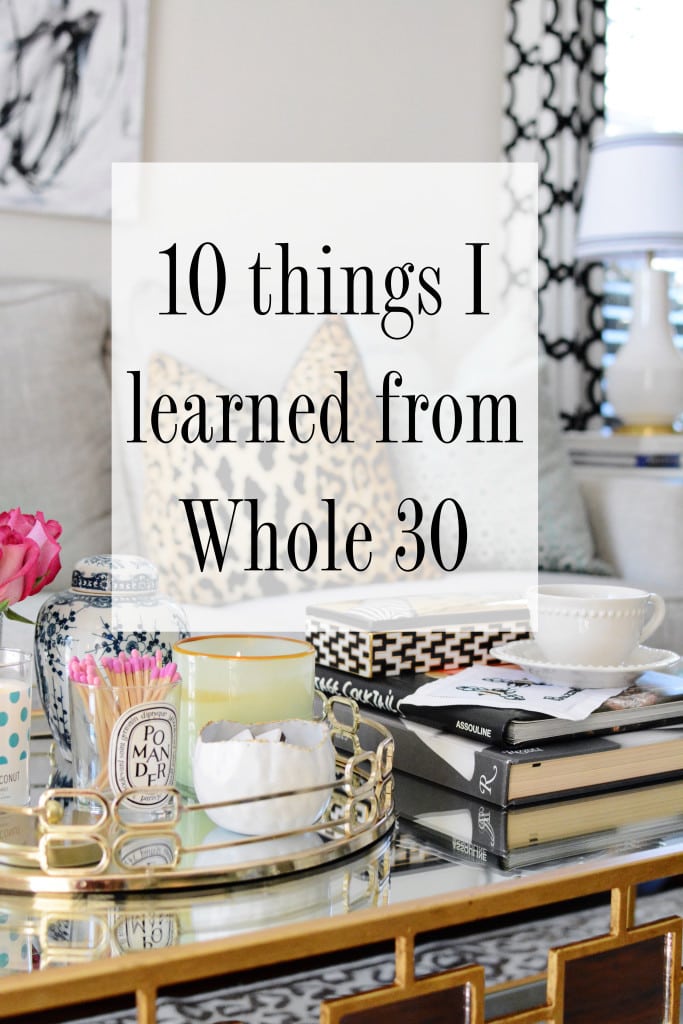 ---
In the past 30 days I did not consume: grains, dairy, sugar, legumes or alcohol. [I've got all the details and what I ate in these posts!] No pun intended, but this meal plan was the most bittersweet thing I've experienced in my entire life. There were times I wondered, "Would I ever go back to those foods again?! This is great!" And plenty of times I thought, "I was just invited into someone's home and I'm not eating the meal they prepared for me because I don't want to eat grains for 30 days? Seriously? This is so vain."
In case you're curious about the overall pros and cons, I wanted to share 10 things I learned which are a mixture of both. I just thought the cravings would be hard, the cravings are the EASIEST con to deal with.
Ten Things I Learned from Whole 30
1. Black Coffee Tastes like Water
Before Whole 30 I only had black coffee twice. Once in college when my friend went to grab me an iced coffee before our next class. He's a guy, so naturally, he was unsure about what I'd want to have so he just got it black. I took 4 sips to be polite and threw up after. Second when I tasted our Nespresso maker for the first time and proceeded to dump 4 tbs of creamer in after.
About midway through Whole 30 my Tiger Blood went away [more on that later]. I realized I needed to suck it up and just drink coffee black. I first tested it out at my car wash-of all places! I put my phone in my purse, sat there and said, "Katey, this isn't bad. Just do it." #dramatic
Turns out, black coffee is fine. I just needed to give it a few more chances, but it really does just taste like a more bitter version of water. I'll go back to creamer [probably a coconut-based one!] but will only use on days I need a pick me up.
2. Tiger Blood is Different For Everyone
Tiger Blood is the magical feeling you will have days 16-27, or so blogs say. The Whole 30 site does a great job explaining and being realistic here. However, some people rant and rave so much you can be confused. I thought, "Wait, am I missing something?! Did I do it wrong?!" And while I do not doubt they felt that way, I doubted my body. I got Tiger Blood around Day 7. I just had an increased amount of energy. I didn't necessarily want to go run a marathon, but I had a ton of focus with work and could have written my next 67 blog posts if I was told to. It was incredible for writer's block.
However, it fizzled out closer to day 16. I got excited thinking I'd get a second wind and I didn't. In fact, the last half of Whole 30 was incredibly hard. I just felt the same. I talked to my friend who had just finished Whole 30 and she explained that this tends to happen to people who eat pretty healthy before Whole 30 to begin with. Your body doesn't need a huge "purge" period and so it starts to balance out sooner.
In my head I thought, "Cool, because I don't eat fast food I don't experience the good stuff!" Your mind can get easily frustrated toward the end.
3. The Last 5 Days are The Hardest
Needless to say, the last 5 days were the hardest. Eating out was miserable. Paul hated he couldn't have a glass of wine with his wife. And I felt terrible anytime our friends or family cooked for us and I sat in the corner eating a Larabar.
This is when you have to know your body is changing internally, for the better, you just aren't seeing those results just yet. I honestly felt like this was becoming an idol. I believe in having balance with food. It can be an idol in so many ways [not eating it/obsessing over calorie content/over eating it/thinking too much about it] and so I don't like to think a lot. If I have a shrimp salad for lunch and water all week, I won't kill myself for having a glass of wine and baking cookies for my husband.
But if you can push through to Day 28, the appreciation you have mentally for what you have done is almost more exciting than the Tiger Blood in and of itself.
4. I Know Which Foods I Actually Love
With that being said, the best part of Whole 30 for me was learning which foods I cared about. If I'm at a baby shower I might have a bite of a cupcake, a chicken salad sandwich and a mimosa. Once you take away those things for 30 days, you really start to understand which foods matter to you, so you can pick one in the future.
For example [and don't kill me or lecture me! ;)] I like a Coke once a month. Sure, it's filled with SO much sugar. And it's terrible for you. XYZ. But if I have a migraine or I'm absolutely exhausted, sometimes a Coke just fixes things. It's a treat at a movie with Paul or a lunch with my mom. For other people that treat may be a burger or a milkshake.
I would have thought my treat would be dairy, but a Coke and chocolate was something I continually wanted and I realized, "Okay, great. If I'm going to have a cheat meal maybe I'll have a small Coke and bite of dark chocolate to satisfy." So instead of having a grilled cheese AND a Coke because I think my body wants that, I learned what I actually enjoy. I think this gives you a completely different perspective on food and really allows you to know what you're meal prep/gym time is sacrificing for.
5. This is the Best Beach Detox
Would I do Whole 30 for another 30 days? Eh. Maybe with wine once a week. Or maybe if I had a bad autoimmune flare up. But not likely in the near future. Would I eat Whole 30 for 2 weeks before the beach? Um, I'll do that 14 times this year.
So many of us want quick fixes in terms of feeling bloated and being beach ready. We can all fall guilty [this chick!]. You're busy, realize you're in bikini land in two weeks. Don't think much of it. Go to the gym. Try to do a juice cleanse. Fail. Order pizza. Head to beach.
Whole 30 works. I mean you're taking all the bad stuff that bloats us and just removing it. Eating protein and vegetables WITHOUT sauces and sneaky sugar does wonders. I'd heard you don't feel bloated, but that's an understatement. Your whole body feels really clean and it would be the perfect way to prep for a vacation or after!
6. Grocery Shopping Shouldn't Take 15 Minutes
 One incredible pro of Whole 30 is I feel like I got my Masters in Nutrition from TCU down the street. Kidding! My friend has her's in Nutrition and that's such an accomplishment. But I learned how to honestly read labels and what to look for. I typically grocery shop at Central Market [similar to Whole Foods] and get things like almond milk, granola and almond butter. But I learned that sugar [or maple syrup, honey, other versions] is everywhere in it!
I now really try to plan the time I will grocery shop and spend about an hour reading labels. I loved Annie's Dijon Mustard because it doesn't have sugar and was a great base to helping me create dressings.
7. You Don't Have to Meal Prep to be Prepared
The first week I made something different for breakfast, lunch and dinner every day. I got burnt out. The second week I ate the same thing for breakfast, lunch and dinner every day. I got bored.
I learned that you don't have to meal prep to be prepared. I just started to make double batches each time I cooked and it allowed me left overs to spread out. I would roast a big pan of vegetables twice a week and that lasted me 7 days. Paul grilled me 6 chicken breasts so I could have on hand for salads, soups and skillets.
Believe it or not, while the meal plan in itself isn't balanced in terms of treats, Whole 30 teaches you balance. It taught me how to prep without going overboard and it taught me how to try new things without getting exhausted of cleaning dishes.
8. You Learn Your Own Rules
Speaking of balance, and learning what foods you actually love, Whole 30 teaches you what you want to implement in your kitchen.
For example, after the pros and cons Paul and I decided this how how we want to eat [for the most part!]
-Paleo at home
-No stress when we eat out
-Wine at home on weekends
If you love Whole 30, but want to allow a little more grace into your diet at home, Paleo is a great option. Most things are similar but you can make treats with a few extras. So if you wanted to make banana bread for your kids, that is possible. Because of how "clean" I felt [I know that's such a bizarre description but I just felt healthy!] I know I want to continue to cook Paleo foods at our home and follow that during the week. On the weekends wine is fine! But, I won't stress when I go out to eat. If we want guacamole and chips or if we want a cheese board, it's fine.
We still cooked pretty clean at home before I started Whole 30, but the swaps I made [coconut oil for olive oil, etc.] have taught me so much and I feel really in control of the rules I want to implement for myself.
9. You Learn Your Body's Natural State
Bloating, occasional stomach aches, headaches at 2 pm. Those aren't part of your body's natural state. Granted, some people do have medical conditions that cause that, but for the average person those are effects of food.
I'm an introvert and come off a bit more quiet if I don't know you yet, and sometimes I actually attributed that to energy. I know that sounds silly, but I've always thought, "I'm exhausted. How does she have it in her to be hyper?!" I learned that I just am more relaxed and not as easily excitable. But I also learned that bloat and stomach aches weren't from being sick, they were from food. I didn't have any autoimmune flare ups while on Whole 30, which was great! However, I don't have them monthly so I can't say 100% this was the reason why.
It is such a welcomed feeling to know, "Okay my body gets tired around 3 p.m. not because of sugar but because of work, etc." This way I can understand thing after I reintroduce foods better and make proper adjustements.
10. Your Quantity of Cravings Decreases
I lost a total of 9 pounds [I didn't do this for weight loss and only thought I'd lose 3, so if I gain some back it will be okay!] and because of my birthday, I have gone back to a few of my favorites this week. However, I don't really eat a lot of them. I had a few bites of birthday cake and a few sips of wine. I didn't have any issues, but thankfully I didn't want to eat a lot of them!
If I had to do it again I'd have enjoyed my first Valentine's Day with my husband and I would have had a glass of wine. But overall, I'm proud of myself for finishing it and I'm happy with what I've learned. Do I think this is the biggest life change? No. But that also has a lot to do with how you eat before you start Whole 30. I wasn't eating that poorly, so my results weren't as drastic. It's a great reset to acknowledge how you want to incorporate balance in your diet and a wonderful marker to see how your body actually reacts.
Have you tried Whole 30?!