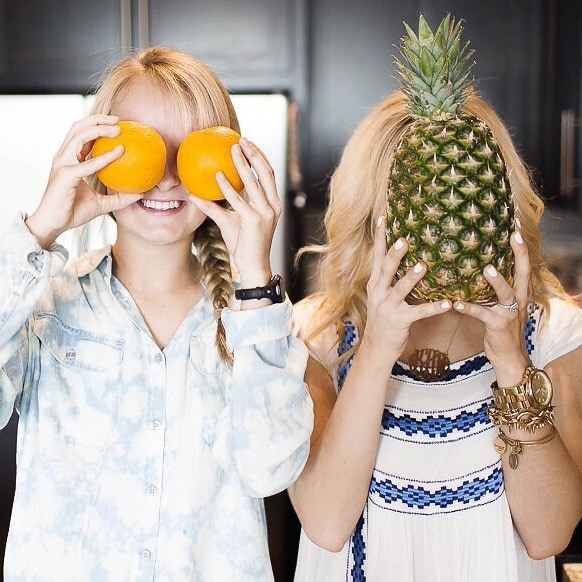 Photo by: She In The Making
If you follow me on the internet in any way shape, or form, I just need to apologize. I know, it's been annoying. You've probably rolled your eyes. Love me through it, y'all.
I. Haven't. Shut. Up. About. Whole. 30.
I mean, sure, I eat clean. Let me rephrase that, I cook clean. I love my mermaid diet when I'm at home and then I don't worry so much when we go out to eat. And because we don't go out to eat a lot, I never stress.
But then you try Whole 30. And you realize you do not in fact eat clean.
So what is Whole 30?
You can read some info here, but I can summarize!
It's a nutritional program for 30 days where you cut out grains, sugar, dairy, legumes, alcohol. After the 30 days you reintroduce those foods to your body and you're able to see how your body reacts. Most women deal with nausea and stomach pain after meals and we think it is normal. Most women deal with midday headaches and we think it is normal. But, it isn't. And Whole 30 allows you to reset your body, hormones and nutrition so you're able to see how your body reacts to these "bad" food groups and then adjust your diet accordingly.
This is not a diet to lose weight by any means, but people do lose weight while doing it.
Why am I doing Whole 30?
My birthday is next month and I really wanted to know my body better. I had also had a few autoimmune flare ups [and I got sick a lot!] after our wedding, so I wanted to see if this had anything to do with it. My mom doesn't eat gluten or sugar for her autoimmune so I was tempted to try.
I also love a challenge. I'm not competitive with anyone else. Oh you ran a marathon? Bless you. I will cheer you on from the sidelines and eat a burger with you after. But when I look at myself? I love to compete with myself. I knew a lot of friends who had done Whole 30 and I thought, "Okay, Katey. Let's do it."
So it is definitely a combination of knowing my body better before my birthday, seeing if I can do it and understanding things I should avoid.
How have I felt the first 10 days?
Today I am officially 10 days in, and these are the hardest days. Today and tomorrow is when Whole 30 says I'm most likely to quit. Whole 30 breaks down how you will feel each day but my body skipped a few of the emotions and so I thought I'd share my experience.
Day 1: This isn't bad.
This was how they said I would feel and I did. Granted, I went to the rodeo that night and was bummed I could only eat plain turkey breast and unsweet tea [peace out corn dog and Diet Coke] but it wasn't terrible.
Day 2: Starving.
On day 2 they say you get a food hangover. Your body will be in shock and wake up with a migraine. I didn't ever get the food hangover, but I was starving on day 2. Paul and I love to munch on cheese and wine before bed, so this was missed and I just felt so hangry when I woke up in the morning. I honestly ate too much fruit to make up for it, but it was fine. You have to give yourself grace on Whole 30, and if 3 clementines requires some grace I can give it. 😉
Day 3: Kanye West Twitter Rant.
They say day 4 -5 you'll be angry and this is just your body adjusting to no sugar. Y'all, I was borderline how Kanye West gets on twitter. I wasn't mad at people. I was mad at objects. Seriously. That's how much sugar affected me. haha. I was so angry my coffee was bitter [we have a nespresso so our coffee is much more stout and strong]. I was angry I didn't want breakfast. I was angry about always doing dishes [you will ALWAYS be washing dishes]. And I was angry I couldn't just have a quick snack, everything requires prep. I went to Chipotle for lunch and got the approved meal: lettuce, carnitas, guac and salsa and all was well.
Day 4: Back to Normal.
Day 4 I started to work out again. I was told to not workout the first few days because you'd be starving and more likely to cheat. I don't recommend it totally, but I just wanted to be sure. I was so paranoid I'd bite into something I wasn't supposed to have without thinking [if you cheat you have to start over] so I didn't want to jinx it. I started my morning with a 6 a.m. workout with a girlfriend and felt so much better. I didn't have the Tiger Blood feeling of course [that is the feeling of Whole 30 perfection reached towards the end. You feel amazing!] but I just felt like I could do this.
Day 5: So. Tired.
They said you'd feel exhausted around days 6&7  and they weren't lying. I went to the gym one morning, hopped in the shower and crawled back into bed for 45 minutes. I never do that. Everything exhausted me and I always wanted a cat nap. This is because your body is getting rid of all the artificial sugar sources and has to rely on actual protein to keep you going. And then I won't lie I got really annoyed at Whole 30 around day 5 evening. I had our neighbors over for dinner and was making them homemade penne alla vodka, bread and cookies. I ate a sweet potato. While cooking I just got frustrated and thought, "Is this seriously worth it? I don't want to be a person who revolves their life around meal prep and the gym." Those people are super cool, but they aren't me. Just like not everyone wants to be a fashion blogger. But I fought back the cravings, didn't touch what I made them and felt so good going to bed not feeling bloated.
Day 6: Slept Amazing.
I woke up and was so happy I hadn't had the penne alla vodka the night before. For starters, I'm a terrible weekend sleeper. If I have even one glass of wine I'm up by 5:30 a.m. but still exhausted. I want to take 4 naps during the day. And Paul let me sleep in until 8:30 that morning and when I did wake up, I felt amazing. I didn't really care I couldn't have our usual Saturday brunch and I was so glad to have energy.
Day 7 & 8: Not Too Different
These days weren't difficult, I finally accepted what I could and couldn't eat so food didn't really consume my thoughts. However, I didn't feel much different.
Day 9: Crazy Energy
My energy peak hit me on Day 9. I got up at 4:30, had a 5 a.m. workout, did outfit shoots and worked until about 7 p.m. when my girlfriend Taylor had to pry me away from my desk so we could make it to church on time. I honestly wanted to pull an all nighter to work and it was so bizarre because I had no caffeine that day. I'm hoping this continues!
What do I miss the most?
Sugar and dairy. Honestly, I thought I'd miss grains, but I don't at all. I'm not a big drinker so I don't miss the alcohol by any means. But I miss my coffee creamer more than anything in the world, so I'm going to have to say sugar and dairy. All my friends have been giving suggestions and everything has sugar in it. You can only have canned coconut milk, which is just awful. They've sent me almond milks from central market, coconut creamers, you name it. And I drag my behind up to Central Market, read the label and see it all has sugar. You can't even use honey. So I'm not currently drinking coffee and have been surviving off black tea. I could use an immersion blender with the coconut milk and dates and cinnamon to make homemade creamer, but I haven't hit that point yet. Honestly, if I have to wash a dish to do it I don't want to do it! haha. 😉
[They trick you, but those coffees/creamer alternatives [bottled cold pressed, malk, etc.] at Central Market/Whole Foods are Whole 30 compliant. They have agave or maple syrup which is a no no, so be super careful about reading labels!]
My favorite meals? 
Snacks
Baked Bananas: I hate bananas. I mean if you tell me anything has banana in it I act like a 2 year old and cringe. However, I knew I needed potassium and so I baked it. I sliced it up, drizzled some coconut oil over it, sea salt and pepper at 350 for 30 minutes. And I crave this every day now. It's an amazing snack and I honestly go to bed dreaming of this. haha! It curbs a salty and sweet tooth!
Sliced Peppers dipped in Guacamole
Clementines: After cutting out sugar these start to taste like candy!
Breakfast
Twice Baked Sweet Potatoes: I got the recipe here, but adjusted it a bit! Only make this on a weekend or day you don't go into work until later. Bake a sweet potato at 400 for 40 minutes. Then sauté onion, garlic and bacon. Pull out and mash the middle of the potatoes and mix with the sauté. Place back in potato and top with an egg and tomato. Bake for another 15 minutes. It takes forever, but so worth it!
Egg Scramble: I scramble eggs, kale, tomato, garlic, peppers and potatoes in a pan with coconut oil. Top with avocado and homemade salsa.
Lunch
Avocado BLT Egg Salad: Recipe here
Dinner
Buffalo Ranch Stuffed Peppers: Recipe here. Use Ghee to make it Whole 30 friendly.
White Chicken Chili: Recipe here
I hope this helps if you are interested in Whole 30! Days 1-10 are the "misery" days, but after Day 9 I'm so excited for the next two updates to share all the positive side effects I see! Right now my body has just been getting rid of the bad, and I know those are the reasons I've felt this way. Let me know what you want me to answer for the next few updates. 🙂
P.S. This has been the biggest help with meal prepping! I use it to plan my meals the next week and our grocery list!