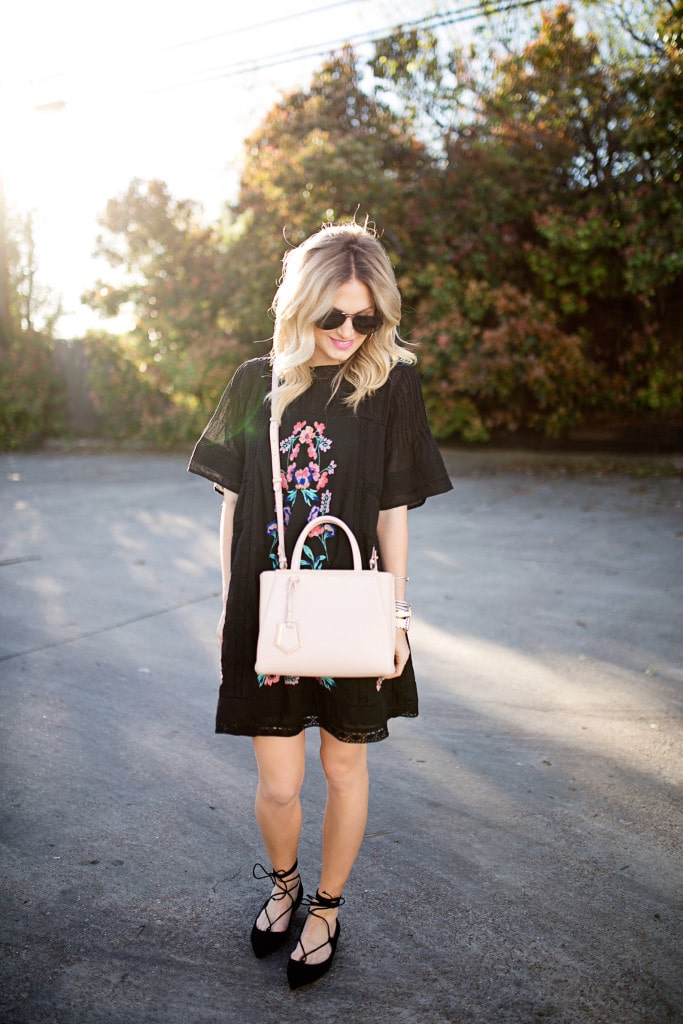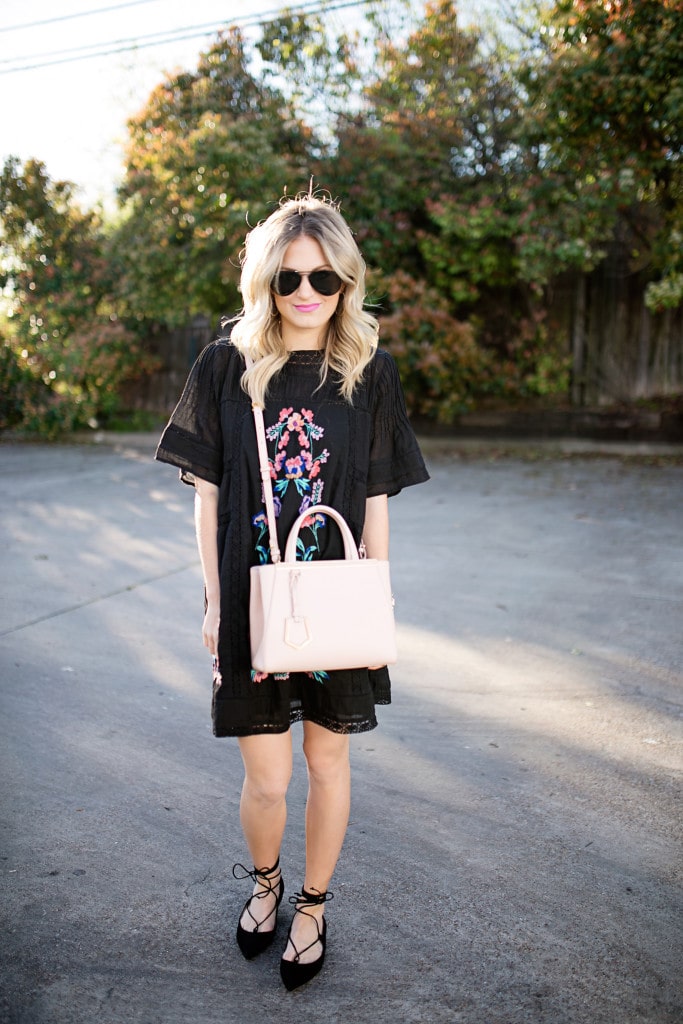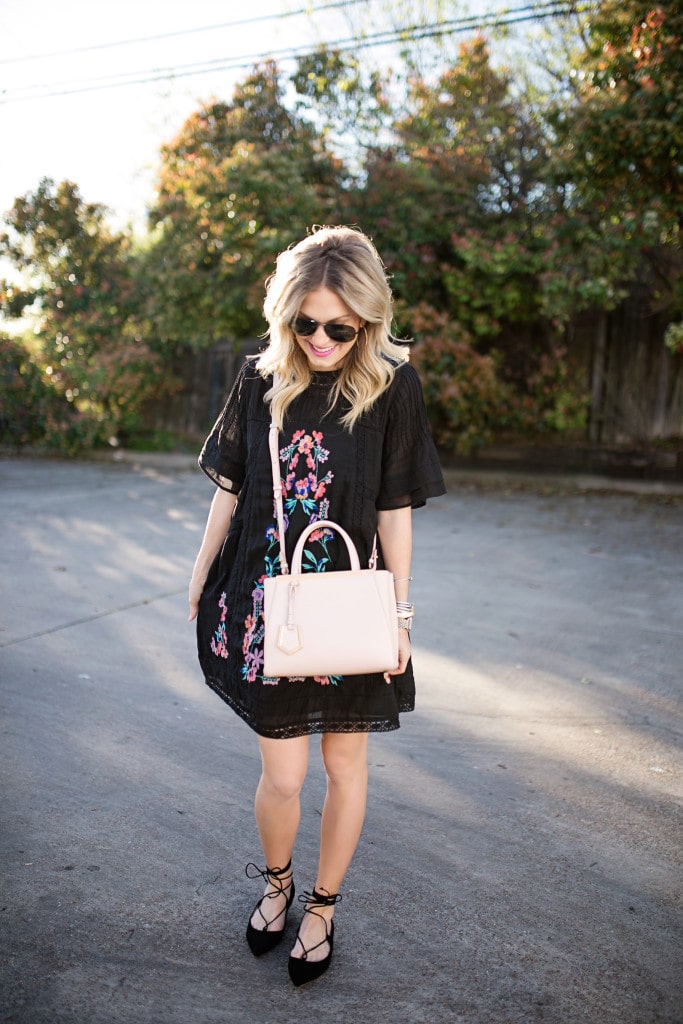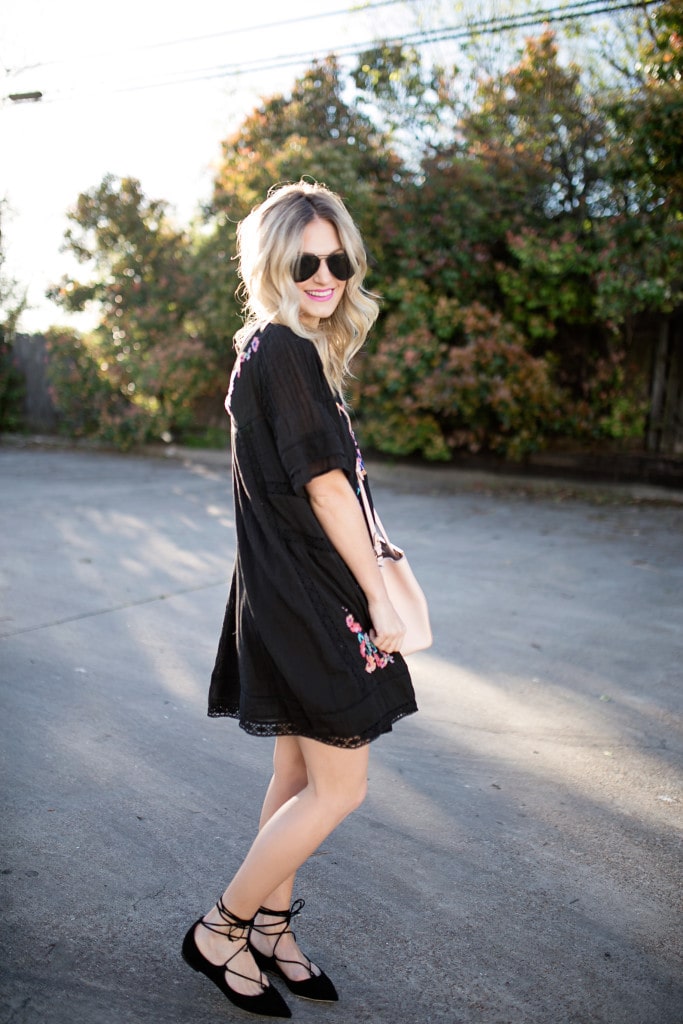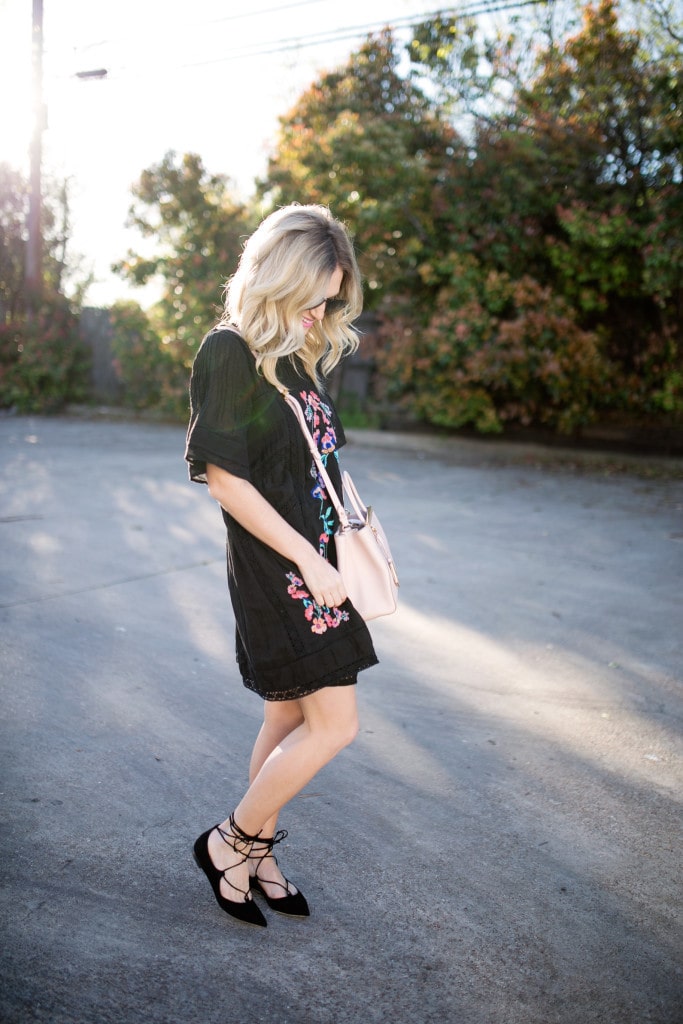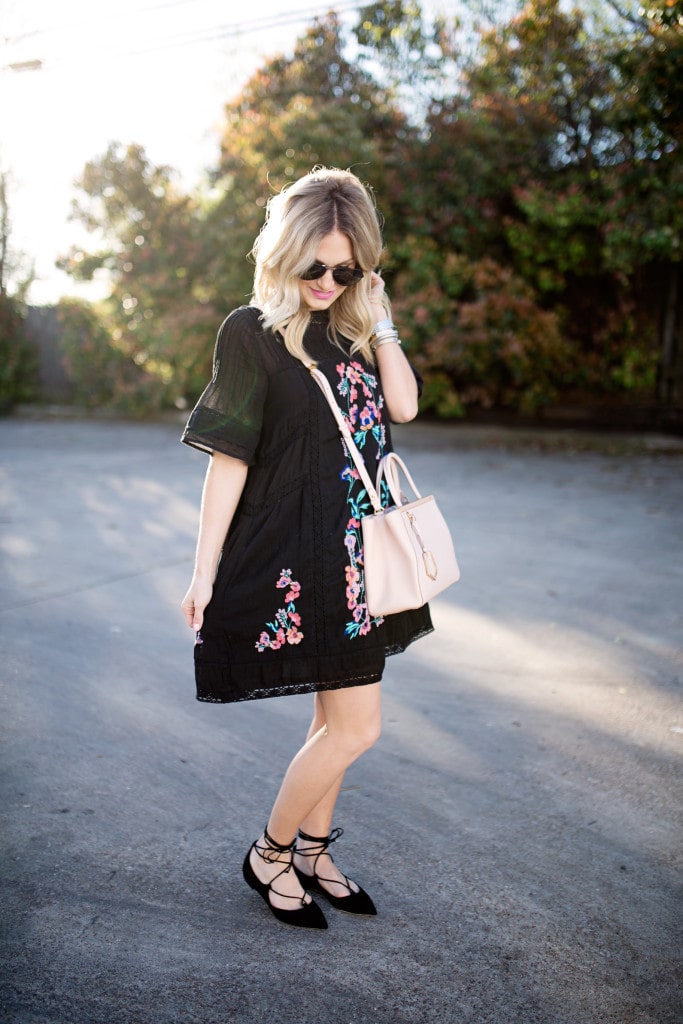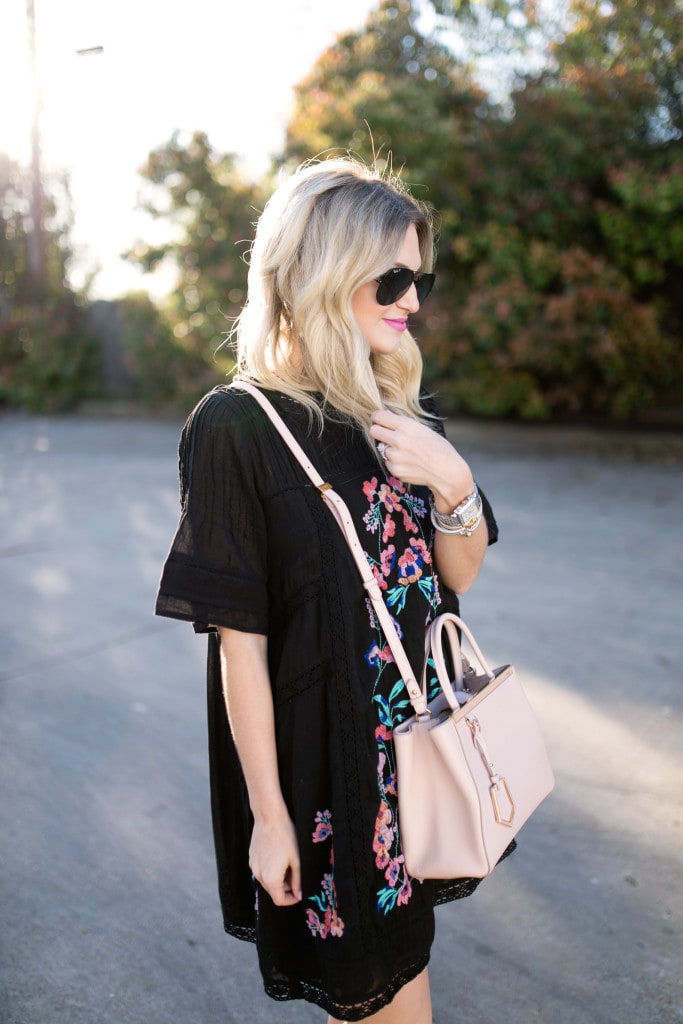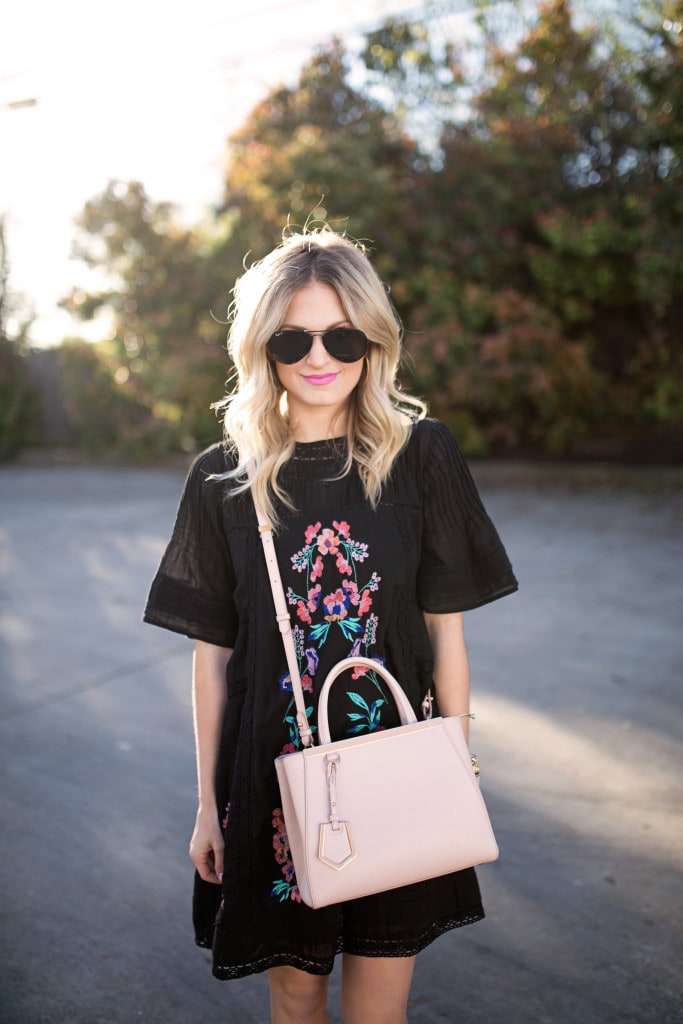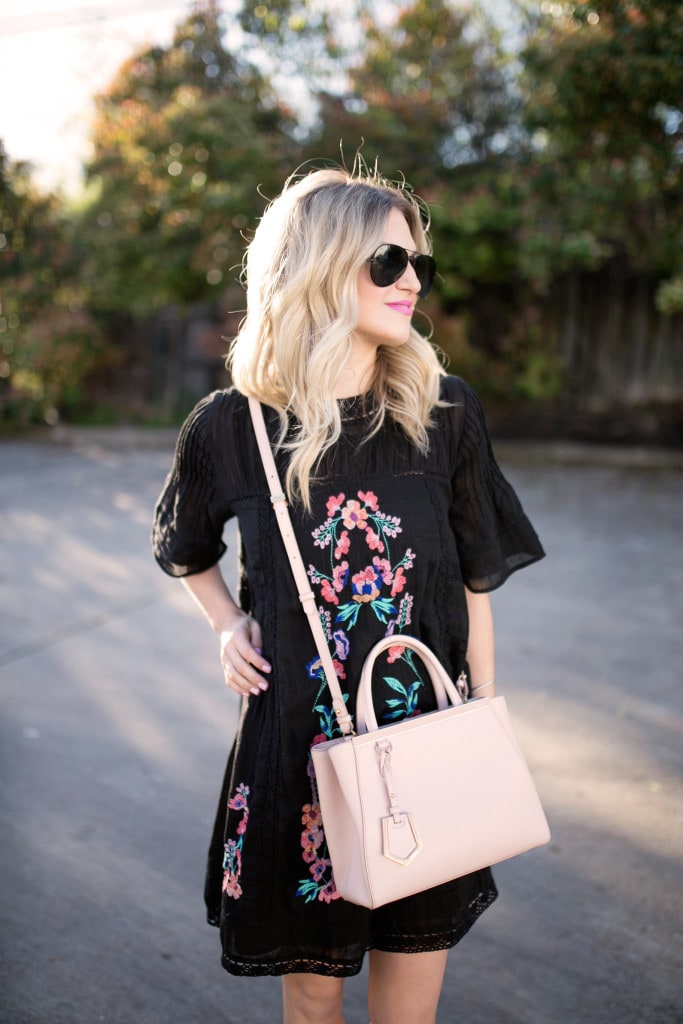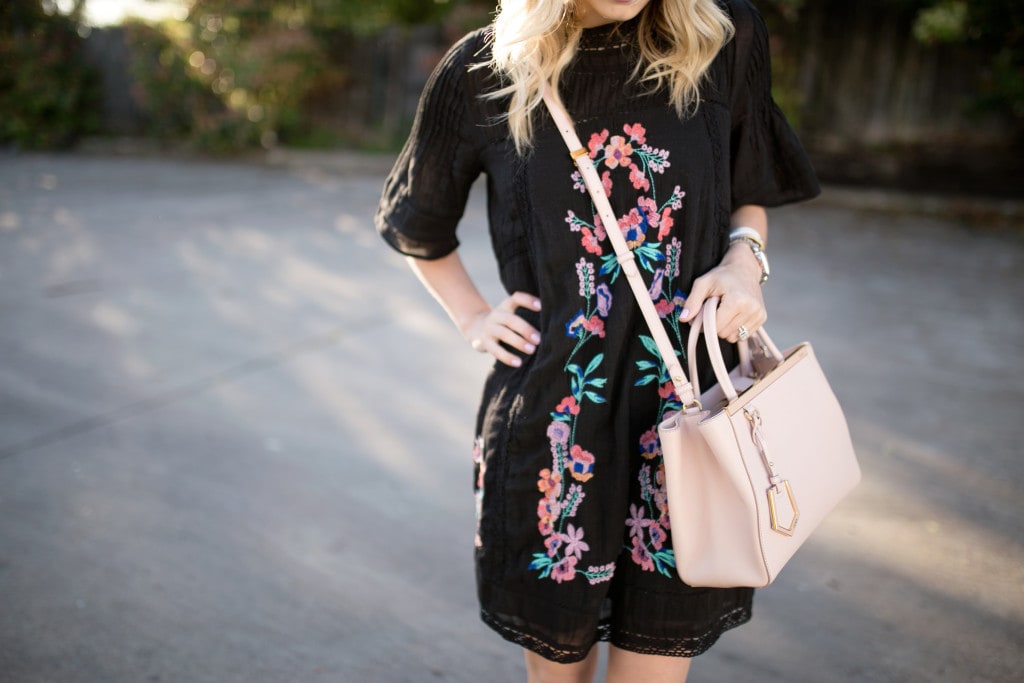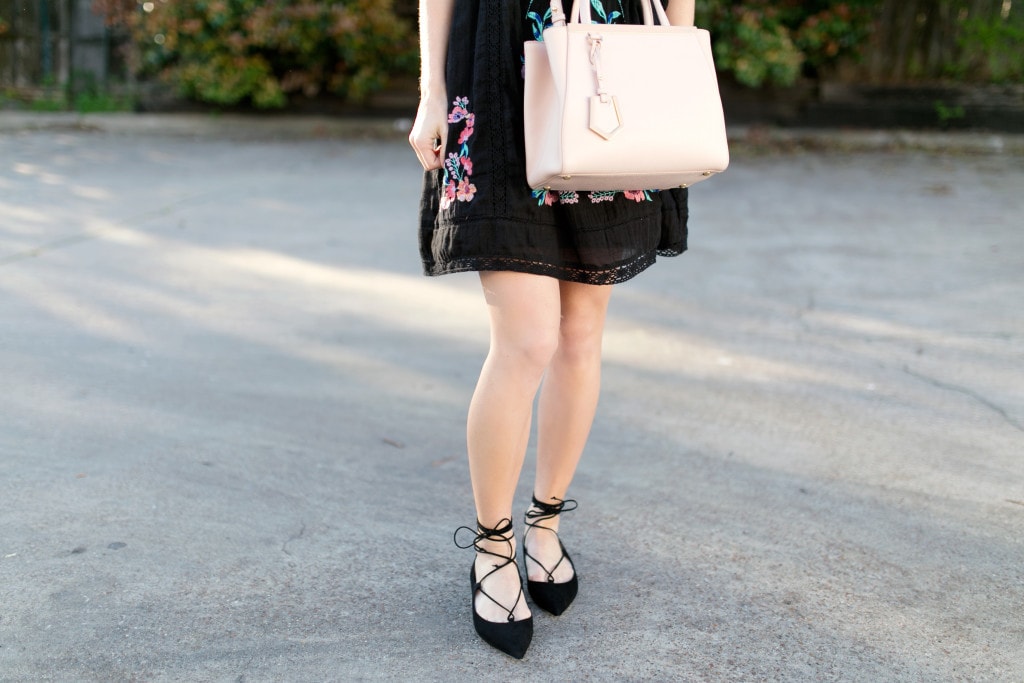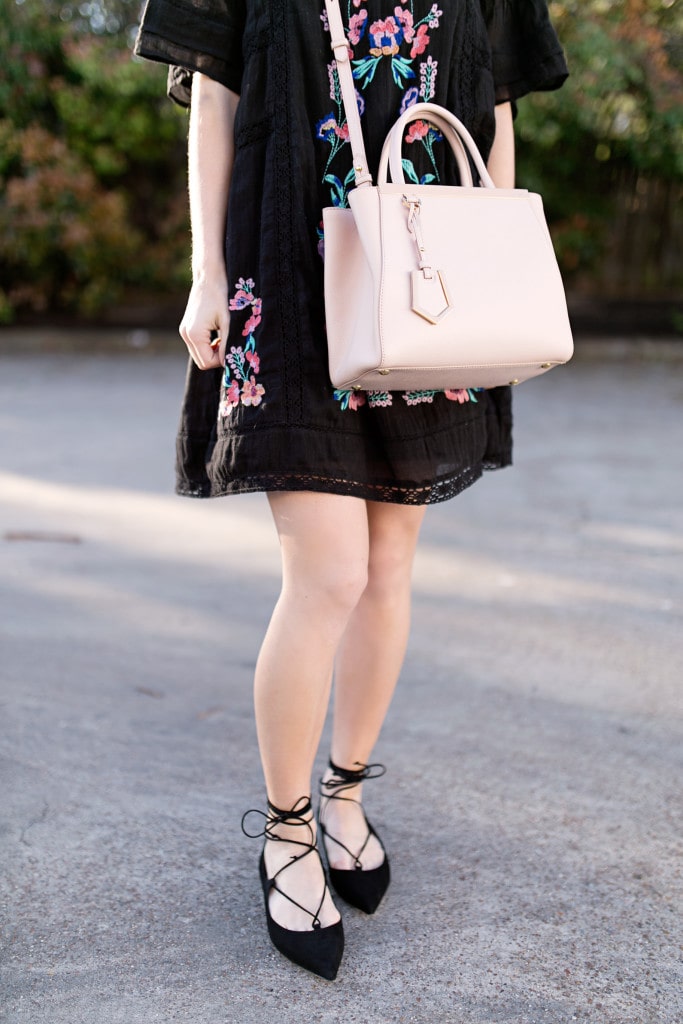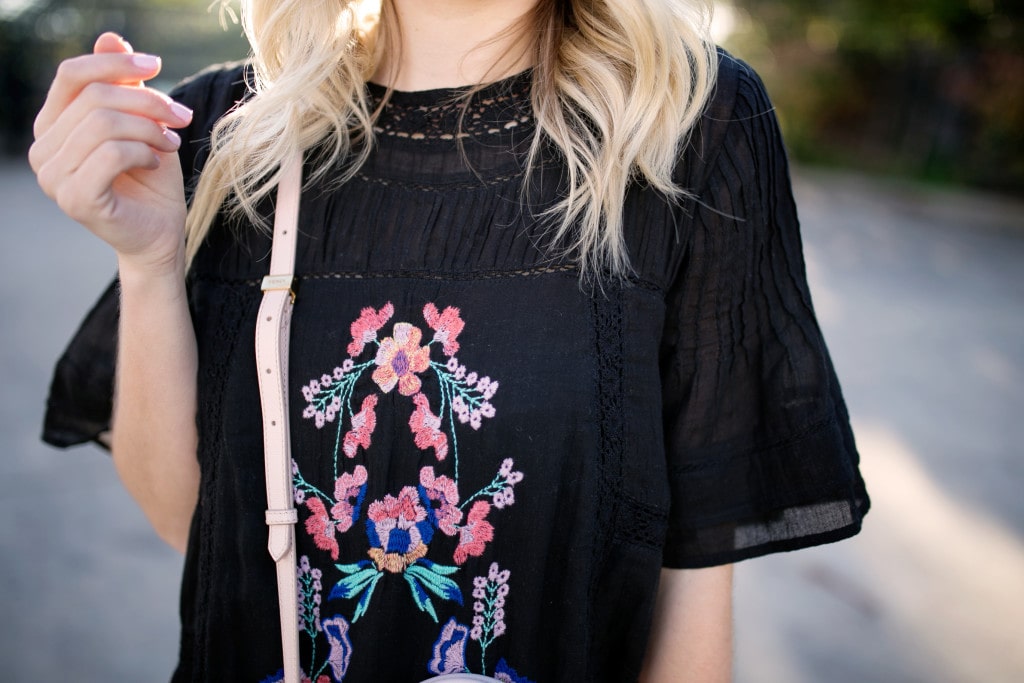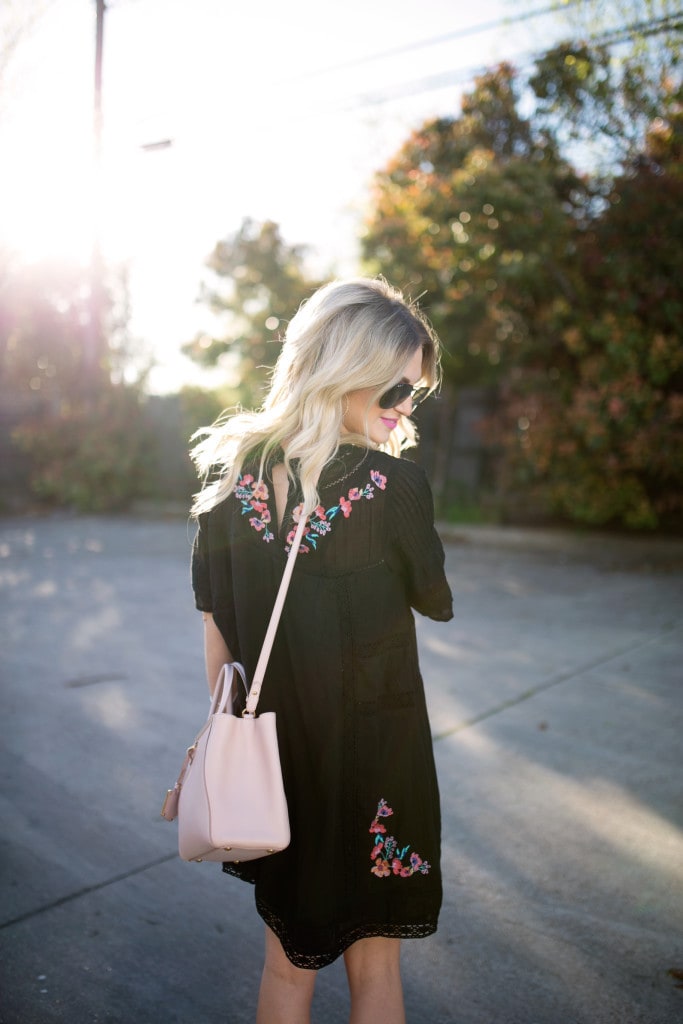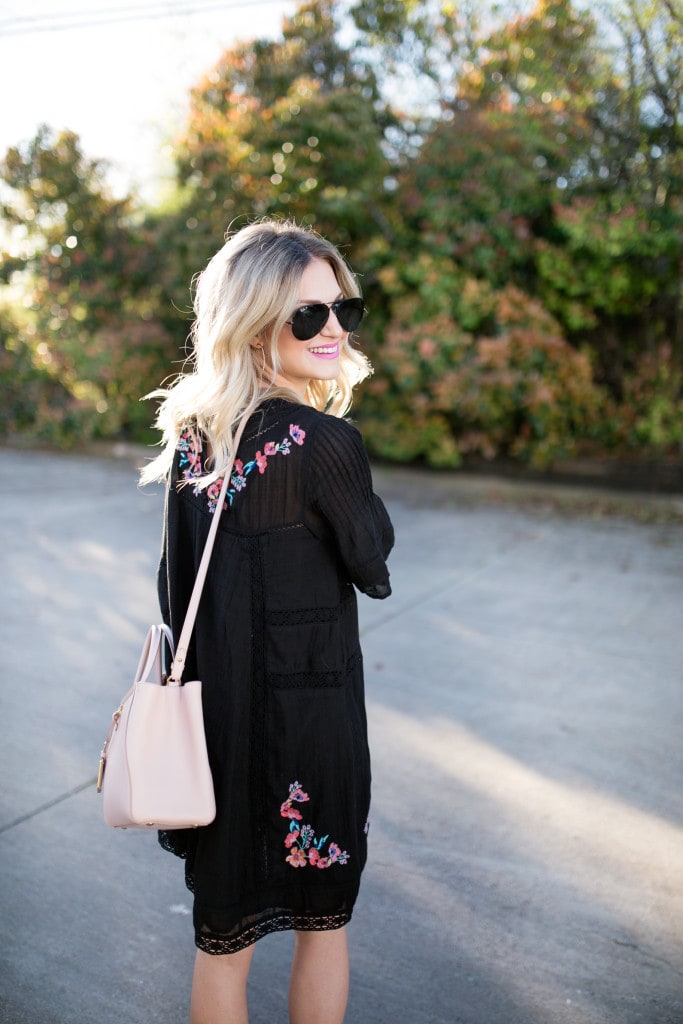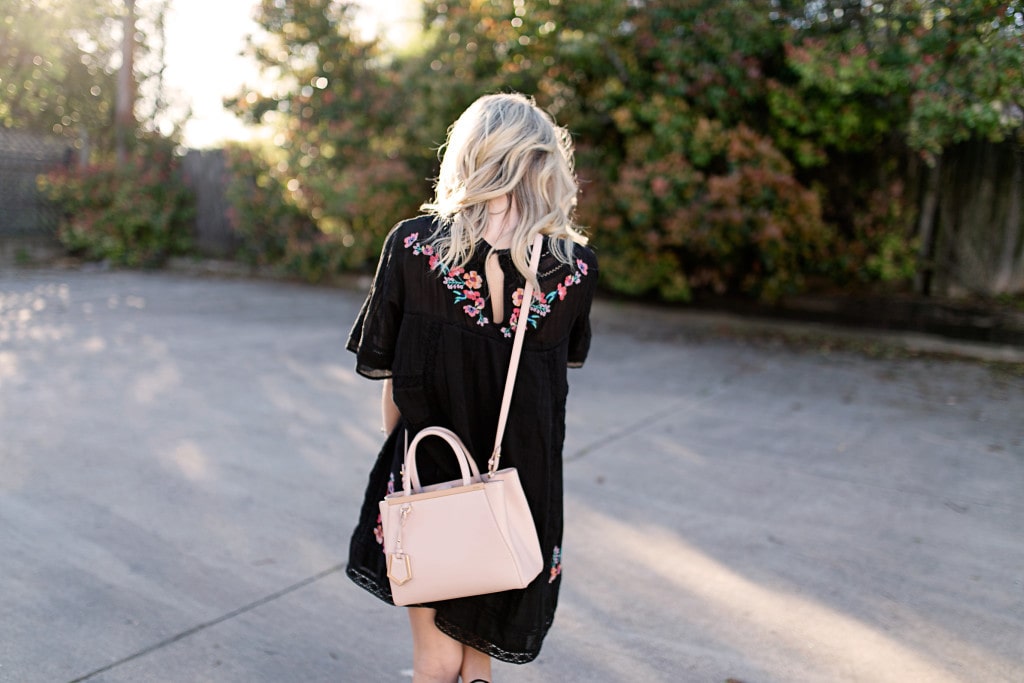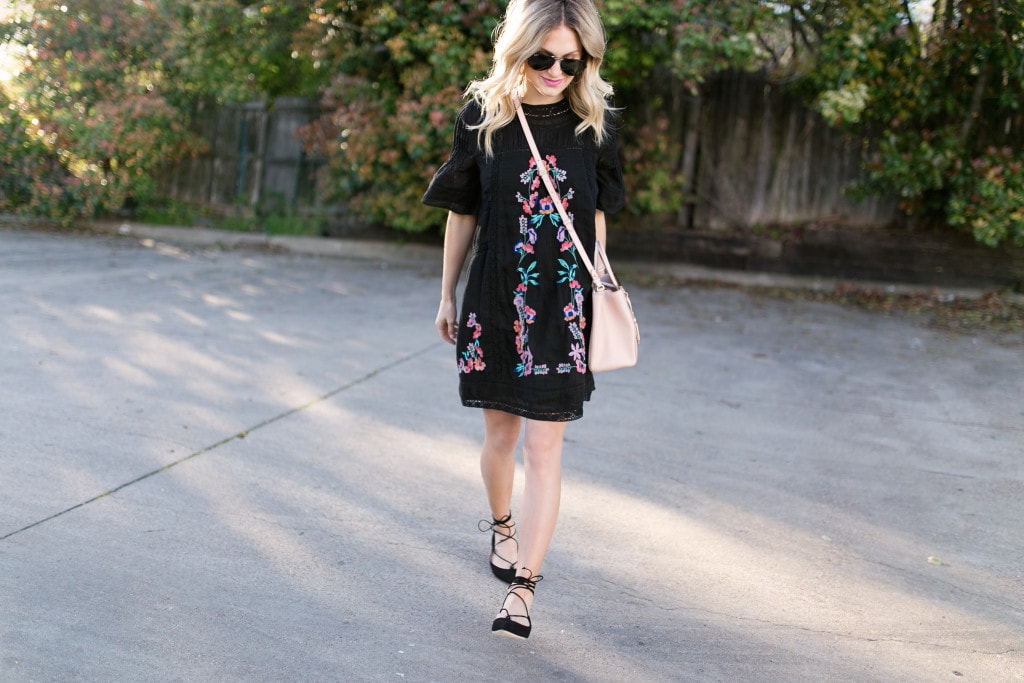 Dress: Free People Here, Here | Bag: Fendi, Similar | Flats: M. Gemi [c/o] | Lipstick: Neon Azalea | Watch: Michele | Bracelets: David Yurman | Hoop Earrlings: Similar
Photography by: Angie Garcia
---
This week I've been gearing up for the business of next week! We've got our Blogger Q&A event [you can get your tickets here!] and I'm headed to Dallas for a blog conference the rest of the week and weekend.
I'm trying to mentally prepare, but it's always so trial and error for me! I have some girlfriends who can travel and work so well, but I feel out of place when doing both. I like my routine and crave structure, it's what I thrive in. Being in a hotel with events and meetings all day causes me to feel a little lost-especially being an introvert! However, I'm really excited because I'm sharing a room with my girlfriend Ashley and she is one of my absolute favorite people. We are very like minded and it leads us to just sit and compliment each other for 4 hours straight haha! #thingsgirlsdo
So if I'm an introvert having to be out of my shell, I'm so thankful I'm going to be with someone who helps me recharge easily!
I'm really convinced it is because I was a first born and my sister and I are 7 years apart. My mom was so nurturing and kept me on an organized schedule, so I know how to function in it. But on the other hand, I have girlfriends who hate a schedule. They look at me like I'm crazy and just ask me to come organize them! haha.
But because I know it's so easy to always want to be the other way [especially when I'm around my extroverted friends!] I thought it would be fun to share 5 reasons I'm thankful I'm an introvert. It's a little silly, but this helps me get in the right frame of mind and allows me to appreciate my differences and admire another girl's all at the same time.
1. It's Been Easy to Work at Home
I'm honestly harder on myself working for myself than I ever was working for a boss. Paul actually got mad at me Monday because I got up and went straight to my computer. He was like, "No, get back in bed, I'm bringing you coffee. Read your devotionals, watch GMA, and relax! No one is at work right now." But because I recharge being by myself it helps a lot working by myself. Mondays are my "admin" days and I feel so inspired for the rest of the week and have to be pulled away from my work. I crave that alone time and because I do it so often, it's pretty natural to set a schedule for myself and stick to it.
2. It Helps me to be Content
This is not to say extroverts aren't content, this is just related to my own personality and things I can fall prey to! My mom is an extrovert and is the most content person in the world [like my dad forced her to put our old house on the market because she didn't understand why we literally couldn't fit in it anymore]. But because I love to stay at home and reflect, I become really thankful for small details. I love fashion, interior design and aesthetics. However, I think if I, personally, was an extrovert and always out and about I'd maybe want it more? Introverts are easily triggered by their surroundings [which is why groups/parties/going out can be really overwhelming], so my constant surroundings keep me happy. But being this huge homebody that likes to be alone makes me really appreciate how redundant things can be. My poor husband has to beg me to go out on the weekends because I don't see why I can't just drink from the same coffee mug and watch the same shows every weekend of my life! bahaha!
3. I'm Loyal, But I Take Time
I take time to build relationships. Recruitment completely overwhelmed me as a college freshman. "Wait, I'm supposed to be your bff now? I really need to go home and take a nap first. I'm exhausted." A girl in my pledge class, Alyssa, was a total extrovert and I really migrated to her. I was so in awe of how she was social and made 500 friends the first week of school. I spent so much of my first semester feeling lost and applying to other schools because I was still driving to see my high school friends on the weekend. I wasn't ready to give those up and make new friends. However, I was able to take cues from Alyssa, make new friends [second semester was much better!] while fostering my high school friends. People laugh when I say I had 10 bridesmaids, but it's because I'm still 100% loyal to my childhood friends. If they call me I will drop whatever, whenever and write a novel to whatever boy hurt them. I may take time to develop friendships, but if we are close friends you're stuck with me for life! Besides, I don't even go out much to make new friends so you really have no other option! 😉
4. I Find I'm More Assertive
Assertiveness might be a trait labeled to extroverts, but because I think a lot and recharge with me, myself and I, I am given a lot of time to make decisions. If I bring something up to someone it's because that thought has been buzzing about in my head for weeks. I've thought of every response you'll give me, acted it out in my head and I know how to express what I want. New options don't excite me, so that loyalty trait comes out and I can make what I want clear.
Paul knows this is how I am. We've been talking about some career options for him with his company for months on end, it feels like a year! He kept nudging me to give him direction or my thoughts but I just affirmed what he said for weeks. Driving home from Oklahoma I looked at him randomly and said, "I agree. I think you should do option A. I think it's best for you and for us." He got so excited and practical yelled, "Thank you! I've been waiting for your response."
I'm not wishy washy by any means. If I like something or dislike something, you know with absolutely certainty. I just rarely change course on my preferences and I may not say it immediately.
5. I'm a Dreamer
I'm constantly dreaming! I have all these little plans for our family that could go 50 different routes [if we live in XYZ, if we have 3 kids, if we have 1 kid, if we live on a farm, if I opened a store, etc.] and I feel so inspired thinking about them.
One of our favorite things to do is take Peaches on a walk. We'll go for 2 or 3 hours and just sit and talk about a million different dreams and routes we could take with our life and by the time we get back home I feel so happy not even doing any of the plans. Talking ideas and inspiration out with Paul is something that recharges me when I feel down on myself or even my blog content. I'm thankful that I love to dream because it helps me stay focused towards end goals while enjoying the process of just thinking.
[P.S. Extroverts can be all of these things! I'm friends with more extroverts and they have these characteristics, I just wanted to share traits I know I have because I'm an introvert! 🙂 ]
So if you're an extrovert, I totally envy you on some days! You have so many incredible traits that help you in situations that I completely fail. However, if you're an introvert, girl we have amazing characteristics as well. And I think by highlighting what you are proud of, you can confidently survive situations that might be uncomfortable to what you gravitate towards. I'd love to know why you love being an introvert or extrovert! Supporting one another's strengths is such an important part for growth, and I want this blog to be a place that helps foster that!