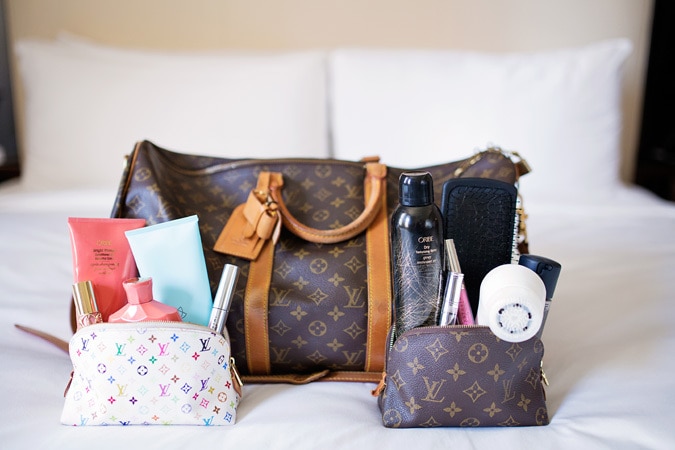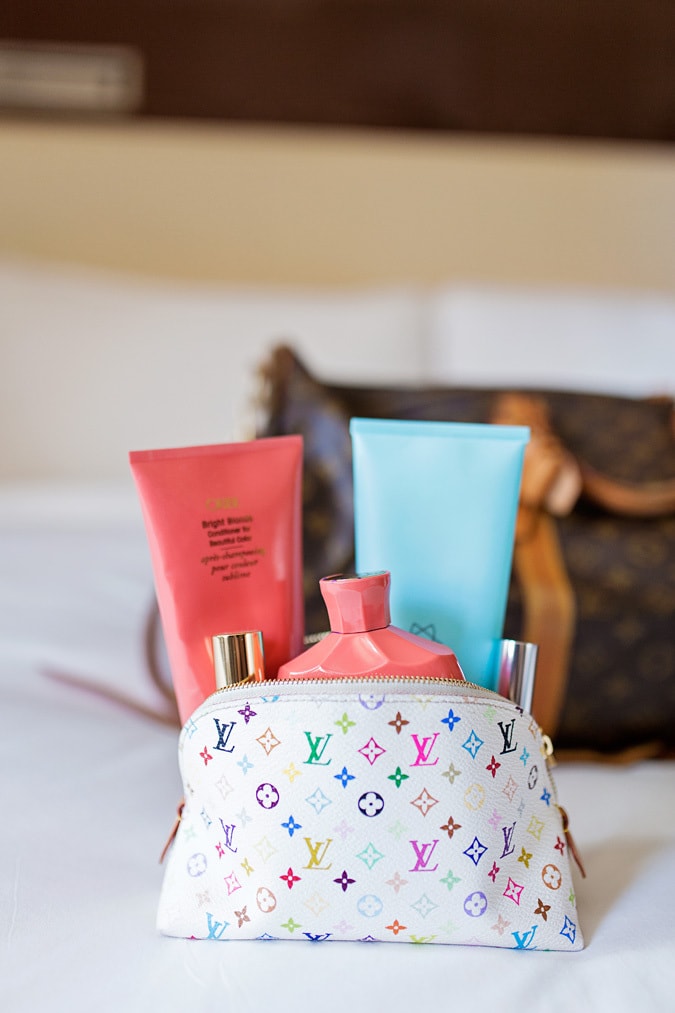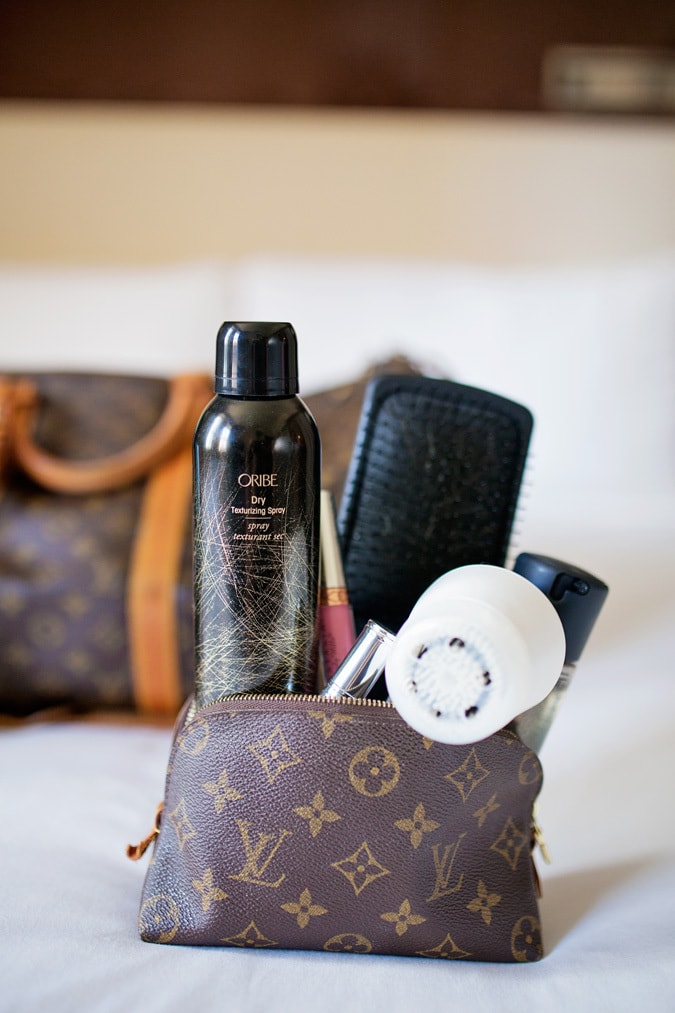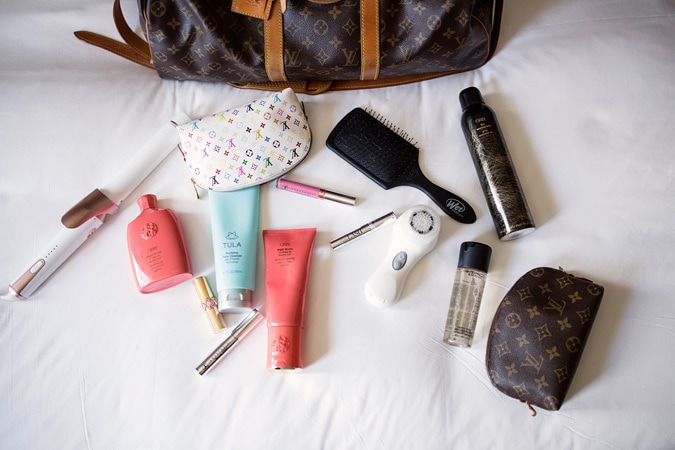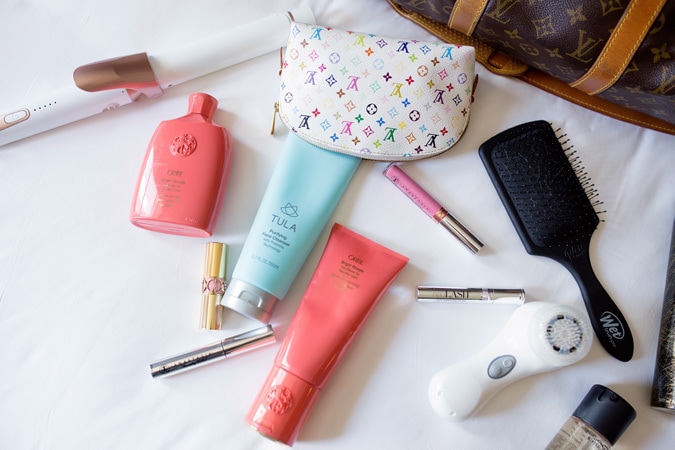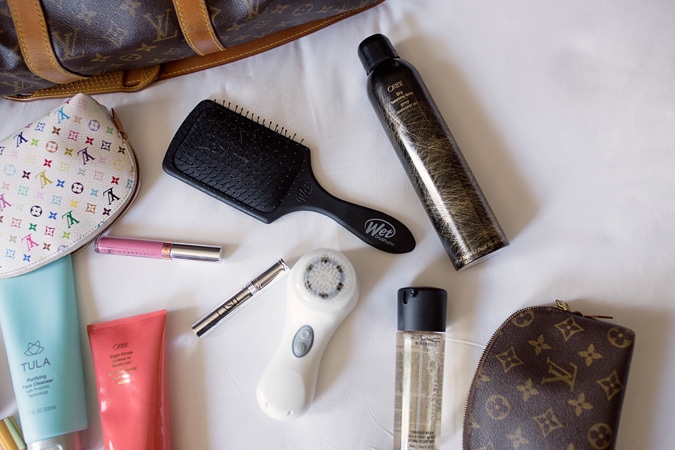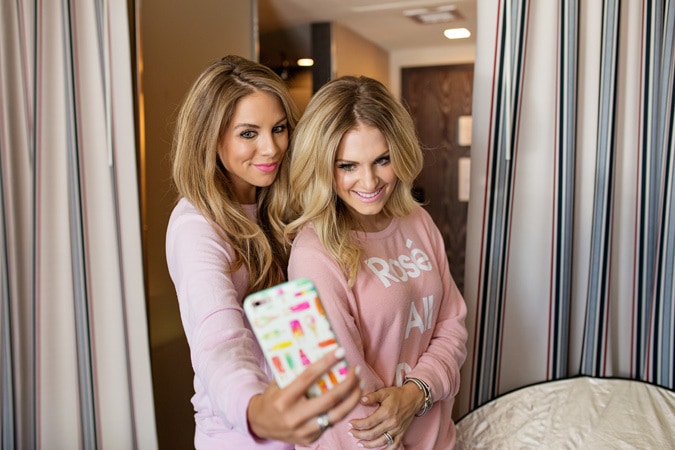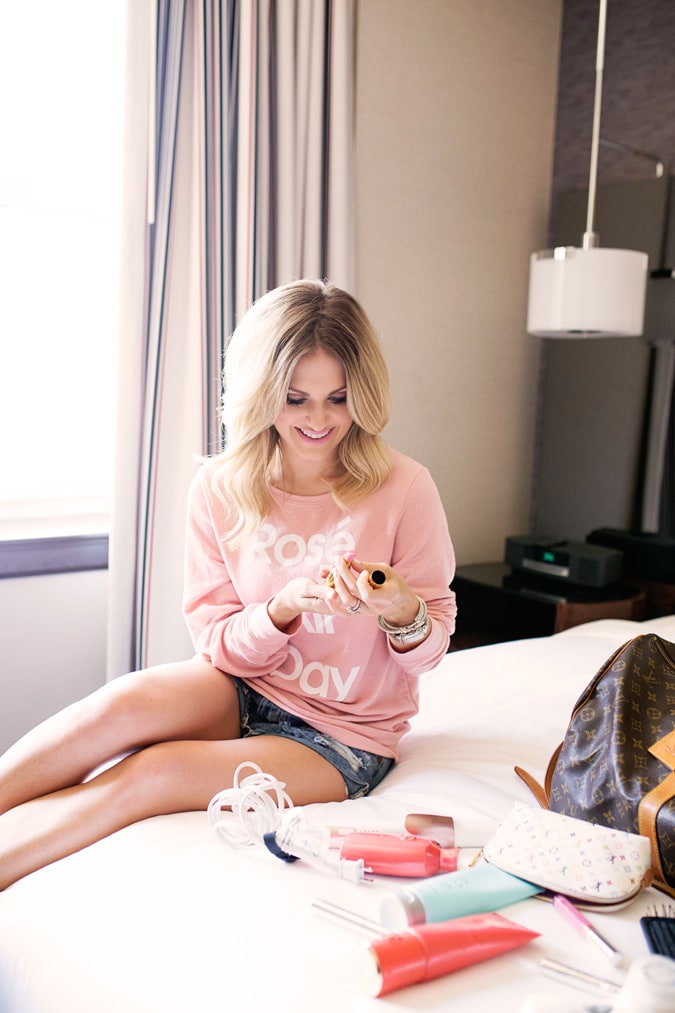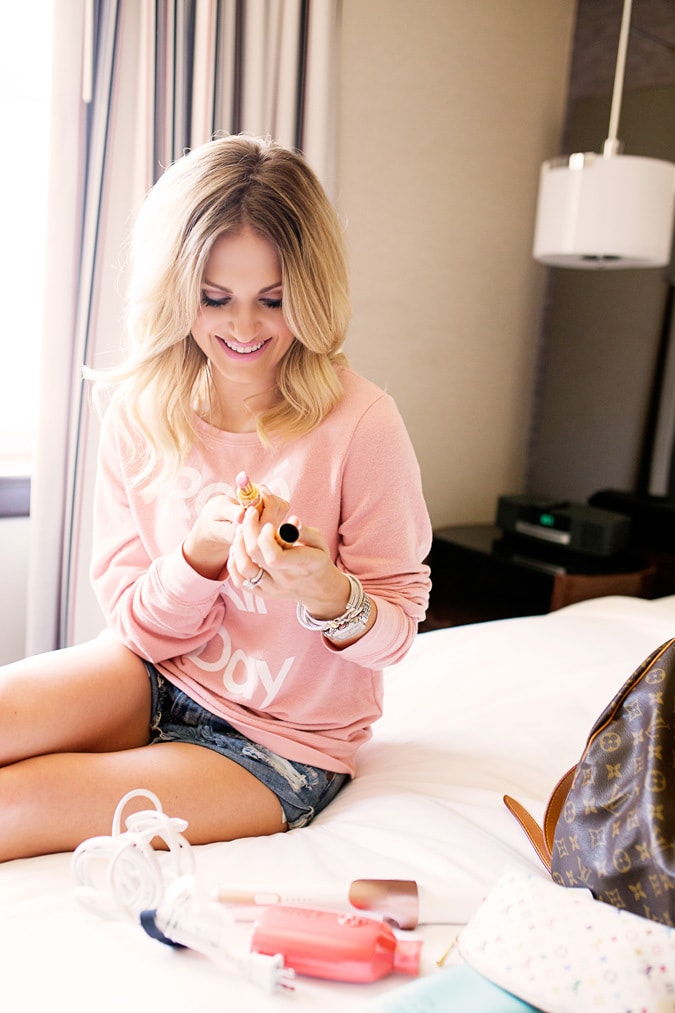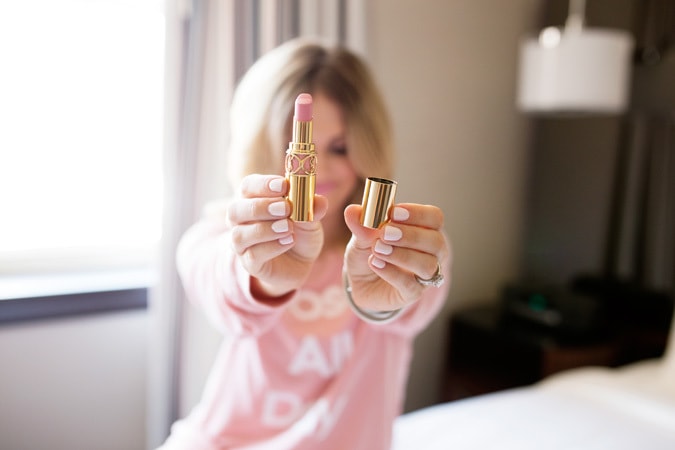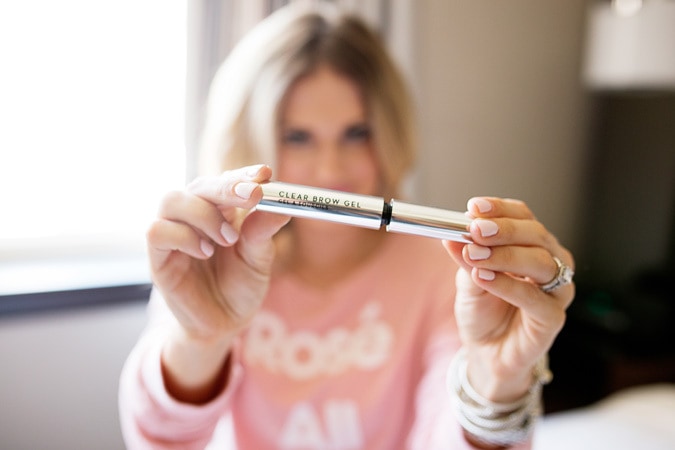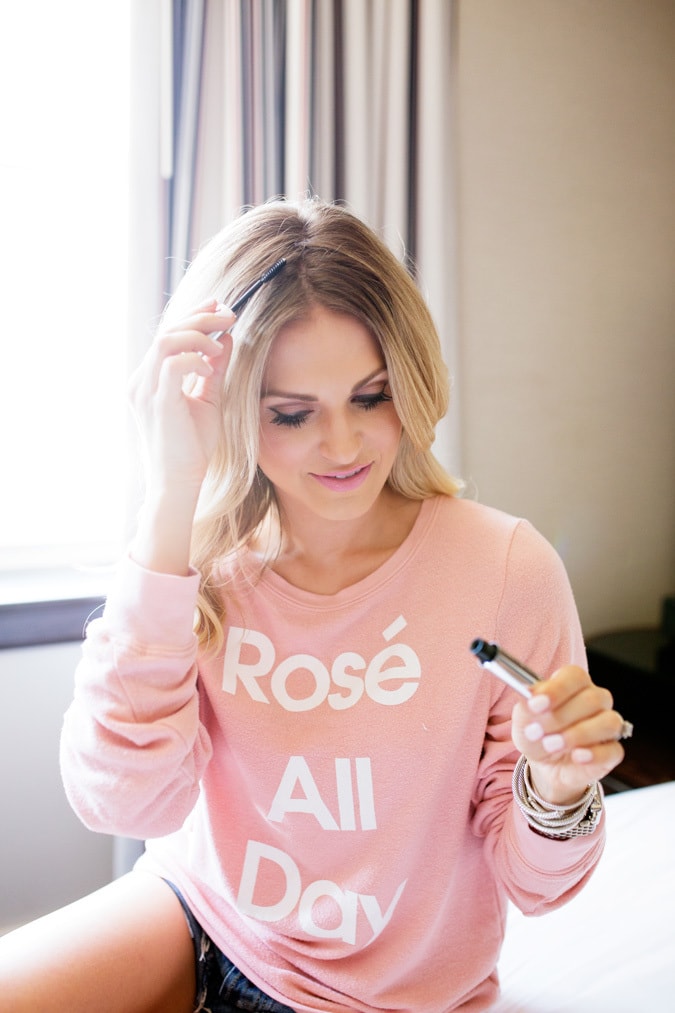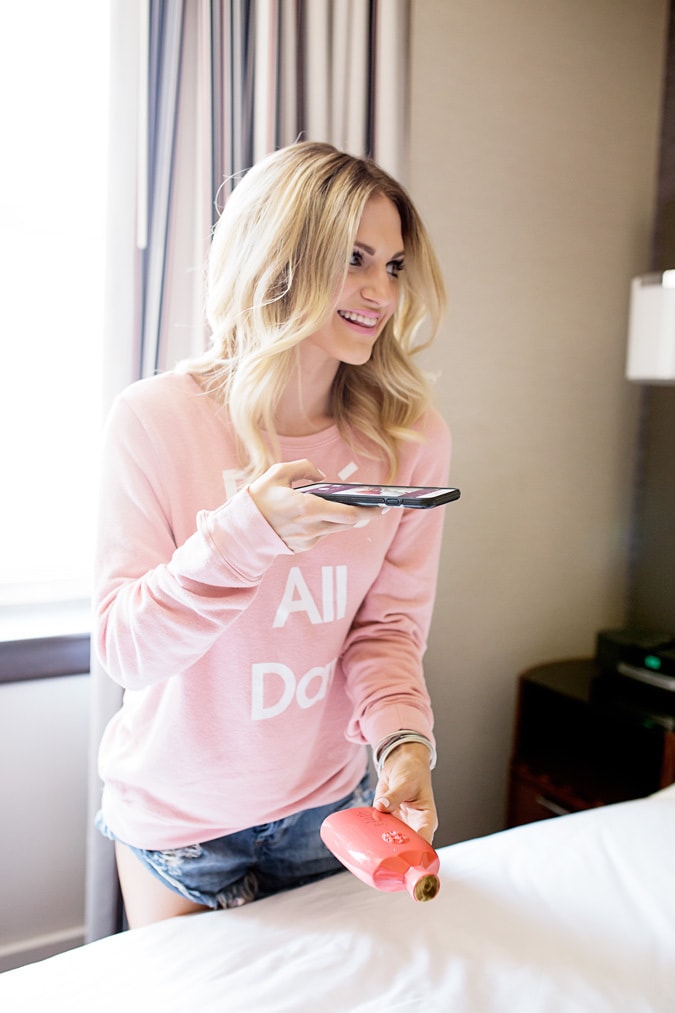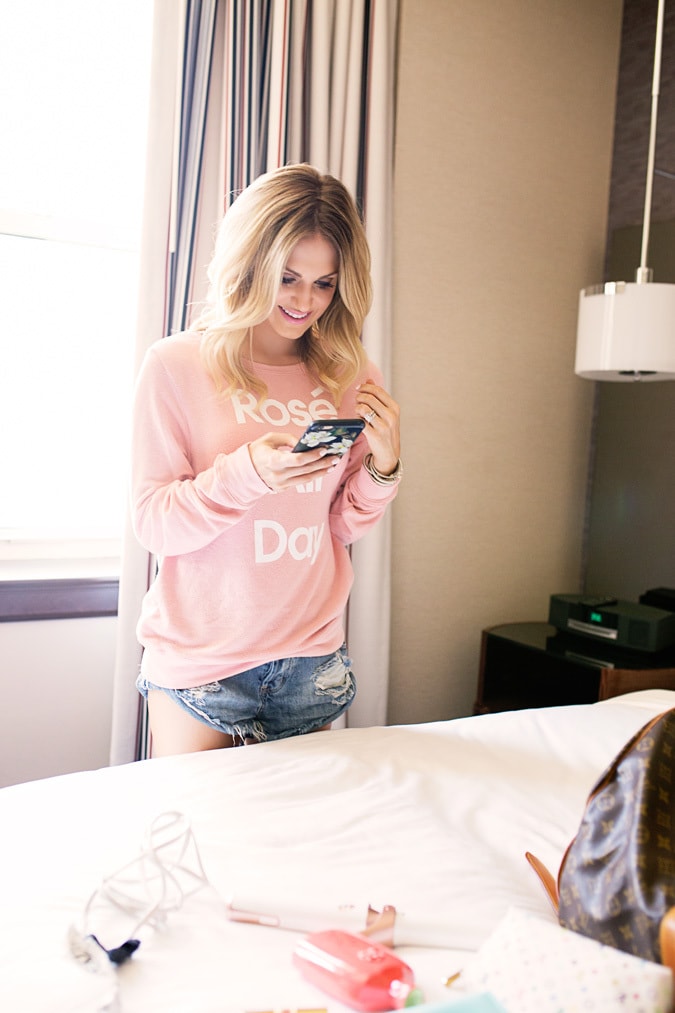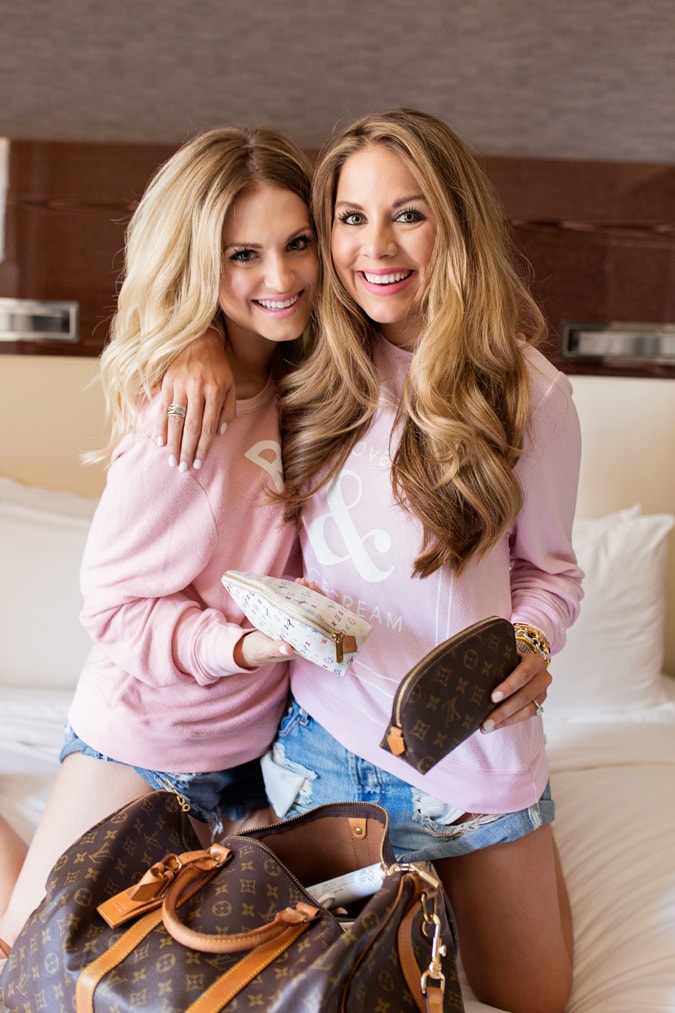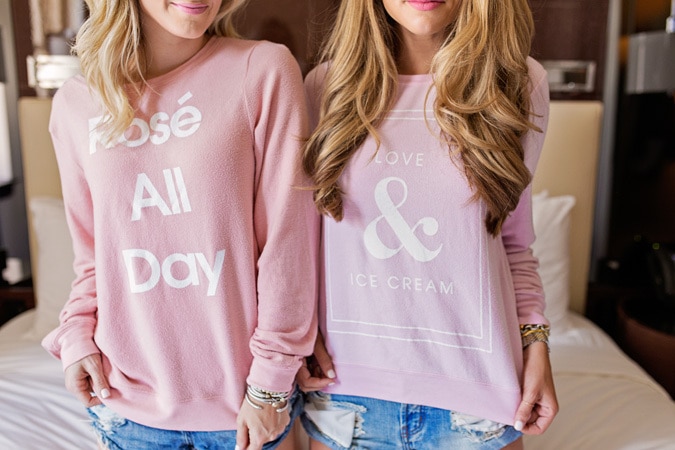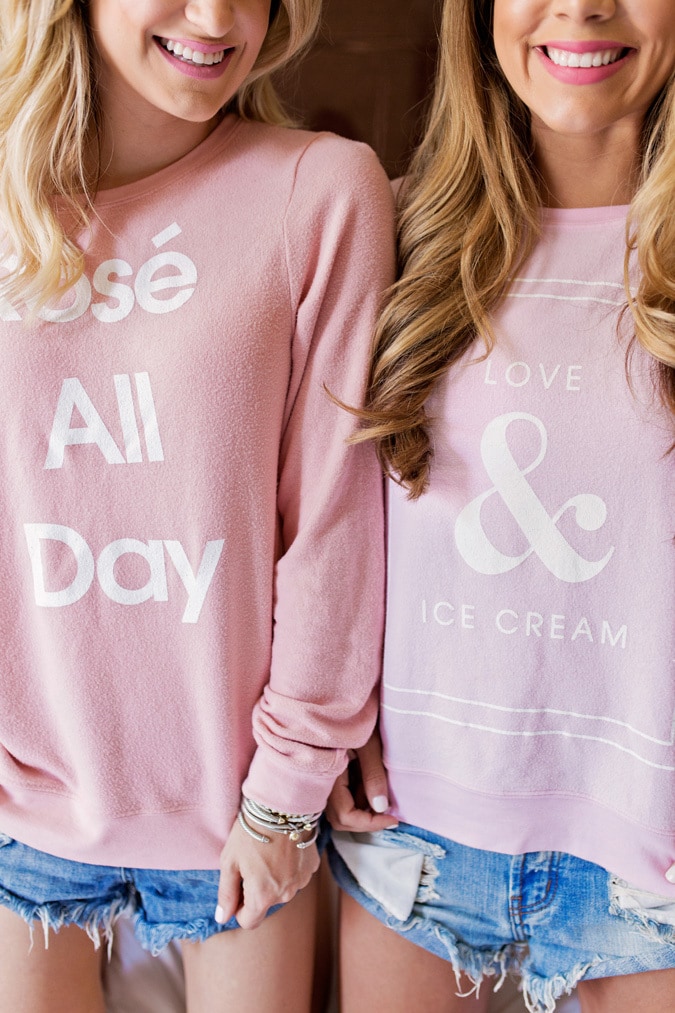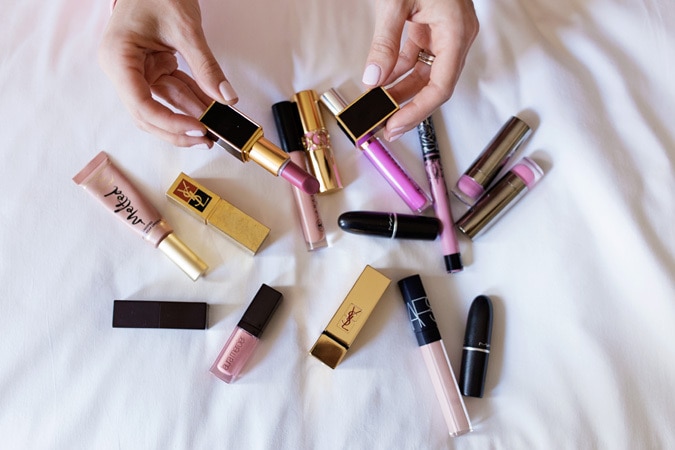 Sweater: Saks off 5th | Shorts: One Teaspoon | Bracelets: David Yurman | Lipstick: YSL Lingerie Pink | Oribe Bright Blonde Shampoo: Neiman Marcus | Oribe Bright Blonde Conditioner: Neiman Marcus | TULA Cleanser: TULA [c/o] | Anastasia of Beverly Hills Clear Brow Gel: Nordstrom | T3 Curling Iron: Nordstrom
Photography by: Angie Garcia
---
Every now and then I think God throws you a little gem of a person that you are extremely similar with. While I will never not acknowledge and appreciate opposites [Paul has a completely different personality than I do!] it can be so relaxing to just be with someone that thinks the same way you do.
Ashley, my friend The Teacher Diva, and I are so similar! From our obsession with being on time to our decorating style, you'd think we came from the same mom. But then you see she is tall and tan and has hair of a goddess and realize, "Um no, you are not kin."
One of my favorite things we have in common [besides our husbands being eerily similar in their personalities]  is our obsession with beauty products. You might have seen it on snapchat but every time we are together we grab each other's purses and have to go through the latest lipstick and glosses. So when we were planning our blog conference for last week, we thought, "Wait! Why not stay together?!" It was such a great decision because we got to have that girl time of face masks and ordering room service with the quality time talking about everything from blogging to marriage.
As we were sharing what we were packing with each other, we thought it would be fun to share the beauty products we absolutely can't travel without. You know, the ones you'd turn the car around if you forgot. We use these daily and especially wanted to have them in tow for a weekend filled with non-stop dress up.
5 Beauty Products I Can't Travel Without:
1.YSL Lipstick in Lingerie Pink
If you've ever asked what light pink lipstick I have on, 99.9% of the time this is what I'm wearing! There was a period of time it was out of stock and I only used it sparingly. But now you can get it online here! It's so silky and makes your lips look really full. This isn't matte so you do have to reapply throughout the day, but for work and meetings that's perfect! It gives you that natural  baby doll pout and makes your skin look alive.
2. Oribe Bright Blonde Shampoo & Conditioner
My hair naturally pulls warm tones. *shudders* Is there anything worse than brassy blonde?! #dontanswerthat
But I don't think the answer is with highlights. I read an article last week by a celebrity hair stylist who kept going on and on about how this whole "Get highlights every 4-6 weeks rule" is terrifying for some clients because it can be so damaging. He said realistically, you should go every 8-12 weeks. But allow your hair stylist to do treatments in between. A little new growth is natural and can blend beautifully if you use a purple shampoo! However, some purple shampoos deposit too much color and you're left with lavender streaks. Trust me, one time in college a guy I was on a date with asked why I had purple in my hair and told me I should probably ask for my money back from the salon. Needless to say I was mortified and I promptly ended that relationship.
This Oribe Bright Blonde Shampoo maintains the integrity of your hair, helps heal damage you have from highlights and keeps brassiness away! Ashley uses it too, so if you aren't bright blonde don't worry! It just keeps a neutral tone throughout your hair as opposed to warm.
The purple conditioners actually deposit more color than the shampoos! Be sure to get this one as well to pair in the shower.
Probiotics protect your skin from inflammation, which is why TULA works so well! From blemishes to dry skin, the bottom line is our natural skin gets irritated and reacts. Topical probiotics boost your skin's defense, which allows it to protect from however your skin wants to act up that week. You all know how much I love TULA, and I have to say when I skimp the cleanser and use something else my face shows it. So I make sure to pack this each time I leave home!
Let's talk baby hairs. I've got them, I've had them since I was a toddler and those thing aren't going away! Kylie Jenner was quoted last week saying she started baby hairs? I didn't know they were a trend, but they honestly don't bother me. However, in order to keep them and flyways at bay when I need to be put together I use Anastasia Clear Brow Gel! Some say to spray a toothbrush with a flexible hair spray, but that just simply doesn't work. It works for 15 minutes and then you've got flyways again! I use the clear brow gel to keep baby hairs smoothed into my hairline and if I've got lots of flyaways that day I just run the brush through those as well! This will not move but it's meant for eyebrows so it keeps your hair moving and not stiff or unnatural.
This curling iron keeps hair really healthy! It also allows my curls to last for days, without falling. You can switch out barrels depending on what size of curls you want but I prefer the 1.25 best! Ashley used it this weekend [she is a hair guru!] and said it was the best to protect your hair from heat damage!
See Ashley's beauty must haves here!
You might have also seen on Snapchat that we went through our LV makeup bags to share our favorite lipsticks and what lipsticks/beauty products we thought had some issues! I'll share a few that we went over!
1.Favorite Pink: YSL #7
2.Favorite Gloss: Nars Guyane
3.Favorite Nude: Too Faced Melted Sugar
4. Best Pigmented Lipstick [that doesn't dry your lips!]: Lorac [shades Nymph & Goddess]
5.Best Every Day Lipstick: Laura Mercier Indiscretion
Things I love but have pitfalls:
I LOVE this shade and it makes me so sad to even say this, but it doesn't photograph well. If you're a photographer or you're photographed a lot [hello bloggers!] you know that what you wear to shoot isn't always what you wear every single day. For example, deep pinks and reds photograph really well! But that doesn't mean I wear that every single day running errands. I think MAC Fleshpot looks so beautiful in person but on camera it looks like I'm dead. So while I LOVE this and think her matte formula is perfect, I wouldn't wear it for a family photoshoot.
My mom got me this shade for my birthday and in theory I love it. However, you have to have a really good lipliner and it needs to be mixed with a gloss. If you do those two things [I use Loreal plum liner and Nars Guyane gloss] it's the most beautiful shade. The issue I have is that it is described as a matte and it is in no way, shape or form a matte. If you don't use a liner it will bleed terribly. So the color is great you just have to work to get it!
We keep all of these in our LV makeup bags in our handbags, which are so fun to pop in each purse and help when you're switching out! We partnered with Keeks Handbags [a brand we love for verified designer resale] to give one away to a reader. It was so fun, so thank you so much to Keeks for doing that for our readers! Keeks has lots of locations in DFW you can see all here.
Thanks so much for following along with all of our fun this weekend! Do you have a lipstick lovin' friend like we do?!