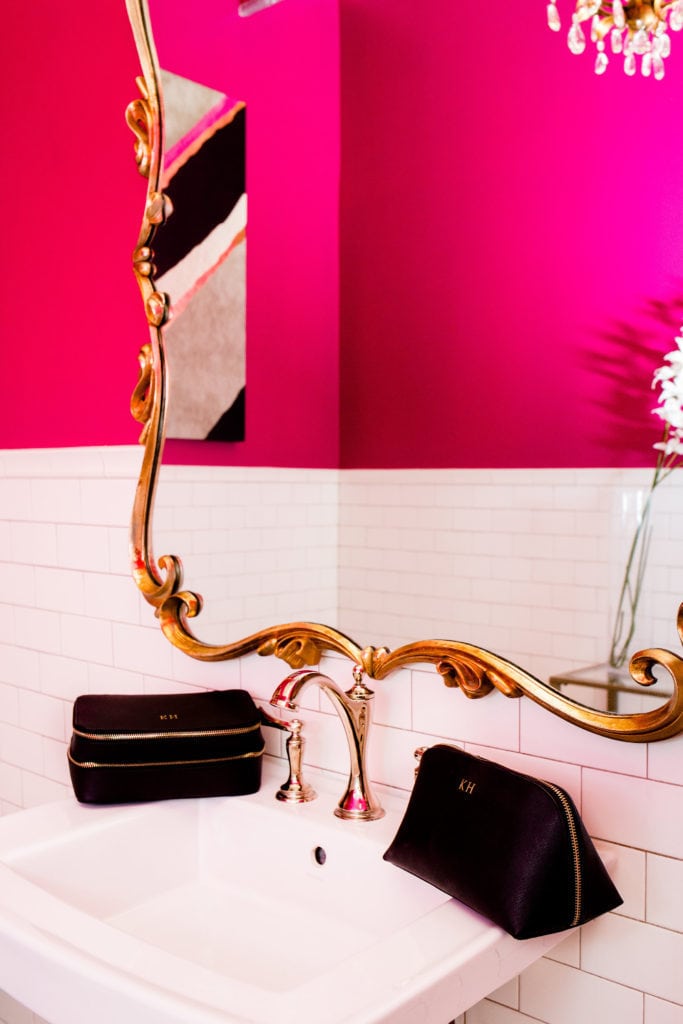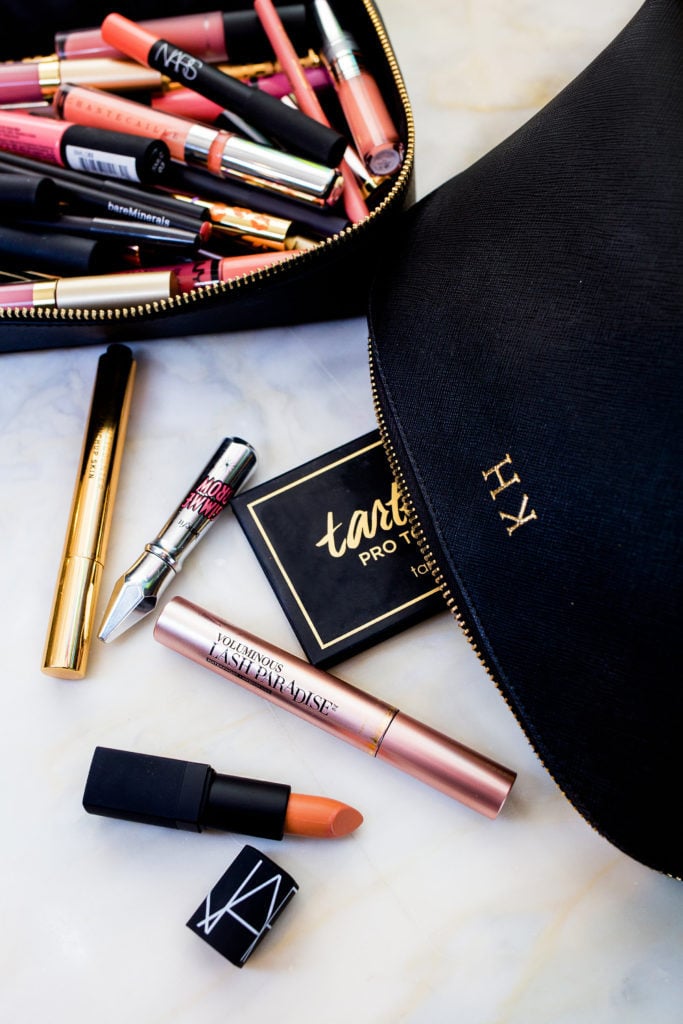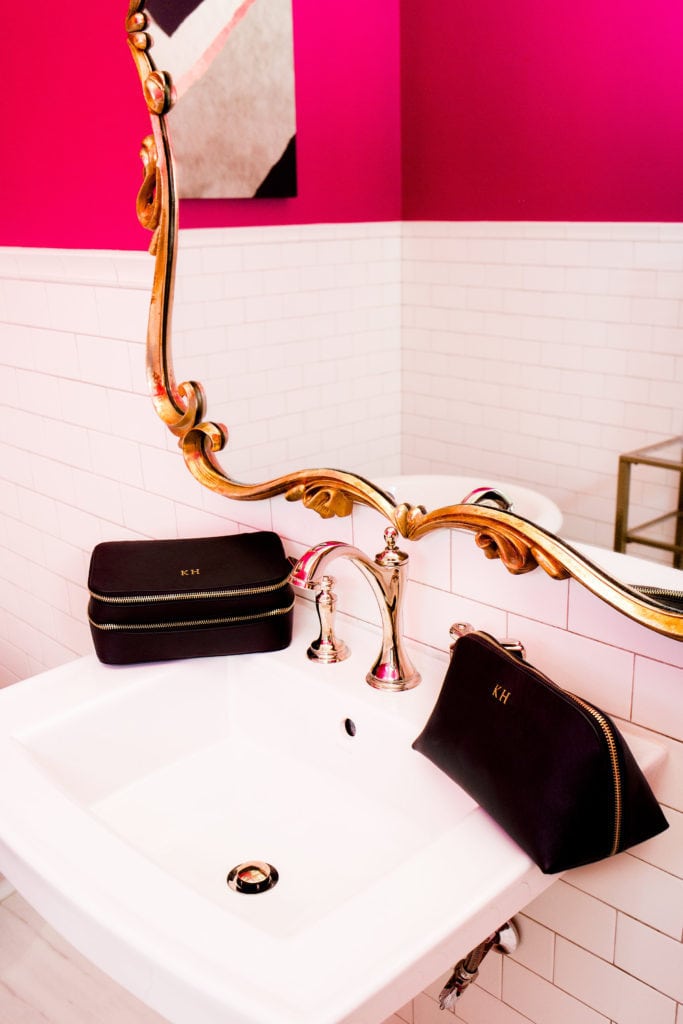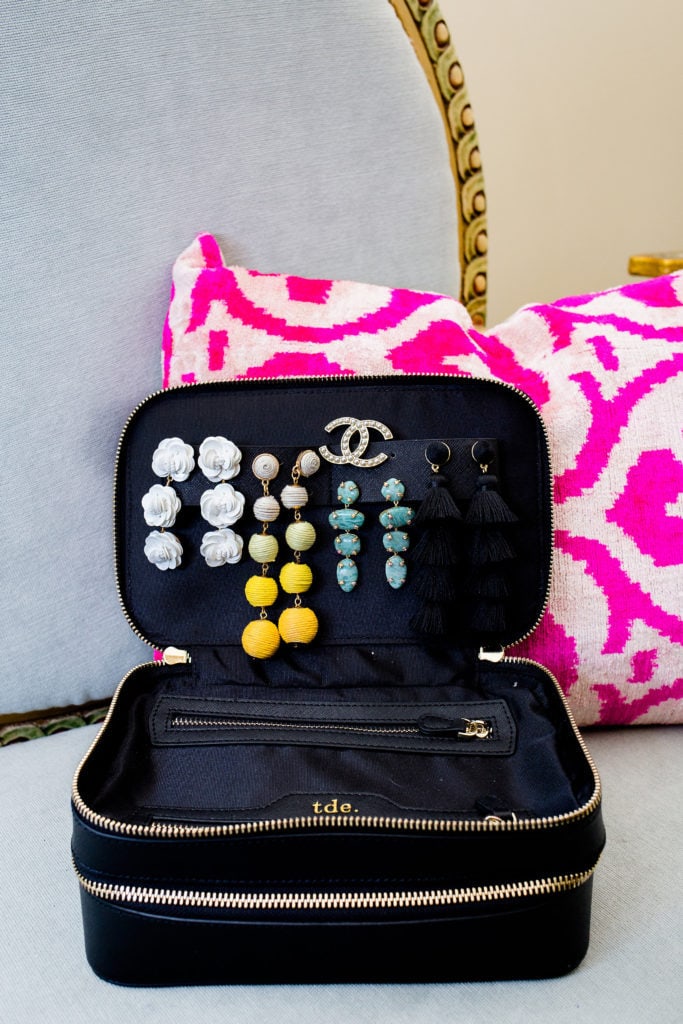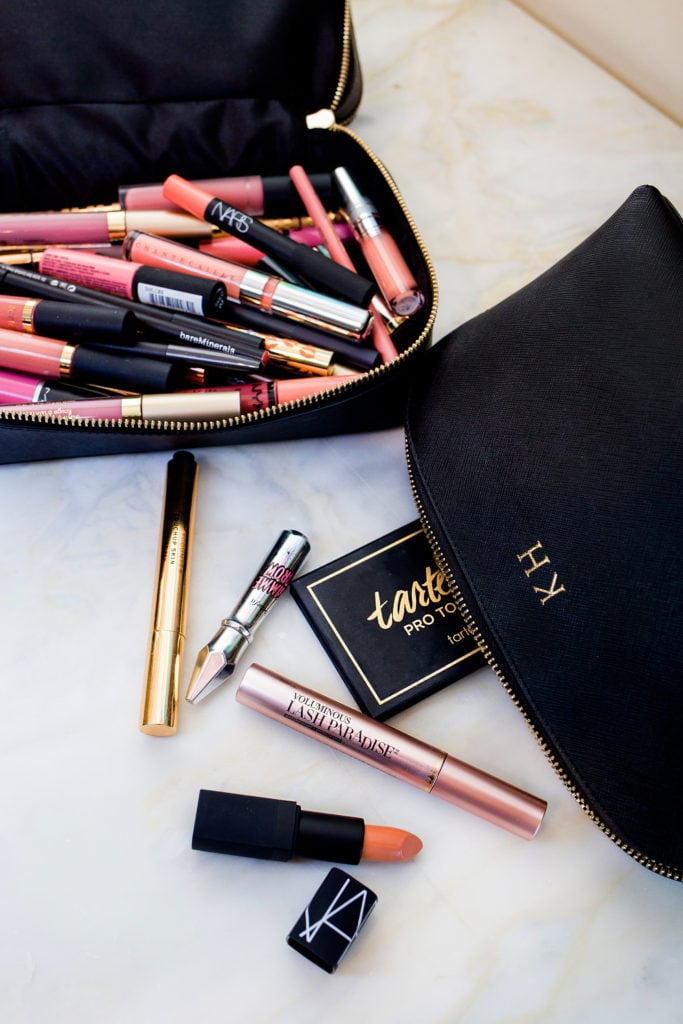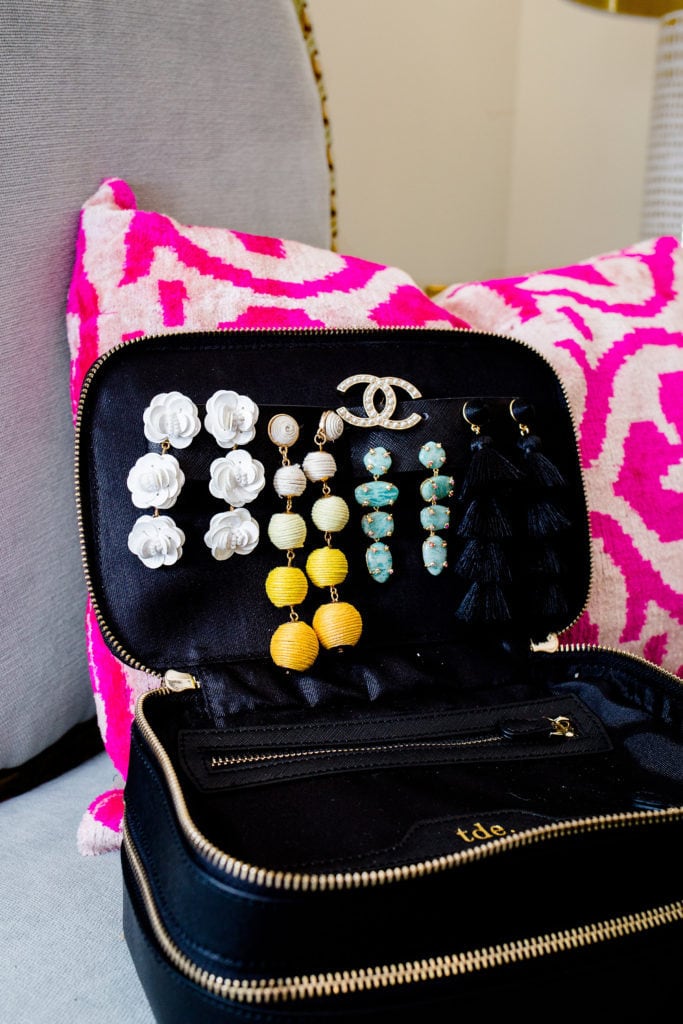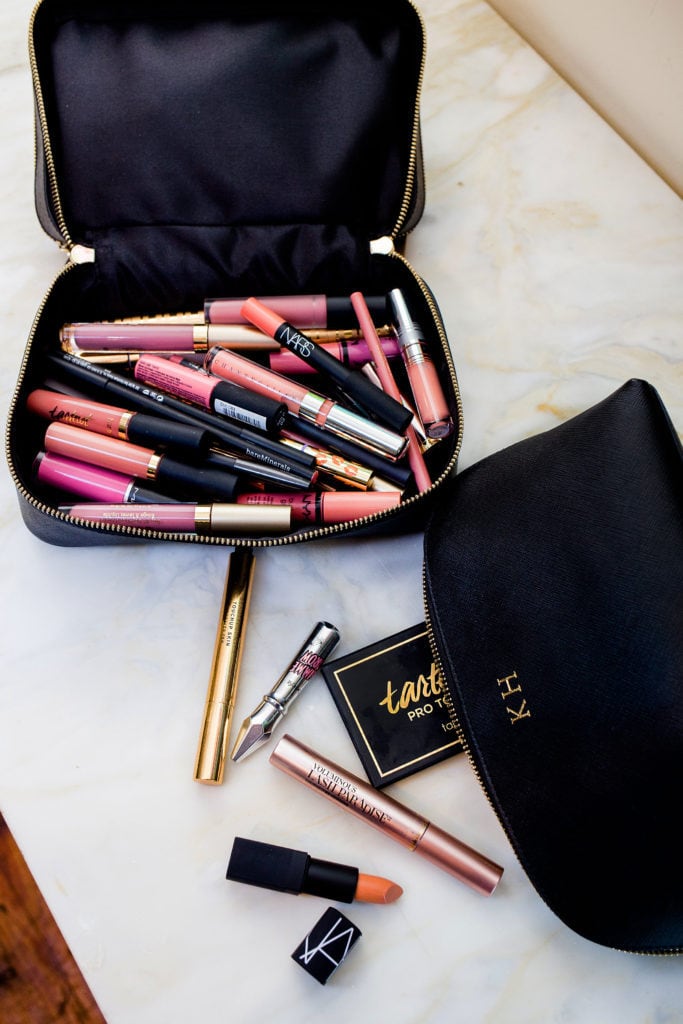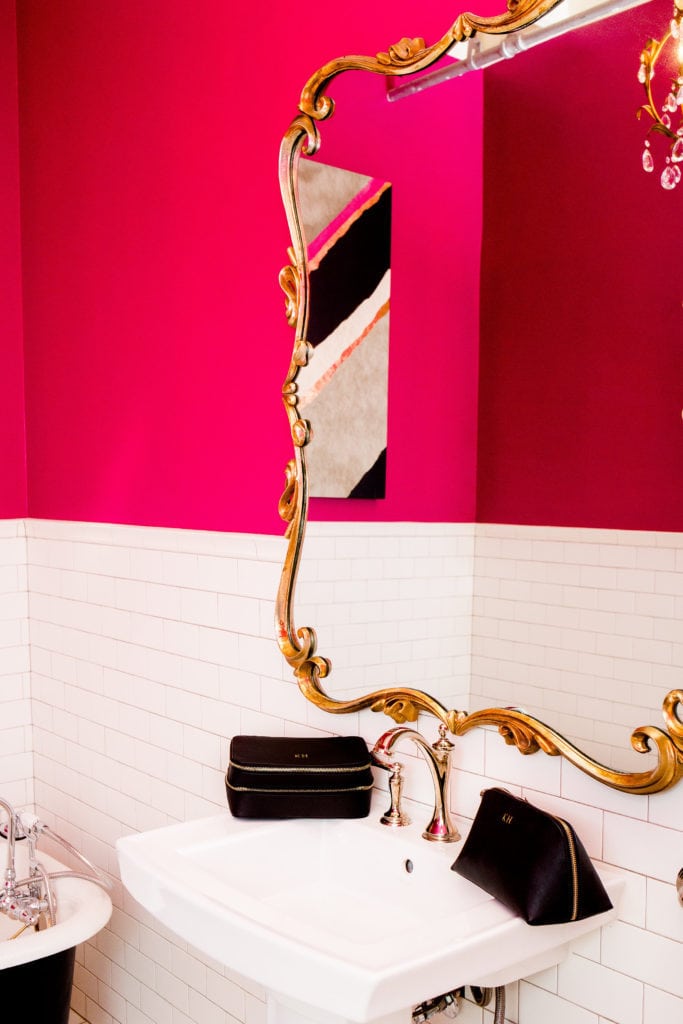 Makeup Bag: TDE [c/o] | Travel Bag: TDE [c/o] [I just saw this is sold out but it is available in burgundy]
Photography by: Madison Katlin
---
Last week I heard a phrase that I absolutely adore now. A girl was speaking and she said, "When in doubt, don't." Oh how applicable that phrase is! From keeping my mouth shut to not applying an expired sunscreen, that's my new go-to phrase I repeat in my mind.
And as I started to think of things to not do in my beauty routine, I thought it would be a great time to revisit expired makeup on the blog.
We spend so much time and money on our skincare routine, we want it to work. But so many things that we do can cause our routines to fall short. Whether you don't drink enough water or you don't get the right amount of sleep, lifestyle choices can counteract any eye cream or magical serum. One conscientious action we can all take is making sure we stop applying expired and bacteria-infested makeup-especially liquid! Liquid makeup is a breeding ground for bacteria and we slosh it on our face with makeup brushes we haven't washed in ages- or worse our hands. Then we wonder why we break out! One 2-year study by Elizabeth Brooks showed that staph, strep & E.Coli bacteria can grow rampant in cosmetics. If that's not enough to make you run to your bathroom and purge, I'll help break it down below. I'm guilty of this just as much as the next girl, so seasonally [start this weekend!] take time to really peruse your makeup bag.
General Rules
While so many of us love to apply makeup with our hands, try your best not to. If you dip your hand in a concealer, apply it to a blemish ridden with bacteria and dip again…yikes. You get the idea. But who is thinking of that at 6 a.m. while they get ready?! All I'm thinking is, "Okay, sucker! You better stay hidden. I don't want to see you!" Do yourself a favor and find some makeup brushes you love. Sigma is one of my favorite brands and they truly are a great price. Then be sure to wash your brushes [I use this cleanser] once a month. If that's too hard to keep up with at least spray this spray weekly! 😉
Stay away from testers! I know it's tempting to swatch, but sites like Temptalia swatch for you. This is why I do generally buy most of my makeup online. I know that a trip to Ulta is quite therapeutic but do your best to resist a swatch on your hand or face. Another shows that 79% of testers have staph. Find a proper swatch on a blog, watch a Youtube video and then order online. Nordstrom has a wonderful return policy and I get most of my foundation online there for that reason! This is also why great makeup artists are expensive. You're paying for something to keep their kit sanitized and safe for you! It's very tempting to want to save $20 here and there, but staph is no joking manner.
Always wash your hands before you apply skincare and makeup. I know we all do, but it's worth repeating! If you only like to apply makeup with your hands, be diligent about this!
If sunscreen is in your product, make sure you're aware of when you purchased it. I keep white sharpies to write on the bottom of my cosmetics and say when I purchased it. The little jar at the bottom shows how many months it lasts and sunscreen lasts about 2 years. Here is another post on how I do this to keep track.
Powders always last longer than liquid. If longevity if something you crave with makeup, think of that when purchasing! Cream-based products are quite popular right now but most blushes, highlighters, eyeshadows come in the same shades but powder.
When To Toss Makeup
First things first, always follow the little jar on the bottom. Here's where it will be! But if you don't see the jar on the package, the bottom or it rubbed off here are some general rules of thumb!
Face Makeup
Liquid Foundation & Concealer = 1 Year
Face Powder & Powder Blush = 2 Years
Cream Blush = 1 Year
Primer = 1 Year [most bottles say 2 years, however many are liquid and water-based so bacteria grows far more quickly and Dermatologists recommend 1 year. PLUS primer is a product I go through so quickly, so I don't think you'd really have one lying around for 2 years anyways!]
Eye Makeup
Eye makeup is arguably the most important product to follow in terms of expiration.
Mascara = 3 Months
Liquid Liner = 6 Months
Brow Products [powders/gels/pencils] = 1 Year
Cream or Stick Eyeshadow = 1 Year
Powder Eyeshadow/Shadow Palettes = 2 Years
Lip Products
Glosses & Balms = 1 Year [or toss if you experience cold sore and applied it]
Lipstick & Liner = 2 Years [or toss if you experience cold sore and applied it]
Liquid Lipstick = 1 Year [or toss if you experience cold sore and applied it]
Now if the expiration is less than this chart, always follow the expiration jar on the product. Another thing to consider is if your skin flares up badly. If you have a pot of concealer and you had a bad breakout, I say toss. You don't want to keep applying that to your skin!
What To Do With Makeup You Just Don't Wear
While you purge through old products, chances are you will compile lots of items you don't want or need. If products are unopened, donate them! Due to the bacteria reasons listed above, most of the time you can't donate previously opened products. However, here is a great article on how women do with products they don't use.
How To Store It
My GLAMbox has to be in storage right now until we move and I honestly hadn't used a makeup bag in quite a bit. We all know I like my beauty products and so I needed something that would really fit everything. Y'all have asked so many times on Snapchat and in e-mail about these makeup bags you see here and there on my social media, so here they are! These makeup bags are by The Daily Edited and I wanted to feature 2 depending on what your needs are. The one with my earrings is great for travel or a college girl as you can store your jewelry in the top and makeup in the bottom zipper. It's quite roomy and each makeup bag holds the same amount of product. I do see this is sold out in black, but available in the burgundy. The regular pouch is what I've been using day-to-day in my routine.
Okay, I hope I didn't sound like your germ-obsessed mama. Overall, your makeup is probably fine as long as you didn't steal the department store tester! 😉 But the most important thing I would say is to really pay attention to your eye makeup [Dermatologist say tossing mascara when it expires is most important!] and liquid makeup. We may be thinking the culprit of a breakout is stress when in reality it could be a concealer you've kept a year too long! Or if you're like me you just love to use everything up before it expires.
And to finish, let's go back to our skincare routines as listed above! Because once your makeup bag is clean you know that isn't the culprit for a skin issue! Remember how I chatted about getting a hydrafacial and being obsessed? I did a post on my mask routine, but I hadn't tried an "at-home" facial. I heard from a reader that she does this thing with multiple masks in a row to create the same effect and I was intrigued. The great thing about the hydrafacial for me was that it provides a gentle peel that unclogs pores while giving you a good texture. Because let's face it, most products that help with clogged pores lead to peeling skin. I got to test a product recently that is an "at-home" facial, loved it so much I asked the brand if y'all could shop it first with a discount and they agreed! TULA launched the Dual-Phase Skin Reviving Treatment Pads next week, but COF readers can shop it early here. Use code KATEY at checkout to get access and you also receive 20% off. This makes these essentially a $3 facial, where my hydrafacial was $200. I'll show on insta stories later today how they work as it can seem a bit confusing, but the website also has a great step-by-step. Basically you glide the white side of the pad over your face first which activates a serum which clears pores for blemishes, hydrates and strengthens skin and helps remove excess oil. Then you flip it to the blue side and exfoliate for 2 minutes. You do this once a week which I have added to my Sunday evening routine. On Sundays I will wash, do this treatment pad and then 20 minutes later apply my hydrating mask. For me I've seen a difference in blackheads [someone has to talk about them! lol] and a major glow on my cheeks. I like that it doesn't cause lots of peeling because with my autoimmune my skin is *so* prone to peeling with harsher products that fight clogged pores. Also, for the girls that have asked me to review the probiotics I got those for you and am doing a daily diary of my experience for 1 month. Stay tuned for that!
I apologize for how lengthy this post is, just felt like there was a lot of  information to share from makeup expiration to discounts on facials! I hope you enjoy! Do you have any rules you follow with expired makeup products?! I'd love to hear!