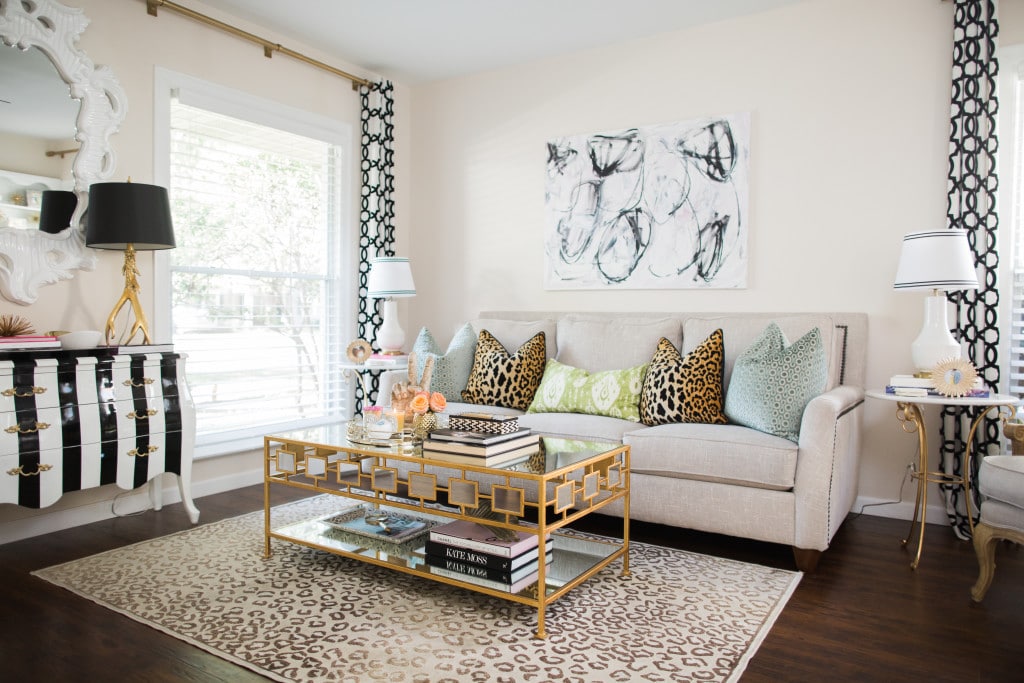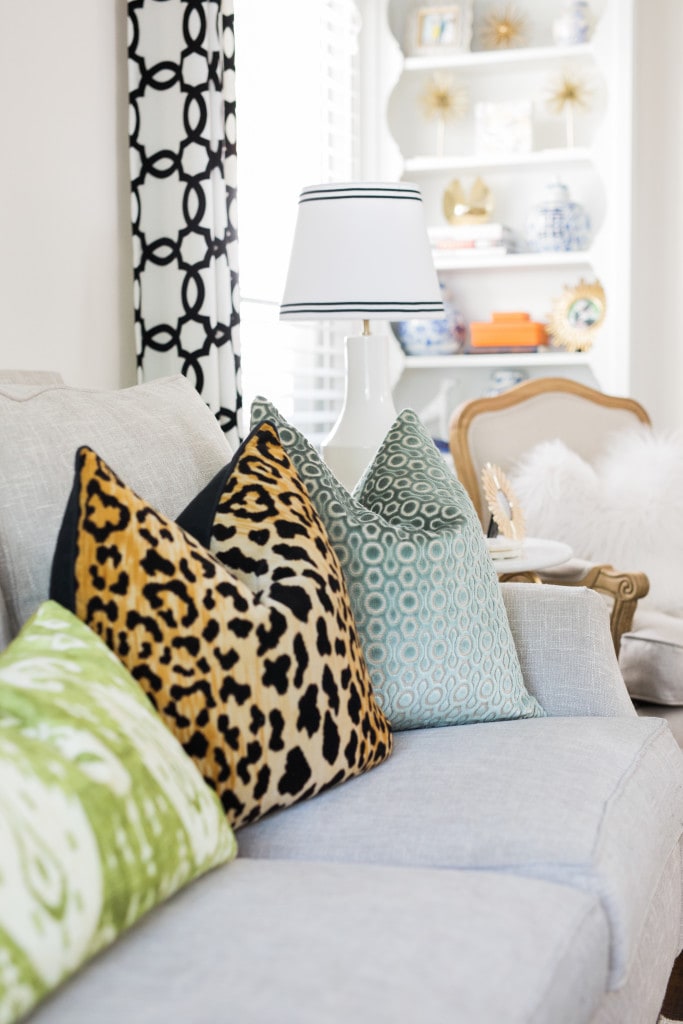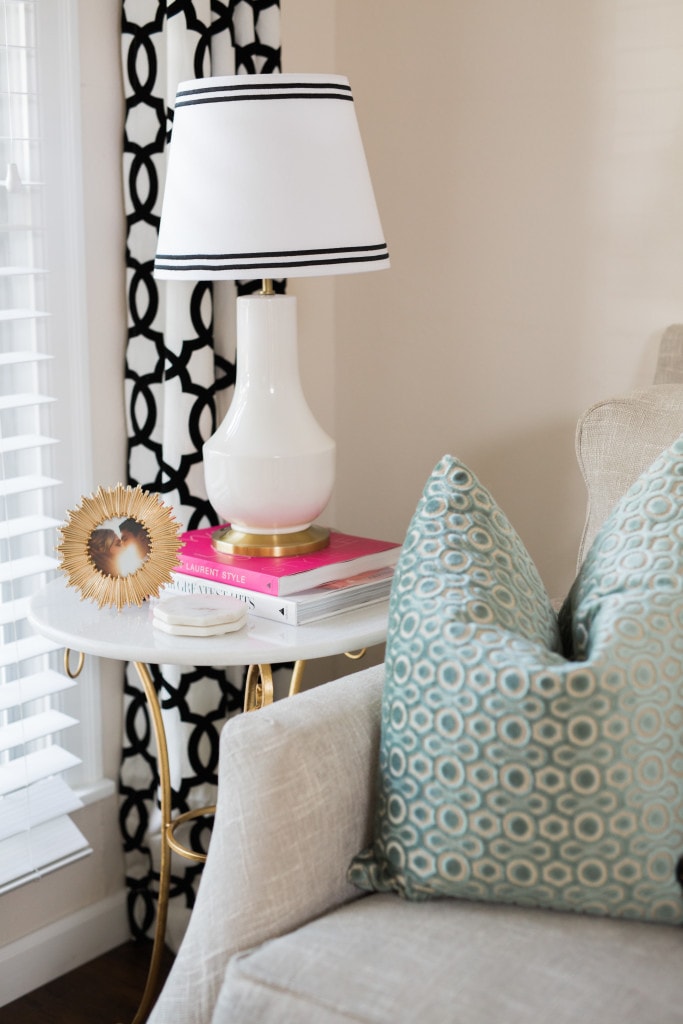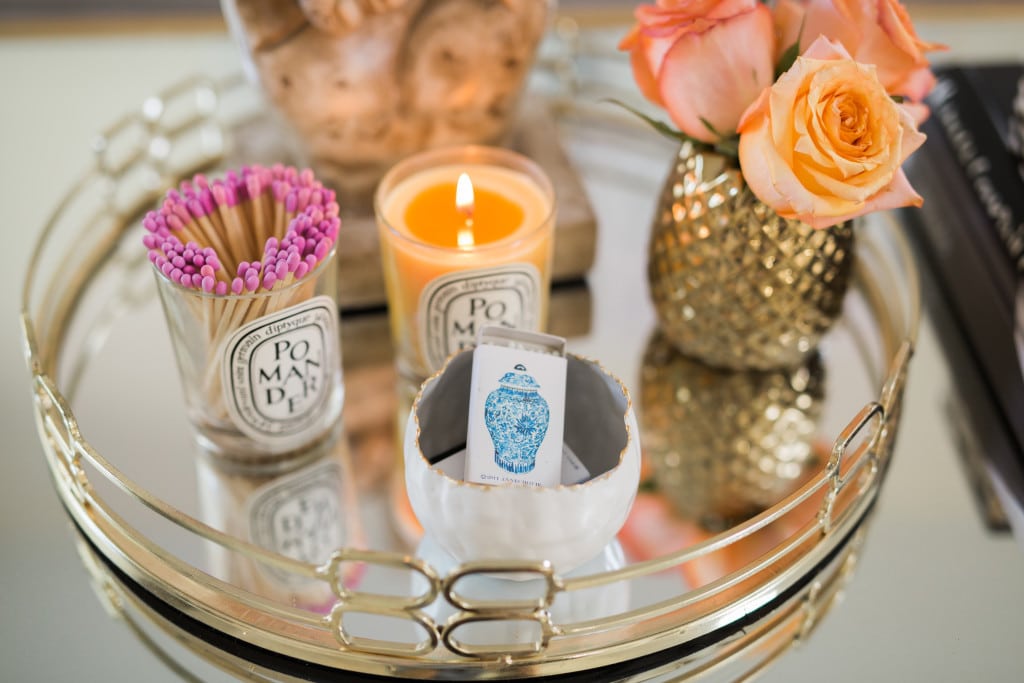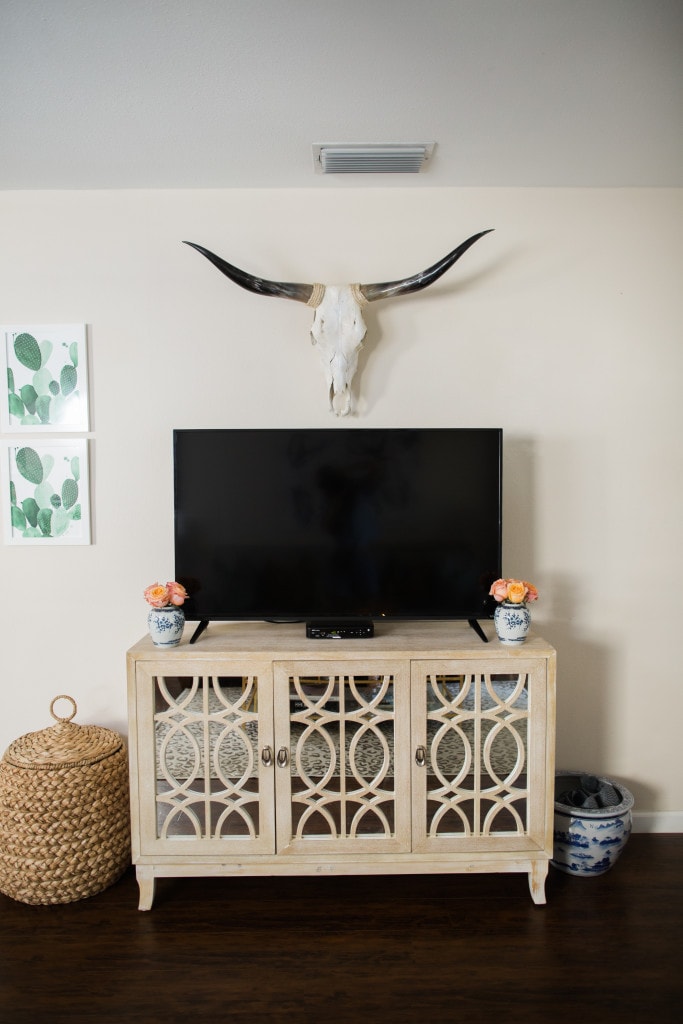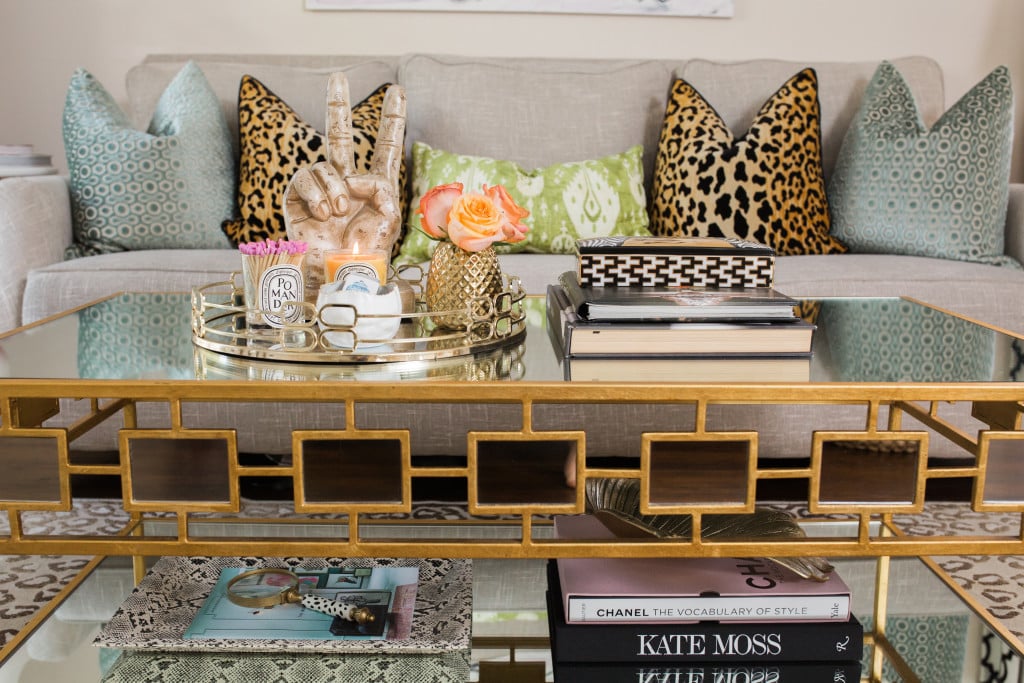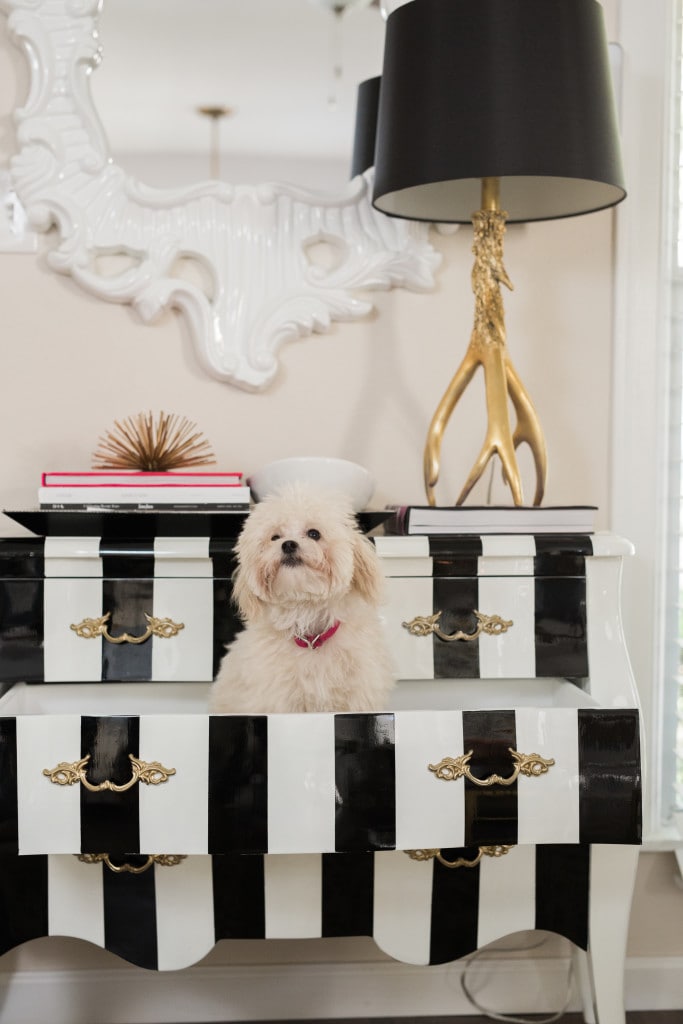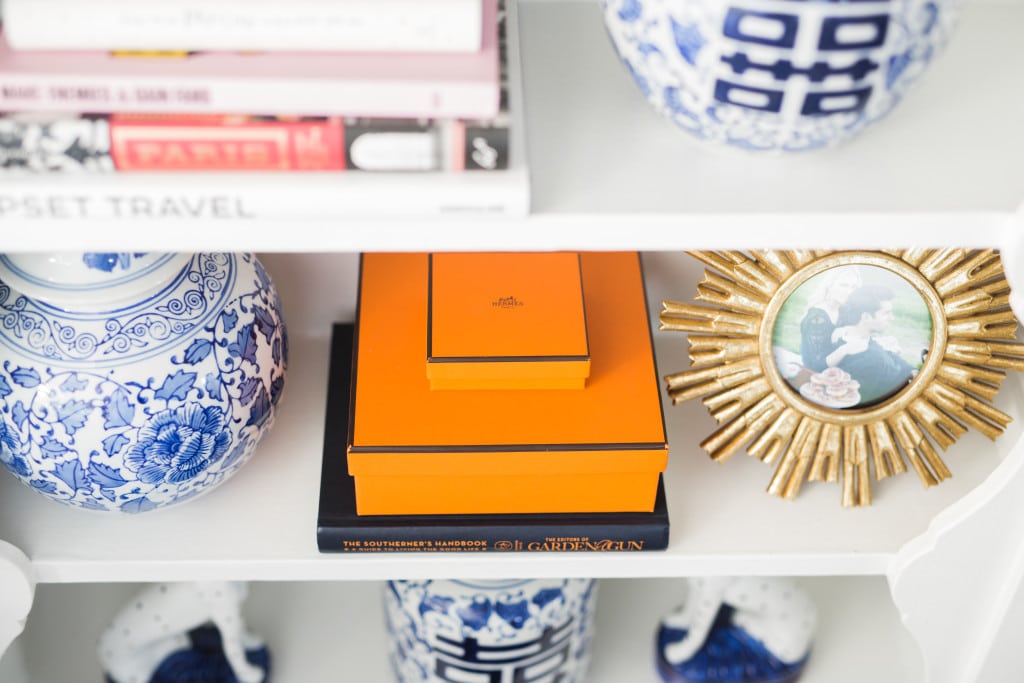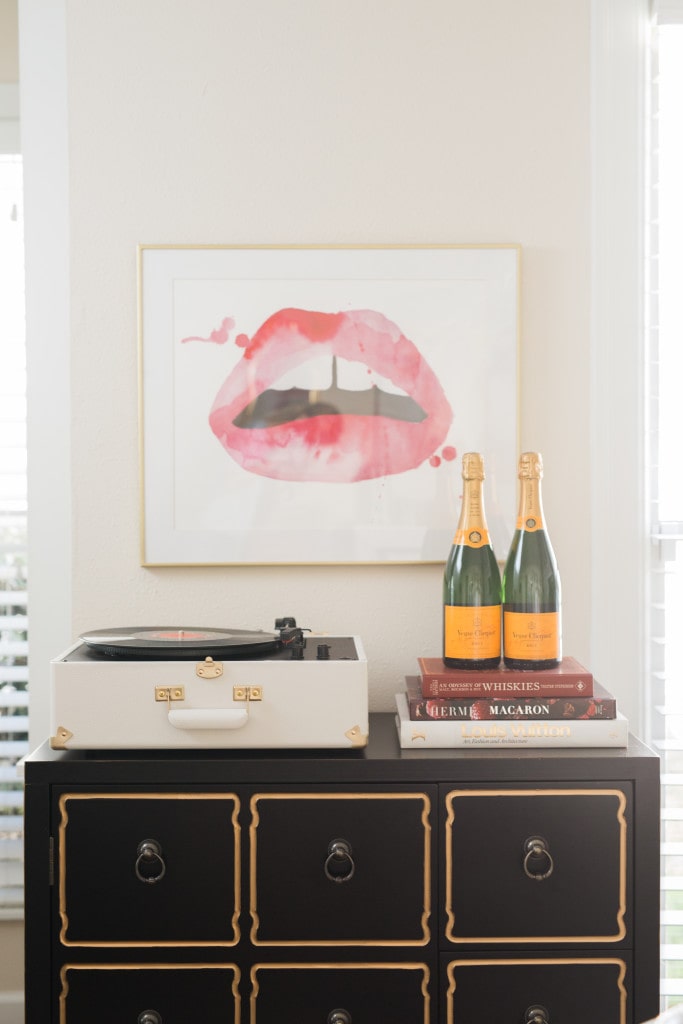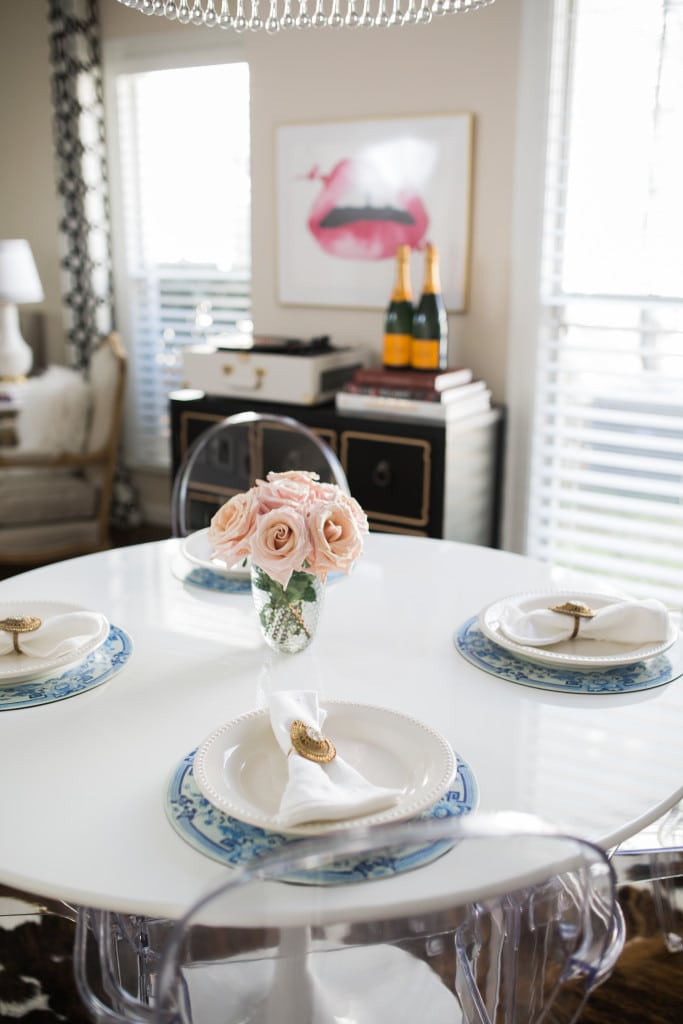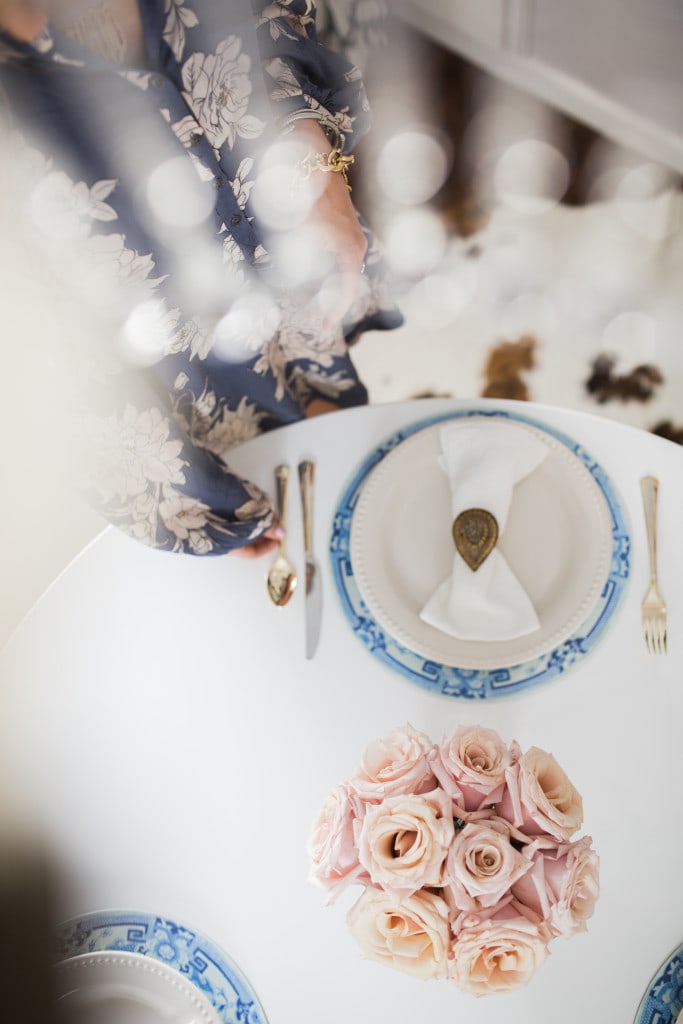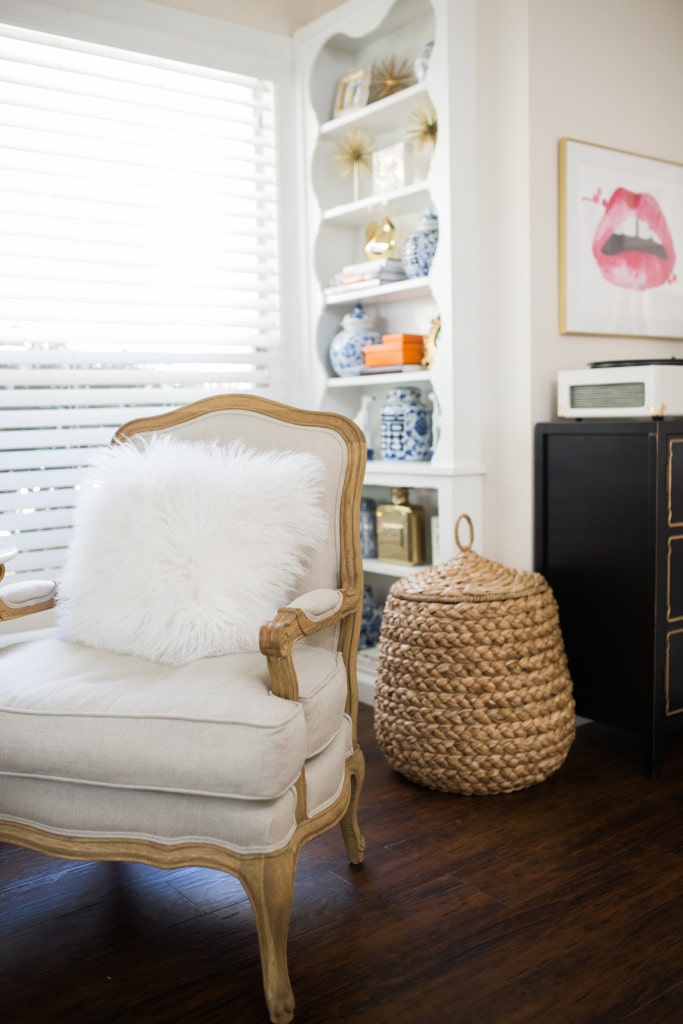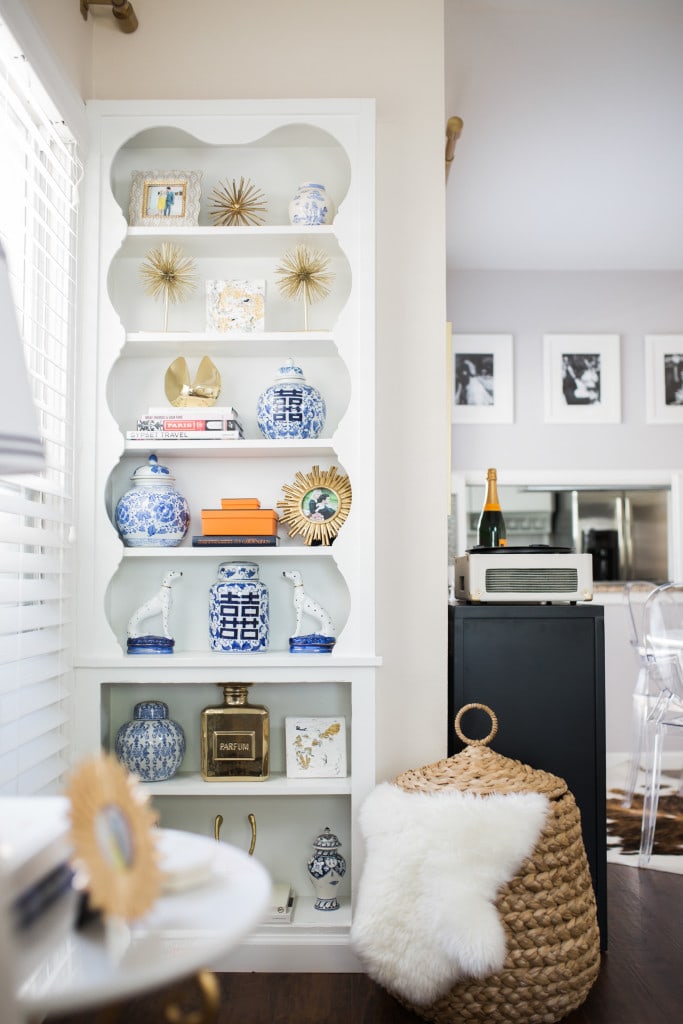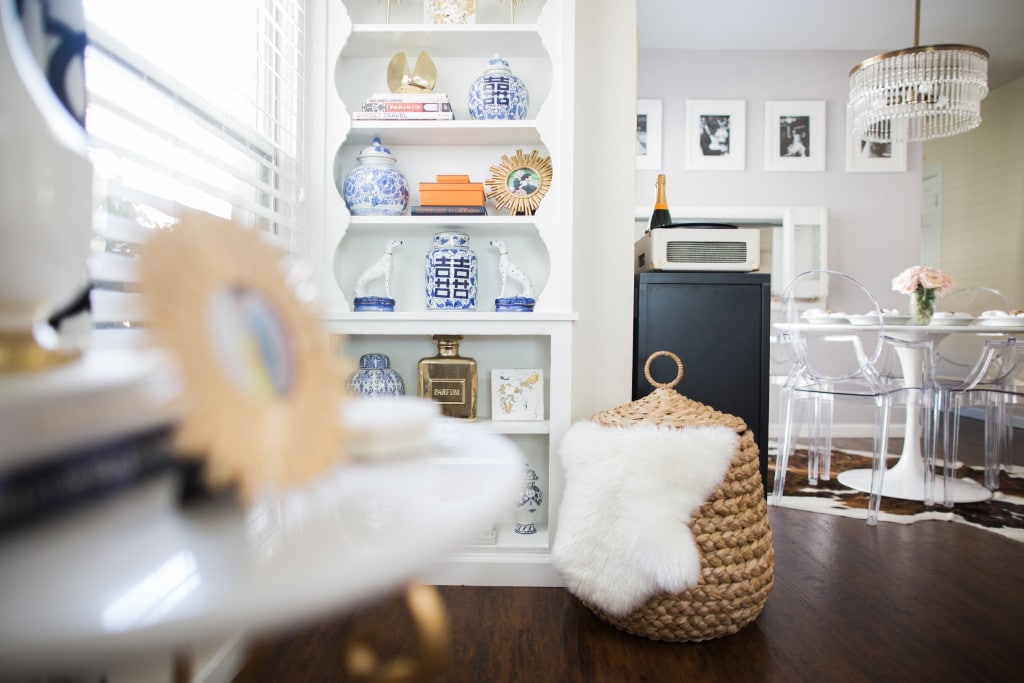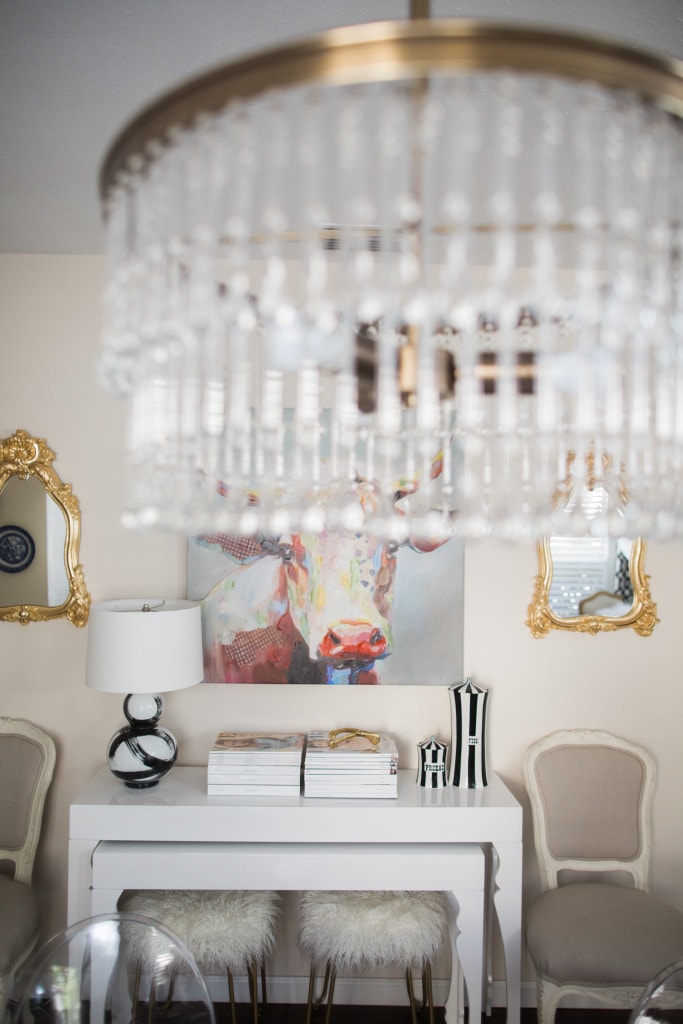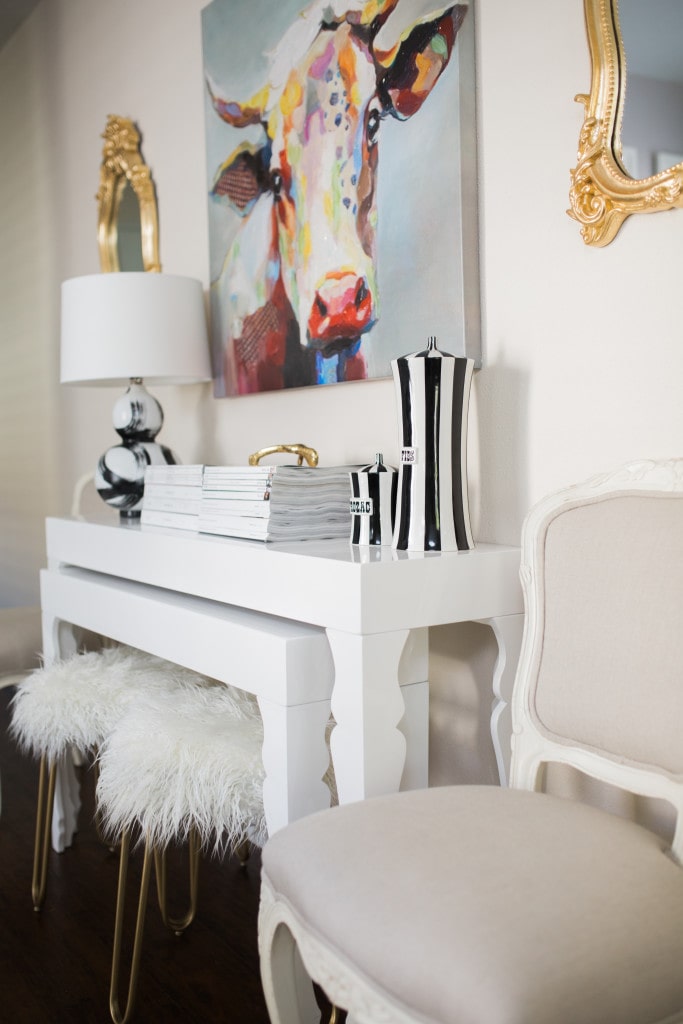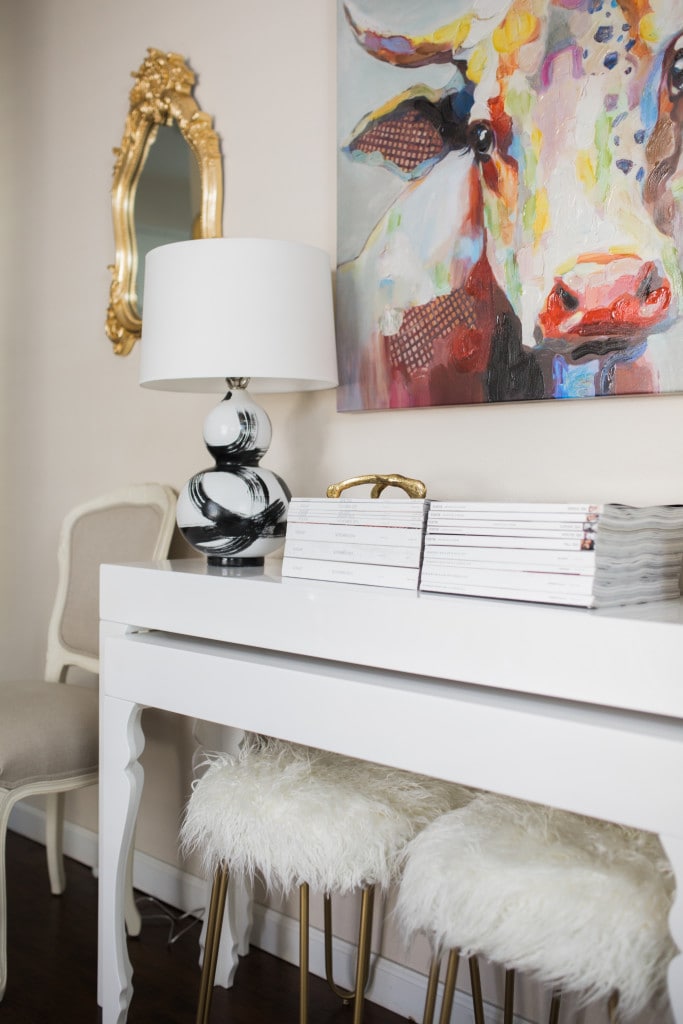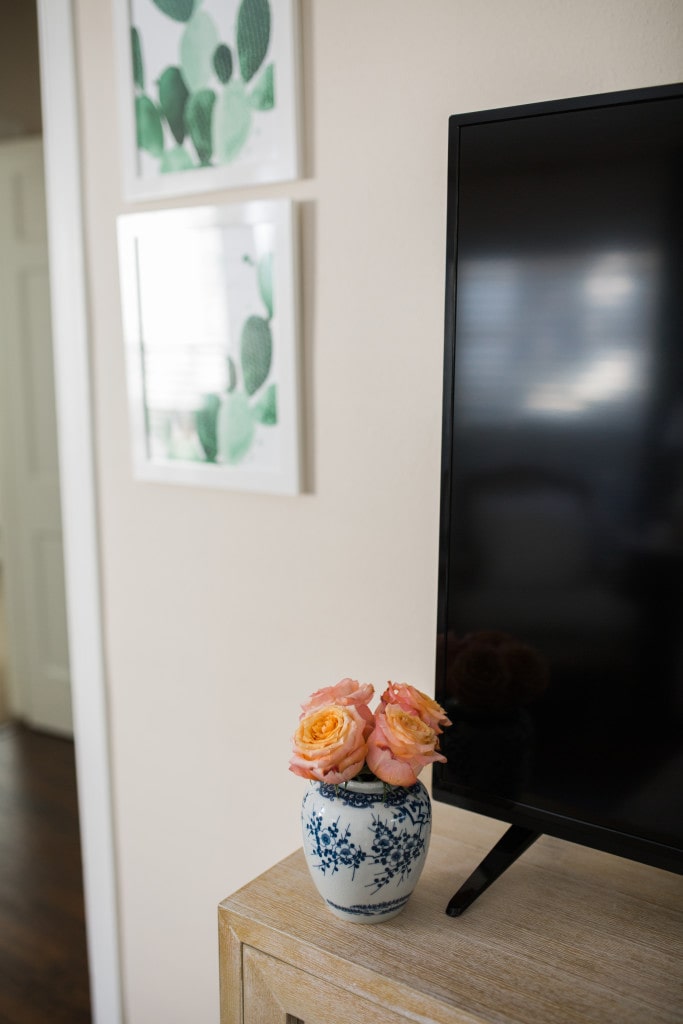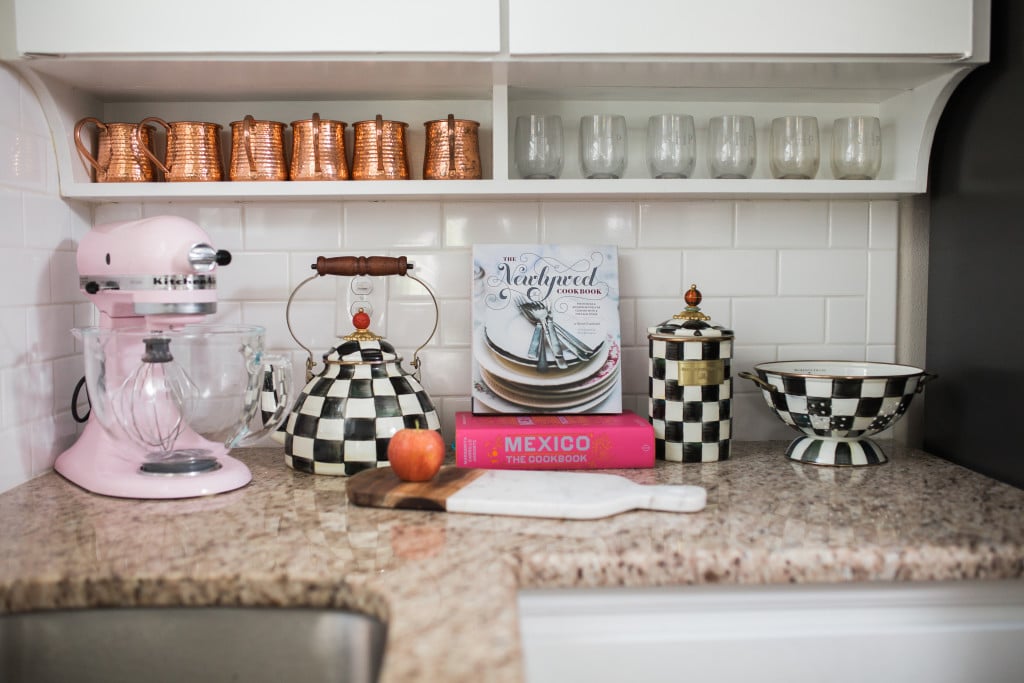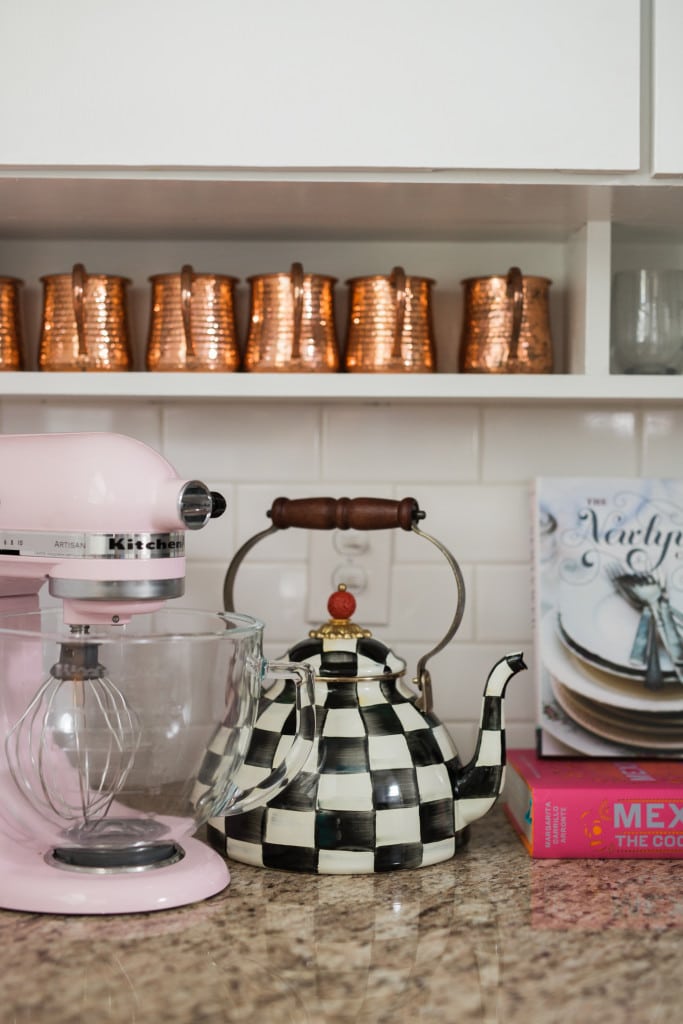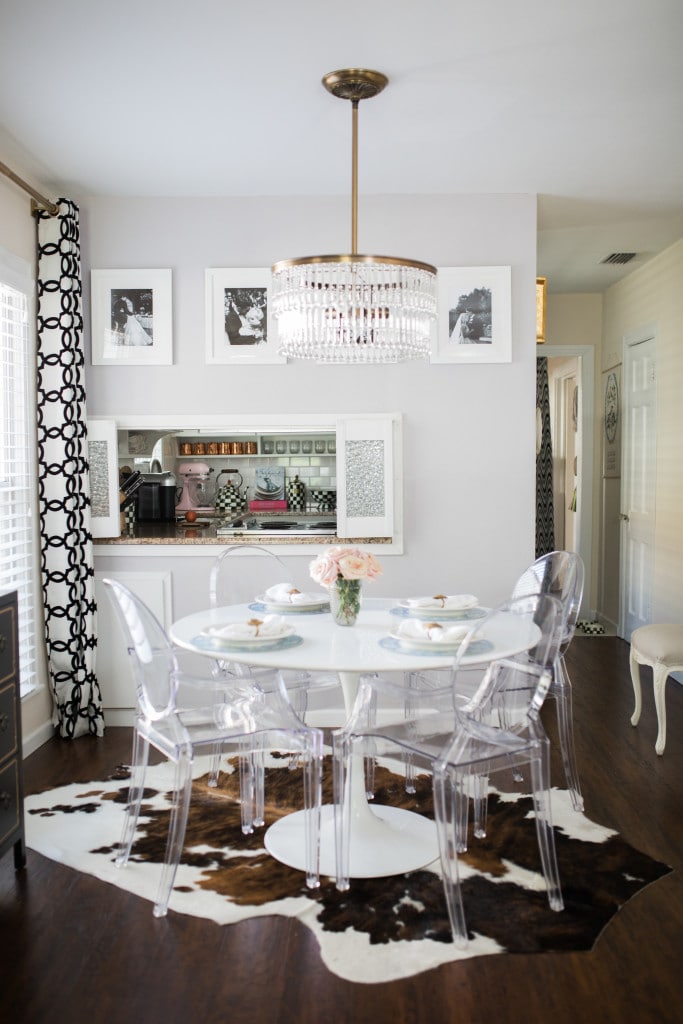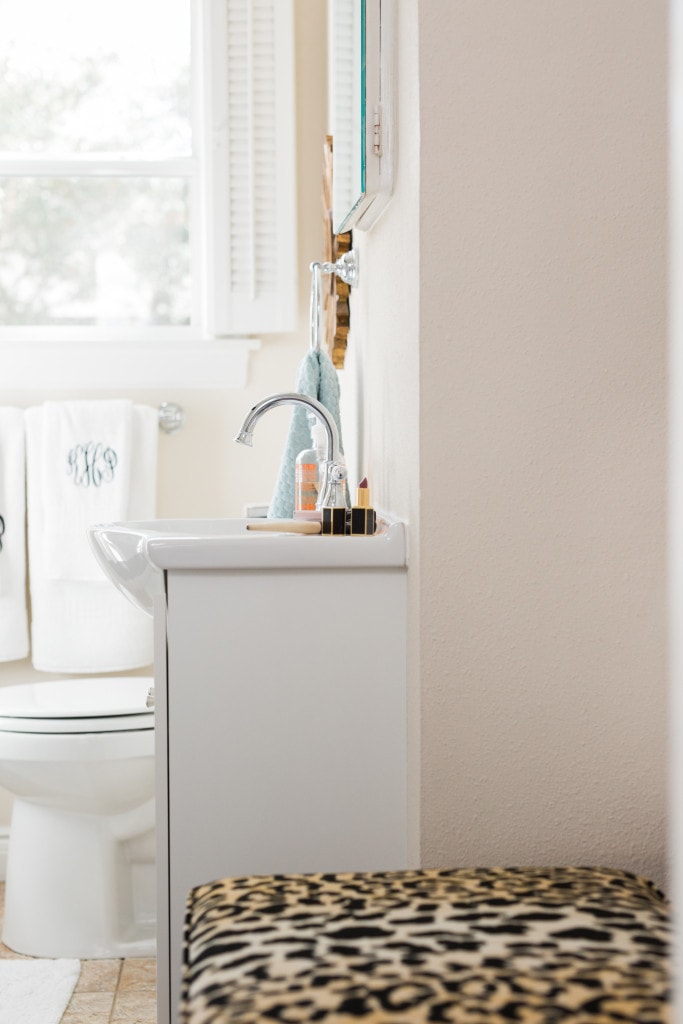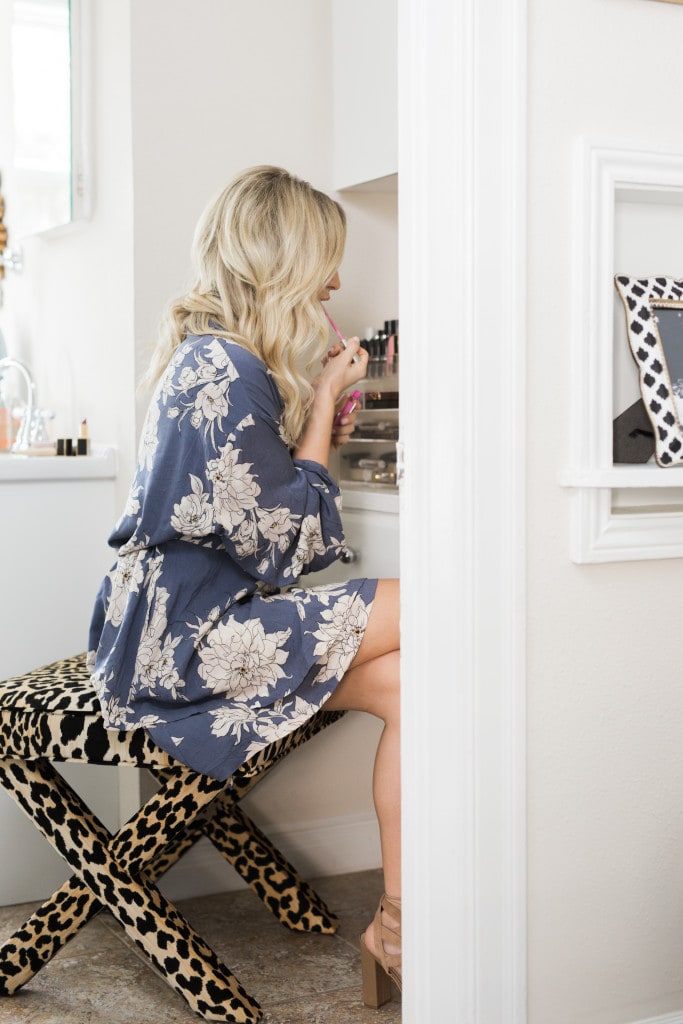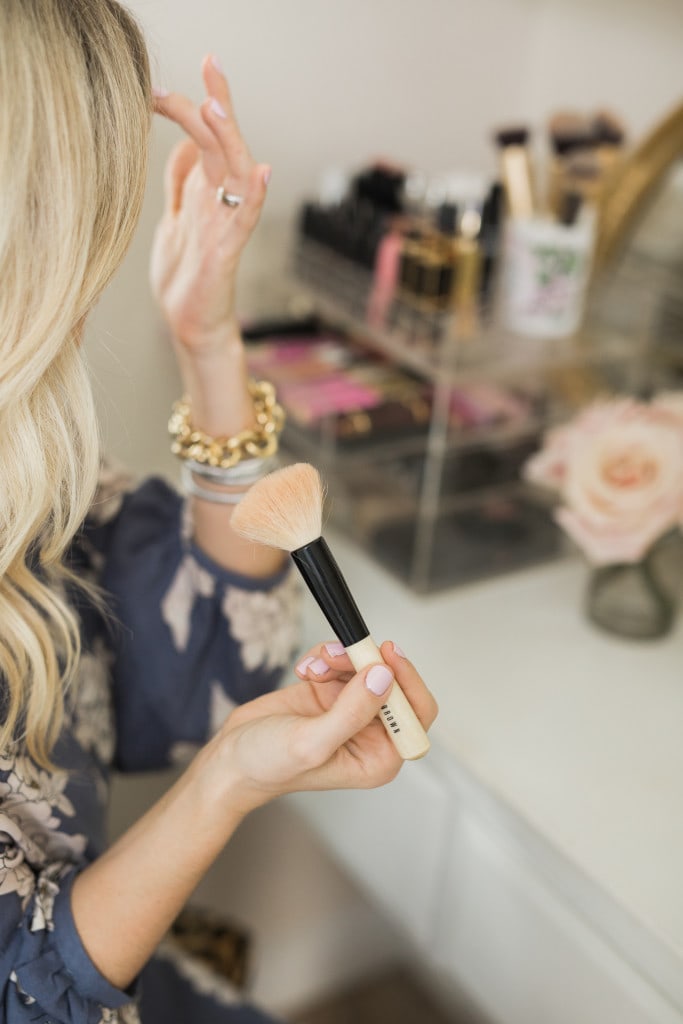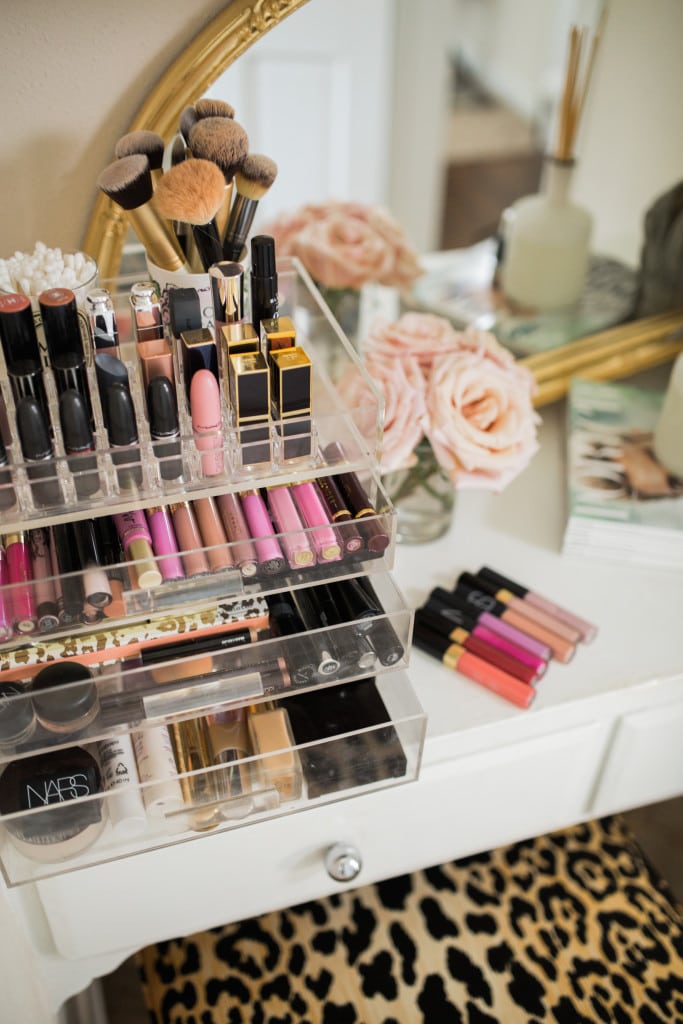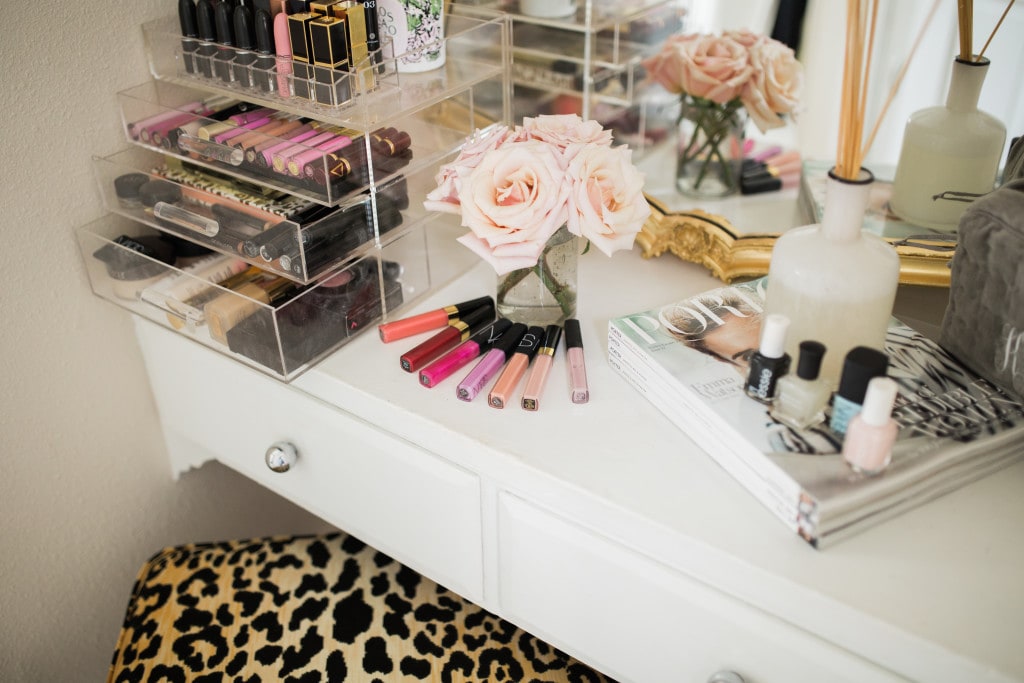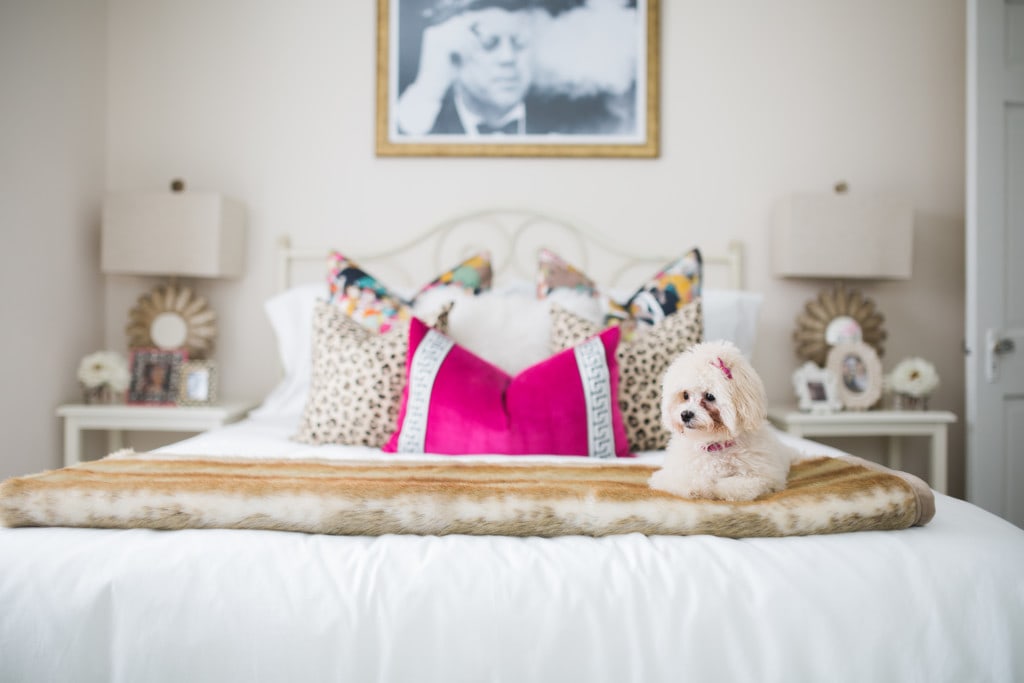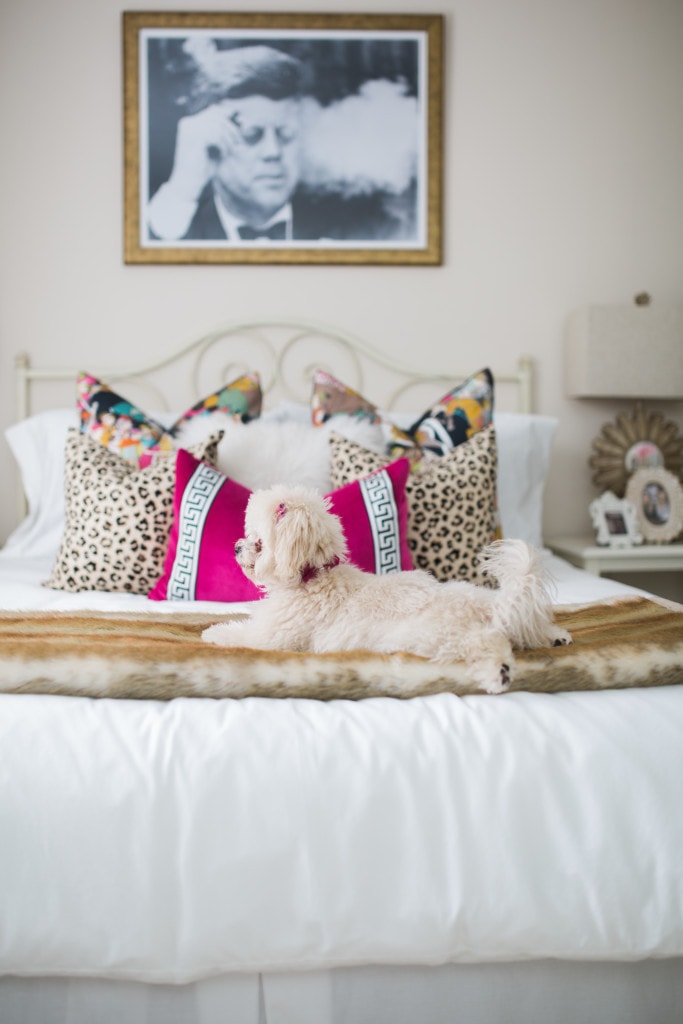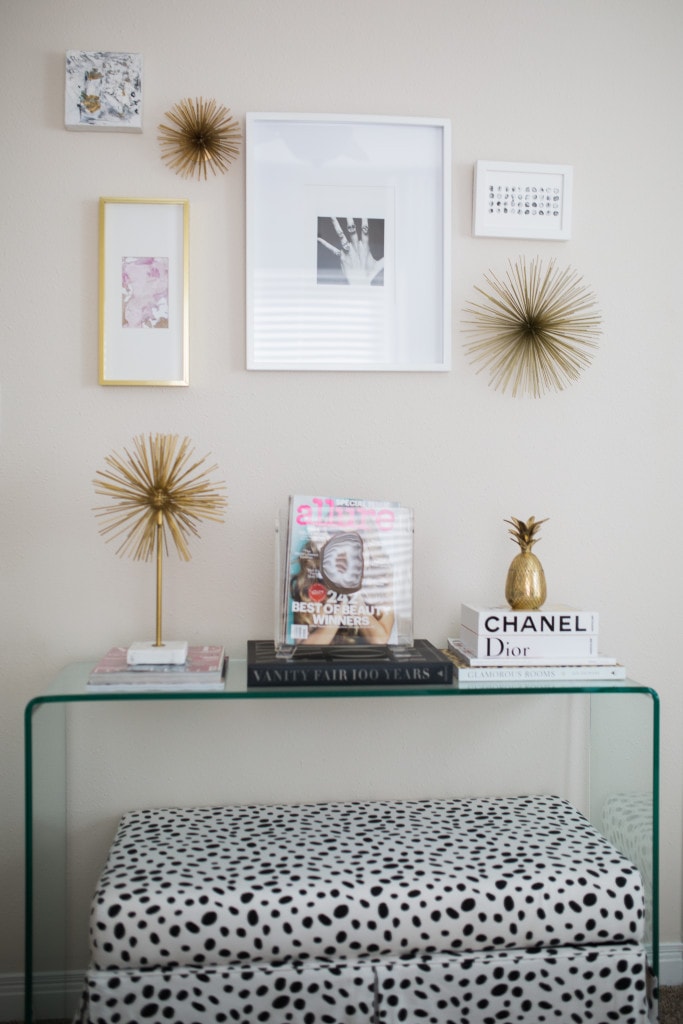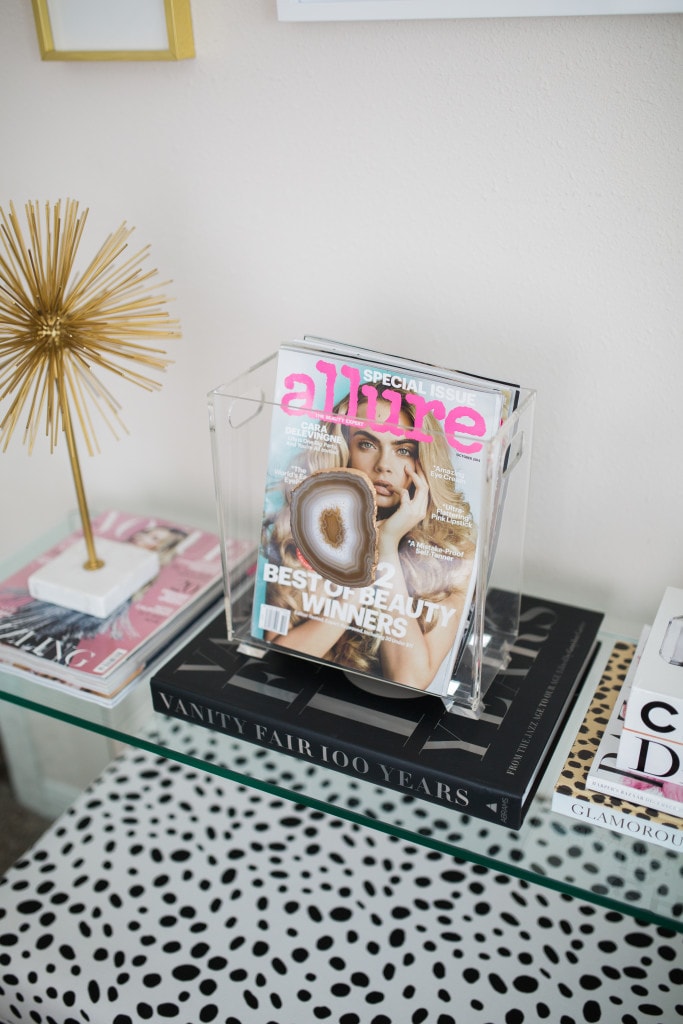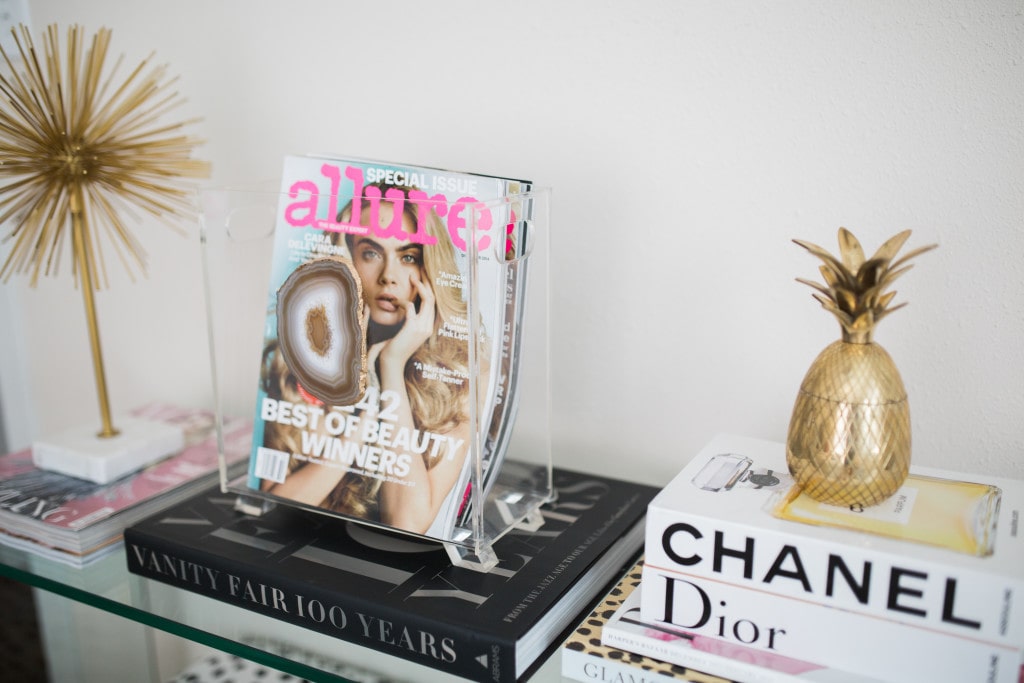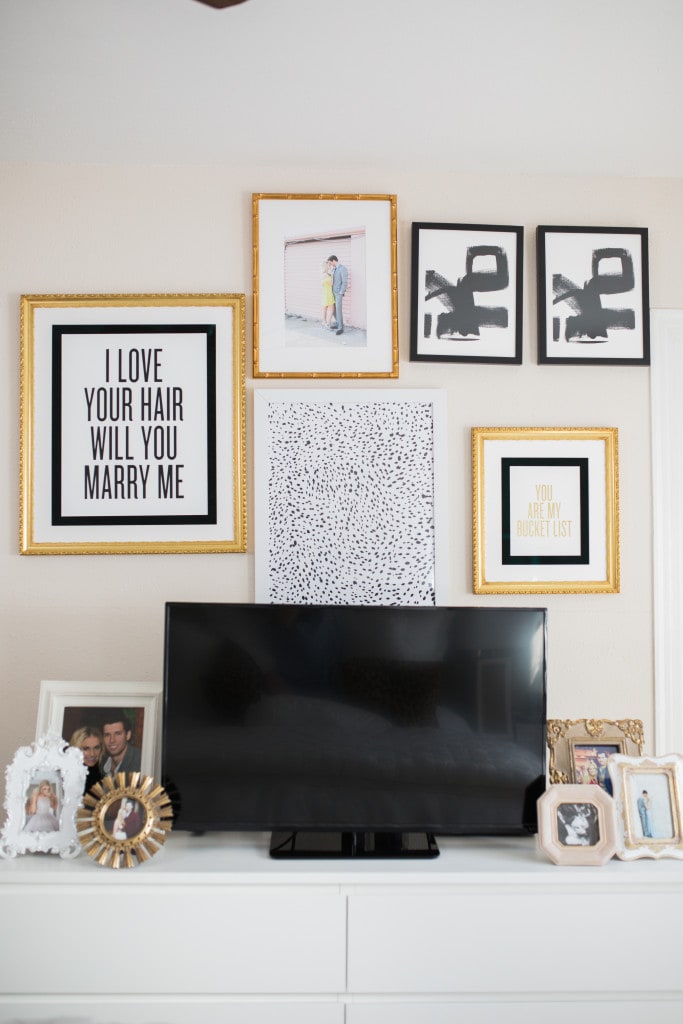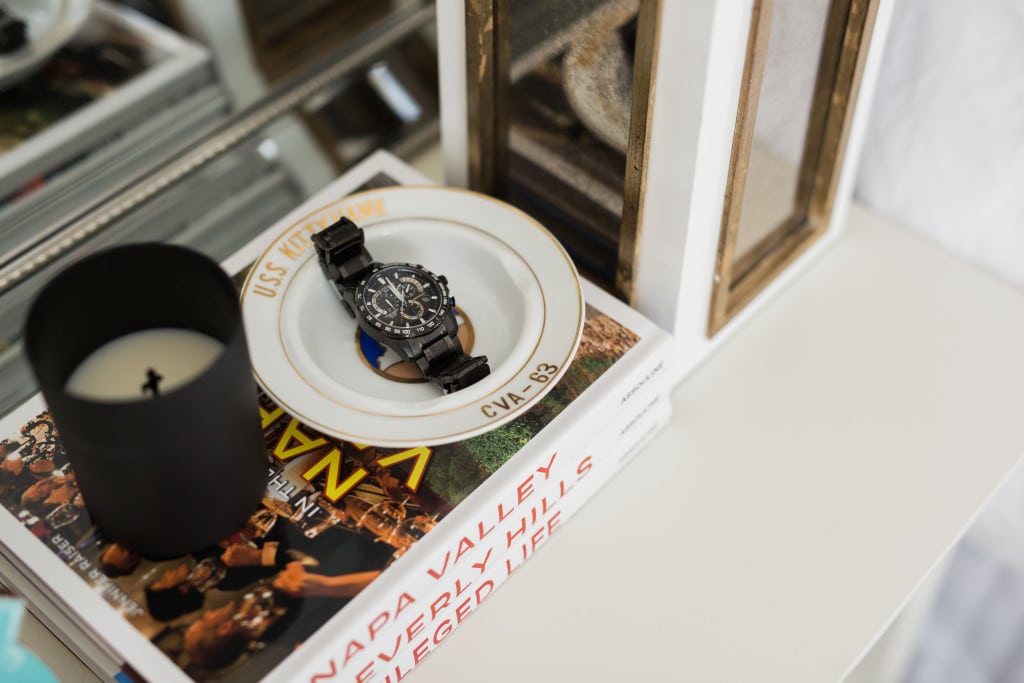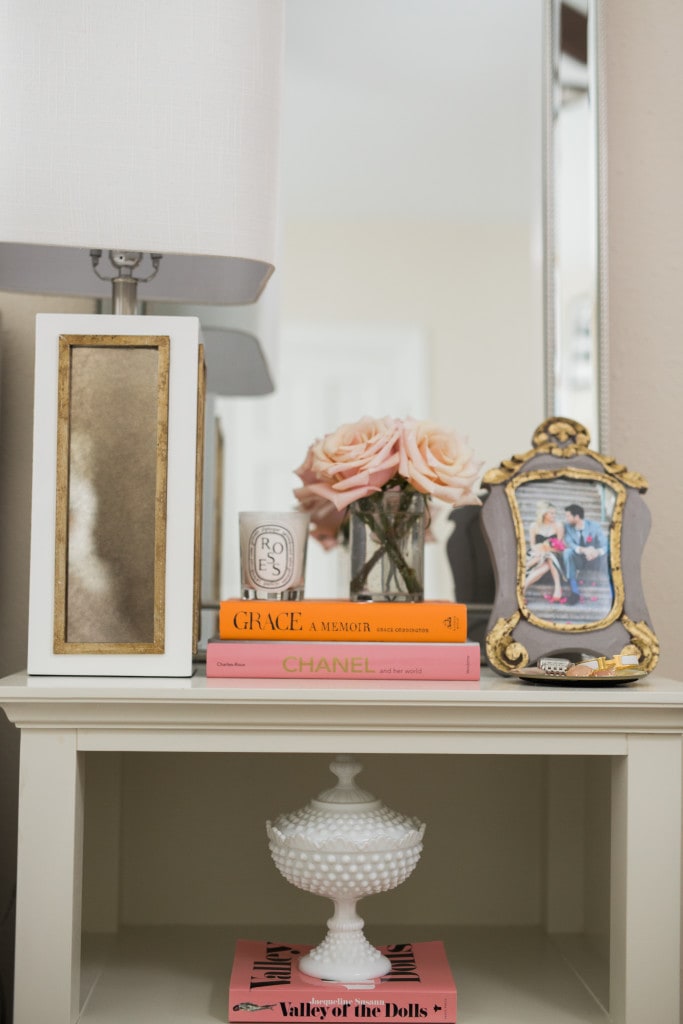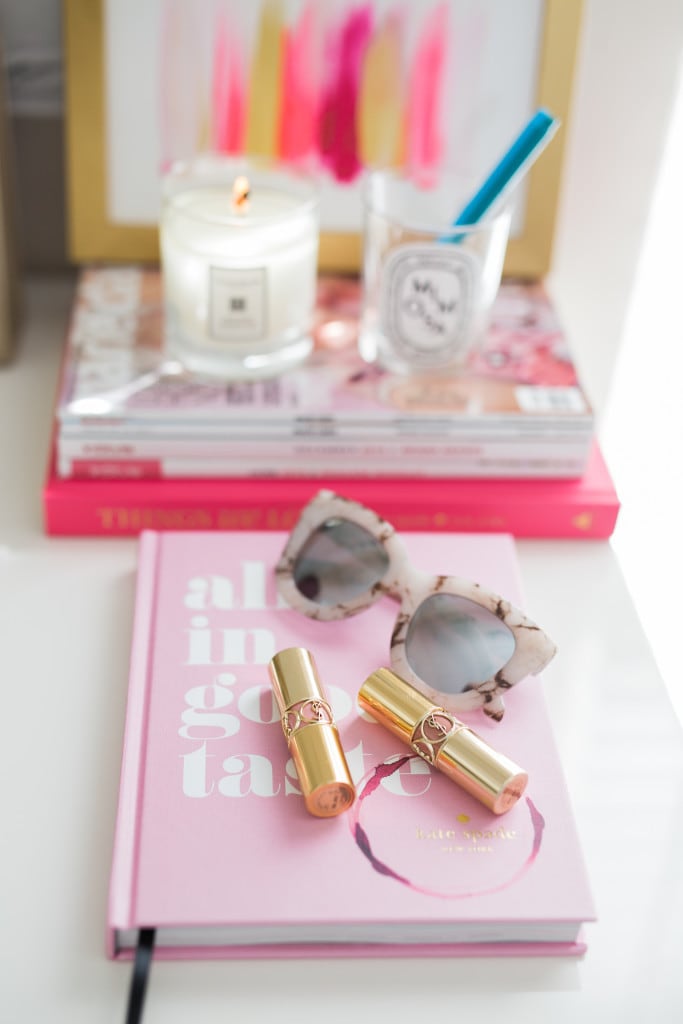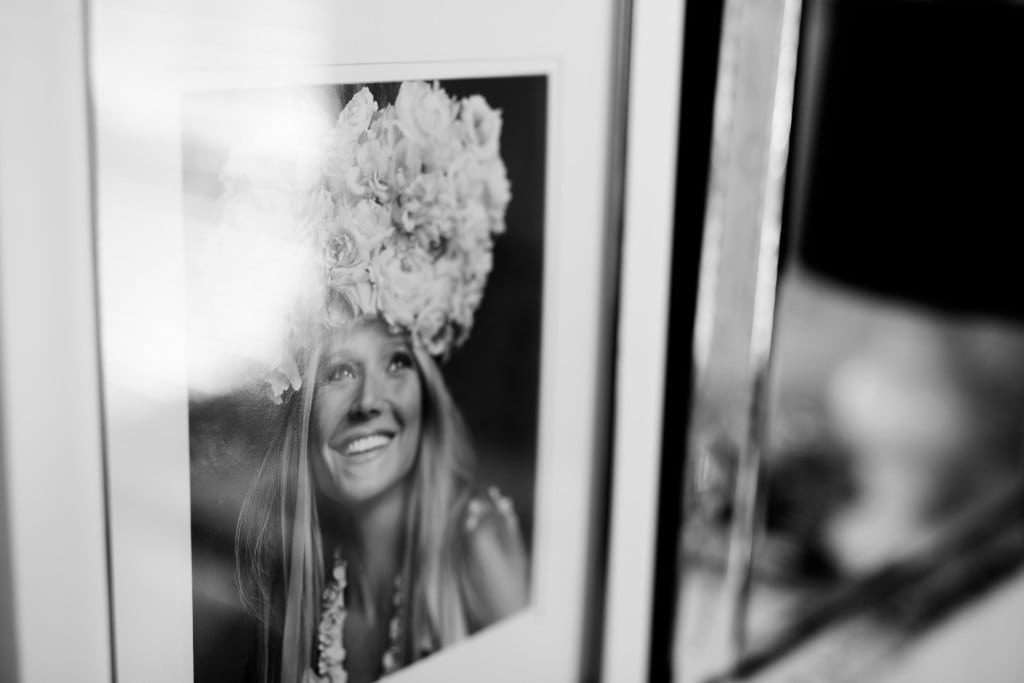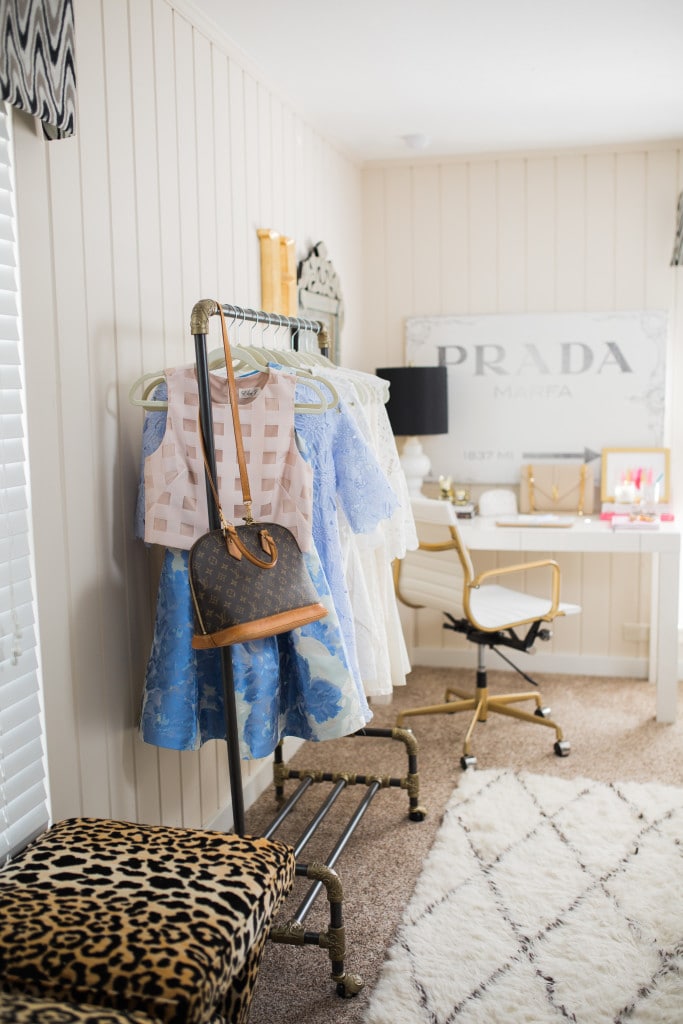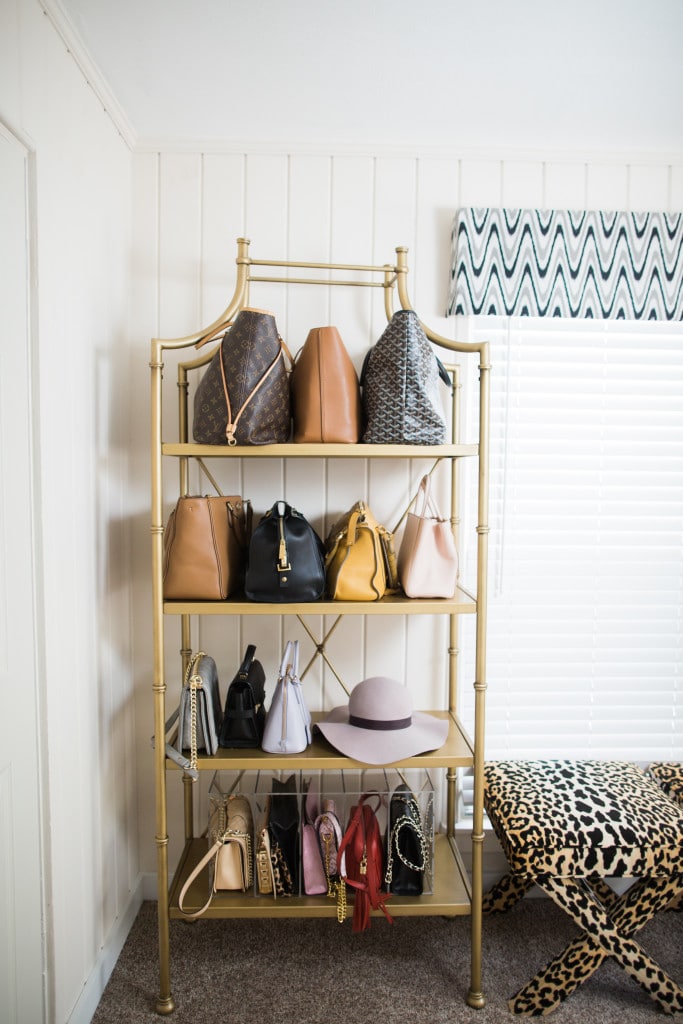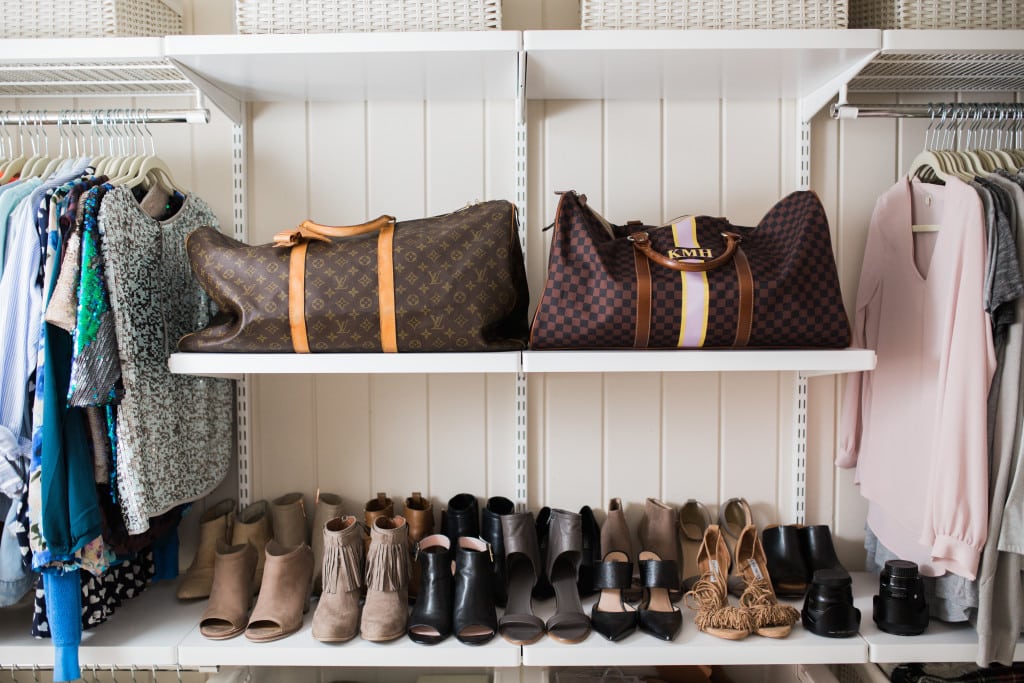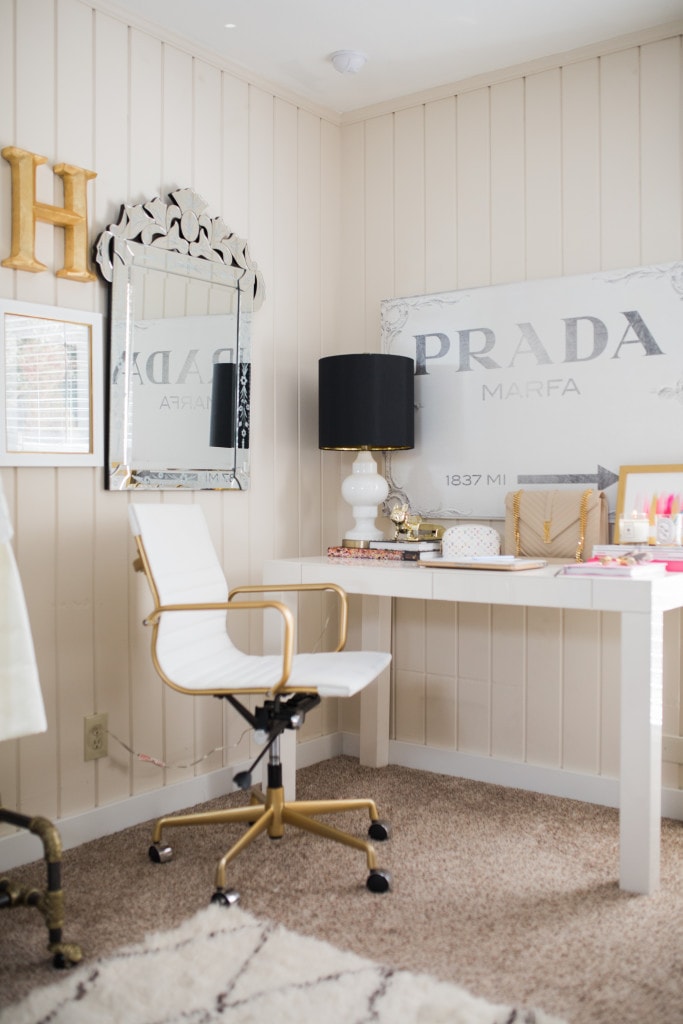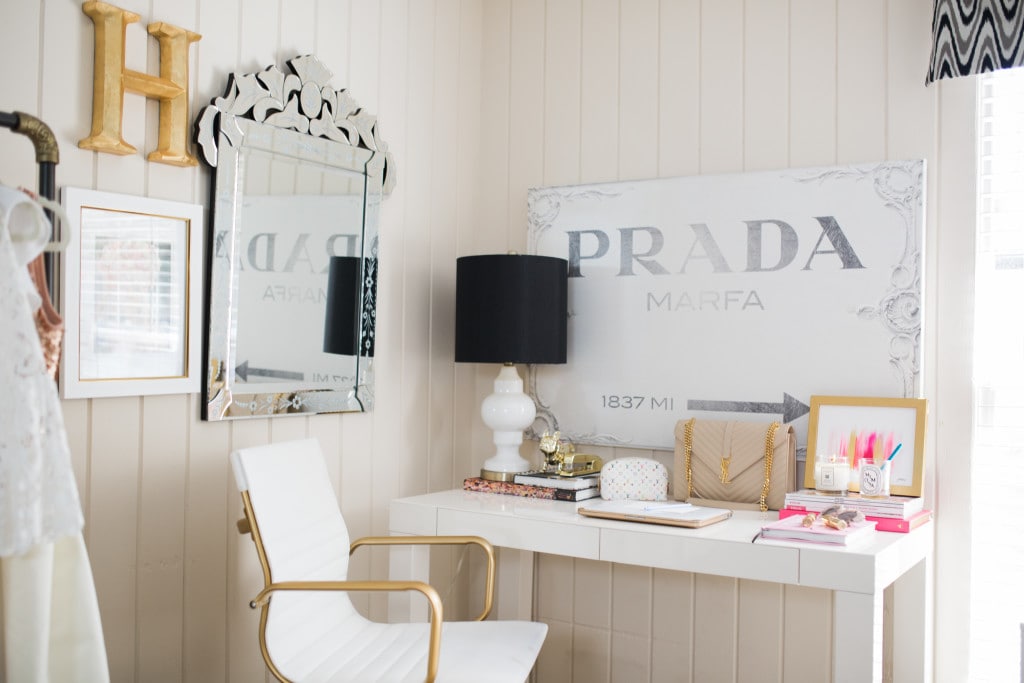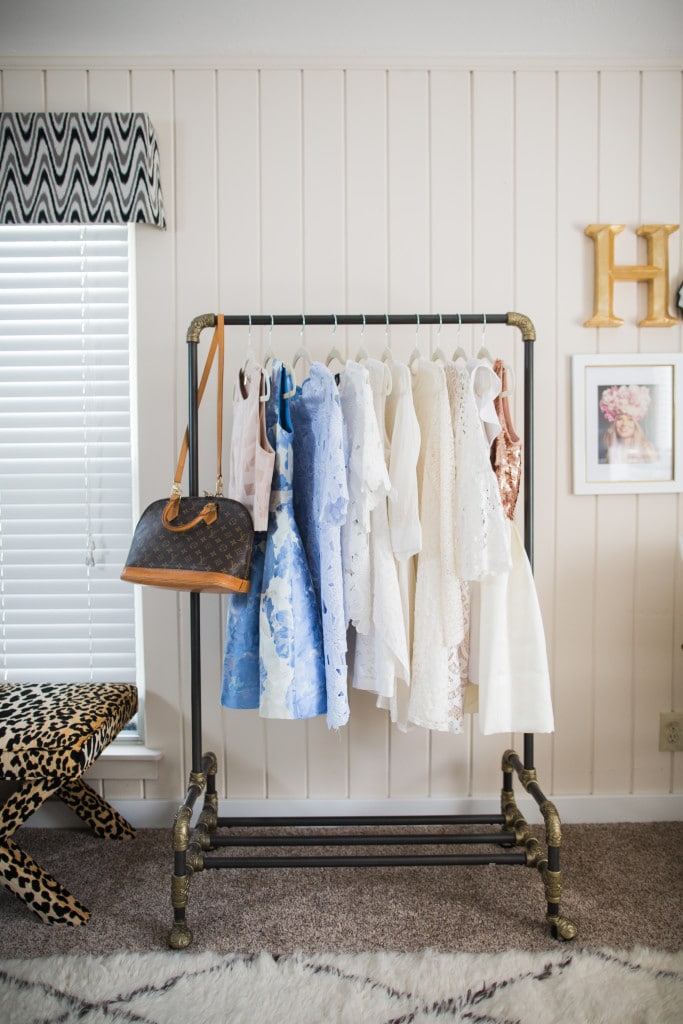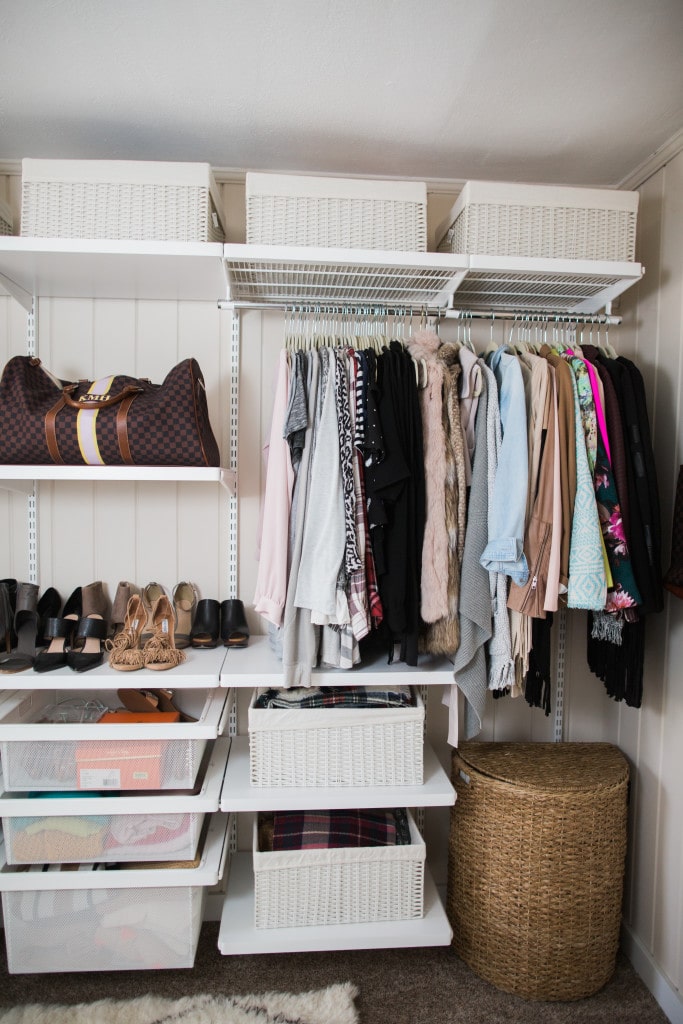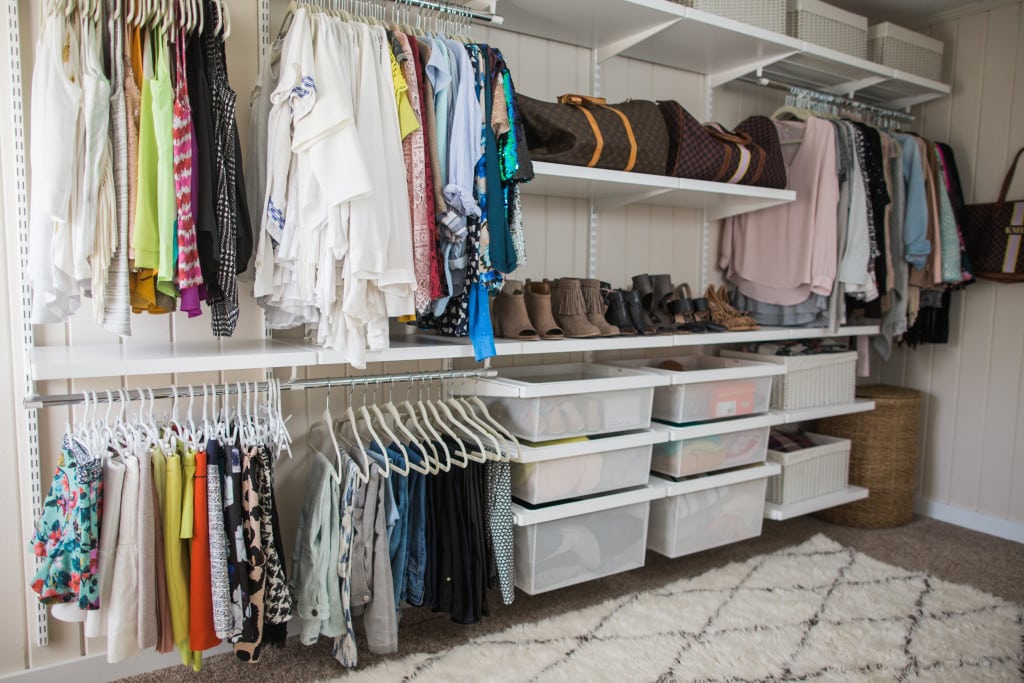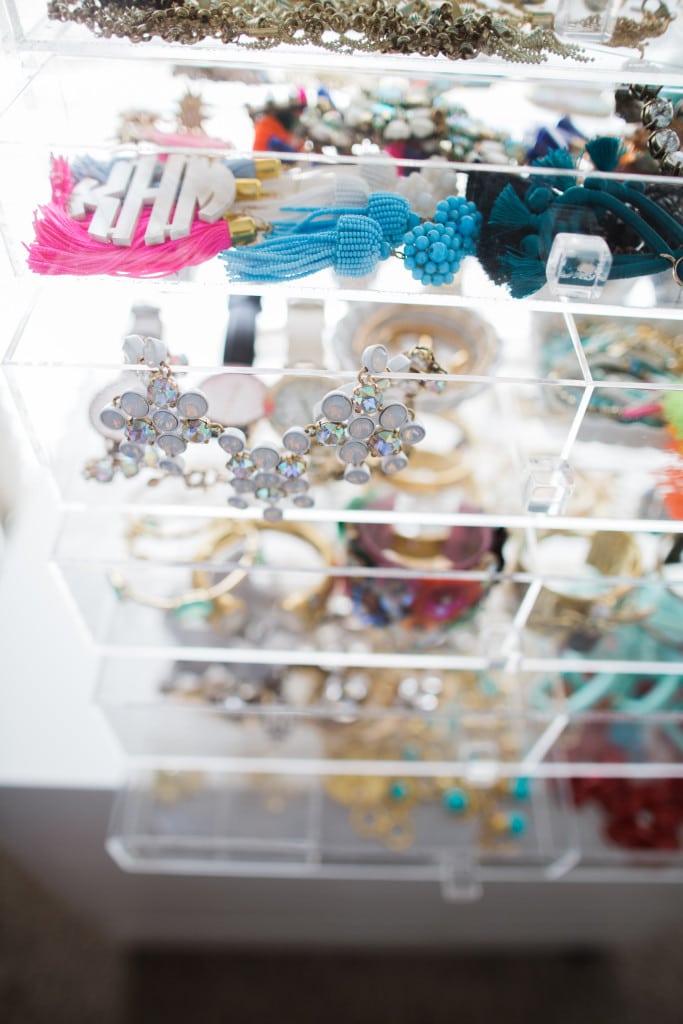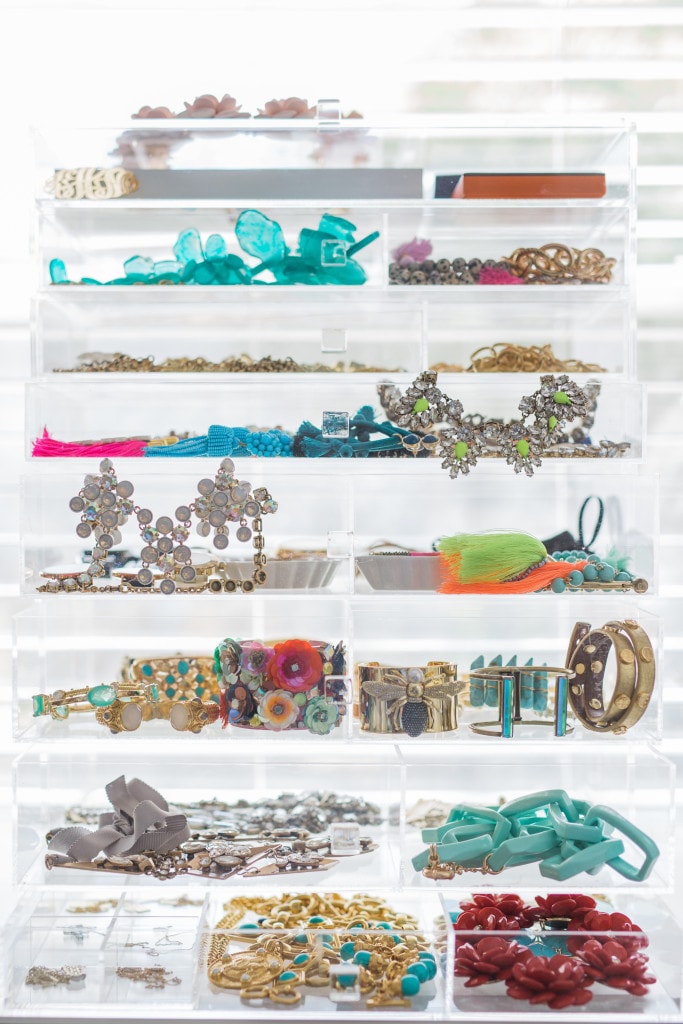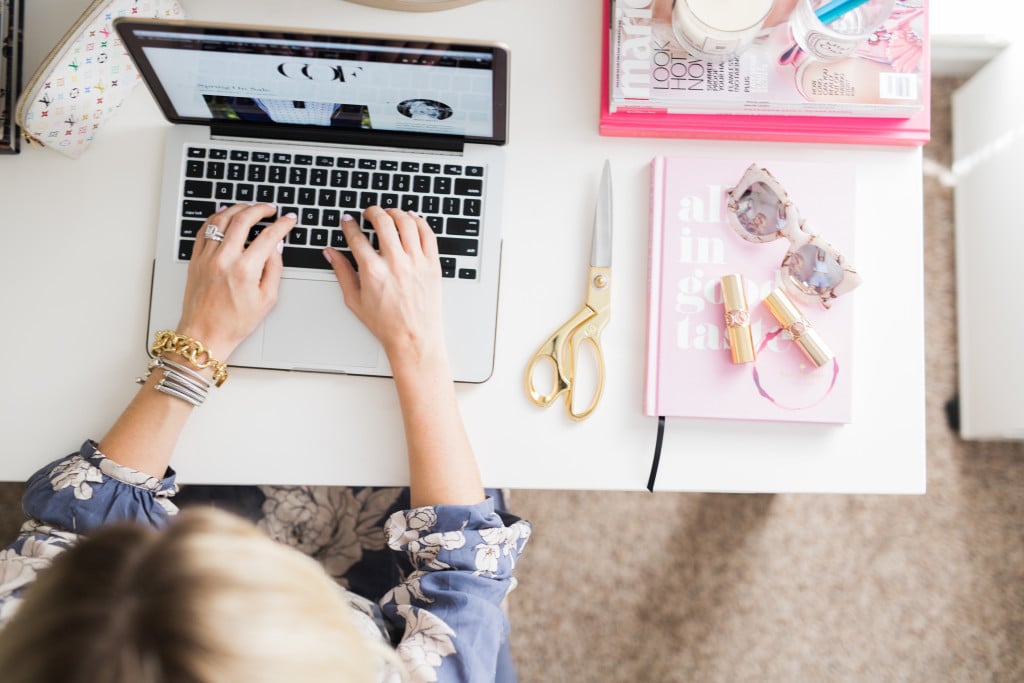 Photography by: Carmen Evans
Living Room:
Coffee Table: One Kings Lane [old], Similar, Similar, Similar | Art: Jenn Thatcher Art | Tulip Table: Overstock | TV Console: Pier 1 [old], Similar| Cacti Prints: The Aestate | Accent Chair: Kathy Kuo Home [c/o] | Chandelier: Pottery Barn Teen | Cow Print: Kirklands | Curtains: Pier 1 | Dorothy Draper Dresser: Similar | Peace Sign: Overstock | Couch Pillows: Blue: Maven, Leopard: Furbish Studio, Green: World Market | Nesting Tables: One Kings Lane | Black and White Jars: Jonathan Adler | Black and White Lamp: Jana Bek Designs [c/o] | Record Player: Urban Outfitters | Lip Print: The Aestate | Gallery Wall: Framebridge [c/o]


Kitchen:
Blue & White Checkered Pieces: Mackenzie Childs | Tea Kettle: Neiman Marcus | Canister: Neiman Marcus | Utensil Holder: Neiman Marcus


Bathroom:
Shower Curtain: Etsy [old] Similar | Leopard X Bench: livenUP Design | Makeup Organizer: GLAMboxes | Sunburst Mirror: At Home, Similar


Guest Bedroom:
Lucite Console: One Kings Lane  [old], Similar| Bed: Pier 1 | Nightstands: Pier 1 | Lamps: Hobby Lobby | Pillows: Little Design Co | Ottoman: One Kings Lane


Master Bedroom:
Bed: One Kings Lane | Other Pieces: One Kings Lane | Gallery Wall: Framebridge


Office:
Bookshelf: Pottery Barn Teen | Clothing Rack: Pottery Barn Teen | Desk: West Elm | Jewelry Organizer: GLAMboxes [c/o] |Shelving: Container Store | X Benches: livenUP Design | Sunglasses: Quay | Book: Kate Spade | YSL Lipsticks: #2 & #7 | Laptop Case: Etsy | Prada Sign: Similar | Chair: Rachel George [c/o]


---
I knew it was time for a spring home tour when we've had enough rain that our poor old home's foundation has to be checked AGAIN. #homeownerproblems
Usually I feel a little guilty constantly posting home decor! I'm not sure what it is, I mean I post outfits daily, but something about home decor makes me feel so ridiculous.
I just imagine people thinking, "Oh Katey, how riveting. You added a new couch pillow."
But at least I can poke fun at myself and the things I like to do?! I just get so excited about rearranging. I'm always evolving, so why shouldn't my home?!
But this time, there is no shame in my game. Inspired By This asked to feature my home and so I thought, "TO HOMEGOODS WE GO! TO HOMEGOODS WE GO!"
I was honored to be selected and this was such a fun shoot as I added in some spring color. You can see the feature and interview here!
The other reason I don't feel guilty about this shoot? The entire time we were shooting I was having a terrible allergic reaction to a medication. I ended up being severely allergic to an antibiotic I was taking and was in the ER all night with a 104 fever.
The whole time Carmen and I were shooting I kept thinking, "I've got such a bad headache. Maybe I'm hungry." I kept snacking and drinking coffee to try and curb it. Then when Paul got off work I told him I thought it was a migraine so I needed to get greasy pizza and a coke. I was so sick all night and every hour he kept asking to take me to the hospital. I would say, "Babe, I think it's a migraine. If I eat something in the morning I'll be fine." After my fever wouldn't break he took me. They wanted to do a spinal tap and he goes, "Seriously? You did a home tour during this and thought you were just hungry?"
I mean, yeah….?
All in all, thankfully it was just an allergic reaction and I'll never take that medicine again. But looking back it's [now] a funny story and I'll never forget the day we photographed this!
Thank you so much for reading and as always let me know if you have any questions!