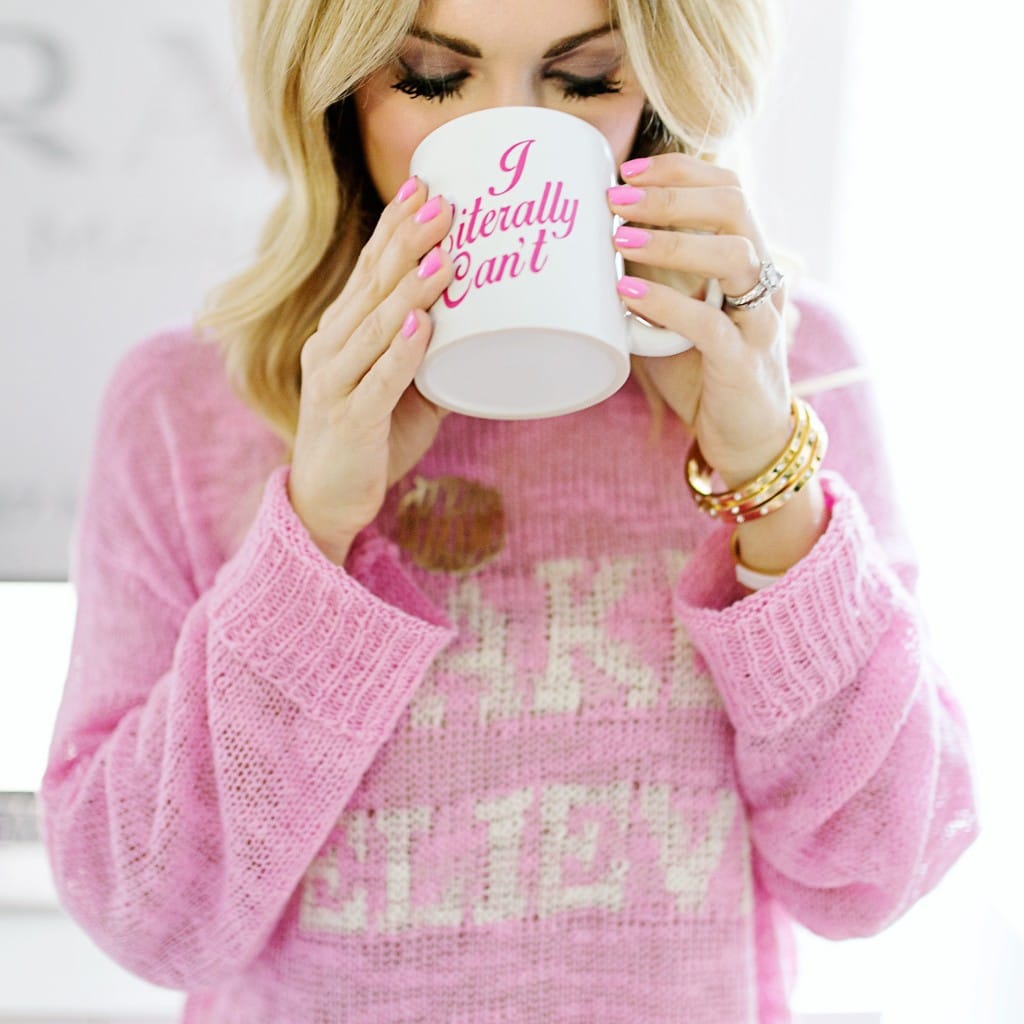 Pink Sweater: Wildfox [c/o] [wearing size small] | Bangles: Kate Spade | Eyeshadow: MAC | Mug: Francesca's
Photography by: Angie Garcia
---
Last week I did a fun little Snapchat Q&A during our stay in Rosemary Beach and after the Q&A I kept getting lots of comments and e-mails asking about who does my lashes! I've done a lash routine before, but I thought it couldn't hurt to do an updated one!
Let's get down to business, shall we?!
First things first, I have never had lash extensions. It's pretty common [even more so in Texas] to have them done, so I almost feel offensive saying that! I think they are beautiful, in fact every single time I see a girl flutter her lashes with a pair I'm almost tempted!
However, I just haven't gotten on board with the damage they can cause, so instead I've just created a ridiculous little routine to do at home! haha! I've used this routine on five different girlfriends that had damaged eyelashes from lash extensions and it gave them crazy, long lashes. I promised them to keep at the routine for 3 weeks and they would see a huge difference. It gets to a point that my hair stylist has to cut her eyelashes [don't ever do! haha] and I have to stop using the serum and base mascara for a few weeks at a time because my lashes get so long and thick. So if you don't think long lashes are in the cards for you without some falsies, I promise this routine works miracles!
First off, use a great serum to grow your lashes. I pinky promise by neuLASH. Working in this industry and constantly testing products, it is really difficult for me to go back to a product after I have used it all up. I'm always certain there is a dupe or another product that does the same. However, this is the best lash serum I've ever tried and I stockpile it at all times! You apply this like a liquid liner [it is clear!] on your lashes before bed, and in 3-4 weeks you are growing Rapunzel lashes. They also have this product for your hair. I've purchased it and tried it and I do have a little con. It makes your hair a bit sticky. You have to apply it every night on your scalp before bed and I always felt like it messed with the natural texture of my hair, however it saves my life after a haircut goes too short! I cut my hair about 2 months ago and took a few inches off. I loved it for a week, then missed it. I used this and within a month couldn't tell a difference. I just did want to tell you that your hair will feel like it has some product in it. If you wash your hair in the morning or restyle, you won't tell them! It won't grow your hair 18 inches in 6 months or anything crazy like that, but it is a pretty certain way to get a few more inches in a quicker manner than normal!

This step might be a bit high maintenance [but what good hair routine isn't?! 😉 ] but I find it absolutely necessary! I love to use a peptide-enhancing mascara as my base layer. Oh yeah, I said base layer. haha. Any good hair stylist will mix different levels in your hair for the perfect shade and a good makeup artists mixes foundations to find the perfect texture for your skin. Me? I mix mascaras. I got hooked on this mascara by my friend who is a beauty manager, and she told me if she quit her job tomorrow this is the only product she would miss. A girl who has access to all the La Mer in the world and she chose a mascara?! But I just want to preface by saying this is silly for a mascara in terms of price, but I only purchase twice a year [my birthday and Christmas] and it gets me through the year! The Chantecaille Faux Cils Longest Lash Mascara has a peptide technology that infuses your lashes and allows them to grow longer. So while you sleep your lashes get the serum and during the day your lashes get this! I only apply one coat of this because not only is it great for your lashes in terms of growth, it also is an amazing base mascara. My lashes are long, volumized and separated in one swipe so it is completely worth it. However, I know that is so silly and we all have our "things" we will spend money on. If mascara isn't it for you, no big deal! Here is a dupe by Neulash for $32. And if you think the serum is enough, I love this mascara for a base builder. My mom purchased it a few months back and it has since been stolen from her makeup bag! #maybeImguilty #maybeImnot

The key I think in layering mascaras without getting a clumpy look is to do thin layers of different mascaras. You're getting the same amount of product, but each wand separates a little bit better and each formula works a little bit differently. Next, I add in the volume! My two choices for this step are Urban Decay Perversion or Chanel Le Volume Mascara. I will be honest and say my favorite of the two is definitely the Chanel, but there is a $10 price difference and when applying I don't see that big of a difference. I just think the Chanel gives a bit more volume. Not enough to truly notice if you are layering!

Lastly, you need a third layer that will separate all the layers and keep your lashes clump free! I have used this one for years and I never deviate! I love the bareMinerals Lash Domination Mascara for this step! It's a pretty good price at $19 and has separated messy, lashes before in times that I was in a rush or not applying very well!

After a long day of meetings, running around and a few layers of lipstick in between meals, you take all your makeup off! However, my makeup will fade by the end of the day but my lashes don't. If I'm not careful I won't remove all traces and then I'm left with little clumps for the next day and that's never cute! My favorite makeup remover that is gentle, but gets every last bit is the Clinique Take The Day Off. I started with the cleansing balm and have also tried the simple remover. I think my personal favorite is the balm, but they just came out with wipes too! I keep wipes in my nightstand for nights that I don't feel well or am exhausted so I have no excuse to sleep in lipstick!

So if lashes aren't your thing, maybe my routine is a bit much! But if you love lashes as much as me, I can't explain enough about how well this routine works. And being a blogger I don't like to go overboard about products that work because:
A. That sounds incredibly advertised and this post isn't
B. I know products work differently for different girls
However, I've used this routine for years and everyone thinks I'm wearing falsies daily! So I'm pretty committed to it! haha. And it has helped one too many a girlfriends cry after a bad lash extension experience! So if you are in that boat, I truly hope that a few of these products help you and you can have that look naturally, with a little help here and there! 😉
Let me know if you have any questions about the products! Thank you so much for stopping by!