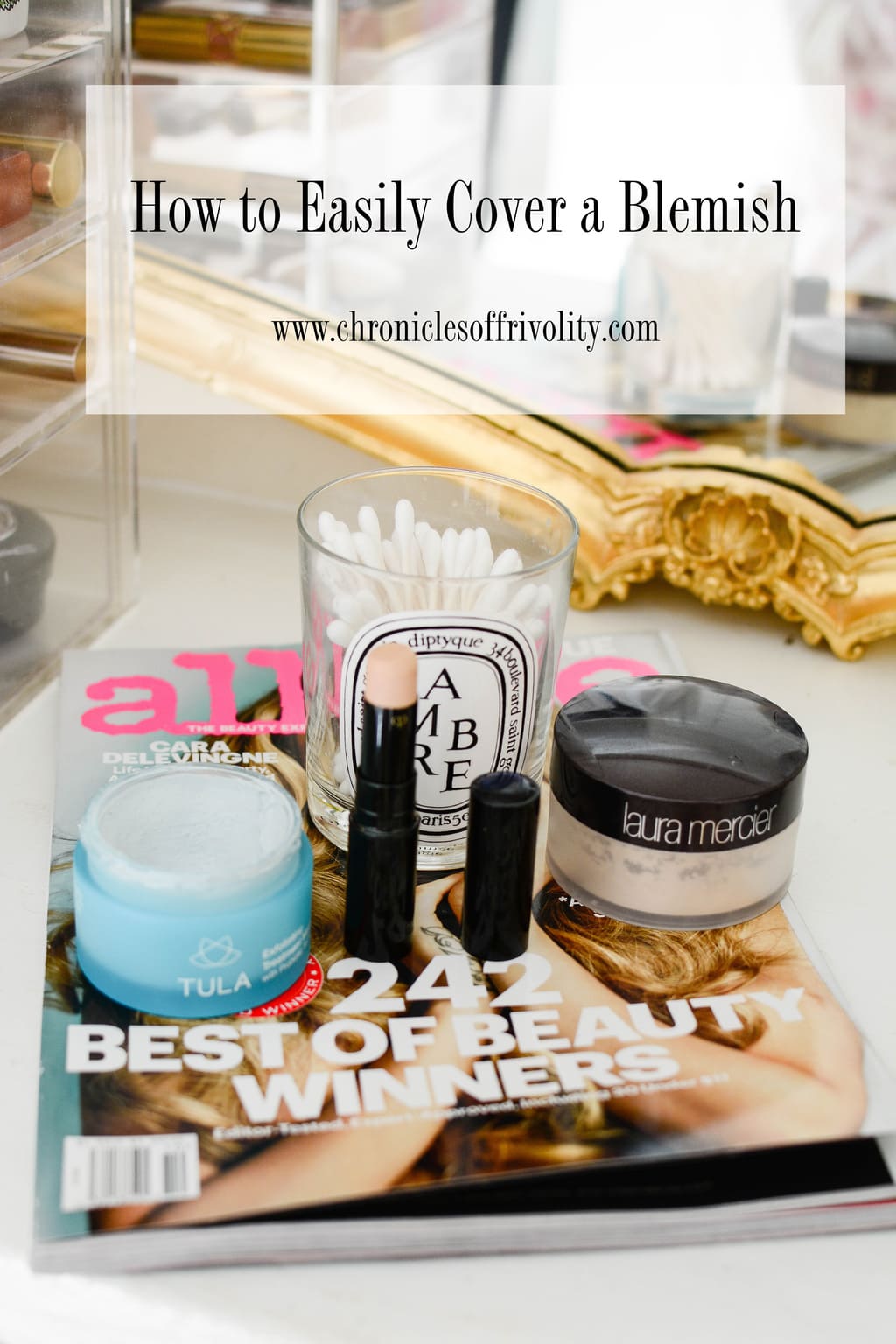 Exfoliating Treatment: TULA [c/o] | Ambre Jar: Diptyque | Concealer: Clé de Peau Beauté | Loose Powder: Laura Mercier [c/o] | Concealer Brush: Laura Mercier [c/o] | Setting Brush: Sigma
---
Blemishes. From time to time, we all get them! Maybe yours are driven by stress or if you're like me, hormones. I think we all know how to cover the redness of them, but texture is a whole different story.
Over the past few months I've found this trick to be so helpful! It covers the texture, it covers the redness and most importantly, it heals it my blemish while I'm wearing makeup!
Step 1: Cleanse
Start with a clean face [I use my TULA Cleanser in the morning] and then after moisturizer, apply your foundation. If you would like to use a primer, I love this one by YSL as it evens out texture as well!
Step 2: Treatment
This step may seem odd, but wipe off any foundation with a q-tip and remover on your blemish, or while your applying your foundation just make sure to skip it. Then take another q-tip and lightly dip it in the TULA Exfoliating Treatment. This is a mask that balances your skin and I am obsessed with it. When people ask what to buy first with TULA I always say this or the face wash!
Step 3: Dry
Let the treatment dry which takes about 2 minutes. Make sure it's just a thin layer, so that you really don't even see it on your skin except for the color on the blemish.
Step 4: Conceal
I dip my Laura Mercier Concealer Brush into my Clé de Peau Beauté Concealer. I use the shade Ivory. This stuff doesn't budge and covers anything it needs to. I first purchased it when I was in college and I have yet to buy another concealer to cover blemishes! Once the concealer has been applied take a Sigma F40 [which is actually a contour brush but I love it for setting] and lightly dust it into Laura Mercier Translucent Powder to set the concealer. Finish applying the rest of your makeup.
Step 5: Set and Color
Once you have finished applying your makeup, set it with Urban Decay All-Nighter Setting Spray. This is like hair spray for your face but without the stickiness! I also apply a liquid lipstick. My mom always used to say, "If you're insecure about a blemish, just draw your attention away from it with some color on your lips!" I love this trick and use Stila Baci for it!
This works so well that after a day or two my blemish is gone because the exfoliating treatment is able to work all day! 🙂 Do you have any tricks for covering blemishes?!