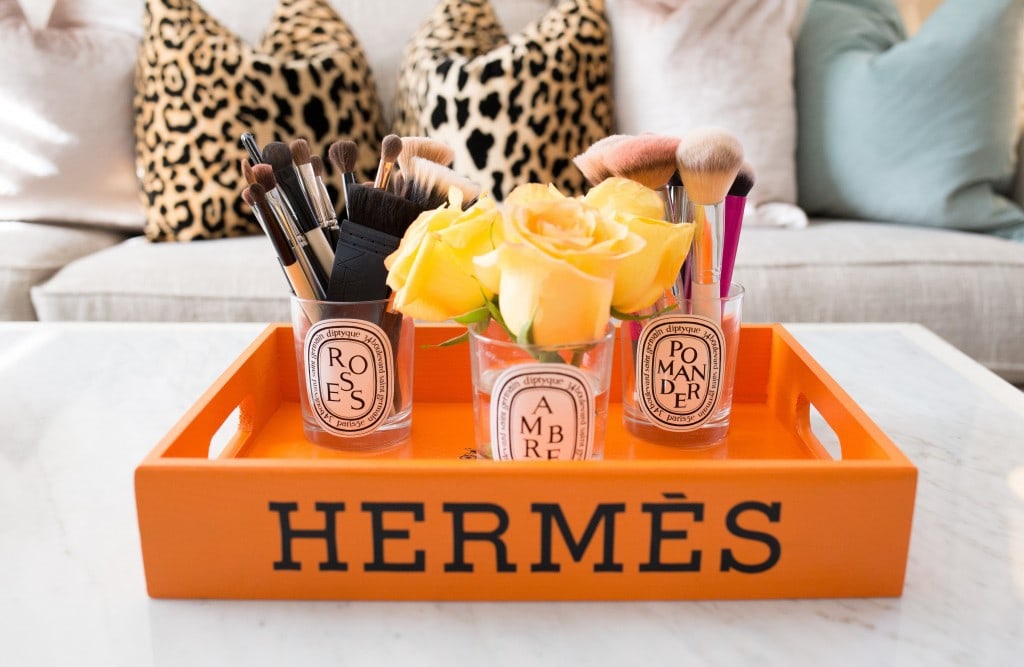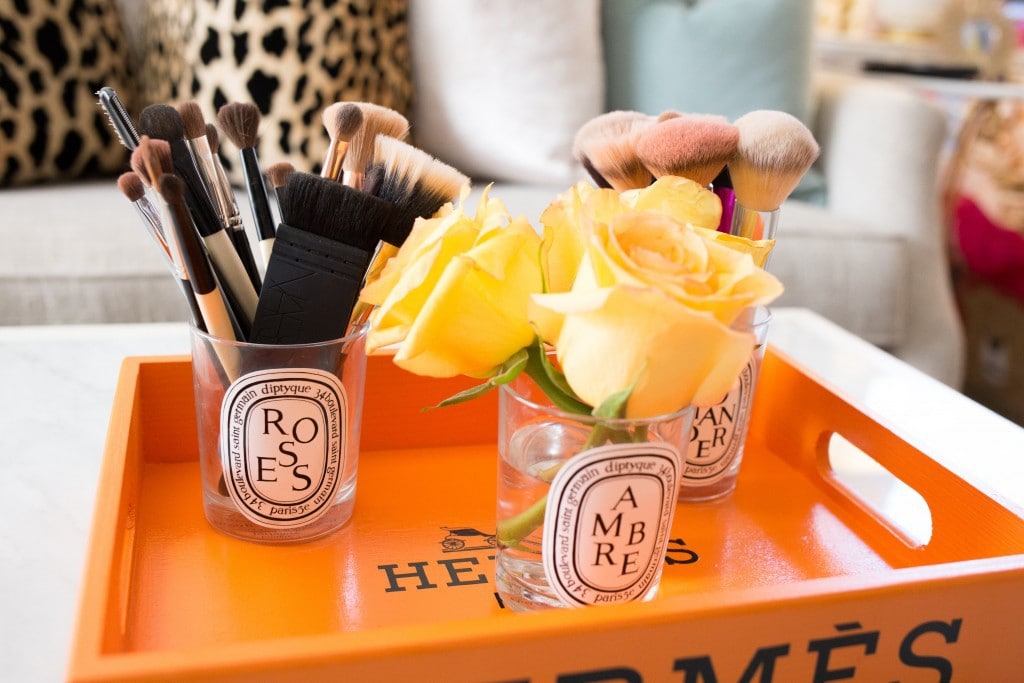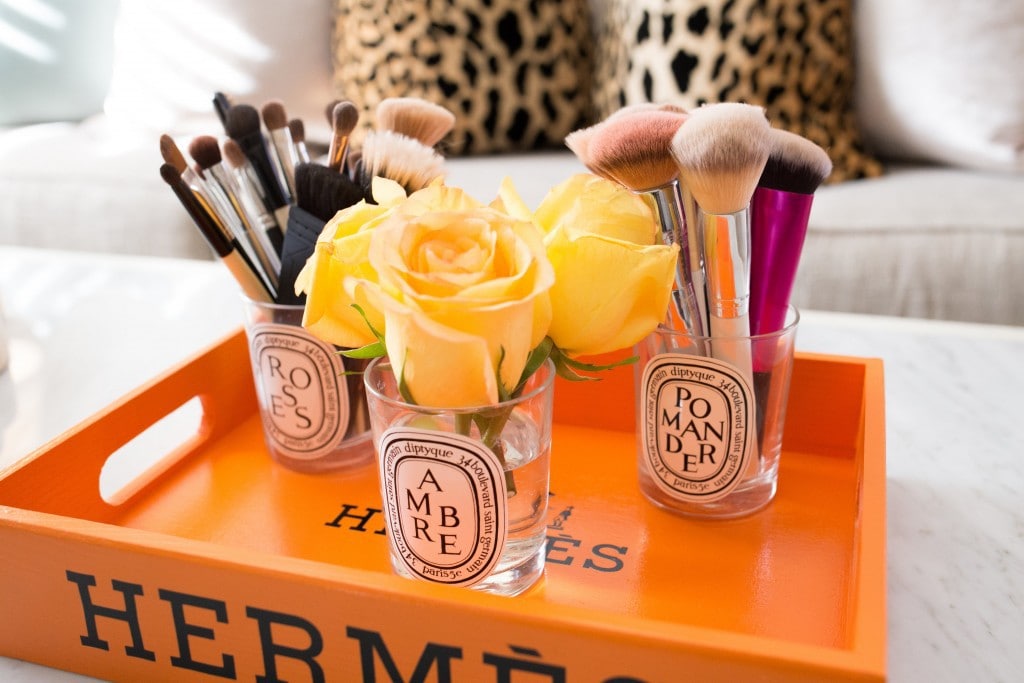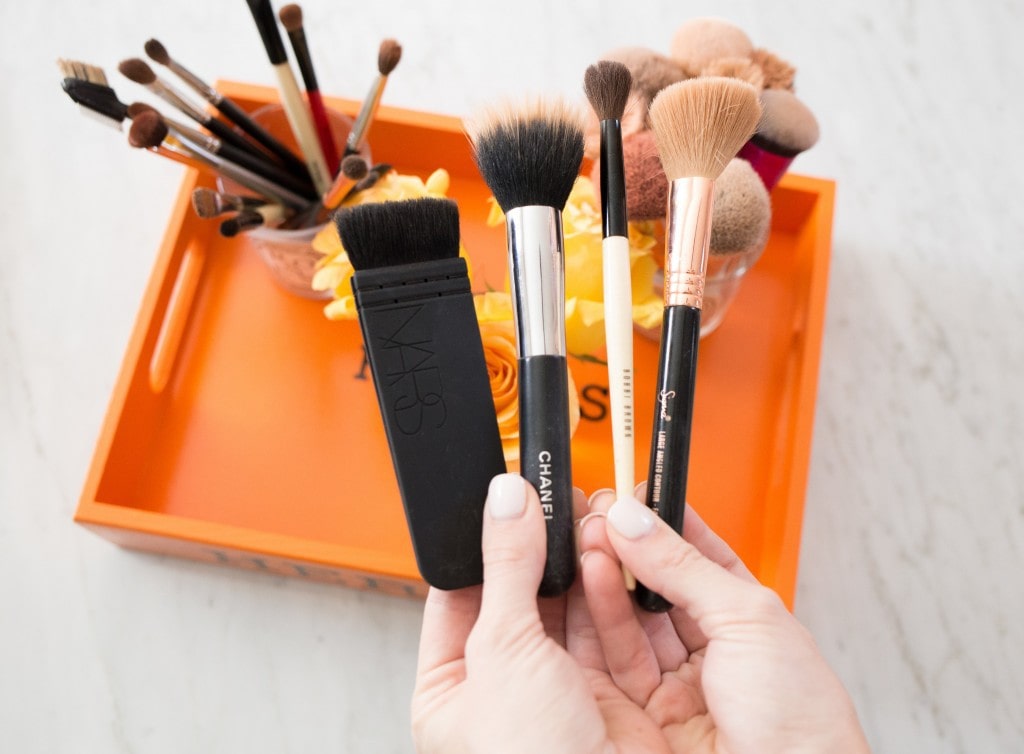 Orange Tray: Etsy | Glass Jars: Roses, Ambre, Pomander | Nars Brush, Chanel Brush, Bobbi Brown Brush, Sigma Brush | Coffee Table: Custom, Similar, Love this Too!
Photography by: Madison Katlin
---
 Although necessary makeup brushes just aren't as exciting to talk about or purchase. I'm always 100% convinced a new $20 tube of lipstick is going to change my life, but makeup brushes? Not so much.
However, when you find the right ones that blend your makeup perfectly they can in fact be far more impactful than the similar tube of lipstick I already have 12 shades of. 😉
Here's a roundup of my favorites that I've kept on hand for years and always dutifully clean and go back to time and time again!
Foundation
I'll start by saying I'm very pro beautyblender for foundation. I always dampen it, press out excess water and it blends my makeup in without making it feel like it is just sitting on top of my face. However, some girls prefer foundation brushes and if that is you, I love this one by Sigma! I've also had this one for awhile and I find I like to use it with lighter foundations as a beautyblender really thins out my foundation. So if I'm using a BB Cream or something lighter in the summer I grab my Sigma F80. I don't use a concealer brush for under eyes, as I use my beautyblender for that. But if I want to cover a blemish or smooth up my lipliner with concealer on the edges I use the Laura Mercier Camoflauge Powder brush. Lastly, I like to use a translucent powder to set my under eye area and forehead as I find it helps combat oil throughout the day and makes my makeup blend better. Blush or highlight can catch in areas on my foundation if I don't use a light dust of translucent powder and to make sure I apply it evenly and lightly I use this Chanel Foundation/Powder brush! I love that it is a stippling brush that is also meant for blending because if you use too much powder it settles in fine lines and can make skin look dull.
Foundation: beautyblender, Sigma
Concealer: Laura Mercier
Powder: Chanel

Contour/Blush/Highlight
Recently, I picked up this Nars Kabuki brush for contouring and I had put it off for years because I didn't know if it was worth it. Verdict? It's a game changer! It's meant for targeted contouring so you can get your lines even, but I love that you can flip the bristles horizontally and it blends in your application really well. For Blush I actually use a buffing brush from Ulta as I find it picks up pigment better so you're using less product than a traditional blush brush. It also is the perfect size for the apples of your cheeks! For highlight I use this highlight and blending brush from Ulta as well!
Contour: Nars
Blush: Ulta
Highlight: Ulta

Eyes
For the base of my eyeshadow or all-over color I love to use a MAC 213 brush. For my crease color I will use a MAC 217 brush. I actually have 2 of these for different crease colors because I use it so frequently! For all over blending on the eyes I use a MAC 286. The MAC 286 is the one brush I always have to have when doing an eye look because it softly blends all my colors together due to the duo fibers which makes sure that I don't have any harsh lines. Another blending brush I love is the Sigma E25. This doesn't have any stippling to it like the MAC option, so I like this when I'm doing a heavier eye look! Lastly, the Bobbi Brown Eye Blender is my other favorite eye brush! I first purchased this years ago [I want to say I was a freshman in college?!] and I thought the brush length was so long and awkward. I had no idea what it did. This is my "goof-proof" brush as it fixes any mistakes I make without having to start over. If I apply too much, can't get something blended out or the color is too far up my lid, a few swipes of this brush blends it out in the most beautiful manner. I actually packed this brush in my hospital bag for makeup if I apply it a few days after delivery because I knew I could do my makeup without a mirror as long as I had this brush! haha.  For gel or pencil liner and blending I use a Lancôme 18 Brush!
Eyes: MAC 213, MAC 217, MAC 286, Sigma E25, Bobbi Brown Eye Blender
Liner: Lancôme 18

Extras
I like to keep two extra face blending brushes just to make sure my contour is all blended in and I don't have any extra produce on my jawline! I love the Sigma F40 to blend in my contour or jawline. This is perfect for also blending your makeup down your neck so that it matches if you don't tan your face. The Sigma F50 is also great for all over blending and I actually use this brush for when I use self tanner on my face and I want to make sure it's blended all over. Lastly, I use the SigMagic Brush Shampoo to watch my brushes! I make sure to do this once a month. Not only does my makeup apply 100x better but it also prevents blemishes by making sure I don't keep re-spreading the same bacteria over my face.  This brush shampoo is a newer product on the market and I think the reason I love it so much is because it makes cleaning go by so much quicker! I dread cleaning my makeup brushes. Standing over the sink for a good 30 minutes washing off leftover foundation? No thank you, I'd rather eat Oreos and watch Netflix. But it's a necessity we all have to do and this shampoo cuts my wash time in half because it easily breaks down the makeup, while conditioning your brushes so they last longer. I used to use olive oil and dawn soap and sometimes I'd get the ratio wrong and my brushes would be too dry or too moisturized and this cuts the guess work out of it.
Blending: Sigma F40, Sigma F50
Brush Cleaner: Sigma

Do you have any makeup brushes on your vanity you can't live without?!