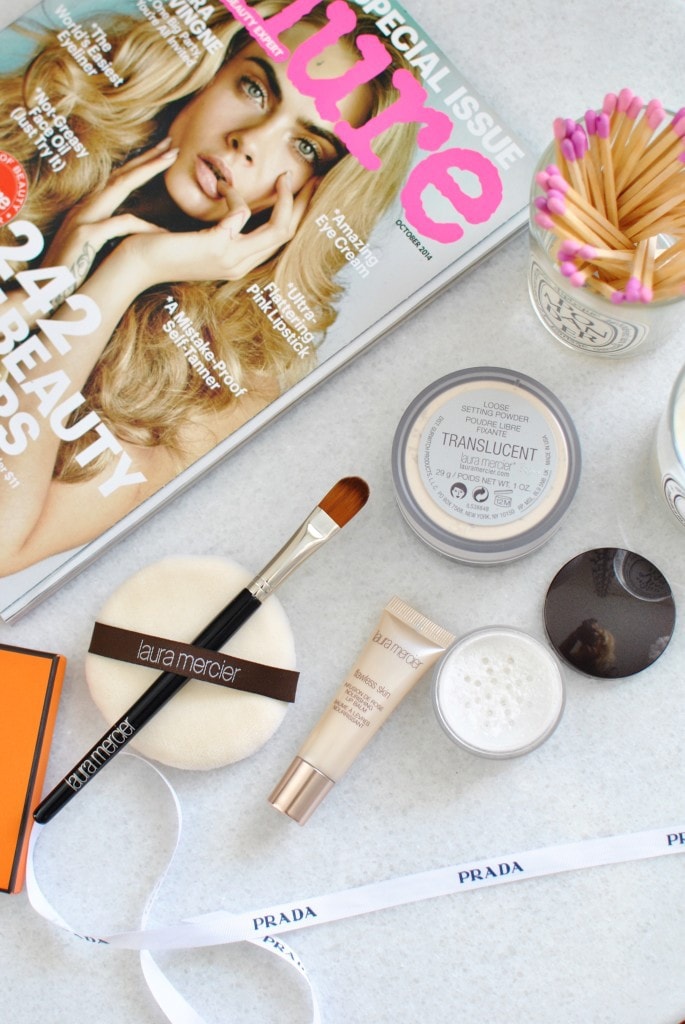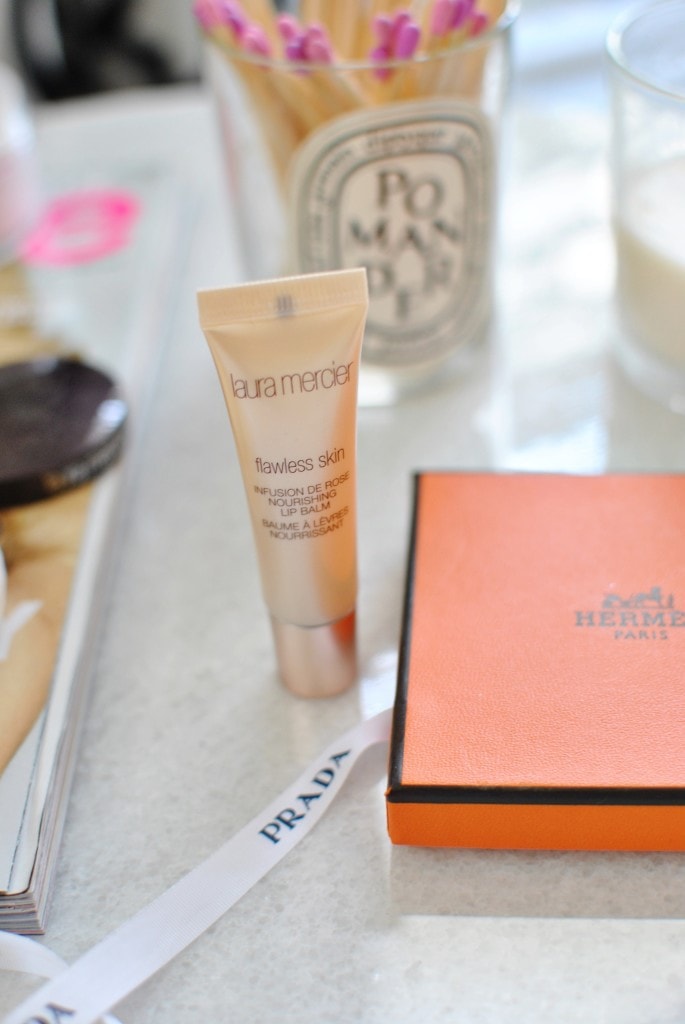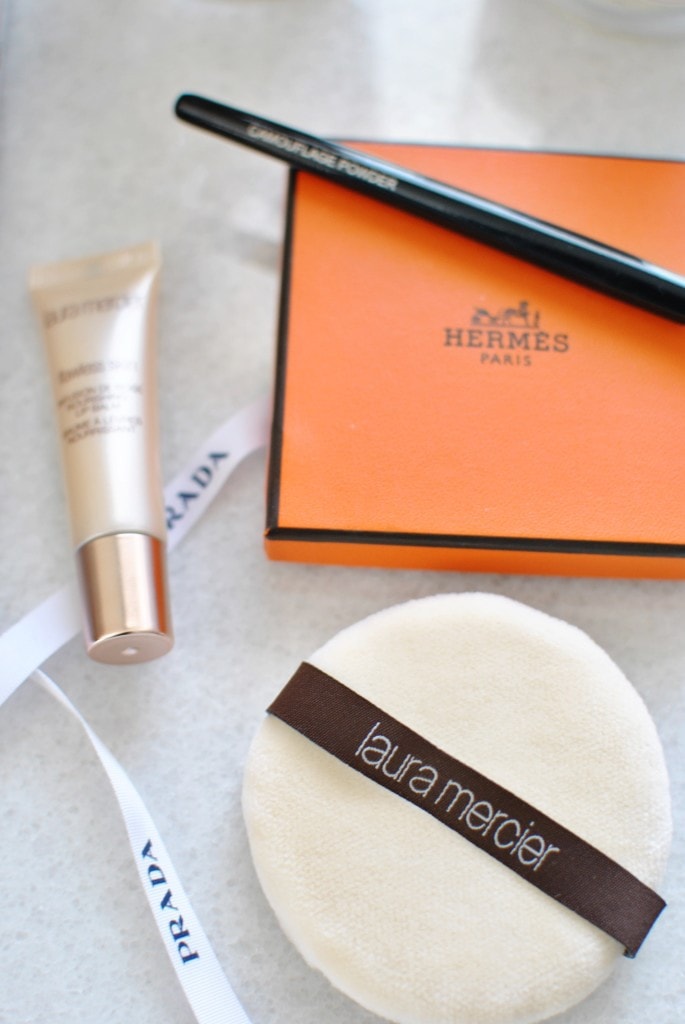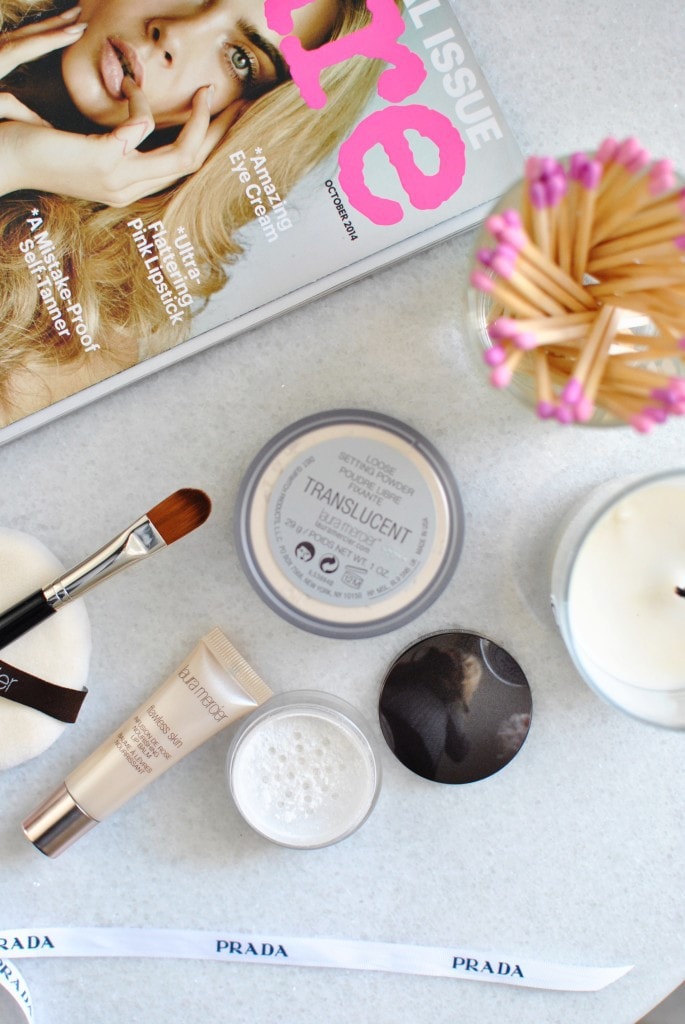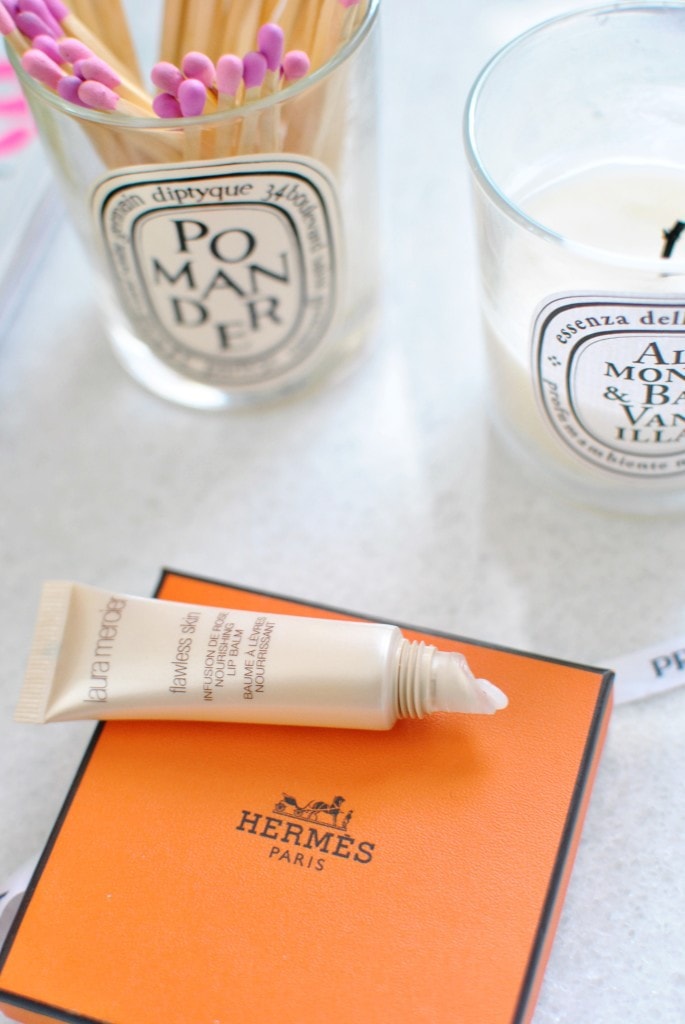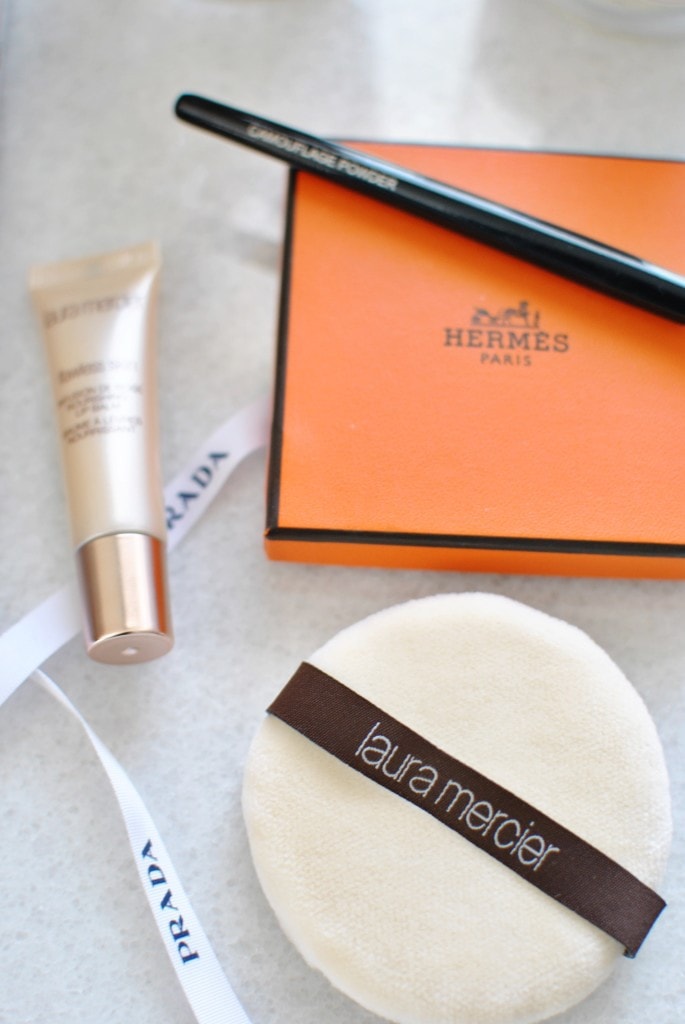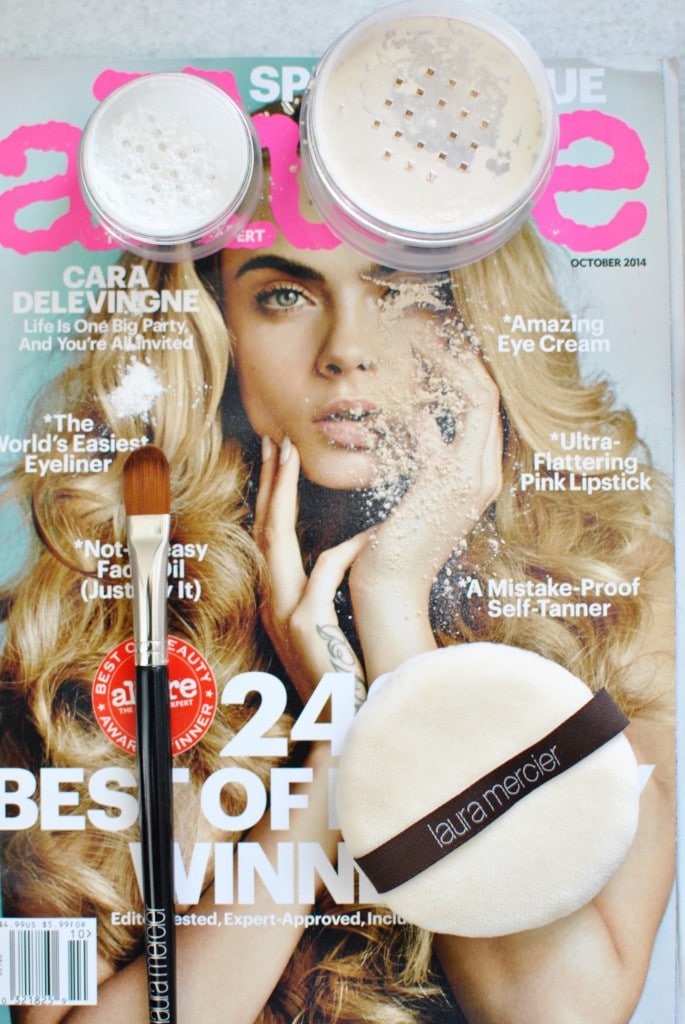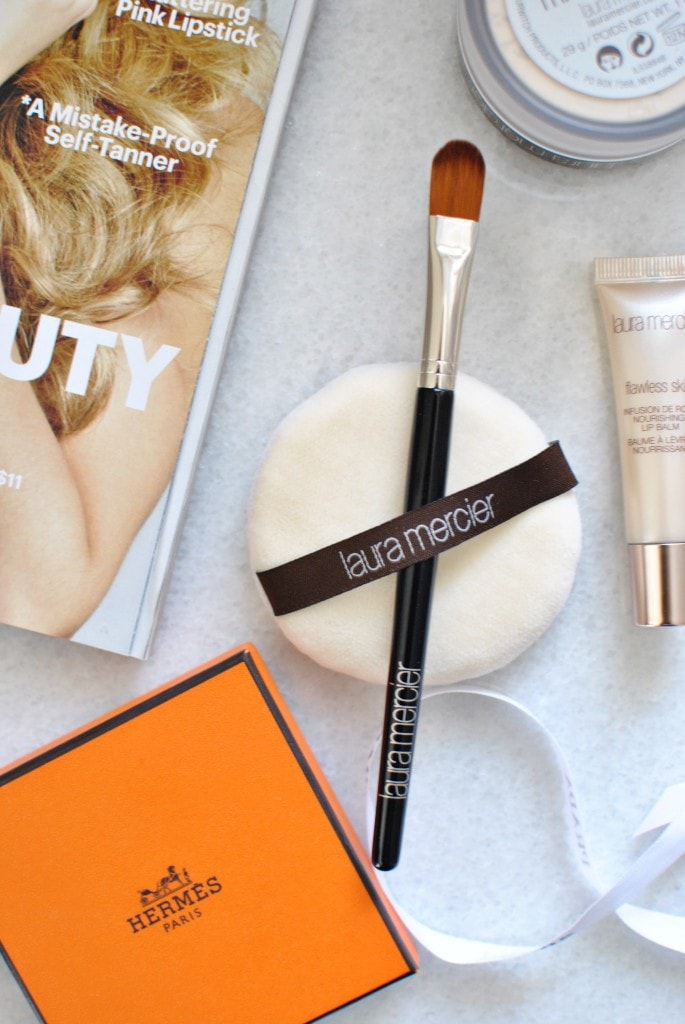 Laura Mercier Camouflage Brush: Laura Mercier [c/o] | Laura Mercier Secret Brightening Powder: Laura Mercier [c/o] | Laura Mercier Translucent Powder: Laura Mercier [c/o] | Laura Mercier Flawless Skin Lip Balm: Laura Mercier  [c/o] | Velour Puff: Laura Mercier [c/o] | Pomander Candle: Nordstrom
Right now I see that the balm is only in the kit, I'm going to check with LM and see if there is a way you can purchase separately! 🙂
---
My favorite thing about any group of girls is how much their style varies based on their preferences. I have girlfriends who never wear makeup and I have girlfriends who don't leave their house without a full smokey eye and lashes. Something about the individuality of their hair and makeup staples screams confidence, no matter what they are partial to!
But no matter what desired look a girl is drawn to, I think we all have essential wants in terms of our beauty routine. Long lashes, full lips and bright eyes. Who the heck doesn't want that?! Whether you love the no makeup makeup look, or you could be a Youtube beauty guru, these are typically all things we want our products to enhance.
And guess what girlfrand?! I found a few Laura Mercier pieces that assist in achieving those essential wants! I've shared my love for her products in lots of past posts [here, here and here] because I think the brand truly embodies what "every girl" wants in her makeup routine. No matter the intensity of her preferences [a light pink lip vs. a 24-hour-matte pink lip] every girl just wants a great product that will enhance her natural beauty that allows her to add in her own taste.
Let me start this post by saying, I'm not a lip balm person. Never have been. Of course I'm a sucker for a 99 cent cherry chapstick if I'm bored at the drug store, but I'd much rather tote around 47 lip glosses #yaknowwhatImsayin?! I'm also not much of a powder person. I mean I need it. My T-Zone will rat me out for that. But when I'm strolling the aisles of Sephora I'm not exactly testing out powder swatches on my wrists.
So the fact that these products are now holy grail in my opinion says a lot. Let's review.
Laura Mercier Infusion de Rose Nourishing Lip Balm
This is a lip balm made with a blend of Rosehip, Kukui and Macadamia Seed Oils. Meaning: it smells like a dream and will completely transform your lips. You apply it after you wash your face before bed and then in the morning before you do your makeup. Testing this product I was a little uninterested because I don't get extremely dry lips and wasn't sure I'd truly see a difference. After wearing it for a solid week I have to say it isn't fair to call this product a lip balm. Yes, it nourishes your lips and even if they are cracked it will heal overnight. This little tube is a lip transformer. You wake up with lips that look incredibly full, plump and silky. If you work in an environment where lipstick isn't realistic this would also be really great, because the oil looks more like a gloss than a balm. I never felt like lip balms enhanced natural beauty, I just thought it was more like layering wax on top of lips. But this oil truly enhances the shape and texture of your lips while richly smoothing them out.
Translucent Loose Setting Powder
This loose setting powder is a cult favorite in the beauty world! This is actually my third tub of it and one of the only powders I can get away with using on my cheeks. I typically have to use a loose setting powder before I contour. My skin absorbs product really easily even though I'm not oily. So my contour can "catch" on my cheek bones and be difficult to blend out. I use this loose setting powder to lightly dust on with the Velour Puff and press into my cheeks in a rolling motion. It sets my makeup without looking cakey and allows me to blend my highlight and contour more easily. But I think the reason most people love this product so much is because it gives your skin a "cashmere" texture. Your skin will literally look like a $800 sweater after dusting this powder stuff on lightly!
This product is probably the one I'm most excited about finding! For the past oh I don't know, 15 years [kidding, more like 15 months], I've been trying to find a product that would really highlight the under area of my eye. I've always been in awe of girls who have mastered the under eye glow and how to draw attention to that area giving them a doe-eyed affect. On snapchat you've probably seen me test out a bunch of products, but it can be difficult to find the right one that also sets your concealer so your mascara isn't laying spider eggs underneath your eyes. After using concealer dip the Camouflage Powder Brush into the Secret Brightening Powder and tap it in parallel to your eye! This keeps concealer set, mascara off skin and brightens up your entire look!
So no matter what look you'd rather pull off: Carrie Underwood smokey eyes or an Emma Watson clean face, I think these three products can easily be added to your makeup arsenal and help you achieve either look! Let me know if you have tried any and what your favorites are!

Brought to you by Laura Mercier. All opinions are my own.