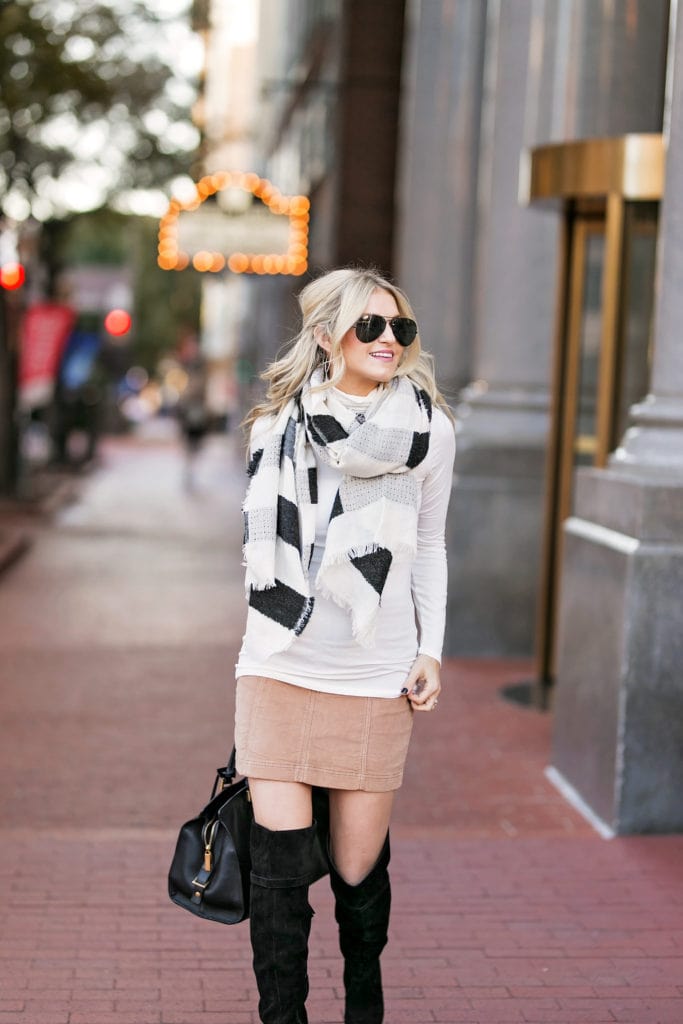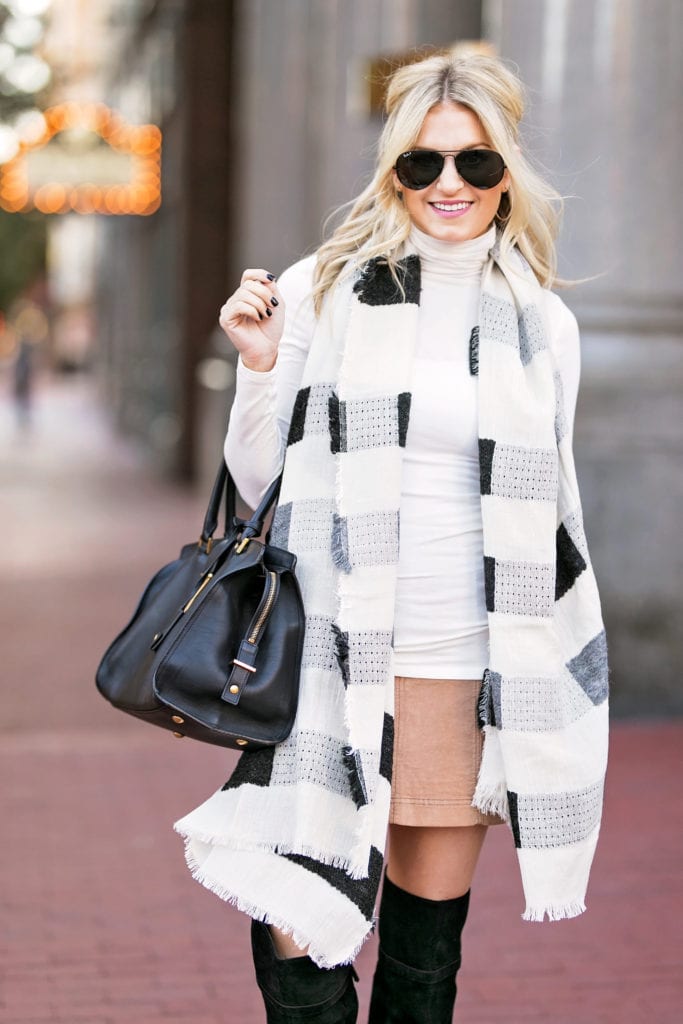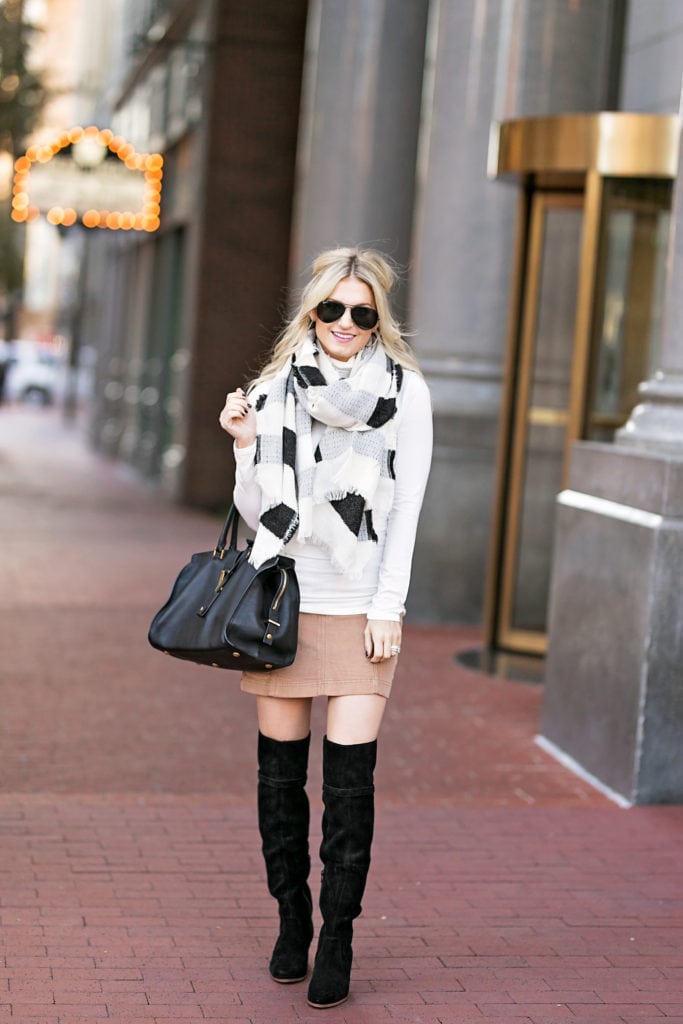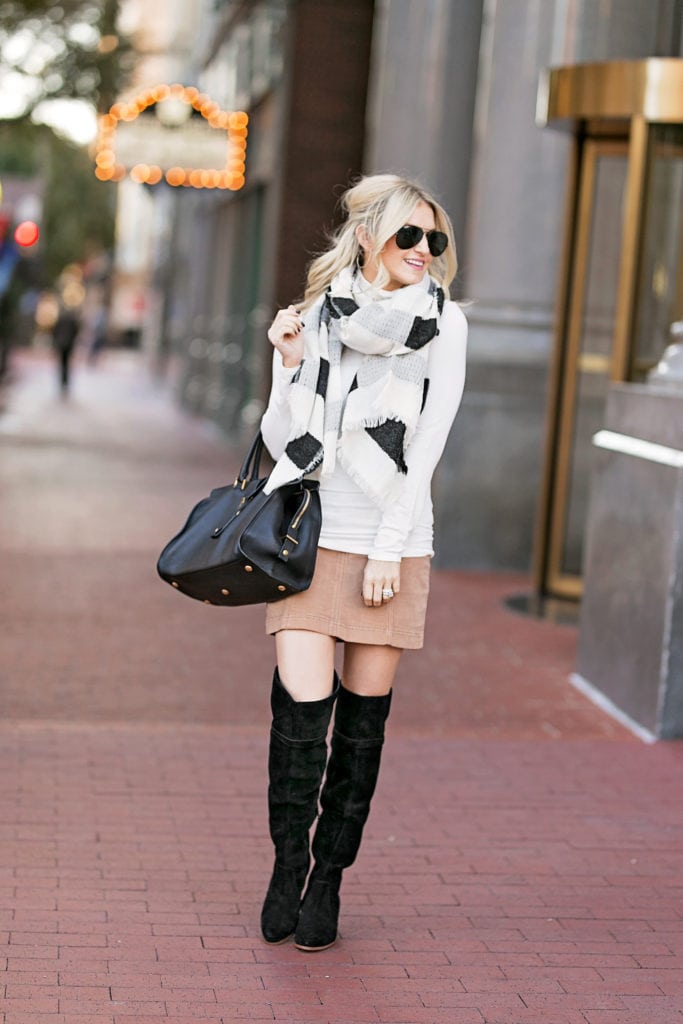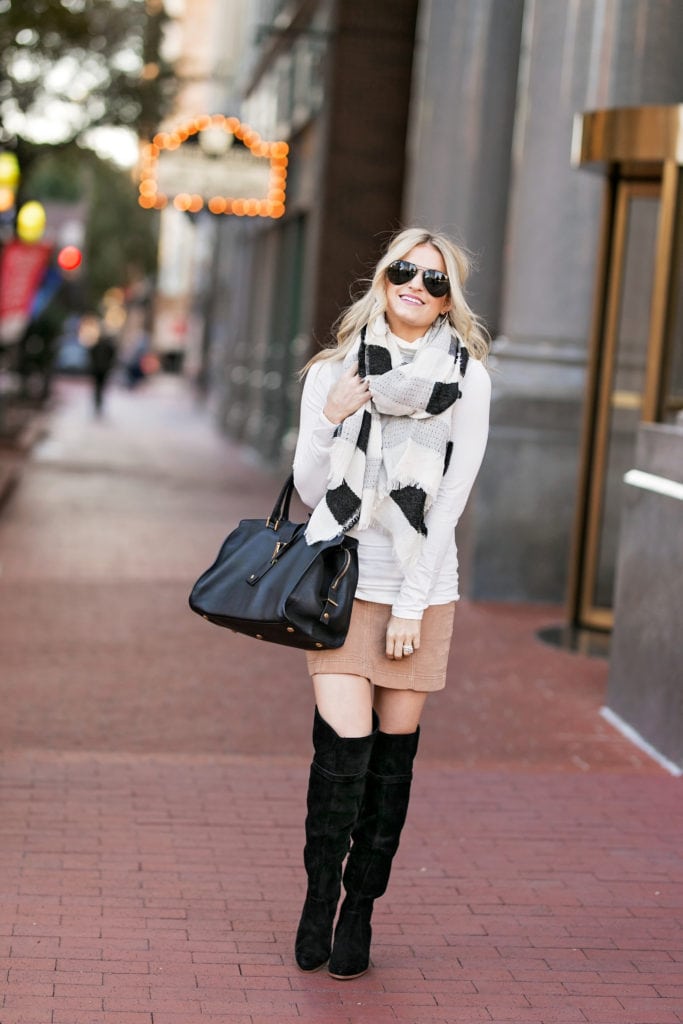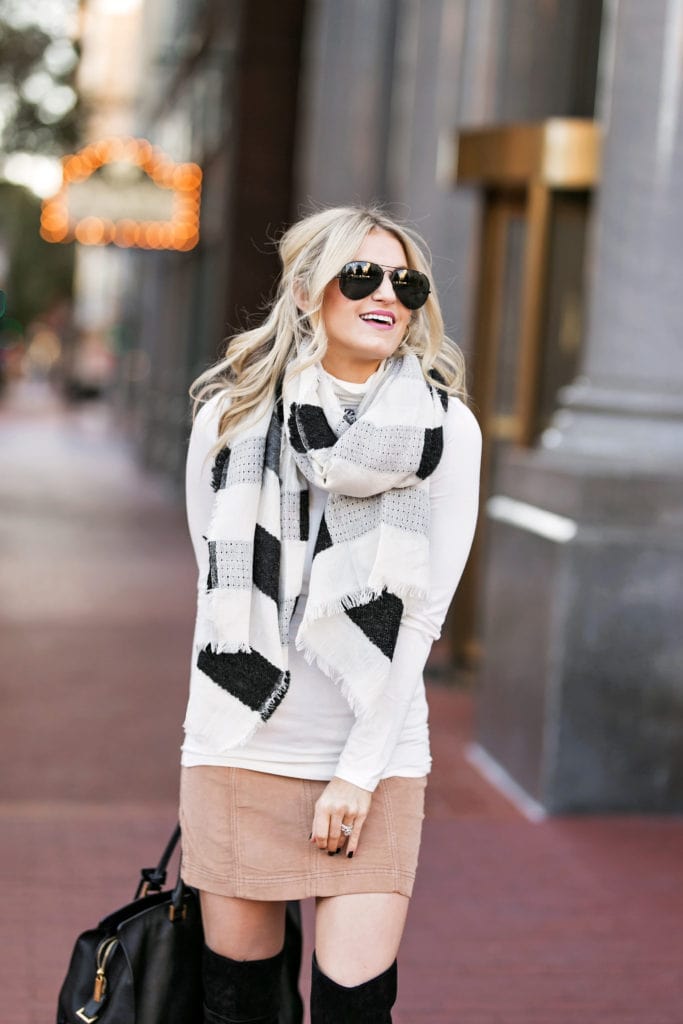 Scarf: Sole Society [c/o] | Turtleneck: Halogen [runs small, wearing my normal size, but note it is fitted] | Skirt: Free People [runs TTS, I got my *normal* dress size in this skirt!] | Shoes: Sole Society | Bag: YSL, Similar | Sunglasses: Ray Ban | Earrings: Moon & Lola
Photography by: Angie Garcia
---
*Normally* I am overly eager to start prepping for Christmas right after Halloween. While I love Thanksgiving, I always grew up having a tree up on Thanksgiving. Now as an adult, Thanksgiving [and the weeks leading up to it] are usually some of the busiest work weeks for both Paul and I. After Thanksgiving, we like to just relax as he gets a few days off and enjoy our family time with no to-do list. To make that holiday week easier, I like to get everything done ahead of time in the early weeks of November.  But this year, it's a little different. With boxes everywhere and 90% of our furniture either not delivered or not ordered, I've put out my fall decor because it's the only thing we've got! And truthfully, I quite like it!
Yesterday I actually tested out a few new Thanksgiving recipes and so we ate a hodgepodge of side dishes and pie for dinner. Paul was not complaining because the previous night I made butternut squash noodles to which he told me was a side dish and he grabbed  McDonalds after. That's fine. More butternut squash noodles for me, please. I love this recipe!
So after making my 3rd pie [the first was a major Pinterest fail] I decided that it was only fitting I share what I plan on wearing for Thanksgiving. When I first saw this scarf I knew I wanted to center my holiday look around it. I've been dying to style a neutral suede skirt with over-the-knee boots, but suede skirts keep selling out like the Taylor Swift Barbie years ago. My mom had to pull a Black Friday trip with my Nana to get my little sister one at the time. I found this corduroy option from Free People and liked that I was able to achieve the same look without going nuts looking for a suede option online. Sizes are a bit limited in this skirt, however they just came out with the eggplant version which I think is an even better option than the tan. I plan on picking that one up because it's perfect for Christmas parties.
These turtlenecks are a wonderful closet staple that are under $40. Now do note, these are very fitted. I purchase my normal size but I wear them to layer in the fall. If you want to wear this by itself with jeans, I'd go up a size so it's a bit more comfortable. These are seriously the best turtlenecks to wear with skirts in the fall because it's hard to layer tights, a skirt, a scarf and top without feeling like you can't move.
Cheers to Friday eve!