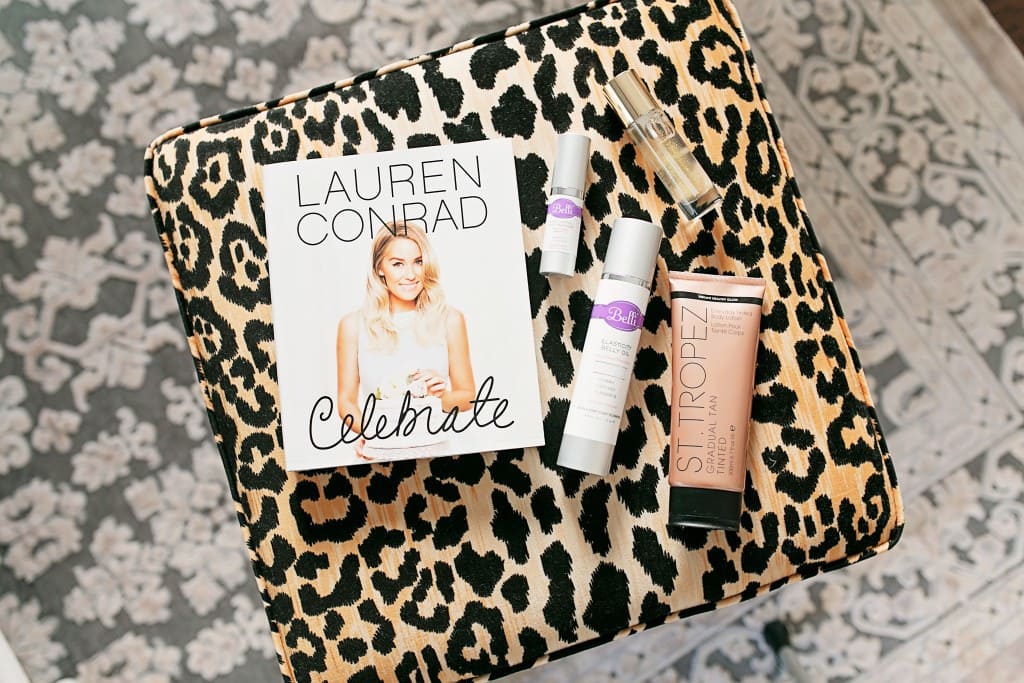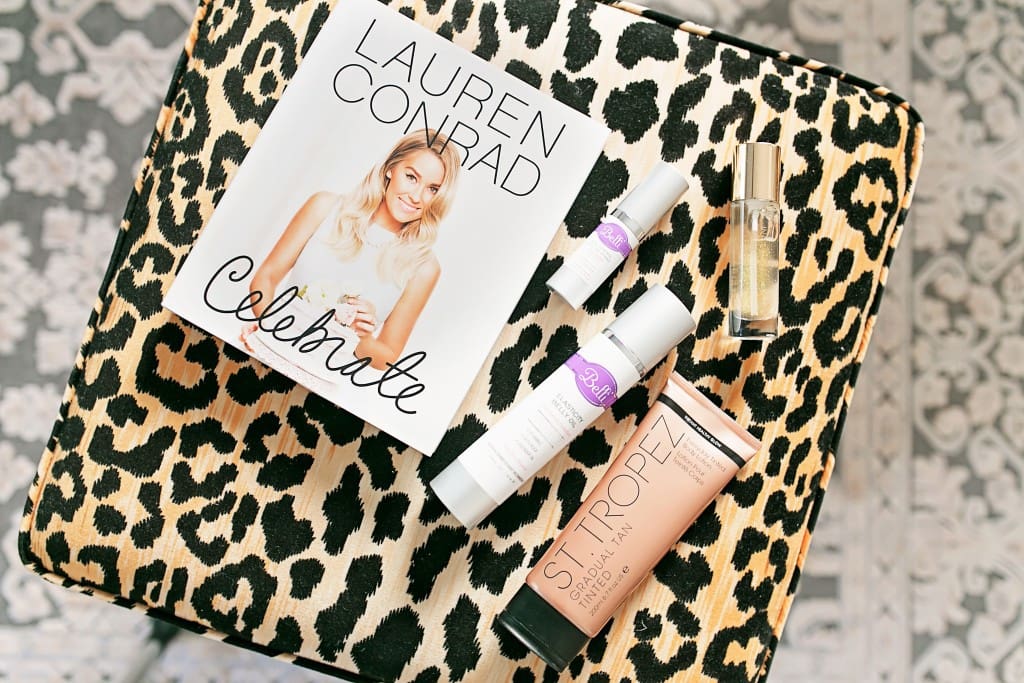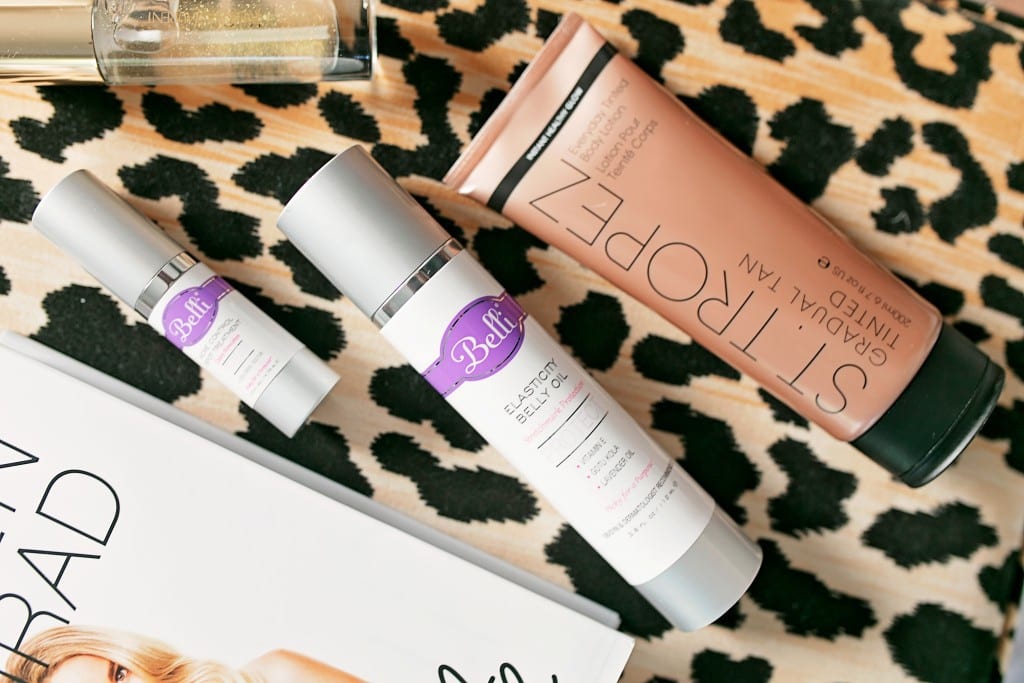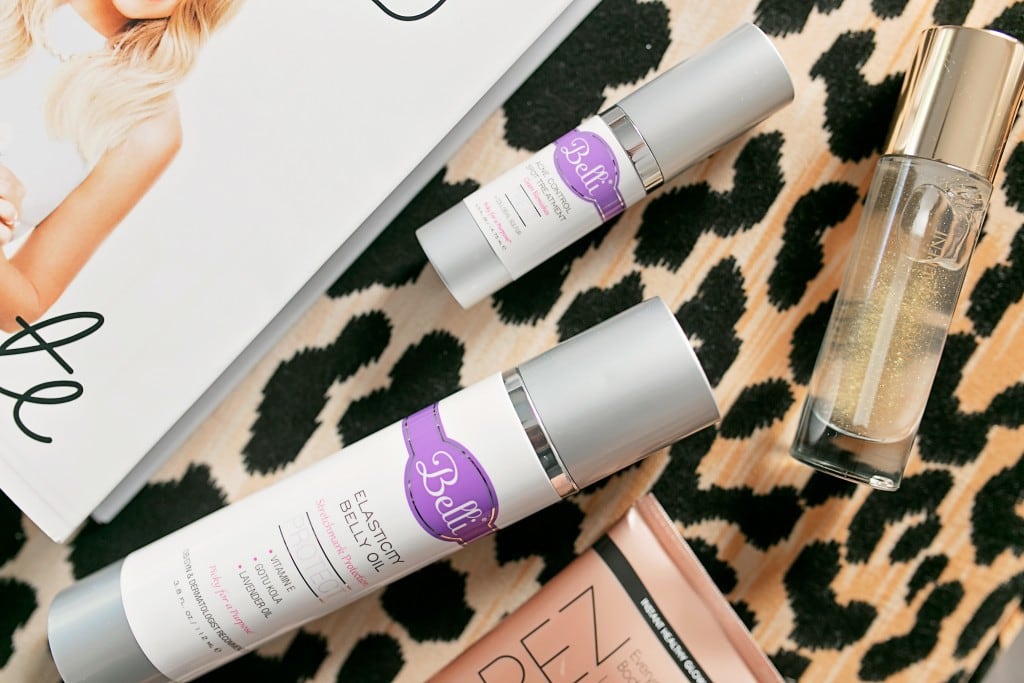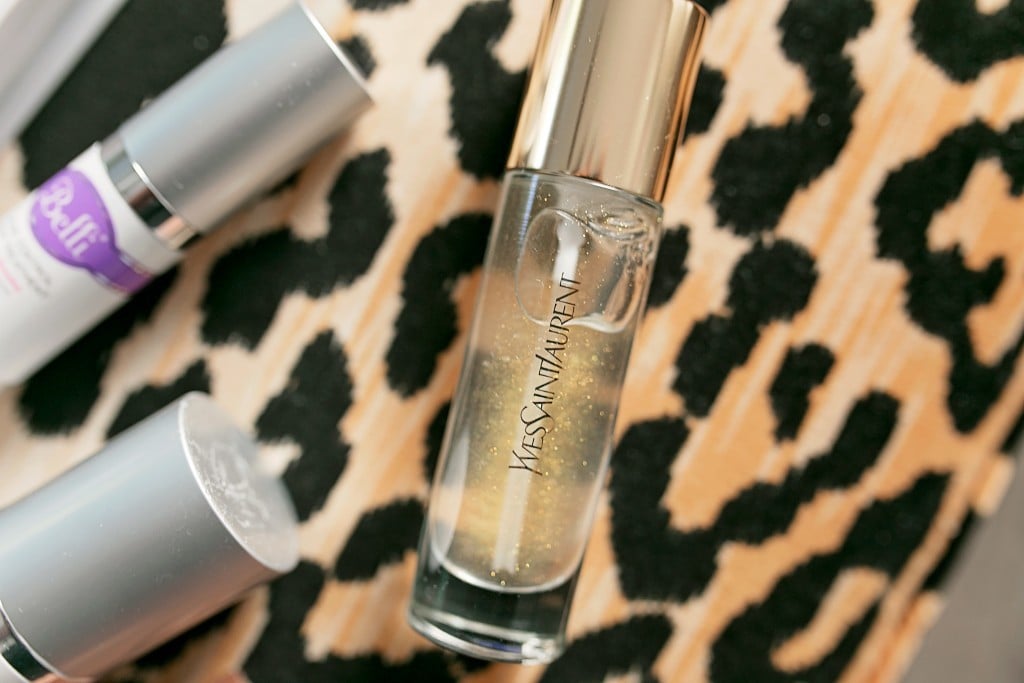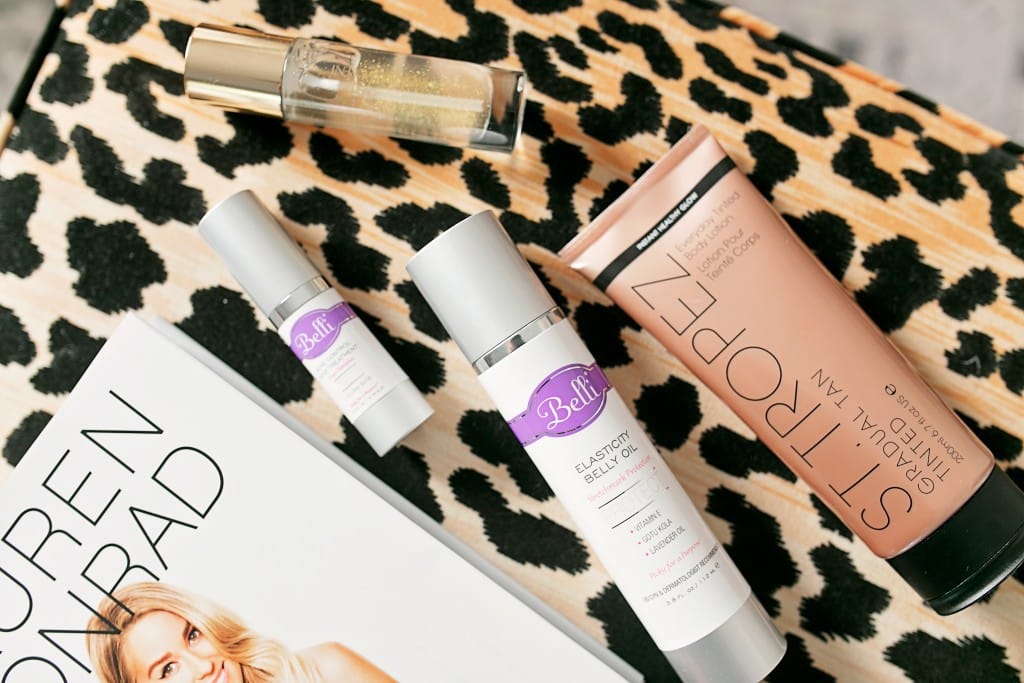 Belli Elasticity Oil: Nordstrom | Belli Spot Treatment: Nordstrom | YSL Primer: Nordstrom | St. Tropez Gradual Tan: Nordstrom | Leopard Bench: LivenUP Design [c/o] | Lauren Conrad Book: Amazon
Photography by: Angie Garcia
---
While I will say pregnancy has made me much calmer I was very keen on revamping my beauty routine. Of course I didn't throw out all my makeup and swear off nail polish, but I did want to go over products with my doctors. I also told all the brands I work with I was pregnant because I'm not able to test as many beauty products at the moment. I then went to my dermatologist for my yearly skin cancer check [so important to get that done!] and brought my beauty routine so she could approve everything as well as she is a mom of three!
I seriously love my doctor because she is so calm and makes you feel really confident as a mom.  My OB told me things like manicures and getting your hair done is 100% fine and that's an outdated myth/rule. However, some mamas choose to forego those options and that's great too! We all just listen to our bodies and know what is best for our babies.
So not only are these four products approved, but they also help me feel my best! Between the nausea, body changes and blemishes due to baby it is easy to not feel like yourself! Two of these products are for mommies-to-be and two are for anyone! So even if you aren't pregnant two of these are amazing for helping you during beauty product slumps.
1. Belli Elasticity Oil: I'm definitely not terrified of stretch marks or anything. You either get them or you don't, and if my body can grow a baby that is so much more impressive than a body without imperfections. However, I did want to keep my skin moisturized and do whatever I could to prevent unnecessary marks. I use a mix of three products, but this one I use most frequently! I use Belli Elasticity Oil which has Vitamin E which is great for stretch marks! It also smells amazing because of the lavender and so many mom friends of mine swear by this. This is great for after your shower because it absorbs in quickly and doesn't get on my clothes. I also mix this with a few drops of Bio Oil as that is what Kim K "swore by" during pregnancy. Now I won't lie, I do pay for Kourtney Kardashian's app because she shares recipes for concoctions like avocado pudding and healthy treats for kids. Not even embarrassed about it! But I'm not one to necessarily hang off the Kardashians' words. But I think we can all agree Kim K probably didn't feel too keen on stretch marks, so Bio Oil must work! haha. The great thing about Bio Oil is it already removes stretch marks if you have them and so if I do get them as them come in, it will help. At night I use Palmer's Tummy Butter. This is probably my least favorite scent and texture, but it's the age-old pregnancy trick and it keeps your stomach so moisturized.
2. Belli Spot Treatment: This is a natural spot treatment for pregnancy as it is not advised to use traditional acne-fighting ingredients. I'll be honest, this doesn't work miracles, but it does work. When you're used to using benzoyl peroxide and wake up with something gone this may be a bit different but I can see a big difference by day 2 or 3 of a blemish which is definitely worth it to me while pregnant! You also can use the face wash! I haven't yet, but have lots of friends who have!
3. St. Tropez Gradual Tanner: My OB and dermatologist said this tanner was perfectly fine and it's been such a help this summer! I've been so conscientious to not be in the sun a lot simply because this summer has been so hot and we have heat indexes of 109 which isn't good for mom or baby. However, it leads to one Twilight-inspired skin tone. This gradual self tanner is absolutely fool proof! I get night sickness which is when I do my tanner and I don't have time [or the stamina] to stand in my bathroom for 15 minutes blending and making sure I have no streaks. I used this before I was pregnant too but now I appreciate it so much more! I just apply it like a lotion after the shower and it lasts 4-5 days with just one 5-minute application! My photographer Angie loves it because she says she can tell a huge difference and how there are no blending mishaps!
4. YSL 'Touche Éclat' Blur Primer: I've had some congested pores from hormones which just leads to uneven texture. This is my favorite primer for balancing texture and it feels so good once it is applied on your face! On the weekends I'll put this one and no makeup over it! I had this last year and loved it and then didn't repurchase it just because of the price. But once I got pregnant I ran out and bought two bottles. It is worth every penny and lasts so long! It hides so many blemishes and uneven skin tone!
I hope this helps whether you are a mama-to-be or just curious about pregnancy beauty products! If you have a friend that's pregnant I'd love if you shared the link and I can hear what she uses! Thank you so much for stopping by!!